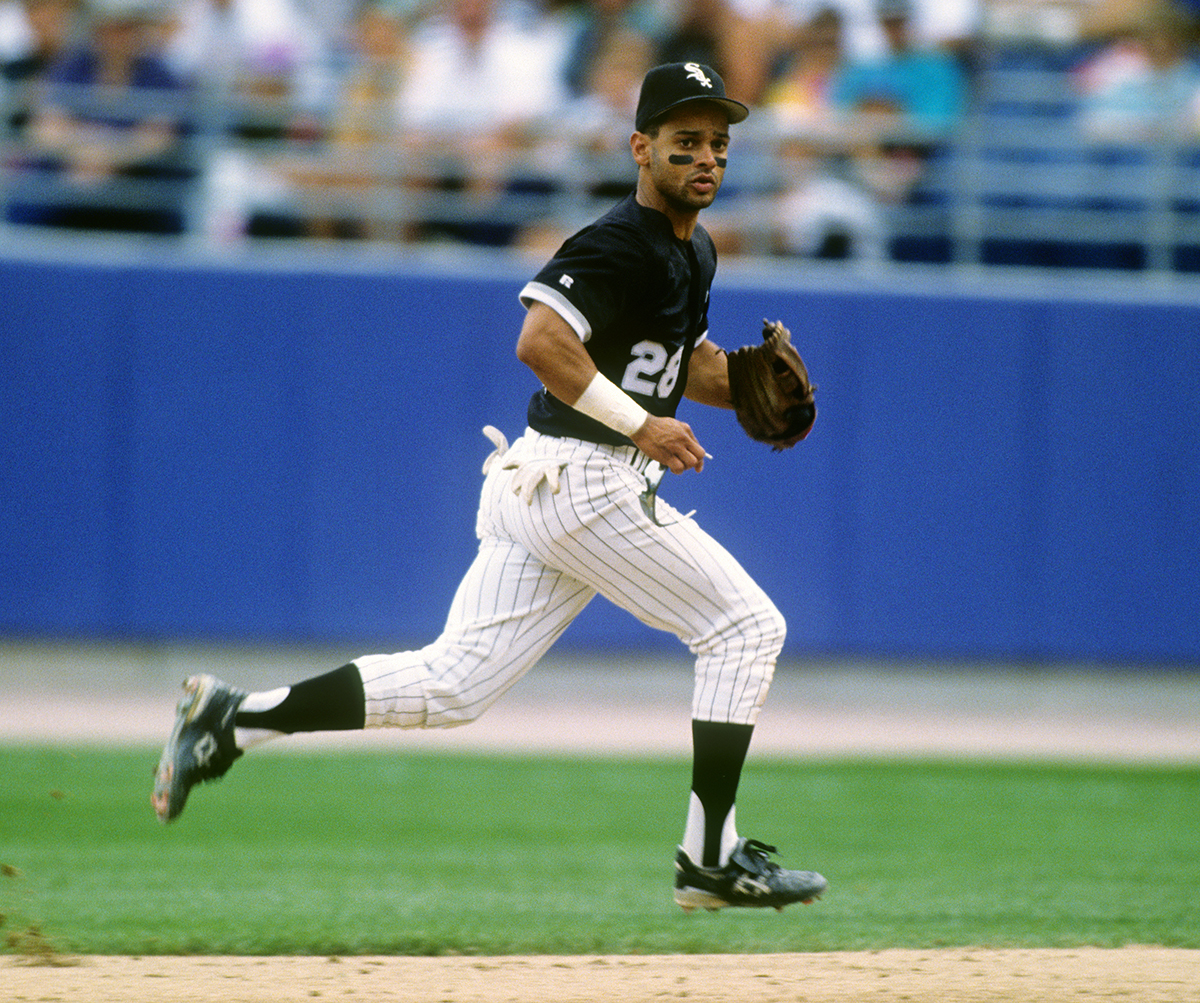 ---
"El problema de'ser un bien deportista, es que hay que perder para probarlo" (The problem with being a good sportsman is you must lose to prove it) — from a sign on 22-year-old Joey Cora's room posted by his sister Iris in 1988.1
"He was everything to me. As far as baseball and discipline and being a man, he was the one who taught me." — Joey Cora speaking of his father, José, in April 1990.2
"He was the first infielder I ever saw who practiced diving for balls. He was one of those guys who got to the park very early and worked his tail off to stay ready for any situation. He went all out, all day and had a lot of fun doing it. He gave us a lot of laughs and was tight with Ozzie Guillen. It was great to see them win a World Series together." — Matt Merullo, 2017.3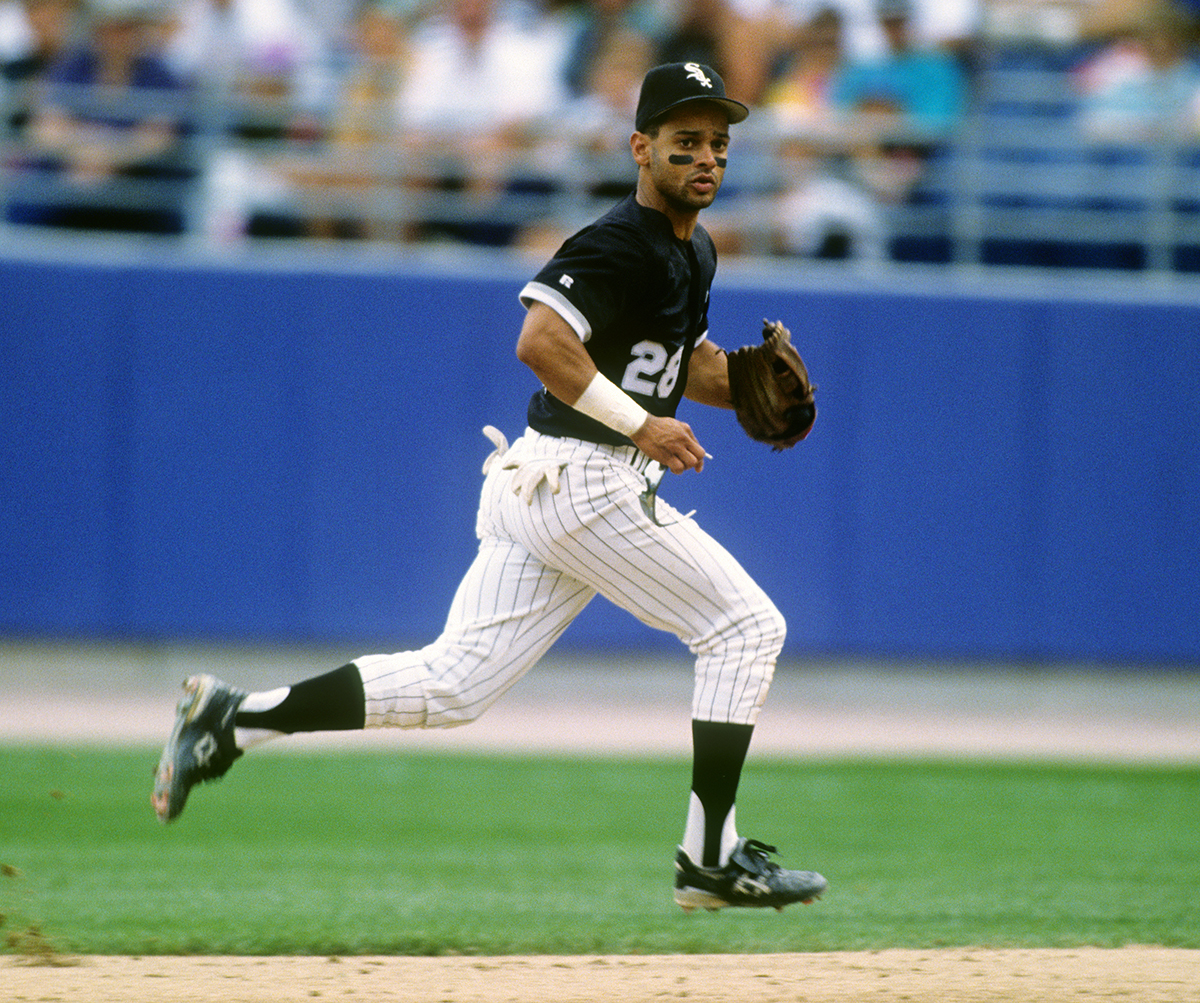 Joey Cora was the second child and first of two sons born to José Cora and his wife, Iris, in Caguas, Puerto Rico. José Manuel Cora Amaro was born on May 14, 1965, in Caguas, Puerto Rico. Brother Alex came along 10 years later. Their older sister became a medical technologist. Their younger sister, Iris, was born in 1968. When his father took a position with Gillette, the family moved to New York not long after Joey was born. However, they were in New York for only a short time before returning to Puerto Rico, where his father started and served as president of the local Little League. Joey first made his mark in Little League at age 7, playing with and against much older youngsters. His father took a position with the Sports Recreation Department of Puerto Rico and went on to become a scout for the Texas Rangers. Once José Jr. (Joey) joined the Padres, José Sr. did as well.
At 16, Joey graduated from Baptist College of Caguas (a high school) and was courted by the Yankees, Phillies, and Brewers. But his family had other ideas and Joey took his track-and-field skills and 3.97 grade-point average to the University of Puerto Rico. "The only reason I didn't get the 4.0 is because of the 'B' I got in Christian Education, and the reason I got the 'B' was we had to go to chapel every Thursday and I didn't go."4
American Legion ball became Joey's ticket to a career. While playing at a tournament in Ohio, he was scouted by Vanderbilt coach Roy Mewbourne and offered a scholarship to play baseball. Not versed in English, Joey headed to Vanderbilt with an English dictionary. A scholar in any language, Joey quickly learned English and compiled a 3.50 grade-point average in his first semester. He elected to major in math.
While at Vanderbilt, Cora was named to the American Baseball Coaches Association All-South Region Team as a shortstop in 1984. He was only a sophomore at the time. That summer he ventured north to play for Chatham in the Cape Cod League; he was a league all-star selection at second base. He also was selected as the league's MVP, after finishing second in the league in batting.5
In 1985, his junior year at Vanderbilt, Cora led the Southeast Conference in triples with six, and was named to the All-SEC team at shortstop. His efforts in the classroom were recognized when he was named to the SEC's Athletic All-Scholastic Team. He batted .403 and stole 51 bases. By that point, Cora had broken 10 school records for hits and stolen bases. He was named to the second team Converse All-American team. (Only Barry Larkin was better at the shortstop position.) In the draft that June, Cora was the first-round pick (23rd overall) of the defending National League champion San Diego Padres.
In the rookie Northwest League, Cora batted .324 with 3 homers and 26 RBIs with Spokane. His career seemed to be on the fast track and a promotion was on the horizon when his season was interrupted after a collision at second base. An oncoming runner decided that Cora's knee was a better target than the base and Cora required surgery that ruined his hopes of an early promotion. After playing for Leones in the Puerto Rican Winter League, he joined the Beaumont Golden Gators of the Double-A Texas League for the 1986 season.
An incident that season almost finished off Cora's career before it had begun. In early June Joey's father was battling colon cancer and had surgery. Joey left his Beaumont teammates to be with his father and family. A week later, he returned to his team, and his head admittedly was not in the game. After a game in which he went hitless at San Antonio on June 21, Cora and teammate Sandy Alomar Jr. were accosted while waiting for the team bus in the parking lot. Under normal circumstances, Cora would have just walked away, but these were not normal circumstances. Words were exchanged, a fight broke out, and Cora's teammate Eric Hardgrave was knocked to the ground. The leader of the gang of outsiders, Jose Puente, stabbed Cora twice. Joey was seriously injured and was tended to by team trainer Ray Suarez. Cora had to have part of his small intestine removed.
Hospitalized, he missed most of the balance of the season, returning to Beaumont in mid-August.6 In the 81 games he played, he batted .305 with 24 stolen bases. Both father and son emerged from the ordeal, with Joey having learned a life lesson. "It affected me that, in a way, off the field I had to be more careful with where I was and what I was doing. As far as playing the game, no, it didn't affect me, but off the field, it definitely changed me. Because I took a lot of what was happening on the field and in the game, and I was taking it off the field wherever I was. It changed me a lot, actually."7
Cora made his debut with the Padres the next season. Before the season, scout Dick Hager, reflecting on the adversity of Cora's first two professional seasons, said, "I don't recall just how many knife wounds he received, but for a while he was in serious condition. The kid is a real gamer. He can play. We don't know whether he is ready to play in the majors, but Larry Bowa (the Padres manager) plans to find out."8 Unfortunately for Cora, the chemical reaction of the no-longer-combative player and the ever-combustible manager Bowa would be such as to ultimately prolong Cora's apprenticeship.
On Opening Day, April 6, 1987, Cora was at second base, batting eighth for the Padres. In his first at-bat, facing Mike Krukow, he lined out to shortstop. In the top of the eighth inning, in his third at-bat, he singled with one out, stole second base, and scored on a single by Marvell Wynne. Tied, 3-3, the game went into extra innings. Cora's bunt single in the top of the 12th inning put him at first base with one out, but he was caught stealing and the Giants won the game in their half of the inning. Cora played in each of the Padres' first 54 games, but was batting only .234 when he was sent down to the minors on June 4. His fielding and immaturity caused more problems than his tired bat. He had committed nine errors, including two in the same game on a pair of occasions. He also was perceived as being uncooperative by the coaches. His reaction was to say, "I'm listening. Sometimes they tell you things that you don't feel comfortable doing. You're not confident because you have not done it their way before. And I've got to practice it before I go out and use it in a game. Like bunting. They're trying to teach me a new way, but I think too much. It doesn't come natural to me. If I go to the minors, I've got to practice, practice until it becomes natural."9 So, to the minors he went. He played his next 81 games at Triple-A Las Vegas, batting .276, before returning to the Padres in September. For the Padres, he batted .237 with 13 RBIs and 15 stolen bases.
Cora had arthroscopic knee surgery during the offseason and the following spring was assigned back to Las Vegas to get "more playing time." Manager Bowa and the local media had been highly critical of Cora's defense while he was with the club in 1987. Cora accepted the demotion, saying, "It's all right, I guess. I just have to play when I get a chance. I like it like this. I don't have to talk a lot. I can be by myself and be myself. I'm ready for Triple-A."10
The experience with Bowa in 1987 had been traumatic. "It was terrible," he told a sportswriter in 1989. "Larry said so much, all the time. I did not want to come to the ballpark. And when I got there, I didn't want to be there. I got so down and lonely. I went home every night and tried to cook, to help me forget."11 Cora remained in Las Vegas for the 1988 season, as well as most of 1989. After batting .296 with 21 extra-base hits and 31 stolen bases in 1988, he batted .310 in 1989 with 29 extra-base hits and 40 stolen bases. In 1989, he put together a 37-game hitting streak, and at the end of the season he was named to the Pacific Coast League All-Star team. In September Cora got his second bite of the big-league apple, playing for new manager Jack McKeon. He batted .316 in 12 late-season games. In the offseason, there was bad news on the home front as his father died from hepatitis on October 5, 1989.
Playing for Ponce in the Puerto Rican Winter League, Cora batted .293 with 15 thefts. Ponce was managed by Padres third-base coach Sandy Alomar,12 and the Padres were impressed enough to keep Cora in "The Show." But the 1990 season was one of frustration. After playing in only 31 of his team's first 77 games, he was once again sent back to Las Vegas, where in 51 games he batted .351 with 22 extra-base hits and 15 stolen bases. During his time with the Padres, he showed himself to be the ultimate team player, going behind the plate for the final two innings of the game on June 14 after each of the Padres catchers went down with injuries. Listed generously at 5-feet-7 and 150 pounds, Cora was not a catcher out of Central Casting, but he played an errorless two innings while setting up the target for pitcher Mark Grant. In the offseason between 1990 and 1991, while playing winter ball, Cora fractured his ankle in a collision while chasing a pop fly. The Padres were unsure of his status for 1991, and eventually, after a good spring training, he was traded along with Kevin Garner and Warren Newson to the Chicago White Sox for pitchers Adam Peterson and Steve Rosenberg. Cora reacted to the trade by saying, "This is the team I've always been with, since '85 when I was drafted. They made my family happy and everything. They gave me a shot in the big leagues. I've been through a lot with these guys. I love them very much, but life goes on and you have to do what you have to do."13
Cora spent the entire 1991 season with the White Sox. After spending the early part of the season backing up Scott Fletcher at second base, he was inserted into the lineup, getting his first start and first multi-hit game on May 17. It took some time for him to find a consistent stroke, but manager Jeff Torborg saw Cora as a player who "seems to be able to make things happen." Those things included a spectacular fielding play to end a game on June 10. In the bottom of the 13th inning at Texas, with two outs and the White Sox clinging to a 3-2 lead, Cora, going to his left, grabbed a groundball that had deflected off the glove of first baseman Dan Pasqua and threw a strike to catcher Matt Merullo to nip pinch-runner Mario Diaz and end the game. Joey said, "I look at it as a job I have to do. Whatever they ask me to do, I'll do."14
From June 8 through June 21, Cora batted .395 over a 13-game stretch to raise his average from .229 to .321. But once again injury interrupted his season. He sprained his right knee sliding into third base in the ninth inning of a game against the Texas Rangers. Subsequently, the White Sox filled the bases, and Cora came home with the tying run on a walk to Robin Ventura. After the game, he was placed on the 15-day disabled list.15 After his return from the DL, Cora was unable to match his performance prior to the injury. He finished the season with a .241 batting average.
In 1992 Cora only got into 68 games with the White Sox. In the offseason, Chicago had acquired Steve Sax and his $3.5 million salary from the Yankees. Cora, in his limited appearances, batted .246. "I am not a superstar or anything," Cora said. "I'm the just the kind of player who's going to be there doing what I did last season (1991) — be a backup, work hard. They call you, go and do the job. That'll be my role. I really enjoy it. I'm that type of guy — a kamikaze type of guy. Wherever they put me, I'll go after it hard. Whatever they ask me to do, I'll be ready."16
And ready he became. As Sax only batted .236, and was second on the team with 20 errors, he and his big contract would wind up on the bench the following spring. An injury to heir-apparent Craig Grebeck during the last weekend of spring training gave Cora an opportunity that he did not waste. For Cora, 1993 was a breakout season. He played in 153 games and batted .268. The smallish Cora hit his first two career homers and had 51 RBIs. He stole a career-high 20 bases and had a career-high 13 triples. He led the league in sacrifices with 19. Paired with Ozzie Guillen, Cora improved his fielding, and through the first 29 games he was involved in 22 double plays.
On April 20, 1993, Cora was at his acrobatic best. This time, the folks in Baltimore witnessed the unfathomable. In the fourth inning, the Orioles had loaded the bases with two out. The Sox tried to pick off the runner at second base, but the ball bounced off Guillen's glove. Cora pounced on the ball and his side-arm throw to Ron Karkovice nailed Chris Hoiles trying to score from third base. The game remained tied, 1-1, and the Sox went on to win 2-1 in 14 innings with Cora, after walking, scoring the winning run.17
But Cora's main contribution to the team had nothing to do with the type of statistics that fly off the page. Batting in front of Frank Thomas, he was adept at working deep into counts. From the on-deck circle, Thomas thus got a good look at a pitcher's repertoire and was ready when he made it to the plate.18 Ready enough to win the first of two MVP awards. He also had many chances to drive in Cora who, via hit or walk or hit by pitch, reached base 231 times during the season. Cora still led the league with errors by a second baseman with 19. The White Sox won the AL West and Joey advanced to the postseason for the first time. His bat grew cold in the playoffs; he batted only .136 as Chicago was eliminated by Toronto in the American League Championship Series.
In the strike-shortened 1994 season, Cora played in 90 of his team's 113 games and batted .276. Other than a trip to the DL in early July, he never had more than one day off between starts. His injury, as usual, came at the worst possible time. He had been on a tear, going 27-for-74 (.365) during June to raise his average for the season to .287. The injury occurred in a game against Kansas City on June 29. Leaping for a line drive, he pulled a muscle in his rib cage.19 At the time of the strike in August, the White Sox led the AL West by one game, a lead that was wiped out along with the season.
Before the 1995 season the White Sox let Cora go to free agency and he signed with the Seattle Mariners. He was with Seattle for four seasons, during which his salary increased from $425,000 to $1.7 million. In Seattle, he became known not only for his dedication on the field but for his work with the Joey Cora Children's Foundation.
With Seattle in 1995, Cora raised his batting average to .297 and was once again in the postseason. In August, he batted .392 with 10 extra-base hits and 10 RBIs in 23 games, but the Mariners trailed the first place California Angels by 7½ games going into September. The Mariners erased the deficit winning 19 of 26 games from September 1 through September 29 and had a two game lead with two games left in the regular season. In the last weekend of the season, the Mariners lost both games and, after 162 games, Seattle was tied with the suddenly resurgent Angels. In a one-game win-or-go-home playoff for the division championship, Cora had three productive at-bats as the Mariners defeated the Angels, 9-1, behind Randy Johnson. Cora singled during a rally in the fifth inning that plated Seattle's first run, was hit by a pitch and scored during a four-run outburst in the seventh, and drove in a run with a sacrifice fly in the eighth inning.
Seattle lost the first two games of the Division Series against the wild-card Yankees in the Bronx. In Seattle, the Mariners won Game Three, 7-4, and Game Four, 11-8, with Cora going 2-for-4 and scoring two runs. With Seattle trailing 5-0, Cora led off the third inning with a bunt single and scored on an Edgar Martinez homer as the Mariners erupted for four runs. In the decisive eighth inning, Cora again reached on a bunt and again came home on an Edgar Martinez homer. This one was a grand slam. In Game Five Cora gave Seattle a 1-0 lead with a third-inning home run off David Cone. The game went into extra innings and New York took a 5-4 lead in the top of the 11th. Cora led off the bottom of the inning with his third bunt single in two games. After a single by Ken Griffey Jr., Edgar Martinez doubled both runners home and Seattle advanced to the League Championship Series.
In the LCS, the Mariners lost to Cleveland in six games. Although Cora had only four hits in the series, he had a key hit in Seattle's Game Three win. The game went into extra innings and, in the 11th Cora led off with a single. He scored on a three-run homer by Jay Buhner, giving Seattle a 2-1 edge in the Series. But Seattle would not win another game in 1995.
In 1996 Seattle slipped to second but Cora had another good year, batting .291. His 37 doubles were the best in his career to that point, as were his six home runs. He had 43 multiple-hit games. The Mariners were nine games out of the league lead on September 11, when they launched a 10-game winning streak to make things tight. During that stretch, Cora had two homers and three RBIs in seven games. But although the Mariners pulled to within one game of the division lead, they were unable to close the deal, losing six of their last eight games.
In 1997 Seattle won its division for the second time in three years, but lost the best-of-five Division Series to Baltimore in four games. For Cora, it was a banner year. He had career highs in batting average (.300), doubles (40), home runs (11), and RBIs (54). Most impressive was his setting a franchise record by hitting in 24 consecutive games. The streak lasted from May 2 through May 29. Cora batted .475 during the streak, raising his average for the season from .247 to .374. In the 24th game, he kept the streak alive with an infield hit with two outs in the ninth inning. Once the streak concluded, he proceeded to reach base in another dozen games, making his on-base consecutive streak 36 games. His hit streak stood as the record for switch-hitters in the American League until 1998. The franchise record stood for 10 years until Ichiro Suzuki hit in 25 straight games in 2007. (Ichiro set the current Seattle standard by hitting in 27 consecutive games in 2009.)
In 1997 Cora was named to the All-Star team for the only time in his career. He was one of eight players born or raised in Puerto Rico to be chosen for the 1997 game. He entered the game as a pinch-runner in the fifth inning and replaced Roberto Alomar at second base. He had a fielding gem in the sixth inning when he dived to grab a grounder and rob Tony Gwynn of a base hit. In his only at-bat, Cora hit a fly ball to left field in the seventh inning. Cora's teammates praised his selection for the squad. Ken Griffey Jr. said, "Before he was chosen, we were all asked if Joey Cora was an All-Star, and we all said he deserves to go. He's worked hard at this sport. He's a quiet player, but he's a spark plug. It is fun just to watch him every day, diving for balls, hustling."20 Cora himself relished being honored as an All-Star. "I get excited when I play a regular season game, but an All-Star Game, this is it," he said. "Until you're here, you don't understand. There's no way I would trade this for anything."21
In the losing 1997 Division Series, Cora was not a factor, going 3-for-17. The following season would be his last as a player. He was batting .283 with 6 homers, 26 RBIs, and 13 stolen bases when the soon-to-be free agent was traded to Cleveland on August 31 for infielder David Bell. Despite their high-powered offense, the Mariners had fallen on hard times. At the time of the trade they were 11 games below .500 and trailed the first-place Angels by 12½ games. In 24 games with Cleveland, Cora batted .229. Cleveland won the Central Division and went as far as the LCS in the postseason, losing to the Yankees in six games. Cora's postseason performance was disappointing. He played in six games and went 1-for-17.
In the offseason, Cora signed with Toronto as a free agent, but after faring poorly in the field in six exhibition games, the 33-year-old on March 11 decided to retire.
After his playing days, Cora stayed in baseball in a variety of positions. He coached at Daytona, the Cubs affiliate in the Florida State League, in 2000. He joined the Mets organization in 2001 and managed at Kingsport, Tennessee, in 2001 and 2002. In 2003, he managed Montreal's Class-A affiliate in Savannah. In 2004 friend and former double-play partner Ozzie Guillen hired Cora as the third-base coach with the White Sox. He stayed with the White Sox through 2011 and received his first World Series ring in 2005 after the White Sox swept the Houston Astros. He became the bench coach in 2007 and served in that capacity until Guillen was fired toward the end of the 2011 season. In 2012, when Guillen took over as manager of the Marlins, Cora became the bench coach in Miami.
After the 2012 season, Guillen was fired by the Marlins, and Cora spent the next three seasons out of professional baseball. In 2013, he worked as an analyst with MLB, and in the following two seasons, he stayed at home with his family.
In 2015, the Mariners invited Cora back to Seattle to throw out the first pitch on Opening Day.
In 2016, at the invitation of Larry Broadway, the Pirates' farm chief, Cora joined the Pittsburgh organization, managing their Double-A affiliate in Altoona, Pennsylvania. He was named the Pirates' third-base coach for the 2017 season. In 2003 Broadway had played for Cora at Savannah. Thirteen years later, Broadway reached out to his old mentor.22
Cora has had a lifelong dream. "My dream wasn't to be a major-league baseball player. My dream always, when I was little, was to be a big-league manager."23 Maybe that dream will come true.
Last revised: June 1, 2017
This biography appeared in "Puerto Rico and Baseball: 60 Biographies" (SABR, 2017), edited by Bill Nowlin and Edwin Fernández.
Sources
In addition to the sources cited in the Notes, the author used Baseball-Reference.com and the Joey Cora player file at the National Baseball Hall of Fame Library.
Notes
1 Barry Bloom, "Coras Hang Tough During Rough Times," San Diego Union Tribune, April 4, 1988: Baseball-4.
2 James Posner, "Cora Making Most of Second Chance," San Diego Union Tribune, April 26, 1990: E-1.
3 Matt Merullo email to author, March 10, 2017.
4 Chris Jenkins, "The Drive to Excel: At 21, Cora Won't Rest in His Quest for perfection," San Diego Union-Tribune, April 26, 1987: H-1.
5 Boston Herald, August 19, 1984: 72.
6 Chris Jenkins.
7 Doug Padilla, "Tragic Incident Becomes Life Lesson for Cora," Chicago Sun-Times, October 19, 2005.
8 New Orleans Times Picayune, March 29, 1987: C-20.
9 Tom Friend, "Is Joey Cora Stubborn, or Is He Scared? Only He Knows for Sure," Los Angeles Times, May 22, 1987: 1.
10 Bill Plaschke, "Padre Notebook Joey Cora: "The Forgotten Man' Knows He's Heading Down," Los Angeles Times, March 16, 1988: 3.
11 Bill Plaschke, "No Fist in His Glove: Joey Cora Doesn't Want to Fight, He Just Wants a Chance," Los Angeles Times, March 9, 1989: 1.
12 Phil Collier, "Angels Stockpile Pitchers in Bid for Hitter," San Diego Union Tribune, January 14, 1990: H-15.
13 Barry Bloom, San Diego Union Tribune, April 2, 1991: C-3.
14 Alan Solomon. "Cora Not 'Starter' Yet, but Boss Is Impressed," Chicago Tribune, June 12, 1991: B-9.
15 John Mulka, "Cora's a Bright Spot for Gloomy Sox," Northwest Indiana Post-Tribune, June 23, 1991: C7.
16 Alan Solomon, "On 2nd Thought … Cora, Grebeck Adjust," Chicago Tribune, March 15, 1992: B6.
17 Joey Reaves, "Cora Play Gives Sox a Huge Lift: Arm, Legs Trip Orioles in 14," Chicago Tribune, April 21, 1993: B3.
18 Bill Jauss, "Cora Takes a Long Look at His Contributions," Chicago Tribune, August 26, 1993: B12.
19 Dan Binkley, "Cora Goes on DL — Grebeck Returns," Chicago Sun-Times, July 1, 1994.
20 Claire Smith, "Worthy of the Honor, Based on Enthusiasm Alone," New York Times, July 9, 1997.
21 Ibid.
22 Alan Saunders. "New Coach Joey Cora Embraces Mental Approach — Pirates," Allegheny Times (Beaver, Pennsylvania), November 16, 2016: B-1.
23 Kevin Thomas. "On Baseball: Joey Cora Has a Big-League Resume and a Minor League Job," Portland (Maine) Press-Herald, August 18, 2016.
Born
May 14, 1965 at Caguas, (P.R.)
If you can help us improve this player's biography, contact us.
https://sabr.org/sites/default/files/CoraJoey.jpg
600
800
admin
/wp-content/uploads/2020/02/sabr_logo.png
admin
2012-01-04 20:10:01
2012-01-04 20:10:01
Joey Cora