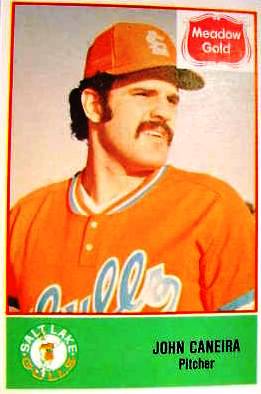 ---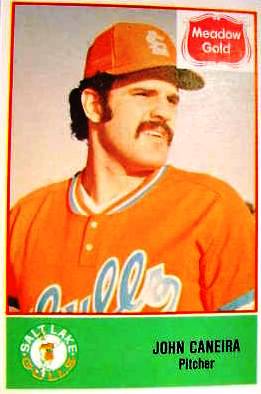 Among the smiling faces seated in the front row in the 1970 Naugatuck High School baseball team photo is that of senior tri-captain John Caneira. There was good reason for Caneira and his teammates to be happily posing for the camera despite losing a marathon struggle in the previous year's Connecticut Class A final, for the Greyhounds were about to embark on the beginning of what would become a modern-day record winning streak of 64 games that stretched from 1970 through 1972. Under the tutelage of coach Ray Legenza, the Naugatuck squad became a juggernaut that featured outstanding pitching, solid fielding, timely hitting, and an uncanny ability to take advantage of their opponents' errors.
Caneira's winning ways became ingrained in his teenage years in Naugatuck, both for the high-school baseball team as well as the American Legion squad sponsored by local Post 17. During the steamy summer of 1969, John was an integral hurler for three-time state champion Post 17 as it excelled during its regular summer schedule and then continued to rack up wins in regional tournament play. The team reached the American Legion World Series in Hastings, Nebraska, where it finished sixth overall.   
During Caneira's senior season at Naugatuck High, he posted a 7-0 record on the mound in the regular season (and occasionally filled at first base), then won all four post-season games of the Connecticut Interscholastic Athletic Conference tournament, including a stunning, come-from-behind thriller in the championship game over Stamford Catholic at Yale Field on June 10, 1970. Held hitless through six innings, the Greyhounds rallied for a 4-3 victory in the nine-inning game.
Just as Legenza's coaching prowess was rewarded when he was named the national high-school baseball coach of the year (in 1971), so too had Caneira's pitching exploits drawn the attention of major-league baseball scouts anxious to bring the 6-foot 4-inch Naugatuck star into their team's system.
Only six days before clinching the state title game, Caneira had been selected by the Pittsburgh Pirates in the 11th round of the amateur draft. But he chose instead to cast his lot with a small college in the Nutmeg State that was in the incipient stages of creating its own baseball powerhouse. When Eastern Connecticut State College landed the Naugatuck right-hander for its pitching staff, coach Bill Holowaty discovered that Caneira not only provided a workhorse for the Warriors' rotation but that he also could pitch out of the bullpen.
The end results were an unqualified success for both Eastern Connecticut and Caneira. In his four years at Eastern, from 1971 through 1974, John was named All-American three times with an honorable mention in his freshman year, as the team posted an overall record of 105-20. ECSC qualified for the National Association of Intercollegiate Athletics tournament each of those years and also advanced to the NAIA World Series in Caneira's junior year. A closer examination of Caneira's collegiate statistics reveals just how much his performance contributed to the Warriors' achievements. As a freshman appearing in more than half of ECSC's games, Caneira logged a respectable 6-3 record, and in 81 innings pitched he walked 40 batters but allowed only 50 hits while striking out 113. His first-year ERA of 1.78, excellent by any measure, was the highest of his college career.
If batters had difficulty with Caneira in 1971, they were almost virtually handcuffed the following season. With numbers reminiscent of the Dead Ball era, John gained a decision in all of his 13 appearances, going 12-1 with a minuscule ERA of 0.67 in 94 innings pitched. The stinginess of his ERA was a direct reflection of the mere 43 hits he allowed as well as the 140 strikeouts he accumulated as Eastern went 22-3 in 1972 to capture the NAIA District 32 championship. Then, during ECSC's stellar World Series year of 1973, when the team won 31 games and lost but 8, Caneira also became a fireman, pitching out of the bullpen to save four games in addition to handling his starting assignments en route to a 10-3 record, 1.33 ERA, and career highs in innings pitched (121²/3) and strikeouts (181). Finally, as a capstone to his years under coach Holowaty, Caneira in 1974 went 9-3 with three saves in 80²/3 innings, and improved his control by issuing just 16 walks while fanning 113 batters as Eastern was victorious in 33 of its 40 games and repeated as District 32 champion. Caneira's totals for four years at ECSC were phenomenal: 37 wins against 10 losses, seven saves, a 1.34 ERA, a nearly 5-to-1 strikeout-to-walk ratio (547 K's to 111 walks), and only 227 hits allowed in 377¹/3 innings. Academically, he completed his bachelor of science degree in education.
However, competition at the college level during the early 1970s was not Caneira's only baseball endeavor. He pitched for the United States team in the 1971 Pan-American games, and also participated in the 1973 World Federation Cup games, held in Italy, as well as the 1973 and 1974 Central American games in Nicaragua. And as if international play were not enough, John pitched two summers in the highly-regarded Cape Cod Baseball League, with stints for the Bourne Canalmen in 1972 and the Chatham A's in 1973. As was so frequently the case with Eastern Connecticut's opposition, Cape League batters had little better luck in 1972 when facing Caneira, who struck out 119 in 111 innings and walked just 29 on his way to an 8-4 record with two saves and a 1.86 ERA, a performance good enough for the league's All-Star team and pitcher-of-the-year honors. The next summer was a repeat performance as Caneira stymied batters with a 1.37 ERA, a 9-1 record, and 118 strikeouts against only 23 bases on balls in 92 innings. Cape League All-Star and best pitcher accolades were again bestowed upon Caneira, and in the January 1974 draft of amateur players, he was chosen in the first round by the Milwaukee Brewers.
Electing for a second time not to sign, Caneira, his college career now over, was selected by the California Angels in the secondary phase of the June 1974 draft. He embarked on a journey through the Angels' minor-league system. The reputation and success of Caneira's time in the minors ran parallel with his experiences in high school and college. In leading Idaho Falls to a first-place finish in the short-season (Rookie) Pioneer League in 1974, John compiled numbers worthy of his league All-Star selection by leading the circuit with a 10-1 record and posting a 1.74 earned-run average. He struck out 74 in 88 innings.
In 1975, Caneira was promoted to Salinas of the Class A California League, where he had an atypical record, but the Angels looked beyond his log of 0-4 and 3.18 ERA and moved him to Quad Cities of the Midwest League. In nine games there, Caneira regained his form by winning seven of eight decisions while fashioning a fine 2.64 ERA with 49 strikeouts in 58 innings of work, earning recognition as a Midwest League All-Star. Caneira continued up the minor-league ladder in 1976 by advancing to the Angels' Double-A affiliate in El Paso, and although he spent a brief time on the disabled list and was hit frequently – surrendering 182 hits in 149 innings and finishing with a 4.53 ERA – he tied teammate Bob Nolan for the Texas League in victories, with 15. Caneira had four losses and Nolan three. Named a Texas League All-Star, Caneira had become a key member of an Angels farm system that was named TOPPS Minor League Organization of the year for 1976. Shortly after the 1976 season, Caneira underwent a surgical procedure to remove bone chips from his pitching elbow and to reroute a nerve in the same area. 
Earning promotion to the Angels' top farm club, Caneira in 1977 pitched for Triple-A Salt Lake City in the hitter-friendly Pacific Coast League. In 150 innings over 27 games, 22 of which he started, he recorded 95 strikeouts and posted an 8-4 record with a 4.62 ERA. After earning All-Star status with the Gulls and with little left to accomplish at the minor-league level, Caneira realized the dream of being called up to the big-league club in September.
For the Angels' organization at the major-league level, the 1977 season had been a crushing disappointment. Having spent lavishly for a crop of free-agent talent that he hoped would finally put his team in the American League playoffs, owner Gene Autry envisioned his Angels as finally being able to compete well enough to win the Western Division title at the very least. However, the Angels never generated positive momentum from the beginning of the season and languished near the .500 mark for most of the campaign, and injuries to new arrivals Bobby Grich, who appeared in only 52 games, and Joe Rudi, who suffered a broken hand in late June, exacerbated the Angels' woes. 
As the team looked to evaluate talent with the current season coming to a close, Caneira was given the opportunity to display his wares, and on September 10 he made his major-league debut in Anaheim against the power-laden Chicago White Sox. Admitting that he was "nervous as heck the night before that game," Caneira allowed the Sox just one run in seven innings in the Angels' 6-1 victory, with Wilbur Wood taking the loss for the White Sox. After coming out on the short end of a 6-4 Angels loss to the Texas Rangers on the 15th (Caneira gave up five runs in 4 2/3 innings), he lost at home again to the Rangers on September 21 (five runs, three earned, in 5 1/3 innings). Then he finished his 1977 campaign with a 4-2 road victory over the Milwaukee Brewers on September 28. His record of 2-2 and a 4.08 ERA boded well both for the young right-hander and for a team that needed reliable starting pitchers to fill out a rotation led by veteran aces Nolan Ryan and Frank Tanana.
Hopes ran high that Caneira would be able to secure a spot on the Angels' roster in 1978, but the pitching staff had added several new names during the 1977 winter meetings. Right-handers Chris Knapp and Dave Frost, along with catcher-outfielder Brian Downing, were acquired from the White Sox and thus increased the competition among the Angels pitchers. The surplus of arms forced the Angels to send Caneira back to Salt Lake City rather than have him languish in the Angels bullpen, and he again earned All-Star honors in the Pacific Coast League with a 10-4 record and 3.76 ERA in 18 appearances and 115 innings. He was called up to the Angels during the season but pitched only eight innings and spent time on the disabled list for half of August.
Caneira's stint on the DL was caused by shoulder pain due to a rotator cuff injury, which for all intents and purposes signaled the end of his baseball career. Although he credited his 1976 elbow surgery with extending his time on the mound, the latest injury was, in Caneira's words, "the kiss of death." Years later, he observed that his shoulder affliction "plus the politics of trying to get to the majors convinced me that my time was up." Indeed, the many innings pitched in high school and college, in the Cape Cod League, for the various American teams that participated in world competition, and across all levels of the minor leagues took their collective toll. In late 1978, after much soul-searching with his wife, Teresa, John decided to retire from baseball.
The diligence with which Caneira pursued a big-league career instilled in him a work ethic that paid handsomely in his transition to a business vocation. Returning to Connecticut as a full-time resident, he settled down in Southington, Connecticut, with Teresa to raise their two children as he commenced a new career in information technology with the Travelers Insurance Company in Hartford. Later his employer was United Health Care.
Most people would consider attaining status as a major leaguer to be the pinnacle of a ballplayer's achievements, but Caneira said his days playing college ball at ECSC, on Cape Cod, and in world competition proved a more enjoyable experience than "the professional side of baseball." He observed, "I loved the game of baseball but was not that fond of the business of baseball. Baseball was always a challenge, and trying to find out how really good you were was always my incentive." His life after baseball allowed him to spend quality time with family that he otherwise would not have been able to do.
While Caneira's major-league career was shortened by the rotator cuff problem, there is no denying that he made his mark on the various organizations for which he pitched with distinction. In 1982 he was inducted into his hometown Naugatuck Hall of Fame; in 1986 he was similarly honored by the Eastern Connecticut State University Hall of Fame; and he was inducted into the Cape Cod Baseball League Hall of Fame in 2004.
A generation before Caneira arrived in Anaheim, another right-hander from his hometown, Frank "Spec" Shea – nicknamed the Naugatuck Nugget – rose to prominence with the New York Yankees and Washington Senators from 1947 to 1955. Although John Caneira's stay in the major leagues was much shorter than Shea's, he became a second Naugatuck Nugget, as evidenced by his trio of hall-of-fame selections. Taken in total, all of these tributes, in addition to his happy family life, unequivocally spell success.  
February 1, 2011                                                                   
Sources
www.capecodbaseball.org/News/news2004/NewsCCBL_13June04.htm
www.kettleer.org/ccblhalloffame2004.htm
California Angels Media Guides, 1975-1979
Naugatuck Daily News, Commemorative Souvenir Edition, June 30, 1972.
Gillette, Gary, and Pete Palmer, eds. The ESPN Baseball Encyclopedia. New York: Sterling Publishing Company, 2007.
Official 1978 Baseball Register. St. Louis: The Sporting News, 1978.
Official 1979 Baseball Register. St. Louis: The Sporting News, 1979.
E-mail correspondence with Robert Molta, sports information director, Eastern Connecticut State University, March 18, 2008. Caneira ECSC statistics also provided by Molta.
E-mail correspondence with John Caneira, March 25 and April 7, 2008.
Born
October 7, 1952 at Waterbury, CT (USA)
If you can help us improve this player's biography, contact us.
http://bioproj.sabr.org/bp_ftp/images5/CaneiraJohn.jpg
600
800
admin
/wp-content/uploads/2020/02/sabr_logo.png
admin
2012-01-04 20:44:48
2020-10-21 13:14:41
John Caneira