Joe Rudi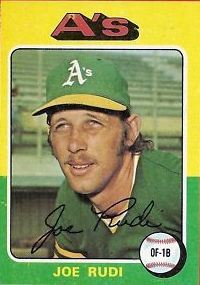 Solid left fielder Joe Rudi was a core member of the Oakland A's 1972-74 dynasty. He was runner-up for the American League's Most Valuable Player twice during this period, and he also won three straight Gold Gloves from 1974 through 1976. Rudi's numbers with the bat don't look dazzling today, but he did lead the AL in total bases in his best offensive season, 1974. He also hit .300 in 71 World Series at-bats and made one of the top catches in Series history in 1972.
It took Joe several years and a lot of hard work to mature as a major-leaguer. This and his quiet, low-key nature on a team with many flashy characters gave him a reputation as "underrated." As Bill James wrote in his New Historical Abstract, "the press. . . continued to say this for years after it was no longer true. . .Rudi himself finally put an end to it." [1] Joe said in 1974, "Sometimes all I get is ink about not getting ink. I wish people would just concentrate on the job I do on the field."[2]
Joseph Oden Rudi (the family name is Norwegian) was born on September 7, 1946 in Modesto, California. Joe's father, Oden Rudi, was born and raised in the small town of Waterford, about 20 miles east of Modesto. Oden met his wife, Bessie Courtney, while he was stationed in Georgia serving with the Air Force in World War II. Joe was the second of their three children; he had an older sister named June and a younger brother named Paul. Oden was originally a meat cutter, but he mainly worked in the Sharpe Army Depot while Joe was growing up.[3] Bessie was employed by Sears as a bookkeeper and later went to work for Stanislaus County.
Joe served as a Little League batboy at the age of five and joined the team at age seven "because a lot of times they didn't have nine guys to play." The lad stood six feet tall at the age of 11. [4] "Other managers would not believe my age," he said in 1967. "I had to carry a birth certificate around to prove it to them."[5] Size was probably one reason he pitched from ages 10 to 14.
Rudi first went to Oakdale High School in Waterford, but he transferred to Downey High in Modesto after his family moved there in 1961.[6] Joe starred in three sports at Downey. He was a heavyweight wrestler, played football in his freshman and senior years, and starred in baseball, though he bounced back and forth between third base and shortstop. He was known more for batting than fielding, hitting .320 as a sophomore and .436 as a junior. Coach Jerry Streeter said in 1964, "He has the grades to go to college but professional offers can be tempting." Already Rudi was projected as a first baseman or outfielder. Streeter added, "When a kid can swing the bat like Joe can, they can find a place for him."[7]
Yet his father would not come out to see Joe play. "He kept telling me to stop this foolishness and concentrate on preparing myself for a real career," Rudi recalled in 1975. "He would remind me over and over again that in Norway young men worked hard learning to be shipbuilders or fishermen or engineers and didn't waste time fooling with bats and balls."[8]
Joe's senior season was cut short in April 1964. Pat Jacquez of Stagg High in Stockton (who pitched in two games for the 1971 Chicago White Sox) ran a ball in on the righty swinger. It broke a small bone in Rudi's left hand, and he wound up in a cast for three months. Amazingly, he stayed in the game, hitting a two-run homer.[9] But after the injury, "his father became more convinced than ever that sports was his son's ruination."[10] A number of pro scouts also shied away. The one who remained most interested was Don "Ducky" Pries of the A's (then still based in Kansas City), who had watched Rudi in American Legion ball as well. He signed Rudi for a modest bonus; "I think it was $15,000," Joe said in 2011. "Not much." In 1967, he said of Pries, "I liked him and he was very honest with me."[11] In 1972, he added, "Other organizations offered me more money, but I signed with the A's because of him. Also, he told me the players in Kansas City then were old, more or less hangers-on."[12]
Because his hand was still healing when he signed, Rudi reported first to Kansas City so they could evaluate the progress. After his first pro season, The Sporting News put him in "the doubtful category."[13] Teammate Skip Lockwood later said, "He was a big kid but he hadn't matured. He was always so strong that you knew if he ever found his coordination, it would really be awesome."[14]
To start the 1965 season, Rudi was actually on Kansas City's major-league roster, but under the constraints of the "first-year player" rule, the A's then worked an end run around the system with the Cleveland Indians and a prospect named Jim Rittwage (who eventually pitched in eight games for the Tribe in 1970). By good fortune, the A's had a Class A farm club in Modesto, and in 1966, Rudi had an excellent year in front of the hometown folks. "His solid hitting made him a town favorite and induced his father to begin attending his games." [Said Joe in 1975,] 'He converted and became such a fan that now you can't keep him away from the ballpark.'[15]
On May 9, 1966, Rudi also married his high-school sweetheart, Sharon Nickerson (whose original family name was Howell until her mother remarried). Sharon's stepfather, Gilbert "Gib" Nickerson, was a real-estate man in Modesto. He got the newlyweds involved in that business, which continues to provide their livelihood today.
In spring training 1967, Joe impressed manager Alvin Dark. He made his big-league debut on Opening Day at Kansas City's Municipal Stadium, starting in left field. "It was a really tough time," Rudi recalled in 2011. "My biggest problem was that I hadn't played the outfield much. Going from the small minor-league ballparks to the big-league parks was a big adjustment. It was like playing in the Grand Canyon." He appeared in just eight games before the team sent him down to Double A, where he played mainly first base. "The farm director, Bill White – not the Cardinal, but also a first baseman – gave me his glove," Rudi said in 2011. "Taking all that infield practice and throwing hard every time really strengthened my arm for when I returned to the outfield." He was recalled to the majors in September.
The A's moved to Oakland for the 1968 season, and Rudi started the year at Triple-A Vancouver. After an impressive 16-game stint, he was brought up in early May -- and in his first return appearance, Catfish Hunter threw his perfect game ("a little nerve-wracking!" Rudi said in 2011). Joe spent the rest of the season with Oakland but struggled. One highlight came on July 15, when he hit his first of 179 big-league homers off Boston's Dick Ellsworth.
In the winter of 1968-69, Rudi got his only taste of baseball in a foreign land, joining the Magallanes Navigators of the Venezuelan league. He played both first base (which Al Dark had thought might be his better position) and outfield. He hit .221 with 8 homers and 21 RBIs in 59 games, in part because he had a back problem from carrying his newborn son around Caracas.
For 1969, the A's assigned Rudi to their new Triple-A affiliate, Iowa. There again he played mainly first base. In early June, he was hitting .395 -- better than anyone else in Organized Baseball at the time -- with 59 RBIs. Herb Michelson of the Modesto Bee wrote, "The A's immediately used him in left. And Joe felt laden with instant pressure. He didn't produce in a couple of weeks, was benched and then, on Aug. 4, returned to Iowa in the first corn boat."[16]
Rudi returned in September and never played again in the minors. Yet the Oakland brass was still doubtful. "We know Joe is better than he's shown so far," said manager John McNamara. "But it's hard to say what his future might be with the team. There are a number of question marks. . .I'm playing Joe now because I want to look at him. But I haven't looked ahead to next spring."[17]
"I just got really frustrated those first few years," Rudi said in 2011. "In 1969, I just never hit it off with [manager] Hank Bauer. I never got to stay in the lineup consistently."
In December 1969, the A's acquired Felipe Alou from Atlanta, making him their primary left fielder in 1970. However, Rudi felt like he was on firmer footing. "I got a chance in spring training that year," he said in 2011. "Reggie Jackson had 47 homers in 1969, and he got in a salary dispute with Charlie Finley and held out, and Johnny McNamara used me.'" He also blossomed as a hitter, thanks to noted batting coach Charlie Lau, who (in his only season with the A's) cut down Rudi's long swing and put him in a very closed stance. In 1972, Joe said, "Charlie Lau changed my whole theory on hitting and what I was trying to do with the ball. . .It was like being in the boonies all your life and walking into a big city and finding a metropolitan library."[18]
In April 1971, Oakland traded Felipe Alou and made Joe the full-time left fielder. He hit fairly well, but his power disappeared after a two-week stint with the Marines in late July and early August. Joe added, "I missed more than 30 games because of the service. Those two- and three-day weekend breaks hurt too. They disturb your rhythm."[19] In 2011, he gave more insight. "You couldn't miss a meeting in the Marines. You had to check in at 5:00 at night on Friday, and you were released at 5 PM on Sunday. That meant you had to leave Thursday and fly back Monday."
After returning from his off-season job selling insurance out of his home, Rudi made the All-Star team for the first of three times in 1972. He led the AL in base hits with 181 and triples with nine. He was runner-up to Dick Allen as league MVP, modestly noting, "I think it would have been unjust if anyone but Dick had won it after the year he had."[20]
That June also featured one of owner Charles O. Finley's promotional gimmicks: Mustache Day. Joe said in 2011, "I've never shaved it. Sharon liked it. I guess it'll stay with me until she gets tired of it."
Rudi attained national prominence during the 1972 World Series against the Cincinnati Reds. In Game Two at Riverfront Stadium, his third-inning solo homer stood up as the margin of victory as Oakland won 2-1. He preserved the lead with a great catch in the ninth inning. Roger Angell, in one of his many brilliant images, described it best: "Rudi, in pursuit of a very long drive hit by Denis Menke, plastered himself belly-first against the left-field wall like a pinned butterfly and somehow plucked down the ball."[21] It was right at the end of the webbing of Joe's glove; in fact, some fans thought it had bounced free. At the time, Tony Pérez was on first, and if Joe hadn't made his leaping backhanded grab, Pérez would have scored. A's manager Dick Williams proclaimed that the catch was better than either Willie Mays' in 1954 or Al Gionfriddo's in 1947 (though that may have been hyperbole).
In a post-game interview, Rudi credited Joe DiMaggio with teaching him how to go back on balls. It's hard to imagine The Yankee Clipper in anything but pinstripes, but he wore Charlie Finley's garish green and gold getups as a coach with Oakland in 1968 and 1969. "I loved him," Rudi said in 2011. "He was totally different to what everyone thought: funny, a prankster, he loved to rib guys – he was one of the guys. But he was hounded so much, they had to make special arrangements for him to get in and out of the stadium. Everyone wanted a piece of him. But he was a great guy. It was a real blessing with him there. Working with him and Bob Kennedy [Oakland's manager in 1968] made all the difference in the world."
Rudi's production dipped in 1973, but down the stretch, he was one of the A's hottest hitters. In the AL playoffs against Baltimore, he hit just .222, but his three RBIs all came in important situations. During the World Series against the Mets, he hit .333 and enhanced his reputation as a clutch hitter, while again playing well in the field.
Rudi was runner-up to Jeff Burroughs of the Texas Rangers for AL MVP in 1974. He went just 2 for 13 in the ALCS against the Orioles but hit .333 once again in the World Series. His seventh-inning homer off Mike Marshall in Game Five gave the A's a 3-2 win and finished their rout of the Los Angeles Dodgers.
In 1975, the A's decided to put Claudell Washington -- promising as a 19-year-old rookie the previous year -- in left field, shifting Rudi back to first. Bemused, he said, "It's kind of funny that after playing left field eight years and finally winning a Gold Glove there, I'm moved."[22] Yet, Joe won another Gold Glove in '75 despite playing only 44 games in the outfield. He continued to hit well.
By this time, however, things were going sour with Charlie Finley. Rudi had made $84,000 in 1975 as he settled with Finley out of arbitration. He asked for $400,000 over three years, not an outlandish amount, but "Finley ignored the request, did not negotiate and, because Rudi did not sign once the season had started, cut the contract the maximum 20 per cent."[23]
On June 15, Finley decided to sell Rudi and Rollie Fingers for $1 million apiece to the Boston Red Sox, while peddling Vida Blue to the Yankees for a reported $1.5 million. As Herb Michelson wrote, "Joe was annoyed by Boston's treatment of him. . .'Boston started off by lying to us,' said Joe. 'Telling us no deal had been made yet. Then they said they wouldn't restore my 20 per cent salary cut. I'd asked for that as a sign of good faith so [agent] Jerry [Kapstein] could negotiate with them. But they wouldn't do it. Here they'd spent a million dollars to get me and they wouldn't spend another $15,000 as a gesture of good faith.'"[24]
A few days later, Commissioner Bowie Kuhn voided the sales as "not in the best interest of baseball." Rudi finished playing out his option with the A's and had another solid year, even though "I reached the point this season where I just didn't enjoy going to the ballpark anymore." Despite its disadvantages, Oakland was home, but the time had come to leave -- which was really saying something. Rudi was by all accounts the nicest and straightest guy on the club. In 1972, he gave the ball that he caught to end the World Series to Finley, saying, "He's waited a long time for this."[25] After that season, when his contract was mentioned, Joe said, "Mr. Finley has always been fair to me."[26] Now he voiced his discontent to Herb Michelson at length, feelings best summed up by the line, "I'm just tired of Charlie's bullbleep."[27]
Rudi entertained various offers, and while money was certainly a prime consideration, he said, "I just want to go to a good organization where it's fun to play, where they treat you first class, where there's no bickering and hollering. Where you won't be harassed."[28] On November 17, he signed with the California Angels and owner Gene Autry. "Another great man – a wonderful guy," said Rudi of The Cowboy in 2011. "I used to have a golf tournament in Modesto for charity. One year he came up and I didn't even know he was coming. He was the main speaker. Win or lose, he'd come around the clubhouse. He never said a derogatory word."
Rudi's years in Anaheim were productive -- when injuries didn't keep him out of the lineup. The 1977 season was shaping up as potentially his strongest, but it was derailed after 64 games by an injury like the one he suffered back in high school. On June 26, Nelson Briles of Texas hit Joe's hand with a pitch, chipping the second metacarpal, behind the index finger.
"It was the only time I ever saw Gene Autry get mad," Rudi recalled in 2011. "Briles had hung a slider to Don Baylor that inning, and Baylor hit it out. When I came up, he threw the ball behind my head. I ducked, and I still had the bat in my hand. Autry was just seething. He knew it was on purpose. It was so obvious it was ridiculous." The hand went in and out of casts over the next couple of months but failed to heal properly. Finally, Rudi underwent surgery on September 2 to remove bone fragments, ending any thoughts of a comeback that year.[29]
The hand still wasn't 100% until well into spring training 1978, but as it turned out, that was the only season approaching a full one for Joe in Anaheim. He started well but slumped badly. Former President Richard Nixon, always a keen baseball fan, then offered his support after a visit to Anaheim Stadium. It's easy to imagine Tricky Dick saying, "Let me say this about Rudi. Although he hasn't hit well, he has saved some games in the field. He will be the glue to get this team back together if he gets his swing back."[30] Rudi proceeded to hit two grand slams in the span of nine days (he finished his career with 12).
Assorted leg injuries marred Rudi's 1979 season. While running out an infield hit in Detroit on August 15, he hurt his right Achilles tendon. The initial estimate was that he would be out for "at least three weeks," but he was done for the year. As a result, Joe did not appear in the postseason for the Angels, who won the AL West with Don Baylor as their primary left fielder.
The 1980 season was Rudi's last with the Angels; calf and hamstring pulls hampered him. Yet again his season was cut short prematurely. In the second game of a doubleheader at Minnesota's Metropolitan Stadium, Joe left with a strained left calf, and he did not return. In January 1981, the Angels traded him along with Jim Dorsey and Frank Tanana to the Red Sox for Fred Lynn and Steve Renko.
After the trade, Joe told Peter Gammons of the Boston Globe, "I've got some good days left."[31] Just a few of them came during his lone year in Boston, though, including a two-homer game at Fenway Park on August 12 -- his last of nine such games in the majors. Overall, it was not an enjoyable season. He became a free agent again on November 13.
On December 4, he signed a two-year contract with Oakland, returning to the scene of his triumphs. "There were many reasons why we signed Rudi," said A's president Roy Eisenhardt, "not the least of which was sentiment. Joe Rudi brings character, community and a sense of team with him." He compared Joe's veteran experience to that of Lou Piniella, who had helped the Yankees to beat Oakland in the AL playoffs that year.[32] It was no coincidence that the A's manager was Billy Martin, who had preferred Rudi to Reggie Jackson were both free agents in 1976.[33]
Joe played his final big-league season in '82, mainly at first base,. The A's expected him at spring training in 1983, but chronic soreness in both Achilles tendons kept him at the family's new home: a 300-acre cattle ranch in the northeastern Oregon town of Baker City. "The team doctor told me, 'If you hurt your Achilles again, you won't be able to do things with your kids,'" said Rudi in 2011. "I still kept trying to get back, but I never could." Rudi spent the entire '83 season on the disabled list, and Oakland chose to release him that October.[34]
Rudi started the baseball team at Baker High School. In 1986 and '87, however, manager Tony La Russa, a close friend from their minor-league days, brought him back to the A's as a batting and outfield coach. Among others, Joe worked with José Canseco, seeking to make the hulking slugger a "complete" player. "It was homestands in '86, I'd come down from Baker and then go back to check on things at the ranch. In '87, I was gone about four-fifths of the time. Tony wanted me as hitting coach in '88, but the stress of being gone was too much. I wanted to be there for Sharon and my second son in particular." He then assisted at Baker for another couple of years.
Joe and Sharon had four children: Michael (the infant who was with them in Venezuela), Scott, Heather, and Shaun.[35] Shaun was good enough in baseball to be a 48th-round draft pick in 1998. That year, the Rudis moved back to Modesto to be nearer their elderly parents; they worked for a real-estate firm there. Former teammate Carney Lansford bought the ranch in Oregon.[36] In the fall of 2001, however, they returned to Baker City after concluding family business. "Team Rudi" remains very active in the local real-estate business; Joe also does some instructing at a local baseball academy and sponsors tournament play with wooden bats. His main leisure pursuit is ham radio, which he has enjoyed since his playing days.[37]
Looking back on his baseball career in 2011, Joe Rudi said, "It's all I ever imagined doing when I was younger. It was the focal point of my younger years. It was an amazing journey, a group of guys who came up together from Single A to Birmingham to the majors. We were a really young ballclub in '68, Finley threw us out there every day and we got our butts kicked. Then we matured. I talk to Gene Tenace, I talk to Reggie once in a while, I see some of the other guys at alumni golf tournaments, though we don't travel much any more. But the relationships you develop – when we get back together, it's like we've never been apart at all."
Grateful acknowledgment to Joe Rudi for his memories (telephone interview, April 17, 2011).
May 23, 2011
Sources
www.purapelota.com (Venezuelan statistics).
Notes
---