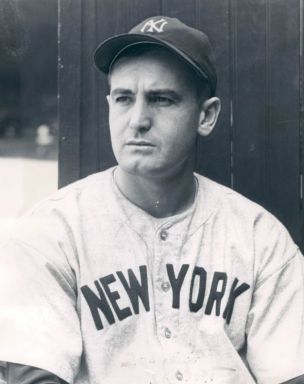 ---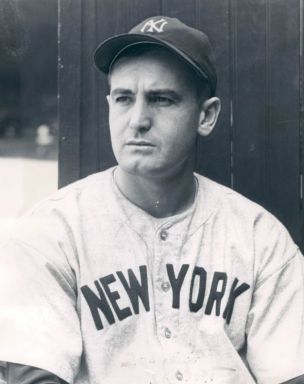 Standing 6-foot-1 and weighing 185 pounds, Missouri native Johnny Sturm could accurately be described as tall, dark, and handsome, a ubiquitous term applicable to literally thousands of ballplayers. What's rare about Sturm is his abbreviated major-league career, a single season as the regular first baseman on the 1941 New York Yankees. Although he legitimately contributed to winning a pennant and World Series, his name would never appear in another major-league box score.
The story dates to spring training 1941, as veterans and prospects began gathering in sunny St. Petersburg, Florida. A disappointing third-place finish for the Yankees in 1940 signaled changes were in-order for the upcoming season. Help appeared to be on the horizon, courtesy of the Yankees talent-rich AA farm club, the Kansas City Blues. Spring training invitees included shortstop Phil Rizzuto, second sacker Jerry Priddy, and first baseman Johnny Sturm.
The Yankees' incumbent first baseman Babe Dahlgren, the man who replaced an ailing Lou Gehrig in 1939, retained that position in 1940. But Babe still hadn't signed a contract before spring training began in 1941. "Ed Barrow was outraged that Dahlgren, a marginal player at best, had the nerve to hold-out into spring training, as though he were a star."1 As a result, Dahlgren was sold to the Boston Bees on February 25, 1941. Not surprisingly, five other Yankee holdouts promptly returned to the fold.
Upon hearing the news about Dahlgren, rookie Johnny Sturm's spirits got a boost; his chances of assuming the position had greatly improved. Unbeknownst to Johnny, the Yankee front-office was unsuccessfully attempting to lure veteran first baseman Joe Kuhel away from the Chicago White Sox. When that deal failed to materialize, manager Joe McCarthy's alternate plan kicked into effect: moving veteran second-baseman Joe Gordon over to first, with rookie Jerry Priddy taking over the keystone sack.
Sputtering badly out of the gate, the Yankees won only 14 of their first 29 games, falling 6½ games behind the league leading Cleveland Indians. Early on, Sturm, who had made the team out of spring training camp, noticed how uncomfortable Gordon looked at first base. Johnny approached the veteran in practice and constructively shared the intricacies of the position, learned from Gehrig during the spring of 1939. McCarthy noticed and approved, remarking: "Sturm acted like a veteran in doing what's best for the team."2
Compounding McCarthy's problem was Jerry Priddy's inability to hit major league pitching. Marse Joe's solution was to switch Gordon back to his natural spot at second and insert Sturm into the lineup at first base. The latter was coming off a successful 1940 season with the Kansas City Blues, hitting .312 in 144 games. The revised lineup changes took effect on May 15, 1941, the same day Joe DiMaggio began his remarkable 56 game hitting streak.
John Peter Joseph Sturm was born on January 23, 1916, the fourth of Andrew and Anna Sturm's six children. The couple had emigrated from Germany, taking up residence in St. Louis, Missouri, where Andrew earned his living as a cooper in a manufacturing plant. Johnny started following the St. Louis Cardinals at a young age, getting into the ballpark as a member of the knothole-gang, which provided youngsters an opportunity to watch other NL teams play in the city.
Despite being a dedicated Cardinals fan, Johnny's favorite player soon became Bill Terry, the New York Giants classy first-sacker. "We called him 'Terrible Bill' because of what he did to our Cardinals,"3 Johnny recalled. Observing Terry maneuver around the first base bag, "I thought he was the most graceful first baseman I ever saw."4
Like Terry, Sturm was left-handed all the way. Attending Roosevelt High School, he predominantly roamed the outfield, switching to first base when he began playing American Legion ball. Sturm was instrumental in helping the Hatzfield Post team earn a regional championship in 1932. Meanwhile, a part-time job at the Maplewood Department Store provided Johnny actual work experience, while allowing him to play competitive softball on the company team.
Johnny learned the brewery trade as an employee of Anheuser-Busch in 1933. Meanwhile fans of semi-pro ball noticed his improving finesse on the baseball diamond. He led the Missouri-Illinois Trolley League in hitting during the 1935 season. Major league scouts also began noticing his prowess on the field; whenever he played, it became a safe bet ivory-hunters would congregate in the stands.
The Brooklyn Dodgers were the first professional club to actually offer a contract. Sturm deftly slowed down the process, secretly hoping to speak with New York Yankees scout Bill Essick. The wait proved worthwhile; an impressed Essick not only witnessed Johnny's flawless fielding, but watched his prospect belt two long home runs. Sturm signed a Yankees contract in 1936, receiving an assignment to join the Class C Joplin Miners of the Western Association, managed by former Yankees catcher Benny Bengough. In 139 games Sturm hit a solid .325. Plus he had the proud distinction of recording three putouts on a single play against the Muskogee Tigers, making the outs at first, home, and third base as the result of a rundown.
Twenty-three games into the 1937 season, Johnny was hitting .267 as the Binghamton (NY) Triplets first baseman in the Class A New York-Pennsylvania League when he was demoted to Class B Augusta (GA) in the Sally League. The Yankees sent another prospect, Len Gabrielson, to Binghamton: "At the time, Gabrielson was the player the Yankees hoped would take over the first base job when the time came for Lou Gehrig to hang up his glove," reported Charley Segar in The Sporting News. But Gabrielson was eventually traded, while Johnny was hitting .300 in 89 games for Augusta. These numbers set the stage for Sturm's becoming the go-to first baseman within the organization. Moving up with the Double-A Louisville Colonels (American Association) in 1938, Johnny again reached .300 in 155 games. His overall performance warranted an invitation to spring training 1939 with the parent Yankees.5
The Florida training facility in St. Petersburg certainly impressed Johnny, but the opportunity to workout with veteran first baseman Gehrig really made the experience memorable. "His family came over from Germany, like mine did," Johnny remembered of his budding friendship with Gehrig. "We would speak German to each other when we got together." He said to me, "John, you're a good-looking young ballplayer. I hope you take my place someday." But Babe Dahlgren ultimately replaced Gehrig, when "The Iron Horse" removed himself from the lineup on May 2, 1939. 6
Johnny reported to the American Association's Kansas City Blues for the 1939 season. An exhibition game was scheduled in Kansas City on June 12, against the parent Yankees. Always anxious to please his fans, a seriously ailing Gehrig agreed to suit-up and even managed to play two innings. Before the game, "Sturm asked Lou how he felt, Gehrig responded wearily that he felt schlecht, which means "terrible" in German." Within a week the Mayo Clinic reported the dire news, confirming ALS and Gehrig's deteriorating condition. Sturm went on to hit .309 in 131 games for the 1939 pennant-winning Blues.7
The 1940 Kansas City Blues boasted a talented infield: Sturm at first, second baseman Priddy, Rizzuto at short, and Billy Hitchcock at third. Rizzuto commented how Sturm took a natural leadership role in guiding the other infielders. "He was really tops as a first baseman. At that time, first was played by guys who were big. They had guys who could hit the ball over the moon. But real classy first baseman, who could make the double play real smooth, they didn't have too many of them."8 Sturm hit .312 in 144 games for the pennant winning Blues. A somewhat flattered Johnny was voted by the fans as the most popular Blues player of 1940.
McCarthy's aforementioned revised 1941 Yankees lineup featured Sturm as the leadoff hitter, a batting-order spot he generally occupied in the minor leagues. Although not a prototypical number-one batter, McCarthy instructed his new first baseman to "see as many pitches as possible in each at-bat. By the time the game reached the late innings, the pitcher would've thrown 20-25 pitches to Sturm alone."9 McCarthy surmised that an elevated pitch-count would benefit the balance of his line-up.
On June 1, 1941, the third-place Yankees were playing a doubleheader against the Indians in Cleveland. In the second game, Johnny belted a two-run homer in the eighth inning, propelling the Yanks to a 5-3 victory. Though hard to predict at the time, this come-from-behind win ignited a Yankees offense that resulted in the team slugging a remarkable 40 home runs during the next 25 games. "Beginning with Sturm's clout on June 1," wrote Robert Creamer, "the Yankees hit at least one home run in every game they played for the entire month. For a time later in June the team's home-run streak attracted as much attention as DiMaggio's hitting streak." Johnny enjoyed his own hitting streak, connecting for safeties in 11 consecutive games.10
Sturm suffered a twisted spine while swinging the bat in late July; the resulting injury hurt his batting average during the latter part of the season. All told in 1941, the rookie first baseman appeared in 124 games slashing .239/.293/.300 with 7 home runs and 36 RBIs; his 568 plate appearances included 37 walks. "Joe McCarthy liked Sturm for his speed, fire and hustle. Not the greatest hitter in the world, but he's a winning type of ballplayer." The 12 errors he committed at first base placed him second highest in the AL.11
After clinching the 1941 AL pennant, the World Series against the Brooklyn Dodgers opened at Yankee Stadium on October 1. The Yankees won the opener 3-2. A rough play occurring early stuck in the Yankees collective craw, when Pee Wee Reese slid hard into shortstop Phil Rizzuto. Dodgers pitcher Johnny Allen took retribution the next inning, plunking Sturm. The Yanks went on to defeat the Dodgers in in five games. Overall, Sturm had a decent World Series: a .286 batting average, with a .318 OBP and 2 RBIs.12  
Johnny Sturm topped off his gratifying 1941 rookie season fittingly on October 18, when he married Florence Knobbe, his former high school sweetheart and grade school classmate. The newlyweds barely had an opportunity to honeymoon and settle down; within two months the country was at war. Johnny enlisted in the Army Air Forces, earning the distinction of becoming the first married ballplayer to serve. Assigned to a recreational unit at Jefferson Barracks in Missouri, Sturm assumed the duty of building baseball diamonds; he also managed the post baseball team, with a roster including fellow major leaguers Pete Reiser and Harry Walker.
The Yankees opened the 1942 season on April 14 at Griffith Stadium in Washington; at the time Sturm was the only 1941 regular lost to the club. The same afternoon his former teammates were handily defeating the Senators 7-0, Johnny was riding a tractor, clearing land for a new baseball field. Detecting a loose wiring harness, Johnny leaned over the right-side of the tractor attempting to dislodge the mechanism. His right (non-throwing) index finger got caught, resulting in two mangled joints; the injury required amputation of the top part of the finger.
Following his recovery, Sturm continued to serve in Missouri until March 1944, when a subsequent assignment ordered him to Kearns Army Air Force base in Utah, as the post athletic director and business manager of the baseball team. Wartime requirements had imposed great shortages on many items with hardly anything ever wasted; the base construction crew, for example, used leftover bomb crates as material to build makeshift grand-stands.
Ultimately shipped overseas, Johnny handled "like activities on five of the largest Hawaiian Islands, before duplicating the effort in Guam; Saipan; Tinian and Iwo Jima."13 Soldiers performing special services received no preferential treatment; when revelry blew at 5:30 a.m. all were expected to be in uniform and ready for duty. Sergeant John Sturm was honorably discharged on November 18, 1945, earning four battle-stars to commemorate his wartime service.
The Yankees' 1946 training camp somewhat resembled Abbott and Costello's "Who's on First" routine. Sturm, the 1941 incumbent — wearing a steel brace to protect his injured hand — was competing for the job along with his 1942 replacement, Buddy Hassett, and the competent Nick Etten, who had served as the first sacker in 1943-45. Etten had led the league with 22 home runs in 1944 and 111 RBIs in 1945, so he kept his job.
At the beginning of 1946 season, Johnny was shuttled back to Triple-A Kansas City. Hitting a respectable .267 in 45 games, Sturm garnered some interest from the Chicago Cubs. Two unfortunate incidents, though, would end any speculation of Sturm's returning to the major leagues. Kansas City was playing Louisville, with right-hander Emery Rudd on the mound for the Colonels. With the bases loaded and Sturm at the plate, Rudd threw a high and tight fastball that struck Johnny squarely on the right temple. Sturm collapsed to the ground, as his panic-stricken wife (and young daughter) witnessed the incident from the stands. Rushed to the hospital, Johnny's X-rays fortunately proved negative; however he was out of the lineup recuperating for a week.
As fate would have it, on June 7 Johnny suffered a broken wrist diving into second base. Since the injury ended Sturm's season, the Cubs naturally lost any interest in his prospective acquisition. Having missed four wartime seasons, Sturm's 1946 return to active player status had come to an abrupt halt.
Johnny's contract was sold to the Pacific Coast League Seattle Rainiers during the off-season. And despite his working hard to be in top physical condition for 1947, Sturm was disheartened by his meager .234 batting average after 27 games. He came to the sobering realization that his age (over 30), and missing an excessive amount of playing time, rendered him unable to maintain the vigorous regimen needed to perform at baseball's highest levels.
In a carefully composed letter to Yankees farm director George Weiss, Johnny stated his understanding of the necessity to serve during the war, adding he considered himself fortunate to simply come back home, when so many in the service never returned. Sturm then requested that he be considered for returning to the Yankees organization, in the capacity of a coach or manager.
The Yankees granted his request, and Sturm returned to the fold for a short stint with Binghamton in the Class A Eastern League in 1947, before becoming manager of the Ventura Yankees in the California League (Class C). Named player-manager of the Western Association (Class C) Joplin Miners in 1948, Johnny led the league in hitting with a .360 average in 132 games and earned All-Star honors at first base. Back with Joplin in 1949, Sturm led his club to a third-place finish, in what became his last season as an active player.
Johnny's career segued into scouting during the 1950s, becoming a keen-eyed ivory hunter for the Cincinnati Red Legs and later the Boston Red Sox. When the Houston Colt .45's made their NL debut in 1962, Sturm served as the team's lead scout.
During his retirement's leisure time he pursued his hobby of raising pigeons, serving at one point as vice-president of the Mt. Pleasant Pigeon Racing Club. Among other activities he enjoyed were soccer, bowling, and coaching Golden Gloves boxers.
Sturm died from congestive heart failure on October 8, 2004; he was survived by daughters Mary Noll and Annette D'Angelo, along with his son John. Sturm's wife Florence had passed away in 1989, and the couple are interred at St. Peter & Paul Cemetery in St. Louis.
From his days as a Yankees broadcaster, old friend and former teammate Phil Rizzuto shared the following poignant recollection of Johnny: "It's a sad thing. They've got this picture in the press room in Yankee Stadium. DiMaggio has hit a home run and is coming into the dugout, Johnny's congratulating him. Everybody tries to guess who it is, but they can't. I give them hints, I give them initials, it's a shame his career was so short."14
Last revised: June 5, 2023 (zp)
Acknowledgments
This biography was reviewed by Tom Schott and fact-checked by Rob Wood.
Notes
1 Robert W. Creamer, Baseball and Other Matters in 1941 (Lincoln: Univ. of Nebraska Press, 1991), 104.
2 Charley Segar, "Johnny Sturm, a Sparkplug in Yanks' Rebuilding," The Sporting News, September 25, 1941.
3 Jack DeVries, "1941 was good to Johnny Sturm," USA Today Baseball Weekly, October 18-24, 1991.
4 Segar, "Johnny Sturm."
5 Ibid.
6 DeVries, "1941."
7 Ibid.
8 Richard Tofel, A Legend in the Making (Chicago: Ivan R. Dee 2002), 112.
9 DeVries, "1941."
10 Robert W. Creamer, Baseball and Other Matters in 1941 (Lincoln: Univ. of Nebraska Press, 1991), 183.
11 Charley Segar, " Johnny Sturm, a Sparkplug in Yanks' Rebuilding," The Sporting News, September 25, 1941.
12 Gerald Eskenazi, The Lip: Leo Durocher. (New York: Wm. Morrow, 1993).
13 Unidentified clipping in Sturm's file at the National Baseball Hall of Fame Library, Cooperstown, New York.
14 Jack Etkin, Kansas City Star, July 24, 1985.
Born
January 23, 1916 at St. Louis, MO (USA)
Died
October 8, 2004 at St. Louis, MO (USA)
If you can help us improve this player's biography, contact us.
https://sabr.org/sites/default/files/SturmJohnny.jpg
600
800
admin
/wp-content/uploads/2020/02/sabr_logo.png
admin
2018-01-23 13:25:55
2023-06-05 08:57:11
Johnny Sturm