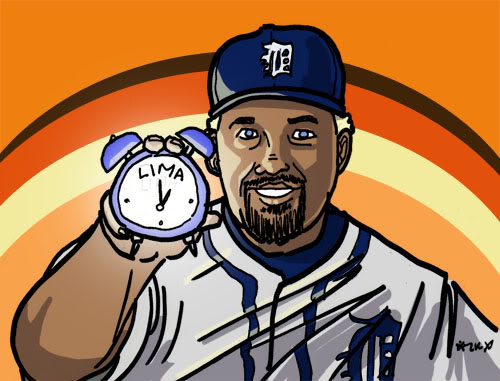 ---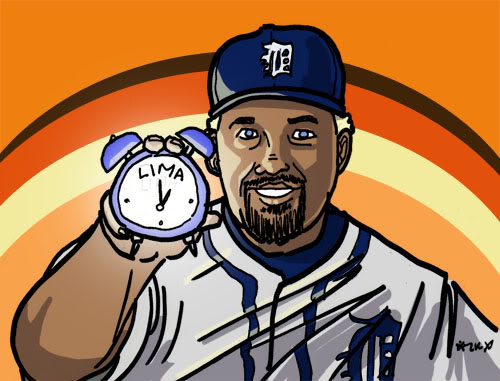 Flamboyance, like flakiness, is in short supply in 21st-century major league baseball. José Lima, the Dominican who pitched for five teams in the majors from 1994 to 2006, was one of the last distinct "characters." Zany and irrepressible, extreme and exasperating, Lima was a born showman who loved being the center of attention. He was a recording artist who wrote songs and performed with his own bands; he once sang the national anthem before a game at Dodger Stadium. He happily mingled with fans, especially children. He even posted to Dominican Internet baseball forums.1
Lima's big-league record was marked by surprising peaks; the righty won 21 games in 1999 and came back in 2003-04 after many thought he was washed up. There were also deep chasms, as his overall record was 89-102 with a 5.26 ERA. Yet his love for the game led him to keep going in Mexico, Korea and independent leagues as late as 2009. The next year, he died of a heart attack at the untimely age of 37. His memory lives on in his exuberant rally cry: "It's Lima Time!"
José Desiderio Rodríguez Lima was born on September 30, 1972. U.S. baseball references give his birthplace as Santiago (Santiago de los Caballeros, in full), the second-largest city in the Dominican Republic. This appears to be imprecise, for Santiago is also the name of a province in the Cibao region. Various Dominican sources, including a feature from October 2010, have shown his exact birthplace as Salaya, part of Sabana Iglesia, a municipal area in Santiago province.2
Additional information on Lima's family background comes courtesy of a 1999 feature in Sports Illustrated by Kostya Kennedy. "The oldest of seven children, he grew up in a three-room house on a fertile plot of land outside the city of Santiago. His father, Francisco Rodríguez, was a catcher for 12 years on a touring Dominican amateur team and supported his wife, Nurys Lima, and his seven children by working for the local lottery system and running out roosters for cockfights."3 Like the Alou brothers, the most prominent Dominican example, Lima became known in the U.S. by the maternal half of his double Spanish surname. The same is true of his younger brother Joel (born 1989), also a pitcher, who turned pro in the Dodgers system in 2008.
Kennedy continued, "The Limas [sic] never lacked for food — they kept farm animals and cultivated mangoes and plantains — but José began supplementing his family's income at age 11 by singing in nightclubs. At 13 he entered a competition at a festival and sang before a gathering of thousands. He belted out a song from the Villa-Lobos operetta Magdalena, outperforming nine other vocalists to win. His success prompted José to attend music classes. He became so intent on a singing career that he might never have played baseball beyond the sandlots."4 During his playing days, he had groups called Banda Mambo — "Mambo" was one of his nicknames — and La Fuga (The Escape). He cut at least four albums.5
"When he turned 15, however, Francisco asked him to give ball playing a serious effort, and José joined a team in the Dominican youth league. He pitched (going 9-0), played centerfield and was named his league's MVP."6 On July 5, 1989, Ramón Peña of the Detroit Tigers signed 16-year-old Lima out of Las Charcas High School for a mere $2,000.7
Lima's statistics in his first five years of minor-league ball (1990-94) were not eye-catching. He never had a winning record — in fact, he was 24-45 with a 4.03 ERA overall. Yet he showed a live arm, striking out nearly eight batters for every nine innings pitched. His minor-league baseball cards, which show a skinny teen (6'2" and 170 pounds), mention that he already relied on a circle change-up too.
Lima moved up the ladder steadily, making it to the majors for the first time early in the 1994 season. He got into three games in April and May. That August, while the majors were on strike, he threw a no-hitter for the Triple-A Toledo Mud Hens. He struck out 13 Pawtucket Red Sox while walking just one in front of Tigers manager Sparky Anderson and GM Joe Klein.8
Lima was up and down between Detroit and the minors in 1995 and 1996. He got 15 starts in 1995 but served mainly as a reliever in '96, starting just four times in 39 games. His overall record was not impressive: 8-15 with a 5.90 ERA. In December 1996, the Tigers sent him to the Houston Astros as part of a nine-player trade.
The Astros continued to use Lima out of the bullpen in 1997, and again the results were weak (1-6, 5.28 in 52 games). He pitched one inning in relief as the Atlanta Braves swept Houston in the NL Division Series. In 1998, however, he suddenly blossomed after joining the rotation. The Astros were dealing with injuries to other starters, and Lima virtually demanded of manager Larry Dierker and pitching coach Vern Ruhle that they use him.9 He started strongly and didn't look back, going 16-8 in 33 starts, and his 3.70 ERA was below the league average. Sharp control — just 32 walks in 233 1/3 innings — was a big part of his success. He was not in the playoff rotation, though, because the Astros had acquired Randy Johnson at the end of July.
The 1999 season was by far Lima's best. He was 21-10 with a 3.58 ERA; he finished second in the National League in wins behind teammate Mike Hampton and third in the majors behind countryman Pedro Martínez. Again his location was outstanding, with 44 walks in 246 1/3 innings. He was named to the All-Star Game for the only time in his career, pitching one scoreless inning, and came in fourth in the Cy Young Award voting. Looking back at the trade after he was named to an All-Star team for the only time in his career, he was thankful. "Detroit saved my life," Lima remarked, eyes flashing. "I came from hell to heaven. I'm on a winning ballclub."10
Kostya Kennedy described Lima vividly that June. "He takes the field with stirrups that extend to the top of his calves and begins a game-long dance that evolves pitch by pitch. He flaps his elbows, squeezes his fist, points, shrugs, grimaces, nods, jumps, kicks and writhes. He swivels his torso after one pitch and gyrates his hips after the next. After a big strikeout he busts a move that would make John Travolta proud, mock-shooting his victim with his forefinger and thumb."11 Opponents often didn't take kindly to Lima's histrionics, but those who joined him as teammates saw what was in his heart.
Houston won the National League's Central Division for the third straight year, but Lima lost his only start as Atlanta again defeated the Astros in the first round of the playoffs. Nonetheless, in January 2000, Lima signed a three-year contract for $18.75 million. To put it mildly, owner Drayton McLane and the team didn't get their money's worth. The Astros moved from the pitcher-friendly Astrodome to Enron Field (as it was originally known before the massive corporate fraud was revealed in late 2001). Lima had a year that can only be described as dreadful: 7-16, 6.65 ERA, and 48 home runs allowed in 196 1/3 innings (an NL record that still stands). The Hamilton (Ontario) Spectator summed it up neatly, "Lima is a flyball pitcher who is being killed by Enron's 315-foot left-field wall that draws baseballs like a neon light at night draws bugs."12
Things were pretty much the same over the 2001 and 2002 seasons. In aggregate, Lima was 10-18, 6.19, giving up 47 homers in 234 innings. In June 2001, Houston traded him back to Detroit for Dave Mlicki. The Tigers didn't even keep him around for the full year in 2002, releasing him in early September.
Lima went to indie ball for the first time in 2003, and he did a fine job for the Newark Bears, going 6-1, 2.33 in eight starts. In his tribute to Lima, Joe Posnanski of Sports Illustrated wrote, "The Royals' grand old scout Art Stewart had heard through his inexhaustible grapevine that Lima was throwing a decent fastball." This was important because there had come to be little difference between his fastball and change-up.13
In early June, Kansas City bought his contract, and because they were desperate for pitching, they sent him into action straight away. After a no-decision, he won seven straight starts before a groin injury threw him off stride; he finished with marks of 8-3, 4.91 in 14 starts. "He danced and sang and said the craziest things," Posnanski added. "His teammates absolutely loved him and were entirely annoyed by him in equal measure. Reporters hovered around him because he was always good for something."14
After Lima died, Joe Torre, who saw him as Yankees manager, said, "He was a showman, a hot dog. But he'd win games; and I think a lot of times, it wasn't his ability but his ability to will himself to do it. In talking himself into it, I think he sort of intimidated some of the opposition too."15
The Royals wanted Lima back, and he wanted to stay, but they couldn't come to terms. "Bob Dutton of the Kansas City Star report[ed] that Lima thinks he is entitled to more than the $500,000 plus incentives the team is offering him and he may look elsewhere for employment."16 Other teams weren't exactly lining up; he signed a minor-league contract in late January 2004 with the Los Angeles Dodgers. The nonroster invitee did quite well with L.A. that year: 13-5, 4.07 in 36 games (24 starts). But as Jon SooHoo of ESPN wrote, "Lima only found his way onto the Dodger roster the way fringe players often do, thanks in part to the misfortune of others. If Paul Shuey hadn't ruptured a tendon in his thumb at the end of March 2004, Dodger fans might never have heard of 'Lima Time.'"17
SooHoo added, "It was almost as much of a miracle that Lima stayed on the roster. His ERA on May 9, after nine appearances, was 7.91. But then Lima began having those 'Lima Time' moments. And although bad outings would crop up here and there, he became something of an unlikely hero."18 Before the turnaround, he also made the papers by singing "The Star-Spangled Banner" ahead of a start against the Chicago Cubs on May 13. The Los Angeles Times and La Opinión, the city's leading Spanish-language newspaper, both showed a photo of him at the mike, accompanied by his 5-year-old son José Jr. and wife Melissa.19
Lima's finest hour in the majors came on October 9, 2004. The Dodgers trailed the St. Louis Cardinals in the NL Division Series, two games to none, and manager Jim Tracy turned to Lima in Game Three. He responded with a five-hit shutout, allowing just one walk while striking out four. Alex Cora, who played second behind Lima at Dodger Stadium that evening, said, "I still remember 50,000 people going 'Lima, Lima' in the ninth inning."20 The Cardinals knocked the Dodgers out the next day on their way to the World Series, but that was still the club's first postseason win since they knocked off Oakland to win it all in 1988. Lima had only one other shutout in the majors; it came in 1998 with Houston.
Near the end of October, Lima became a free agent again. Jon SooHoo wrote, "Not surprisingly, the popular feeling in town was that the Dodgers had to bring Lima back — how could they not? But … it was almost inevitable that Lima would not return. Based on the rules that existed at the time, the Dodgers were actually operating at a disadvantage compared with the other 29 teams in baseball in that they had to offer him salary arbitration or forfeit the right to negotiate with him on the open market. Essentially, the system at the time required the Dodgers pay Lima more than any other team had to. And given that Lima's performance was so fluky, it just didn't make sense for them to do so."21
On Christmas Day 2004, he returned to the Royals on a one-year contract. Kansas City GM Allard Baird said, "He's a proven guy that can give you innings and wants the ball in big situations, so we're glad to have him."22 Lima was the Opening Day starter for K.C. in 2005, and he couldn't wait for the career-first opportunity. As Bob Dutton wrote, "Spend any time around José Lima, and it quickly becomes apparent he is never at a loss for words. Anytime, anywhere, any subject. Without even asking, he is always ready with an answer, a comment or, on occasion, just noise. These words, delivered from the heart and off the cuff, are seldom slowed by the hesitation required for reflection."23
Unfortunately, the $2.5 million investment was disastrous once again. Granted, Kansas City finished with a 56-106 record that year, but Lima's winning percentage (5-16, .238) was well below the club's. He didn't win his first game until June 15 and gave up 31 homers in 168 2/3 innings, which led to a 6.99 ERA. Yet, as ever, he was optimistic. In late September, Bob Dutton noted, "Even now, as he approaches his final start in a miserable season, Royals veteran José Lima still envisions the best of times."24
It was little surprise that the Royals did not renew Lima's contract. But another organization was still willing to give him a chance: the New York Mets, who signed him to a minor-league deal in February 2006. Arriving at spring training, "he wore a silver three-piece suit, a black fedora and large diamond earrings. He happily posed for photographers and he was hardly about to dwell on his less than stellar statistics of the previous season. He had another number in mind, announcing that he owned more than 2,000 suits. 'I've never worn the same one twice,' he said. 'I give the old ones to my brothers. They wear the same size that I do.'"25
Lima's record in his first six starts at Triple-A Norfolk was unremarkable (3-2, 5.10), but New York called him up in May after Brian Bannister and John Maine got hurt.26 Manager Willie Randolph said of Lima — sporting bleached-blond hair, which he also braided into cornrows — "He'll help us as needed. Lima's been in the league. You hope he'll come in, locate his pitches, and work a little Lima magic."27
The hope was misplaced. He got three consecutive starts — all remarkably similar, all losses. Nonetheless, "he still carried his trademark enthusiasm and energy to the ballpark every day."28 After accepting a reassignment to Norfolk, Lima got one last chance on July 7, at Shea Stadium against the Florida Marlins. He gave up just one run through three innings, but during the fourth the roof caved in. Even after opposing pitcher Dontrelle Willis smacked a grand-slam homer, Randolph kept Lima in, but the hook came after one more base hit.
After finishing the season in Norfolk (7-8, 3.92), Lima Time came to Mexico. He had a nice year with the Saltillo Saraperos in 2007, leading the staff with a 13-4, 3.60 record in 22 starts and representing the Northern division in the Mexican All-Star Game.29 Even after he faded from the major-league scene, Lima and his doings were still visible in the Dominican press.
He then went to the Korea Baseball Organization in 2008, pitching for the Kia Tigers.30 "Lima played as a Tiger for seven months from the beginning of the 2008 season, before being ousted in the middle of the season for underperforming. He was 3-6 with a 4.89 ERA in his 14 appearances."31 He returned to the Atlantic League, going 5-5, 4.98 in 11 starts for the Camden Riversharks.
Lima spent his final pro summer in the Golden Baseball League in 2009, posting totals of 6-7, 3.95 in 16 starts, first for the Long Beach Armada and then the Edmonton Capitals. He never lost hope of making it back to The Show. "We're all here for the same thing," he told the Los Angeles Times while pitching for Long Beach (one teammate was another pitcher who died too soon, Hideki Irabu). "If you work hard and stay focused, no reason you can't get picked up by some major league team. I'm not giving up, man. Trust me, I'll be back. It'll be Lima Time again."32
Lima's last professional action came in Dominican winter ball. He played off and on there for 14 seasons, starting in 1991-92 with his local team, Águilas Cibaeñas. He spent several winters with the Escogido Leones before coming back to the Águilas in 2004. Overall, he posted a record of 32-26, 3.12 in the Dominican League. Although he was just 1-4 with a 6.39 ERA in the winter of 2009-10, he still planned to play again, even though he did not sign with any club for the summer of 2010.33
Lima's personal life was complicated. By one 2012 account, he had at least six children by six different women.34 Dominican sources say that he had two official marriages. His first wife was named Betzabel Osirys Knotts; they were married on October 15, 1994 and divorced on October 6, 1997. The second was Melissa (maiden name Langholz), though unconfirmed reports also describe her as a common-law wife. She was the mother of his son José Jr.; after Lima died, she got married to Roberto Clemente, Jr.
From his relationship with Dominican model Dalla Leclerc, Lima had a daughter named Kammiell. Names are available — though not specifics about mothers — for two other children, Elijah José and Brianna. For roughly a year before he died, Lima was in a relationship with Dorca Astacio, though they were apparently not married.35 It's also of some note that in the early 1990s, Dorca, whose maiden name was García Thomas, was married to another Dominican big-leaguer, pitcher Pedro Astacio.36
Lima's relationships tended to overlap, going off and on while he played the field. In 2004, he had to pay $475,000 to a woman who filed a lawsuit against him because of unhappy consequences from their 2003 encounter.37
Lima and Dorca made their home in Pasadena, California. He continued to enjoy going to Dodger Stadium; during the month of May 2010 alone, he went several times. On Friday, May 21, he "sat in the front row of the field level behind home plate and received a loud ovation when he was introduced between innings."38
Lima went out dancing on Saturday night, but the following morning, he took ill. Dorca told ESPN's Spanish-language site, ESPNdeportes.com, "José was complaining while sleeping and I just thought he was having a nightmare. . . I called the paramedics, but they couldn't help him. It was a massive attack." She added, "He was a man full of life, without apparent physical problems and with many plans and projects on his agenda."39
Luchy Guerra, longtime coordinator of Latin American affairs for the Dodgers, was the first person Dorca contacted. He said, "When I arrived at the house, I couldn't believe that it was possibly true. I didn't believe it until I saw him lifeless. We had dinner Saturday night and all he could talk about was his new baseball academy for kids and what he could do with it."40 In addition to the planned academy in the L.A. area, he had one in mind for Dominican children in the town of Jinamagao. He was also thinking about getting into broadcasting.41
Lima's body was brought first to New York City, where a wake was held in the Corona section of Queens that drew such Latino big-leaguers as David Ortiz, Robinson Canó, and Tony Peña.42 The following day in the Dominican Republic, thousands of fans attended his funeral in Estadio Cibao, home of the Águilas.43 He was buried in the cemetery in Salaya/Las Charcas.44
In September, the Los Angeles Department of Coroners released the autopsy report, which did not state conclusively that heart failure was the cause of death — "likely" was the word used — but noted some risk factors for fatal cardiac arrhythmia. The report also revealed no trace of illegal substances in his system. "Now José will be able to rest in peace," Dorca told ESPNdeportes.com. "Those of us who loved José have not only suffered his death, but also the quick judgments lashed out by many people about the supposed reasons for his death."45
A myriad of articles attest to José Lima's gregarious nature, infectious energy, high spirits, and funny antics. It's impossible to capture them all here, so two last simple quotes will suffice. Catcher Brad Ausmus, who handled Lima with the Tigers and Astros, said, "You come to realize that the energy you see on the mound isn't a false persona, that's José Lima."46 The other came from Josh Rawitch, a public relations man for the Dodgers: "I don't know if Lima had any regrets but of this much I'm certain — he lived every day of his 37-plus years to the fullest. In fact, I'd venture to guess that he put 100 years of life into his 37 years on Earth."47
Illustration
Samara Pearlstein, Roar of the Tigers. Used by permission.
Sources
In addition to the sources cited in the Notes, the author also consulted Baseball-Reference.com, Retrosheet.org, and www.checkoutmycards.com.
Other remembrances of José Lima not used in this biography
Borelli, Steven. "To many, 'Lima time' meant approachable, outrageous and fun." USA Today, May 24, 2010 (http://content.usatoday.com/communities/dailypitch/post/2010/05/to-many-lima-time-meant-approachable-outrageous-and-fun/1)
Brown, Tim. "Lima's legacy lives on." Yahoo! Sports, May 23, 2010 (http://sports.yahoo.com/mlb/news?slug=ti-lima052310)
Drellich, Evan. "Dodgers recall Lima's infectious personality." MLB.com, May 23, 2010 (http://mlb.mlb.com/news/article.jsp?ymd=20100523&content_id=10373838&vkey=news_la&fext=.jsp&c_id=la&partnerId=rss_la)
Jackson, Tony. "Lima 'loved being a Dodger.'" ESPNLosAngeles.com, May 23, 2010 (http://sports.espn.go.com/los-angeles/mlb/news/story?id=5212721)
Justice, Richard. "Lima holds special place in hearts of Astros fans." Houston Chronicle, May 24, 2010 (http://www.chron.com/sports/justice/article/Justice-Lima-holds-special-place-in-hearts-of-1695838.php)
Mellinger, Sam. "Lima's time was filled with joy." Kansas City Star, May 23, 2010. (No longer available online)
Notes
1 As observed by Rory Costello in November 2005 while researching Midre Cummings, who also played for Águilas Cibaeñas in the Dominican League during the 2005-06 season. Lima's post is not presently visible, but the memorable part was that he wrote, "¡Sí, soy yo, Lima!" ("Yes, it's me, Lima!")
2 "Recordando a José Lima," De La Zona Oriental.net, October 23, 2010 (http://www.delazonaoriental.net/2010/10/23/recordando-a-jose-lima/)
3 Kostya Kennedy, "The Mambo King," Sports Illustrated, June 14, 1999 (http://sportsillustrated.cnn.com/vault/article/magazine/MAG1016148/index.htm)
4 Ibid.
5 Press-Enterprise (Riverside, California), May 13, 2004.
6 Kennedy, "The Mambo King."
7 "Baseball Notebook." Detroit News, August 1, 1999. This Ramón Peña, who has signed dozens of major-leaguers over the years, is not to be confused with the brother of longtime major-league catcher Tony Peña. That Ramón Peña appeared in eight games as a reliever for the Tigers in 1989.
8 Clyde Hughes, "Hens' Lima tosses no-hitter," Toledo Blade, August 18, 1994: 29.
9 Kennedy, "The Mambo King."
10 "Ex-Tiger Lima relishes All-Star attention," Detroit News, July 13, 1999.
11 Kennedy, "The Mambo King."
12 "Last night in baseball," The Spectator (Hamilton, Ontario), June 23, 2000: E2.
13 Joe Posnanski, "Lima Time ended too soon, but the show, as always, must go on," Sports Illustrated website, May 24, 2010 (http://sportsillustrated.cnn.com/2010/writers/joe_posnanski/05/24/jose.lima/index.html).
14 Ibid.
15 Keith Thursby, "Jose Lima dies at 37; pitcher helped Dodgers reach 2004 playoffs," Los Angeles Times, May 24, 2010.
16 Jim Baker, "Peep Show." ESPN.com, November 26, 2003. (http://proxy.espn.go.com/insider/story?id=1671664&campaign=INOS05&source=INgspider).
17 Jon SooHoo, "Remembering Jose Lima: Time ticks away so fast," ESPN.com (http://espn.go.com/blog/los-angeles/dodger-thoughts/post/_/id/5139/lima).
18 Ibid.
19 La Opinión (Los Angeles, California), May 14, 2004: 10C.
20 Ian Begley, "Mets' [José] Reyes on Lima: 'A great guy'," ESPNNewYork.com, May 24, 2010 (http://sports.espn.go.com/new-york/mlb/news/story?id=5213357).
21 SooHoo, "Remembering Jose Lima: Time ticks away so fast"
22 Wire service reports, December 27, 2004.
23 Bob Dutton, "Lima can't wait," Kansas City Star, April 4, 2005: C1.
24 Bob Dutton, "Lima shoots for big finish," Kansas City Star, September 28, 2005: D5.
25 Richard Goldstein, "Jose Lima, Colorful and Popular Pitcher, Dies at 37," New York Times, May 23, 2010.
26 Marty Noble, "Notes: Lima set to start," MLB.com, May 6, 2006. (http://mlb.mlb.com/news/article.jsp?ymd=20060506&content_id=1440365&vkey=news_mlb&fext=.jsp&c_id=mlb)
27 "Hurting Mets turn to 'Lima magic'," Chicago Tribune, May 7, 2006: 16.
28 Begley, "Mets' Reyes on Lima: 'A great guy.'"
29 "José Lima convocado al Juego de Estrellas," Listín Diario (Santo Domingo, Dominican Republic), May 26, 2007.
30 James Jahnke, "What's 'Lima Time' in Korean?" Detroit Free Press, January 12, 2008: B2.
31 Yi Whan-woo, "Pitcher Jose Lima dies," Korea Times, May 24, 2010.
32 Kurt Streeter, "Jose Lima hopes his time will come again," Los Angeles Times, June 14, 2009.
33 Enrique Rojas, "RD dedicará temporada a José Lima," ESPNDeportes.com, August 3, 2010 (http://espndeportes.espn.go.com/news/story?id=1072414&s=bei&type=story).
34 Candice M. Giove, "Former Mets pitcher Lima's legacy includes 6 kids with 6 moms," New York Post, June 3, 2012.
35 Kennedy, "The Mambo King." "Recordando a Jose Lima." Felix Pérez, "Esposa de José Lima es oriunda de Gaspar Hernández," La Perla de la Costa Norte (Gaspar Hernández, Dominican Republic), May 25, 2010 (http://www.laperladelacostanorte.com/2010/05/esposa-de-jose-lima-es-oriunda-de.html). Giove, "Former Mets pitcher Lima's legacy includes 6 kids with 6 moms."
36 Pérez, "Esposa de José Lima es oriunda de Gaspar Hernández." "Astacio y su esposa reciben a la cigüeña," La Opinión, September 28, 1994: 5C.
37 Robert Crowe, "Herpes victim wins $475,000 from ex-Astro Lima," Houston Chronicle, December 2, 2004.
38 Thursby, "Jose Lima dies at 37; pitcher helped Dodgers reach 2004 playoffs."
39 Enrique Rojas, "Muere a los 37 años lanzador José Lima," ESPNdeportes.com, May 24, 2010. (http://espndeportes.espn.go.com/news/story?id=1026715&s=bei&type=story)
40 Ibid.
41 "Recordando a Jose Lima."
42 Associated Press, "Ortiz, Cano among mourners at Jose Lima's wake," May 28, 2010. (http://aol.sportingnews.com/mlb/story/2010-05-28/ortiz-cano-among-mourners-jose-limas-wake)
43 Marcelo Peralta, "Miles despide a José Lima en el Estadio Cibao," El Nuevo Diario (Santo Domingo, Dominican Republic), May 30, 2010.
44 Cornelio Batista, "José Lima recibió ayer su último adiós en el cementerio de Las Charcas, lugar donde nació," Diario Libre (Santo Domingo, Dominican Republic), May 31, 2012. (http://www.diariolibre.com/deportes/2010/05/31/i247482_index.html)
45 Enrique Rojas, "Jose Lima likely died of heart failure," ESPNdeportes.com, September 9, 2010. (http://sports.espn.go.com/mlb/news/story?id=5550824)
46 Thursby, "Jose Lima dies at 37; pitcher helped Dodgers reach 2004 playoffs."
47 Josh Rawitch, "Lima Time in Heaven," Inside the Dodgers blog, May 23, 2010, (http://insidethedodgers.mlblogs.com/2010/05/23/lima-time-in-heaven/)
Full Name
José Desiderio Rodriguez Lima
Born
September 30, 1972 at Santiago, Santiago (D.R.)
Died
May 23, 2010 at Pasadena, CA (USA)
If you can help us improve this player's biography, contact us.
http://bioproj.sabr.org/bp_ftp/images6/LimaJose.jpg
600
800
admin
/wp-content/uploads/2020/02/sabr_logo.png
admin
2012-01-13 20:40:31
2023-10-29 10:43:27
José Lima