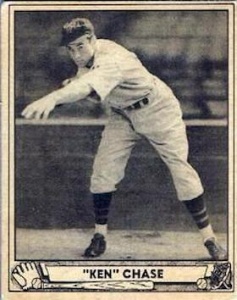 ---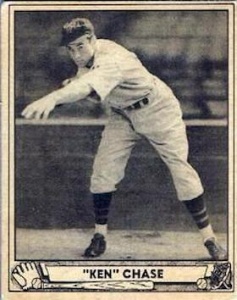 Ted Williams called him "the toughest southpaw I ever batted against."1 But wildness was a problem that persisted throughout Ken Chase's career.
Kendall Fay Chase was born in Oneonta, New York, on October 6, 1913. His parents were Fay Chase, a New York native dairy farmer who had a couple of dozen cows, and Lydia Tamsett Chase, born in New York State of two parents from England. Chase was an only child. He went to the Abraham J. Kellogg Central School for the first eight grades and then to Trinity High in Oneonta. Because of his athletic skills, nearby Treadwell High School made a pitch for him and enticed him to attend Treadwell instead. He was 10-2 in the final year of high school. Chase once credited Oneonta city fireman Joe Scanlon as very influential in his development; Scanlon was a semipro ballplayer and he would take young Ken Chase behind the firehouse and catch for him.
He played semipro ball during the summers. While pitching for the Norwich (New York) Texacos, he impressed team manager Albert G. Jones, who recommended him to Clark Griffith of the Washington Senators late in 1933. Griffith was himself likely impressed that Chase had thrown a no-hitter against Binghamton.2 He was invited to a tryout while the Senators were visiting Yankee Stadium, and was offered a contract. Washington's Evening Star noted the tryout and that "a pair of Yankees scouts in the stands were so impressed with the workout they tried to get to Kendall, but were shooed off by Coach [Al] Schacht."3
Chase returned back home to complete high school, graduated in June 1934, and then reported to start his career in pro ball.4
He is listed at 6-feet-2 and 210 pounds, but he claimed that he was two inches shorter and 25 pounds lighter.5
He reported to the Chattanooga Lookouts after graduation, and manager Clyde Milan assigned him to a "fast independent team" in Union Springs, Alabama.6 That November he married Doris Marion Otto.
His first season in Organized Ball was 1935; he was 11-11 for the Panama City Pilots in the Class-D Georgia-Florida League. He also pitched 16 innings in Class A for Chattanooga.
In 1936, Chase went to spring training with the Nationals and experienced his big-league debut for Washington on April 23 at Yankee Stadium. He threw 2 1/3 innings in relief of Monte Weaver, giving up three runs, walking four and striking out one. When the Southern Association season began, Chase was sent back to Chattanooga. He put up a 3-10 record for the Lookouts, with a 5.13 ERA that more or less matched his earned run average from the year before.
In 1937 he was 5-12 for Chattanooga when the manager gave up on him. But manager Bucky Harris of the Senators had seen something in him and called Chase up to Washington on July 4. There he succeeded where he had not in Class A. Starting on July 10, Chase appeared in 14 games and put up a winning 4-3 record, with a respectable 4.13 ERA (the team average was 4.58). On August 29 he outpitched Bob Feller, 6-2. Two of the wins were against the Yankees, Red Ruffing the loser both times. "I knew he could pitch," crowed Harris a little later. "You telling me?" asked coach Nick Altrock. "That boy is fast and has a great curve."7
In 1938, he spent the full season with Washington, starting 21 games and appearing in another 11. He was 9-10 with a 5.58 ERA. Team owner Clark Griffith took him aside that fall. "When you go back to Oneonta this fall," Griffith told him, "I want you to forget all about that milk business of your father's. Milking 25 cows a day and hoisting 20-gallon cans of milk into a truck is ruining you as a pitcher."8
The advice may have helped. Chase's earned run average in 1939 was 3.80, though playing for the 65-87 Senators, his won/loss record was a disappointing 10-19. On July 28, he pitched a masterpiece, taking a no-hitter into the ninth against the visiting Cleveland Indians in a Ladies Day game. He gave up a single and then another one, but won the game, 2-0. Another highlight of the season was being at Yankee Stadium for Lou Gehrig's farewell speech on July 4.
During spring training 1940, Griffith called Ken Chase the best lefty in the American League.9
Chase declared his ambition was to win 15 games, and then 20, and hit a home run, something he had never done.10 Chase realized two of those ambitions in 1940. He was 15-17 (3.23 ERA), and he hit a home run off Bill Trotter of the Browns at Sportsman's Park, St. Louis, on July 31. Unfortunately, he also led the majors in bases on balls – he walked 143 batters, 21 more than second-place Vern Kennedy of the Browns. His 12 wild pitches had also led the league.
He was never much of a hitter; his major-league batting average was .165, with just the one homer. His nine RBIs in 1940 were the most in any season; Chase drove in 27 runs in his time in the big leagues.
His 1940 season earned him a big salary boost, from $3,250 to $9.000.11 His performance was wanting, however, in 1941; he was 6-18 with an inflated 5.08 ERA, and on December 13, he was traded to the Boston Red Sox, with Johnny Welaj, for Stan Spence and Jack Wilson. The Associated Press wrote that Chase with Washington had been "a left hander of great promise, never lived up to it and in the last three seasons lost a total of 54 games."12 Shirley Povich of the Post wrote, "The Nats decided to abandon, finally, the hope that Chase would be a winning pitcher."13 The Senators needed an outfielder and Spence was the key to the deal from their perspective, but Jack Wilson's overall won/loss record represented an upgrade as well, though Chase had won two more games than the 4-13 (5.03) Wilson in 1941. Ted Williams's characterization of Chase as the toughest lefty he had faced carried a lot of weight with manager Joe Cronin.14
Spence was a real find; he hit .296 over five seasons with the Senators and drove in 100 runs in 1944. Washington's Evening Star called his acquisition "the smartest trade engineered by Clark Griffith in the last decade."15
At the start of spring training, Boston pitching coach Frank Shellenback said Chase was "a much better pitcher than his 1941 record indicates. I don't think he was too happy in Washington. I hope he'll be happier with us."16 Chase only played occasionally in 1942, a spot starter in 10 games and relieving in three others. Every other pitcher on the staff got into more games, Tex Hughson as the ace with a 22-6 record and a 2.59 ERA. When Chase did get the ball, he pitched well enough, and finished the season 5-1, 3.81. The team ERA, improved greatly by Hughson, was 3.44.
Many Red Sox players, including Ted Williams and Johnny Pesky, went into military service after the 1942 season, and the second-place Sox of 1942 dropped to seventh place in 1943. Hughson was the winningest pitcher, but despite a similar 2.62 ERA, his record was 12-15. They were still in the hunt, only 5 ½ games out of first place on June 13, when they made a move and traded Chase to the New York Giants for Babe Barna.
Chase wasn't doing well in 1943, even against the depleted offense around the league. He was 0-4 with a 6.91 earned run average at the time of the trade. He'd walked 11 men in four innings of relief the day before. Ed Rumill, commenting on Chase and the trade, was succinct: "He has the stuff, but probably will never learn to get it over the plate."17
The Red Sox were, for some reason, hoping for more offense from left-fielder Barna. In 1942 he'd hit .257 with 58 RBIs; in 1943, he was only batting .204 with 12 RBIs. Neither player helped the club they went to. Barna hit .170 in 30 games for Boston. Chase, the third lefty on the Giants staff, at least provided four wins, but was charged with 12 losses, and had a 4.11 ERA.
There was one notable game for Chase, as a fielder, when he recorded three assists in one inning, the fourth inning of the August 17 game against Cincinnati. He was the 11th pitcher to accomplish the feat.
Chase had a 3-A military deferment and elected to stay home and work the farm in 1944.
There had been a time in 1944 when he had applied for reinstatement and was set to rejoin the Giants in July; indeed, Frank Seward was optioned to Jersey City to make room for him on the roster, but "a cinder flew from under the wheel of a passing truck, gashed Chase's leg, and blood poisoning set in."18 Another story said the cinder came from a locomotive, but regardless of where it came, it required three weeks of treatment and Chase was in no condition to report. In 1945 he simply decided to stay on the farm.
After leaving baseball in late 1943, Chase had returned to Oneonta and to milking cows and hoisting 20-gallon cans of milk. He took over running the Chase Dairy Company and, after World War II, became "instrumental in establishing a Little League baseball program" in the area.19 He had served as town assessor in Oneonta, and was a member of the Oneonta Country Club, the Elks, and the Lutheran Church.20
Chase died at Fox Hospital in Oneonta on January 16, 1985, and is buried there in the Oneonta Plains Cemetery. He was survived by his wife, with whom he had recently celebrated 50 years of marriage, and their children, Kendall Jr. (who died in 2011), Richard, and Rebecca (Morris), as well as eight grandchildren.
Sources
In addition to the sources noted in this biography, the author also accessed Chase's player file and player questionnaire from the National Baseball Hall of Fame, the Encyclopedia of Minor League Baseball, Retrosheet.org, Baseball-Reference.com, Rod Nelson of SABR's Scouts Committee, and the SABR Minor Leagues Database, accessed online at Baseball-Reference.com.
Thanks to Deborah K. McCaffery of The Daily Star, Oneonta.
Notes
Born
October 6, 1913 at Oneonta, NY (USA)
Died
January 16, 1985 at Oneonta, NY (USA)
If you can help us improve this player's biography, contact us.
http://sabr.org/sites/default/files/ChaseKen.preview.jpg
600
800
admin
/wp-content/uploads/2020/02/sabr_logo.png
admin
2012-01-04 20:39:58
2012-01-04 20:39:58
Ken Chase