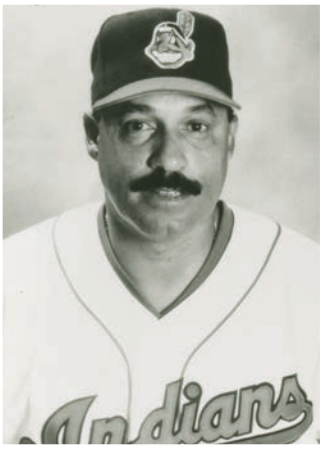 ---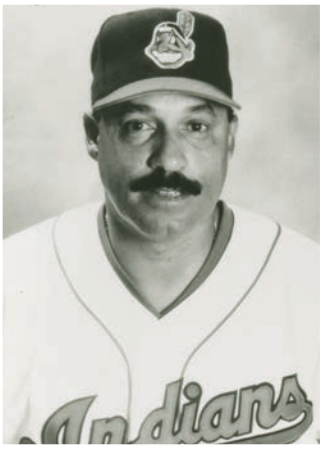 "Bullpen coaches are probably the most underappreciated of any uniformed member of a Major League staff," MLB.com reporter Evan Drellich once wrote, "just because they're well out of the public eye."1 If that's a credible rule, then Luis Isaac must have been an exception when he held that job for the Cleveland Indians, because local members of the Baseball Writers Association of America (BBWAA) twice named him winner of the Frank Gibbons/Steve Olin Good Guy Award, 10 years apart. From 1968 through 2017, only four other men won it twice.
Luis Isaac was born on June 19, 1946, in Río Piedras, a municipality near San Juan that was annexed by the Puerto Rican capital city in 1951. He played PONY League and Babe Ruth League baseball in his youth. He added track and field when he attended high school in neighboring Carolina.2
Luis, who played 99 percent of his minor-league games as a catcher, signed his first professional contract with the Pittsburgh Pirates. In 1962 he made his debut with Kingsport in the Class-D Appalachian League. He played in just seven games and had one hit, one RBI, and one run in 18 at-bats. The only member of the Kingsport Pirates that year who played in the major leagues was fellow catcher Carl Taylor, who played in 40 of the team's 69 games.
Luis was still only 16 in April 1963, and thus at least two years younger than his teammates on the Pittsburgh affiliate in Gastonia, North Carolina. He had reached his maximum height by then, 5-feet-11, but reportedly weighed only 150 pounds.3 Luis played only one game for Gastonia, though it was a good one for him, 2-for-5 with a walk. He played in 31 more games that year for two other Pittsburgh farm teams at the A level, eight games for Batavia, New York, and 23 with Reno.4 Isaac didn't play pro ball at all in 1964 but that was the year he graduated from high school in Carolina.5 By late October he was listed on the roster of Puerto Rico's Arecibo Wolves, without a professional affiliation. He was to be managed by Tony Castaño and projected to catch the likes of Mike Cuellar of St. Louis and Jim Roland of Minnesota, while trying to catch basestealers with throws to Sandy Alomar of Milwaukee or Cookie Rojas of Philadelphia.6
In 1965 Isaac returned to pro ball with the Waterloo Hawks of the Class-A Midwest League, an affiliate of the Boston Red Sox. He made at least one trip to the disabled list7 and played in just 21 games; after that season he almost always played in at least 50 games yearly. In the November 1965 minor-league draft, Isaac was drafted by AA teams. Several of the AA selections, including Isaac, cost $8,000, while the others cost $4,000. At the time he was the property of Winston-Salem, another of Boston's Class-A farm teams, and he was chosen by Reading, then of the Double-A Eastern League.8 Reading ended up without a club in 1966. Instead, Isaac played in Pawtucket, Rhode Island. In 56 games, he homered (and tripled) for the first time. Both of his home runs that season came in the e game, a few days after his 20th birthday, in what was probably one of his top career highlights. Pawtucket was trailing York by one in the eighth inning but exploded for six runs, four thanks to a grand slam by Isaac.9 Isaac and two other catchers each played about the e number of games for Pawtucket. One of the other two was Fran Healy, who was three years away from the start of a nine-year major-league career.
Though Isaac's batting average was only .184, for 1967 he was promoted to Cleveland's Triple-A team in Portland, Oregon. That was the first of six straight seasons at Triple A, either at Portland or Wichita. In 1967 Isaac played in 94 Triple-A games, a season high for him. He batted little better in 1967 than he did at Double A in 1966. In his third season at Portland, 1969, Isaac reached his career-best Triple-A batting average, .266 in 93 games. In his second season with Wichita, 1971, he came close to that by hitting .261 in 93 games. In 1969 and 1970 Isaac shared time with another young catcher who'd already played a few seasons in the majors, Ken Suarez. It's possible that 1970 was the first time Isaac appeared on a baseball card, a McDonald's set of 18 Wichita Aeros that was listed in at least one catalog at $350.10
Isaac was invited at least once to spring training with the Indians. In March of 1971 he was a nonroster invitee in Tucson, but was returned to Wichita toward the end of the month.11
From 1973 through 1977 Isaac was a player-coach for Cleveland farm teams at different levels, beginning with Class-A Reno.12 In 1974, with Double-A San Antonio, he played in a personal high 115 games. Isaac returned to Triple-A Oklahoma City for part of 1975 and Toledo for all of 1977. During winters he continued to play with Arecibo,13 and by the 1975-76 season he was their player-manager, known for having "a keen mind for baseball strategy."14
In 1978, he began the season as a coach at Triple-A Portland,15 and a second cousin of his, longtime minor-league infielder Juan López, was on Spokane in the e league.16 That assignment didn't last long, because by the end of June Isaac started his lone year as a manager in the minors, for short-season Batavia, which had been one of his first assignments 15 years earlier. He led the team for its entire season, and it finished with a record of 34-38. One player eventually made it to the majors: Ramon Romero, who pitched briefly for Cleveland in 1984 and 1985.
In 1979 Isaac played one final season, for Double-A Chattanooga at the age of 33, and thus logged 16 years in the minors without making it to the majors. In eight years at Triple A he caught in 480 games and made 35 errors, for a fielding percentage of .989.
By the late 1970s, Isaac had switched to Santurce in Puerto Rico's winter league. Santurce at the time was led by former Indians manager and future Hall of Famer Frank Robinson (who put himself into a few lineups as designated hitter during 1978-79.17 In 1980, Isaac became a scout for Cleveland and continued in that role through mid-1987, while also coaching rookie league teams.18 His 1981 baseball card as a Batavia Trojan identified him as the pitching coach (and in contrast to common photos of him years later, he was clean-shaven). He was identified as the hitting coach on the 1992 baseball card that he shared with fellow coach Dyar Miller.
One of the first players he recruited as a scout made it to the majors: Bernardo Brito was signed out of the Dominican Republic in 1980 and played in 40 games for the Minnesota Twins from 1992 through 1995.19 In 1981 he signed another Dominican, shortstop Wilson Uribe, who played eight seasons of minor-league ball, was a major-league bullpen catcher from 1989 through 1995, and for the 2011 and 2012 seasons was a coach for the Arizona Diamondbacks.20
One prospect with whom Isaac had a very long acquaintance was Sandy Alomar Jr. In 1990 Alomar was named an All-Star for the first of six times in his major-league career, and that season Isaac reminisced about interacting with him around 1970, then reconnecting in 1983. "I remember Sandy when he was 4 or 5 years old," Isaac told one reporter early in 1990. "I played winter ball with his father at Santurce, and Sandy was always around the clubhouse." The two would play catch. "He would squat down like a catcher and give me the sign. I would tell him, 'I'm going to make you a catcher.' Of course, I didn't know it was going to come true, although that's what he always said."21
About two months later, after Alomar was named an All-Star, Isaac was a little more candid about that early contact. "I used to put catcher's equipment on him and throw hard to him, tried to hurt him," Isaac recalled. "I'd come to the ballpark and try to make him cry. I never thought he would be the type of catcher he is now."22 Another reporter might have provided an explanation for Isaac's purported animosity, and the source appeared to be Sandy's Hall of Fame brother, Robby, who said back then that "Sandy was always doing the crazy, dangerous things," including sneaking away with Isaac's mitt.23 By 1983, Isaac's feigned animosity changed to admiration when Sandy Alomar was suddenly a 17-year-old Caribbean phenom. "I told [Cleveland] about Alomar, but we never did talk money," Isaac said. "There were about 15 scouts around and his price was up around $100,000. I didn't think we would be in the running."24 Alomar signed with the San Diego Padres but after only eight games with them the Tribe acquired him in December of 1989, along with Carlos Baerga and Chris James, in a trade for Joe Carter.
In the mid-1980s Luis Isaac experienced two changes in his personal life. On Valentine's Day in 1984 he married the former Marilu Morales, and on September 15, 1985, they welcomed their son, Luis Isaac III, into the world. Luis already had three daughters: Veronica, Monica, and Jennifer. On the job front, less than two years later Pat Corrales was fired as manager of the Indians and replaced with Doc Edwards, and on July 16, 1987, Isaac was named the bullpen coach. He returned to coaching in the minors in 1992,was rehired as bullpen coach on November 9, 1989,25 and continued in the role through 1991.
The last day of Isaac's first half-season in the majors proved memorable for a surprising reason. The Indians finished the season against the Angels on Sunday, October 4, and at 4:00 that morning there was an earthquake in the Los Angeles area, and at least a few Indians panicked in their Anaheim hotel. For example, "Dave Clark and Junior Noboa abandoned their rooms and slept in a van in the parking lot," according to an Ohio newspaper. "Coach Luis Isaac was seen running down the 11th-floor hallway pulling his trousers on over his underwear," the newspaper's account said. "Isaac ended up sleeping in the lobby."26
In 1992 Isaac returned to coaching in the minors with the Colorado Springs Sky Sox. In 1993 he switched to coaching for Charlie Manuel's Charlotte Knights, and Manny Ramirez recalled Isaac being something of a joke-teller after a few beers, as well as a coach whom he felt comfortable sassing playfully.27 Years later, Isaac and Cleveland pitcher Jake Westbrook received attention for their humor in a Sports Illustrated feature: "The Best Jokes We Can Tell in Sports Illustrated." Isaac's joke was: "An ant and an elephant marry. The first night of their honeymoon, the two make love, but the elephant has a heart attack and dies. The ant is devastated and says, 'Five minutes of passion, and now I have to spend the rest of my life digging a grave.'"28
Isaac returned to the major-league club as the Indians' bullpen coach in 1994. The strike by players in August, which ended up canceling the World Series, motivated most Puerto Rican major leaguers to play in their native island's winter-league season. As a result, San Juan Senadores manager Luis "Torito" Melendezhad a difficult time choosing among many worthy candidates to represent Puerto Rico on its 1995 Caribbean Series team. Isaac was one of four coaches who helped Melendez make those impossible choices. The resulting "Dream Team," which won the Series, included Roberto Alomar, Edgar Martinez, Juan Gonzalez, Bernie Williams, Ruben Sierra, Carlos Baerga, and Carmelo Martinez.29
On their way to playing in the 1995 World Series, the Indians clinched the AL Central crown on September 8. Paul Hoynes of Cleveland's Plain Dealer wrote that "No one connected with the Indians today could be happier than bullpen coach Luis Isaac. Because no one among the Indians' current players, coaches and managers has worn a Cleveland uniform longer than him," Hoynes wrote. "Mel Harder is the only person to wear a Tribe uniform longer. Isaac has been in uniform 30 years; Harder wore his for 36 years as a pitcher and coach."30
A month into the 1996 season the Indians suffered through another unusual early-morning incident at a hotel, this time in Toronto. At 2:00 A.M. on a Sunday in early May, guests staying at the Westin Harbour Castle were awakened by a fire alarm that sounded at length. A voice over the public-address system stated that the cause was under investigation but seemed to say that vacating the building was optional. "At first I wasn't going to go," said Indians manager Mike Hargrove. "Then I said: 'If there is a fire, I'm going to look pretty stupid.'" Hargrove walked down 33 flights of stairs and found various guests already in the lobby but only three of his – coaches Dave Nelson, Mark Wiley, and Luis Isaac – plus a lone player, Eric Plunk. "I guess that means there's only five intelligent people on this club," Hargrove concluded.31 When Hargrove managed the AL All-Stars in 1998, for the second time, he took four of his own coaches with him and that quartet included Wiley and Isaac,32 two of his "intelligent" employees. It was a few months later, in November of 1998, that Isaac was rewarded in a different way, when the Baseball Writers Association of American chapter named him the newest embodiment of Frank Gibbons and Steve Olin.
Isaac remained bullpen coach into the new century, but his continuation was jeopardized by a health scare during spring training in 2002. He was hospitalized for eight days at the beginning of March after surgery to remove 14 inches of his small intestine. One aftereffect was a brief attack of gout, which he had been controlling the previous two years with medication, but very soon he was back with the team.33
Isaac was fired abruptly at the end of the 2008 season. He was 62 years old and had been with the Cleveland organization since age 19. "Luis was as loyal as the day is long," said manager Eric Wedge. "Ultimately, I felt we needed a different dynamic in the bullpen for that role. It's been something I've been thinking about for a while." Wedge added that Isaac would not be reassigned within the organization.34 Asked by a sportswriter if he was angry, he replied, "How am I going to be angry when I've been 44 years with the Indians? How am I going to do that? When you're running a team and you think the best thing is to do this or that, how am I going to be angry when they are the ones that run the team? You can't be upset."35
Isaac also disputed Wedge's implication that he hadn't been offered a different position in the organization. Luis said general manager Mark Shapiro did offer him something else but Isaac declined and said he'd search for a coaching job on his own. He added that if he didn't succeed in that hunt, he might rethink Shapiro's offer. "Or I'll stay in Puerto Rico playing golf," he said.36 That very day he said he shot an 83 at Cocoa Beach, the golf course that hosted the Puerto Rico Open.
Isaac could afford to do that because he reported having earned more than $1 million over the years, and was fully vested in Major League Baseball's pension plan. He summed up his reaction by saying," I hope that Mr. Shapiro and Mr. Eric Wedge go to the World Series and win. I'll be happy because I think they're my Indians. For 44 years, I loved the Indians, and the Indians are my team."37
Despite Isaac's classy reaction, outrage on his behalf was expressed swiftly by Bill Livingston, a sports columnist for the Plain Dealer since 1984. "The fall guy for Indians General Manager Mark Shapiro and his bullpen of walking gas cans is apparently coach Luis Isaac," Livingston wrote. "Isaac was one of the guys fans don't know much about, but he deserved better. It was a small, mean way to dismiss a man who had been part of the Indians' organization for 44 years in the big leagues and the bushes.
"Isaac didn't just have longevity. He had baseball knowledge," Livingston wrote. "Brian Anderson was the winning pitcher in relief the day Charlie Nagy got out of trouble in every inning and the Indians won their last pennant in 1997." Anderson credited Isaac with developing his changeup. Isaac told him to drag his back foot to slow down his arm motion."Yet third-base coach Joel Skinner, he of the 'Merkle moment' in the playoffs, is still here. Remember Game 7 against the Red Sox, and how the words 'Swing, and a single to left, and here comes Lofton to tie the game' weren't spoken?" Livingston asked, as he concluded. "How was Skinner absolved of holding Kenny Lofton at third? How does Isaac alone take the fall for the season?"38
Whether equally angry or simply saddened, the next month the BBWAA chapter paid its respects, so to speak, by naming Luis Isaac winner of the Frank Gibbons/Steve Olin Good Guy Award for a second time.
Last revised: January 24, 2019
This biography was published in "1995 Cleveland Indians: The Sleeping Giant Awakes" (SABR, 2019), edited by Joseph Wancho.
Notes
1 Evan Drellich, "With Tuck retired, Lavarnway turns to Epperson," mlb.com/redsox/news/c-41333894/print, February 1, 2013.
2 1991 Cleveland Indians Media Guide, 14.
3 Neale Patrick, "Pat's Peckings," Gastonia (North Carolina) Gazette, April 26, 1963: 2-B. Patrick had bad notes about Luis, calling him a "Negro from the Dominican Republic," but correctly stated that he had appeared in seven games for Kingsport the previous summer. The 1991 Cleveland Indians Media Guidereported Isaac's weight as 195 pounds.
4 "Two New Players Assigned Pirates," Gastonia Gazette, June 29, 1963: 6.
5 1991 Cleveland Indians Media Guide, 14.
6 "Puerto Rico Player Rosters," The Sporting News, October 31, 1964: 27.
7 "Hawks Use Disabled List to Reach Limit," Waterloo (Iowa) Daily Courier, June 9, 1965: 24. Team statistics on that page show that Isaac was hitting .250 in 16 at-bats at the time.
8 "Red Wings Get Pair in Annual Minor Draft," Rochester (New York) Democrat and Chronicle, November 30, 1965: 2D.
9 "Mets Drop Elmira 6-4 after Coming from 3-0 Deficit," The Express (Lock Haven, Pennsylvania), June 24, 1966: 13.
10 See mention of 2002 catalogue at worthpoint.com/worthopedia/1970-mcdonalds-wichita-aeros-luis-isaac-minor.
11 "Sports Highlights," Circleville (Ohio) Herald, March 25, 1971: 13.
12 1991 Cleveland Indians Media Guide, 14.
13 He appeared regularly on Arecibo rosters printed in The Sporting News, e.g., November 2, 1968: 47; November 29, 1969: 47 (though listed as an infielder); November 28, 1970: 55; November 13, 1971: 55; and November 4, 1972: 26.
14 Thomas E. Van Hyning, The Santurce Crabbers: Sixty Seasons of Puerto Rican Winter League Baseball(Jefferson, North Carolina: McFarland & Company, Inc., 1999), 130.
15 1991 Cleveland Indians Media Guide, 14.
16 Juan López was born in Río Piedras in 1952 and played in the minor leagues from 1971 to 1984. He coached at various levels and peaked as batting-practice coach and advance scout coordinator for the New York Mets in 2002 and 2003, and as their bullpen coach in 2008. See 2006 New York Mets Media Guide, 318.
17 Van Hyning, 133.
18 1991 Cleveland Indians Media Guide, 14.
19 Jim Souhan, "Merullo Is Trying to Make the Most of Big Opportunity," Star Tribune (Minneapolis), May 6, 1995: 7C.
20 2011 Arizona Diamondbacks Media Guide, 49.
21 Sheldon Ocker, "Alomar Looks Like Pure Gold," Washington Post, April 12, 1990: B6.
22 Chuck Finder, "It's a Start," Pittsburgh Post-Gazette, July 6, 1990: 15, 17.
23 Mark Whicker, "Alomar Brothers Hope to Reunite on All-Star Night," Indianapolis Star, July 4, 1990: C-2.
24 Ocker, "Alomar Looks Like Pure Gold."
25 1991 Cleveland Indians Media Guide, 14.
26 "Notebook," Akron (Ohio) Beacon Journal, October 8, 1987: D6.
27 Jean Rhodes and Shawn Boburg, Becoming Manny: Inside the Life of Baseball's Most Enigmatic Slugger(New York: Scribner, 2009), 145.
28 "The Best Jokes We Can Tell in Sports Illustrated," Sports Illustrated, May 30, 2005: 46. Westbrook's joke was: "Two antennae got married. The wedding was terrible, but the reception was great." For an example of Isaac's sense of humor in action, see clevelandtribeblog.blogspot.com/2006/08/.
29 Gabrielle Paese, "Remembering the '95 'Dream Team,'" espn.com/mlb/story/_/id/12263157/remembering-puerto-rico-1995-caribbean-series-dream-team, February 1, 2015.
30 Paul Hoynes, "Divison Title 30 Years in Making for Isaac," Cleveland Plain Dealer, September 10, 1995: 11D
31 "Indians Face Adversity," News-Press (Fort Myers, Florida), May 5, 1996, 8B.
32 "O'Donnell out, Testaverde In?" Elyria (Ohio) Chronicle-Telegram, June 24, 1998: B2. Hargrove also took four of Cleveland's coaches when he managed the AL All-Star Team two years earlier but Isaac wasn't among them.
33 Sheldon Ocker, "Wright's Twinge Draws a Crowd," Ashtabula (Ohio) Star Beacon, March 11, 2002: B4.
34 "Indians Fire Bullpen Coach," Sandusky (Ohio) Register, October 1, 2008: B1.
35 Ibid.
36 Ibid.
37 Patrick McManamon, "AFC North Has Rough Times Ahead," Ashtabula (Ohio) Star Beacon, October 5, 2008: C7.
38 Bill Livingston, "Aha, the Bullpen Coach Is to Blame," Plain Dealer (Cleveland), October 2, 2008: D1. The version online at cleveland.com/livingston/index.ssf/2008/10/isaacs_dismissal_a_stain_on_in.html has Jamie Turner's byline atop it, though Livingston is also credited partway down.
Born
June 19, 1946 at Rio Piedres, (PR)
If you can help us improve this player's biography, contact us.
https://sabr.org/sites/default/files/LuisIsaac.jpg
600
800
admin
/wp-content/uploads/2020/02/sabr_logo.png
admin
2012-01-04 20:00:08
2012-01-04 20:00:08
Luis Isaac