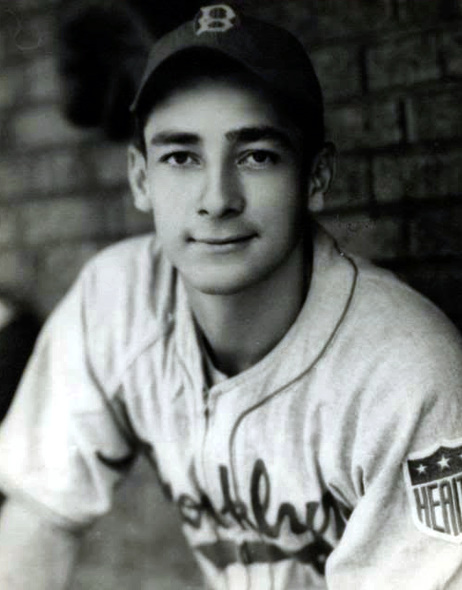 ---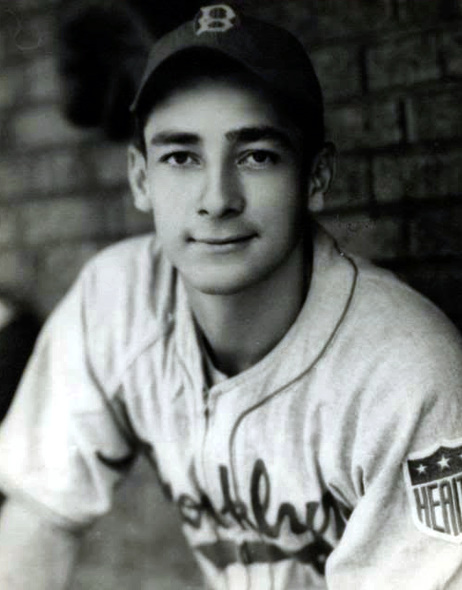 The second Puerto Rican to play in the major leagues was outfielder Luis Olmo, who joined the Brooklyn Dodgers in 1943, a year after Hiram Bithorn made his debut with the Chicago Cubs. These men led the way for more than 200 boricuas who have since followed. Bithorn's life ended suddenly at the age of 35 in December 1951, when he was shot during an altercation with Mexican police. Yet El Jíbaro – The Hillbilly – survived for more than 60 years after that.
Olmo was one of the most prominent players who jumped to the Mexican League in 1946 as Jorge Pasquel sought to make it a major circuit. After Olmo spent two summers in Mexico and one and a half in Venezuela, Organized Baseball lifted its five-year ban on the jumpers. Olmo returned to the majors, where he remained until June 1951. He also played in Cuba, the Dominican Republic, Canada, and Puerto Rico, thus earning another nickname: El Pelotero de América (The Ballplayer of the Americas). Another note of interest is that he was using the basket catch in center field years before Willie Mays. Olmo also managed in winter-league ball for many years, starting when he was 23, and was a noteworthy scout.
Luis Francisco Rodríguez Olmo was born on August 11, 1919, in Arecibo, Puerto Rico. Like various other Latin American players – the Alou brothers are another prominent example – he became known in the United States by the second (maternal) half of his double Spanish surname.1 He was the third of four sons born to José Rodríguez, a carpenter, and Ana Olmo.
In October 2009, as he celebrated the 60th anniversary of becoming the first Puerto Rican to play in the World Series, Olmo said, "Baseball was the only thing, ever since I was a little boy."2 His childhood idol was Billy Herman of the Chicago Cubs, later a teammate in Brooklyn. Olmo did participate in other sports, such as soccer, basketball, and track and field. His speed made him a leading sprinter in high school, but his dream of becoming a pitcher ended when he got hurt throwing the javelin.3 "I was 15, and snapped my right elbow," he recalled in 1943. "It has never been straight since."4
In the winter of 1938-39, the Puerto Rican Winter League (PRWL) held its first season. Olmo joined the Caguas Criollos, for whom he played in nine of his 15 PRWL seasons. "I signed my first contract for seven dollars a week," he said in 2009.5 Thomas Van Hyning, who has chronicled the PRWL in two books, wrote, "The Caguas player-manager, Pito Álvarez de la Vega, remembers the 19-year-old Olmo as the revelation of the first season. He felt Olmo had the talent to make it to the majors and took him under his wing."6
Olmo first played ball in the States in the summer of 1939. A 1943 feature by Arthur "Red" Patterson of the New York Herald-Tribune detailed the battle for his services and his early Stateside career. A friend of Olmo's, Miguel Lloreda, had written to Eddie Mooers, owner of the Richmond Colts in the Piedmont League (Class B). Richmond paid for Olmo's boat passage to the mainland. José Seda, a Puerto Rican baseball man who scouted for Brooklyn, wired Branch Rickey, Jr., farm director for the Dodgers. "Good ball player named Luis Olmo arriving on Barranquilla. Stop. Get him. Stop. Jose." Rickey Jr. tried to stash Luis with a Puerto Rican player in Harlem, but Richmond – an independent club – sniffed out its prospect and signed him.7
Olmo's first stop was Tarboro (North Carolina) of the Coastal Plain League (Class D), but the available records do not show that he played there before he was released. Instead, he went to the Wilson Tobs of the same state and league, where he batted .329, playing night ball for the first time in his life. In 1940 he split the season between Wilson (where he hit .348 with 18 homers in 82 games) and Richmond.8
That April, The Sporting News covered a contract mixup between Olmo and Richmond, referring to him as "Roberto Olmo" and as a Cuban.9 This prompted his brother José – who later became Luis's agent – to write a letter from San Juan saying, "His correct name is Luis Rodríguez Olmo, but he is known as Luis Olmo, and he is a Puerto Rican, a proud American citizen. No doubt the contract was not received by my brother because it was incorrectly addressed. So far his name has been given out correctly only once, when you published the reserve lists. Later he was called Lewis Elmo and now as Roberto Olmo. Some confusion with Spanish names."10
Author and SABR member Adrián Burgos, Jr. cited this misperception as part of a broader pattern in his study of Latinos in New York City baseball from 1906 to 1950. He wrote, "Generally applied, the [homogenizing Cuban] label negated aspects of the city's diverse Latino population; it also diminished ongoing struggles that Puerto Ricans and other Latinos experienced in New York City."11
The other important part of the contract difficulties was that the Dodgers still wanted Olmo and tried to place him with their farm club in Macon, Georgia. Brooklyn scout Ted McGrew had seen the outfielder playing in Puerto Rico and sent an excited report back, unaware that El Jíbaro was already on Rickey Jr.'s radar. W.G. Bramham, president of the National Association of Professional Baseball Leagues, the minor-league umbrella organization, ruled that Olmo was still Richmond's property.12
Olmo also spent 1941 and 1942 with Richmond, batting .311 and .337. His speed was on display with 17 and 19 triples. He was MVP of the Piedmont League in 1941, but his manager, Ben Chapman, won the award in 1942. According to Red Patterson, Olmo said, "the former Yankee firebrand . . . taught him more than any other pilot, coach or scout."13 However, a different picture of their relationship emerged in the biography of Roberto Clemente by David Maraniss. "In 1942 . . . Chapman constantly made bed checks but only checked on Olmo. It seemed to Olmo that Chapman was determined to catch him with a woman, though it never happened. . . . A few years later, when Chapman proved to be among the most virulent racists in major league baseball, Olmo was not surprised."14
It's also noteworthy that Richmond – the team and city – was segregated. In April 1946 Eddie Mooers (citing various excuses) canceled an exhibition game between Richmond and Montreal rather than allow Jackie Robinson to take the field. The Colts did not bring in their first African-American players until 1953.15
On October 1, 1942, Brooklyn purchased Olmo's contract from Richmond. That winter he moved from Caguas to the Santurce Cangrejeros, becoming a player-manager at 23. He tied Pancho Coímbre for MVP honors in Puerto Rico. Meanwhile, in January 1943, Brooklyn's star outfielder, Pete Reiser, joined the US Army. The fractured skull he had suffered the previous summer had left him 4-F, but he nonetheless made it into the service and played military ball for three seasons during World War II.
Olmo never was called to serve, even though his draft status was 1-A. He attracted much attention – and praise from manager Leo Durocher – in Brooklyn's spring-training camp in 1943. However, the Dodgers assigned him to their top farm club, Montreal of the International League. In the first three months of 1943, he hit .315 with 12 triples and 47 RBIs in 89 games.
Brooklyn called the Puerto Rican up in July 1943, and he proceed to hit .303 with four home runs and 37 RBIs in 57 games. It was little surprise that his ethnic background drew notice. In spring training that year, he had told Hy Turkin of the New York Daily News, "The only reason you haven't heard of many Puerto Ricans in the majors is that our best players are colored."16 Olmo's complexion was tan, but his features were "European-looking" rather than "African-looking." Allegedly, though, both he and Hiram Bithorn "were allowed to play after signing forms attesting that their ancestry was entirely Hispanic."17 Luis drew facial comparisons to Tony Lazzeri, whose parents were both born in Italy.
Olmo occupied an intriguing middle ground before the arrival of Jackie Robinson. Jesús Colón, a Puerto Rican Communist writer, drew attention to the ballplayer in 1943. Colón viewed Olmo "not only in terms of the visibility of Puerto Ricans in the U.S. public eye but also as a step toward the eventual breaking of the color line. . . . [Colón] called on Puerto Ricans to fill Ebbets Field whenever Rodríguez Olmo played and invited them to write letters to the Dodgers organization urging it toward desegregation."18 Another Communist organ, the Daily Worker, also made much of how "utterly important" Olmo's acceptance among his teammates as an equal was.19
Shortly after Olmo's debut, Harold Parrott (then of the Brooklyn Eagle) wrote, "Likeliest Dodger of the Future . . . would seem to me to be the newest, Luis Olmo. He has power to right center, which you will remember was Hack Wilson's alley. He can run, which fits Rickey's pattern (notice he hit that inside-the-park homer at Pittsburgh yesterday?) And he is a scrapper. They are not too kind to dark-hued gentlemen in the South, and all last year, when he was playing with Richmond, they bean-balled Looey into the dirt. But he bounced back, black eyes flashing, and beat their brains out. Consensus is that he has it!"20
"Olmo has a distinctive, buggy-whip batting style," The Sporting News wrote that October. "It is probably more like Joe DiMaggio's than anyone else." That article added, "[the] strongly-built youngster . . . can run like a Western Conference halfback." His crooked elbow also proved not to be a hindrance in the outfield. "There are stronger arms in the league than Luis', but his trick is getting the ball away quickly and accurately."21
Olmo moved to the San Juan Senadores in the winter of 1943-44 – but he restricted himself to managing that winter, on the advice of Branch Rickey.22 In his first full big-league season, 1944, he hit .258 with nine homers and 85 RBIs in 136 games. He started just 60 games in center field, though, as Goody Rosen's excellent play won him the starting job. Leo Durocher also started Olmo 34 times at second base (Eddie Stanky, the "primary" second baseman, started 50) and 30 times at third base (behind Frenchy Bordagaray). A 1946 account noted, "He didn't like the shifts to the infield Durocher forced upon him, since he's a natural outfielder."23
Olmo still saw a lot of action at third base (31 starts) in 1945, but he mainly focused on the outfield. Each of the three starting Brooklyn outfielders – Olmo, Rosen, and Dixie Walker – hit .300 that year. Olmo's basic batting line was .313/10/110; he also led the NL in triples with 13 and stole a team-high 15 bases. On May 18, 1945, at Ebbets Field, he achieved a rare feat: hitting a grand slam and a bases-loaded triple in the same game. His seven RBIs helped the Dodgers defeat the Cubs in a 15-12 slugfest.24
Olmo and Leo Durocher had a curious relationship. They were chummy at times, playing a lot of gin rummy and pool together. Yet while Durocher praised Olmo's talent, on the other hand he ripped him publicly (though Luis was by no means his only such target over the years). One story said, "Durocher designated [Olmo] as a deadpan ballplayer who had no enthusiasm."25 Another said, "He was often in the Durocher doghouse."26 The Lip often sniped at Luis because he had trouble with side-arm pitchers.
The most startling incident came during the 1945 season. As Olmo recalled in 2011, "He broke my bat, right in front of me. He said it was too heavy. I was hitting .350, but they wanted me to go down so they didn't have to pay me." Olmo told David Maraniss the same anecdote, saying, "They wanted Dixie Walker to beat me out and I was playing more than Dixie Walker."27
In 1946 Pete Reiser was back from the service. Jorge Pasquel also commenced his player raids. As early as October 1945, Olmo had told sportswriters that he might not sign again with the Dodgers.28 The numbers vary from source to source, but according to Luis himself, Branch Rickey Sr. (a.k.a. "El Cheapo") made an offer of $8,000, a modest raise of $500.29 "He did me a favor!" Olmo said in 2011. "I went to other places and had good luck everywhere."
Olmo went where the money was: Mexico, with a deal variously reported at $10,000 annually for three years or $40,000 total. Additional benefits included no income tax and all expenses paid for the player and his wife. "I gave Mr. Rickey every chance in the world to offer me a satisfactory contract," explained Olmo, "But all my cables, letters, and telephone calls were fruitless." Olmo signed with the Veracruz Azules (Blues), turning down Rickey's late offer of $12,000 because he had given the Pasquel brothers his word.30
The Pasquels, as was their wont, reassigned Olmo to the other club they owned, Mexico City.31 He had to adjust to the capital's high altitude32 – but injury marred his season soon after. In early April, he twisted his knee, jarred a small bone out of place, and had to go into a cast.33 He played just 59 games total for both Mexico City and (after another personnel shuffle) Veracruz. His totals were .289/9/42.
After Rickey's call for action, Baseball Commissioner Happy Chandler imposed a five-year ban on the jumpers in March 1946. As early as that July, Olmo sought amnesty, contending that he was not under contract when he jumped. His brother José asked San Juan lawyer José Otero Suro to write a letter on behalf of Luis.34 No exemption resulted, though, and since the Puerto Rican league honored the ban as part of Organized Baseball, El Jíbaro was not able to play at home for the next three seasons. It was a moot point in 1946-47, as he was resting his knee.35 Had he been fit, he would have gone to the Cuban Winter League, where various "outlaw" players went that winter. In late September, he was listed on Marianao's roster.36
In February 1947, as he prepared to return to Mexico, Olmo told Tommy Holmes of the Brooklyn Eagle, "If I have made a mistake, I do not know it yet." Yet he also expressed regret, feeling that the Dodgers would have won the pennant if he had been with them. 37
Olmo put up good numbers for Veracruz in 1947 (.301/14/72 in 102 games). After the Mexican summer season ended, he headed to Cuba, which had another new league in the winter of 1947-48: La Liga Nacional, or Players' Federation League, which allowed outlaws to play. Jibarito started with Santiago, but after that club disbanded on December 15, he went to the Havana Rojos. He batted .318 (with eight homers and 47 RBIs), finishing second in the league behind another man who jumped from the Dodgers to Mexico, Canadian Roland Gladu. Olmo was MVP of the league, which completed the season but was defunct thereafter.
After the 1947 season, the Mexican League tightened its belt. Jorge Pasquel ceded much of his power and the costly raids ceased. Payrolls were limited to $10,000 a month and a quota was imposed on imported players.38 Since Olmo's salary would have eaten up a large portion of the cap, this may be the reason that he did not play out his contract. In 2011 Olmo implied that the change in regime in Mexico did have something to do with it. "It was a different league," he said.
With the Mexican chapter of his career closed, Luis reviewed his options. According to The Sporting News, "Olmo gave out an interview to the Cuban press that even if Chandler forgives the jumpers and brings 'em back to Organized Ball in good standing, he has no intention of returning to Ebbets Field unless he gets more than his 1945 salary, which was $6,750."39
So instead, he went to Venezuela, where La Liga Occidental (the Western League) was then operating in the summers. Up to that point, this circuit and the Venezuelan winter league had steered clear of ineligible players. Olmo became a hitting and fielding sensation in Maracaibo, winning the Triple Crown (.384, 10 homers, unknown RBI total).40 The doors were all closed to him in the Caribbean that winter, though. "As a result of the extension of player aid and encouragement to Cuba, Puerto Rico, Panama, and Venezuela, 'cesspools of ineligibility' were cleaned up and all outlaw leagues driven out."41
In early June 1949, Happy Chandler at last issued a general amnesty to the jumpers. Olmo cabled Branch Rickey, asking him to make an offer, but the Pastora club (which Luis also managed after taking over for Dolf Luque) wanted $10,000 to release him from the contract that ran through July 23.42 The Dodgers offered $12,000 in salary, and he negotiated his release, though Pastora had backed off that idea for a while and notified their star that he had to remain.43
When he left Pastora, Olmo was batting .360 (41-for-114) with seven homers.44 When asked in 2011 about the greeting he received in Brooklyn, Luis replied, "About five or six guys were with me from the '45 team. They were happy to see me. Roy Campanella had played with me in Puerto Rico. I became very good friends with Jackie Robinson." He added, "I love the people of Brooklyn. I went up there and signed autographs twice for them, they still remember me."
After his return in late June, Olmo got into 38 games for Brooklyn, batting .305/1/14 in 105 at-bats as he backed up Tommy Brown and Duke Snider. He got off to a hot start, getting 12 hits in his first 27 at-bats (.444), capped by a game-ending homer at Ebbets Field on July 17. Yet perhaps his most memorable contribution to the 1949 pennant winners was a sensational catch that he made at Ebbets on August 24 against the St. Louis Cardinals.
Brooklyn was up 2-0 in the fifth inning, but St. Louis had the tying runs in scoring position, and at the plate was the feared batter whom Ebbets fans dubbed "The Man" – Stan Musial. Olmo, always known as a fine outfielder, needed every foot of the old ballpark's cozy dimensions, including the extra afforded by the corrugated exit gate in left field. He leaped and made the catch, snuffing out the rally, and the Dodgers went on to win, drawing to within one game of first. Brooklyn did not overtake St. Louis until late September, but the complexion of the race might have changed if the Cards had won that day. Baseball Digest wrote up the play in August 1961, and as late as 2009, it earned an entry in a book devoted to great outfield catches, Going, Going . . . Caught!45
Olmo appeared in four games for the Dodgers during the 1949 World Series, becoming the third Latino in the fall classic, after Cubans Adolfo Luque (1919; 1933) and Mike González (1929). He was 3-for-11 with a homer, off Joe Page in the ninth inning of Game Three. The blow brought the Dodgers to within 4-2, and one out later Roy Campanella made it 4-3 with another solo homer, but Page (in his sixth inning of relief) then ended it.
"From what I heard," Olmo later told Tom Van Hyning, "my home run off Page set off a chain reaction throughout Puerto Rico, as if an atomic bomb was dropped on the Island. Island fans were celebrating well after my blast, Campanella's one and the game's final out." When El Jíbaro came back home, even though the Dodgers had lost the Series, the local fans were "ecstatic" that he would return to action in the Puerto Rican Winter League. Van Hyning pointed out the greeting that the returning hero received. Brother José – at that time San Juan city treasurer and acting mayor – also presented him with the keys to the city. 46
Olmo rejoined Caguas as their player-manager. The Criollos won the league championship over a very potent Santurce team (featuring Willard Brown and Bob Thurman) and advanced to the Caribbean Series. The second edition of this tournament was held in old Sixto Escobar Stadium in San Juan. Puerto Rico won four games and dropped three, losing a tiebreaker game for the championship to Panama in an upset.
Early that winter the Dodgers traded Olmo. On December 24, 1949, he was dealt to the Boston Braves for Jim Russell, Ed Sauer (brother of Hank), and cash. The headline in the Hartford Courant read, "Olmo Always Ranked as a Fifth Wheel" and noted that his Boston status was in doubt.47 Olmo was the fifth outfielder for the Braves too (.227/5/22 in 69 games), though he saw more action than Pete Reiser, who had come to Boston the previous year. Also with the Braves was another former Brooklyn teammate, Gene Mauch – "my very good friend," Olmo recalled in 2011.
"Olmo returned to the Caguas helm in 1950-51 and was rewarded with a 57-20 record, the most regular-season wins in league history."48 Santurce beat the Criollos in the playoff finals that season, though, in one of the best-remembered games in the annals of the PRWL. On February 16, 1951, in the seventh and deciding game at Sixto Escobar Stadium, catcher José St. Clair, better known as Pepe Lucas, stroked a two-out, series-ending home run in the bottom of the ninth. The Dominican's blow went down in history as the Pepelucazo. Olmo had watched that ball sail over the fence from his outfield position – yet his season was not over by any means. The Crabbers added him as a reinforcement for the 1951 Caribbean Series, and he became MVP, helping Puerto Rico to win by going 10-for-24 with 3 homers and 9 RBIs.
Olmo started the 1951 summer season with Boston again, but he appeared in only 21 games through early June and was sent down to Triple-A Milwaukee. There he concluded his US playing career with 82 games for the Brewers. In the 1952 Caribbean Series, he reinforced the Puerto Rican squad again, but they went winless.
Milwaukee released Olmo in the spring of 1952, and he joined Licey of the Dominican League, which did not shift to a winter schedule until 1955. He won the batting title with a .344 mark and returned to the Tigres in 1953. His teammates in those years included local stars (the Olivo brothers, Guayubín and Chichí); fellow Puerto Ricans (Rubén Gómez, who joined the New York Giants in 1953); and Negro League standouts (Alonzo Perry).
The remainder of Olmo's playing career consisted of four winter seasons in Puerto Rico. The highlight was when he rejoined Santurce for the 1954-55 season; that Crabbers squad is often regarded as the greatest winter-ball team ever. The veteran reserve played sparingly behind Bob Thurman, Willie Mays, and Roberto Clemente. In the 1955 Caribbean Series, he appeared in one game and went 1-for-2. He stayed with Santurce in 1955-56 and got three last at-bats with San Juan in 1956-57. In 2,182 at-bats over his PRWL career, he hit .290 with 40 homers.
Meanwhile, Olmo was scouting Puerto Rico for the Braves. In 1951, he signed Félix Mantilla.49 It appears, however, that this was an unofficial sideline while he remained with the organization as an active player. Stories about how the club signed him as a scout came out at the end of 1953. 50 He nearly bagged an elephant right after that, but the Dodgers beat him out for Roberto Clemente in early 1954. He did get at least two other notable Puerto Rican players after the Braves moved to Milwaukee: Juan Pizarro in 1956 and Sandy Alomar, Sr. in 1960. He also played a part in signing Elrod Hendricks out of the Virgin Islands in 1957, and later helped keep Ellie's pro career alive in Puerto Rico.
Olmo also continued to serve the Puerto Rican Winter League in various capacities, while operating an off-track betting concession in San Juan on the side.51 He returned to San Juan as manager in 1957-58 and led the Senadores again in 1958-59. He started the following season as a radio commentator on PRWL games, but rejoined Santurce as manager partway through the season. He replaced Ray Murray, who was sacked by owners Ramon and Hiram Cuevas for using Orlando Cepeda in left field. Cepeda's big-league club, San Francisco, had instructed Murray to put him there.52
Olmo stayed with Santurce in 1960-61, but the PRWL added a new franchise to his birthplace, Arecibo, in 1961-62, and he became manager of the Lobos. The municipal stadium, which was already named Estadio Luis Rodríguez Olmo, boosted its capacity. After leading Arecibo for one more season, Olmo became general manager for Caguas in 1963-64. He then piloted Santurce for two more seasons (1964-65, 1965-66). The PRWL named him Manager of the Year seven times.
Olmo and the Braves had parted ways in November 1961. In early 1964, he began to scout Puerto Rico for the Philadelphia Phillies.53 He joined the Chicago White Sox organization in 1971.54 "I had some words with the general manager [Roland Hemond]," he recalled in 2011. "It only lasted about six months." That was the end of his scouting activity. Among other occupations, Olmo worked with a travel agency, a bowling alley, and (for about four years) the telephone company.
Luis and his wife, Emma Paradis, were married on October 27, 1940. More than 70 years later, they were still together, although both were suffering from Alzheimer's Disease. They had two children: daughter Ana Lucía (born c. 1941) and son Luis Francisco (born 1947, died at age 53).
Olmo began playing golf in 1968 and as of 2011, he still got out on the links twice a week, one of the reasons he remained so fit in his early 90s. At one point, though, he was carrying more weight than was good for him – he dropped 50 pounds on doctor's orders.55 In August 2009, after SABR's Puerto Rican chapter and the Museum of Sports of Guaynabo celebrated his 90th birthday, Olmo said, "I just turned 90. I hoped to reach 80 and that has passed. I am playing extra innings. And I recall as if it were yesterday when I arrived in the majors. The baseball of today is the same as what I played. The only thing that has changed is the salaries." 56
Luis Olmo died in Santurce on April 28, 2017, aged 97, of complications from Alzheimer's. Four days after his 92nd birthday, when his memory was still intact, Olmo was asked to what he attributed his long life. He said simply, with a little chuckle, "I been lucky. Living good."
This biography is included in "Puerto Rico and Baseball: 60 Biographies" (SABR, 2017), edited by Bill Nowlin and Edwin Fernández.
Acknowledgments
Grateful acknowledgment to Luis Olmo for his memories (telephone interview, August 15, 2011). Continued thanks to Benny Ayala.
Sources
Crescioni Benítez, José A., El Béisbol Profesional Boricua (San Juan, Puerto Rico: Aurora Comunicación Integral, Inc.), 1997.
Figueredo, Jorge S., Cuban Baseball: A Statistical History, 1878-1961 (Jefferson, North Carolina: McFarland Press, 2003).
Figueredo, Jorge S., Who's Who in Cuban Baseball: A Statistical History, 1878-1961 (Jefferson, North Carolina: McFarland Press, 2003).
Freedman, Lew, Latino Baseball Legends (Westport, Connecticut: Greenwood Publishing Group, 2010), 283.
Treto Cisneros, Pedro, ed., Enciclopedia del Béisbol Mexicano (Mexico City, Mexico: Revistas Deportivas, S.A. de C.V., 11th edition, 2011).
www.baseball-reference.com, www.licey.com, and www.retrosheet.org
Notes
Born
August 11, 1919 at Arecibo, (P.R.)
Died
April 28, 2017 at Santurce, (P.R.)
If you can help us improve this player's biography, contact us.
http://bioproj.sabr.org/bp_ftp/images5/OlmoLuis.jpg
600
800
admin
/wp-content/uploads/2020/02/sabr_logo.png
admin
2012-01-04 20:37:02
2021-10-05 15:37:24
Luis Olmo