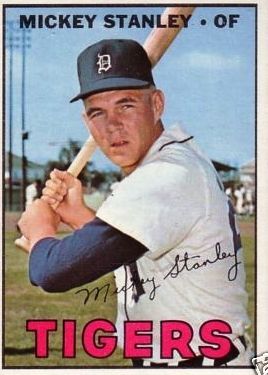 ---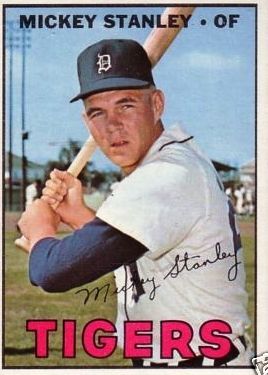 Everyone has their proverbial fifteen minutes of fame. For Mickey Stanley they came during two weeks in the fall of 1968 when he was cast under the intense spotlight of the baseball world. The shift of a career outfielder to the unfamiliar position of shortstop during the 1968 World Series has been called one of the boldest managerial moves in the history of the game. Most observers were skeptical of the move. In his memoir Tuned to Baseball, Ernie Harwell declared, "At the time I thought it was a bad move. I checked about 25 so-called experts on the eve of the Series and they agreed with me.…But it worked."
Beyond the 1968 World Series, the details of Stanley's career appear at first glance to be less noteworthy. However, on closer examination both his career and several of his accomplishments are quite remarkable. His 15 seasons with the Detroit Tigers put him in a category of only 63 others in length of tenure with one team. Stanley won four Gold Gloves, and, through the 2006 season, was 12th all-time in fielding percentage for outfielders. He also was a key contributor to the 1972 AL East Division Championship team.
Throughout the course of Stanley's career, three attributes stand out. First, he was a self-admitted below-average hitter with a career batting average of .248. In 1999 Mickey jokingly told the Grand Rapids Press, "My grandkids know I played for the Tigers. I don't tell them I was a bad hitter. They'll find out for themselves soon enough." Stanley is one of only 54 players with a minimum of 5,000 plate appearances with an average below .250.
The compensating factor for Stanley's hitting was his athleticism, versatility, and fielding. He commonly was acknowledged as one of the best center fielders of his era. George Cantor in The Tigers of '68: Baseball's Last Real Champions, commented about Mickey's ability to get a jump on the ball: "Whereas other center fielders excelled at sheer speed, Stanley seemed to be operating on clairvoyance, getting to many balls simply on anticipation." On occasion he would run to the spot of an impending home run, scale the fence, and make the catch. Before he injured his arm, runners feared his throwing abilities. Stanley's natural athletic abilities also were widely recognized. In the latter stages of his career, his ability to play seven different positions made him a valuable commodity.
Finally, equally important were Stanley's character and his approach to the game. As Joe Falls observed in a 1975 column in The Sporting News, "He really is a throwback to the old-timer who played the game for the sheer joy of it." Stanley simply signed his contract and never complained about playing time. He accepted his manager's decision about where to play and was loyal to his team. Falls wrote, "He is just there, day after day, doing his job and having fun." In 1976 Stanley told Accent/Grand Rapids magazine, "I can't wait to play.…I'm the first at the park on a game day and the last to leave."
Mitchell Jack Stanley was born to James and Betty Stanley in Grand Rapids on July 20, 1942. He was the middle of five children whose father supported them as a night truck driver for Oven Fresh Bakery. In the 1976 Accent/Grand Rapids interview, Stanley recalled, "No matter how tired he was when he came home, he'd always find time to hit or throw a few to me."
The Grand Rapids area has an established tradition of producing major leaguers, among them first baseman Wally Pipp and former Tigers Dave Rozema and Phil Regan. Growing up a Tigers fan, Stanley's boyhood baseball idol was Detroit's All-Star shortstop, Harvey Kuenn.
Stanley was a three-sport star in high school, playing basketball, baseball, and football. His athletic versatility contributed to the success of his teams. A 1969 Pinellas County (Fla.) Evening Independent story told of a crucial switch in positions by Stanley in an Ottawa Hills High School football game. Playing against rival Grand Rapids South, Mickey played halfback in the first half and his team trailed, 6–0. He was switched to end after halftime. "He caught two 60-yard passes and out-ran his defenders for touchdowns" and his team won, 20–6. On the baseball team, Stanley pitched and played second base wining the 1959 Grand Rapids City League batting title with a .523 average. In his senior year, he was voted the top athlete in the City League.
After graduating from high school, Stanley was signed in July 1960 by local Tigers scout Bob Sullivan for a $10,000 bonus. Sullivan coached several major league prospects, including Kirk Gibson and Jim Kaat. After graduation Stanley played outfield on Sullivan's National Baseball Congress team that won the national championship in Wichita, Kansas; in a 2007 interview, he remembered this as "pretty thrilling for a kid my age."
In 1961 Stanley began climbing up the ladder to the major leagues, which included five seasons in the minors and five years of winter ball. He told Accent/Grand Rapids, "I look back at the minors, the 12 hours of doubleheaders; riding the buses all day and I remember then I told myself if I wasn't playing in the majors in three years, that I probably would never make it."
He started in Duluth of the Class C Northern League. Stanley told Accent/Grand Rapids, "The first game I played was in Grand Forks and it was snowing. I had a typical day, 0 for 4." Mickey started slowly in Duluth and after 44 games, batting only .223, he was sent down a level to Decatur of the Class D Midwest League. He finished the season there with a respectable .279 batting average. After the 1961 season he married his high school sweetheart, Ellen Ann Terrell.
In 1961 the three members of what was to become a famous outfield tandem met for the first time. In 1968 Stanley told TSN, "I first met Jim Northrup in 1961 at Tigertown.…The following October, I met Willie Horton." Northrup and Stanley later were roommates in the majors, vying with each other for playing time. In a 2007 interview Mickey remembered, "Jim was not a good outfielder early in the minor leagues, but he made himself into a real good outfielder." Horton and Stanley were teammates for 14 years. They became close friends and Mickey was noted for his calming influence on the sometimes volatile Horton. In 2007, Stanley cited a time in Puerto Rico where he intervened in a confrontation between Horton and another player. "I got in front of him…and Willie grabbed my uniform in two places by my waist, lifted me off the ground and walked me completely off the ball diamond. He was a strong, strong man…not a mean guy…not a mean bone in his body."
Returning to Duluth for a full season in 1962, Stanley was joined there by Horton and Northrup. Mickey's hitting had improved. He finished with a batting average of .285 and was selected to the Northern League all-star team.
In 1963 Stanley moved up to the Double A Sally League with Knoxville, again with Horton and Northrup. Despite opening the season strong and hitting .343 on May 7, he finished with an average of .252. Six days after the end of the season, Stanley's first child, Steven Scott, was born September 14. But there was not a lot of time to enjoy fatherhood. It was on to the Florida Instructional League, which opened its season October 8. Managed by Phil Cavaretta and Bob Swift, the team was a precursor of things to come. With seven future members of the 1968 Tigers on the roster, they took the league championship, with Stanley batting .305.
The 1964 season was a year of highs and lows for Stanley. He moved up to Triple A Syracuse of the International League, but he was pushing up against his personal timetable for making it to the majors. After only 19 games, Mickey found himself going backward not forward. Hitting a meager .160, he was demoted to Knoxville. This proved to be a personal day of reckoning for Stanley. He vividly recalled in 2007, "I had the station wagon packed leaving for Knoxville and I made up my mind I was going to the big leagues. I can't go backward any more." Three months later he was a September call-up in the majors. Returning to Knoxville in May he started slowly, going 1-for-8, but then went on a tear, hitting home runs in three consecutive games. Stanley finished the season with a .304 batting average and was named to the Southern League all-star team. And in September, he was a call-up to the majors.
Stanley made his major league debut on September 13, 1964, at Tiger Stadium against the Washington Senators. He singled off Claude Osteen in his first at-bat. In 2007, he laughingly remembered it as a "chopper down the third base line, about sixteen feet, a swinging bunt." Stanley appeared in four games, batting .273.
The Tigers were faced with a crowded pool of outfield talent in the spring of 1965. This included Don Demeter in center as well as Gates Brown, George Thomas, Al Kaline, Horton, and Northrup. Stanley became the odd man out. Northrup and Horton both stuck with the team. An off-season rules change allowed teams to option out players with less than five years' experience four times, instead of the previous three, and Stanley was moved to Syracuse to start the season. This time he was able to handle Triple A pitching and in 144 games he batted .281 with personal minor league highs of 10 home runs, 152 hits, and 73 RBI. Selected to the International League all-star team he led outfielders with a .992 fielding percentage and won a Rawlings Gold Glove Award.
In late August, Stanley again joined the Tigers as a center-field fill-in for the injured Demeter. He took advantage of the opportunity by hitting .311 in his first 18 games. On September 3 in Detroit against Washington, his first major league home run was a 400-foot line drive off left-hander Marshall Bridges. Stanley's impressive play caused AL president Joe Cronin to rave to TSN, "Boy, I like that young outfielder. He looks like an athlete in every respect." However, by season's end, Mickey's average had slipped to .239.
In the spring of 1966 Stanley was poised for his first full big-league season at age 23. He would compete with Demeter for a starting spot in the lineup. Manager Charlie Dressen's plans were for Mickey to play on a regular basis as long as he hit .270. He was the starter at the beginning of the season, but again struggled early with his hitting. He was batting an anemic .182 when he broke his finger in mid May. While on the disabled list, Mickey's former minor league manager, Bob Swift, took over from Dressen, who had suffered a heart attack. Before Stanley returned to the active roster on June 18, Demeter was traded to the Red Sox for pitcher Earl Wilson. With more frequent playing time, Stanley's hitting improved. Inserted into the lineup when Kaline hurt his hip, Stanley went on a rampage, hitting .382 during one stretch July 16–24. In midseason third-base coach Frank Skaff became the manager after Swift was diagnosed with cancer. For the year Stanley appeared in 92 games and batted .289. He was impressive defensively with a perfect fielding average handling 163 chances with no errors. Shortly after the season, Stanley's second child, Karen Michele, was born that October 14.
Mayo Smith became the Tigers' new manager in 1967. With a pool of rising young talent mixed with veterans like Norm Cash and Kaline, the Tigers contended all season for the pennant. They finished second at 91–71, losing out by one game on the last day in a heartbreaking loss in the nightcap of a doubleheader. Stanley's playing time increased to 145 games, but hitting again was a problem. He struggled all season, finishing at a career low of .210. After hitting a two-run homer July 2 in a 3–0 victory over first place Chicago, Mickey told the Detroit Free Press, "All I wanted was to do something that would win a ball game for the team." In looking back at that season in 2007 he commented, "All I had to do was have a couple of big hits…I felt pretty bad about that year."
Expectations were high for 1968. The Tigers started strong. After moving into first place on May 10, they never looked back, finishing with 103 wins, 12 games ahead of Baltimore. Stanley recalled in 2007, "The chemistry was so doggone good. Everybody had good years, not great years. Even the guys who didn't play much had big days where they contributed.…A bunch of good guys. There were no bad apples." The one player with an exceptional season was pitcher Denny McLain with 31 victories. Stanley recalled, "I liked playing behind Denny. He worked fast and he threw strikes. He challenged hitters."
To many, 1968 was Stanley's best season. In a year of lower overall batting averages, he finished at .259 with career highs in hits (151) and runs scored (88). In the outfield he had a perfect 1.000 fielding percentage and won his first Gold Glove. Mickey's versatility was an important factor in the team's success. He spelled Cash at first base when a right-handed hitter was needed. When Kaline's arm was broken in May, he returned full time to center field. On June 15 against Chicago he made what was described in Jerry Green's Year of the Tiger as "the finest catch Mayo Smith ever saw. Stanley raced 60 yards diagonally across right center and made a diving catch of Tom McCraw's drive. He tumbled onto the gravel track, arose and doubled Luis Aparicio at first base. He was limping but waved off Mayo and trainer Bill Behm." In August, when Dick McAuliffe was suspended, Stanley played second and short in a series against the Yankees.
In late September, Stanley moved to center stage. After the pennant was won, Mayo Smith searched for a way to keep Kaline in the lineup and to deal with the weak hitting at the shortstop position. Stanley had regularly taken infield practice before games.
In 2007 Stanley provided the details. "I would get to the ballpark early and I loved taking ground balls. I was always the first one on the field.…I just loved catching ground balls. Norm Cash said 'You are not too bad over there.' I'm almost positive Norm Cash put a bug in Mayo Smith's ear.…It was a shock when Mayo Smith called me up to the hotel room, I had no idea.…He came right out and said it, 'You are going to be my shortstop in the World Series.' He didn't ask me if I wanted to. You talk about a surprise.…I said I have no problem with it, but what about the other guys, if I screw things up? He said 'You can do it. It's up to me.…You are going to be playing tonight.'"
That night against Baltimore, Mickey was baptized as a middle infielder in the first inning. He made an error when Don Buford "knocked me on my ass.…My first experience was getting flipped over on a double play because I didn't know how to get out of the way."
Obviously a quick learner, Stanley went on to amaze the baseball world in the Series. In the first inning of Game 1 he was tested by a leadoff ground ball off the bat of the speedy Lou Brock. Brock was out on a close play and Mickey's fielding at shortstop became a nonfactor. He successfully handled 30 of 32 chances, making two inconsequential errors.
In the World Series the Cardinals jumped out to a three-games-to-one lead. In pivotal Game 5, the Tigers fell behind 3–0 in the first inning. Stanley told the Grand Rapids Press in 1968, "It was a little glum.…but some of the guys, mainly Norm Cash and Al Kaline, started whooping it up. Kaline kept yelling, 'All we need is a few base hits.'" Stanley led off the fourth inning with a triple to start a two-run rally. Kaline's clutch single in the seventh knocked in two runs and the Tigers won 5–3. After a 13–1 win in Game 6, Detroit took the final game 4–1, the victory keyed by a two-run triple by Jim Northrup off Bob Gibson in the seventh to break a scoreless tie. Stanley batted .214, but his replacement in the outfield, Kaline, hit .379 with eight RBI and two home runs.
Mickey looked back in 2007: "It wasn't fun. I was just waiting to screw up. It helped getting the first ball of the Series hit to me, though. I wished I could have played center field because of the pressure.…It wasn't fun because I played out of position."
Stanley's fortunes turned quickly the following spring. The newspapers were filled with speculation about a permanent move to shortstop. On the first day of spring training Mickey injured his throwing arm. In 2007 he remembered that day, "The first ground ball.…Dick Tracewski hit one in the hole; being the young showoff, I picked it up and threw it off the wrong foot.…It hurt my arm and that was it for the rest of my career. I played with a bad arm.…It definitely took the fun out of baseball for me, because that was my biggest asset." Despite the injury, Stanley led the team with 149 games played, 59 of them at shortstop. He returned to the outfield as a regular after Tom Tresh was acquired from the Yankees in June to play short. Stanley won his second Gold Glove and set a Tigers record by playing in 220 consecutive errorless games as an outfielder. His batting average slipped to .235, but he had a career-high 70 RBI as the Tigers finished 19 games behind Baltimore.
In March 1970, Stanley's third child, Pamela Ann, was born. That year, Mayo Smith's last as manger, was a productive one for Mickey. He led the team in runs, hits, stolen bases, and triples while batting .252. He led AL outfielders in fielding percentage at 1.000, winning his third Gold Glove. However, for the first time in his career, the Tigers finished below .500.
In the next three years under Billy Martin, the Tigers again were a winning team. Stanley was a mainstay in the Detroit outfield. Among the Tigers' outfielders, he played the most games. In 1971, he had a career-high batting average of .292. In 1972, he told TSN, "Each year starts out pretty much the same way. I don't think I'm playing enough and I wind up with more at-bats than I figured I would." That year the aging Tigers contended all season, clinching the East Division crown on the next-to-last day of the season. Stanley provided many key hits. Despite a .234 average, he led the team with 18 go-ahead RBI. Detroit lost the AL Championship Series to Oakland in a hard-fought five-game series in which Stanley appeared in four contests, batting .333. In 1973, he won his fourth and last Gold Glove and led the Tigers in runs, at-bats, and hits while hitting .244. On July 13 he tied an AL record by making 11 putouts in center field.
Stanley's eight-year reign in center field for the Tigers ended suddenly in 1974. On July 30 he was hit by a pitch and suffered a broken hand. Ron LeFlore was called up from the minors and Stanley never again had a permanent playing position. Mickey finished the 1974 season on the DL and hit just .221. In December he was almost traded to Philadelphia along with Bill Freehan, but the Phils pulled out of the deal.
Over the next four years Stanley became a role player. His versatility allowed him to finish his career with the Tigers while many of his original teammates were either released or traded. Stanley played whenever or wherever he was needed. Ralph Houk, who became Detroit's manager in 1974, became a strong supporter of his value to the team. In 1975, Houk commented to TSN, "He's done everything we could want him to do. He's just been great. No moaning or groaning. He's worked as hard as anybody. He's a great guy to have on the club." In 1975 Mickey split his playing time between four positions and the designated hitter role. He was hitting .256 when his season again derailed July 25; he injured his thumb sliding into second in a game in which he went 4-for-4. After his departure to the disabled list, the Tigers went on a club record 19-game losing streak.
It 1976 the antics of Mark "The Bird" Fidrych captured the imagination of Detroit fans. Stanley recalled in 2007, "You certainly wanted to play as well as you could behind him. It was phenomenal playing in front of packed crowds." On June 16 Stanley contributed to one of Fidrych's 19 victories by singling in the winning run in the ninth inning. For Mickey personally, it was a pivotal year. In August he became a ten-year man and could not be traded without his consent. There was also speculation that he would be left unprotected in the upcoming expansion draft. His versatility was his saving grace. That year, he played six different positions as well as DH. After passing the ten-year milestone Stanley played regularly over the last 32 games after injuries to LeFlore and third baseman Aurelio Rodriguez. He finished with a .257 average and in November he commented to TSN, "I'd rather stay in Detroit even for a lot less money." In December he survived the expansion draft and signed a two-year contract with the Tigers.
In his final two seasons, Stanley was a link between the 1968 champs and the nucleus of what would become the 1984 championship team; playing with Alan Trammell, Lou Whitaker, Jack Morris, and Lance Parrish. In 2007, he remembered, "It made me feel a little more like a leader. It felt pretty good to be the old man of the ball club. Lance Parrish says 'Hi Mr. Stanley. I was in eighth grade when you were in the World Series.'" In August 1977 Mickey preserved Morris's first major league victory with an over-the-fence ninth-inning catch. For the season he hit .230.
In 1978 Stanley played sparingly, appearing in only 53 games and batting .278. He was released in December 1978. General Manager Jim Campbell told the Detroit News, "Mickey is one of the finest all-around athletes ever to wear a Tiger uniform. But more important he has been an exemplary individual." The same article quoted Stanley as saying, "I feel very fortunate I was able to stay in the same organization so long. I was never a superstar. I went through some slumps and never heard many boos." Jerry Green of the News commented: "Mickey Stanley: Never a superstar, but always The Professional."
After his playing days, Stanley worked as a manufacturer's representative and later with his son developing subdivisions. An avid golfer, he played in numerous charity events. Nearly 30 years after his departure from baseball, he had eight grandchildren and resided in Brighton, Michigan.
Sources
Cantor, George. The Tigers of '68: Baseball's Last Real Champions. Dallas: Taylor. 1997.
Detroit Tigers 1974 Yearbook. Detroit: Detroit Tigers. 1974.
Green, Jerry. Year of the Tiger. New York: Coward-McCann, Inc. 1969.
Harwell, Ernie. Tuned to Baseball. South Bend: Diamond Communications. 1985.
Palmer, Pete, and John Thorn. Total Baseball, 3rd ed. New York: HarperPerennial. 1993.
Pattison, Mark, and Dave Raglin. Detroit Tigers Lists and More: Runs, Hits, and Eras. Detroit: Wayne State University Press. 2002.
Spatz, Lyle, ed. The SABR Baseball List & Record Book. New York: Scribner. 2007.
Cantor, George. "Bubble Has Burst On Mickey Stanley." Detroit Free Press, July 28, 1966.
Cantor, George. "Stanley Is Steaming After 1st Key Homer." Detroit Free Press, July 4, 1967.
Conklin, Joe. "Definitely Detroit." Grand Rapids Press, April, 11, 1999.
"Class AA Kings Cop Star Team Laurels." The Sporting News, October 3, 1964, p. 33.
Falls, Joe. "An Unforgettable Player, Even If His Feats Fade." The Sporting News, March 15, 1975, p. 35.
"Fielding Flashes." The Sporting News, July 16, 1966, p. 45.
"Florida Phenoms." The Sporting News, October 5, 1963, p. 40.
"Friday 13th Proves Jinx For Stanley." The Sporting News, May 28, 1968, p. 16.
Green, Jerry. "Stanley A Professional." Detroit News, December 14, 1978, p. 1C.
Hawkins, Jim. "Expansion May Break Up Tigers' Old Gang." The Sporting News, November 6, 1976, p. 16.
Hawkins, Jim. "Mickey Quickie Tailor for Tiger Tears." The Sporting News, July 12, 1975, p. 8.
Korreck, G.F. "Climbing The Walls With GR's Mickey Stanley." Accent/Grand Rapids, April, 1976, pp. 8–13.
"Minor League Highlights Class C." The Sporting News, July 21, 1962, p. 41.
"Minor League Highlights Class C." The Sporting News, September 15, 1962, p. 46.
"Sally Averages." The Sporting News, May 18, 1963, p. 35.
"Shepard Int's No. 1 Pilot: Suns Head All-Star Picks." The Sporting News, October 2, 1965, p. 36.
Spoelstra, Watson. "Campbell Facing Pay Assault by Tiger Players." The Sporting News, January 13, 1973, p. 45.
Spoelstra, Watson. "Dressen Hands Garden Post to Stanley Until—." The Sporting News, March, 26, 1966, p. 11.
Spoelstra, Watson. "Hitters Learn Hard Way—Lolich Can Throw Strikes." The Sporting News, October 6, 1965, p. 6.
Spoelstra, Watson. "Stanley Wins Tiger 'Oscar' for Good-Thief Role." The Sporting News, June 3, 1972, p. 5.
Spoelstra, Watson. "Tigers Doff Caps to Stanley, Stickout in CF." The Sporting News, August 31, 1968, p. 11.
Stanley, Mickey. "Mickey Stanley on The Series." Grand Rapids Press, October 8, 1968, p. 39.
"Stanley In Slugging Spree." The Sporting News, June 13, 1964, p. 45.
"Tigers Hoist Pennant With Classy Pitching." The Sporting News, December 14, 1963, p. 30.
Zainea, Leo. "Once He Failed In A Different Experiment." Pinellas County (Fla.) Evening Independent, March 4, 1969, p. 1C.
www.baseball-almanac.com
www.baseball-reference.com
www.retrosheet.org
Nechal, Jerry, Interview with Mickey Stanley, June 22, 2007.
Note
This article originally appeared in the book Sock It To 'Em Tigers–The Incredible Story of the 1968 Detroit Tigers, published by Maple Street Press in 2008. 
Photo Credit
The Topps Company
Born
July 20, 1942 at Grand Rapids, MI (USA)
If you can help us improve this player's biography, contact us.
http://bioproj.sabr.org/bp_ftp/images3/StanleyMickey.jpg
600
800
admin
/wp-content/uploads/2020/02/sabr_logo.png
admin
2012-01-04 20:00:41
2022-01-09 09:33:58
Mickey Stanley