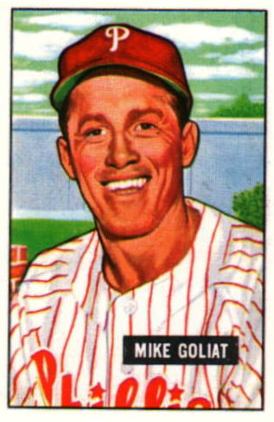 ---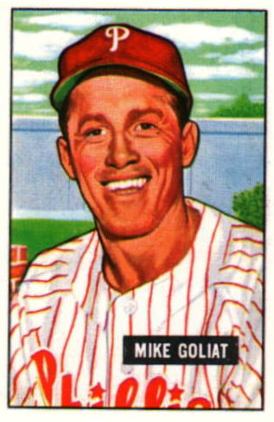 Mike Goliat has long been the answer to a popular trivia question about the 1950 Philadelphia Phillies: Who was the second baseman on the Whiz Kids? Since 1950 was the only full year that Goliat spent in the major leagues, the answer to that question eludes many.1 But Goliat was a solid-fielding second baseman (a position he had not played in the minor leagues) who started 139 games for those Phillies. He hit only .234, but it was a hard .234 as he slugged 13 home runs and drove in 64 runs, mostly from the eighth spot in the order. Many of his hits were in the clutch and he hit Don Newcombe, the ace of the Brooklyn Dodgers in 1950, like he owned him.2
Whiz Kids manager Eddie Sawyer said of Goliat in 1950, "He hit the better pitchers in the league. The ones that got him out were the lesser pitchers. Mike was a pretty good ballplayer but of course he was playing out of position. He did a reasonable job at second base for someone who hadn't played there. He was a first and third baseman but we needed a second baseman so we played him at second. But he helped us a lot, especially against the Dodgers."3
Mike Goliat was born on November 5, 1921,4 in Yatesboro, Pennsylvania, one of nine children to Caroline and Metro Goliat, who was a Polish immigrant.5 The Yatesboro area was in the coal country near Pittsburgh and boasted of having the most millionaires during the 1880s because of the discovery of oil and natural gas and its bituminous coal mines. Mike's father worked in the coal mines, and Mike followed him there as a teenager. He joined the US Army in 1945, and while stationed in Japan with the occupation troops after World War II played baseball with some minor leaguers and more than held his own. His success prompted him to try to make baseball his career. After being discharged in 1947, he began working at a mine again but on a day off attended a Phillies tryout camp in Vandergrift, Pennsylvania, about 12 miles from his home. After taking a look at Goliat, the Phils signed him to a contract and assigned him to the Vandergrift Pioneers in the Class-C Middle Atlantic League.6 There he became the regular third baseman, and in his first year in professional baseball was a resounding success, batting .370 with 133 hits, 31 doubles, 12 home runs, and 86 runs batted in in 94 games as the Pioneers won the pennant by 8½ games.7
In 1948 Goliat was promoted to the Wilmington Blue Rocks of the Class-B Interstate League, where he was a teammate of Robin Roberts for a couple of months. The season opener against Harrisburg was Roberts' professional debut and the pitcher cruised to a 19-1 win as Goliat started the season with three hits, including a home run.8 For the season Mike alternated between third base and first base and batted .315 with 17 homers and 86 RBIs in 138 games. He smashed 29 doubles and 10 triples, and led the league in runs scored with 123 in 138 games as the Blue Rocks won the regular-season championship by a single percentage point before bowing out in the playoffs to the York White Roses.9
That performance earned Goliat a promotion for 1949 to the Toronto Maple Leafs in the International League, only one step below the major leagues. The parent Phillies had a hole at second base so after Goliat started the season at third base, the Phillies ordered Maple Leafs manager Del Bissonette to move him to second. Goliat later recalled that he wasn't very happy about the move and was put out there without any instruction. He soon realized, however, that the Phillies had Willie "Puddinhead" Jones at third base and that second base was his pathway to the major leagues.10 In July Goliat was batting .286 after 95 games when he received word between innings of a game against Rochester that he was to join the Phillies. But on the second play after he took the field, Ralph LaPointe barreled into him at second base, wrenching his knee so badly that he was barely able to hobble off the field.11
The Phillies wanted Goliat to report anyway so he limped into Shibe Park, where trainer Frank Wiechec plunked him in the whirlpool bath and applied hot compresses daily. Although not at full speed, he made his major-league debut on August 2, replacing Eddie Miller at second base in the eighth inning of an 11-3 loss to the Cincinnati Reds in Crosley Field. He faced Herman Wehmeier in his first big-league at-bat and grounded out to shortstop. He was in the starting lineup the next day, going hitless in three at-bats against Ken Raffensberger, who tossed a two-hit shutout.
Goliat finally agreed to have x-rays taken of his knee, but only on the condition that he stay in the lineup no matter what the x-rays showed.12 He managed his first big-league hit on August 4, a run-scoring single off Ewell Blackwell in the first game of a doubleheader. Hampered by his sore knee, he struggled at the plate, getting only three hits in his first 47 at-bats. But as the Phillies got hot in mid-August, beginning with a three-game sweep over the league-leading Brooklyn Dodgers, Goliat began contributing. He hit his first major-league home run off Larry Jansen of the New York Giants on August 21 and had a number of timely hits the rest of the way, raising his average to .212 by season's end. In 55 games and 189 at-bats, he hit six doubles, three triples, and three home runs, and had 19 runs batted in.
Although Goliat's rookie statistics were not eye-catching, he impressed New York Giants manager Leo Durocher, who said of him, "He doesn't look like a major leaguer. But all I know is that I haven't seen him make an error yet and every time I look up he's making a double play to take us out of a rally."13
Goliat was fortunate to fall into a nice living arrangement when he was called up because Robin Roberts, Richie Ashburn, and Curt Simmons invited him to stay with them at a rooming house in Bryn Mawr that was run by Ashburn's parents. It immediately provided him with a place to stay, some comradeship, and Nell Ashburn's great home cooking.14
Goliat had a strong spring training in 1950 and won the second-base job. One Philadelphia beat writer tabbed him as the best second sacker in Florida, ahead of even Red Schoendienst of the Cardinals.15 Then 28 years old, Goliat helped set the tone for the Phillies right out of the gate when he went 4-for-4 against the Dodgers on Opening Day as the Phillies won, 9-1. Although he did not hit for a high average, he contributed many clutch hits throughout the Whiz Kids' run to the pennant, especially against the Dodgers. For example, on June 30 and July 1, he went 3-for-4 in successive games against Brooklyn, with a home run in each game as the Phillies won 8-5 and 6-4.
It's hard to imagine anyone having a better day than Goliat had on August 5. During the day he married his fiancée, Eleanor Dalpra, a nurse from Cleveland whom Mike had met the previous year through an Army buddy.16 That night he gave himself and his team a memorable wedding present, hitting a two-run fifth-inning home run off the Cardinals' Gerry Staley that was the difference in a 2-1 Phillies win. The victory extended the Phillies lead to four full games.
Two days later Goliat had a single, double, and triple to drive in four runs and propel the Phillies to a 9-0 whitewash of St. Louis behind Ken Johnson's two-hitter. The next day he had another three-hit day, including a double, against Don Newcombe in a 6-5 Phillies win in Brooklyn. On August 12 against the New York Giants, Goliat showed his grit. With tempers running high on both teams, Giants pitcher Sheldon Jones uncorked a beanball at Goliat, sending him sprawling to the dirt. Mike picked himself up and took a couple of steps toward the mound before deciding to let his bat do his talking. On the second pitch he laced a line drive into left field to account for two runs and send his team into a 2-1 lead in a game they eventually won in extra innings.17
Goliat's most productive day of the season came on September 20, when he homered twice while going 3-for-4 and driving in four runs in a 9-6 win against the Cubs in Shibe Park to increase the Phillies' lead to a season-best 7½ games over the second-place Dodgers.
Although an unofficial statistic, in 1950 Goliat had eight game-winning runs batted in. Manager Eddie Sawyer later recalled that "Mike drove in a lot of important runs all season for us. He did a fine job. With him batting eighth, I always had him hitting all the way."18
The Phillies limped to the pennant, clinching with a dramatic 10-inning victory over the Dodgers on the last day of the season. They were then swept by the New York Yankees in the World Series in three one-run games and a 5-2 finale as the entire team went into a hitting slump with only five runs and 26 hits in the Series. Goliat was 3-for-14 in the four games, with one RBI. He scored the team's first run of the Series in the fifth inning of the second game after singling to lead off the inning. Richie Ashburn's sacrifice fly brought him home to tie the score 1-1 in a game the Phillies lost 2-1 in 10 innings on a home run by Joe DiMaggio off Robin Roberts.
Phillies owner Bob Carpenter apparently was not too impressed by Goliat's clutch hitting because he sent him a contract for the same $6,000 salary he had received in 1950. Goliat sent the contract back unsigned, an exercise he repeated two more times before eventually signing for $7,500 for 1951.19
Goliat reported to 1951 spring training significantly heavier than the year before, a harbinger of things to come. According to Goliat, the Phillies wanted him to add some weight, but perhaps not 25 or 30 pounds worth.20 In any event, he started spring training like a house afire, hitting close to .500 for the first few weeks, before cooling down considerably.21
In the season opener, against the Dodgers, Goliat slammed a home run off Carl Erskine in his first at-bat of the season. As he crossed the plate after rounding the bases, he facetiously asked Robin Roberts, who was the next hitter, "What's the home-run record in this league anyway?"22 But Goliat quickly went into a prolonged slump and by May 15 was hitting just .113. His fielding suffered as well and although he had improved his average to .225 by June 23, the slumping Phillies shipped him to their International League farm team at Baltimore.
According to Goliat, his discord with owner Bob Carpenter had a lot to do with his demotion. Many expected the Phillies to repeat in 1951 but the club got off to a slow start. In early June the team was four games under .500 and had sunk to seventh place. Carpenter called all the starters in one by one to try to find out what was wrong with the team. Goliat's response was, "I'm not the manager, so I'm not telling you what's wrong." Carpenter was unhappy with that response but Goliat made it worse by telling Carpenter what he could do with it if he didn't like it. Shortly thereafter, Goliat was playing for Baltimore.23
With the Orioles, Goliat's hitting returned to form as he batted .282 in 74 games and 284 at-bats, earning a September call-up to the Phillies. On September 12, however, before he appeared in a game, the Phillies sent him on waivers to the St. Louis Browns. With the Browns he got into just five games and batted.182.
Although hopes were high for a comeback in 1952,24 it was not to be. Goliat appeared in three games with the Browns, going hitless with one walk in five plate appearances before being sold to the Toronto Maple Leafs on April 27.25 His major-league career was at an end after one full season and three partial seasons and totaled 186 hits, 20 home runs, 99 RBIs, and a .225 batting average.
Although Goliat's time in the majors was over, he played at the top level of the minor leagues through 1961. He became a fixture with the Toronto Maple Leafs, playing there into the 1959 season. He enjoyed playing for owner Jack Kent Cooke, the team drew well, and he made more money than he had with the Phillies.26
In 1952 Goliat batted .290 in 113 games, but did not earn another call-up. In 1953 he hit .280 while slugging 19 home runs and driving in 72 runs. He tailed off to .248 and .257 in 1954 and 1955 but had a banner year in 1956, hitting .280, hitting 23 home runs, and driving in 83 runs to lead the team to the regular-season pennant. For his efforts he was named the league's MVP. He had even a better year statistically in 1957 for another pennant-winning Maple Leafs team, batting .296, smashing 28 homers, and driving in 83 runs. Although Goliat was beaten out for Most Valuable Player by Mike Baxes, he was named to the league All-Star team for the second consecutive year.
Even those two stellar campaigns did not get Goliat an invitation to a big-league spring-training camp. He was still a very productive player for Toronto in 1958, hitting 22 home runs while batting .270. In 1959 Toronto sold him to the Montreal Royals, where he finished with a .267 batting average, 16 home runs, and 62 runs batted in. He became more of a part-time player with the Royals in 1960, batting .246 in 262 plate appearances. In 1961 he became a player-coach for the Spokane Indians in the Pacific Coast League under manager Preston Gomez, hitting .213 in 56 games.
The 39-year-old Goliat retired from baseball after that season. After leaving baseball he operated a small trucking company in Cleveland that carried produce. After nine years he turned the business over to one of his sons and then worked for five years as a materials handler at a Ford Motor Company plant before retiring to his home in Seven Hills, Ohio.27 He was always an excellent bowler, and enjoyed bird hunting and playing golf.
Mike Goliat died of heart failure on January 13, 2004, at the age of 82. He was buried in All Saints Cemetery in Northfield, Ohio, and left behind his wife, Eleanor, two sons, Michael Jr. and Dr. Steven Goliat, three grandsons, a sister, and a brother.
This biography appears in "The Whiz Kids Take the Pennant: The 1950 Philadelphia Phillies" (SABR, 2018), edited by C. Paul Rogers III and Bill Nowlin.
Sources
In addition to the sources cited in the Notes, the author consulted Retrosheet.org, Baseball-Reference.com, and Goliat's player file at the National Baseball Hall of Fame Library, as well as an earlier SABR biography of Goliat by Ralph Berger.
Notes
1 Legendary college basketball coach Bob Knight followed the Whiz Kids as a 9-year old and once told the author that he had won a lot of bets over the years because he could name the Whiz Kids starting line-up, including Goliat as the second baseman.
2 Sam Carchidi, "Scrappy Whiz Kid Mike Goliat Dies," Philadelphia Inquirer, January 15, 2004 (quoting Andy Seminick as saying, "He treated Newcombe like a cousin; he hit him like he owned him.").
3 Robin Roberts and C. Paul Rogers III, The Whiz Kids and the 1950 Pennant (Philadelphia: Temple University Press, 1996), 247.
Contemporary baseball references listed his birthdate as November 5, 1925, leading to speculation that he may have lied about his age when trying out for the Phillies in 1947 when he was actually 26 years old.
5 Harry T. Paxton, The Whiz Kids — the Story of the Fightin' Phillies (New York: David McKay Company, Inc., 1950), 131.
6 Frank Yeutter, "Goliat — Phils' New Goliath? Baseball Digest, June, 1951: 69; Skip Clayton, "Mike Goliat — Whiz Kids' Second Baseman," Phillies Report, 14 (undated copy on file with the author).
7 Vandergrift also dominated the league playoffs, defeating the Erie Sailors in three straight games and then sweeping four straight from the Niagara Falls Frontiers in the league finals. Lloyd Johnson and Miles Wolff, eds., The Encyclopedia of Minor League Baseball (Durham, North Carolina: Baseball America, 2nd ed., 1997), 361.
8 Elbert Chance, The Blue Rocks Past and Present: Wilmington's Baseball Team — 1940-1999 (Wilmington, Delaware: Cedar Tree Books, 2000), 193.
9 Johnson and Wolff, 368-69; Chance, 193-208.
10 Clayton, 14; Stan Baumgartner, "Mike Goliat, M.A. Rookie of 1947, Hailed as New Phils Star," Philadelphia Inquirer, April, 15, 1950.
11 Yeutter, 70-71.
12 He said, "It was too hard getting up here in the first place." Rich Westcott and Frank Bilovsky, The New Phillies Encyclopedia (Philadelphia: Temple University Press, 1993), 241; Roberts and Rogers, 195-96; Paxton, 132. .
13 Arch Murray, "Leo Lauds Phils' Mike Goliat — Giants Could Use His Spirit," New York Post, August 3, 1949.
14 Mrs. Ashburn was renowned for her cooking. Jack Mayo had previously lived in the Ashburn rooming house but broke his ankle in early July, ending his season. He went home to Ohio to mend, opening up the spot for Goliat when he was called up. Roberts and Rogers, 179-80; Harry T. Paxton, "The House Where the Ballplayers Live," Saturday Evening Post, September 10, 1949.
15 Goliat batted .342 in the first 17 games of the spring with 26 hits and 27 runs batted in 76 at-bats. The hits included eight doubles, two triples and five home runs. Baumgartner, Philadelphia Inquirer, April 15, 1950.
16 Yeutter, 71-72.
17 Robin Roberts and C. Paul Rogers III, My Life in Baseball (Chicago: Triumph Books, 2003), 76, republished as Throwing Hard Easy — Reflections on a Life in Baseball (Lincoln: University of Nebraska Press, 2013).
18 Clayton, 15.
19 Ibid.
20 Ibid.
21 Yeutter, 72; J. Roy Stockton, "Goliat's Comeback Chance," Baseball Digest, November, 1951: 91.
22 Roberts and Rogers, The Whiz Kids and the 1950 Pennant, 219.
23 Clayton, 15.
24 Stockton, 91-92.
25 Goliat later reported that the Browns' manager, Rogers Hornsby, just sat him on the bench and never said anything to him. He didn't believe he was given a chance with St. Louis, but he was glad to be sent to Toronto where he had a chance to play. Clayton, 15.
26 Stockton, 15. The Maple Leafs routinely drew over 400,000 fans a season, more than some major-league clubs. Johnson & Wolff.
27 Clayton, 15.
Born
November 5, 1921 at Yatesboro, PA (USA)
Died
January 13, 2004 at Seven Hills, OH (USA)
If you can help us improve this player's biography, contact us.
http://bioproj.sabr.org/bp_ftp/images4/GoliatMike.jpg
600
800
admin
/wp-content/uploads/2020/02/sabr_logo.png
admin
2012-01-04 20:35:45
2012-01-04 20:35:45
Mike Goliat