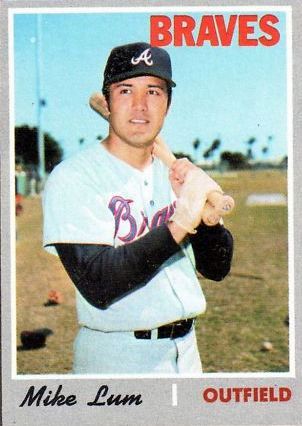 ---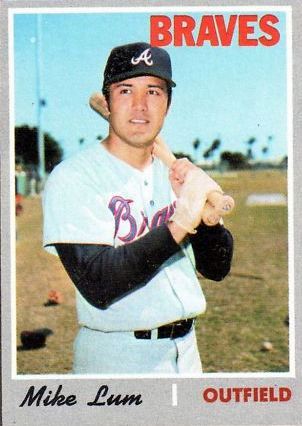 Before Mike Lum came along in 1967, only three men born and raised in Hawaii had played in the majors, and none since 1945.1 Both before and after World War II, quite a few Hawaiian ballplayers had gone to Japan – but for mainland fans, Lum became a longstanding reminder of baseball in the Aloha State. The outfielder-first baseman was never a regular, but he did enough to last for 15 seasons. As of 2017, he still led all islanders in big-league games played (1,517). He ranked third in home runs (90) behind Shane Victorino and Kurt Suzuki.
Lum was also the first American of Japanese Ancestry (AJA) in the majors. It seems apparent from photos of this robust six-footer with Caucasian features, but for many years it was still not widely known that Mike (born in Honolulu in 1945) was the son of a Japanese woman and an American soldier.2 A Chinese couple, Mun Luke and Winnifred Lum, adopted him as a baby.3 They named him Michael Ken-Wai Lum. Even after the Associated Press mentioned the adoption on July 4, 1970, stories about Lum during his playing career and beyond described him as being of Chinese extraction.
From boyhood, Mike loved baseball. "All the time," he said in 1969. "I played Little League right on up. I remember, I'd get to the field about two hours before we were supposed to play. We played a game called 'cotton ball.' We'd rip the cover off a regular baseball and stuff it with strings, and you could really make it break. But all the time I was on the ball field."4
The Milwaukee Braves signed Lum on June 21, 1963, after he graduated from Roosevelt High School. Scouts had been following him since another future big-leaguer from Honolulu, John Matias, had hit four home runs in a game during the 1962 state tournament. As Mike recalled in 2002, Braves scout Jack Kearns had to get past Roosevelt football coach Ticky Vasconcellos. "Ticky kicked him out of the office," Lum said laughing. "He always thought that baseball was for wusses." 5
Indeed, Lum was also a football star at Roosevelt. The lefty quarterback was the Interscholastic League of Honolulu's Back of the Year in 1962. He won a scholarship to Brigham Young and attracted the interest of Michigan State. He attended BYU for one semester in the fall of 1963 before deciding to stick with pro baseball.6
Reporting to his first minor-league club in Waycross, Georgia, Mike found Deep South society a radical departure from multiethnic Hawaii. "I was never exposed to racism. Coming to the mainland, it was a culture shock for me. I hadn't been aware of American black history. Down there, they had separate drinking fountains for blacks and whites – when we played in a town, we'd drop the black players at a different hotel from the rest of us. Very strange."7
Lum had played first base at Roosevelt, but since he ran well, the Braves decided to make him an outfielder. At Binghamton in 1964, he made the NY-Penn League All-Star Team, hitting .307 with 18 homers and 68 RBIs. After leading the Northwest League in doubles in 1965, he stepped up to Double-A Austin in 1966. That October, Mike was on the Hawaiian All-Star team that faced the Los Angeles Dodgers in a two-game exhibition series while the Dodgers were en route to Japan. A couple of months later, he got a taste of winter ball in Venezuela. Cardenales de Lara released Lum after about a month, but he reached Triple-A in 1967. He had just a fair season (.253-11-37) but made his big-league debut with Atlanta that September – never to return to the minors.
The Braves sent Lum to play with the Aguilas Cibaeñas in the Dominican League that winter. When he returned, he played the third-most innings of any Atlanta outfielder in 1968, as Rico Carty missed the season with tuberculosis. After the big Dominican returned in '69, playing time was scarcer – especially after Atlanta added Tony González to go with Hank Aaron and Felipe Alou.
On May 22 that year, Lum became part of a trivia question: who are the only men ever to pinch-hit for Hank Aaron? The Braves were blowing out the Mets 12-0, and manager Lum Harris was going to send Mike out to right field at the end of the seventh inning. When the team batted around, "Henry looked at me and said, 'Do you want to hit?' I said yes. He said, 'Go ahead.' I said, 'Gee, I'm pinch-hitting for Henry Aaron. I better do something.'" So saying, Lum cracked a double for two more runs.8 (At the time, the press incorrectly reported that Aaron had never been lifted for a pinch-hitter before.9)
In the first-ever National League Championship Series that October, the Mets beat the Braves in three straight games on the way to their Amazin' World Series win over the Orioles. However, Lum became the first Hawaiian to appear in the postseason, going 2-for-2 with a double.
Over the next few years, the constant refrain in Braves coverage was that "Lum could be a regular on most clubs, but not with that outfield." Still, his playing time inched up in 1970. His career day came on July 3 as he socked three homers against the San Diego Padres. He had a thigh injury and told his wife Linda to stay home because he didn't expect to be playing. (Mike had met Linda while playing at Austin in 1966. Because of her, he pursued cattle ranching in Texas for several years in the off-season.)
In '71, Atlanta used Hank Aaron at first base part-time; they also made room for future batting champ Ralph Garr and turned shortstop Sonny Jackson into an outfielder. Even so, Mike was an "irregular regular" across the outer garden, going .269-13-55 in 454 at-bats. Lum fell off to .228 in '72, and the Braves had another fine young outfielder in Dusty Baker. Nonetheless, the Hawaiian still drew attention in the field with various spectacular catches.
In 1973, Atlanta put 39-year-old Hank Aaron and his still highly potent bat back in the outfield. Manager Eddie Mathews installed Lum at first, where he had not played regularly since his Roosevelt days. Mike still spelled Aaron a lot in the outfield too, but the main story was his career best in nearly all offensive categories. His 16 homers remained the best single-season total by any Hawaiian in the majors until Victorino hit 18 in 2010. His 82 RBIs stood until 2009, when Suzuki drove in 88.
A broken thumb and a broken cheekbone slowed Lum down in '74; former second baseman Dave Johnson saw more duty at first. The Braves slipped to fifth place in 1975, and Mike grew frustrated backing up Earl Williams. The 1971 Rookie of the Year was a nominal catcher who would rather do anything but serve behind the plate. "If that's the way they feel," said Lum, "well, they can get rid of me. I've kept my mouth shut for eight years now, but I'm sick and tired of all this."10
Indeed, after that season, Mike was traded to Cincinnati for light-hitting shortstop Darrel Chaney. Reds skipper Sparky Anderson had liked Lum, calling him "the most underrated player in the National League" in '73. Sparky also knew that Mike could be effective off the bench. For three seasons with the Big Red Machine, Lum backed up another fine outfield – George Foster, César Gerónimo, and Ken Griffey, Sr.
On Opening Day 1976, Anderson proclaimed, "Mike Lum is an even better player than I thought he was before we acquired him. Our bench is balanced."11 Though he hit just .228-3-20 in 136 regular season at-bats that season, Mike had his moments – especially in the late innings. On June 29 at San Diego, his homer to lead off the 14th sparked a game-winning seven-run rally. On July 7 at Montreal, he was 2-for-3 with two RBIs, including the decisive sacrifice fly in the ninth. On August 19 at Riverfront Stadium, his pinch-single beat the Braves in the bottom of the 11th.
In the only other postseason of his career, Lum pinch-hit just once in the playoffs and didn't play at all in the World Series. As they steamrolled the Phillies and Yankees in seven straight games, the Reds had little call for their bench. Seven years later, Lenn Sakata of the Baltimore Orioles became the first player born and raised in Hawaii who actually got in a Series game.12 Nonetheless, in 2009 Lum listed playing with the 1976 champions as the number-one highlight of his big-league career, followed by his three-homer game.13
Following a poor 1977 (.160-5-16), Lum returned to winter ball in Venezuela. He hit very well for Tigres de Aragua (.309-12-50 in 61 games) and enjoyed a much better year with Cincinnati in 1978 (.267-6-23). Following that season, the Reds toured Japan. The Seibu Lions of that nation's Pacific League tried to entice Mike with a three-year offer for $1 million – much bigger money than was generally available in the U.S. at that time. Lum declined; in February 1979 (after playing 16 more games for Aragua), he returned to Atlanta as a free agent. He said, "I got to thinking about things like language barrier, being out of the country, away from my wife [he had met his second wife, Ramona, at a Braves game in the early '70s] for the best part of three years. Some things just mean more than your salary."
One of those things was the effort to shake off the label of utility player. "I accepted my role with the Reds because I knew that is why they traded for me. I've always tried to prove people wrong about the role I've been put in. But sometimes they don't listen."14 However, the Braves went at first base with Dale Murphy (still in transition from catching to his two-time MVP spot in center field) and then Chris Chambliss.
Lum remained a spot starter and pinch-hitter, which he did well – especially in 1979, when he led the NL with 17 pinch hits in 52 at-bats. He got just 103 plate appearances in 1980, though, and a mere 13 in the early part of 1981. That May, Atlanta released him in favor of Brian Asselstine. Braves manager Bobby Cox – an old teammate back at Austin and Richmond – cited age. Mike took the news graciously, and though the Braves offered him a job as either a minor-league instructor or scout, and he himself saw managing in his future – he still thought he could play another year or more.15
Indeed, the Chicago Cubs needed a veteran lefty bat. Late that season, Mike felt that Manny Mota's then-current career record of 150 pinch hits was not out of reach. "The day I got my 100th pinch-hit – a homer August 12 against the New York Mets – I saw Manny in the hotel lobby and he said 'Nice going.' I warned him I was after his record, but said, 'The only way I can catch you is for you to stay retired.'"16
Lum went to Japan after all, though, signing with the Yokohama Taiyo Whales for 1982. Thus he ended his major-league career with 103 pinch-hits, then sixth on the lifetime list. As of the end of the 2016 season, he was still tied for 17th (19 men had passed the century mark). Mike batted .248 with 10 homers in this role. His only regret as a pinch-hitter was that he pulled the ball too much. "Mota drove the ball to all parts of the field, and I would have been better off doing that. Sometimes you learn things too late."
Lum enjoyed a fair final year with the Whales (.269-12-46 in 117 games). "I wanted to stay in the game," he said in 2005. "I loved it in Japan, but unfortunately, they didn't invite me back. I didn't have a lot of options at that point."17
Henry Aaron then extended a hand. "I was out of a job. And Aaron [then Atlanta's farm director] phoned. He says, 'Mike, we want you to come down and help us in spring training. He created a job for me. And I've been teaching hitting ever since."18
After coaching in the South Atlantic League in 1983, Lum got a call from Charlie Lau, then the hitting coach of the Chicago White Sox, and joined that organization in November 1983. Lau, who had been battling cancer, died in March 1984. Mike came up from the minors to lend Lau's successor, Joe Nossek, a hand in the second half of the season. He then got the job full-time, but in October 1985, incoming general manager Ken Harrelson fired him. Lum then spent 1986 and 1987 as a roving instructor in the San Francisco Giants and Kansas City Royals chains. During 1988 and 1989, he was hitting coach with the big club in Kansas City.19
Lum then rejoined the White Sox, serving as minor-league hitting coordinator from 1990 through 2005. He imparted a consistent philosophy to all the young players throughout the organization. "My job is to teach hitting coaches how to teach," Mike said in 2005. He added, "I want to work until I'm 70. I enjoy what I'm doing. . . I enjoy sharing some of my experiences."20 When NBA superstar Michael Jordan gave baseball a whirl in 1994, Lum tried to help him overcome his lack of baseball instincts and use his whole body.
In 2000, Lum talked about the possibility of taking over for longtime coach Les Murakami at the University of Hawaii. He said that he had fantasized about it, but that UH couldn't pay enough for him and the staff he'd want. He thought he could put up with the politics – but added, "The ping of aluminum bats would drive me crazy."21
After the White Sox won the World Series in 2005, they did not invite Mike back. "They said I had lost my passion for teaching," he remarked in 2006. Thus it meant a lot when the South Atlantic League named him its Coach of the Year for 2006 for his work with the West Virginia Power, a Class A farm team of the Milwaukee Brewers.22
Mike and Ramona Lum had one daughter, Ginger. The family resided in Atlanta, but Mike always made it back to Hawaii at least once a year. He conducted hitting clinics for young players, and when the Hawaii Winter League resumed operations in 2006, finally he got to coach at home. He was with the North Shore Honu club for one season.23
After interviewing for the big-league hitting coach spot in Milwaukee, Lum again became minor-league hitting coordinator. He spent 2007 through 2009 in that capacity. In 2010, he joined the Pittsburgh Pirates organization, coaching in the Gulf Coast League, where he remained through the 2014 season. After more than half a century in pro ball, this baseball lifer had known no other profession, and he was still going strong in 2016. He was once again in an advisory role, traveling among all levels in the Pirates system. As his daughter Ginger said in 2015, "Even though he is turning 70 this year, he still loves what he does and is grateful to work for this organization. We all think he would be bored as hell in retirement without baseball, so he may stick around a little longer."24
Last revised: August 3, 2017
Acknowledgments
Thanks to Ginger Lum.
Sources
Mike Lum File at National Baseball Hall of Fame and Museum, Cooperstown, New York.
www.baseball-reference.com
www.retrosheet.org
www.purapelota.com (Venezuelan information)
www.paperofrecord.com (small items from The Sporting News)
Notes
Born
October 27, 1945 at Honolulu, HI (USA)
If you can help us improve this player's biography, contact us.
http://bioproj.sabr.org/bp_ftp/images5/LumMike.JPG
600
800
admin
/wp-content/uploads/2020/02/sabr_logo.png
admin
2012-01-04 20:45:59
2012-01-04 20:45:59
Mike Lum