---
William Michael Stanton was born on June 2, 1967, in Houston, Texas. His sports path was trending toward football until a blindside block tore his knee cartilage at Midland High School. Stanton was committed to the University of Arkansas, but the school withdrew after the injury. Stanton switched to baseball and was a Texas All-State center fielder. During a tryout for NAIA Southwestern University, Stanton told coaches he could pitch — despite never pitching during high school. The school offered him a scholarship. He eventually transferred to Alvin Junior College (now Alvin Community College) where he was pitching — obviously very successfully — when the Atlanta Braves drafted him in the 13th round in 1987.
The Braves assigned Stanton to the Pulaski Braves of the Rookie-level Appalachian League. Pitching in 15 games, starting 13, he was 4-8 with a 3.24 ERA, but his numbers fail to show Stanton's weak start and strong finish. He began the season 0-5.1
Stanton spent most of the 1988 season with the Burlington Braves of the Class-A Midwest League. He was again mostly a starter, starting 23 games in 30 appearances. His stats warranted a promotion to start 1989 at Greenville of the Double-A Southern League, along with a new role. The Braves shifted Stanton to strictly a relief role. He had a 1.58 ERA and 19 saves when he was called up to Triple-A Richmond on July 29. Stanton enjoyed the opportunity to pitch relief. "I like it because I get in more games," he said. "My arm has a quick recovery time. I can throw every day."2 Stanton made the most of his opportunity in Richmond as well, with eight saves in 13 appearances, and a 0.00 ERA. The Braves took notice and called Stanton up to replace the traded Paul Assenmacher.
The young reliever pitched a scoreless ninth in a 4-1 loss to the Cardinals in his August 24, 1989, major-league debut. Manager Russ Nixon used Stanton in two high-leverage situations against the Cubs. On August 25 Stanton came in to a 3-2 lead with one out in the eighth inning and forced Mark Grace into a foul pop to third. On August 27 he faced two batters in the bottom of the eighth with the Braves leading 2-1. Stanton walked Jerome Walton but got Grace to strike out swinging. Stanton picked up his first save on August 28 by pitching two scoreless innings in a 5-2 win over the Pittsburgh Pirates. The left-hander finished the season with seven saves in eight chances over 20 appearances.
Expectations were high for Stanton heading into the 1990 season. Nixon put his confidence behind Stanton: "Stanton is our number one guy. … I feel confident about Mike Stanton. I don't feel bad about him."3 The Braves were so high on Stanton that they refused to include him when discussing a trade in late 1989 for Seattle's Jim Presley.4 The Braves eventually made a deal for Presley, but without including Stanton. Stanton entered the season as the left-handed closer, and with confidence in his fastball/slider combination. "There's no pressure. I just plan to do the same thing I did last year — make them hit the ball and get people out," he said.5
Stanton dealt with tendinitis during 1990 spring training, which affected his velocity. He attributed the tendinitis to the shortened spring training caused by the 32-day lockout. Stanton posted an ugly 18.00 ERA through April, and did not appear in the majors again that year. He was first diagnosed with an inflamed rotator cuff and sent to the disabled list in late April.6 Stanton was kept out of action until June, when he made rehabilitation appearances with Greenville. After feeling discomfort in an appearance, Stanton was held out of action until another rehab appearance in late August. That appearance was Stanton's last; the team shut him down for the season to rest and rehabilitate.
Stanton got off to a hot start in 1991 and did not give up an earned run until May 10. He pitched in a variety of situations and finished the year 5-5 with seven saves and a 2.88 ERA. The solid season continued into the postseason. He made three appearances against the Pittsburgh Pirates in the National League Championship Series, and five appearances against the Minnesota Twins in the World Series. He was the winning pitcher of Game Four in Atlanta, but he saw firsthand the brilliant 10-inning performance by Twins starter Jack Morris in Game Seven. Stanton relieved John Smoltz in the bottom of the eighth. After an intentional walk to Chuck Knoblauch, Stanton got Kent Hrbek to line into an unassisted double play. Stanton gave up two singles to start the bottom of the ninth, but Alejandro Peña was able to prevent those runners from scoring.
Stanton had a difficult 1992. His ERA in May and June was over 8, and he finished with an ERA of 4.10. Manager Bobby Cox used Stanton in a variety of roles throughout the season, and Stanton did not have a defined role. In the postseason he showed his value. In nine game appearances, Stanton did not allow an earned run to the Pirates or the Blue Jays. The Braves fell short of their World Series goal, though, for the second season in a row.
Stanton faced competition entering 1993 from one of Atlanta's top prospects, Mark Wohlers. Wohlers was viewed as a pitcher who got batters from both sides of the plate out, while Stanton was developing a reputation as more of a left-handed specialist. The criticism did not faze Stanton, however. "If I'm on my game, I don't think it matters if a guy's right-handed or left-handed," he said. "If I make my pitches, I'll get guys out."7 Stanton made his pitches and got guys out. He led the league in saves through May and looked like the pitcher the Braves believed he was in 1990. Stanton believed in himself, too. "[I]t means a lot to me to be leading the league in saves. That is the job people thought I was going to do in 1990, and now things are working out," he said.8
The hot start did not last. Stanton lost his closing role to Greg McMichael after failing to show consistency. Stanton understood the move: "It's the penthouse or the outhouse. You either do the job or you give it up. It's as simple as that."9 He attributed the decline to a mechanical issue. "It's my wrist. It's a matter of a fraction of an inch."10 Pitching coach Leo Mazzone agreed. "[H]e is going out around the ball instead of getting behind it. … The ball is breaking in to right-handed hitters instead of moving away."11 The adjustments did not have an immediate impact; Stanton gave up two earned runs in his next outing after those comments and was solidly booed during each home appearance throughout August.
Stanton finished the season strong, however. He broke his thumb in the middle of September but continued to pitch and finished with an ERA of 2.35 for the month. Stanton made only one appearance in the National League Championship Series against the eventual winners, the Philadelphia Phillies. He walked one and gave up a hit, but prevented the Phillies from scoring. The Braves lost the series, but Stanton again showed he could pitch effectively in the postseason.
Before the 1994 season the Braves signed former Baltimore Oriole Gregg Olson to close out games for the Braves. Stanton still viewed himself as a closer, though. He added a changeup in spring training to complement his fastball. He attributed his struggles in late 1993 to one specific game: July 22 against the Pittsburgh Pirates. "It was one of those losses I had a hard time getting rid of. … 95 percent of relief pitching is having confidence in yourself. If you don't let the shaky times go, bad things are going to happen to you, and I just wouldn't let this one go."12 Greg McMichael took over the closer role instead of Olson, and Stanton was a trusted setup man. His 3.55 ERA was second best in the Braves bullpen, and he even helped the Braves with his bat. The May 10 game against the Philadelphia Phillies started as a blowout, with the Phillies leading 8-1, until the Braves scored seven in the bottom of the ninth to tie the game. Stanton was called upon to pitch four innings. He was the pitcher of record when, in the bottom of the 15th, he bunted home the winning run with two outs. Although his bat was not called upon to win a game again that season, his pitching helped the Braves stay in the wild-card lead until the lockout halted the season on August 12. The lockout canceled the playoffs and the World Series.
Stanton's contract situation for 1995 was a victim of the lockout. He was nontendered after the 1994 season because of the possibility of a hard salary cap. Once the hard salary cap plan was withdrawn, the Braves tendered him a contract.13 Stanton reportedly had interest from the Cincinnati Reds and the Baltimore Orioles before Atlanta offered him a deal.
Stanton struggled through the first half of 1995. He figured he was pushing too hard. "I'm not getting away with my mistakes like I have at times before. … I've made mistakes in pitch selection and pitch location," he said. "And I think at times at home when things go bad, I've been pressing. I just have to sit back and look at things."14 Things got so bad for Stanton that he was benched for over three weeks without appearing in a game. The Boston Red Sox' failed pursuit of Bret Saberhagen became Stanton's gain. After the Colorado Rockies acquired Saberhagen, the Red Sox turned their attention to their bullpen in an effort to move Rheal Cormier to the rotation.15 Stanton was acquired by the Red Sox on July 31. He was asked about his struggles through the season, and his response dealt with the fact that Atlanta had a strong rotation and little need for relievers. "I'm a better pitcher than what I've shown but I need to get innings to be an effective reliever. I know they were saying my velocity was down but to me that's just a result of my mechanics being off because of a lack of work."16 Stanton pitched in 22 games with the Red Sox as a late-innings option in a few high-leverage situations. In those games, Stanton had four holds, one blown save, and one win.
The Red Sox faced the Cleveland Indians in the American League Division Series, which Cleveland swept, 3-0. Stanton appeared only in Game One, but pitched 2⅓ innings of one-hit ball with four strikeouts. Boston wanted to keep the left-handed pitcher in their bullpen, but at a reduced price. Boston offered him a contract worth $750,000, half of his 1995 salary, but Stanton won a contract worth $1.75 million in arbitration.
Stanton began 1996 with the Red Sox, but with the team below .500 and out of playoff contention, it looked to bolster the squad for the next season. The Texas Rangers were making a push for the playoffs, and at the July 31 trade deadline acquired Stanton and a player to be named later (Dwayne Hosey), for right-hander Mark Brandenburg and prospect Kerry Lacy. Stanton was a solid addition to the Rangers bullpen. He pitched 22⅓ innings, mostly as a set-up pitcher. The Rangers won the American League West, but lost to the New York Yankees in the American League Division Series, three games to one. Stanton appeared in three games and pitched well, but he took the loss in Game Two thanks to a wild throw by Rangers third baseman Dean Palmer. After the season the team offered Stanton arbitration, but he declined. Instead, he signed a three-year, $5.45 million deal with the Yankees.
Stanton entered 1997 with a desire to be a closer again. "I want to be the closer. That's where the fame and glory is," he said. "I know I can do the job but it's a matter of an opportunity. … Whatever Joe (Torre) decides, I'll do, but it's my job to make Joe's job as tough as possible."17 The Yankees had let All-Star closer John Wetteland sign with Texas, but Stanton's competition was young Mariano Rivera, who had been a relief pitcher the season before. Stanton pitched well in spring training, but Rivera was named closer and began his journey to the Hall of Fame.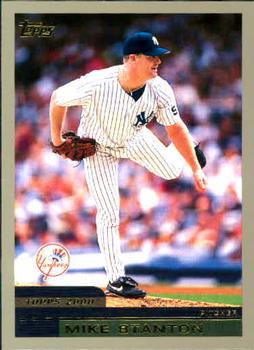 Stanton's Yankees tenure got off to a hot start, except for a rough outing in a loss to the Chicago White Sox on April 20. He left the team in late April to deal with undisclosed family issues, which played a role in the rough outing. Stanton refused to completely blame the family issues, though. "I'm not going to make excuses for anything, but that's not to say it wasn't on my mind the last time out," Stanton told a local newspaper.18 Stanton shook off the effects of the personal issues and pitched to a 2.57 ERA over the season. Because of his effectiveness, Stanton was called upon three times in the Yankees' three-games-to-two Division Series loss to the Cleveland Indians.
Stanton pulled a muscle in his back during spring training in 1998, but he quickly shook off the injury to have an effective start to the season. He picked up a win and four saves in the first month. He was one of the better relievers in May, pitching to a 2.45 ERA with two more wins and five holds. June, however, began three rough months for Stanton. He was suspended in June for hitting Baltimore's Eric Davis. Stanton claimed the ball slid out of his hands, and the situation dictated that Stanton had no reason to hit Davis, but the league saw the incident differently. His original suspension was upheld. Stanton pitched well in September, after the Yankees had acquired veteran Jim Bruske from the San Diego Padres as bullpen insurance.
He was called in against the Cleveland Indians three times in the American League Championship Series. He shut out the Indians in each appearance. His third career trip to the World Series was less than memorable. Stanton made his only appearance against the San Diego Padres in Game Two. The Yankees were leading 9-1 at the time, but Stanton allowed an RBI double to Ruben Rivera, and was charged with another run when Jeff Nelson gave up an RBI single to Mark Sweeney. The Yankees closed out the game and took the World Series by sweeping the Padres.
The 1999 season began disastrously for Stanton with an ERA of 13.50 through the end of April, but he pitched well enough after that to bring it down to 4.33 by the end of the season. The season was marked by Stanton's one and only start in the major leagues. On May 9 vs. the Seattle Mariners, Stanton was called upon to start the game. He provided the Yankees with four innings of two-hit ball. The Yankees went on to win 6-1.
Stanton appeared in three games of the American League Championship Series against his former team, the Red Sox. He faced three batters over three games; he gave up a double, forced a groundout, and walked the third. He was used even more sparingly in the World Series victory over the Atlanta Braves. He struck out the only batter he faced, pinch-hitter Jose Hernandez.
After the season, Stanton re-signed with the Yankees for another three years. The 2001 campaign was the best season of Stanton's career. He was 9-4 with a 2.58 ERA out of the bullpen, and was named to his only All-Star Game. Stanton's hot start to the season carried him through, although the left-hander had an ERA of 4.76 for August and September. He attributed the decline in his performance to arm fatigue.19 The season was not without controversy, however. Stanton got himself into hot water with the media and the public after the tragic events of September 11. The Mets were providing aid and support to the grieving community, to which Stanton opined that the Mets were engaged in a "PR ploy."20 His comments were criticized throughout the country.
Stanton did continue his postseason brilliance, despite a rough American League Championship Series against the Seattle Mariners. He pitched three perfect outings against the Oakland A's in the Division Series, including a Game Five win, and was strong in five appearances against the eventual World Series champion Arizona Diamondbacks.
Stanton made his last postseason appearance in 2002, ending his 11-year run (minus the 1994 cancelation of the playoffs). Stanton was roughed up in the Division Series by the eventual World Series champion Anaheim Angels. He gave up three runs in 2⅔ innings of work. Even with the rough postseason, Stanton finished his postseason career with a 5-2 record and a 2.10 ERA.
Stanton signed a two-year deal with the New York Mets after the season, largely due to the Yankees' negotiating tactics. Reports state that the Yankees gave Stanton, Florida Marlins pitcher Chris Hammond, and Mets pitcher Mark Guthrie the same offer (two years, $4.46 million) and 15 minutes to respond. The pitcher who responded first would receive the contract, while the other two would be left out.21 The 2003 and 2004 seasons were opposite: Stanton pitched in just 50 games for the Mets in 2003, largely due to missing a month because of a sore knee. He bounced back with a career-high 83 appearances in 2004, and a 3.16 ERA.
Stanton returned to the Yankees for the 2005 season, but the reunion ended when the Yankees designated him for assignment in late June. Stanton was ineffective and had an ERA over 7 when he was cut loose. The Washington Nationals signed him as some bullpen insurance. His tenure with the club got off to a rocky start. In the bottom of the 10th inning of a tied game against the Milwaukee Brewers, Stanton relieved Luis Ayala, who left the game with runners at the corners. Before throwing an official pitch, Stanton was called for a balk, forcing in the winning run. The rest of his 2005 tenure with the club was positive, and he finished his time in the capital with an ERA of 3.58. In a rare late-September move, the Red Sox acquired Stanton for the last series of the season, against the Yankees. The Red Sox were one game back of the Yankees in the division and tied for the wild card with the Cleveland Indians. Stanton pitched in only one game, an 8-4 loss to the Yankees. The Red Sox reached the postseason, but since he was traded after the eligibility deadline, he could not be part of their playoff run.
Stanton re-signed with the Washington Nationals before the 2006 season. He pitched well for the Nationals except for a few bad outings against Florida, Colorado, and Cincinnati. The Giants were impressed enough to swing a trade to make a push toward a wild-card berth. Stanton pitched to a 3.09 ERA with the Giants, but it was not enough for the club to make the postseason.
The Cincinnati Reds signed Stanton before 2007 to improve their bullpen. His season started with eight straight appearances without giving up a run. A bad outing against Philadelphia late in April previewed a difficult May, when opponents hit .365 off him. Stanton did get his ERA down to just under 4.00 in mid-July, but the roller-coaster outings wreaked havoc on his stats. Stanton ended 2007 with an ERA of 5.93. His troubles were compounded when he was named in the December 2007 Mitchell Report as having bought Human Growth Hormones (HGH). Stanton vehemently denied the allegations.
The left-hander sat out 2008 but was invited to spring training with the Chicago Cubs in 2009. A rocky spring (6.48 ERA in 8⅓ innings) made him an easy cut. Stanton retired as a player shortly after being cut.
The left-hander spent 2010 as the varsity baseball coach for Don Bosco Preparatory High School in Ramsey, New Jersey. After the season, Stanton stepped down. He began making appearances on SiriusXM's MLB Radio Network as a postseason analyst in 2011. These appearances led Comcast SportsNet Houston to contact him in 2013 regarding an in-studio analyst position for Astros games. Stanton accepted, and as of 2020 has been an in-studio analyst for the team ever since.
Sources
In addition to the sources cited in the Notes, the author relied on Baseball-Reference.com and Baseball-Almanac.com.
Notes
1 "Pulaski Blanks O's," Kingsport (Tennessee) Times-News, July 30, 1987.
2 Tom Whitfield, "Stanton Earns Promotion with Record-Breaking AA Relief Work," Atlanta Constitution, July 30, 1989.
3 Joe Strauss, "Giants Obtain Reliever Alvarez in Winter Draft," Atlanta Constitution, December 5, 1989.
4 Joe Strauss, "Braves Obtain Jim Presley for Eave, Pennington," Atlanta Constitution, January 25, 1990.
5 "Nothing Fazes Braves' New Rookie Reliever," Associated Press, April 4, 1990.
6 Joe Strauss, "Stanton on DL with Inflamed Rotator Cuff," Atlanta Constitution, April 29, 1990.
7 Mark Bradley, "Stanton Merits Shot," Atlanta Constitution, February 28, 1993.
8 I.J. Rosenberg, "Closing the Door," Atlanta Constitution, April 23, 1993.
9 I.J. Rosenberg, "Stanton Sits, Watches McMichael's 2nd Save," Atlanta Constitution, July 31, 1993.
10 I.J. Rosenberg, "Stanton Finds Fastball Flaw While Watching Videotape," Atlanta Constitution, August 5, 1993.
11 I.J. Rosenberg, "Stanton Finds Fastball Flaw."
12 Terence Moore, "After Horrors of '93, Stanton Working on Mental Rehabilitation," Atlanta Constitution, March 24, 1994.
13 I.J. Rosenberg, "With Cap Off, Stanton Gets New Offer," Atlanta Constitution, March 7, 1995.
14 I.J. Rosenberg, "Stanton's Slumps Are Annual Occurrence," Atlanta Constitution, June 25, 1995.
15 Nick Cafardo, "Stanton Deal Should Spin Cormier into the Rotation," Boston Globe, August 2, 1995.
16 Cafardo.
17 John Giannone, "Camping Out," New York Daily News, February 16, 1997.
18 John Giannone, "Flashes," New York Daily News, May 8, 1997.
19 Anthony McCarron, "August's End Will Be Relief for Stanton," New York Daily News, August 28, 2001.
20 Roger Rubin, "Stanton Says 9/11 Flap Is History," New York Daily News, December 19, 2002.
21 Bill Madden and Anthony McCarron, "Stanton Left Out as Brave Looms," New York Daily News, December 7, 2002.
Born
June 2, 1967 at Houston, TX (USA)
If you can help us improve this player's biography, contact us.
https://sabr.org/wp-content/uploads/2020/06/Mike-Stanton-2019.png
1500
1500
admin
/wp-content/uploads/2020/02/sabr_logo.png
admin
2012-01-04 19:54:29
2021-02-10 14:23:44
Mike Stanton