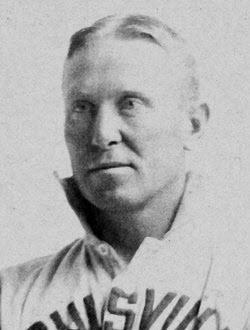 ---
Perry Werden: One time I hit the ball so hard that it broke in two. Half of the ball struck a "Hit Me for a Free Pair of Shoes" sign on the left-field fence; the other half was retrieved by the left fielder and thrown in to the catcher. As I steamed home, the catcher tagged me with half a ball. The umpire called me out, but I successfully argued that our team deserved half a run. It was a close game and we won by the score of 2½ to 2.
Reporter: That's an amazing story, Perry. Did you get a free pair of shoes?
Werden: No, the store owner said I was entitled to only one shoe.1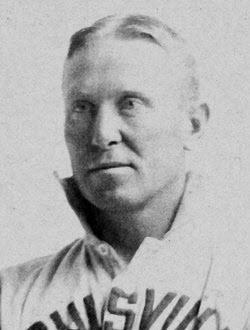 Playing for Minneapolis in the Western League, Perry Werden slugged 43 homers in 1894 and 45 homers the following year, totals unprecedented in Organized Baseball and unsurpassed until Babe Ruth clouted 54 home runs in 1920. Werden's career in professional baseball spanned more than 25 years, including five full seasons in the majors. Talkative, clever and witty, the big first baseman was a master of the hidden-ball trick and one of the most colorful characters in baseball.
Sources disagree on the exact location and year of Werden's birth. He was born in Missouri between 1861-65, the fourth of six children born to William Werden Jr. and Sarah Wherritt. Census records show the family in Cass County in western Missouri in 1860, with William's occupation listed as farmer. By 1870 they had moved to St. Louis where William worked as a civil engineer. The St. Louis Post-Dispatch asserted that Perry was born in Pleasant Hill in Cass County,2 but his death certificate lists St. Louis as his birthplace. His name appears as Perry W. Werden on his death certificate and tombstone. His middle name was Wherritt, after his maternal grandfather, Perry Wherritt.3
As a young man, Werden worked for a pie bakery in St. Louis and drove a pie wagon.4 He pitched for the bakery's baseball team known as the Peach Pies and other amateur squads, and in 1884 he was given the opportunity to pitch professionally for the St. Louis Maroons of the Union Association.5 The young right-hander compiled an impressive 12-1 record for the Maroons but missed part of the season with a sore arm.6 After an unproductive stint with the Memphis Reds the following year, he shined in 1886 as a right-handed power hitter on a Lincoln, Nebraska, team. He hit .317 and led the Western League with 11 home runs.7
Reporter: What is it like in Lincoln, Nebraska?

Werden: Biscuit cutters are scarce and biscuits scarcer.8
At 6-foot-1 and nearly 200 pounds, Werden was as "big and broad as one of the courthouse doors."9 In 1887 he hit .386 and played first base and the outfield for the pennant-winning Topeka (KS) Golden Giants of the Western League. Three times he slugged two home runs in a game, and on May 18, 1887, he clubbed five doubles in a 14-8 victory over Lincoln. After the Golden Giants' season ended, Werden played briefly for the Des Moines (IA) Hawkeyes, and in the offseason he married Mamie Hardy of St. Louis.10 In 1888 he played for the New Orleans Pelicans and Troy (NY) Trojans, and in late September he appeared in three games for the Washington Nationals.
Werden played for a minor-league team in Toledo in 1889 and for a major-league team in Toledo the following year. His .394 batting average led the International League in 1889, and his 20 triples led the American Association in 1890. And both these years sparkled with some outstanding achievements. He contributed a single, two doubles, and a homer in a 9-5 victory over the Syracuse (NY) Stars on September 11, 1889, and he went 6-for-9 with five stolen bases in a doubleheader sweep of the Philadelphia Athletics on September 28, 1890.11 Considered "a good baserunner for a large man," Werden stole 58 bases in 1889 and 59 bases in 1890.12 During these years, he developed a reputation as a "kicker," for habitually arguing umpires' calls. Sporting Life chided him for his "exhibitions of nonsensical, childish, bullying, disgraceful kicking."13
The Baltimore Orioles of the American Association purchased Werden's contract for the 1891 season. He tripled with the bases loaded in a victory over Washington on April 21, 1891, and six days later, he again tripled with the bases loaded in another victory over Washington. His teammates called him "the King."14
In St. Louis on June 2, 1891, with his wife and father attending, Werden demonstrated the "rowdy" style of play common during this era. He tried to steal second base, but the ball reached second baseman Bill Eagan before he got there, so he "pushed" Eagan "violently and attempted to knock the ball from his hands." The crowd hissed this behavior, but Werden, said the St. Louis Post-Dispatch, "deserved worse than a hissing" for his "disgraceful exhibition of temper."15 Two months later, after several more instances of dirty play, Werden received a stern warning from league president Louis C. Kramer.16
The St. Louis Browns of the National League acquired Werden for the 1892 season. He feuded with Browns owner Chris von der Ahe, who fined him $50 in August. Reportedly, during one spat, the 214-pound Werden threatened to throw Von der Ahe out the clubhouse window. To discipline Werden, Von der Ahe should fine him in biscuits, suggested Tony Mullane of the Cincinnati Reds.17
Werden batted only .258 in 1892, but with the Browns the following season, his average improved to .276, and he hit 29 triples, the fourth highest season total in major-league history through 2016. And as a first baseman, he pulled off the hidden-ball trick at least three times, victimizing New York Giants player-manager John Ward, Brooklyn's Oyster Burns, and Chicago's Bill Hutchinson.18
Von der Ahe released Werden in the spring of 1894, and he joined the Minneapolis team of the Western League. Now at his peak as a hitter, facing minor-league pitchers, and playing in Minneapolis's small Athletic Park, his power numbers skyrocketed. On May 28, 1894, he belted three home runs at home including a 10th-inning grand slam, in a 22-16 victory over Grand Rapids (MI). Two days later, he went 7-for-9 with two homers in a doubleheader sweep of the same team.19
After hitting .417 with 43 home runs in 1894, he surpassed those amazing numbers the next year, leading the Western League with 45 home runs and a .428 batting average. In consecutive games at Minneapolis, July 22-23, 1895, Werden went 9-for-9 with six home runs, four of them in a game against Detroit on July 23.20 Offense in the league that year reached extraordinary levels, with an average of 8.6 runs scored per game per team, and an astonishing league batting average of .328.21 Yet Werden's .428 average was 100 points higher than that, and he also had a 40-game hitting streak that season.22
However, Werden's offensive production did not come without some offensive behavior. On June 3, 1894, he punched an official scorer for failing to credit him with as many hits as he felt he deserved.23 Ever dissatisfied with the work of umpires, Werden verbally abused them at every opportunity. Upon hearing that the Minneapolis team had given free season tickets to clergymen, the St. Paul Globe said it was a good move because "Perry Werden will give them food enough for sermons to last the rest of the summer."24
Reporter: What qualifications should an umpire have?

Werden: He should be an extremist, too little or too big to assault.

Reporter: What will stop verbal abuse of the umpire?

Werden: He should be a lady, young and good looking.25
When he wasn't harassing the umpire, Werden could usually be counted on to provide entertainment. When his team was hitting, he encouraged his teammates from the coaching line and directed rattling "yells and cat-calls" at the opposing pitcher.26 Werden talked throughout the game—in the field, at bat, or on the bases. A comedian and "prime favorite" "in every city on the circuit,"27 he kept a constant "monologue going for the benefit of the grand stand."28 Humorous give-and-take between him and the fans was common; he "enjoyed the hot shot which he received from the rooters fully as much as they appreciated his witty remarks."29 Sporting Life said "his funny flashes and retorts to players and spectators" could fill a book.30
Reporter: How would you describe the fans?

Werden: They are barking dogs that never bite.31
Minneapolis won the Western League pennant in 1896. Werden batted .377, fourth best in the league, and tied for the league lead with 18 home runs.32 His decline in homers can be attributed to his team's move to a larger ballpark (Nicollet Park) in June 1896. He batted .500 (12-for-24) in a postseason series with Indianapolis, which Minneapolis won, 4 games to 2.33
In January 1897, the Louisville Colonels of the National League drafted him, and Werden was back in the big leagues.34 In his first game back in the majors, Werden went 1-for-4 facing Cy Young, as the Colonels defeated the Cleveland Spiders, 3-1, on Opening Day, April 22, 1897, in Louisville. Sporting Life reported that the wily first baseman had been firmly on his game: "Werden caught [Cleveland catcher Chief] Zimmer off first base by that old trick of hiding the ball. The old chief felt quite small."35 Four days later, Werden pulled the same stunt to retire Jim Donnelly of the Pittsburgh Pirates.36 A month later, on May 26, Werden conspired with Jim Rogers, the Louisville second baseman. Rogers hid the ball, and once Boston's Herman Long took his lead off first base, he flipped the ball to Werden who applied the tag. The very next day, Rogers "smuggled the ball" to Werden who tagged an unsuspecting John O'Brien of the Washington Senators.37
Facing Washington pitcher Doc McJames in the second game of a doubleheader on July 21, 1897, Werden reputedly stroked "the longest hit ever made in Louisville . . . a long home run fly between center and left [that] did not strike the ground until it was within ten feet of the center-field fence, hitting the fence on the first bound and getting lost behind the score board."38 In the same game, a 9-4 victory for the Colonels, Louisville's impressive rookie, Honus Wagner, tripled.
Werden had a fine season that year, batting .301 and leading the Colonels with 14 triples and 83 RBIs, but he wanted to return to Minneapolis, so Louisville obligingly sold his contract to Minneapolis in January 1898.39 John Hayne, a spokesman for the Minneapolis club, gave some hint as to why Werden wanted to return. "We made a good deal with Louisville, whereby we get the king of first basemen, Perry Werden, and put the fans in the best of humor. Perry … is the greatest favorite that ever wore a Minneapolis uniform."40 Unfortunately, on the eve of Minneapolis's 1898 season opener in Kansas City, Werden tripped on a sidewalk and fractured his kneecap, an injury so serious that it was believed he might never play again.41 He missed the entire 1898 season.
Fortunately, he was ready to play the following spring. The 1899 season saw the emergence of a terrific southpaw named Rube Waddell, whose combined season record for Columbus (OH), Grand Rapids, and Louisville was 37-12.42 But Werden seemed to own him. On May 19, 1899, Waddell allowed only three hits, but two by Werden, including a game-winning single in the ninth inning. Werden beat the young phenom again on August 19, 1899; he got three of his team's six hits off Waddell, including a walk-off home run in the bottom of the ninth. On August 9, 1900, Werden slugged a grand slam off Waddell in a loss to the Milwaukee Brewers, a team managed by Connie Mack .43
Werden's .346 batting average in 1899 ranked second in the Western League,44 and the following season he hit .315. Now nicknamed "Moose," he weighed about 220 pounds. Sportswriters said he infused life in his teammates and kept them in good spirits: "nothing can subdue his abundance of good spirits, which bubble over at every opportunity."45
Werden wanted to manage a team, and he was given the chance briefly with the St. Paul Saints of the Western League at the start of the 1901 season. The stint didn't last long. Veteran outfielder Jimmy Ryan became part owner of the team and took over as manager,46 and Werden was traded to Des Moines where he finished the season. He rejoined the Minneapolis club in 1902. Though close to 40 years old, "Old Man" Werden could still hit the ball. His home run on May 19, 1902, in Minneapolis was said to be "the longest drive ever seen on the home grounds."47 The following season he helped Memphis win the Southern Association pennant.
In 1904 Werden became player-manager of the Fargo, North Dakota, team in the Northern League, but it did not go well. His execration of umpires continued unabated. He berated them profanely, and in one game he threw mud at the ump.48 Disgusted, he resigned in July with his team in last place.49 He didn't do any better on teams in Hattiesburg and Vicksburg, Mississippi, in 1905 and 1906. Then, wonders to behold, he joined the accursed class and became an umpire, working in the American Association from July 1906 until the end of the 1907 season.
Reporter: How did you become an umpire?

Werden: I was sent up for life, but the Governor changed the sentence.50

Reporter: Is it difficult to umpire a twilight game?

Werden: Yes, it is hard to see the pitches, but I've got a good system – I call every other pitch a strike and let it go at that.51

Reporter: Do you throw kickers out of the game?

Werden: Yes, but if I feel that throwing out a kicker would strengthen his team, I leave the kicker in the game.52
His playing days over, Werden was hired as coach of the Indianapolis Indians of the American Association for the 1908-09 seasons. With Werden's help, the Indians won the pennant in 1908. The Indianapolis News gushed with praise for his contributions to the team:
In every game Perry, fat and good natured, is to be seen on the line, coaching the Indianapolis runners, giving advice to the batters and, in fact, acting as a papa to the entire team.

He can not help from being a genuine, riproaring farce. Perry is funny without trying to be so and that makes him funnier than ever. Beyond his humorous side, however, he is endowed with a fund of good, common, hard sense, and, above all, he is one of the best hearted men alive.

There will be many coaches, but there will be only one P. Werden.53
For several years beginning in 1910, Werden organized and managed a semipro team in Minnesota known as Perry Werden's All-Stars. He umpired in the Northern League in 1913, and in the Dakota League in 1920 and 1921.54
On September 4, 1920, in a doubleheader at Boston's Fenway Park, Babe Ruth hit his 45th and 46th home runs of the season, breaking Werden's record for most home runs in one season. Werden acknowledged that Ruth was the King. "There is no doubt that Babe has it on all of them—modern and ancient," he said.55 But Werden felt that Ed Delahanty, if given the chance to hit the live ball of the 1920s, "would have given the Babe a run for his record."56
On January 9, 1934, Werden died of a heart attack in Minneapolis. The great slugger with the quick wit was a unique character in baseball history.
Notes
The dialogues between Werden and Reporter portray newspaper accounts of Werden's humor and are not exact quotes.
Born
July 21, 1861 at St. Louis, MO (USA)
Died
January 9, 1934 at Minneapolis, MN (USA)
If you can help us improve this player's biography, contact us.
http://sabr.org/sites/default/files/WerdenPerry.jpg
600
800
admin
/wp-content/uploads/2020/02/sabr_logo.png
admin
2017-01-10 12:54:19
2017-01-10 12:54:19
Perry Werden