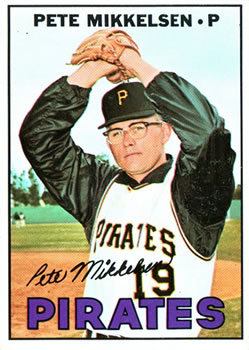 ---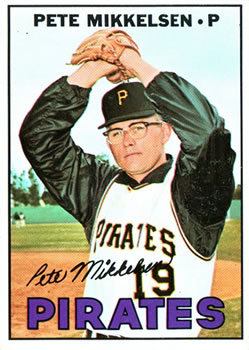 In 1966 New York Mets' coach Yogi Berra scanned the Pittsburgh Pirates' spring training camp in search of the right-handed reliever whose contributions from the bullpen led the New York Yankees to an American League crown two years earlier. "Where's Mikkelsen?" the former skipper asked. "He helped me win the pennant in 1964 . . . . We never would have won it without him."1
Bearing a bespectacled resemblance to former Detroit Tigers' ace Dizzy Trout, Pete Mikkelsen had emerged on the major league scene seemingly from nowhere. In 1963 a largely nondescript five-year minor leaguer with an ordinary résumé suddenly blossomed under the guidance of former big league catcher and Yankees' minor league manager Rube Walker. "I was a straight overhand pitcher, which was okay except that my fast ball was straight as a string," Mikkelsen recalled. "Rube changed me to three-quarters and then dropped me down to side-arm. From 3.18, my ERA went down to 1.47."2 The modifications to the robust hurler initiated a rapid advance and spawned a nine-year major league career.
Peter James Mikkelsen was born on October 25, 1939 to James Stanley and Alice E. (Macfarlane) Mikkelsen in Staten Island, New York. He was the grandson of Danish immigrants who arrived in the United States around 1890. Over the years Peter's jack-of-all-trades grandfather found work as a carpenter and fisherman; his father was a mechanic. Peter grew up on Sylvia Street less than two miles from Staten Island's Great Kills Park. The family relocated to Los Angeles County—likely a war-prompted move—and Peter attended Mark Keppel High School in Alhambra, California.3 Teeming with talent, southern California has proven to be the gateway for many professional baseball players. Honing his skills on both the American Legion and prep school diamonds, Mikkelsen appears to have benefitted from attention initially directed toward fellow high school alum and 1956 bonus-baby Mike McCormick. A high school senior the following year, Mikkelsen got scoped out by at least two big league clubs: the Yankees and the Pittsburgh Pirates. The former club won out following the double-team efforts of scouts Don Lundberg and Gordon (Deacon) Jones.
Mikkelsen's first five years in pro ball hardly set the world on fire. A combined 5.73 ERA in 11 innings above Class A garnered little fanfare when he was assigned to the Augusta (Georgia) Yankees in 1963. But Rube Walker, the new skipper in the South Atlantic League (Class AA), spotted something in the 23-year-old. A great handler of pitchers, Walker worked to not only change Mikkelsen's delivery but helped to add a sinker to his repertoire. Walker's tutelage ended control issues that had once plagued the reliever almost instantly. On July 5, the righty held the Lynchburg White Sox scoreless in eight innings of relief to earn a 1-0 win which drove his record to 7-2 while lowering his ERA to a miniscule 0.66. Five weeks later, Mikkelsen delivered four near-perfect innings (marred only by a fielder's error) to secure a 6-5 extra-inning win over the Knoxville Smokies. Mikkelsen earned his only professional All Star berth that year—he was the losing pitcher in the July 22 contest in Augusta—and finished the season with a record of 11-6, 1.47 in 110 innings (including one start). Mikkelsen starred in all of Augusta's three wins in the post-season best-of-five series against Lynchburg (earning one of the victories himself) to lead the club to a championship crown.
Mikkelsen's achievements could not have been timelier. The reigning AL champion Yankees had bullpen worries after the November 30, 1963, departure of Marshall Bridges and the near season-loss of Bud Daley following elbow surgery. Mikkelsen surfaced as a prime prospect to fill the void. "I don't know anything about him except what they tell me," said Yogi Berra, the club's new manager. "But I took a look at his record and liked what I saw. . . . He must have something to get that kind of an ERA."4 Berra's instincts proved accurate when Mikkelsen twirled a 1.80 ERA in 15 1/3 grapefruit league innings to capture the Yankees' top rookie award (the James P. Dawson Memorial Award in memory of a departed New York sportswriter). When spring camp broke Mikkelsen accompanied another promising rookie pitcher, Mel Stottlemyre, to New York.5
On April 17, 1964, Mikkelsen made his major league debut in Baltimore entering a bases loaded jam with no outs in the 11th. He induced Orioles second baseman Jerry Adair into a force at home but had less success against Russ Snyder when the left-handed pinch hitter's single drove in the winning run. The next day Mikkelsen entered another extra-inning affair. After escaping scoring opportunities in the 10th and 11th innings, including another bases loaded jam, he fell victim to future Hall of Famer Brooks Robinson's game-winning RBI double in the 12th. Despite five strike outs in two innings, it was a leadoff walk that led to Mikkelsen's first loss.
Mikkelsen garnered his first win on May 7 but struggled in five of his next six appearances: yielding 12 runs (one unearned) in 7⅔ innings to drive his ERA to 9.53. Seemingly destined for a return to the minors, a scoreless five inning stint against the Los Angeles Angels on May 22 (Mikkelsen's second career win) reversed his fortunes. Thereafter Mikkelsen became the Yankees' "crack short relief man,"6 especially during the final weeks of the season when his record of 3-0, 1.65 over the last 41 games helped the Yankees pass the Orioles and Chicago White Sox in the standings and capture their sixth consecutive AL crown. Mikkelsen had been fortunate to have reached this point in the season. On June 14, he dodged serious injury when a line drive off the bat of White Sox third baseman Pete Ward struck him above the left eye. He spent the night at New York's Lenox Hill Hospital but was in uniform the next day after having a three-inch gash stitched.
In 1964, Mikkelsen became the third pitcher in World Series history to appear in all four of his team's losses.7 He suffered the loss in Game 5 after 1 1/3 perfect innings of relief. In the 10th Mikkelsen walked St. Louis Cardinals' leadoff batter Bill White, currently 1-for-19 in the Series. Third baseman Ken Boyer's attempted sacrifice bunt was ruled a single when Mikkelsen misplayed the ball. "I'm not a good fielder," Mikkelsen admitted. "He bunted it pretty hard and I couldn't change my direction to get to it."8 But after getting shortstop Dick Groat to ground into a force at second, Mikkelsen surrendered a three-run home run to deep right by catcher Tim McCarver for a 5-2 Yankee loss. Observers criticized Berra for not bringing in lefty Steve Hamilton to face the left-handed hitting McCarver, but the skipper defended himself by pointing out that Mikkelsen had been as effective against lefties as he was righties (a point that proved true throughout the hurler's career). Mikkelsen never returned to post-season play.
But he did achieve the distinction of becoming the first major league pitcher to lose a game in the brand spanking new Houston Astrodome, when he took the collar for the Yankees against the Houston Astros in an exhibition game on April 9, 1965. In front of 48,000 fans and a slew of distinguished politicians, he began the bottom half of the 12th inning amidst a tense 1-1 tie. He then promptly gave up a single and a steal of second to Jim "Toy Cannon" Wynn. After getting a couple of guys out, Mikkelsen surrendered a walk-off single to future Hall of Famer Nellie Fox that scored Wynn from second.9
In assessing the 1965 season, one sportswriter cracked that Mikkelsen had "combined his rookie flash and his soph jinx all in one year."10 The writer might have rethought this when Mikkelsen's slow start to the 1965 season certainly looked like sophomore jinx. In four June appearances Mikkelsen suffered two losses, surrendering nine hits and six runs (four earned) in eight innings. With the Yankees en route to their first losing season in 40 years, combined with the collapse of former 20-game winner Jim Bouton, Mikkelsen was sent down to the Toledo Mud Hens in the International League (Class AAA) in hopes of reconverting him into a starter. "[T]hat suits me," Mikkelsen confessed. "But you have to change a lot of thinking about your pitching. It may take some time to do that."11
As it happened, it took no time at all. On June 20, Mikkelsen, making only his second start in four years, held the Buffalo Bisons to just five hits while missing a shutout by one out in a 2-1 complete game victory. Four days later, he tossed a three-hit shutout against the Toronto Maple Leafs. But his pinnacle performance came on Independence Day when Mikkelsen twirled a no-hitter against the Atlanta Crackers (just the second nine-inning no-hitter in the circuit since 1956). Relying mostly on his palm ball—a pitch he had abandoned when he was moved into relief—Mikkelsen walked two batters in the first before retiring the next 25 batters in succession. Learning that he only used 84 pitches to accomplish the gem, Mikkelsen joked, "I've thrown that many in some relief jobs."12 He was promptly recalled to the Yankees.
On July 8 Mikkelsen made his first major league start in Detroit. He held the Tigers to two hits through the first three innings before they reached him for two runs on four consecutive hits in the fourth. Mikkelsen was lifted after five innings and absorbed the loss. He made two additional starts in July, both losses, before his trial in the rotation was abandoned. (Mikkelsen never made another big league start.) In one of the losses against Washington on July 18 while matched against his former high school teammate Mike McCormick, Mikkelsen surrendered a towering blow by the Senators' Frank Howard that reached the upper left field deck in Yankee Stadium (only the eighth time such heights were achieved in the stadium's long history). Throughout the season Mikkelsen yielded his own MLB career high 10 homers (a mark he tied in 1971) including a full count two-run walk-off homer to future Hall of Famer Harmon Killebrew on July 11. On August 10, he displayed his fielding foibles: committing an eighth inning throwing error that allowed Minnesota's winning run and dropped Mikkelsen's record to 4-8. He finished the season with an additional loss and a 3.28 ERA in 82 1/3 innings.
The Yankees' continued to focus on bolstering their rotation, particularly after Bouton's decline and the anticipated slide of 37-year-old Whitey Ford. On December 10, they acquired veteran Pittsburgh Pirates hurler Bob Friend for Mikkelsen and $100,000. Having failed to sign Mikkelsen in 1957, the Pirates' brass was ecstatic about the acquisition and looked to make him part of a bullpen-duo with 38-year-old Roy Face. For his part, Mikkelsen had no regrets in leaving New York: "I'm grateful to the Yankees," he said. "They got me a World Series share and treated me first class, even when they traded me."13
Mikkelsen's win on April 23, 1966, was the Pirates' ninth of the young season; it set a major-league record: nine different pitchers had achieved the club's first nine victories, a first. After a shaky start to the 1966 season Mikkelsen turned to his sinker to the near-exclusion of all else. Beginning May 7 his "heavy ball" induced eight double plays in 13 appearances while surrendering just four runs over 27 innings. Still Mikkelsen remained susceptible to some of the most prodigious blasts in baseball. On August 5, Cincinnati Reds first baseman Gordy Coleman lofted a game-winning 450-foot shot to right-center, believed to be the longest drive in Forbes Field in 10 years. Nonetheless Mikkelsen had enjoyed a fine season, setting major league career thresholds in wins (9), appearances (71), innings pitched (126) and strikeouts (76). His 71 appearances established a club record and trailed only Atlanta Braves reliever Clay Carroll for the MLB lead. During the offseason he received a 50 percent salary boost to $30,000.
An automobile accident on May 8, 1967, overshadowed Mikkelsen's second year in Pittsburgh. He and his passenger, coach Johnny Pesky, were driving to the Forbes Field when a dump truck struck their car from behind. Both were taken to Pittsburgh's Presbyterian-University Hospital where Mikkelsen was treated for a bruised left elbow and released. But he soon began experiencing back pain that plagued him the rest of his career. For the third consecutive year Mikkelsen surrendered a tape-measure shot, this time to Houston Astros' centerfielder Jim Wynn who launched a 457-foot three-run homer to centerfield that proved the decisive blow in an 8-5 loss. The homer was the fifth yielded by Mikkelsen in a dismal six game stretch—he had given up only one in his first two dozen games—accounting for 11 runs. "As expert as I am in giving up home runs, I knew it [the Wynn homer] was gone the moment he connected," Mikkelsen said.14 Following the season, the Pirates placed him on waivers where he was selected by the Chicago Cubs. Manager Leo Durocher initially declared that he would move Mikkelsen into the rotation but abruptly changed his mind. It was probably a wise decision. The righty surrendered six runs (five earned) and eight hits in his first 5 2/3 innings with his new team and was used sparingly thereafter. He finished the season with a disappointing 4.55 ERA in 63 1/3 innings and the second lowest K/W ratio in his nine seasons in the Bigs, 1.25.
During the Cubs' 1968 spring training the club sought to rebuild their relief corps through the veteran reconstruction projects of Mikkelsen and Dick Radatz (38-year-old Bobby Tiefenaur was soon added to this list). "Radatz and Mikkelsen could be the answer [to our bullpen woes]," said Cubs' pitching coach Joe Becker. "[T]hey have the experience and we know they were once extremely successful relievers."15 But by May all three relievers would be gone. Mikkelsen's brief stay had been sealed by two pitches. The first batter he faced in 1968 was Reds' third baseman and future Hall of Fame slugger Tony Perez who promptly deposited a Mikkelsen offering into Cincinnati's Crosley Field bleachers for a three-run homer. Eight days later he yielded a two-run walk-off homer to the only batter he faced, Braves' centerfielder Felipe Alou. On April 22 Mikkelsen was traded with 25-year-old southpaw Dave Dowling to the St. Louis Cardinals for veteran hurlers Jack Lamabe and Ron Piche.
The Cards promptly dispatched Mikkelsen to the Tulsa Oilers in the AAA Pacific Coast League. On April 28 he delivered five strong innings of relief in a 3-2 win over the Denver Bears that earned him a spot in the rotation. A week later, Mikkelsen, making his first start in three years, tossed a five-hit shutout against the San Diego Padres. He followed this up in June with a three-hit, 12-1 win over Denver. Some evidence suggests Mikkelsen mastered a knuckleball while constructing a record of 16-4, 1.91, a pace interrupted briefly when injuries on the parent club prompted two recalls to St. Louis (Mikkelsen did not make an appearance in the latter call). After earning a spot on the Topps nationwide Class AAA All Star team, Tulsa manager Warren Spahn declared, "Mikkelsen has certainly earned another major league opportunity."16 The future Hall of Famer proved prescient after Mikkelsen led the Oilers to a championship crown in the playoffs against the Spokane Indians, the Class AAA affiliate of the Los Angeles Dodgers. With his playoff performance fresh in their minds the organization, shortly after losing hurlers Mudcat Grant and Jack Billingham in the October 1968 expansion draft, traded young lefty Jim Ellis to the Cardinals for Mikkelsen.17
Though the Dodgers briefly considered him as their number four starter after a chronically sore shoulder forced ace Don Drysdale to retire during the 1969 season, Mikkelsen served alongside lefty Jim Brewer as the club's "solid one-two fire brigade."18 When a back injury limited Brewer to just 36⅔ innings over the second half of the season, Mikkelsen stepped up to deliver a 4-2, 1.41 record in 21 of his final 22 appearances to keep the Dodgers' pennant hopes alive. His 81 1/3 innings were the most compiled in three years as he finished with the season with a solid 2.77 ERA to go with his 7-5 W/L record.
Hopes of duplicating his performance the next season were deferred when Mikkelsen was diagnosed with hepatitis in the spring of 1970. The liver inflammation, likely contracted during an offseason vacation trip to Mexico, forced him into a hospital stay in the Dodgers' Vero Beach Florida spring training base. When teammate Bill Singer was similarly diagnosed, the club inoculated the entire team (as did other teams that came within contact of Mikkelsen during the grapefruit league campaign). When the Dodgers broke camp Mikkelsen was sent home to recuperate. He did not make his first appearance until 44 games into the season. On June 23, in just his seventh game, Mikkelsen combined with Singer for a two-hit shutout of the Braves and finished the month with a brilliant 1.54 ERA. Though July proved less stellar, Mikkelsen, having developed an improved curve to compliment his other pitches, rebounded with a 3-1, 0.68 ERA in 12 games (26 1/3 innings) through September 18. As the Dodgers slipped out of contention rumors surfaced of playoff-bound teams expressing interest in Mikkelsen for the post-season run, but nothing came of this. He finished at 4-2, 2.76 for the season.
In spring 1971 the Dodgers again considered and dismissed Mikkelsen as a potential fourth starter. Through August 2 the decision proved to be correct as he built a record of 7-3, 2.62 in his first 33 appearances. But health issues plagued the burly 31-year-old throughout the season. Mikkelsen lost 10 pounds to a reported "mysterious illness," the possible after-effects of the liver ailment from the preceding year. He was placed on a strict two-year diet. In June he missed two weeks due to an eye irritation brought on by new contact lenses. And recurring back problems adversely affected his play. Over a six game period beginning August 12 Mikkelsen surrendered 13 runs in 14 1/3 innings. He finished with a record of 8-5, 3.65 in 74 innings.
Mikkelsen's first appearance in entered 1972 was disastrous: five hits and six runs in ⅔ innings. But he immediately settled down and gave up just one run in his next 15 innings. But the nagging injuries from the preceding year persisted. Seven times throughout the remainder of the season ailments and ineffectiveness forced Mikkelsen to the bench for stretches of six or more games. He managed just 57⅔ for the season innings, his lowest total since his 1958 professional debut in the low minors. He gave a brief flash of his former best stuff on September 18 when he delivered three innings of no-hit relief against the San Diego Padres. It proved to be his last appearance—and last win—in baseball. When the season ended Mikkelsen, just 32 years old, retired.
Sometime around 1970 Mikkelsen and his parents moved to Prosser, Washington, a small city in the south-central region of the state on the east end of the Yakima River Valley. (The move likely resulted from Mikkelsen's association with the region's native-son Mel Stottlemyre). The rural territory proved a perfect fit for Mikkelsen's hunting and golf pursuits, and he began farming in a land renowned for its wine-making. It appears he never married. On November 29, 2006, one month after his 67th birthday, Mikkelsen succumbed to a long battle with cancer. He was buried in East Prosser Cemetery, survived by his mother and longtime companion Barbara Breeze.19
Considered at best a marginal prospect when he began his professional career, Mikkelsen managed to complete nine years in the major leagues. Injuries both on and off the field limited him, but he still won more games than he lost (45-40), saved 49 games, achieved a respectable 3.38 in 653 1/3 innings, and earned a positive lifetime WAR of 2.1.
Acknowledgments
The author wishes to thank Rod Nelson, Chair of the SABR Scouts Committee and Tom Schott for review and edit of the narrative.
Sources
Ancestry.com
Notes
Born
October 25, 1939 at Staten Island, NY (USA)
Died
November 29, 2006 at Mabton, WA (USA)
If you can help us improve this player's biography, contact us.
http://sabr.org/sites/default/files/MikkelsenPete.jpg
600
800
admin
/wp-content/uploads/2020/02/sabr_logo.png
admin
2016-03-07 18:48:15
2016-03-07 18:48:15
Pete Mikkelsen