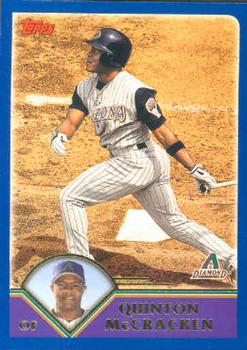 ---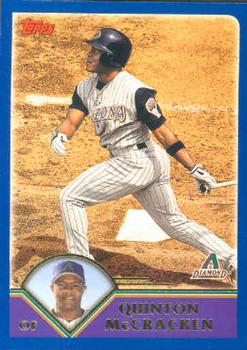 Speedy outfielder Quinton McCracken played 12 years in the majors (1995-2006). He was one of the few men from Duke University to reach the top level after the 21 who played under coach Jack Coombs from 1929 to 1952. As he noted in an interview, his physical stature — 5-foot-7 and 170 pounds — led him to choose baseball over football.1
McCracken eventually made the starting lineup with the Colorado Rockies after they selected him in their initial amateur draft. He was later chosen by Tampa Bay in their initial expansion draft and was an important part of the team in its early years. McCracken eventually used his education and experience with young and upcoming teams when he joined the front offices of several major league organizations.
Quinton Antoine McCracken was born on August 16, 1970, in Wilmington, North Carolina, the youngest of the seven children of Herman Ephraim McCracken and Saundra Jeannette (Morris) McCracken. His father worked as a carpenter and a longshoreman along the North Carolina coast for more than 40 years. His mother was a teacher's assistant at Southport Elementary School for many years.
When McCracken was young, his parents moved to Southport, North Carolina. His six siblings — Saundra, Gwennie, James, Mark, Cheryl, and Darryl — were role models for him. His sister Saundra played college sports and McCracken credits her "with showing me that [playing sports] could be done successfully. She was an inspiration and role model for me."2
McCracken attended South Brunswick High School, where he starred in four sports. Besides running track and playing baseball in the spring, McCracken played running back and free safety in football and was the point guard on his school's basketball team.
McCracken set several baseball records in high school. He scored six runs in one game during the 1987 season, a state record for most runs in one game. He led his baseball team to the state championship in 1988. 3 The team finished the year with a 29-0 record and was ranked #5 in the country. "We just had a talented group committed to winning and were students of the game. It was a great time to be a student and participate in the athletic programs at South Brunswick," McCracken said when the team reunited in 2013.4
McCracken maintained high academic standards throughout his school career. "My parents always stressed academics," McCracken said. "If the academics weren't taken care of, there were no athletics."5
He played football and baseball during his four years at Duke. McCracken excelled in baseball and was the All-ACC second baseman as well as a third-team All-American in 1992. He set single-season marks in hits, runs and stolen bases that year. He graduated in four years with degrees in political science and history.
Although McCracken was also a solid cornerback for the football team, he realized that baseball was where his skill set best fits long term. "Overall for talent, skill, size, baseball was the most logical fit for someone with my size and my talents and my stature."6
McCracken said later that his four years at Duke were important to his career. "I cherish those times. Those are the formative years," he said. "I've played 12 years of professional baseball, but nothing beats the four years you spend in college."7
McCracken was selected by the Colorado Rockies in their inaugural draft, in the 25th round of the 1992 MLB Amateur Draft. He played for the rookie league Bend Rockies (Northwest League) that summer.
Colorado sent him to the Central Valley Rockies of the Class A California League in 1993. There he played in 127 games and finished with a .292 batting average and 60 stolen bases. He played 28 games at second base but the Rockies decided that he should become an outfielder. He finished the season playing 82 games at that position and finished with a .941 fielding percentage.
McCracken was competing with a lot of excellent players at the time. He noted that "of [all the] guys drafted, an unprecedented number made it to the big leagues. At least 10 or 12 guys made it to the big leagues."8
The following year Colorado was so impressed with McCracken's efforts that they sent him to the New Haven Ravens of the Class AA Eastern League. By this time, he had moved to the outfield full time and played 135 games there that season. McCracken batted .278 with a .338 on-base percentage for the season and 27 doubles.
McCracken's coaches told him that playing outfield would be the best way for him to reach the majors. When asked about the move, he said, "It was not necessarily hard. That's why I've become a strong proponent of drafting athletes. Athletes can make the judgment about how best to transition."9
McCracken returned to New Haven in 1995, where he improved offensively. After batting .357 with 11 doubles and 26 stolen bases through the first 55 games, the Rockies sent him to the Colorado Springs Sky Sox, their Class AAA club (Pacific Coast League).
McCracken did not slow down offensively after he reported to the Sky Sox. In 61 games he batted .361 with 14 doubles and 17 stolen bases. He had also adjusted to outfield play, finishing the season with a .991 fielding percentage.
The Rockies were impressed enough with McCracken that he had a "cup of coffee" with the club in September. He made his major league debut on September 17, striking out as a pinch hitter for Roger Bailey in a 17-0 loss to the Marlins. McCracken made it into two other games that September but had no more at bats.
In 1996, McCracken made it to the majors out of spring training. He played mostly center field, batting .290 in 283 at bats, with 17 stolen bases, setting a club rookie record that would stand until 2009 when Dexter Fowler stole 28.
McCracken continued to produce offensively in 1997. He stole a career-high 28 bases and increased his batting average to .292. He also finished the year with a .980 fielding percentage, which was remarkable since he roamed the cavernous center field of Coors Field.
McCracken noted that "I came up through [the Rockies] system. That's your first love. They gave me my first chance to play professional baseball. Being an original Rockie. Being a part of the first playoff team in 1995. I'll always be indebted to the Rockies franchise."10
When Tampa Bay became a major league franchise in 1998, they made McCracken their second pick in the expansion draft. Rays owner Vince Naimoli immediately proclaimed him as their starting center fielder. Naimoli said numerous teams had made trade offers for McCracken but "we are not trading him. He is our center fielder."11
The move was bittersweet for McCracken. "I was the fourth outfielder for the Rockies and I felt like I was an integral part of that organization. But, like most athletes, you want an everyday job, to be an everyday player. Being drafted by Tampa Bay afforded me that opportunity to be a regular and it was something that I wanted to take advantage of after they selected me."12
McCracken played in a career-high 155 games in 1998 and had his best season. He batted .292 with 7 home runs, 59 RBIs, and 19 stolen bases. McCracken made the franchise's first-ever plate appearance and scored the first run and first stolen base in team history. He also compiled an 18-game hitting streak, one that still stands as a team record. McCracken's defense garnered him much attention and he finished the season with a .992 fielding percentage. He was named the Devil Rays first-ever most valuable player at the end of the season.
McCracken injured himself early in the 1999 season, tearing the anterior cruciate ligament in his right knee on May 24 when he crashed into the wall at Tropicana Field while chasing a home run off the bat of Juan Gonzalez of the Texas Rangers. The injury cut short his season; he ended up playing just 40 games.
Tampa Bay signed him to a one-year contract after the season, expressing confidence that he would return to form in 2000. "We think Quinton will be an integral part of our team in 2000," said Devil Rays general manager Chuck LaMar.13
At the end of spring training, Tampa Bay sent McCracken to the Class AAA Durham Bulls. He spent most of 2000 in the minors, batting .260 with a .676 OPS in 85 games with the Bulls. The Devil Rays called him up near the end of the season and McCracken played in 15 games during the final month of the season.
McCracken was released by the Devil Rays at the end of the 2000 season. "He did everything he possibly could for this organization. But it got to a point, because of the injury, we thought that he would be an extra player," LaMar noted when asked about McCracken's release.14
The St. Louis Cardinals signed him one month later but released McCracken at the end of spring training in 2001. Two weeks later McCracken joined the Minnesota Twins, who sent him to their Class AAA club, the Edmonton Trappers (Pacific Coast League). He played in 81 games for the Trappers, primarily in center field, batting .338 with a .468 slugging percentage, before being called up in mid-season.
McCracken's mother Saundra died in December 2000 from complications of diabetes. Six months later, when the Twins were playing the Cubs, his father Herman came to town to see McCracken play on Father's Day. Herman McCracken died suddenly of a heart attack at the hotel where he was staying. "It's terrible. [Herman McCracken] came all the way out here to see his son play on Wrigley Field. Now he's no longer with us. And it's Father's Day on top of that," said Terry Ryan, Twins general manager.15
"It took the wind out of my sails," McCracken said a year later. "The last two years have definitely been character building." After his parents' deaths, McCracken relied on his three brothers and three sisters as a support group.16
McCracken played in 24 games for the Twins after he was called up on June 5. He batted .219 as he split his time between playing outfield and designated hitter. Although he was a solid defensive outfielder, his poor offensive performance led the Twins to grant him free agency at the end of the season. He signed with the Arizona Diamondbacks in the winter of 2002.
McCracken became a regular in the Diamondbacks outfield during the 2002 season, primarily in right field.The switch-hitter's .309 batting average helped Arizona win the National League West that year. He also hit in every spot in the order except the cleanup spot during Arizona's run to the playoffs. "It doesn't matter where I hit. I'm just trying to get on base and set the table for everyone else," he said.17
McCracken batted .364 with four hits and two RBIs in 11 at bats against the St. Louis Cardinals in the NLDS. But Arizona was swept out of the playoffs. It was the only time that McCracken played in the postseason during his career.
He returned to the Diamondbacks in 2003. Although he played in 115 games, McCracken made only 39 starts — the Diamondbacks used him more frequently as a pinch hitter that season. His batting average dropped to .227 and he had just 18 RBIs, less than half his total from the previous season.
Arizona began to make some roster moves in the offseason and McCracken's name was often mentioned. On December 15, 2003, the team traded him to the Seattle Mariners for Greg Colbrunn and cash. The Mariners needed help in their outfield and Colbrunn had seen limited playing time due to an injury the prior season.
McCracken said at the time that he thought the trade might help his career. "I know it's a spacious ballpark. It's not like I'm a guy who's going to go up there and drive the ball out of the ballpark anyway. I'm a gap hitter, a line-drive-type hitter."18
After the trade, McCracken said of his career, "It's been a roller coaster but I've been fortunate to be on that roller coaster. I've still got a lot I want to prove and accomplish in this game."19
McCracken never quite fit into the Mariners lineup and he appeared in only 19 games before the team released him on June 9. He re-signed with the Diamondbacks two days later. The club sent him to the Class AAA Tucson Sidewinders (Pacific Coast League). McCracken played in 15 games and was batting .328 when he was called up on July 1.
McCracken played in 55 games for the Diamondbacks through the remainder of the season, finishing with a .288 batting average. Arizona granted him free agency on October 29 but signed him to a minor league contract on December 9. McCracken married Maggie Moskal on January 29, 2005.
He played in a reserve role for the Diamondbacks in 2005, starting just 33 games. He struggled with a .237 batting average and collected just eight extra-base hits in 215 at bats. However, McCracken got his 19th pinch hit of the season on September 30 in a 7-3 Diamondbacks victory. It tied the club record, which Carlos Baerga had set in 2003.
When Arizona assigned McCracken to the Class AAA Tucson Sidewinders prior to the 2006 season, he refused the assignment and became a free agent once again. The Cincinnati Reds signed him to a minor-league deal with a non-roster invitation to their major-league camp, giving him an opportunity to make the club as a reserve player.
Unfortunately, McCracken was injured (plantar fasciitis) near the conclusion of camp. He was sent to the Class A Sarasota Reds (Florida State League) for rehabilitation. McCracken played in four games before the Reds called him up. He started just five games while playing a reserve role for the team.
His last major league game came on July 5, 2006. Pinch hitting, he grounded out in a 6-5 loss to the Milwaukee Brewers. He was hitting just .208 with three extra-base hits when the Reds released him the following day.
McCracken signed with the Minnesota Twins two weeks later. The team sent him to the Class AAA Rochester Red Wings (International League). McCracken played in 31 games in the final six weeks of the minor league season. He batted .284 with a .349 slugging percentage. At the end of the Red Wings season, the Twins did not call him up in September. They granted him free agency in October.
McCracken played for the Leones del Escogido in the Dominican Winter League with the hope of making a major league club in 2007. When no club showed interest, he signed on with the Bridgeport Bluefish of the independent Atlantic League for the 2007 season. Playing under manager Tommy John, he started 102 games and batted .271 with a .372 slugging percentage. Since he did not attract any offers, he retired at the end of the season.
After the 2007 season, McCracken took a step back from baseball. He and Maggie decided that it was time to start their family. "Everyone who plays this game knows of the sacrifices that you make when it comes to spending time with family. I took two years off to take a deep breath, regroup and start my family."20 With his career drawing to a close, they decided it was time to begin the next chapter.
McCracken and his wife continued to live in Arizona, where he had lived since 1995. Although he was not working in baseball full time after retirement, McCracken attended spring training every year, working as a guest instructor for clubs that needed his services. In 2010, he joined the Diamondbacks front office. As Assistant Director of Player Development, he was the primary liaison between the Diamondbacks and their minor league teams.
"I am totally indebted to the game of baseball," McCracken said after he was hired. "I was very blessed to have played as long as I played this game. I knew in some capacity I wanted to stay around the game and try to give back, especially to the kids that are behind me."21
Two years later, McCracken was hired by Houston as its Director of Player Development, a role he held from 2012 to 2015. He helped the Astros develop one of the best farm systems in baseball. "Through trade and player acquisitions over the past three to four years, we were able to replenish the farm system," McCracken said in 2016. "Now we are starting to reap the benefits of the hard work of putting this thing together and it's good to see."22
McCracken was mentioned as a possible general manager candidate for the Red Sox after the 2015 season. Staying with Houston, he was promoted to a newly created role, Director of Player Personnel, for 2016. He assisted General Manager Jeff Luhnow with free agent signings, trades and amateur signings. "As the farm director, my responsibilities were overseeing, for the most part, the entire farm system — players, coaches, medical staff, etc. With the new role Jeff is giving me the opportunity to broaden my horizons as far as different fields," he said.23
McCracken continued as Houston's Director of Player Personnel in 2017 but left the team that August amid changes in their front office. He decided that the time had come for him to take on new challenges.
He eventually joined the Miami Marlins in 2018, spending one season as their minor league outfield and base running coordinator. He was ready to get back on the field after the better part of a decade, "back in the fire to be closer to the players and staff."24
The Rays hired him as the baserunning and outfield coach for their Class AAA Durham Bulls. "My family and I are extremely excited about this homecoming of sorts," he said. "The opportunity to rejoin the Rays organization and assist our player development staff in developing championship players and people, on and off the field, is a dream come true for me."25
McCracken is enjoying his time back on the field with the Bulls. "I am taking it one day at a time. I am a man of faith and wherever He leads me, whatever opportunities present themselves, I'll meet head on."26
"I enjoy being an advocate for baseball. A role that I play in that capacity, whether as a manager or general manager…as long as I am able to pay it forward like it was paid forward to me. As long as I am able to help these young men accomplish their dream, that's what I want to do."27
McCracken and his wife presently live outside Houston, Texas, where they moved when he was working for the Astros. They have one son, Isaiah Cicero McCracken, who was born prematurely on July 7, 2009. As a result of the assistance provided by the March of Dimes Foundation, McCracken and his wife have given their energy and efforts to helping other families in the same position. They started the Miracles Do Happen Foundation as a vehicle to provide this assistance. Maggie McCracken was a cast member of VH1's Baseball Wives in 2011 in order to promote Miracles Do Happen.
Originally published: September 17, 2019. Last revised: October 24, 2019
Acknowledgments
Special thanks to Quinton McCracken for an in-person interview, August 7, 2019.
This biography was reviewed by Rory Costello and Norman Macht and fact-checked by Kevin Larkin.
Sources
In addition to the sources cited in the Notes, the author also used Baseball-Reference.com, Baseball-Almanac.com, and Retrosheet.org websites for player, team, and season pages, and other pertinent material.
Notes
1 Thomas Brown, in-person interview with Quinton McCracken, August 7, 2019 (hereafter McCracken interview).
2 McCracken interview.
3 Doug Rutter, "A year to remember: South's 1988 state champions," State Port Pilot, August 25, 2013.
4 Chuck Carree, "South Brunswick's 1988 baseball dream team will reunite," Wilmington Star-News, October 3, 2008.
5 Blaine Newham, "Quinton Gets Crack at Fourth Outfielder," Seattle Times, March 13, 2004.
6 McCracken interview.
7 Newham, , "Quinton Gets Crack at Fourth Outfielder."
8 McCracken interview.
9 McCracken interview.
10 McCracken interview.
11 Joe Henderson, "Rays of Hope," Tampa Tribune, November 19, 1997, 4.
12 McCracken interview.
13 "Devil Rays sign OF McCracken, free agent IF Duncan," ESPN.com, January 31, 2000.
14 John Romano, "Rays Run Out of Room for McCracken, Cairo," Tampa Bay Times, November 21, 2000, 42.
15 La Velle Neal, "Outfielder's Father Dies," Minneapolis Star Tribune, June 18, 2001, 31.
16 Chuck Carree, "McCracken bounces back from hard times," Wilmington Star News, July 24, 2002.
17 Don Ketchum, "McCracken, Delluci Make Grade," Arizona Republic, September 13, 2002, 46.
18 "M's Reach Agreement with Spiezio, Trade Colbrunn to Arizona," Arizona Daily Sun, December 16, 2003, 10.
19 Newham.
20 McCracken interview.
21 Tim Hower, "McCracken again a hit on baseball field, this time in Houston," Wilmington Star News, March 30, 2016.
22 Hower, "McCracken again a hit on baseball field."
23 Hower, "McCracken again a hit on baseball field."
24 McCracken interview.
25 Marc Topkin, "Quinton McCracken rejoins Rays as Triple-A coach," Tampa Bay Times, January 18, 2019.
26 McCracken interview.
27 McCracken interview.
Full Name
Quinton Antoine McCracken
Born
August 16, 1970 at Wilmington, NC (USA)
If you can help us improve this player's biography, contact us.
https://sabr.org/sites/default/files/McCracken%2C%20Quinton.jpg
600
800
admin
/wp-content/uploads/2020/02/sabr_logo.png
admin
2019-09-17 14:25:27
2020-04-09 14:37:30
Quinton McCracken