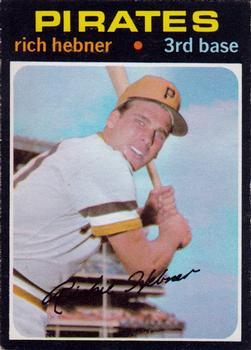 ---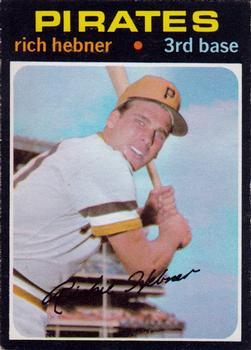 During the 1970s and early '80s, every announcer or writer had to dish the dirt on his story. He played major league baseball in summer, but Richie Hebner dug graves in winter. Beginning in the ninth grade, he continued digging throughout his 18-year major league career, even when free agency expanded his paychecks beyond 1976, and 20 years after retirement.
Initially labeled the "Gravedigger," most colleagues today just call him "Digger."1 He began earning $35 per grave in the off-season at home in Norwood, Massachusetts, working the nine Jewish cemeteries his father William supervised.2 Once, his dad criticized him for digging a grave too shallow. Hebner retorted, "I never saw one get up from it."3 Another time he said, "I must have dug a thousand graves over the years. I like to tell people I'll be the last person to ever let them down."4
Hebner aimed his cryptic humor at everyone throughout his career. In good times, he could be a prankster, free spirit, and autograph-friendly with his admirers. At other times, he might act fidgety, hot-tempered, or cold to the same fans. However, he also dug himself a respectable baseball career as a player, coach, and manager over the course of five decades.
Richard Joseph Hebner was born on November 26, 1947, in St. Elizabeth's Hospital in Brighton, Massachusetts, just outside of Boston. He was the fourth of five boys born to William Hebner and his wife Margaret (Kinkenny). Brothers Bill, Brian, and Robbie preceded him; he was followed by his youngest brother Denny. Oldest brother Bill umpired in the Eastern League and International League for several years but never made it to the major leagues to call his brother out.5 Richie's younger brother Denny was drafted in 1972 by the Pirates as a catcher, but played only one year of rookie ball in the Gulf Coast League.6
Of German-Irish descent, Richie attended eight years of parochial school at St. Catherine's but never played sports for the middle school. Instead, at age nine, he began his Little League career playing shortstop. Over the next four years, he broke nearly every record, becoming Norwood Little League's greatest hitter.7
But hockey was Hebner's first love. At 5 a.m. each morning, he and brother Denny would spend hours practicing hockey on a frozen pond behind their 510 Nahatan Street home. At age 12, Hebner joined the Saturday morning Tom Clifford hockey program, at the Tabor Rink in Needham, Massachusetts.8
Hebner lettered four years in baseball at Norwood Senior High School, but he made his biggest impact on the ice. He won scholastic All-America honors in hockey all four years. Playing in the Bay State League, the left winger notched 69 goals. In that time, Richie led his Mustangs to a 47-11-5 record, including two Bay State League titles. Although Norwood was eliminated in the quarterfinals, Hebner was voted State tournament MVP in his senior year. Hebner capped his hockey career by scoring the game-winning goal in a 1969 1-0 game against Walpole.
He reflected on that goal, "I'll never forget that night. We had always been a big rival of Walpole and it seemed the entire sports fans of both towns just lived for that game. That goal has to be the biggest thrill of my life and I never expect another like it."9 Norwood retired Hebner's number 18 in his honor.
But he was just as good on the diamond. Though he hit left-handed, Hebner threw right-handed, which enabled him to play the left side of the infield. As a freshman, he started at shortstop and excelled all four years for the Mustangs. His average improved each year (.300, .380, .440, and .485) while batting .404 overall.10 Major league scouts appeared at all his games his final two seasons. In his senior year, they watched him drive a 400-foot grand slam to centerfield in the 11th inning to defeat Natick 8-4. With a single, double, and home run in his final game, he helped beat Dedham before 20 scouts and one of the largest crowds to see a local high school game. It put Norwood in the state tournament.11
Hebner faced a dilemma at graduation; to sign with the NHL's Boston Bruins or try professional baseball. In 1966, major league baseball held its second amateur draft. The Pittsburgh Pirates made the 18-year-old shortstop their first pick (15th overall). The Bucs' New England scout, Chick Whelan, signed him with a $40,000 bonus, which beat the Bruins' $10,000.12 Hebner recalled, "I loved hockey and had my biggest thrills in it, but I knew the money and the future was in baseball. If I had to choose between the two with the same amount of money for both, I would have taken baseball."13 He signed with the Pirates and went to Single-A ball in Salem, Virginia, of the Appalachian Rookie League.
As the Vietnam War escalated, the Pirates assigned Hebner and pitching prospect Bob Moose to fill the last two openings for the Marine Corps Reserve. From 1966 through 1972, Hebner would report one weekend a month along with a two-week hitch each summer. In his first professional season, he played first base in only 26 games with Salem. The 18-year-old led the Rebels with a slash line of .359/.443/.652. Then Pirates general manager Joe L. Brown informed him in August to pack for six weeks of Marine Corps training at Parris Island, South Carolina.14 By the end of his training stint, the 6'1" private returned at a muscular 195 pounds, the weight he would maintain the rest of his playing career.
In 1967, Hebner moved up to the Raleigh Pirates of the Carolina League for 78 games at third base. His solid hitting (.336/.411/.456.) landed him in the league's All-Star Game.15 But after striking out in late June, Hebner punched the dugout roof in anger and broke his right hand. "That hand hurt for three months," he added as he reflected on his gaffe.16 He missed the last two months of the season.
Hebner played mostly at third base in 1968, his final minor-league campaign. His solid play for Columbus earned him a call-up to the Pirates in late September. His first plate appearance produced a non-event due to a set of quirky circumstances. Against the Reds on September 23, Hebner pinch-hit for another pinch-hitter, Manny Jiménez, who had been ejected after a disputed second strike. Hebner thus had to begin his career in a two-strike hole. He anxiously watched the first major-league pitch he saw, a pitchout, nab pinch runner Freddie Patek trying to steal second base. The tag ended the inning and delayed Hebner's official debut. Five days later, he earned his first full plate appearance in Chicago. Facing future Hall of Famer Ferguson Jenkins, Hebner flied out to left field as a pinch hitter in a 4-3 Pirates loss. His first big-league hit would have to wait until next year.
Major League Baseball held an expansion draft to stock four new teams in 1969. Third base opened up for Hebner when the Pirates lost incumbent Maury Wills to the Montreal Expos. Facing hard-throwing Bob Gibson in St. Louis on Opening Day, Hebner stroked his first big-league hit in the eighth inning. Gibson glared at him when he asked for the ball. "I got the ball," Hebner chuckled, "but I didn't want to make a big thing out of it because I'd probably get drilled the next time up."17 Gibson blazed his way to the Hall of Fame, but he always struggled against Hebner. In 74 career plate appearances facing Gibson, the lefty slugger produced a slash line of .387/.466/.661 for an OPS of 1.127, including five home runs. His first career home run and triple came weeks later on May 4 when he roughed up right-hander Jim "Mudcat" Grant for three extra-base hits in Montreal's old Jarry Park.18
At the end of the '69 season Hebner seemed in the running for Rookie of the Year. Both he and first baseman Al Oliver produced strong rookie stats while also sharing the same Topps rookie card. When the votes came in, Oliver earned second place to the Cardinals' Ted Sizemore for the award. Hebner earned no votes, despite being the only rookie to hit above .300 (.301). He also produced an OPS of .801 to Oliver's .788 and Sizemore's anemic .670.
On July 16, 1970, the Bucs moved into their new home, Three Rivers Stadium. Hebner christened the park with its first base hit and scored its first run. As the Bucs headed toward the first of three straight Eastern Division titles, Hebner's best game came on September 7 when he slammed two home runs, a double, and four RBIs while scoring three runs in an 8-3 win over the Cubs. He hit a solid .290, improving his power from eight to 11 homers. However, for the second straight year he committed 19 errors and fielded in the .940s. His shaky defense would eventually prompt a move to first base in later years.
In the National League Championship Series, the Cincinnati Reds swept the Pirates in three straight games. Hebner went four for six with two doubles and two walks, but the Pirates scored just three runs the entire series. It would be the first of his NL-record eight LCS appearances.
Hebner increased his power to 17 home runs and 67 RBIs in 1971, but injuries, illness, and military duty limited him to 112 games. After playing in San Diego on July 24, he stayed in California for a two-week stint with the Marine Reserves at Camp Pendleton. On his first day back on August 11, he had two hits, including a bases-loaded walk-off single to drive in the winning run. The next day he started a 0-for-16 slump. At one point, in three losses to St. Louis, he struck out a record-tying eight consecutive times. "I should have struck out a ninth time to set the record," Hebner said.19 Instead, he popped out to third base to end the pain. Soon after, a viral chest infection forced him into the hospital for two weeks.20 When he returned Hebner struggled the final 17 games, hitting.200 with no home runs and only two RBIs. His power, however, would soon return in his second NLCS.
In the 1971 NL playoffs, the Pirates split the first pair of games in San Francisco with the Western Division Champion Giants. When the series shifted to Pittsburgh, Hebner's power returned to propel the Bucs to the pennant. In a tight 1-0 affair in Game Three, Hebner made a crucial throwing error to allow the Giants to tie the game in the sixth inning. In the bottom of the eighth, he atoned for his mistake by smashing a go-ahead homer off future Hall of Famer Juan Marichal that held up for a 2-1 win. The Pirates clinched the pennant the next day as Hebner, Oliver, and Roberto Clemente each drove in three runs in a 9-5 win. Scoring after a double in the first inning, Hebner then slashed a three-run homer off future Hall of Famer Gaylord Perry in the second to tie the game. Oliver followed with a three-run shot of his own to finish the scoring in the sixth and send the Pirates to the World Series.
Hebner played in only three World Series games against the heavily favored Baltimore Orioles. Manager Danny Murtaugh platooned him at third with the righthanded José Pagán, who drove in the Series-winning run in Game Seven. In his limited time, Hebner managed yet another post-season homer off a Hall of Fame pitcher, Jim Palmer. This one, however, was a meaningless three-run dinger in an 11-3 loss in Game Two. Nevertheless, Hebner became a World Champion for the only time in his career as the Bucs beat the Orioles in seven games.
Danny Murtaugh retired as manager after the 1971 Series, and bench coach Bill Virdon took over. The Pirates stormed through the 1972 NL East to outpace the second-place Cubs by 11 games. Seven Pirates hit .298 or better, including Hebner, who reached .300 for the second time. On April 25, he hit the first of his six career walk-off home runs, connecting with two on in the 13th inning. Hebner also enjoyed his best season fielding. He committed only nine errors while bumping up his fielding percentage from the .940s to a career high .969, which remains a Pirate record for a third baseman.21
The Pirates and Cincinnati Reds split the first two games of the NLCS in 1972. The Pirates hit only .190 as a team, and Hebner scratched out only two singles and a double for a .188 average. Pitching enabled the Bucs to stretch the series to its final game. The Pirates led, 3-2, in the ninth but lost when Bob Moose uncorked a wild pitch that scored the pennant-winning run. The loss soured Hebner on the rest of the postseason. "I didn't watch the World Series on TV that year," he said.22 It was also the last game he would play with his teammate Roberto Clemente. On New Year's Eve, Clemente perished in a plane crash trying to send relief supplies to earthquake-stricken Nicaragua.
Clemente's death numbed the team and all of Pittsburgh throughout the 1973 season. Hebner's temper compounded the heartbreak as his anger boiled several times with Virdon. First in May, and then August, the two men confronted each other. After committing only nine errors in '72, Hebner's concentration began to wane. Virdon fumed as his third baseman lost focus throughout the summer. On August 12, Virdon replaced Hebner in the ninth inning of a 5-2 win with shortstop Gene Alley, who had never played third. The move led to a cursing match, with Virdon challenging his third sacker to fight.23 24 Hebner didn't take the bait. Both men's tempers simmered until the Pirates fired Virdon on September 7. The Bucs then brought back Murtaugh to spark a September drive that failed on the final day.
The Pirates reclaimed the NL East crown in 1974 as Hebner continued to play well. He hit a solid .291 with career highs in runs scored (97) and hits (160). It would be his last good season in Pittsburgh. In the NLCS, the Western Division champion Dodgers beat the Bucs three games to one. Hebner's homer led to the Pirates lone victory as he hit a mediocre .231 with four RBIs in the series.
Hebner struggled in 1975 with a career-low .246 average; he slugged below .400 for the first time (.392). Twice he suffered back injuries that sidelined him for a week, once in July and again in September. The Pirates returned to the playoffs but Cincinnati's Big Red Machine swept them. In the three games, Hebner hit .333 but with only a double and two RBIs. It would be his fifth and final appearance in the NLCS with Pittsburgh.
In December 1975, the players' union broke the 97-year old reserve clause. Players who went through the 1976 season without signing a contract would be free agents the following year. Hebner became one of the first such players. His struggles at the plate in '75 led Pirates General Manager Brown to offer Hebner a contract with a 20% renewal-clause pay cut for '76 ($62,500).25 Initially, he chose not to sign, hoping to hit better as the year progressed to convince the Pirates he deserved more. Instead, Hebner suffered his worst season as a Buc in 1976. His slash line of .249/.325/.366 led to his lowest OPS of his Pirate career, .692.
On November 1 he became a member of the first group to explore true free agency. He first negotiated with new Pirates' GM Pete Peterson. They met in Pittsburgh's US Steel building, where Peterson offered him a deal for $80,000, 90,000, and $100,000 across three seasons.26 The talks turned muddy and Hebner soon left for a USO tour in Germany. When he returned on December 6 his agent, Ed Kleven, produced an offer from GM Paul Owens of the Phillies for $600,000 over three years. "Well, I didn't go to Harvard, but I ain't that stupid," Hebner said.27 He signed with Philadelphia on December 15, 1976.
Used to winning with the Bucs, Hebner was pleased to make the cross-state move to the Phillies, who had taken the NL East in '76. He also made a cross-diamond move to first base as future Hall of Famer Mike Schmidt already held down the hot corner. In spring training on March 23, Hebner collided at first base with ex-teammate Larry Demery. The impact fractured his left rib cage.28 He missed the first 14 games before he debuted on April 29. Though he played in only 118 games, he delivered a strong slash line of .285/.381/.484 with 18 homers and 62 RBIs.
The Phillies and Hebner returned to the NLCS to meet the West-winning Dodgers. After splitting the first two games, the Phillies were leading 5-3 in Game Three, going into the ninth. In this game Hebner would tie a NLCS record for putouts (14) including nine in a row. But it was a putout that he didn't get that created the Series' biggest controversy. With the Phillies up 5-4 and two out in the ninth, Davey Lopes' grounder bounced off Schmidt at third to shortstop Larry Bowa. Bowa's throw seemingly beat Lopes at first, but umpire Bruce Froemming called him safe as the tying run scored. The go-ahead run scored a batter later, and the Dodgers held on in the ninth to win Game Three. To this day Philadelphia fans refer to this game as "Black Friday."29 The television replay supported Hebner's claim that Lopes was out. "It was close but out," Hebner cried. "I couldn't believe it. He did not beat the bleeping ball to first."30 Nevertheless, the next day the shocked Phillies managed only an RBI double by Hebner as the Dodgers claimed a 4-1 win and the NL pennant.
Hebner reprised his 1977 season with a similar output in 1978. He slugged 17 homers with 71 RBIs and again surpassed an OPS of .800 (.834). The Phillies and Dodgers met again in the NLCS. This time the Dodgers swept the Phils in three games. Hebner produced his worst numbers in a championship series. In 10 plate appearances he managed one hit, a sacrifice, and an RBI.
Hebner fully expected to return to the team in 1979. "My happiest time in baseball," he said, "was in Philadelphia the last two years. The Phillies were winning, they were drawing a lot of people. We played before five million fans in two seasons. That's exciting."31
However, in December the Phillies seized the chance to land Pete Rose to play first base. Subsequently, Paul Owens said, "Two days after we signed Pete Rose, 11 clubs got in touch with me and said: 'If you decide to trade Hebner, keep us in mind.'"32 Owens managed to find a trading partner near the end of spring training. The swap would move Hebner away from 2.5 million loyal fans to play before less than a million bitter critics.
The New York Mets had finished in last place in 1977 and '78. They tried turning things around by trading for Hebner on March 27, 1979. The Mets gave up their number three pitcher, Nino Espinosa, for Hebner and minor league infielder José Moreno, hoping Hebner could solve the team's power problem and perennial woes at third base. Some thought the Mets overpaid for Hebner, but Mets manager Joe Torre saw it differently saying, "All I can say is that Hebner will help us more than the loss of Nino Espinosa will hurt us."33 But Hebner groaned that the Mets "couldn't beat the cooks at the Hilton Hotel."34
On Opening Day Hebner provided the hope the Mets sought by going 4-for-5, scoring twice on two doubles and a home run with four RBIs.35 That honeymoon ended quickly when he got one hit in his next 21 at-bats. On April 15 his frustration peaked when he was tossed from the first game of a doubleheader against his old team after his first at-bat. Hebner disputed a called strike by plate umpire Dave Pallone before grounding out. He screamed, lunged toward Pallone, and covered home plate with dirt, before he was restrained and ejected. From the dugout he hurled his bat almost as far as the plate.36
This game epitomized Hebner's time with the Mets. Sent back to third base, he had a tough time at a position he hadn't played in two years. He never embraced New York. "It's tougher here," he said. "You've really got to grind. You see yourself at the end of May something like 11½ games out of first place, and you wonder. Hell, I've been in seven playoffs in 10 seasons in the big leagues. I'm not used to this."37
Mets GM Joe McDonald said, "He just wasn't happy here. That was the picture he painted when we got him last spring…He has a big hang up on traffic and congestion."38 Hebner hated the city so much that he went into Manhattan only one time.39 He and the fans shared a mutual dislike for each other all summer. His streaky hitting frustrated them as he floundered after his hot start. Only a surge during the final 12 games brought his season numbers to respectability. During that time, he produced a slash line of .458/.500/.771. His 14 RBIs the last two weeks tied him with Lee Mazzilli for the team lead with 79. Though Hebner was eligible to request a trade at season's end, he never did. Instead, after the World Series, the Mets triggered a move that was "best for the Mets and Richie," said his agent, Ed Kleven.40
While Hebner carved a jack o'lantern that Halloween, he got a call that created a bigger smile on his face than the one on the pumpkin; he was traded to Detroit for third baseman Phil Mankowski and outfielder Jerry Morales.41 Four days later Hebner married Patricia Downing of Boston.42
Some sources rate Hebner among the top 10 players never to make an All-Star team.43 44 In the first half of the 1980 season, he went on an RBI tear that he thought could have earned him his first spot in the Midsummer Classic. When asked what year he thought he had his best chance, he said, "In 1980 I had…with the Tigers 62 RBIs by the All-Star break…If I don't make it that year I'd never make it."45
During his hot streak, he drove in six runs in a game twice within 34 days. First, on May 20, he led the Tigers to a 12-8 win with a grand slam off the Yankees' Tommy John and a two-run shot later on. Five weeks later, he drove in another six-pack against Cleveland with a three-run double, two-run single, and a groundout. He capped his hot sreak on June 3 with a two-run pinch-hit walk-off homer against Seattle. At the All-Star break, he had 60 RBIs on only 64 hits and a slash line of .303/.367/.493. He had driven in more runs than both Rod Carew (34) and Cecil Cooper (53), the AL representatives at first base. Since the Tigers platooned him, Hebner was never seriously considered over either player. Hebner cooled off during the second half of the year as a knee injury forced him out of 32 of the final 40 games. He ended the season with a career-high 82 RBIs and a respectable .826 OPS.
In 1981 the player's strike carved out the middle third of the season. Two weeks after the strike began on June 12, Hebner headed home to keep busy with his usual off-season gig of digging graves in his father's West Roxbury cemetery. Baseball writers scrambled for stories of how players spent their summer vacations. Hebner's holiday proved to be the most popular. Even People magazine published a photo of the Digger standing in a shallow grave, bare-chested, pick in hand.46 When the season resumed on August 10, Hebner continued his season-long struggle, posting his worst numbers yet, with five home runs, 28 RBIs and a weak OPS of .656.
Hebner faced a different kind of split season in 1982, dividing his play between Detroit and Pittsburgh. By early August the struggling Tigers lost interest in the aging veteran and designated him for assignment. "They buried me there," the gravedigger said ironically.47 The Pirates soon purchased him on August 16 where he finished the rest of the year in right field, the first time he played the outfield professionally.
Hebner's utility role fully emerged in 1983. The Pirates made him their main pinch hitter, while platooning him at third, first, and the outfield. In his new role as a part-timer, he connected on a number of key hits. On June 20, he led off the bottom of the 10th inning with a pinch-hit homer to beat the Cubs 5-4. He scorched the Cubs again on September 15, beating Lee Smith with a pinch-hit grand slam, his fourth and final career slam. The Bucs battled the last two weeks for the division lead, but the Phillies still edged the Pirates for the NL East crown.
The Bucs planned to sign Hebner to lead their bench for 1984, but that January he left the Pirates via free agency for the second time and signed with the Cubs. In his career Hebner had victimized Chicago more than any other club, averaging .330 with 30 home runs and 109 RBIs.48 Hebner also favored the Cubs' home park, saying, "Wrigley was fun…I think I hit pretty good in Wrigley."49 Indeed, for his career in Chicago he posted a slash line of .317/.386/.493.
In limited duty with the Cubs, Hebner hit .333 overall with a career-high .407 OBP. In the first half, he blasted two key home runs. On April 24, he snapped a 2-2 tie in the ninth inning with a home run off future Hall of Famer Bruce Sutter as the Cubs beat the Cardinals 3-2. On May 8, he broke a 9-9 tie with a pinch-hit homer to set up a 12-11 Cub win. That blast was his 200th career home run.50 His clutch hitting stalled at the end of June when he went on the disabled list with shoulder tendinitis.51 He returned in September to finish the season weakly, 1 for 7 as a pinch hitter. The Cubs fared much better, winning the division and playing in their first postseason since 1945. It marked Hebner's record eighth and final appearance in the NLCS.52 He appeared in only the final two games as a pinch hitter, as San Diego claimed their first NL pennant, sweeping the last three games of the five-game Series.
In spring training 1985. Hebner and his wife Pat welcomed their second daughter, Katherine. But soon after, his mother died in Boston on March 30.53 He rejoined the Cubs in mid-April. He started off hot and by mid-August he had driven in 12 runs on 12 pinch hits, leading the league in both categories. After hitting his seventh career pinch-hit homer on August 14, he went 0-for-22 the rest of the season. Despite the collapse, his 12 RBIs still ended the year as the most for a pinch hitter. In his only start of September, Hebner slammed a double and a home run to drive in two runs in a 6-2 win over the Phillies on September 29. The home run turned out to be his last major league hit. He pinch-hit twice more, flying out and drawing a walk to score a run in his final act as a major leaguer on October 3. At the time, he thought he would be back in 1986, and so did the Cubs.
But after the season, Hebner was a victim of the owner collusion on free agents. Hebner was shunned by all clubs but the Cubs, who wanted to re-sign him. At the December 20 deadline, Hebner accepted the team's offer of salary arbitration, but soon settled. On January 17, 1986, both parties agreed to a one-year contract of $310,000. Hebner was digging a grave in St. Joseph's Cemetery when his agent, Ed Kleven, found him to do the honors. Appropriately, Hebner signed his final player contract while standing in a graveyard.54 But after he signed, the owners agreed to reduce rosters to 24 players in 1986. Older veterans with limited skills like Hebner were most vulnerable. The Cubs GM, Dallas Green, was not joking on April Fool's Day when he gave Hebner his outright release.55
After 18 years, 1,908 games, and 6,144 at bats, Richie Hebner could now dig graves year round. His brother Dennis now ran the family business and welcomed Richie back full time. Using just a pick and shovel, he continued digging graves for the next 20 years. Then tragedy struck the entire Hebner clan in April of 2006. In 17 days, cancer and illness claimed his three sisters-in-law. Dennis had to close the cemeteries soon after.56 Hebner made a lateral move to driving a hearse. His friend, Jimmy Ginley, owned three funeral homes and hired Richie to deliver bodies instead of burying them. Hebner later said, "I tell people, I guess I love being around stiffs!"57
But Hebner also stayed in baseball. In 1986, Pete Wall, his high school coach, invited Hebner to assist in coaching the American Legion team in his Norwood hometown. Wall recalled, "We went to the Legion World Series in Wisconsin the following season (1987), and Blue Jays general manager Pat Gillick is there and sees Richie. He told Richie there might be a coaching vacancy on their Myrtle Beach farm team, and asked if he'd be interested. Richie said OK."58
In his first year managing in 1988, Hebner won Manager of the Year with Myrtle Beach in the South Atlantic League. He also managed in Triple-A at Syracuse (1995-96) and Nashville (2000), as well as Single-A in Frederick (2008-09). Between stints as a minor league manager, Hebner served as hitting coach at the major league level in Boston (1989-91) and Philadelphia (2001). In the minors, he tutored hitting at Syracuse (1993-94), Nashville (1998-99), Durham (2002-06), Birmingham (2007), Norfolk (2010) and Buffalo (2014-16).
Asked about his new career, Hebner said, "I like managing. I like coaching. I just like being in the game. Why retire? If I'm doing something that's real nice, fun…"59 But he also lamented time away from his family, "I travel a lot. I didn't see my kids for too much. I saw my boy play one Little League game…I can't get those days back."60
Richie Hebner led one of the more colorful major league baseball careers. Though his macabre off-season job led to his Gravedigger nickname, teammates later tagged him as "Hacker" or "Hack" due to his exuberance at the plate. Most times when he stepped into the batter's box, he wiped off home plate whether it was dirty or not. Several times, he would tug at his shirt collar as if his jersey was a size too small. During his warm-up swings, he might kick up some dirt with his back foot as he settled into his deep crouch. A notorious low-ball hitter because of his hockey background, he would swing and miss at pitches and flip the bat in the air several times. He sometimes would cut holes in his spikes to relieve pressure on the bunions he had on his feet. And he swung the heaviest bat in the majors, a 40-ouncer; some thought that led to his chronic back troubles.61 62
Adding to his intriguing background, from 1982 until its dissolution in 2007, Hebner acted as president of the South Norwood Tavern on Washington Street in Norwood. As journalist and historian David H. Lippman quipped, "A Massachusetts ballplayer owning a bar, sounds like 'Cheers.'"63
Hebner always returned after each season to his home near Walpole. He recalled the costs that coaching imposed on his family: "I've missed a lot of proms and Little League games and recitals. Missing my kids – Elizabeth (1983), Katherine (1985), Joseph (1988), and Victoria (1992) – has been tough. Nothing is more important than family."64 As his coaching career wound down ,Hebner looked to continue ribbing family and friends with his grave humor, "I should write a book. Dug graves for 35 years, worked at a funeral home for 10, I got 22 years in the big leagues, I have 16 years in the minor leagues. I've got stories and a half (to tell)."65
Acknowledgments
This biography was reviewed by David Lippman and fact-checked by David Kritzler.
Notes
Born
November 26, 1947 at Boston, MA (USA)
If you can help us improve this player's biography, contact us.
https://sabr.org/sites/default/files/HebnerRichie.jpg
600
800
admin
/wp-content/uploads/2020/02/sabr_logo.png
admin
2017-07-24 16:18:34
2020-04-09 14:40:33
Richie Hebner