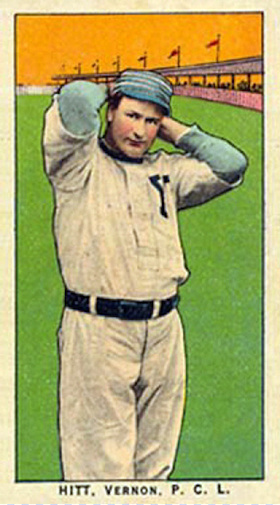 ---
"Christy Mathewson is the Roy Hitt of the big league."
— Los Angeles Herald, August 11, 1914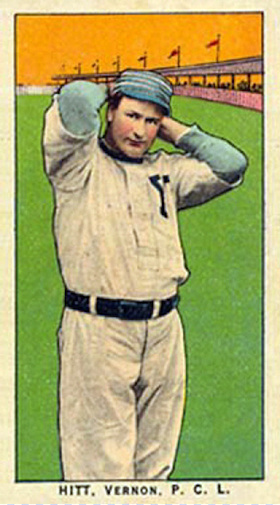 One of the finest pitchers in Pacific Coast League history, Roy Hitt was a seven-time 20-game winner between 1905 and 1914. The southpaw compiled a 31-12 record for the San Francisco Seals in 1906, the year of the great earthquake. Arm troubles limited his major-league career to one season with the Cincinnati Reds in 1907. He was inducted into the PCL Hall of Fame in 2004.1
Roy Wesley Hitt was born on June 22, 1884, in Carleton, Nebraska, the eldest of the three children of Thomas E. and Emily "Millie" (Ballard) Hitt.2 The family moved to southern California between 1900-1902. Thomas was a grain buyer in Nebraska and a ranch foreman in California.3
In the spring of 1903, Roy pitched for the Ontario High School baseball team. That summer he pitched for a Santa Barbara team and caught the eye of Pete Lohman, manager of the Oakland Oaks of the PCL, who gave him a brief trial with the team in October. Hitt started the game of October 23 against the Sacramento Senators and barely earned a victory. With the Oaks leading 4-3 with one out in the ninth inning, he walked three batters in a row to load the bases; Lohman brought in a relief pitcher who secured the final two outs. A week later against the Senators, Lohman pulled Hitt in the fifth inning after the youngster issued his tenth walk of the game. "The budding southpaw could not throw the ball within yards of the plate," said the San Francisco Call.4
From May-July 1904, Hitt pitched for a team known as the Modern Woodmen of Los Angeles. On July 22, the Los Angeles Angels of the PCL gave him a start against the San Francisco Seals but removed him in the second inning after he had allowed five runs. The Seals started him two days later against the Angels, and he surrendered five runs in a complete game. From August-November, he pitched for the El Paso (Texas) Colts; one of his catchers at El Paso was future major leaguer Chief Meyers. After the season, the 20-year-old Hitt married Bertha McClellan, an 18-year-old Californian.5
The San Francisco Seals signed Hitt and assigned him to the Fresno team of the California State League in the spring of 1905. On June 18, he threw a no-hitter and struck out 15 in Fresno's 6-0 victory over Lodi. Two days later he joined the Seals and tossed a three-hit shutout against the Angels. Over the next two weeks, he beat the Angels three more times, but he lost to them 1-0 on the Fourth of July, despite hurling a three-hitter.6
Hitt was sensational. He fired a one-hit shutout against the Oaks on July 23, and a four-hit shutout against the first-place Tacoma Tigers on July 27. He beat the Portland Giants with a two-hitter on August 17; defeated Tacoma with a four-hitter on August 23; and shut out the Seattle Siwashes on September 1. He spun a three-hitter and struck out 10 in a 7-1 victory over Portland on October 25, and blanked Portland in a 7-0 triumph four days later. His season record was 25-14 with a 1.79 ERA in 346 innings.7
It was reported in November 1905 that the New York Highlanders of the American League had acquired Hitt, but he never played for them. He returned to the San Francisco Seals for the 1906 season. Jack Gleason and J. Cal Ewing purchased the Seals in March 1906, and the players went to spring training in Visalia, California. The pudgy Hitt—he stood 5-feet-10 and weighed close to 200 pounds—had a voracious appetite; according to one reporter, he spent 95 percent of spring training in the dining room. Meanwhile, Gleason and Ewing oversaw the remodeling of the grandstand and bleachers at Recreation Park in San Francisco.8
Everything was ready for Opening Day, April 7, 1906. The Seals rode in automobiles in a grand parade from City Hall to the renovated ballpark. With Charles "Gabby" Street as his catcher, Hitt delivered a four-hit shutout versus the visiting Siwashes to the delight of 6,000 "frenzied fans." He also defeated Seattle in his next two starts, on April 11 and 14. The Seals continued their homestand with a victory over the Portland Beavers on April 17, improving their record to 9-2.9
Hitt was due to pitch against Portland on April 18, but that was the day the unthinkable happened: A tremendous earthquake shook San Francisco at 5:12 A.M., and much of the city, including Recreation Park, was destroyed by subsequent fires. More than 3,000 people perished in the catastrophe.10 "In the aftermath of the earthquake, an estimated 75,000 citizens simply left San Francisco. The remaining homeless population of 250,000 established makeshift camps in park areas and amidst the burnt-out ruins of city buildings."11
Some members of the Seals were pressed into recovery efforts.
[Seals shortstop John] Gochnauer [sic] was put to work digging a trench in which thirty-nine dead bodies were tumbled. [Pitcher] Nick Williams, [pitcher George] Wheeler, and [outfielder George] Hilderbrand [sic] were piling brick for the first couple of days. . . . [The] team did not hear anything of [outfielder Ed] Householder for a week after the earthquake and it was reported that he was dead. He was in 'Frisco all the time, but not one of his teammates caught sight of him.12
The Seals survived the quake, but catcher Street, outfielder Irv Waldron, and pitcher Jay Hughes quit the team and traveled east. Nicknamed the Refugees by the press, the team resumed its season on May 2 in Seattle. Hitt hurled a shutout and struck out 11 in an 11-0 rout to spoil Seattle's home opener. The Seattle Times reported that "Blubbery Roy Hitt was in fine form, and when that southpaw who shakes like a lump of jelly on a dining car is right he is the unhittable Mr. Hitt."13 After destruction of their park, the Seals played their home games at Idora Park in Oakland, where they played a few home games a season anyway. In the first home game after the quake, on May 23, Hitt threw a six-hitter in a 4-3 victory over Fresno.14
Hitt anchored the Seals' pitching staff during this tumultuous season. He shut out Fresno on June 2 and July 10; Portland on June 24; and Los Angeles on July 17 and 22.15 He compiled a marvelous season record of 31-12 with a 1.90 ERA in 403⅔ innings. The heavy workload wore him out, and by September he had a sore arm that kept him on the sidelines. Bill Sweeney of the Portland Beavers said Hitt "is a grand pitcher, one of the best in the business, but toward the end of the season he could scarcely bend his arm, and was unable even to pitch . . . batting practice."16
The National League's Cincinnati Reds acquired Hitt in the offseason "on the recommendation of Danny Long, the Red scout on the coast, who urged the deal strongly and spoke in the highest terms of Hitt's ability and willing and intelligent disposition." Jack Ryder of the Cincinnati Enquirer wrote, "Hitt was easily the best man on the coast last year, and is universally touted as a comer and a sure winner in fast company."17
In his major-league debut on April 27, 1907, Hitt "showed a good curve ball and a big bunch of speed," but was wild, walking five and hitting two batters in six innings of work against the Pirates in Pittsburgh; the Reds lost the game, 4-1.18 On May 17, he threw a five-hitter against the Phillies in Philadelphia to earn his first major-league victory. He spent June with his wife in California, where his son Thomas was born on June 17.19
Hitt shut out the Boston Doves on July 8 and the Phillies on July 30, but he gave up eight runs to the Brooklyn Superbas on July 19 and another eight runs to the Chicago Cubs on September 15.20 His inconsistency may have been due to "lameness in the shoulder which [had] been bothering him for some time."21 He finished the season with a 6-10 record, and his 3.40 ERA was well above the league average of 2.46. His performance did not meet expectations, and the Reds sent him to the Columbus (Ohio) Senators of the American Association for the 1908 season.22
In his first appearance for Columbus, Hitt tossed a three-hit shutout against the St. Paul Saints on April 16, 1908, but arm troubles ended his season in June. The Columbus management blamed his excess weight. In November, Hitt said his arm was back in condition and he was ready to pitch.23
The Vernon (California) Tigers of the PCL acquired Hitt in March 1909. Highlights of his 1909 season included a 12-inning, three-hit shutout of Oakland on May 4, and a two-hit shutout of Portland on August 14.24 He lost a number of close games and posted a 15-30 record, despite a respectable 2.38 ERA.
From 1910-1914, Hitt anchored the Tigers' pitching staff, with five consecutive 20-win seasons. Over this five-year period, he averaged 23 wins, 15 losses, and 338 innings per season, with a 2.33 ERA. Nicknamed "Rhino," Hitt was a "roly-poly" left-handed workhorse, like Mickey Lolich of the Detroit Tigers in the 1960s and 1970s. Harry A. Williams of the Los Angeles Times commented on Hitt's girth: "No one else in the Coast League can approximate his mileage at the equator. . . . When you meet a gent thus equipped, you take it for granted that he is a bond buyer and the sole owner of considerable real estate. Athletically speaking, this is nothing against a man, as none of them pitch with their stomachs."25
Hitt hurled a one-hit shutout against Portland on June 16, 1910 and twirled a no-hitter against San Francisco on July 19, 1914. Though not known for his hitting, on October 18, 1913, he slugged two home runs and a double in a 7-2 victory at Sacramento. He turned down an offer from the Kansas City Packers of the Federal League in 1914 to remain near his home in southern California.26
Sidelined by a knee injury in May 1915, Hitt could pitch "only" 258⅓ innings during the 1915 PCL season. On September 17, he and the Vernon Tigers lost 7-0 to Stan Coveleski and the Portland Beavers, and the Herald said, "Hitt's bad knee has handicapped him all season."27 On December 19, pitching for the San Diego Pantages in the California Winter League, Hitt was defeated 7-3 by Rube Foster's Chicago American Giants, a Negro team with three future Hall of Famers: Pete Hill, Pop Lloyd, and Cyclone Joe Williams.28
"Hitt is in the best condition of his career," reported the Herald on April 3, 1916. "He weighs only 180 pounds compared to the 196 pounds he has weighed during the last five seasons." Three weeks later he underwent an emergency operation for a ruptured appendix and was in critical condition at Fairmont Hospital in San Francisco. After an extended hospital stay, he returned home to southern California in June.29 He was well enough to pitch in relief for the Vernon Tigers near the end of the 1916 season.
In February 1917, Hitt announced his retirement from professional baseball at the age of 32.30 He had pitched more than 3,000 innings and won more than 200 games in his career. He became a wholesale meat salesman for the Wilson Packing Company of Los Angeles, a job he kept for decades.31 On February 8, 1956, Hitt died in Pomona, California, at the age of 71.
Notes
Born
June 22, 1884 at Carleton, NE (USA)
Died
February 8, 1956 at Pomona, CA (USA)
If you can help us improve this player's biography, contact us.
http://sabr.org/sites/default/files/images/HittRoy.jpg
600
800
admin
/wp-content/uploads/2020/02/sabr_logo.png
admin
2016-01-13 20:41:18
2016-01-13 20:41:18
Roy Hitt