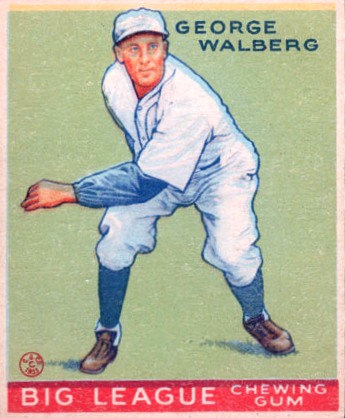 ---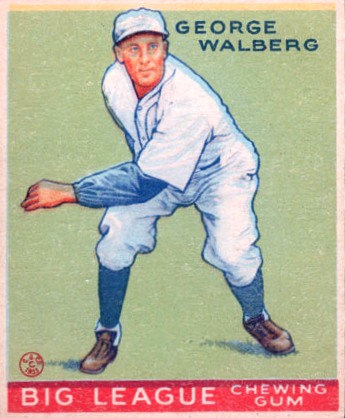 Rube Walberg was "discovered" throwing chunks of coal at fence posts at his brother's coal yard in Seattle, Washington, according to Walberg's son, George Jr. He was throwing those chunks with great velocity and accuracy. He was 25 years old at the time. Fewer than two years later he was in the major leagues.
George Elvin Walberg was born on the family farm near Pine City, in east-central Minnesota, about 50 miles north of Minneapolis and St. Paul, on July 27, 1896. There have been reports that Walberg was born in the state of Washington, but George Jr. said he was certain that the Pine City birthplace is correct. Rube was the son of Swedish immigrants Samuel and Anna (Bergfelt) Walberg. There were 12 children in the family, six boys and six girls. Walberg's father died in 1904, and George left school after the eighth grade to help support the family. He did farm work and eventually became foreman of a wheat harvesting crew. Shortly before the end of World War I, he joined the United States Coast Guard.
Walberg went to Washington in 1921 to help at the coal yard owned by his brother. He had played a little ball here and there as time allowed. He played for a couple of teams in the Seattle area, pitching well enough to be asked to join a group of players for a trip to Japan. There they played college and town teams. Walberg was undefeated during the tour. Back home, he was offered a contract by the Portland Beavers of the Pacific Coast League for the 1922 season. He did pretty well at Portland, pitching a total of 209 innings while compiling a record of 9 wins and 13 losses. While at Portland he also met his future wife, Estelle Cunnington. They were married in 1923.
The New York Giants bought Walberg's contract, and he reported to spring training before the start of the 1923 season. Things didn't click with the Giants, and, after pitching in only two games for New York with no wins or losses, Walberg was put on waivers by manager John McGraw. He was picked up immediately by the Philadelphia Athletics. After struggling through the 1923 season with the Athletics (4-8 won-lost record, 5.32 earned-run average [ERA]), Walberg was sent to Milwaukee of the American Association for the 1924 season. He pitched nearly the entire season there, recording 18 wins against 14 losses. He was called back to the Athletics late in the season and pitched in six games at the end of the season, with no wins or losses.
Philadelphia owner/manager Connie Mack must have liked Minnesota-born pitchers. He had Chief Bender (born in Crow Wing County) as one of his ace pitchers in the first decade of the 1900s. In 1950, after 50 years as a major-league manager, Mack indicated that if he had one big game to win, he would choose Chief Bender to be his pitcher. He also had Bullet Joe Bush (Gull River) and Byron Houck (Prosper) from Minnesota during the 1910s. Bush came back to the Athletics for a short time during the 1928 season.
Walberg became a mainstay on the Athletics' pitching staff during the 1925 season, appearing in 53 games, 20 of which were starts. During his career, he started and pitched in relief; of the 544 games in which he appeared, 306 were starts and 238 were out of the bullpen.
Walberg's son said that whenever the Athletics played the New York Yankees, manager Mack called on Rube to face Babe Ruth and Lou Gehrig in order to get the lefty-lefty matchups. Walberg often won these matchups, but he also gave up 17 home runs to Ruth, the most by any pitcher whom Ruth faced. He gave up 11 home runs to Gehrig. They were the only two players to hit more than 10 career home runs off Walberg, who surrendered only 163 home runs during his 15-year major-league career. Many years later, Ruth and George Jr. had a chance meeting that started with Ruth exclaiming, "There's the son of a big left-hander."
In addition to George Jr., born in 1924, Rube and Estelle had a daughter, Nancy Estelle, born in 1926. George Jr., an Air Force veteran of World War II, and Nancy both retired and moved to Arizona
Walberg had several fine seasons for the Athletics, starting in 1926, when he was 12-10 with a 2.80 ERA. He had one 20-win season, in 1931, one of three years (1929-1931) the Athletics played in the World Series during Walberg's career with them. They dominated the American League in those three years. In 1929 they finished 18 games ahead of the second-place Yankees; a year later they won by eight games over the Washington Senators, with the Yankees finishing 16 games back. In 1931 the Athletics finished 13½ games ahead of the second-place Yankees. Besides his 20-victory season, Walberg had four other seasons (1927, 1928, 1929, 1932) with at least 16 victories. He led the American League in innings pitched in 1931 with 291 innings.
Rube had 140 complete games in his big-league career with 15 shutouts. He pitched 2,644 innings in his major-league career, which extended to the age of 41. He won 155 games while losing 141. During World Series play, Walberg compiled a 1.93 ERA in 14 innings.
Scouting reports said Walberg had a superior fastball, an excellent curveball, and a very good changeup and just possibly might have thrown a spitball. The spitball era was over when he pitched, and it would have been an illegal pitch for him to throw. (One report doubted that Walberg threw a spitball because it was so easy to detect.)
After spending all or parts of 11 seasons with the Athletics, Walberg was traded, along with Lefty Grove and Max Bishop, to the Boston Red Sox on December 12, 1933. The trade reportedly was made because Connie Mack and his fellow owners were deeply in debt and needed to raise money to pay off several banks. During the same offseason, the Athletics sent catcher Mickey Cochrane to Detroit and pitcher George Earnshaw to the Chicago White Sox.
Walberg liked to play golf in his spare time, shooting about 80 or 85 for 18 holes. His favorite non-baseball activity was definitely hunting. He hunted often with teammate Mickey Cochrane. He made one trip with fellow players Bing Miller, Eddie Collins, Tris Speaker, and Cochrane, along with Red Sox owner Tom Yawkey and Dallas Kelsey of Detroit, to Wyoming. There they hunted big game, including antelope, elk, muledeer, brown bears, and grizzly bears. They also hunted ducks and geese and did some fly fishing. All did very well except for Cochrane, who wanted to shoot a grizzly bear but was unable to connect.
Another report had Walberg traveling to Canada for a hunting trip with fellow left-hander Earl Whitehill, who pitched for the Detroit Tigers, Washington Senators, Cleveland Indians, and Chicago Cubs.
The Washington Post reported that just after Walberg was traded to the Red Sox and Mickey Cochrane was traded to the Tigers, they went duck hunting in Maryland. Walberg had to wade in to save Cochrane when the boat Cochrane had taken out to retrieve a duck began to take on water.
Walberg finished his career with the Red Sox. He pitched there, mostly in relief, for four years, playing with Joe Cronin, Rick Ferrell, Wes Ferrell, Herb Pennock, and Bobby Doerr. His two managers were Bucky Harris and Cronin. All four of the managers he pitched for in the majors are in the Hall of Fame (McGraw and Mack being the others).
After retiring from baseball, Walberg and his wife owned a bar in Mt. Airy, a northern suburb of Philadelphia, for several years. He loved to reminisce with customers about the Athletics' glory days. Walberg also did some scouting for the Athletics. After selling the bar, the Walbergs moved to Miami, Florida, where their daughter worked for the Strategic Air Command. They lived there for several years until the humidity became a problem for Walberg. They moved to Mesa, Arizona, which was a better climate for Walberg. He died in Tempe, Arizona, on October 27, 1978. He was cremated, and for several years his ashes were interred at Royalton Memorial Cemetery, near his birthplace, close to Pine City, Minnesota. His wife, Estelle, died in Tempe on June 21, 2003, at the age of 100. After her death the family scattered Rube's and Estelle's ashes over Canyon Lake in Arizona. The lake had been one of their favorite places to spend time after they retired nearby.
Note
A version of this biography appeared in the book Minnesotans in Baseball, edited by Stew Thornley (Nodin, 2009).
Sources
Telephone interview with George Walberg Jr., February 2008.
Hunt, Greg. "The Baseball Legend of Rube Walberg," Isanti County News, Cambridge, Minnesota, July 27, 2005.
United Press. "Mickey Cochrane Saved by Walberg," in the Washington Post, December 16, 1933.
Herness, Glen. From Minnesota to the Major Leagues. Victoria: Trafford Publishing, 2005.
Rube Walberg file, National Baseball Hall of Fame.
http://www.baseball-reference.com.
http://www.wikipedia.com.
http://www.findagrave.com, biography by Frank Russo, November 20, 2006.
www.baseball-almanac.com.
SABR Home Run Log, http://www.sabr.org.
Born
July 27, 1896 at Pine City, MN (USA)
Died
October 27, 1978 at Tempe, AZ (USA)
If you can help us improve this player's biography, contact us.
http://bioproj.sabr.org/bp_ftp/images4/WalbergRube.jpg
600
800
admin
/wp-content/uploads/2020/02/sabr_logo.png
admin
2012-01-04 20:33:05
2012-01-04 20:33:05
Rube Walberg