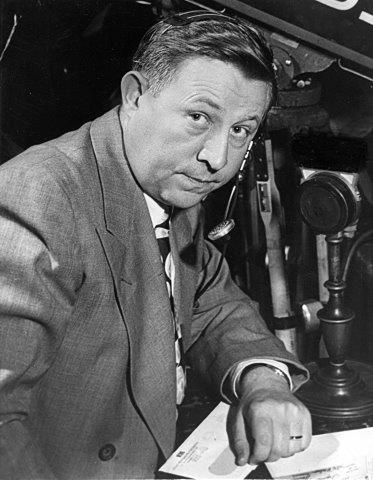 ---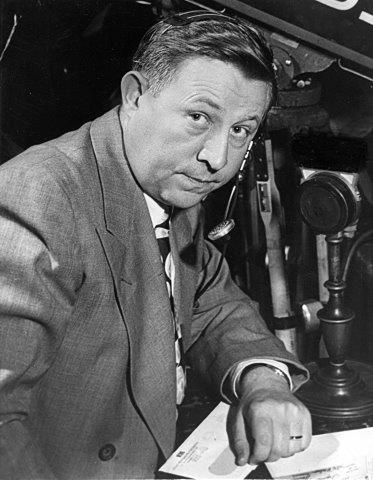 People of a certain age know where they were when the Japanese attacked Pearl Harbor, Franklin Roosevelt died, and Bobby Thomson swung. "The most famous sports moment of all time," Jon Miller termed Thomson's October 3, 1951, pennant-winning blast. We still recall The Shot Heard 'Round the World.
One reason is announcer Russ Hodges's legendary call on the radio broadcast of the game. Another: the New York Giants-Brooklyn Dodgers nonpareil rivalry. The two teams faced each other twenty-two times yearly, with radio and television broadcasts of the games coursing through New York City. On August 11, 1951, the Giants trailed the first-place Dodgers by 13 games. On Friday, September 28, they were tied for first. The next day each won.
After Sunday's regular-season finale, a 3–2 victory in Boston, the Giants rode back to New York by train. As Hodges wrote in his 1963 memoir, My Giants, he used the train telephone to call the Giants' office and monitored Brooklyn's fourteen-inning, 9-8 victory in Philadelphia. In the noisy train, Russ, developing a cold, was forced to shout to relay play-by-play to players. A day later the best-of-three National League playoff series began: "A world focused on our rivalry," said the Giants Voice.
New York won the opener at Ebbets Field, 3-1. On Tuesday they changed place (the Polo Grounds) and outcome (Dodgers, 10-0). That night Hodges stayed awake gargling. Worse, "To test my voice, I kept talking into an imaginary microphone at home," which hurt his throat. "I had trouble breathing, my nose was running, and I was sure I had a fever."
CBS-TV was televising the playoff series. It was the first coast-to-coast network sports telecast. Hodges and Ernie Harwell were alternating game-to-game as play-by-play men on TV and the Giants' flagship radio station, WMCA. Harwell had Game Three on TV, "feeling a little sorry for [Hodges]," he said later. "Ole' Russ [was] going to be stuck on the radio, there were five radio broadcasts [Mutual, Liberty, Giants, Dodgers, and re-created Brooklyn Dodgers Network] and I was gonna' be on . . . TV, and I thought that I had the plum assignment."
At 3:58 P.M., the Giants behind, 4-2, Thomson hit a ninth-inning, two-on, one-out home run off Ralph Branca. "Branca throws. There's a long drive!" Hodges cried on WMCA. "It's going to be, I believe . . . The Giants win the pennant! The Giants win the pennant! The Giants win the pennant! The Giants win the pennant! Bobby Thomson hits into the lower deck of the left-field stands. . . . The Giants win the pennant and they're going crazy! They are going crazy! Oh, oh!" Confetti flew. Brooklyn staggered to its clubhouse. "I don't believe it! I don't believe it! I do not believe it!" Russ continued. "Bobby Thomson hit a line drive into the lower deck of the left-field stands, and the whole place is going crazy! The Giants . . . won it by a score of 5 to 4, and they're picking Bobby Thomson up and carrying him off the field!"
Before videotape, to record a television program, a camera had to photograph a TV screen or monitor, a process called kinescope. "Kinescopes were bulky," said Harwell. "So CBS didn't save my call." Few even had a radio reel-to-reel recorder. In Brooklyn, Lawrence Goldberg, who did, had to leave for work, asking his mother, Sylvia, to hit record in the bottom of the ninth. Urban legend dubbed him a Dodgers fan, wanting to preserve their victory. In fact, Goldberg liked the Giants, and Russ used his borrowed copy to record a Christmas gift for friends.
That fall, Giants' sponsor Chesterfield cigarettes released a record of "the most exciting moment in baseball history," some later calling it revisionist, not real. One writer claimed Hodges stood on his chair for two minutes screaming "The Giants win the pennant!" Dodgers Voice Red Barber dubbed him "unprofessional," to which Russ's partner Lon Simmons (1958–1970) said, "He was dramatic, but gave the essentials: score, meaning, who won." Russ lived off The Shot till his death, the call gracing TV's M*A*S*H and film's The Godfather.
In 1980, Hodges received posthumously the Ford C. Frick Award for broadcast excellence from the National Baseball Hall of Fame, five years after being inducted into the National Association of Sportscasters and Sportswriters Hall of Fame.
"I know darned well I don't have a good radio voice," he had said. On the other hand, "I know sports well." A voting member ascribed Russ's choice to "the committee's New York tilt." Also helping: likability, the Miracle of Coogan's Bluff, and a full life before and after Thomson swung. TV rules today's culture. Radio ruled 1951's. "What did I get from being on TV?" Harwell laughed. Anonymity. "What did Russ get from radio? Immortality!"
Russell Pleasant Hodges was the second son born to Rufus and Maud (Dodd) Hodges on June 18, 1910, in Dayton, Tennessee. His dad was a Southern Railroad telegrapher, who moved his family almost every year. In 1929, Russ, a University of Kentucky sophomore, broke an ankle playing football. He became a spotter, and said a "few words on air. I got the bug bad." After law school at the University of Cincinnati, Russ passed the bar but never practiced. "In those days, lawyers were jumping out of windows."
In 1932, Hodges got a job as a Covington, Kentucky, hillbilly disc jockey. Soon he asked for a five-dollar raise. "Hodges," station manager L.B. Wilson said, "I can go down any alley, fire a shotgun, and hit thirty guys who are better than you." Russ then aired the Reds, the Cubs and White Sox, boxing, and Big Ten football, then Class-B Charlotte, using Morse Code received in studio – "B1O" ball one outside; "S2C" strike two called – to re-create what he never saw.
In 1942, Hodges joined Washington's Arch McDonald in broadcasting the Senators: "No flag, but finally I did games in person." By 1946 the Yankees' Mel Allen needed a No. 2 man. "I knew of Russ's law degree," Allen, a lawyer, said, "and Arch said he'd be great. Soon Russ and I almost read each other's mind." In 1946, the Yankees began broadcasting live each of their 154 games, and soon began home coverage on the DuMont Television Network – both a big-league first. "We had one staff, not today's three," said Allen. "Russ and I'd go down a ladder, do several TV innings, then breathe."
The partners tended to finish each other's thoughts. Their ad agency took advantage. "At inning's end I'd ask something," said Allen. "When next inning started, Russ'd answer. Love those spontaneous ad-libs." Mel changed one question, Hodges giving a scripted answer, "which made no sense, which was the idea," Allen said. The agency didn't know what to do with us." Wisely, it did nothing.
The two men also roomed together, Hodges finding Mel a mix of Oscar Madison and Felix Unger. Allen ate at odd hours, put pajamas on at 10 P.M., and could be, Russ said, "a bundle of nerves." Hodges was less intense, venerating, if not grasping, Mel. George Stirnweiss once popped up a 3-1 ninth-inning pitch, stranding the tying run. At 4:30 A.M., Russ awoke to groans in the next bed. "Mel, should I get a doctor? What's the matter?" he said. "I just can't forget about that 3-1 pitch to Stirnweiss," Allen said. "Don't you think he made a mistake swinging?"
In late 1948, Russ — Allen's "all-time favorite partner" —left the Yankees for the Giants. Hodges soon contacted Bell's palsy, paralyzing a side of his face. Recovering, he did NBC college football, the Kentucky Derby, CBS's Pabst Blue Ribbon Bouts, and other fights, saying, "I'm rather dull, not imaginative. I don't believe in keeping the listeners on the edge of their seats." "While Barber gave his listeners corn-fed philosophy and humor," Wells Twombly wrote, "and Allen told you more about baseball than you cared to know, Hodges of the Giants told it the way it was."
Russ swelled New York's Southern colony of Barber, from Mississippi, Allen, from near Birmingham, and Georgia's Harwell, the latter leaving the Dodgers in 1950 to join the Giants. Hodges was gradually escaping Allen's shadow, The Sporting News naming him 1950 Announcer of the Year. He had much more to announce in 1951.
For the 1951 World Series NBC-TV "put together a network [sixty-four stations, including one in Mexico]," said Russ. The Giants won two of the first three games. "We had 'em till Game Four was called," resting the Yankees' tired staff, which then won the Series. In 1954, the pennant-winning Giants drew 1,155,067 at home, but more people were watching the games on television. "The Polo Grounds was fraying. People around it were getting mugged," said Hodges. Still, the Giants swept the World Series over the heavily favored Cleveland Indians. Hodges witnessed another Miracle of Coogan's Bluff: Willie Mays's iconic catch of Vic Wertz's blast to deep center field.
In 1956, Russ hired Jim Woods, recently fired by the Yankees. "At a time like that, you need someone to reach down and save you," Woods said. "Russ did. No one will ever know the money he gave to charities and guys down on their luck."
Few could imagine the Giants or Dodgers leaving New York, especially Hodges, happy in his adopted city. The Giants needed only a new park to stay. Brooklyn had drawn a million people each year since 1945. Yet on May 28, 1957, the league approved the move of both teams to California. In August Giants owner Horace Stoneham said, "We're sorry to disappoint the kids of New York, but we didn't see many of their parents out there at the Polo Grounds in recent years." Bayed the World-Telegram: "It's Official: Giants to Frisco." (The Dodgers moved to L.A. on October 8) On September 29, 11,606 mourners braved a dreary adieu. "Giants Bow to Bucs in Polo Grounds Finale," said the Daily News. For Hodges, Moving Day had truly come.
On April 15, 1958, baseball's transplanted tag-team opened at the Giants' temporary 22,000-seat home, Russ wrongly calling it "the Polo Grounds, I mean Seals Stadium." Jim Woods had hoped to relocate with Hodges. Instead, the Giants chose Lon Simmons, a local who aired them through 1973, then returned in 1976-1978 and 1996-2002.
In 1958, the Giants finished over .500 for the first of fourteen straight years. By the next year the Bay Area had bought more than 600,000 transistor radios. "A restaurant – they'd have baseball on," said KSFO's Stu Smith. "With most games in the afternoon, it flooded offices, bars, cable cars." Russ and Lon quickly bonded, like two veins from a common mine. Simmons called Hodges "'The Fabulous Fat Man,' more fabulous than fat." Hodges did NBC Radio's second All-Star Game in 1959, and the first of two in 1961, played at the Giants new home, Candlestick Park.
The Giants played by day, "then Russ'd re-create the Dodgers at night on KSFO," later Giants Voice Jon Miller said. On September 30, 1962, Mays's last-day home run edged Houston, 2-1: "Mays hits one a long way! Tell it bye-bye baby! Mays put one into orbit!" Hodges then did Dodgers-Cardinals play-by-play for the crowd. St. Louis won, 1-0: "[Jim Gilliam] pops up to [Julian] Javier! We have a playoff!" The football 49ers played at Kezar Stadium, "the crowd going nuts hearing baseball on transistors," said Miller. "The football guys wonder what's going on." Ahead: another best-of-three playoff series.
After the teams split the first two games, four ninth-inning runs in Game Three gave the Giants a 6-4 pennant-winning victory. The 1962 Giants-Yankees World Series featured Russ on NBC-TV — his final appearance on network television.
In New York Stoneham had televised his entire home schedule. Out West he banned home TV: To see the Giants, fans had to pay. "Everything was fine," said Russ, "then it wasn't." The 1968 A's moved to Oakland, dividing the area. A football makeover destroyed Candlestick's baseball feel. Attendance fell to 519,987. Finally, in 2000 the team opened the grand Pacific Bell Park, near China Basin. In 2010, the Giants won their first world title since 1954. Miller emceed a City Hall salute to "the whole panorama" of the post-1957 team history, crying "Bye-bye baby!"
Hodges had retired after the 1970 season. "Next season Russ agreed to do Giants P.R. and baseball for me when I did the 49ers, but it wasn't the same," said Simmons. The chain-smoking Hodges died on April 19, 1971, at sixty, of a heart attack. He was survived by wife Gay, whom he married in 1962, son Pat, and daughter Judy. Mays wept: "Russ was like my big brother. I turned to him for everything." Autograph-seekers crashed the funeral, infuriating Jim Woods: "What a horrible thing for a man like Russ. He was the greatest human being I ever knew."
Hodges never equaled October 3, 1951, but no one else has, either. "Hartung down the line at third base, not taking any chances. Lockman with not too big of a lead at second, but he'll be running like the wind if Thomson hits one." Fate threw. Thomson hit one. The Giants won the pennant.
An updated version of this biography appeared in "The Team That Time Won't Forget: The 1951 New York Giants" (SABR, 2015), edited by Bill Nowlin and C. Paul Rogers III. It originally appeared in "Bridging Two Dynasties: The 1947 New York Yankees" (University of Nebraska Press, 2013), edited by Lyle Spatz.
Sources
Material on Russ Hodges' October 3, 1951, illness and Lawrence Goldberg's role in preserving Thomson's homer is found in Tim Wiles' "A Paper Trail to History," in the Hall of Fame's Opening Day 2011 Memories and Dreams issue. Other material, including quotes, is derived from Curt Smith's books Voices of The Game, Storied Stadiums, Voices of Summer, The Voice, Pull Up a Chair, and A Talk in the Park (in order: Simon & Schuster 1992, Carroll & Graf, 2001 and 2005, respectively, the Lyons Press, 2007; and Potomac Books, 2009 and 2011, respectively.)
Born
June 18, 1910 at Dayton, TN (US)
Died
April 19, 1971 at Mill Valley, CA (US)
If you can help us improve this player's biography, contact us.
http://sabr.org/sites/default/files/images/Hodges-Russ-NBHOF.jpg
600
800
admin
/wp-content/uploads/2020/02/sabr_logo.png
admin
2012-01-01 00:00:00
2012-01-01 00:00:00
Russ Hodges