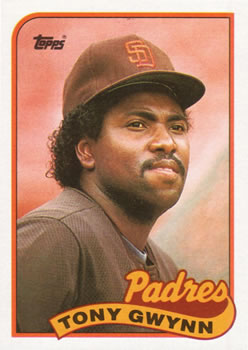 ---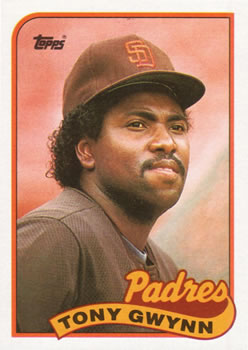 There has never been a sports icon linked to a city quite like Tony Gwynn is to San Diego. The eight-time batting champion went to college at San Diego State, spent his entire Hall of Fame career with the San Diego Padres then returned to his alma mater to become a collegiate baseball coach for 12 seasons. Gwynn's link to San Diego made him a larger-than-life icon, but meanwhile, his quiet personality balanced his play on the field, giving the city a home-grown legend who was engrained in the community.
Anthony Keith Gwynn was born May 9, 1960, in Los Angeles, the son of Charles and Vendella Gwynn. Charles was a warehouse manager and Vendella was a postal worker. Tony was the middle child between older brother Charles and younger brother Chris. The family moved to Long Beach when Tony was nine years old. To avoid breaking windows with baseballs, the brothers would use a fig off one of the trees in their yard or a homemade sockball for the ball. Growing up, the Gwynns were Dodger fans and Tony's favorite player was Willie Davis. But in the back yard, Tony and Chris would pretend to be the Cardinals and Pirates when they played "because they had all the left-handed hitters," Tony said.1
Tony attended Long Beach Poly High School in Long Beach, California, before attending San Diego State in 1977. He was a multi-sport star in high school and joined the Aztecs as a point guard on the basketball team, where he soon became a star. He was an all-conference player twice in the Western Athletic Conference and is still the only WAC athlete in history to earn all-conference honors in multiple sports. He holds the school record for assists in a game (18), a season (221) and a career (590).  
Gwynn didn't play baseball until his sophomore year, and he had an immediate impact. He led the team in hitting twice and was a two-time All-American in his three seasons. His junior season, Gwynn batted .423 with six home runs and 29 RBIs. As a senior, Gwynn batted. 416 with 11 home runs and 62 RBIs. Gwynn learned to balance both sports, even when he had to switch gears quickly. One of Gwynn's legendary feats came during his final season at San Diego State. On Saturday, March 7, 1981, he concluded the basketball season with a 16-point, 16-assist performance at home against New Mexico. Two days later (March 9), he was on the baseball field for a doubleheader against the University of Southern California. In that twin bill, he went 3-for-7 with a double, three runs scored, five RBI, and a stolen base. He recorded game-winning RBIs in both contests.2
Gwynn's success in both sports attracted plenty of interest from professional scouts in Major League Baseball and the National Basketball Association. In 1981, the San Diego Padres drafted him in the third round and the San Diego Clippers of the NBA in the 10th round — both franchises looking to capitalize on having a home-grown star.
Tony Gwynn met his wife Alicia in elementary school. The two dated in high school and attended San Diego State together. Alicia was a member of the track and field team. The couple got married right after the draft, and Tony decided to sign with the Padres. He immediately reported to Walla Walla of the Northwest League. In rookie ball, he batted .331 to earn league MVP honors before being called up to Double A. He spent the final three weeks of the season at Double-A Amarillo, Texas, where he hit .462 over 23 games. He began the 1982 season with the Triple-A Hawaii Islanders of the Pacific Coast League. He was hitting .328 in 93 games there when he got the call to come play with the big boys.
Gwynn made his major-league debut on July 19, 1982, against the Philadelphia Phillies. He went 2-for-4 with one RBI, and went on to appear in 53 more games in 1982 after his July callup. He had 209 plate appearances and batted .289 on the season. Astonishingly, this rookie year would be the only year of his career that he didn't bat .300. Gwynn was also a part-time player in 1983, hitting .309 in 86 games.
But Gwynn's fortunes—and those of his team —changed when Gwynn became a full-time player. He made his first of his 15 All-Star Games in 1984 and would also go on to win the first of his eight batting titles with a .351 batting average. He also led the National League in hits with 213. He began to showcase his speed once reaching base, stealing 33 bases. But more importantly, with Gwynn leading the team's surge, the San Diego Padres made the playoffs for the first time in franchise history.
And their season wasn't yet over. The Padres faced the Chicago Cubs in the NLCS in 1984, and Gwynn continued to hit. He batted .368, scoring six runs and driving in three as the Padres erased a 2-0 deficit to win the final three games of the five-game series—yet another chapter in the Cubs' seemingly endless futile quest for a championship.
Unfortunately for the Friars, despite their thrilling victory over the Cubs, and their first World Series appearance, they had to play the American League monster Detroit Tigers. The Padres were no match for them. Detroit, which had opened the year 35-5 and cruised to the pennant easily dispatched the upstart Padres in five games. The Series featured the first of Kirk Gibson's pair of famous World Series home runs clinching the final-game win with a blast off of Hall of Fame closer Goose Gossage, who didn't want to walk Gibson. Gwynn batted .263 in the Series with five hits and one run scored.
The Padres' right fielder followed up his stellar 1984 season with another strong one in 1985. Gwynn batted .317 with 197 hits and 90 runs scored. It was just a taste of what the rest of the 1980s would look like. Gwynn batted .329 with a league-leading 211 hits and 107 runs in 1986, proving he was an all-around star by winning his first of five Gold Glove awards as the best fielder at his position. He then soared to a .370 mark to win his second batting title in 1987, also leading the league with 218 hits, scoring 119 runs and stealing a career-high 56 bases. It was the first of three consecutive batting titles. In 1988 he won with a .313 average, earning his 1,000th career hit against Nolan Ryan on April 22 in Houston, then followed with a .336 mark in 1989, also leading the NL with 203 hits.
Gwynn was rapidly becoming one of the greatest hitters in the history of baseball. While talent played a big role in his success, Gwynn put in the work to master his craft. "I am a natural hitter, but I have to work hard to keep it." He did so with countless hours in the batting cages and on the tee, sharpening his hand-eye coordination. But what set Gwynn apart was the way he studied hitting. He became one of the first players to accumulate and watch video of himself and of opposing pitchers during games. He was known to take multiple VCRs on road trips, taping the game on one and taping his at bats on the other, then studying them in his hotel room afterwards.3
Gwynn also perfected the art of hitting the ball the other way, shooting many of his hits between the third baseman and shortstop, something most left-handed hitters don't regularly do. "One of the reasons I get so many hits that way, is because it's hard to read the ball off my bat. My hands come through the zone first, and the barrel trails and it kind of hides the ball from the fielder until I've already hit it. They don't see the ball hit the bat. They just see the ball off the bat. By the time they react, they can't get to it."4
After three batting titles in a row, Gwynn almost amazingly didn't win another for four years. He still managed to average .324 with an OPS+ of 124 from 1990-93, the year he collected his 2,000th career hit at home off of Colorado's Bruce Ruffin on August 6.
Then came 1994, when amidst Gwynn's best season yet a labor strike by the Major League Players Union heartbreakingly ended the season prematurely. Gwynn had been flirting with the .400 mark for much of the season and would have been the first player since Ted Williams, before the US entered World War II, to bat .400 had he maintained his torrid pace. When the strike occurred he was hitting .394 with a league-leading 165 hits in 110 games. Gwynn of course was disappointed. "When you go through it in a strike year and they finally pulled the plug on the season," he said, "you get kicked to the curb like everyone else. I'd be lying if I didn't say I wanted to make a crack at .400."5
When after a rocky spring between players and owners big league baseball finally resumed in a slightly truncated 1995 season, Gwynn resumed his batting title monopoly for the next four consecutive seasons. He followed up his .394 in 1994 with similarly potent marks of .368, .353 and .372 in 1997, along with a career-high 119 RBIs and 220 hits, this last also leading the NL. In 1996, the Padres returned the playoffs, but lost the NLDS to the St. Louis Cardinals in in three games. Gwynne had a decent series—.308/.385/.692—but it wasn't the Padres' year.
That would come in 1998, even though for the first time he betrayed his age. The conventional performance measurements, .321/.364/.501 with an OPS+ of 133 were solid. But his WAR slipped to 1.5 from 4.3 the previous year. It was still one of the most special seasons for Gwynn. He batted .321, ninth highest in the NL, and led the Padres to the National League West division title and a spot for the franchise in the playoffs for the third time.
San Diego defeated Houston in four games in the NLDS (Gwynn sparked the Padres scoring the first run of the series after a hit) then knocked off the Atlanta Braves in six games to win the pennant and give Gwynn (who batted .200 in the Houston series and .231 against the Braves, but had two hits in the pennant-clinching game) and the Padres a second chance at a World Series title. But again, the Padres faced a juggernaut. The 1998 New York Yankees, one the greatest baseball teams ever, were in the midst of a 13-year stretch of straight playoff appearances that included four World Series Championships, and had no problem sweeping the Padres in the series. Despite winning in four games, the Yankees did have a problem getting Gwynn out. The crafty veteran batted .500 for the series with eight hits in 16 at-bats. He hit the only postseason home run of his career, drove in three runs, and scored twice. For many fans who missed Gwynn's first Fall Classic 14 years before, 1998 showcased the incredible abilities of a mostly unsung future Hall of Famer at Yankee Stadium and in front of record television audiences.
Gwynn's World Series finale was also the last real good-bye for him on the national stage. He would never play a full season again, playing 111 games in 1999, the season in which he passed the 3,000-career hit plateau. He got that seminal hit on August 6, 1999, at Montreal: a first-inning single to right-center off Dan Smith. First-base umpire Kerwin Danley had been one of Gwynn's college teammates, which added to the special moment. Only a single player achieved 3,000 or more hits in fewer at bats than Gwynn, Wade Boggs, and just one did it in fewer games, Roberto Clemente. (It should be noted that Boggs can make the same claim. Both he and Gwynn reached 3,000 in same number of games, 2,440.)
As his career wound down, Gwynn played just 36 games in 2000 and 71 the following season because of several injuries. He and fellow legend Cal Ripken Jr., who would both be retiring at the end of the season, were honored at the 2001 All-Star Game. Both had played their entire careers with one team, and both would be first-ballot Hall of Famers five years later.
The Hall of Fame was all but automatic for a 15-time All-Star, who was an NL starter in the Summer Classic a record 11 times, an eight-time batting champion—tying the NL record with Honus Wagner—and finished his career with a stunning slash line of .338/.388/.458 and an OPS+ of 132. In 2007 he was easily elected to the Hall of Fame on his first try with 97.6 percent of the vote by the BBWAA. Gwynne's was the eighth-highest voting percentage in Hall of Fame history.
The Hall of Fame was just the latest in a growing collection Gwynne was accumulating. In 1995, he was presented the Branch Rickey Award given to the top community activist in MLB as well as the inaugural Chairman's Award, given to the San Diego Padre who best exemplifies community spirit. He was inducted into the World Sports Humanitarian Hall of Fame in Boise, Idaho, in 1999.
Right after his retirement from major-league baseball, Gwynn became the head baseball coach at his alma mater, joining San Diego State in September of 2001, officially taking over the program for the 2002 season. He was named the Mountain West Conference Coach of the Year in his second season after leading the Aztecs to the league's regular-season title in 2004. In 2009, Gwynn led the Aztecs to a 43-21 record and its first trip to the NCAA regionals since 1991. In 2013, San Diego State returned to the NCAA regionals. Gwynn's coaching record was an even 363-363, and he developed future major leaguers like Stephen Strasburg and Justin Masterson.
Gwynn continued his devotion to community service in his hometown area after retirement from baseball. With his wife, Alicia, he established the Tony Gwynn Foundation to help fund many worthy organizations supporting children in need such as the Casa de Amparo, Neighborhood House, YMCA, and the Police Athletic League. For 14 years, he hosted the annual Tony Gwynn Celebrity Golf Classic to raise money for the foundation.6
Tony and Alicia had two children, Tony Gwynn Jr., who also played at San Diego State and then made it to the majors, and Anisha Nicole, who is a recording artist. Tony's brother Chris was also an All-American at San Diego State, playing for the 1984 U.S. Olympic team before joining his brother in the big leagues.
It was while he was coaching at San Diego State that health problems began cropping up for Gwynn, who at one point weighed more than 300 pounds. He had a tumor in his neck removed for the third time in 12 years in 2000. But the biggest issue stemmed from his career-long use of chewing tobacco. He was finally able to quit, but it was extremely difficult—and too late. The addiction took a toll on him as much as the effects. "I miss it every day," Gwynn said in 2011. "I screwed up. I made my mistakes. "I'm living with them. I was pretty messed up and I didn't even know it."7
After having two benign tumors removed, the third one turned out to be cancerous. "I just thought it was going to come back benign," Gwynn said. "And when it [didn't] your life kind of stops that day when he tells you that he found some cancer. I guess I wasn't surprised, but I was still stunned." Gwynn underwent radiation and chemotherapy for months for salivary gland cancer, and after years of treatment, he succumbed to the disease on June 16, 2014, at age 54.
Today an outsized statue of Gwynn, the "San Diego Legend," overlooks right field at Petco Park in the city. Gwynn's legacy was honored in two different ways at the 2016 All-Star Game, which was played there.
The first happened the day before the game when Chicago White Sox pitcher Chris Sale was selected as the American League starter. Sale talked about his own history with chewing tobacco and the impact Tony Gwynn's death had on him during a news conference: "He actually made a very big impact in my life. I chewed tobacco from 2007 until the day he passed away, I remember seeing thata nd just being so shocked. He was a larger-than-life person. He was an inspiration to the game for many, many people for a lot of different reasons. But I quit that day," Sale continued, "and I haven't touched it since. In a sense, I owe him a huge thank you for not only myself but for my family and, you know, hopefully I can maybe sway somebody in the right direction as well like he did for me."8
The other came just before the All-Star Game when Major League Baseball announced that the National League batting crown would be named after Gwynn. His wife Alicia and his children were on hand to accept the honor. "Tony is considered one of the greatest hitters in the history of the National League and there is no better place to honor him than in San Diego," MLB Commissioner Rob Manfred said in a news conference following the presentation.9 The entire crowd at Petco Park erupted into "To-ny, To-ny!" chants that moved many, including members of the Gwynn family, to tears.
Few players have ever received that sort of reaction, ovation, and emotion after their death. But few players have ever engrained themselves so much into a community, a team, and a sport like Tony Gwynn.
Sources
In addition to the sources cited in the Notes, the author also consulted Baseball-Reference.com, MLB.com, and the National Baseball Hall of Fame player file on Tony Gwynn.
Notes
1 "Tony Gwynn 19," http://www.goaztecs.com/sports/mbasebl/mtt/tony_gwynn_94674.html, accessed September 22, 2016.
2 Ibid.
3 Jill Lieber, "Gwynns Create A Terrific Team," USA Today, October 16, 1998,
4 Samantha Stevenson, "Tony Gwynn: A Portrait of the Scientist in the Batter's Box," New York Times, June 17, 1991.
5 Mark Newman and John Rawlings, "Man to Man," The Sporting News, July 28, 1997.
6 "Tony Gwynn 19."
7 Barry Bloom, "Gwynn taking fight with cancer a day at a time," April 4, 2011, MLB.com.
8 Associated Press, "Chris Sale Says Tony Gwynn's Death Caused Him to Quit Chewing Tobacco," Denver Post, July 11, 2016. https://www.denverpost.com/2016/07/11/sale-says-gwynns-death-caused-him-to-quit-chewing-tobacco/, accessed July 30, 2018.
9 Scott Boeck, "MLB Batting Titles Named After Tony Gwynn, Rod Carew, USA Today, July 12, 2016, https://www.usatoday.com/story/sports/mlb/2016/07/12/mlb-batting-titles-named-after-tony-gwynn-rod-carew/87013594/ accessed July 30, 2018.
Born
May 9, 1960 at Los Angeles, CA (USA)
Died
June 16, 2014 at Poway, CA (USA)
If you can help us improve this player's biography, contact us.
http://sabr.org/sites/default/files/GwynnTony.jpg
600
800
admin
/wp-content/uploads/2020/02/sabr_logo.png
admin
2016-12-05 13:43:14
2020-12-18 13:03:29
Tony Gwynn