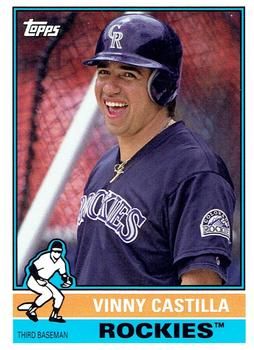 ---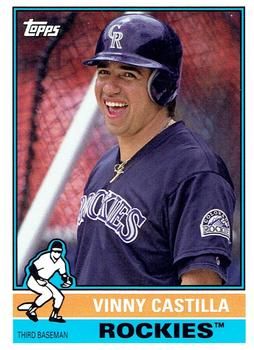 Fernando Valenzuela is probably the most famous Mexican-born player ever to compete in major-league baseball, but that distinction is closer than one might expect. Or at least there is a strong argument that Valenzuela deserves company atop the Mexican ballplayer hierarchy. Vinny Castilla ended his 16-year big-league career as the all-time leader among Mexican-born players in career home runs, RBIs, extra-base hits, and total bases.1
Vinicio "Vinny" (Soria) Castilla, born on July 4, 1967, in Oaxaca, Mexico, was a right-handed-hitting shortstop and third baseman who played for the Atlanta Braves, Colorado Rockies, Tampa Bay Devil Rays, Houston Astros, Washington Nationals, and San Diego Padres over his 16-year major-league career. He is primarily known for his time with the Rockies. The 6-foot-1, 175-pound infielder was a two-time All-Star and three-time Silver Slugger recipient.
Typically, athletes in Mexico are drawn to playing soccer rather than baseball, but Castilla cited his father's experience playing amateur baseball in Mexico as a driving force influencing him and his brother to choose baseball over soccer as their desired sport.2 In fact, most schools in the region did not even field baseball teams, and for boys like the Castillas who desired to play baseball, they would have to seek out leagues outside the school system.3
Growing up in Oaxaca, Castilla attended high school at Carlos Gracita Institute, and once he completed his education there, he attended Benito Suarez University, also in Oaxaca. Castilla was the first, and as of 2018 the only major-league baseball player to attend the university.4 (In fact, he and Geronimo Gil are the only Oaxacans to make it to the major leagues.5)
In 1987 the 19-year-old Castilla began playing for the Saltillo Saraperos in the Mexican League. He played in the Mexican League for three seasons, 2½ with Saltillo and half of the 1988 season with the Monclova Acereros. After his 1989 season with Saltillo, the Atlanta Braves purchased his contract from the Saraperos for $20,000, of which Castilla got $17,000. The Dodgers, Reds, and Pirates had also showed interest in Castilla. At the time, he was a skinny shortstop with a wild swing and an uncanny ability to hit a fastball. He was projected by most scouts to be no more than a utility infielder rather than the slugging third baseman most fans remember from the 1990s and 2000s. Castilla took the criticism in stride and sought to prove the naysayers wrong. "No one gave me a chance," he said. "When they told me I was nothing but a utility player, I said, 'Fine, I'll be the best utility player in the league.'"6
The Braves assigned Castilla to the Class-A Sumter (South Carolina) Braves for the 1990 season. In 93 South Atlantic League games he showed decent power, with 9 home runs and with 14 doubles. Castilla's defensive acumen was still developing and he made 23 errors. (He and seven teammates made the major leagues (Ryan Klesko, Tyler Houston, Melvin Nieves, Tony Tarasco, Eddie Perez, Ed Giovanola, Mark Wohlers), all with the Braves in the early to mid-1990s. Late in the season Castilla was promoted to the Greenville Braves (Double-A Southern Association), where his power tailed off a bit, but his errors subsided a bit as well.
On a personal level, the 1990 season was tough for Castilla. He was in a foreign country, away from his family, riding a bus from town to town, with the realization that this would be his life for the foreseeable future, even if he progressed quickly through the minors. Castilla had his doubts about pursuing his baseball dream and contemplated quitting and returning to Mexico. He was getting paid $800 a month in the United States versus the $2,000 a month he had made in Mexico. Castilla did not speak English well enough to order a burger from McDonald's, and he could not find any decent Mexican food in Sumter.7 Then a letter from his father reminded him of his abilities and that the Braves had signed him based on his abilities. "I thought, 'This is my dream. If I go back, it will never happen,'" Castilla said.8 He decided to stick it out and despite some struggles, he was able to sustain a successful major-league career.
Castilla began the 1991 season back in Greenville, where his offensive production was up from his previous season in Greenville, and his defensive production remained steady. He was not the highest-ranked prospect in Greenville, this honor going to Ryan Klesko, but Castilla did get promoted to the Triple-A Richmond Braves, while Klesko finished the season in Greenville. The The 23 pitchers who toiled for the squad all made it to the major leagues. Castilla's defense remained constant on defensive and he declined a bit on offense, but not enough to deter the Braves from calling him up at the end to season to receive his first taste of major-league action.
Castilla made his major-league debut on September 1, 1991, when he came into a home game at shortstop against the Philadelphia Phillies in the bottom of the ninth. His first at-bat came three days later in Montreal when he popped out to second in the ninth inning. Castilla's first start and first hit, a line-drive single, came against the Houston Astros on October 6, 1991, the last game of the regular season for the Braves.
Castilla opened the 1992 season back in Richmond, where he played until another late-season call-up. His home-run production fell off from 14 to 7 in nearly twice as many at-bats. Castilla's defense regressed; he made 31 errors. During his call-up he played third base as well as shortsop.
During the expansion draft after the season, the Braves left Castilla unprotected, and he was selected by the new Colorado Rockies. Years later he was philosophical about having been "cast aside" by the Braves: "It was a new opportunity. There weren't many chances for me to play in Atlanta."9
Castilla debuted for the Rockies at his natural position of shortstop in 1993, playing in 104 games while splitting time with Freddie Benavides. Reflecting on his career with the Rockies, he said many years later, "This team picked me in the expansion draft in 1992 and gave me my first real, honest opportunity to play at this level. I played for other organizations, but the purple stripes have always felt better on my body."10 But in his first season, Castilla still had not developed into the power hitter many Rockies fans remember him to be, and finished with just nine home runs and .686 OPS. (He did hit a career-best seven triples.)
That year was one of transformation for Castilla off the field as well. While purchasing a cell phone, he was enticed to sign a contract with the promise of a date with the salesperson's sister, Samantha Owen. Despite some reservations about dating a baseball player ("I said, 'He's a baseball player? I don't think so.' I had heard stories") the pair eventually did go out on a date, which led to more dates, and they were married the following year.11
Castilla opened the 1994 season as the recently signed free agent Walt Weiss's backup at shortstop, hoping to build upon his previous season and earn more playing time. He played sporadically during the first month of the season, and was sent down to the Triple-A Colorado Springs Sky Sox, where he received consistent playing time and much-needed at-bats. Castilla returned to the Rockies in a utility role, seeing playing time at all four infield positions. In his return to the majors, Castilla flourished, and he batted.331/.357/.500 in the strike-shortened season.
When the 1995 season began, Castilla became the starting third baseman, replacing the departed Charlie Hayes.12 The transition to third base did not intimidate Castilla; he felt that his time at shortstop would only help his ability to play third base. "If you can play shortstop, you can play any position in the infield," Castilla said later about his transition.13 Castilla flourished at third base and became a charter member of the Blake Street Bombers, the quintet of sluggers also including Ellis Burks, Dante Bichette, Larry Walker, and Andres Galarraga.14
The 1995 season was one to remember for Castilla and the Rockies. They earned the first-ever National League wild card after winning 77 games in the truncated season, finishing second in the National League West. Castilla earned his first of two All-Star Game selections, and first of three Silver Slugger Awards. The Rockies finished first in the National League in runs, hits, triples, home runs, batting average, and slugging, helped by Castilla's breakout season at the plate. He finished the season with an impressive slash line of .309/.347/.564, and 32 home runs, 34 doubles, and 90 RBIs. The Rockies lost to the Braves, three games to one, in the Division Series. Castilla performed well, batting .467 with three home runs and six RBIs. Castilla later cited the Rockies clinching a playoff berth in 1995 as his favorite baseball moment.15
Castilla was quick to thank Art Howe, the Rockies' hitting coach in 1995, for his emergence at the plate. "He really taught me a lot," Castilla said. "Before, I tried to pull everything; I'd hit either a home run to left or a weak ground ball to short. Art taught me to go the other way, and I learned how to hit for power to the opposite field."16
The 1995 season was the start of something special for the Rockies, and Castilla was a vital part of the impressive era of offense-minded baseball. "Man, I love the name Blake Street Bombers, it just sounds so good," he reflected during the celebrations of the 25th anniversary of the Rockies franchise. "That name stuck with the fans and the organization. I'm so proud that I was a part of it. What a great experience."17
After his strong 1995 season, Castilla continued his ascension to the top ranks of major-league third basemen. His 1996 and 1997 seasons were nearly identical,.304/.343/.548 in 1996 and .304/.356/.547 in 1997, with 40 home runs and 113 RBIs in each season. Despite those numbers, Castilla did not make an All-Star team either year, but he did take home his second Silver Slugger Award in 1997. Castilla's rise as a power hitter, whether fueled by the thin air of Denver or not, surprised talent evaluators in Atlanta. Chuck Lamar, assistant general manager of the Bravesin the early to mid-1990s, said, "No one in the organization predicted [Castilla] would ever hit more than 15 home runs."18 The uninspiring scouting reports for Castilla were not reserved for the Braves organization. One of his future managers, Clint Hurdle, predicted while managing the Triple-A Norfolk Tides, "Nothing special. … Might make it as a utility player."19
Castilla and his Samantha's first son, Vinicio Jr., was born on March 12, 1996.20
The 1998 season was Castilla's best as a professional. It was the only one in which he played in all 162 games, and he had career highs in hits (206), runs (108), home runs (46), RBIs (144), batting average (.319), on-base percentage (.362), and slugging percentage (.589), as well as his second All-Star Game appearance and his third Silver Slugger Award. Even with his impressive stats in 1998, the results for the Rockies were beginning to decline. The team didn't fare as well, and despite a string of great offensive seasons by Castilla and other Rockies, the 1995 Division Series was the team's only postseason appearance during Castilla's nine-year tenure with the Rockies.
The Rockies and San Diego Padres opened the 1999 league in Monterrey, Mexico, the first time an opener had been played outside the United States. Back in front of his countrymen, Castilla shined by going 4-for-5 and helping the Rockies win, 8-2. After the game, he said, "I tried my last two at-bats to hit a home run. It didn't happen, but I'm happy for the win."21
That season was solid in many ways for Castilla, but it did not compare to the results he had enjoyed from 1995 to 1998. His numbers declined in almost every meaningful statistical category, and the team lost more games than in the previous year. After the season, Castilla was traded by the Rockies to the Tampa Bay Devil Rays for Rolando Arrojo and Aaron Ledesma. After a lackluster performance in 2000, he was released on May 10, 2001. He was still a desired commodity. The Cubs and Astros both pursued his services, and Castilla chose the Astros, who planned to play him on a regular basis. "The Cubs didn't want me as an everyday player," Castilla said. Castilla performed well for the Astros, clubbing 23 home runs and driving in 82 runs for the NL Central champions. Castilla enjoyed his second trip to the playoffs, but this trip again ended in defeat by the Braves in the NLDS. On a happier note, he and Samantha welcomed their second son, Dalton Samuel, on November 22.22
Castilla was a free agent after the season and signed a two-year, $8 million contract to return to the Braves. On paper, this union did not make sense as the Braves already employed a perennial All-Star playing third base in Chipper Jones, but Jones willingly moved to left field to strengthen the team. Jones said, "We've gone out and gotten a top-notch third baseman and I'll move." The idea was that the value Castilla provided was in line with a top-tier outfielder at a fraction of the cost.23 And if Castilla had performed anywhere close to the way he had for the Rockies, or even for the Astros the previous season, the signing would have been beneficial for the Braves. Instead, Castilla managed only 12 home runs in a dismal 2002 season as well as his worst career slash line,.232/.268/.348. Castilla rebounded slightly in 2003, hitting 22 home runs and seeing improvements in virtually every offensive category.
But Castilla did have the chance to play in the postseason both seasons in Atlanta. Again, his team was unable to advance past the NLDS either time, and never again reached the postseason.
The 2004 season saw a reunion with the Rockies. It was preceded by the birth of Castilla's third son, Cristian, on February 20.24 His return to the Rockies apparently rejuvenated him, and along with 35 home runs, he had a league-leading 131 RBIs, even though the team's results were not that great. (They went 68-94.) It was as if Castilla was in the midst of his Blake Street Bombers Rockies teams once again. The offensive resurgence showed that Castilla still had some ability to hit a baseball, and earned him one more contract before he retired.
Castilla left the Rockies after the 2004 season, signing a free-agent contract with the Montreal Expos, who became the Washington Nationals a few weeks after he signed a two-year, $6.2 million contract. Castilla was the starting third baseman for the Nationals in 2005, but his production declined drastically from his 2004 renaissance. He finished the season with just 12 home runs and 66 RBIs. After the season, the Nationals traded Castilla to the San Diego Padres for Brian Lawrence and cash. The Padres released Castilla in July 2006, and the Rockies signed him for one last hurrah with the team. In his 15 games to close out the season, Castilla had only four hits. He was released after the season.
The 2006 season was not all disappointment for Castilla. He was elected the captain of Team Mexico in the inaugural World Baseball Classic in 2006. Team Mexico finished sixth in the tournament with a record of 3-3, and won Pool B by virtue of beating the United States head to head. Castilla cited his experience in the 2006 WBC as his impetus to stay involved with baseball as a manger and/or executive after retirement.25
Castilla announced his retirement in February 2007 after playing first base for Mexico in the Caribbean Series at Carolina, Puerto Rico. He retired as a hero to many players and fans in Mexico. "Vinny is a hero, there's no doubt about it," Mexican League manager Lorenzo Bundy said. "There's not going to be anybody that comes close to what he's done offensively."26 Castilla retired as the all-time leader among Mexican-born players in career home runs, RBIs, extra-base hits, and total bases.27 Castilla joined the Rockies' front office as a special assistant to GM Dan O'Dowd, a position he still held as of 2018 despite a 2014 change in general managers.28
In addition to his front-office duties, Castilla also managed the Mexican national team in the 2007 Pan American Games, held in Brazil. O'Dowd said managing would be "another great experience for him. And it's good for us, too, to expose him to that and for him to see players from around the world a little bit. He'll do some scouting for us and I think that only benefits us."29 Castilla also served as player-manager of the Hermosillo Naranjeros of the Mexican Pacific League from 2006 through 2010, and in 2008, it was announced that Castilla would be the manager for Team Mexico in the 2009 World Baseball Classic. "I like it. … I like it a lot," he said. "I love the game. It's my life … it's my passion. I want to be involved somehow with the game. I like managing. It's tough … it's not easy, but I enjoy it."30
In 2014, Castilla, along with Moises Alou, Bert Campaneris, Omar Moreno, and Ozzie Virgil Sr. was inducted into the Latino Hall of Fame.31 In 2016, he was one of six athletes, and the only major-league baseball player, inducted into the Colorado Sports Hall of Fame.32
Castilla's longevity with the Rockies has been viewed as an asset for the team, both by the players and the front office. He drew on his successful career in the majors, specifically his time in Colorado and playing at the high altitude of Coors Field, and his Latin heritage to relate to and encourage players. Singing his praises, All-Star third baseman Nolan Arenado said, "Vinny brings energy every day and he brings happiness, if you want to put it that way. When you are down, he's always there for you. He always brings positive energy to the ballpark. I've never seen Vinny down or bummed out. I mean, he's great at trash talking, but it's all in fun. He's awesome."33
Castilla also began to give back to the community as an advocate for organ donation34 and education.35
Last revised: March 1, 2018
This biography originally appeared in "Major League Baseball A Mile High: The First Quarter Century of the Colorado Rockies" (SABR, 2018), edited by Bill Nowlin and Paul T. Parker.
Notes
1 "Vinny Castilla," IMDB.com. https://imdb.com/name/nm1758753/bio?ref_=nm_ov_bio_sm.
2 Owen Perkins, "Q and A With Vinny Castilla," Rockies.com, September 16, 2006. https://colorado.rockies.mlb.com/news/print.jsp?ymd=20060916&content_id=1666489&vkey=news_col&fext=.jsp&c_id=col'
3 Matt Krupnick, "A Baseball Academy in a Talent-Poor Part of Mexico," New York Times, May 23, 2013.
4 According to baseball-refence.com.
5 Krupnick.
6 Gerry Callahan, "Vinny, Vidi, Vici He Doesn't Get the Ink of a McGwire or a Griffey, But in Only Four Seasons Vinny Castilla of Colorado Has Gone From Utilityman to the Man," Sports Illustrated, May 11, 1998.
7 Ibid.
8 Chris Bolin, "Vinny Castilla, Mark Jackson Discuss Their Pasts at Friends of Baseball's Breakfast of Champions," Greeley (Colorado) Tribune, January 28, 2018.
9 Irv Moss, "Vinny Castilla's Ability to Hit Fastball Helped Him Into Colorado Sports Hall of Fame," Denver Post, April 22, 2016.
10 Patrick Saunders, "Vinny Castilla's High-Octane Energy Still Driving Rockies After 25 years," Denver Post, May 13, 2017.
11 Mike Klis, "Trade Talk Impacts Wife, Too," Denver Post, August 1, 1999.
12 Tony Almeyda, "Braves Rewind: Whatever Happened to …Vinny Castilla?" TalkingChop.com, April 18, 2016. https://talkingchop.com/2016/4/18/11447772/braves-rewind-whatever-happened-to-vinny-castilla
13 Moss.
14 Patrick Saunders, "Blake Street Bombers Left Unforgettable Impression in Rockies' First 25 years," Denver Post, July 22, 2017.
15 Patrick Saunders, "2016 Inductees," Colorado Sports Hall of Fame, April 19, 2016. https://coloradosports.org/index.php/2016-04-19-23-18-38/item/330-vinny-castilla
16 Callahan.
17 "Blake Street Bombers Left Unforgettable Impression."
18 Jonathan Weeks, Latino Stars in Major League Baseball: From Bobby Abreu to Carlos Zambrano (Lanham, Maryland: Rowman & Littlefield, 2017), 228.
19 Callahan.
20 IMDB.com.
21 Associated Press, "Bichette and Castilla Spark Rockies in Opener in Mexico," New York Times, April 5, 1999.
22 IMDB.com.
23 Morris News Service, "Chipper to move to left field," Augusta Chronicle, December 10, 2001.
24 IMDB.com.
25 Perkins.
26 CBC Sports, "Vinny Castilla Retires, Joins Rockies Front Office," https://cbc.ca/sports/baseball/vinny-castilla-retires-joins-rockies-front-office-1.690370, February 7, 2007.
27 IMDB.com
28 CBC Sports.
29 Associated Press, "Vinny Castilla to Manage Mexican National Team," ESPN.com, February 28, 2007. https://espn.com/mlb/news/story?id=2783482
30 Bill Mitchell, "Castilla Mentors Mexican Prospects: Former 3B Managing in Winter Ball," Baseball America, December 16, 2008.
31 Thomas Harding, "Rox Will Be Represented by Castilla In HOF Classic: Former Player Set for First Trip to Cooperstown for Memorial Day Weekend Event," MLB.com, May 23, 2014. https://mlb.com/news/former-rockies-player-vinny-castilla-to-represent-club-in-hall-of-fame-classic/c-76501512.
32 Saunders, "2016 Inductees."
33 "Vinny Castilla's High-Octane Energy."
34 Brandon Rivera, "An Interview With Vinny Castilla," La Voz, April 29, 2015.
35 "Game Plan for Success," https://educatorsforhighstandards.org/game-plan-for-success/.
Born
July 4, 1967 at Oaxaca, Oaxaca (Mexico)
If you can help us improve this player's biography, contact us.
https://sabr.org/sites/default/files/vinny%20castilla.jpg
600
800
admin
/wp-content/uploads/2020/02/sabr_logo.png
admin
2018-02-20 11:25:50
2020-04-09 14:40:23
Vinny Castilla