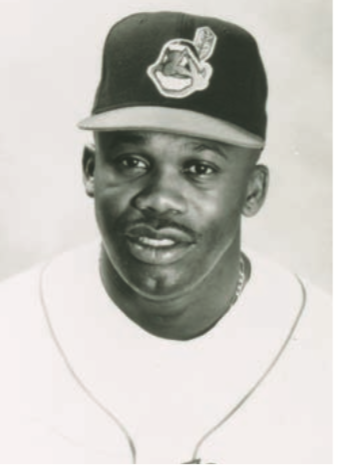 ---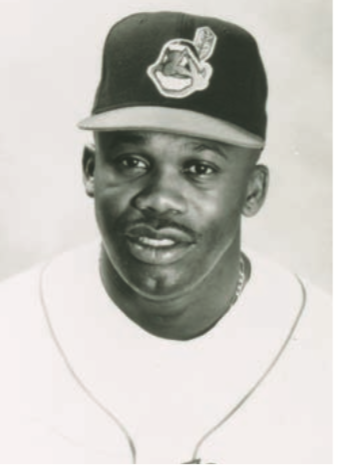 Most major-league players dream of doing something good on Opening Day.
On April 4, 1994, Wayne Kirby did something that was not just good. It was historic.
Teeing off on a 3-and-1 fastball from Seattle reliever Kevin King, Kirby christened the Cleveland Indians' sparkling new ballpark, Jacobs Field, in style. Stroking a game-winning single to left, the opposite field, in the 11th inning, Kirby capped a 4-3 comeback win.1
For Kirby, the dramatic moment remained a favored memory of his eight-year major-league career. It proved to be a prologue for the Indians' historic 1995 season, when they won their first American League Central Division title and reached the World Series for the first time in 41 seasons. Cleveland's come-from-behind win on that sun-soaked, chilly Monday afternoon at Jacobs Field proved pivotal in the Tribe's history since it came in a game dominated over the first seven innings by Mariners ace and future Hall of Famer Randy Johnson.
Locked in a mound duel with Indians ace Dennis Martinez, Johnson hurled seven hitless innings and owned a 2-0 lead before the Indians tied it in the eighth when Manny Ramirez pulled a two-run double to deep left.
That set the stage for Kirby, who had entered the game in the bottom of the 10th inning to run for Ramirez. Kirby took third on Jim Thome's double off King and scored on Omar Vizquel's groundout to tie the score at 3-3. In the decisive 11th inning, King surrendered a one-out double to Eddie Murray. Murray headed to third on Paul Sorrento's fly to center and King walked Sandy Alomar Jr. intentionally to get to Kirby.2
Kirby's dramatic walk-off single to score Murray stole the spotlight from President Bill Clinton, who had provided the pageantry by throwing out the ceremonial first pitch. It also proved a portent of things to come. Before opening Jacobs Field the Indians had called aging Municipal Stadium home. The Tribe and their fans had endured plenty of mistakes by the lake, but in 1995 fans at Jacobs saw the Tribe rally to win 51 times, 28 of those in their final at-bat. They swept 15 series, went 54-18 at home, won 100 games in a shortened season, boasted six .300 hitters in the starting lineup. and posted the lowest earned-run average (3.83) in the league.
Going to The Jake on game days, Kirby told Cleveland sportswriter Steve Eby, was awesome. Kirby would go on the field early and watch the seats fill up. He knew fans believed they were going to see a good team take the field, and they did. The '95 Indians did all the things necessary to win. For the Tribe, it was all about winning.3
Batting left-handed and throwing right-handed, the 5-11, 185-pound Kirby started 36 games in 1995 and appeared in 101 of the 144 regular-season games, the season starting later than usual because the players strike that canceled the end of the 1994 campaign also delayed the start of the 1995 campaign. Because of his speed and defensive skills, Kirby was used primarily as a pinch-runner or late-inning defensive replacement. He played solid defense when presented the opportunity, spending 236 innings in center field to spell Kenny Lofton, 141⅔ innings in right field and 2 innings in left field. He ranked fourth on the team in stolen bases with 10 in 13 attempts.4
Kirby had his shining moments at the plate and could deliver the big hit when called upon. On May 10 his pinch-hit single off Kansas City Royals closer Jeff Montgomery tied the score in the ninth inning in a game the Indians won; on June 30 he homered in the seventh to help beat Minnesota; and on August 20 against Milwaukee, Kirby drove in the go-ahead run with an eighth-inning single off Cincinnati Reds reliever Rob Dibble. In all, Kirby contributed six multihit games in his 36 starts. He added a couple of hits in the postseason as well, appearing in 11 games in October and starting Game 4 of the American League Championship Series against Seattle in place of the injured Albert Belle.
Kirby said during the 1995 season that the Indians believed they were never out of a game, that they could always come back to win. "We came back a lot," he told Eby. "It was a team effort. It was 25 men working together. We stuck together and it was a unity. We hit a ton of home runs, we played great defense and it was just fun. There was no score that we couldn't come back from."5
Comebacks, in baseball and in life, were something Kirby was familiar with.
Born on January 22, 1964, in Williamsburg, Virginia, Wayne Leonard Kirby attended Tabb High School in Tabb, Virginia. His brother Terry, younger by six years, played 10 seasons (1993-2002) in the National Football League as a running back for the San Francisco 49ers, Oakland Raiders, Miami Dolphins, and Cleveland Browns.6
Ever the teacher, Wayne helped prepare Terry for his football career. Wayne and his friends played a lot of sandlot football, baseball, and basketball when they were growing up, and even though Terry was big at age 5, older kids warned him he would get hurt if he played ball with them. When Terry replied that he didn't care if he got hurt, Wayne didn't take it easy on his brother. Wayne would go on to rush for more than 3,500 yards as a high-school running back, but his prowess on the field did not prevent young Terry from coming back for more on the sandlots.
Wayne and Terry played several sports and Wayne credited his parents with keeping them busy. Good grades in school allowed the brothers to participate in sports and they chose to play multiple sports to learn which one they excelled in. Gifted athletes, they excelled in all sports and eventually had to make a choice. Wayne chose baseball; Terry football, and Wayne helped coach his younger brother into becoming a record-setting running back in high school.7
Wayne was still teaching two decades later when he found himself the fourth outfielder on the 1995 Indians team that had young stars in Ramirez, Belle, and Lofton. All three were named to the American League All-Star team in 1995 and all owned strong personalities. His young protégés looked up to the 31-year-old Kirby because he was a seasoned veteran who had spent 12 seasons in professional baseball, most of them in the Los Angeles Dodgers organization.
Belle, Lofton and Ramirez would ask him questions: What are we supposed to do on this play? What do we do on that play? Kirby understood their line of questions because he knew that when players came out of the minor leagues early there was still a lot of baseball to understand.8
Because Kirby had spent so much time in the minors, he knew how to play the game. Graduating from Tabb High School, he entered the Newport News (Virginia) Apprentice School. He planned to become a mechanic if he did not succeed in baseball. But he was determined to not have his dreams die because he was outworked.9
As a minor leaguer in the Los Angeles organization, Kirby was a most artful Dodger. He was selected by the Dodgers in the 13th round of the January 1983 draft. Kirby played in 60 games in 1983 with the Gulf Coast League Dodgers, batting .292 with 13 RBIs and 23 stolen bases. The next season he spent time with three Dodgers farm teams, the Great Falls (Rookie League), Vero Beach, and Bakersfield (Class A). He hit a combined .281 in 119 games with one home run, 42 RBIs and 38 steals. He played the entire 1985 season with Vero Beach and batted .261 with 28 RBIs and 31 steals in 122 games.
Kirby was back with Vero Beach in 1986 and he hit two homers, drove in 31 runs and stole 28 bases in 114 games. In 1987 Kirby split time between Bakersfield and the San Antonio Dodgers, playing the bulk of his season (105 of his 129 games) for Bakersfield. He batted a combined .264 with one homer, 43 RBIs, and 62 stolen bases.
In 1988 Kirby again split time between Bakersfield and San Antonio, but this time most of his games (100 of 112) were with the latter. His numbers dropped to a batting average of .244 with 25 RBI and 35 steals. Kirby rebounded in 1989 by batting combined .302, driving in 37 runs, and stealing 40 bases in 122 games with San Antonio and the Triple-A Albuquerque Dukes. He stayed with Albuquerque in 1990 and hit .278 with 30 RBIs and 29 steals.
Kirby became a free agent after the 1990 season and signed with Cleveland. Playing for the Indians' Triple-A affiliate, the Colorado Springs Sky Sox, in 1991, Kirby hit .294 with one home run, 39 RBIs, and 29 steals in 118 games. He was called up in September and made his major-league debut on September 12, replacing Albert Belle in left field in the eighth inning. He got his first major-league hit on September 17 when he stroked an RBI double off Detroit's Walt Terrell at Municipal Stadium.
Kirby spent his second season in the Indians' organization with Colorado Springs, posting a .345 batting average with 11 homers, 74 RBIs, 51 steals, and 162 hits in 123 games. His totals were the best of his minor-league career. In September he got 21 plate appearances with the Indians. His three hits included his first major-league home run, a pinch-hit drive off Duane Ward at the SkyDome in Toronto on September 15.
Kirby made it to Cleveland just in time to be a part of the Indians' breakout success in the mid-1990s. He became an everyday outfielder in 1993. Kirby played in 131 games and led the American League in outfield assists with 19. He batted .269 with 60 RBIs and 17 stolen bases, and placed fourth in the American League Rookie of the Year voting. Still, he was placed in a reserve role for the 1994 season behind Ramirez, the young phenom who took over in right.10
After six seasons (1991-96) with Cleveland, Kirby's playing career came full circle when he returned to his Dodgers roots and was claimed off waivers by Los Angeles on June 24, 1996. He hit .245 in 111 games through 1997, signed a free-agent deal with the St. Louis Cardinals and was then traded to the New York Mets. Kirby closed his pro playing career after the Mets released him in mid-September of 1998.
Even while he was a player, Kirby was becoming a coach as well. His coaching career officially began in 2002 when became the hitting coach for the Burlington Indians of the Rookie Appalachian League. The following season he was the hitting coach of the low Class-A Lake County Captains in the South Atlantic League. In 2004 Kirby moved to the Kinston Indians of the high-A Carolina League as hitting coach, and in 2005 he moved up to Double A ball as hitting coach of the Akron Aeros of the Eastern League.11
From 2006 to 2010 Kirby was the minor league outfield and baserunning coordinator for the Texas Rangers and in 2011 joined the Baltimore Orioles as first-base coach, a position he still held as of 2018.
A student of baserunning and outfield play, Kirby was considered by the Orioles a jack-of-all-trades coach. Manager Buck Showalter called him a "blueprint for what a coach is supposed to be." Kirby learned the finer points of basestealing and bunting from Maury Wills; was taught the mechanics of the swing by hitting guru Charlie Manuel; and learned how to better drive the ball from Von Joshua.12
Kirby and his wife, Cara, settled in Las Vegas. They have two daughters, Caylee and Cabria, and a son, Cayden. They teach them about life, about what it takes to be successful.13
Kirby gets credit for helping kick-start the greatness of the 1995 Cleveland Indians. "I knew we had a great group of guys, hungry guys," Kirby told Eby. "We knew we could hit. (General manager) John Hart ended up getting the right pitchers for this team and we had the young guys coming. We knew it was special."14
Last revised: January 24, 2018
This biography was published in "1995 Cleveland Indians: The Sleeping Giant Awakes" (SABR, 2019), edited by Joseph Wancho.
Notes
1 Steve Eby, "Did the Tribe Win Last Night?" Countdown to Indians Opening Day 73: Catching Up With Wayne Kirby, January 22, 2016. didthetribewinlastnight.com/blog/2016/01/22/catching-up-with-wayne-kirby/. Accessed September 27, 2018.
2 Ibid.
3 Ibid.
4 Jason Lukehart, "Wayne Kirby Provided Speed and Defense Off the Bench," SB Nation. letsgotribe.com/2015/4/17/8442201/1995-cleveland-indians-wayne-kirby-news. Accessed September 27, 2018.
5 Eby.
6 Terry Kirby Stats, Pro Football-Reference.com.
7 Lukehart.
8 Eby.
9 Norm Wood, "Top Teacher," Newport News (Virginia) Daily Press, July 30, 2011: C1.
10 Ibid.
11 Wayne Kirby, Baltimore Orioles official website, m.mlb.com/bal/roster/coach/117114/wayne-kirby. Accessed September 27, 2018.
12 Wood: C5.
13 Rich Dubroff, "Everybody Loves Kirby," pressboxonline.com, May 15, 2017, forum.orioleshangout.com/forums/index.php?/topic/28761-cover-story-on-wayne-kirby/. Accessed September 27, 2018.
14 Eby.
Born
January 22, 1964 at Williamsburg, VA (USA)
If you can help us improve this player's biography, contact us.
https://sabr.org/sites/default/files/Screen%20Shot%202019-11-06%20at%201.45.05%20PM.png
600
800
admin
/wp-content/uploads/2020/02/sabr_logo.png
admin
2012-01-04 20:18:51
2012-01-04 20:18:51
Wayne Kirby