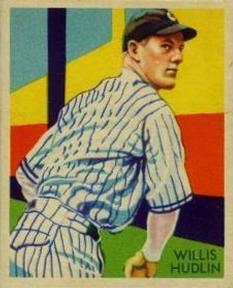 ---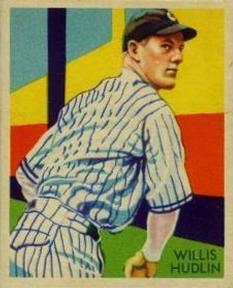 Winner of 158 major-league games, Willis Hudlin was a mainstay of the Cleveland Indians' pitching staff in the 1920s and 1930s. His best pitches were his fastball and sinker. He was later a team owner, manager, coach and scout, in a professional baseball career that lasted nearly 50 years.
George Willis Hudlin was born in Wagoner, Oklahoma, on May 23, 1906, the year before Oklahoma was granted statehood. Named after his father, George Marion Hudlin, he would be known by his middle name, the maiden name of his mother Ada. Willis and his eight siblings grew up on the family farm. "We raised cotton, corn, wheat, oats, and some cattle" and "used mules and horses to plow," he said. "I bet I followed those mules for a million miles." But what he wanted to do was play baseball. He aspired to be a pitcher, so he read training guides written by Christy Mathewson and Walter Johnson, and practiced at home with his brother Lee as his catcher. His boyhood idol was Boston Red Sox pitcher Babe Ruth.1
A standout athlete at Wagoner High School, Hudlin excelled in baseball, football, and basketball. He was a big right-handed pitcher, 6-feet tall and 180 pounds. Upon the recommendation of scout Don Curtis, the Waco Cubs of the Texas League signed him at age 19. On April 21, 1926, Hudlin fired a one-hit shutout at Houston, and two weeks later he delivered a six-hit shutout at Fort Worth. Jake Atz, manager of the Fort Worth team, said Hudlin was the best young prospect he had ever seen. The Cleveland Indians, represented by scout Cy Slapnicka, acquired Hudlin by outbidding the New York Yankees and Cincinnati Reds. The Indians gave $25,000 and two players for him, at the time the highest price ever paid for a Texas League player.2
Hudlin arrived in Cleveland in August of 1926, and "the Oklahoma boy" pitched to the Indians in batting practice. The great Tris Speaker, the Indians' player-manager, was immediately impressed. "The first time I hit against Hudlin in batting practice, I realized Cleveland had picked a jewel," said Speaker. "He had me, as well as the other regulars on the club, waving a bat at his fastball."3
In the first game of a doubleheader on August 15, Hudlin made his major-league debut against the St. Louis Browns in front of more than 20,000 fans at Cleveland's Dunn Field. The Browns' Jimmy Austin, "the fog horn of baseball, was going in full blast in the third-base coaching box," trying to rattle the youngster. Hudlin was nervous and wild, and was removed in the third inning after issuing his sixth walk.4 But subsequent outings went better. On August 31 he hurled seven scoreless innings against the Browns to earn his first major-league victory. Speaker called him "the best young pitching prospect that has broken into the American League in the last five years, possibly 10."5
Hudlin's 1927 season was a resounding success. Mixing a blazing fastball with a curveball and changeup, the 21-year-old Oklahoman compiled an 18-12 record and was one of the few bright spots on a sixth-place Cleveland team. He was the ace of the pitching staff and was nicknamed Ace. "He has everything – brains, nerve, speed and control," said Indians manager Jack McCallister, who had succeeded Speaker.6
Against the 1927 Yankees, one of the greatest teams of all time, Hudlin achieved a 4-2 record with a 2.79 ERA. In the first of these four victories, he allowed one run on five hits in 11⅓ innings on May 21 in Cleveland. His idol, Babe Ruth, doubled and scored the lone run. Many years later Hudlin said this was the most memorable game of his career. At one point the game was stopped and an announcement made that aviator Charles Lindbergh had landed in Paris, completing an unprecedented solo transatlantic flight.7
The next season Hudlin added a sinkerball to his repertoire8 and went 14-14 for the seventh-place Indians. He contributed seven saves, tied for second most in the major leagues.9 One save was earned in Washington on August 27. With the Indians leading the Senators, 5-3, he entered the game with two men on and none out in the bottom of the ninth. Facing two future Hall of Famers, he got Sam Rice to line out to the center fielder and Goose Goslin to hit into a game-ending double play.10
On July 25, 1928, WTAM became the first radio station to broadcast a Cleveland Indians game.11 Hudlin was fascinated by radio. He took a course in radio engineering, and he "builds sets, listens to them a while, then takes them apart and rebuilds them."12 He became a licensed ham-radio operator and a radio salesman.
A much-improved Cleveland squad finished in third place in 1929, and with a little more support Hudlin might have been a 20-game winner; his 17-15 mark included five losses by scores of 1-0, 2-1, and 3-2. His 3.34 ERA was the fifth best in the American League, and he led the major leagues in putouts and assists by a pitcher.
Hudlin was again the Yankees' nemesis, winning five of six decisions from them. The first of these victories came in Cleveland on May 13, 1929; "the youthful speed-baller" "held the greatest assemblage of sluggers in the history of baseball to six hits and beat them, 4 to 3," gushed the Cleveland Plain Dealer.13 The contest was historic in that it was the first major-league game in which both teams wore numbers on their uniforms.14
History was also made on August 11, 1929, when Babe Ruth slugged a Hudlin pitch for his 500th career home run. Yet Hudlin defeated the Yankees that day, 6-5, before a sellout crowd of 25,000 at League Park (Dunn Field renamed) in Cleveland.15 And on September 15, in the second game of a doubleheader at Yankee Stadium, he blanked the Yankees on three hits. The Yankees had been trying to trade for him since 1927 and made another trade offer after the 1929 season, but Indians general manager Billy Evans rejected it; he would trade Hudlin only for "the Grand Central terminal and a couple of the larger buildings on Wall Street."16 Perhaps after the stock market crashed in October of 1929, some buildings were available.
Historian Scott H. Longert chronicled the Depression-era Indians in his book No Money, No Beer, No Pennants. Despite the challenges of the time, the team performed well, typically finishing in third or fourth place in the American League. Hudlin compiled a 105-106 record in the 1930s with a 4.61 ERA, slightly worse than the league ERA of 4.58 during the decade. He was no longer the ace of the pitching staff, having been surpassed by Wes Ferrell, Mel Harder, Johnny Allen, and Bob Feller.
Hudlin's highlights of the decade included a one-hit shutout of the Red Sox in the second game of a doubleheader on June 23, 1931; a 14-inning masterpiece on July 16, 1933, in which he allowed five hits and beat the Red Sox, 2-1; a two-hit shutout of the White Sox in the second game of a doubleheader on May 30, 1935, before a crowd of 42,000 at Comiskey Park; and a brilliant, 15-inning shutout of the Philadelphia Athletics on August 24, 1935.
But in 1936 Hudlin had arm trouble and won only one game. He hung on for a few more seasons and was released by the Indians in May of 1940. He appeared briefly with the Washington Senators, New York Giants, and St. Louis Browns in 1940, and made one appearance with the Browns in 1944.
From 1941 to 1946 Hudlin pitched for the Little Rock Travelers of the Southern Association and was part-owner of the team. As manager in 1942, he led the Travelers to the pennant; he took "a bunch of misfits and erratic performers and made them click," wrote sportswriter Raymond Johnson.17 Hudlin managed the 1945 and 1946 Travelers, but both teams finished in last place.18 During the war years, he also served as an Army flight instructor.
Hudlin managed the Jackson (Mississippi) Senators from 1947 to 1950, and guided the team to the Southeastern League pennant in 1947.19 The team folded after the 1950 season, and he returned to Little Rock. Hudlin was the Travelers' assistant general manager and pitching coach in 1951, and the team's manager in 1952.20 He purchased the Greenville (Mississippi) franchise of the Cotton States League and moved it to Jackson for the 1953 season; he moved it back to Greenville and won a pennant there in 1954.21
The Greenville club was affiliated with the Detroit Tigers. Hudlin remained affiliated with the Tigers for several more years, as a scout and roving minor-league pitching coach in 1955 and 1956, and as the Tigers' major-league pitching coach from 1957 to 1959. H.G. Salsinger of the Detroit News called him "one of baseball's leading authorities on pitching" and said, "[T]here is no better instructor nor is there a keener judge" of pitching talent.22 One of the Tigers pitchers Hudlin mentored was future Hall-of-Famer Jim Bunning.
In the 1960s Hudlin worked in Little Rock as a building contractor, and he was a scout for the New York Yankees from 1960 to 1974.
Hudlin married Virginia Reuthinger of Parsons, Kansas, in 1927; the marriage ended in divorce six years later. In 1934 he married Elizabeth "Betty" McHewey of Pittsburgh, but that marriage ended in the 1940s. He married his third wife, Hilda Coen of Hazlehurst, Mississippi, in 1948; this marriage lasted 54 years, until his death.23 Hudlin died in Little Rock on August 5, 2002, at the age of 96, and was buried at the Hazlehurst City Cemetery.
On April 12, 2013, the ballpark in Wagoner, Oklahoma, was named Willis Hudlin Field. Hilda, his 93-year-old widow, attended the ceremony. "I think it's fantastic," she said. "Willis would've been proud."24
Notes
Born
May 23, 1906 at Wagoner, OK (USA)
Died
August 5, 2002 at Little Rock, AR (USA)
If you can help us improve this player's biography, contact us.
https://sabr.org/sites/default/files/HudlinWillis.jpg
600
800
admin
/wp-content/uploads/2020/02/sabr_logo.png
admin
2017-03-20 12:54:07
2021-09-24 07:50:36
Willis Hudlin