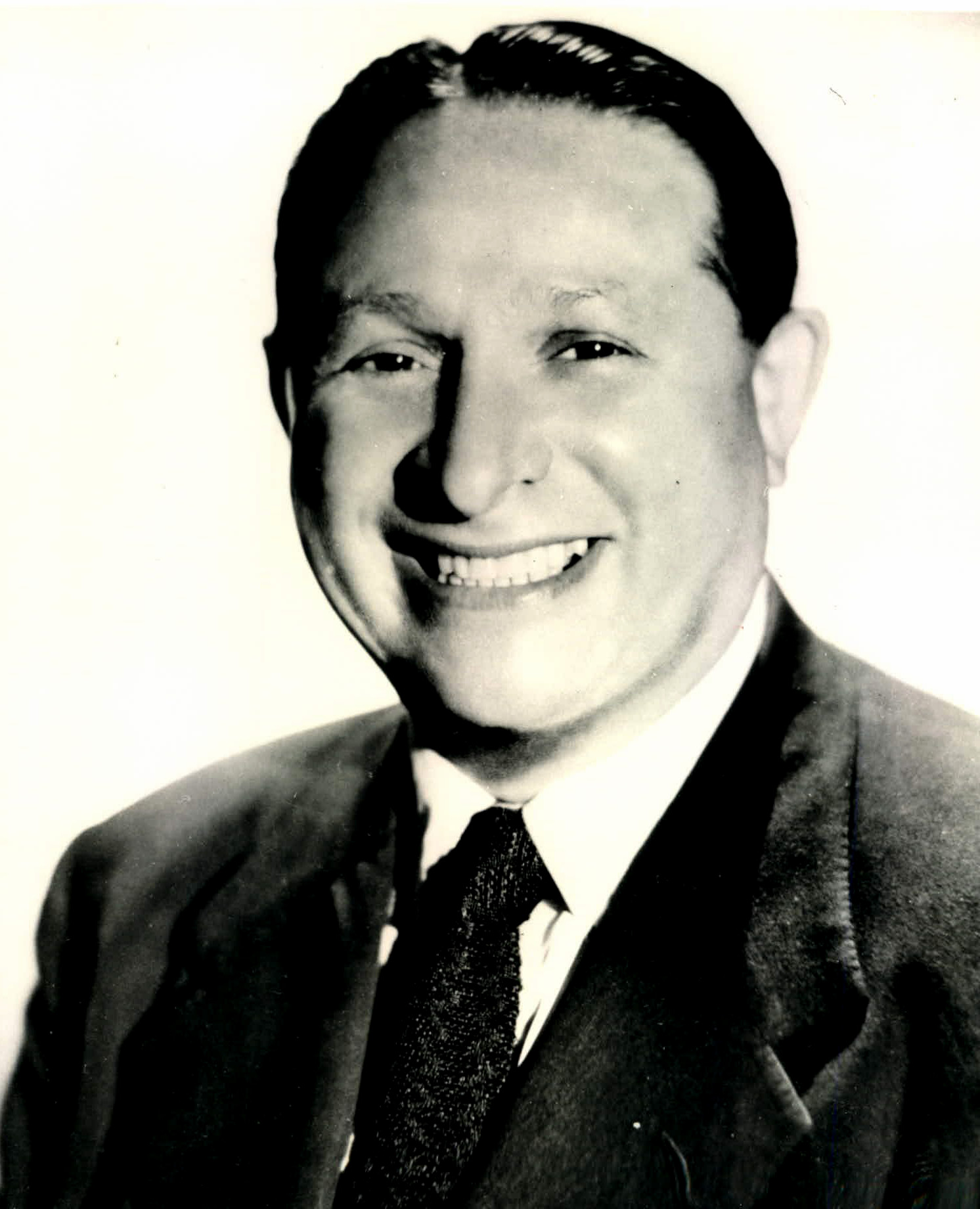 ---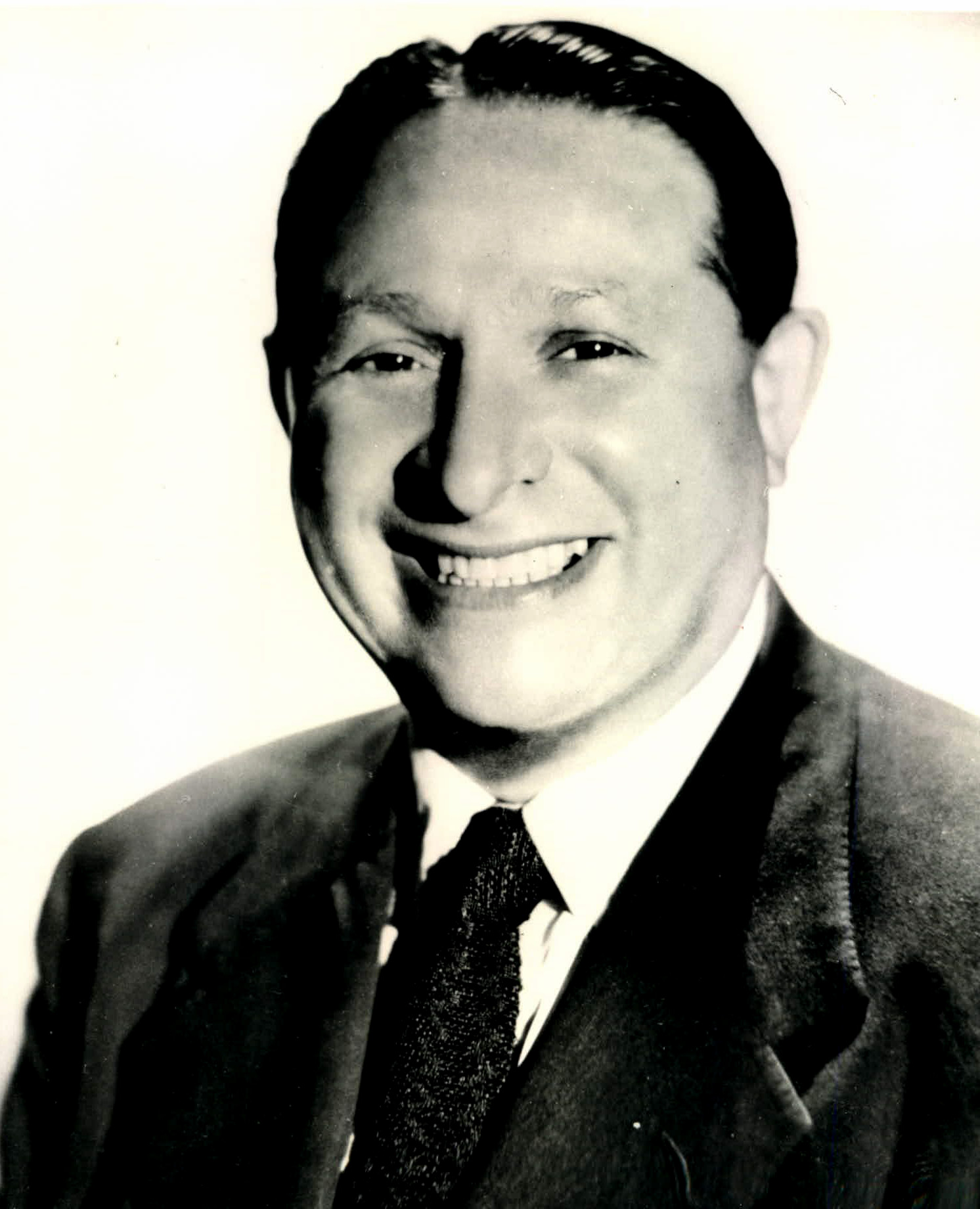 Some music is so well known that you can listen to it in a dark room and immediately associate it with an event. The tooting of a calliope immediately brings to mind the circus or a merry-go-round. "The Wedding March" lets passersby outside a church know that some guy's bachelorhood just bit the dust. And the whistling of "Sweet Georgia Brown" is a sure sign that the Harlem Globetrotters are in town performing their basketball wizardry and pasting the Washington Generals yet again.
The famous Globetrotters were founded in 1927 in Chicago by one 5-foot-5 Abe Saperstein, who not only founded the Clown Princes of Basketball, but also played a role much larger than his size in Negro League baseball.1
Abraham M. Saperstein was born on July 4, 1902, in London, England, as the eldest of eight children to Louis Saperstein, a tailor, and his wife, Anna. In 1907 Anna and the children arrived in a predominantly German and Irish neighborhood on Chicago's North Side to join up with Louis, who had moved there earlier to get established. Living in that area affected the direction he took in life.
"My dad and his family were the only Jewish family in the area that I'm aware of," said Abe's son Jerry. "I think that was a benefit because he constantly, I think, had to prove himself, try a little harder, work a little harder. And he did."2
Abe played baseball and basketball and ran track at Chicago's Lake View High School. But even as a teenager he displayed the gift for promotion that would mark his later career. "He was more or less a promoter and wanted to start a basketball team," recalled his sister Leah. "When he was in school, he worked for a Mr. Schiller, a florist, delivering flowers. When he started his first team, Abe approached Schiller with a promotional idea; if Schiller would sponsor the team, the team would advertise his business on the backs of their jerseys. Schiller agreed. Abe gathered five fellows, and they played basketball at various field houses."3
The exploits of Saperstein's Schiller-sponsored squad are unknown, but the experience gave Saperstein an idea of what he wanted to do in life. After one year of college at the University of Illinois, Saperstein quit and became a supervisor in the Chicago-area parks system. He went to work at a park on the city's South Side, where he saw gifted African-American athletes for the first time. "This was a revelation to him," said Jerry. "He felt that this is what he wanted to do, and what he wanted to do was assemble a great basketball team."4
In 1926 Saperstein met the members of a semipro team called the Savoy Five, a group of black basketball players whom the Savoy Hotel management had hired to play as a means of attracting young people to dance in the hotel's ballroom. That experiment lasted a month before the team was fired because they were not bringing in large enough crowds. But Saperstein offered to become the team's manager and had his father design uniforms for them with "New York" stitched on the front; he believed that it would be easier to book them for games if people thought they had come all the way from Manhattan to play.
The team was an on-court success from the start, winning 100 out of their first 105 games against local Midwest teams. Saperstein noticed that the people attending the games were more interested in his players' skin color than in their playing ability, because many of the people in the towns where they played had never seen an African-American before. To promote the fact that the players were black, and to impart the impression that they were much-traveled, Saperstein named them the Harlem Globetrotters. "When they arrived, they must have looked fairly exotic; there were not a lot of blacks west of Chicago in a lot of these smaller towns" said New York Times sports columnist George Vecsey. "Most white Americans never saw blacks."5
In addition to managing and coaching the team, Saperstein also served as chauffeur, driving his players to their games in his Model T Ford. His car did not have any heat, which made the traveling in the harsh conditions of Midwest winters even more uncomfortable. They played seven nights a week, often earning as little as $25, which Saperstein split rather unevenly. He gave one share to each of his five players and kept two for himself.
Whether fair or not, Saperstein at least provided his players with an income during the depths of the Depression. He also got to see firsthand the racism that his players were forced to endure, especially in the Jim Crow South, where "separate but equal" ruled the day. He had to find places for his players to eat and sleep; while some places had facilities for black people, not all did, and not just in the South. In one Nebraska town, for example, the players were forced to sleep in a jail.6
The Globetrotters played a different brand of basketball than all-white teams. Caucasian teams played rigidly, passing the ball around five times before shooting. Saperstein's men played a more freewheeling style, dunking the ball rather than relying solely on the set shot all the time. The team was much better than its opposition and often won by wide margins, so Saperstein began introducing some razzle-dazzle into their playing style. Fans laughed at the Globetrotters' trick passes and other antics, which made the games more entertaining and increased the team's popularity. This was especially important when white fans were watching their teams losing by a wide margin to a team of black players. "It was one thing to play a black team. … It was another thing to get your tail whipped," said sportswriter Frank Deford. "If the Globetrotters could amuse people, [then] that got their foot in the door."7
Barnstorming was not the exclusive domain of the Globetrotters in the 1930s — it was not even unique to basketball. Baseball also had teams that traveled around the United States and Canada (the Globetrotters played in Canada as well) eking out livings playing against local squads. Over time, Saperstein developed into a top-flight promoter and built up many contacts in the media and among other promoters. He began working as a booking agent for an independent barnstorming baseball team that operated under different names, including the Miami Giants and the Miami Ethiopian Clowns.8 He became friends with a vaudeville promoter named Syd Pollock, who became part-owner of the Clowns in 1936 and sole owner in 1939.
By 1937, Saperstein looked to purchase a barnstorming team of his own. One such team was the Zulu Cannibal Giants, formed by former Negro Leagues pitcher Charlie Henry in 1934 in Louisville, Kentucky. The Giants played in grass skirts and had "African" names such as Wahoo, Taklooi, and Moki, and had some excellent players, including the legendary John "Buck" O'Neil, who played with the team in 1937. His name with the Giants was Limpopo.
Henry decided to sell the team that same year. Details are murky as to whom he sold it to, as it seems Saperstein was not the only buyer. Other purchasers included Pollock and a Kentucky Colonel named Charles B. Franklin. "In fact, history does not provide a complete list of those who contributed to the Charlie Henry retirement fund buying the Zulu Cannibal Giants," wrote Pollock's son Alan.9
Saperstein also became the booking agent for teams in the Negro American League when they barnstormed to supplement the money they made during their league schedules. He used his connections with these leagues and his access to the media to handle the publicity for the Negro Leagues' East-West All-Star Game. Roy Sparrow, an employee of Pittsburgh Crawfords owner and Negro National League President Gus Greenlee, came up with the idea for the East-West game and Greenlee organized it until 1939. Saperstein handled publicity for the event, and received 5 percent of the gate for his efforts until 1941.
Increasingly, Saperstein, Pollock, and other Jewish promoters and owners faced anti-Semitic hostility for their involvement in Negro League baseball. Effa Manley, co-owner of the Newark Eagles, "promised in 1941 that 'these Jews would be stopped in their tracks' if she or her husband were made [Negro National] league chairman … ."10
Many of the players, on the other hand, were pleased to be involved with Saperstein. Sug Cornelius "touted Abe Saperstein's publicity and administrative skills."11 Ted "Double Duty" Radcliffe gave Saperstein the highest praise, saying, "He was the greatest friend to the colored athlete of anybody I know today. He's the greatest man in the history of Negroes, for helping Negroes. He got 'em up."12
Saperstein's opponents tried unsuccessfully to stop him. At a meeting between the NNL and NAL owners on June 26, 1941, Alex Pompez, who owned the New York Cubans, and Homestead Grays owner Cum Posey opposed having Saperstein handle the publicity with the "white" media for the East-West Game because they felt he was a negative influence on Negro baseball. According to the Pittsburgh Courier, a major African-American newspaper of the time, "This contention was based on the fact that Saperstein was ridiculing Negro baseball, Negro players and the race in general by aiding in the booking of the E. Clowns, a group of colored players who travel over the U.S. with their faces painted to represent mythical natives of the African jungles."13
The criticism did not prevent Saperstein from increasing his involvement in Negro League baseball. He was heavily involved in promoting the Birmingham Black Barons of the NAL, a team he co-owned with Tom Hayes, a black funeral-home operator from Memphis, Tennessee. The two men worked well together, leading the Black Barons franchise through the greatest period in its history.
Saperstein's connections brought the Black Barons exposure they would not otherwise have enjoyed because he could get them to play in venues where Hayes could not. Saperstein was also able to gain publicity for the team beyond the black press in such newspapers as the Chicago Tribune, Cincinnati Enquirer, and New York Times.
"He'd book us where Tom Hayes couldn't get us booked," said Radcliffe. "He'd book us in those big four-team doubleheaders in Yankee Stadium. Every time the Yankees would leave, Birmingham would be in Yankee Stadium with twenty-five to thirty thousand people."14
Saperstein was also responsible for bringing Winfield Welch in to manage the team. Welch had been the road manager for the Globetrotters and was a one of Saperstein's trusted business associates. Under Welch the team won back-to-back NAL pennants, in 1943 and 1944. They won a third pennant under Piper Davis in 1948, but in all three seasons they lost the Negro League World Series to the NNL's Homestead Grays.
Saperstein's baseball activities complemented his operation of the Globetrotters. The team grew in popularity after Saperstein signed Reece "Goose" Tatum, whom he had discovered playing first base for the Black Barons in 1941. Tatum was as much a comedian as a ballplayer, performing such antics as kneeling in prayer before going up to bat and catching throws at first base behind his back.15 He devised comedy routines that became Globetrotters staples, was crowned the Clown Prince of Basketball, and played for the Globetrotters for 15 years.
In 1942 Saperstein and Pollack joined forces to create the Negro Major Baseball League of America (NMBLA) which included the Baltimore Black Sox, Boston Royal Giants, Chicago Brown Bombers, Cincinnati Ethiopian Clowns (Pollock's barnstorming team that was originally from Miami), Detroit Black Sox, and the Minneapolis-St. Paul Gophers. NNL Secretary Cum Posey roundly condemned the league's formation and Saperstein's role in it, via the Pittsburgh Courier, in which he had a regular column. "As we analyze it, we would first call it 'Abe' Saperstein's Protective Association," Posey wrote. "It [the new league] is a personal threat of Saperstein directed toward his former associates of the Negro American League. Saperstein realized he was on the way out of organized Negro baseball. He is out to keep control of the independent ball parks of the middle west."16
Courier columnist Wendell Smith did not attack Saperstein personally, but was critical of the new league:
"I have nothing against Mr. Saperstein in his baseball promotions. I know him and think he is sincere and honest. But I do object to the league he has organized and tried to peddle as one on par with the Negro American and National Leagues. Mr. Saperstein would have us believe that that the Negro Major League (sic) is something we should be proud of and anxious to support. Well, we're not proud of it, nor are we anxious to support it. And the same goes for Mr. Pollock's Ethiopian Clowns (alias Cincinnati Clowns.)"17
The NMBLA lasted only one season. Pollack wanted the stability of regularly scheduled games, so he moved his franchise over to the Negro American League for the 1943 season, dropping "Ethiopian" from the team's name because it was insulting to the black population. The club moved to Indianapolis in 1944.
Saperstein tried to forge another Negro major league on the Pacific Coast in 1946. On the surface, it seemed a promising idea. While the black population was relatively low prior to World War II, African-Americans had flocked to Seattle, Portland, and other Pacific cities to take up war jobs. Pacific Coast cities also had stadiums that could be used when Organized Baseball's Pacific Coast League teams were on the road. In addition to being league president, Saperstein owned the Seattle Steelheads. The Steelheads were originally the Cincinnati Crescents, one of Saperstein's barnstorming teams, and he moved the team to Seattle as one of the new league's six franchises. Track and field legend Jesse Owens owned the Portland Rose Buds. Other franchises included the Los Angeles White Sox, Oakland Larks, Fresno Tigers, and San Francisco Sea Lions.
Everything sounded good in theory, but when reality hit, it hit hard. Sources differ on how long the league lasted, but the teams played only 30 games of their 110-game schedule before the league folded because of poor attendance, a lack of financing, and difficulty in accessing ballparks. After the circuit's demise, Saperstein turned his club into a barnstorming team. He changed the squad's name back to the Cincinnati Crescents but later changed it to the Harlem Globetrotters, even though they originated even farther from Harlem than the basketball team did. Some players, such as Goose Tatum, played for both the basketball and baseball teams.
As for the Harlem Globetrotters basketball team, they were reaching new heights in popularity with the war's end. They were so well-known that Saperstein and Max Winter, general manager of the National Basketball League champion Minneapolis Lakers, met to arrange an exhibition game between the two clubs at the Chicago Stadium on February 19, 1948.18 More than 17,800 fans turned out for the contest, which the Globetrotters won 61-59 on a buzzer-beating basket by Ermer Robinson.19 That contest went a long way toward integrating the NBA, which drafted its first black players in 1950.
The integration of Organized Baseball had begun four years earlier, when the Brooklyn Dodgers assigned Jackie Robinson to their Montreal Royals farm club in the Triple-A International League. Robinson's success opened the floodgates for other black athletes to play in the major leagues. Saperstein saw integration as another business opportunity.
In fact, Saperstein came up with a new twist on an old venture. He had booked legendary Negro League and barnstorming pitcher Satchel Paige onto various teams for years. Their association went back to 1933, when Saperstein booked Paige to play with an integrated team in Bismarck, North Dakota. The Bismarck team was owned by Neil Churchill, who also owned a basketball team that had played against the Globetrotters. Saperstein also acted as booking agent for Paige when Bill Veeck bought his services for the Cleveland Indians in 1948. According to Neil Lanctot in his book, Negro League Baseball: The Rise and Ruin of a Black Institution, the transaction cost Veeck $30,000, including $5,000 for the Monarchs, $15,000 for Saperstein, and a $10,000 bonus for Paige.20
Paige wasn't the only player Veeck signed for Cleveland on Saperstein's recommendation. Others included first baseman Luke Easter, who averaged 29 home runs and 100 RBIs in three seasons with the Tribe, and infielder-outfielder Orestes "Minnie" Miñoso, who had a long and successful major-league career.
Saperstein participated in another first in 1952, when he negotiated baseball's first lend-lease program. He arranged for two black St. Louis Browns minor leaguers, third baseman John Britton Jr. and pitcher James Newberry, to be loaned to the Hankyu Braves of the Japanese Pacific League. The arrangement was historic; it marked the first time that American baseball players were loaned to a team outside of North America. It also signified the end of the American occupation of Japan after World War II.
While the integration of major-league baseball sounded the death knell for the Negro Leagues, the same was not the case for the Globetrotters basketball team. The same year that blacks began to play in the NBA, the Globetrotters finally lived up to their name, making their first overseas trip in May 1950; they played 73 games in nine European and North African countries over a three-month period. The trip was successful financially and diplomatically as well. "In addition to playing games, the teams [the Globetrotters and the squad that served as their opposition, the "American All-Stars"] also conducted basketball clinics and taught basic skills," wrote Damion Thomas. "The success of the trip was evident in the American consulate report that acknowledged "the unusually wide and deep impression of open friendship both inter-racially and inter-nationally" suggested by the Globetrotters' and American All-Stars' good sportsmanship."21
In the midst of the Cold War, Saperstein worked directly with the State Department to use the Globetrotters as a propaganda tool to demonstrate the superiority of the American way of life. During the team's 1951 World Tour, the American high commissioner in West Berlin, John J. McCloy, met with Saperstein after seeing the Globetrotters play in Frankfurt and asked him to have the team play in West Berlin. The game was played on August 22 at exactly the same time that Communist-controlled East Berlin was hosting a festival for two million young people that the State Department feared would incorporate anti-American propaganda into its activities.
The State Department saw the Globetrotters as a means by which to counter Communist assertions that about the poor treatment African-Americans suffered in the United States, and Saperstein was only too willing to comply. In a book (or propaganda piece, depending on one's perspective) about the team's 1952 World Tour by Dave Zinkoff, Saperstein wrote in the foreword, "The Communist argument is that the American Negro is exploited and held in bondage. The Globetrotters, without saying a word, refuted much of that by living at the best hotels and behaving in the manner of educated men."22
The NBA had struggled in its early years, but it was on better financial footing by the late 1950s. Saperstein applied for a franchise for Chicago but was refused.23 Instead, the league awarded one to a Chicago businessman named Dave Trager. This turn of events prompted Saperstein to start a new circuit, the American Basketball League, with eight franchises (including one in Chicago) and with Saperstein as commissioner. It was a sign of Saperstein's power in the world of professional basketball that it was his league's franchise and not the established NBA's new team that got to play in the city's cavernous and lucrative Chicago Stadium. He told Stadium owner Arthur Wirtz that the Globetrotters would not play there if the NBA team did. The Packers, as they became known, ended up in a venue called the International Amphitheatre near the Chicago Stockyards, which was hardly the best location.24 The ABL lasted only 1½ seasons; however, in that time, it introduced the wider free-throw lane in use today as well as the three-point shot. It also gave the American sports world future New York Yankees owner George Steinbrenner, whose Cleveland Pipers team won the league's only championship.
After the ABL's demise, Saperstein focused solely on the Globetrotters. The team continued to travel around the world, visiting 87 countries and logging more than 5 million miles. His last connection to baseball was including Paige in some of the team's comedy routines.
Saperstein died of a heart ailment on March 15, 1966, at age 63. By the time of his death, the Globetrotters had gone from traipsing around in an unheated Model T to appearing in front of royalty around the world. In terms of his baseball involvement, his connections brought black baseball teams to venues such as New York's Yankee Stadium and Chicago's Wrigley Field, where they might not otherwise have played. He was survived by his wife, Sylvia; son, Gerry; and daughter, Eloise.
This biography is included in "Bittersweet Goodbye: The Black Barons, the Grays, and the 1948 Negro League World Series" (SABR, 2017), edited by Frederick C. Bush and Bill Nowlin.
Sources
Special thanks to Raymond Doswell, Ed.D., VP/curator, Negro Leagues Baseball Museum, and Jack Anderson, SABR member, Montreal, Quebec.
In addition to the sources cited in the Notes, the author also consulted:
Afe.easia.columbia.edu.
Alpert, Rebecca T. Out of Left Field: Jews and Black Baseball (New York: Oxford University Press, 2011).
Baseballhall.org.
Chicago Tribune.
Heaphy, Leslie A. The Negro Leagues 1869-1960 (Jefferson, North Carolina, and London: McFarland & Company, 2003).
Hoophall.com.
Jewishsports.net.
Klima, John. Willie's Boys: The 1948 Birmingham Black Barons, the Last Negro World Series and the Making of a Baseball Legend (Hoboken: John Wiley & Sons, 2009).
Mohl, Raymond A. "Clowning Around: The Miami Ethiopian Clowns and Cultural Conflict in Black Baseball," Tequesta no. 62 (2002): 40-67.
McKenna, Brian. Alex Pompez. SABR BioProject: sabr.org/bioproj/person/acbbad4d.
Nelson, Murray R. Abe Saperstein and the American Basketball League 1960-1963: The Upstarts Who Shot for Three and Lost to the NBA (Jefferson, North Carolina, and London: McFarland& Company, 2013).
Milb.com.
Peterson, Robert. Only the Ball Was White: A History of Legendary Black Players and All-Black Professional Teams (New York: Oxford University Press, 1970).
St. Louis Post-Dispatch.
Thornley, Stew. Basketball's Original Dynasty: The History of the Lakers (Minneapolis: Nodin Press, 1989).
Tye, Larry. Satchel: The Life and Times of an American Legend (New York: Random House, 2009).
Wisconsin Jewish Chronicle.
Notes
Born
July 4, 1902 at , London (ENG)
Died
March 15, 1966 at Chicago, IL (US)
If you can help us improve this player's biography, contact us.
https://sabr.org/sites/default/files/Abe_Saperstein.jpeg
600
800
admin
/wp-content/uploads/2020/02/sabr_logo.png
admin
2015-12-18 12:00:13
2021-09-17 01:07:11
Abe Saperstein