I've seen a lot of powerful hitters in my time but for sheer ability to knock a ball great distances, I've never seen anybody better than Easter--and I'm not excepting Babe Ruth. - Del Baker [1]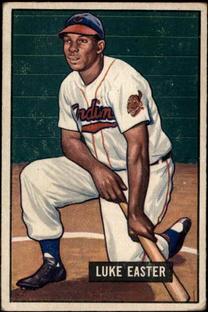 Luscious 'Luke' Easter was born August 4, 1915 at 8:15 PM in Jonestown, Mississippi. During his playing career and later in life, Easter would equivocate on his birth date. Indians general manager Hank Greenberg once said, "no one knows how old Luke really is. No one, that is, but Luke himself, and sometimes I'm not sure that he knows". [2] He first claimed to have been born August 4, 1921 in St. Louis, Missouri, then changed to the same date in 1913 and 1914. On August 17, 1963, during one of a series of Luke Easter Days at Rochester's Silver Stadium, Red Wings club president Morrie Silver offered Easter $10 for every year of his age, prompting Luke to announce that "my baseball age is 42, but my real age is 52", placing his birth in 1911 (and netting him $520). The 1915 date is substantiated by a birth certificate, census research and Easter's Social Security application, as well as an inscription in the Easter family Bible. [3]

Luke was the fifth of ten children born to James and Maude Easter. At the time of Luke's death in 1979, he still had six surviving siblings: brothers Robert, Julius (J.C.) and Wilbert, and sisters Minnie (married name Blanks), Ruby (Hayes), Izell (Tillis). [4] Two other siblings died young. His father, who had attended the Tuskegee Institute and who, like his son, cut an imposing figure at 6'1", 210 lb., was a farmer in Jonestown, a town of 400, but in 1919 the family relocated to St. Louis, where James' brother found him work shoveling sand in a glass factory. Maude died of tuberculosis in 1922, when Luke was seven. Luke attended St. Louis public schools, and went to the same high school as fellow Negro Leaguer Quincy Trouppe, three years his elder. Luke dropped out, however, after the ninth grade, and spent his time playing ball. J.C. Easter relates that he and Luke used to play with a broomstick and bottletops. [5]


Luke was powerful; the only dislike I had for him, whenever we played, he used to beat the owner out of his money while we were on the road... they played knock rummy. They used to cheat each other and Luke used to beat him. We prayed that we could get paid before Luke got to see [owner Cum] Posey. - Ray Brown [6]

Easter first took part in organized baseball in 1937, when he played outfield and first base and batted cleanup for the St. Louis Titanium Giants. The Giants were sponsored by the American Titanium Company. Easter and the other players worked for the company year-round, but were given time off to play ball. The St. Louis Stars had previously been the top black team in the city, having succeeded the St. Louis Giants in 1922, and they won three Negro National League championships between 1928 and 1931. After 1931, however, the league was dissolved, and the Stars with it. In their absence, the Titanium Giants had become an elite club, defeating six Negro American League teams in exhibitions in 1940 and regularly winning ninety percent of their games. Indeed, when an attempt was made in 1937 to re-establish the St. Louis Stars under different management in the new Negro American League, the experiment lasted only two years, largely due to competition with the Giants. Luke's teammates in St. Louis included Sam Jethroe, Jesse Askew and Herb Bracken. Askew once said that "Easter was unlucky in not getting an earlier shot at the Negro Leagues, primarily because he played poorly in exhibitions against teams like the Kansas City Monarchs." [7]

In 1941, Easter and several teammates were traveling in Jethroe's car to a road game. The car crashed, and Easter suffered a broken ankle. [8] This ended his 1941 season, and the Giants were disbanded the following year. Later in his career, Luke would deny having played baseball before 1946, claiming instead that he'd only played softball, a claim that some have labeled mythmaking.

By the beginning of 1942, World War II had broken out, and Easter, like many players, was drafted into the war effort. The National Archives and Records Administration lists him as being inducted on June 22, 1942, and stationing at Fort Leonard Wood, MO. He spent thirteen months in the army before being discharged on July 3, 1943 because of his ankle injury. [9] He later found work in a "war chemical plant" in Chicago in the summer of 1945. [10] At the end of 1945, with the war over, he spoke with 'Candy' Jim Taylor, manager of the Chicago American Giants. Taylor directed him to Abe Saperstein, who was a major baseball promoter before founding the Harlem Globetrotters. Saperstein was starting a new team, the Cincinnati Crescents, and he invited Easter to join it. [11] The Crescents did not succeed in gaining admission into the Negro American League, and instead spent the 1946 season barnstorming across the country, competing against many Negro League teams. Statistics are not widely available for the 1946 Crescents, but the March 30, 1949 Sporting News reported that Easter had batted .415 with 152 RBIs; it has also been said that Easter hit 74 home runs, although that number is not verified. He also hit one of his more famous home runs, a ball that reached the center field bleachers of the Polo Grounds in New York against the Cubans. As teammate Bob Thurman said, "he hit it halfway up the stands, about 500 feet. The thing about it--it was a line drive." [12]

As he was throughout his career, Easter was a fan favorite in Cincinnati, and in 1947, Easter was signed to the Homestead Grays for a reported $1100 a month [13], making him one of the highest paid players on the team. The Grays sought a replacement in the lineup and at the box office for Josh Gibson, who'd died of a stroke the previous winter. In fact, Buck O'Neil writes that "we [i.e. the Negro Leagues] wanted to get Luke away from the St. Louis Stars [sic] long before he went to the Grays, but he didn't want to leave home. He had a pretty good job there as a security guard." [14] The team already featured Hall of Fame slugger Buck Leonard; outfielder Bob Thurman, who would later play five seasons with the Cincinnati Reds; pitcher John 'Needle Nose' Wright, who later signed a minor league deal with the Brooklyn Dodgers; and Wilmer Fields, who pitched and played third base, and who won eight MVP awards in different leagues in his career. In 219 at-bats in 1947, Luke hit ten home runs and held a .311 batting average, while playing the outfield (since Leonard was at first base). The following year he recorded a batting average of .363, and his thirteen homers tied him with teammate Leonard for the league lead (Leonard also took home the batting title that season, with a .395 average). He also led the NNL with 62 RBIs. Most impressively, in only 58 games, the 6'4", 240 lb. Easter legged out a career-high eight triples, helping the Grays to a Negro League World Series championship. After the season, he was chosen to play in the 1948 East-West All-Star Game. The year 1948 also saw Luke's marriage to 24-year-old Virgil Lowe, a Cleveland native. Some sources claim that Virgil was his third wife, yet there is no reference to any other wives in any of the available documents. [15] He and Virgil would remain married until Luke's death, thirty-one years later.

Meanwhile, Easter had also been playing winter ball in Puerto Rico, Venezuela and Hawaii for the prior three years. [16] Statistics for these seasons are difficult to come by, but over three years playing for Mayagüez in Puerto Rico, he amassed 48 home runs, 145 RBIs and a .330 batting average, leading the league in home runs each season. [17] His best season was 1948-49, when he was named MVP, batting .402 as the team won the championship. Easter also later played for Hermosillo of the Mexican Pacific Coast League in 1954-55, leading the league with 20 homers [18], and for Caguas in Puerto Rico in the winters of 1955-56, leading the league in home runs at the age of 41 [19], and in 1956-57. [20]


He was awesome...I was amazed by his strength and power. - Frank Robinson [21]

Had Luke come up to the big leagues as a young man, there's no telling what numbers he would have had. - Al Rosen [22]

By 1949, major league baseball was slowly becoming integrated, and Bill Veeck signed Easter to a contract with the defending champion Cleveland Indians on February 19. [23] The Indians already featured Larry Doby, the first black player in the American League, as well as Satchel Paige. Easter, who had told Veeck that he was twenty-seven, was first assigned to Cleveland's Pacific Coast League affiliate in San Diego. He was only the second black player to appear in the PCL, but he assured San Diego president Bill Starr that "everybody likes me when I hit the ball". [24] That spring, however, he injured his right knee in an on-field collision, then had the same kneecap broken by a pitch. Despite the injury, he played on to packed crowds, with fans flocking to the park to see him hit. Researcher Rick Swaine claims that the average attendance in his first ten games was over 34,000; Goodrich reports, perhaps more realistically, that the total attendance of his first seventeen games, home and away, was a record 101,492. Some clubs were even obliged to sell standing room only tickets in the outfield when San Diego came to town. In one three game stand in Los Angeles, Easter hit six home runs, and fights broke out at the gates as fans clamored to watch him hit. Frank Finch, writing in The Sporting News, reported that the crowds to see him take batting practice were equaled only by those that turned out to see Stan Musial, Ted Williams and Ernie Lombardi. [25] On the field, however, Easter did have to deal with racial discrimination. Some suggested that the pitch which had broken his knee in the spring had been intentional, and in a game against Portland, pitcher Ad Liska threw at him repeatedly in a single at-bat, including two that sailed behind the batter. Easter responded in his next at-bat with a 450-foot shot to dead center that, apocryphally, narrowly missed Liska's head on its way out of the park. [26]

The Padres, also featuring former major leaguer Max West and future major leaguers Al Rosen and Minnie Minoso, ended up in the championship series for the year. By the end of June, however, the pain in Luke's broken right knee had become insurmountable, and the Indians had him undergo surgery. Only six weeks later, still hobbled, he would join the Indians, making his major league debut on August 11. According to The Sporting News, PCL owners estimated a loss of over $200,000 in revenue for the league after his departure [27], and the Indians were forced to part with the popular Allie Clark in order to make room for him on the roster. Easter became the eleventh black player in MLB history. Bob Feller was the winning pitcher that day as the Indians defeated the White Sox 6 to 5 in a game that lasted nearly four hours. Luke played in 21 games in 1949 and hit just .222 with no home runs. Bill Veeck, as he was wont to do, had created a great deal of publicity for Easter, and Cleveland fans did not take well to his early struggles. The Sporting News named him "the most booed player in the history of Cleveland Stadium." Tris Speaker pointed to the racial tension of the era, saying, "the poor guy came up under the worst possible conditions... [he] had nothing to do with the condition that made him the target of the boo birds." [28] Easter replied that "I hear them and I don't hear them...if I hit, they'll like me. If I don't hit, I don't deserve to be in the lineup".

Spring 1950 found Easter embroiled in a competition for the starting first base job with popular veteran Mickey Vernon. He performed well in spring training, leading the team with a .333 average and batting in fourteen runs. Perhaps his most memorable shot, however, was an out: in a game between the Indians and the Browns, St. Louis pitcher Ned Garver thrust his glove in the way of an Easter line drive and was knocked off his feet by its momentum. [29] Despite the strong spring, however, Vernon started the year at first, with Easter in the outfield. Still slowed from his knee surgery, Easter's struggles at the plate continued early on, as did the booing, until May 6, when he blasted his first home run, off of Allie Reynolds of the Yankees. He went on to post a .280 batting average that year, with 28 home runs and 107 RBIs. Particularly noteworthy was a 477-foot home run he hit into the second deck in right field at Municipal Stadium on June 23, 1950 off Joe Haynes of the Senators, said to be the longest ball ever hit there. [30] He also was able to finish the season playing first base, as Mickey Vernon was traded to Washington to accommodate him. And, as was inevitable, by the end of the year Easter had won over the hostile Cleveland crowds with his powerful swing and his endearing demeanor. He was a regular unannounced spectator at local sandlot games, and signed endless autographs for the children who came to watch him play. On the field, though, Luke's struggle for acceptance continued, as he led the league in HBP.

Again in 1951, Luke was injured early, this time tearing a tendon in his left knee, but despite missing 26 games on the season managed 27 home runs and 103 RBIs, both team highs. The year was also significant for Easter due to the replacement of manager Lou Boudreau with Al Lopez, who had little use for immobile infielders--or, according to researcher Rick Swaine, for black players in general. Luke, riddled with injuries and illness as well as deteriorating vision, started extremely poorly for the 1952 Indians, and was demoted to Triple-A Indianapolis after hitting just .208 through 63 appearances. In Indianapolis, however, Luke caught fire, hitting .340 with six home runs and 12 RBIs in only fifty at-bats. He was quickly brought back to Cleveland, and he stayed hot for the rest of the season, hitting 20 homers in the second half of the season. At the end of the year has was named the American League's Most Outstanding Player by The Sporting News. Hank Greenberg marveled, "his comeback is the most amazing thing I've ever seen. Six weeks ago...the snap in his swing was gone completely. They thought he'd never come back". [31]

Easter signed a contract for $20,000 at the beginning of the 1953 season and had high hopes of replicating his 1952 success. Unfortunately, he was struck by a pitch in the fourth game of the season, breaking a bone in his left foot. The injury hobbled him for the remainder of the season, and he was only able to appear in 68 games. He was released on October 1st, but was invited back to spring training the following year, when he was again slowed, this time by an infection in his toe. He had six pinch-hit at-bats for Cleveland before being optioned to the minor leagues when the club had to make its final roster cuts in early May. His final big-league appearance came on May 4. Easter was initially bitter at being demoted, but ended up playing very well. He played 56 games with the Padres and 66 with Ottawa, batting .348 in his time in Canada. Between Ottawa and San Diego he managed to hit 28 home runs, but was released by the Indians after the season.


When kids quit on me, I'll quit, too. - Luke Easter [32]

Buffalo fans have always worshipped their sport heroes, but few have ever attained the near mythical status accorded to Bisons great Luke Easter. - plaque in the Greater Buffalo Sports Hall of Fame

Despite his success in the majors, Luke Easter inarguably received his greatest acclaim and adulation as a minor leaguer. Just as he had in St. Louis, Cincinnati, San Diego and Cleveland, Easter became a local legend with his home run hitting and his likeable personality. He started with the Charleston (WV) Senators of the American Association, where he tied for third in the league in home runs with 30. The following year, Easter signed a $7,500 contract with the newly independent Buffalo Bisons of the International League. Buffalo had just declined to renew their contract with the Detroit Tigers and were struggling with community ownership. The signing of Easter, the first black player on the team since Frank Grant in 1888, was their first important acquisition, and he did not disappoint. [33] Although the 1956 Bisons finished 21 1/2 games out of first, Easter hit .306 and led the league with 35 homers and 106 RBIs. More importantly, he helped capture the city's interest for the game with countless public appearances, a crucial task for a community-owned team. [34] He played even better in 1957, hitting 40 home runs for the Bisons, who by this time had signed a player development contract with the Kansas City Athletics. Among those 40 home runs was one which has become perhaps the most famous of all of Big Luke's famous blasts, hit in Buffalo. Buffalo baseball historian Joe Overfeld tells the story in 100 Seasons of Buffalo Baseball [35]:
The explosion occurred on the evening of June 14, 1957. It was mild and windless, and there was a trace of haze in the air. In the fourth inning of the second game of the evening's double-header, Columbus left-hander Bob Kuzava delivered what he later called "a perfect pitch"--a knee-high fastball on the outside of the plate. Easter swung, timed the pitch perfectly and sent it soaring high and deep to center field. As the ball disappeared into the haze, there was a mighty roar from the crowd as many fans realized at once what had happened: Luke Easter had just become the first batter ever to hit a ball over the centerfield scoreboard. As Easter completed his lumbering home run trot, dead-pan all the way, the cheering and applause reached decibel levels never previously attained in the old park.

The center field fence at Buffalo's Offermann Stadium was 400 feet from home plate, and the scoreboard towered 60 feet in the air. The ball had traveled in an arc of approximately 550 feet. It concluded by crashing triumphantly through the window of Irene Luedke, who lived across the street from the stadium, and who "thought for sure someone had dropped an atom bomb on the roof". [36] After the game, Easter boldly predicted, "If my legs hold out, I'll do it again", and incredibly enough, he did, just two months later. Offermann Stadium saw its last game in 1960, and Easter went down in the history as the only man ever to clear that scoreboard--having accomplished it twice.

Luke played his third year with Buffalo in 1958, hitting 38 homers and driving in 109. After the season, however, the Bisons signed an agreement with the Philadelphia Phillies, who had important plans for prospect Francisco Herrera. Herrera, a big, right-handed first baseman, made Easter expendable. Several weeks into the 1959 season, on May 14, Easter was sold to the Rochester Red Wings for $100. [37] He responded by paying tribute to the fans of Buffalo, before making the 75 mile trip down the interstate to Rochester, where the last chapter of his baseball career was to play out.

In the remainder of the 1959 season, Luke managed to hit 22 home runs and drive in 76 runs. He followed with 14 home runs in 1960, 10 in 1961, 15 in 1962 and 6 in 1963, his last full season. By this point, Easter was practically immobile, although he would not suffer any further injuries after leaving the Indians in 1953. Even as his hitting faltered, however, he managed to become perhaps the most popular player in Red Wings history. Long-time Rochester writer George Beahon wrote, "foul weather or fair, he never denied an autograph. During those years, after I filed stories from the press box to the morning paper, I would see Luke still around the clubhouse or the parking lot, signing his name and making friends for the franchise." [38] Luke Easter Night in 1960 drew over 8,000 fans, who saw Luke receive "a color television set, fishing equipment, a $300 wrist watch with diamond numerals, a movie camera, luggage, and even a frozen turkey and five pounds of sausage." [39] In fact, Easter had started his own Luke Easter Sausage Company several years prior, and would regularly make gifts to his teammates in appreciation of strong performances.

Easter appeared in ten games as a pinch-hitter in 1964 before finally deciding to hang up his cleats, twenty-seven years after his debut with the St. Louis Titanium Giants and fifteen years after breaking into the majors as a 34-year-old rookie. He remained with Rochester for the remainder of the season as a coach; major leaguers Boog Powell, Curt Blefary and Pete Ward all credited Easter with helping in their development. [40] After the 1964 season, Luke moved back to Cleveland with his wife, Virgil. [41] Aside from a short coaching stint with the Indians in 1969, necessary to qualify for pension benefits, he would never work in baseball again. [42]


Even after he stopped playing, he would dream about baseball, and he'd be shaking, shaking shaking. I'd say, 'Luke, what's wrong?' He'd say, 'Nothin', I was just runnin'.' I could always tell when it was spring training because that's where Luke's dreams were. - Virgil Easter [43]

After returning to Cleveland, Luke immediately set to work again, though no longer in baseball. Former Negro Leaguer Frazier Robinson, in his autobiography, writes about having often gone to a cafe that Luke had opened in Cleveland called The Majestic Blue Room. He recalls that "he had a lot of jazz acts at his club, and it was a pretty popular place in Cleveland." [44] He also took a full-time job polishing airplane parts for TRW. Though he worked the night shift, Luke soon gained the confidence of his co-workers and was named chief steward of the Aircraft Workers Alliance.

It was in his capacity as union steward that Easter, in typical selfless fashion, came to his tragic end. He often cashed paychecks for fellow employees who could not make it to the bank. On March 29, 1979, he was carrying a small handgun for self-protection, though at other times he procured a police escort. [45] Easter stepped out of a Cleveland Trust Company branch in Euclid, Ohio at 9:00 AM, carrying a bag full of cash. His New York Times obituary from March 30, 1979 reports that he had $5,000 in the bag, while Daniel Cattau gives $45,000. In either case, he was accosted by two gunman in the parking lot at East 360th St. and Euclid Ave. One of them was a former TRW employee who knew about the arrangement Luke had with his co-workers. They demanded the money from him. When he refused, they shot him several times in the chest; the New York Times obituary says that it was "a sawed-off shotgun and a .38-caliber revolver", while Cattau attributes it to a .357 Magnum. The gunmen were captured after a high-speed car chase, their pockets filled with the stolen cash. [46] Luke was dead on arrival at the hospital.

On April 3, 1979, the baseball fans in Cleveland poured en masse into Mt. Sinai Baptist Church to pay their last respects to the legendary man. More than 4,000 people filed by the casket, and over 1,000 attended the funeral ceremony itself. Former teammates Bob Cain and Mike Garcia were pallbearers; ex-Indians Al Rosen and Bob Lemon, longtime Cleveland sportswriter Hal Lebovitz and Indians team president Gabe Paul were among those serving as honorary pallbearers. Following the service, Easter was interred at Highland Park Cemetery. Besides his wife Virgil, Luke's survivors included six siblings, and six children (sons Terry Lee, Luke Jr., Travis, and George, and daughters Nana and Marla), two of whom (George and Marla) he and Virgil had adopted. He also had three grandchildren at the time of his death. [47]

Easter has been posthumously honored by many of the organizations to which he contributed as a player. He was a charter member of the Rochester Red Wings Hall of Fame in 1989 and also became a member of the Greater Buffalo Sports Hall of Fame in 1997. In Cleveland, a local ballpark was renamed in his honor, and a statue of him stands in front of it today. His wife Virgil became the first vice president of the Cleveland Baseball Federation, [48] of which Luke had earlier been chairman. [49] The most lasting impression of Luke Easter, however, lives in the minds of the countless fans who saw him club pitches far into the night, for whom he signed autographs, with whom he laughed, and whom he inspired with his infectious enthusiasm and unwavering kindness.


Luke was a great big, easy going, devil-may-care, jolly, hail fellow well met kind of guy who took a ribbing and dished it out. - Al Rosen [50]

You, Mr. Inspector, are face-to-face with the greatest home run hitter since Babe Ruth...there is no one alive who can hit a ball for distance with Luke Easter. - Buffalo teammate Joe Astroth, addressing an airport customs inspector in Havana [51]

Nearly everyone who ever saw Luke Easter play has a story about a seemingly impossible home run that he hit. Many, such as his colossal shots in the Polo Grounds in New York, Municipal Stadium in Cleveland and Offermann Stadium in Buffalo, have become part and parcel of baseball mythology. Any attempt to recount Easter's life, however, should place the most emphasis on the impressions he made upon the people who had the pleasure of meeting him, no matter how briefly. He was adored by teammates and fans in every city he played in, even as one of the first black players in the PCL, the major leagues and in the International League. His demeanor was always positive, and he refused to be discouraged by the racism he often encountered. Joseph Thomas Moore, in his biography of Larry Doby, reports that the two players often had different ideas on how to breach the color issue: "they were as different from each other as Doby and [Satchel] Paige had been. While Doby was totally serious on the field, Easter relaxed and enjoyed his new status...as a big leaguer". Luke once told Doby, "Look, Larry, you fight just half the world and leave the other half to me". [52]

Away from the stadium, Luke was a partier and a gambler, a clotheshorse and a lover of fine food and cigars. Kevin Nelson has an apt description of Easter in The Story of California Baseball [53]:
Everything about Easter was big--his home runs, his personality, his luxury Buick automobile. He liked for his teammate Artie Wilson to act as chauffeur and let him sit in the back seat so that when he was driving around town people would think a big shot was passing by. A woman who knew him (and there were more than a few of those) described his free-spending, party-loving personality as 'flamboyant'.

Luke was a serious card-shark, quickly winning back large sums for teammates on the road when the need arose. [54] He was also an impeccable dresser who took especial care to keep his shoes shined and his pants pressed. James Goodrich reports in a 1950 interview that, "though Luke is an exceptionally large man, he eats only normal meals. His special appetite is for cereals and vegetable dishes". He also enjoyed going to watch gangster movies and listening to jazz [55]; Jim Fridley recalls Luke introducing him to Louis Armstrong [56].

His social life aside, however, it is difficult to sum up the admiration and affection that Luke inspired in those who saw him play or shook his hand during his long baseball career. Minnie Minoso once recalled, "he was such a nice man. I didn't speak good English, so he'd take me to restaurants and other places and translate for me." [57] Buffalo historian Joe Overfeld recalls that when Easter died, "for many it was as though the life of a member of the family had been suddenly and tragically snuffed out." [58] Luke always had time for an autograph, a handshake, a photograph or a smile. He was once fined at a minor league game in Minneapolis for opening the gates to the stadium to let in children who couldn't afford tickets. [59] One often hears Easter compared to Babe Ruth. The comparison goes farther than their similar power at the plate--like Ruth, Luke had the ability to relate to all who watched him play, at home or on the road. It is with this intense enthusiasm and caring in mind that one can best understand the great baseball life of Luke Easter.
This biography is included in the book Pitching to the Pennant: The 1954 Cleveland Indians (University of Nebraska Press, 2014), edited by Joseph Wancho. For more information, or to purchase the book from University of Nebraska Press, click here.


Sources

Bjarkman, Peter C.. Baseball with a Latin Beat. McFarland & Co. Publishers, North Carolina, 1994.

Cattau, Daniel. "So, Maybe There Really is Such a Thing as 'the Natural'". Smithsonian22.4, 1991

Doyle, Pat. "Luke Easter: Myth, Legend, Superstar". Baseball Almanac, September 2003.

Goodrich, James. "Luke Easter, King of Swat?" Negro Digest 8:10, 1950.

Holway, John. Voices from the Great Black Baseball Leagues. Dodd, Mead & Co., New York, 1975.

Kelley, Brent. Voices from the Negro Leagues. McFarland & Co. Publishers, North Carolina, 1998.

Mandelaro, Jim & Scott Pitoniak. Silver Seasons: The Story of the Rochester Red Wings. Syracuse University Press, Syracuse, 1996.

Moore, Joseph Thomas. Pride Against Prejudice: the Biography of Larry Doby. Praeger Press, New York, 1988.

Mosbrook, Joe. "Jazzed in Cleveland", pt. 49. Jan. 3, 2000. www.cleveland.oh.us/wmv_news/jazz49.htm

Nelson, Kevin. The Story of California Baseball. California Historical Society Press, San Francisco, 2004.

O'Neil, Buck, Steve Wulf & David Conrads. I Was Right on Time. Simon & Schuster, New York, 1997.

Overfeld, Joe. The 100 Seasons of Buffalo Baseball. Partner's Press. Kenmore, NY, 1985.

Peary, Danny (ed.). We Played the Game. Hyperion Press, New York, 1994.

Robinson, Frazier "Slow" and Paul Bauer. Catching Dreams: My Life in the Negro Baseball Leagues. Syracuse University Press, Syracuse, 1999.

Schneider, Russell. Tales from the Tribe Dugout. Sports Publishing LLC, USA, 2002.

Swaine, Rick. The Black Stars Who Made Baseball Whole. McFarland & Co. Publishers, North Carolina, 2006.

Sports Illustrated, July 15, 1957.

Sports Illustrated, April 9, 1979.

The Sporting News, March 30, 1949.

The Sporting News, Aug. 24, 1949.

The Sporting News, Sept. 14, 1960.

The Sporting News, March 1, 1969.

The Sporting News, Oct. 4, 1969.

Obituary of Virgil Easter. May 1, 2001, Cleveland Plain-Dealer.

Obituary of Luke Easter, March 30, 1979, New York Times.

Obituary from Luke Easter's memorial service, Mt. Sinai Baptist Church, April 3, 1979, online at www.redwingsbaseball.com.

Buffalo Bisons, www.bisons.com

Rochester Red Wings, www.redwingsbaseball.com

www.baseball-almanac.com

www.baseballthinkfactory.org

The National Archives, Washington, D.C.


Notes

[1] Goodrich.

[2] Swaine p. 77.

[3] Sports Illustrated April 9. 1979; Cattau.

[4] All listed as survivors on the program from Easter's memorial service.

[5] Cattau.

[6] Kelley p. 268.

[7] Cattau.

[8] Swaine, who denies that Jethroe was driving with Easter at the time (p. 68), has his dates confused.

[9] Cattau, who interviewed several of Easter's family members, claims that he worked in Portland, Oregon in a shipyard for the duration of the war. It is clear at any rate that he played no baseball between 1942 and 1945.

[10] Goodrich.

[11] Goodrich tells an apocryphal-sounding tale in which Easter is first turned down by Taylor, who dismisses him as "too big and too awkward." Easter then earns a spot on a semi-pro team by convincing the desperate, short-handed manager that he's actually "a better pitcher than a first baseman", pitches against and defeats Taylor's Giants in an exhibition, and hits three home runs instead of the two he had promised.

[12] Cattau.

[13] Robinson.

[14] O'Neil.

[15] Virgil's obituary from May 1, 2001, lists a step-son Terry Sr., who was named as a son in Luke's obituary. Her obituary also mentions son Gerald Sr., not named in Luke's obituary. Gerald is, however, mentioned in Cattau's article as Luke's son, so this may have been an accidental omission.

[16] The Sporting News, March 30, 1949.

[17] Doyle.

[18] Baseball Think Factory.

[19] Bjarkman.

[20] Peary p. 348.

[21] Cattau.

[22] Cattau.

[23] Buck Leonard reports, "we sold Easter to the Cleveland Indians for $10,000. They were going to pay another $5,000 if he went to the majors. But when he went to the majors, Luke wanted the other $5,000 himself. He had an argument with the Homestead Grays' management. At that time Rufus Jackson was dead and his wife was in charge. Luke said he wasn't going if he didn't get the $5,000, but they got together on something and Luke went". Holway p. 271.

[24] Swaine p. 79.

[25] The Sporting News, March 30, 1949.

[26] Goodrich.

[27] The Sporting News, August 24, 1949.

[28] Cattau.

[29] Goodrich.

[30] Schneider, p. 51.

[31] Cattau.

[32] Cattau.

[33] Overfeld p. 150.

[34] Swaine p. 82.

[35] Overfeld p. 151.

[36] Sports Illustrated, July 15, 1957.

[37] Mandelaro & Pitoniak, p. 114.

[38] Mandelaro & Pitoniak, p. 114.

[39] Sports Illustrated, July 14, 1960.

[40] Mandelaro & Pitoniak, p. 114; Swaine, p. 83.

[41] In fact, it is not entirely clear whether Luke spent 1965-66 in Rochester or in Cleveland. His obituary from the March 30, 1979 New York Times mentions that he had worked at his job in Cleveland for "about fifteen years", i.e. since 1964. The obituary from his memorial service, however, says that he returned to Cleveland in 1966.

[42] The Sporting News, 3/1/69, p. 20. Easter was with the Indians from Feb. 13 to Sept. 20, 1969 (as mentioned in The Sporting News, 10/4/69). The March article also notes a prior commitment he had as part of a job with the computer company Thompson Ramo Woolridge, also in Cleveland.

[43] Cattau.

[44] Robinson 188. This may be the Majestic Hotel, which stood at E. 55th and Central Ave. Joe Mosbrook describes it as "Cleveland's primary African-American hotel". The Majestic had featured a jazz room since 1931.

[45] Cattau.

[46] Cattau.

[47] Obituary from memorial services.

[48] Virgil Easter's obituary. When she died at the age of 77, Virgil had eight grandchildren and a great-grandchild.

[49] Obituary from memorial services.

[50] Moore p. 92.

[51] Cattau.

[52] Moore p. 92

[53] Nelson p. 240.

[54] Cattau.

[55] Goodrich.

[56] Peary p. 199.

[57] Peary p. 101.

[58] Overfeld p. 150.

[59] Cattau.