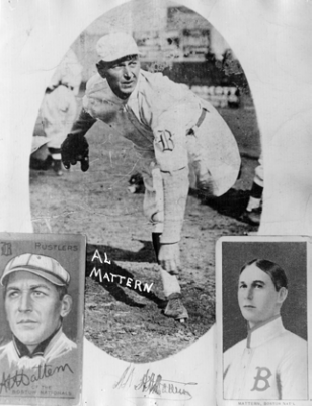 ---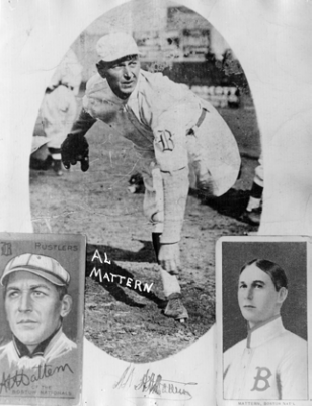 "The stranger trudged along the tracks in the bright June sunlight," wrote Bill Vanderschmidt of the Rochester Times-Union in 1955, "heading towards the point where the shadow of the West Rush depot threw a patch of shade across the rails."1 The stranger was sent from Al Buckenberger, manager of the Rochester (New York) Beau Brummels. He was looking for 23-year-old semipro pitcher Al Mattern, who was working as a station agent on the "Peanut Line" of the New York Central Railroad. They grabbed the trolley to Rochester, and Mattern began his professional baseball career.2
Al Mattern may have had the talent to win 20 games, but we'll never know. Instead, he's remembered as a 20-game loser, a feat he accomplished once and almost twice. That's easy to do considering the teams he played for. He pitched five major-league seasons with the Boston National League team that changed names from the Doves to the Rustlers and finally to the Braves. Whatever they were called, Boston had three straight last-place finishes from 1909-1911, going a combined 142-315, which gave Mattern plenty of opportunities to lose. Still, the left-handed spitballer was also Boston's ace, winning a third of its games in 1909, a feat that the Hall of Fame recognized him for. It certainly wasn't for his 36-58 career record. When Mattern was done pitching to home plate, he pitched deals on Buicks to his neighbors back in the same little hamlet in western New York where spent his entire life.
Alonzo Albert Mattern was born on June 16, 1878, on a farm, in West Rush, New York, to John and Christine (Keyes) Mattern, who had emigrated from Germany.3 The 1892 New York State census lists John Mattern as a laborer. Albert grew up with three older sisters and seven older brothers.4 At the time of the 1900 census, he was living at the home of his brother Joseph and listed as working as a freight agent. His brothers were known for playing baseball and working on the railroad. Four of the Mattern brothers, Fred, Charles, William, and Lewis, were longtime railroad men in the area.5 Mattern, who in baseball "reached the highest fame of his family,"6 graduated from Avon High School in 1900 and pitched all of the games for the baseball team that season.7 Avon is about 15 miles south of Rush.
Mattern, known as Dutch, played semipro baseball around the area. One of his catchers during that period was future New York State Supreme Court Justice William F. Love.8 Buckenberger's Rochester team was in the Eastern League, the equivalent of the modern Triple-A International League, and Mattern joined them in June.9 In his first professional game, he got a lot of run support as Rochester beat Worcester 27-6.10 After pitching in just three games, Mattern was sent to Binghamton of the Class-C New York State League in July.11
On September 18, 1901, Mattern married Julia Burger, of Rochester, New York.12 The couple had met during their school years.13
Mattern pitched in 1902 for the Canandaigua, New York, semipro team, and later rejoined Rochester. He won one game and lost two for the Bronchos.14 He spent 1903 with the Caledonia, New York, semipro team.15 In March of 1904, Mattern, "the East Rush telegraph operator who was given a trial by Rochester a couple of seasons ago," drew interest from New Bedford of the New England League.16 Apparently he never pitched for New Bedford, and instead stayed at the semipro level, pitching for the Phelps, New York, team.17
Mattern pitched most of the 1905 season for Rochester. "Mattern, the southpaw, is beginning to let himself out," wrote the Democrat and Chronicle early in the season. "He has lots of speed and some very puzzling curves. It is a reasonable presumption that he will be one of the regular pitchers."18 Mattern pitched in eight games and won seven in 1905. His season ended early when he was spiked in the hand in a collision with his first baseman.19 He also played briefly for the Wilkes-Barre Barons of the New York State League (Class B), and the Indianapolis Indians of the American Association (Class A), possibly on short-term agreements by Buckenberger.
Mattern began the 1906 season with the Montreal Royals of the Eastern League. He pitched poorly in a return to Rochester on July 4. "It seemed too bad to treat the young man so heartlessly, especially in the neighborhood of the stomping ground of his youth," wrote the Democrat and Chronicle. Rochester prevailed 7-1.20 He fell to 2-9 with Montreal with a 4.41 ERA. Later that month, Mattern was sold to the Holyoke, Massachusetts, club of the New England League.21 At the end of the season, he pitched and lost two games for the Livonia, New York, semipro team against the African-American Cuban Giants.22
Mattern played for Holyoke of the Connecticut State League in 1907, having a strong 16-7 record for the pennant winners. "With an easy delivery and plenty of shoots," wrote the Springfield Republican, "'Matty' began to fool the heaviest hitting clubs and has been regarded as one of Holyoke's strongest pitchers."23 His impressive work caught the eye of the Boston Doves of the National League, who purchased him for the 1908 season.24 Not feeling that the young lefty would get into enough games, team president George Dovey sold him to the Trenton (New Jersey) Tigers of the Tri-State League "with the understanding that at the end of the season he was to have first chance to buy him back," wrote the Trenton Evening Times.25 Mattern finished 20-21, and returned to Boston in September. He also worked on the side selling fruits and vegetables, and made $1,800.26
Mattern made his major-league debut at the South End Grounds in Boston on September 16 against the Chicago Cubs, the eventual World Series champions. "Rarely has a minor league pitcher created better impression than did Mattern yesterday," wrote the Boston Herald. "He was self-possessed at all times even under fire. … He used all kinds of benders and had a very puzzling slow ball."27 Mattern allowed the Cubs only one run on two hits with four strikeouts in eight innings before being lifted for a pinch-hitter. Chicago won 5-0. Mattern "looks like the real goods unadulterated and no phoney," wrote the Boston Journal.28 On September 22, despite giving up 11 hits, Mattern shut out St. Louis, 7-0. He finished the season 1-2 with a 2.08 ERA in five games pitched, three being starts.
Mattern worked the farm over the winter months. He "pulls potatoes out of the ground up around Rochester during the winter, and dollars out of the people at the same time," wrote the Boston Journal.29 In 1909 he was ready to be one of Boston's regular starting pitchers.
Mattern pitched a 5-1 win over Brooklyn on April 17, giving Boston a 3-0 start to the season. There were probably some ecstatic Boston fans dreaming about the World Series, but the Doves would end the season 65½ games behind pennant-winning Pittsburgh. On May 8 Mattern pitched a one-hitter in a tight 2-1 victory over New York, the run scoring on a walk and a steal of second in which Boston catcher Frank Bowerman threw the ball into center field, where Boston outfielder Ginger Beaumont overthrew third base. Such was life pitching for the 45-108 Doves. On May 31 Mattern again dominated Brooklyn with a 1-0 shutout.
In one of the most interesting games of the season, against New York on July 26 at the South End Grounds, Mattern opposed the Giants' Red Ames. Each pitcher surrendered two runs in the first inning, then Boston tied the score 3-3 in the seventh. The game was ruled a 3-3 tie due to darkness at after 17 innings, with both starting pitchers still on the mound.30 On July 2 Mattern shut out Philadelphia, 3-0. He closed out the season with a 3-1 win over Philadelphia again, giving him his 15th win, or one-third of Boston's total wins (45). At 15-21, Mattern was Boston's best pitcher, despite giving up 142 runs (tied for league high), 100 earned runs, and 108 walks in his 316⅓ innings pitched. His 2.85 ERA, although common in the Deadball Era, still represented how well he pitched with little run support behind him. The Doves as a team batted a woeful .223 and committed a league-high 340 errors for a pitiful .948 fielding percentage.
The team finished the 1909 season as a train wreck, then had a literal train wreck at the beginning of the 1910 season. While traveling in Kentucky at night during spring training, the Boston Specialcollided with a coal car parked on the tracks. The engineer was killed, and Mattern and other players carried his body from the wreckage.31 The team recovered, and Mattern "pitched mighty fine ball" over eight innings on Opening Day in Boston, a 3-2 victory over New York in 11 innings.32 He capped off the month by shutting out Brooklyn 1-0 on five hits on April 29, and did it again a week later (May 5) in Brooklyn. On June 4 Mattern went the distance in a 1-0 win in 12 innings over the Cubs' Three-Finger Brown. He threw a five-hitter against St. Louis on June 15 in a 2-0 Boston win and a three-hitter at Brooklyn on July 26 in a 2-1 win. Mattern shut out Cincinnati twice in three days: 5-0 and 4-0 on August 3 and 5. His final two starts, however, were forgettable, with 11-0 and 17-9 losses. Mattern came close to having back-to-back 20-loss seasons, finishing 16-19 with a 2.98 ERA. He was easily Boston's best pitcher. His 51 appearances led the National League, as did his six shutouts. Boston was again in the cellar at 53-100.
At the 1910 census, Mattern, wife Julia, and 7-year-old son Emmett lived in a home they owned in Rush. Albert is listed as a "Ball Player" for the "Boston BBC." Julia "attends every game played at the South End Grounds," the Boston Journal noted, "and follows every play as scientifically as the most expert fan." Emmett came to his father's games at the South End Grounds and warmed him up "wearing a big mitt and receiving easy pitches."33
A dreadful Boston team got even worse in 1911, as the club, now called the Rustlers after new owner William Russell, fell to 44-107, and Mattern's strong arm was no more. His record fell to 4-15 with a ballooned ERA of 4.97 in 186⅓ innings pitched. Mattern was on the mound on June 28 in the Polo Grounds in New York, newly rebuilt after a devastating fire in April. He pitched a strong game but lost to Christy Mathewson 3-0. Mattern didn't make a start between July 1 and August 1, or any at all after September 14. He hoped for a return to form in 1912, but it seemed his arm was done. He was pulled after four ineffective innings against Philadelphia on April 13, and again after just 2⅓ innings at Philadelphia on April 19. He had barely gotten used to the team's new nickname, Braves, when he was sold to Montreal, now part of the International League.34 Mattern rebounded, finishing 17-10 in 248⅔ innings pitched. He also spent the 1913 season with Montreal, where on June 3 he allowed three hits in a shutout of Buffalo.35 His 1913 season overall was 12-14.
Mattern spent the early part of 1914 with Montreal, but at the end of May was sold to Newark, also of the International League.36 He spun a four-hit shutout over Baltimore on July 17.37 His season has a fascinating story. On September 14 Mattern was pitching the second game of a doubleheader against Providence. With Newark trailing by two runs in the seventh inning, Mattern drew a walk, and a single sent him to second. The Providence manager brought a 19-year-old pitcher in to try to stop the rally. This pitcher had been a rookie for the Boston Red Sox earlier in the year and had been sent to Providence to finish the season. Babe Ruth was coming in to try and save the game, but instead, Mattern and three others scored to beat the Babe, who had also pitched and lost 2-0 to Newark in game one.38
It was reported that Mattern had signed with the Cincinnati Reds in 1915, but no further information was found on why he never pitched for them.39 His name appears in some box scores for the Buffalo team of the International League.40 Various accounts mention Mattern pitching for Newark until 1917, but no evidence of this was found.
Later in 1915, Mattern returned to the semipro circuit and pitched for the LeRoy, New York, team and struck out 14 batters in a game.41 He also played for a Mount Morris team as well as other "towns of similar width and thickness," wrote the Democrat and Chronicle.42
For the next decade or more, Mattern pitched for various semipro teams around New York state, including the Maltops of the Rochester City League in 1916,43 and the Husky Farmers of Honeoye Falls in 1926.44 It was there that Mattern and son Emmett, who was then a catcher at Union College, formed a father-son battery. The old pitcher "has lost some of his speed, critics say today," noted the Ogdensburg Republican-Journal, "but the brainwork which made him famous in the big-time circuit still is in evidence, and he still baffles opposing batters."45
The 1920 census listed Mattern working as a "produce merchant." Mattern also owned the A.A. Mattern Auto Agency in West Rush, selling Buicks out of a barn on his family property. You had to battle the chickens in the yard if you wanted to get a good look at the lone car he had on display.46 The Democrat and Chronicle did a full-page feature of Rush in its June 19, 1955, issue. A prominent picture is one of Mattern standing at the crossroads of Rush and West Rush. The article describes Rush as the opposite of its name. "Life is calm and placid there, moving in a serene, even way of long standing," wrote Bill Beeney. "One of Rush's most prominent citizens, and he still lives in West Rush, is Al Mattern, the baseball pitcher who performed with the Boston Braves with considerable success circa 1915. West Rush, a tiny hamlet about three miles from the village of Rush, is a sleepy little crossroads area."47
Over 100 former professional and semipro players from the area turned out to Al Mack's Rush Inn on February 20, 1955, to honor Mattern on his 50th anniversary of entering professional baseball.48 "Al Mattern may not achieve a niche in Baseball's Hall of Fame at Cooperstown," the Democrat and Chronicle reported, "but a photograph of the former Boston National League ace, portside pitcher in uniform will adorn the walls of the national pastime's shrine." A picture of Mattern was placed in a gallery of notable records, his being winning a third of Boston's victories (15 of 45) in 1909. A letter was read from Sid Keener, Hall of Fame director, in which he recalled "that it was an exceptional mound feat, considering that Boston then was the Patsy losing club of the National League." Mattern received several souvenirs from the Hall of Fame, and the evening involved cutting a cake adorned with miniature baseball bats, and a trophy highlighting his baseball career.49
Al Mattern died on November 6, 1958, at the age of 80 in West Rush and was buried in the Pine Hill cemetery in Rush. He was survived by Julia, Emmett, and a brother.
This biography is included in "20-Game Losers" (SABR, 2017), edited by Bill Nowlin and Emmet R. Nowlin.
Sources
In addition to the sources identified in the notes, the author also benefited from Susan Mee, Rush town historian, the Rush Public Library, and Al Mattern's file from the Baseball Hall of Fame Library.
Notes
1 Bill Vanderschmidt, "Mattern Recalls Heyday of Honus Wagner, Matty," Rochester (New York) Times-Union, February 9, 1955: 51.
2 There are some problems identifying when this story would have taken place. Vanderschmidt's column was written in 1955 when Mattern was honored on the 50th anniversary of the start of his professional baseball career, which would put his first year in 1905. However, we know Mattern pitched for Rochester from 1901-1903. According to Jim Mandelaro and Scott Pitoniak in Silver Seasons: The Story of the Rochester Red Wings (Syracuse, New York: Syracuse University Press, 1996), 11-14, Buckenberger managed the Rochester team, called the Bronchos, from 1899-1901. The team nickname was changed to Beau Brummels in 1903. Buckenberger returned as manager in 1905. Perhaps Mattern's first years were considered a trial period, or he pitched only in exhibition games, or maybe in recalling events 50 years later, these early games were forgotten. In any event, accounts seem to point to 1905 as his start in professional baseball. Perhaps when Buckenberger returned as manager in 1905, he remembered Mattern and sent someone to the train depot to find him. The story seems likely to have happened in 1905 and Mattern's previous stints were either ignored or forgotten.
3 Retrosheet.org and baseball-reference.com give Mattern's birthdate as June 16, 1883, but June 16, 1878, is the date on his death certificate. All found obituaries give his age at the time of his death in 1958 as 80.
4 "Albert Mattern, Former Baseball Player, Succumbs at Home in Rush," Honeoye Falls (New York) Times, November 13, 1958: 1.
5 "Mattern Family Men Serve Railroad Over Long Period," Honeoye Falls Times, April 27, 1944: 5.
6 "The Mattern Boys Played Baseball and Railroaded," unknown article sent to the author by Jacqueline DeCook, great-niece of Al Mattern.
7 "Baseball at Avon," Rochester Democrat and Chronicle, March 1, 1901: 13.
8 "Contemporary of Wagner. Al Mattern Hurled Here," Rochester Democrat and Chronicle, November 7, 1958: 24.
9 "There's No Lack of Excellent Material," Rochester Democrat and Chronicle, January 27, 1901: 23; "Mattern Here at Last," Rochester Democrat and Chronicle, June 20, 1901: 15.
10 "First Place in Easy Reach," Rochester Democrat and Chronicle, June 23, 1901: 22.
11 "Greminger Now Leads the Others," Rochester Democrat and Chronicle, July 22, 1901: 11.
12 "Mattern-Berger," Rochester Democrat and Chronicle, September 19, 1901: 13.
13 "Wives of the Ball Players," Boston Journal, August 22, 1911: 5.
14 Rochester Democrat and Chronicle, June 13, 1902: 15.
15 "Mt. Morris 7, Caledonia 0," Rochester Democrat and Chronicle, September 17, 1903: 15.
16 "Local Players Soon to Depart Elsewhere," Rochester Democrat and Chronicle, March 30, 1904: 15.
17 Rochester Democrat and Chronicle, June 26, 1904: 23.
18 "Buckenberger's Bronchos in the Blue Grass of Kentucky," Rochester Democrat and Chronicle, April 6, 1905: 22.
19 Alfred Henry Spink, The National Game: A History of Baseball, America's Leading Out-door Sport, from the Time It Was First Played Up to the Present Day, With Illustrations and Biographical Sketches (St. Louis: National Game Publishing Co, 1911), 144.
20 "Buckenberger's Band Trounces Royals in Two Sharp Contests," Rochester Democrat and Chronicle, July 5, 1906: 14.
21 "Royals Ship Mattern," Rochester Democrat and Chronicle, July 28, 1906: 14.
22 Rochester Democrat and Chronicle, September 22 and September 30, 1906.
23 "Holyoke Wins Pennant," Springfield (Massachusetts) Republican, September 15, 1907: 14.
24 "Mattern for Tenney's," Boston Herald, August 4, 1907: 6.
25 "Sporting News. Trenton Secures Great Left-Hander From Boston," Trenton (New Jersey) Evening Times, March 19, 1908: 2.
26 "Sidelights on the Game," Brooklyn Daily Eagle, August 4, 1909: 18.
27 "Mattern Is Great While He Is In," Boston Herald, September 17, 1908: 5.
28 "Champions Beat Doves but Pitcher Mattern Gives Them Big Scare," Boston Journal, September 17, 1908: 8.
29 "Boston Nations Will Cavort Over Diamond Today," Boston Journal, March 8, 1909: 9.
30 "Doves and Giants in 17-Inning Tie," Boston Journal, July 27, 1909: 1.
31 Fred J. Hoey, "Martel Lauded as Train Wreck Hero," Boston Journal, April 8, 1910: 1, 11.
32 "Sweeney and Shean Humble the Giants," Boston Journal, April 15, 1910: 11.
33 "Wives of the Ball Players," Boston Journal, August 22, 1911: 5.
34 "Pitcher Mattern is Sold to Montreal Club," Boston Journal, April 22, 1912: 8.
35 "Leading Citizen of Rush Is Too Much for Clymer's Head," Rochester Democrat and Chronicle, June 4, 1913: 21.
36 "Hustlers Give Montreal No Time to Get Steadied," Rochester Democrat and Chronicle, May 27, 1914: 23.
37 "Double Play Puts Kibosh on Birds in Final Turn at Bat," Rochester Democrat and Chronicle, July 18, 1914: 15.
38 "Poor Lo Strews Tacks in Road to Pennantville," Rochester Democrat and Chronicle, September 15, 1914: 18.
39 "Reds Sign Mattern," Pittsburgh Post-Gazette, May 15, 1915: 15.
40 "Upsetting Blow to Herd Conceit in the Seventh," Rochester Democrat and Chronicle, May 12, 1915: 23.
41 "Mattern with Semi-Pros," Rochester Democrat and Chronicle, August 22, 1915: 31.
42 "Al Mattern is Signed to Work in City League," Rochester Democrat and Chronicle, July 9, 1916: 24.
43 Ibid.
44 "Husky Farmers Wallop Jockeys," Canandaigua (New York) Daily Messenger, July 13, 1925: 6.
45 "Father and Son Battery on Ball Team," Ogdensburg (New York) Republican-Journal, July 12, 1926: 2.
46 From Jacqueline DeCook, great-niece of Al Mattern. Email correspondence with the author, August 2, 2016.
47 Bill Beeney, "The Towns Around Us: Indian Villages Once Dotted Rush Area," Rochester Democrat and Chronicle, June 19, 1955: 5C.
48 As noted above, his professional career technically began with Rochester in 1901.
49 "Al Mattern Honored; Photo in Hall of Fame," Rochester Democrat and Chronicle, February 21, 1955: 24.
Born
June 16, 1883 at West Rush, NY (USA)
Died
November 6, 1958 at West Rush, NY (USA)
If you can help us improve this player's biography, contact us.
https://sabr.org/sites/default/files/mattern.png
600
800
admin
/wp-content/uploads/2020/02/sabr_logo.png
admin
2012-01-04 20:44:43
2012-01-04 20:44:43
Al Mattern