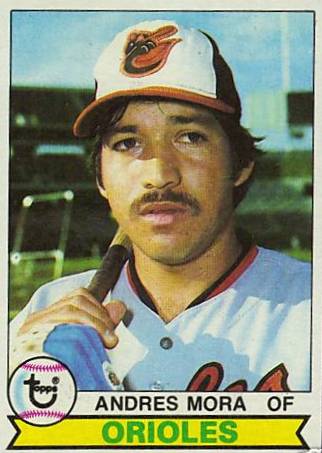 ---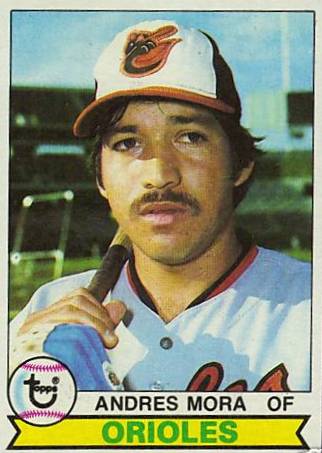 Andrés Mora was one of Mexico's greatest sluggers. He could easily have been the all-time home run king south of the border, had he not spent time in the United States. By his own choice, he went back home – still aged just 24 – after four unfulfilling partial seasons in the majors. When he retired in 1997, Mora had 419 home runs in the Mexican League, behind only Héctor Espino. As of 2015, he still stood fourth, after Nelson Barrera, Espino, and Alejandro Ortiz.
Mora also hit 148 homers in Mexico's winter league, La Liga Mexicana del Pacífico (LMP). Add in his 27 in the big leagues, 21 more in the U.S. minors, and at least 4 at lower levels in Mexico, and his known total reached 619 (excluding playoffs and All-Star games). He was also a manager and coach at home.
For details of Mora's early life, we are indebted to a feature by the late Mexican sportswriter Gerardo Castro in the Monterrey newspaper El Regio. Published in February 2009, it was part of his long-running series on sports stars called Colosos del Siglo XX (Colossi of the 20th Century). A translation of several key paragraphs follows.
"Río Bravo is a small town of 2,000 inhabitants which is part of the municipality of Allende, in the state of Coahuila. Andrés Mora saw his first light in this village on May 25, 1955. Río Bravo is also the birthplace of the star outfielder Marcelo Juárez [elected to the Mexican Hall of Fame in 1998] and of umpire Efraín Ibarra, Mora's first cousin.
"Andrés Mora belongs to a modest family formed by Alfonso Mora (deceased) and Andrea Ibarra. The Mora-Ibarras had 11 children. Andrés was born sixth; his older brothers are Fernando, Abelardo, Jesús, Tomás, and Guadalupe. Younger than Andrés are his sisters: Oralia, María Elisa, Concepción, María del Rosario, and Juanita.
"Like all the children of that baseball-loving region, Andrés began playing the king of sports from when he was very small, after attending the only local school, José Garza Montalvo. Right afterward he would get together with his friends and older brothers to play ball.
"When Andrés was 11 years old, he watched with sadness as fire consumed the textile factory where his father and big brothers worked. The family moved to the capital of the state, Saltillo; the owners of the factory decided to install the new plant in that city, and thus was founded the Río Bravo colony in the Coahuilan capital.
"The first uniform that Andrés Mora wore, when he was 14 years old, was for the Río Bravo colony's team in La Liga de Primera Fuerza Especial de Saltillo [i.e., the city's top municipal league]. He began really falling in love with baseball.
"His potent batting quickly brought him to pro ball. He was in his third year of studies at Nazario Ortiz Garza High School when he was invited to play in the Fall League of Monterrey with the team Indios Verdes del Seguro Social del Saltillo [Green Indians of Saltillo Social Security]. The squad included, among others, Marcelo Juárez and Mora's brothers Abelardo and Jesús. The Fall League of Monterrey was semi-pro but gave very good players to Mexican ball. Brother Jesús later played for the Puebla Parrots of the Mexican League [as well as five other teams from 1968-79; Abelardo Mora played for Saltillo in the Mexican Center League in 1967 and 1968].
"Various people helped Mora advance in the pros, and he is openly grateful to Eleazar Galindo from the Saltillo Saraperos organization. Galindo signed him for the Sarape Makers and they sent him to the Center League in 1971 with the Acámbaro team. In that city Mora began to shine brightly, putting on a show with long cannon blasts. He played outfield and batted cleanup."1
Records show that Andrés actually played with Zacatecas in the Center League in '71, as well as Puerto Peñasco in the Northern League. He then moved up to the big club in Saltillo the next year, but appeared in only two games because of arm trouble.2
When he was still just 17 years old, Mora first attracted attention from scouts up north. Cuauhtémoc "Chito" Rodríguez, a longtime Mexican baseball executive, came to know Andrés well from their many years together in Nuevo Laredo and later Mexico City. In 2009, he recalled that Andrés was playing in La Liga Tabasqueña, a lower-level winter league based in the state of Tabasco that operated from 1970 to 1980. The Montreal Expos signed Mora on February 28, 1973. Although definitive proof is not available, the scout may well have been Roy "Red" Smith, the head of Montreal's scouting effort in Latin America. According to infielder Juan Navarrete, another Mexican ballplayer who had signed with the Expos the previous year after playing for Saltillo, Smith frequented the area.3 However, Mora played just 8 games for West Palm Beach in the Florida State League. He was hitless in 21 at-bats, striking out 11 times.
Andrés first played in the LMP that winter, joining the Cañeros of Los Mochis. In 1974 – although the Expos released him in March – he started to mature as a ballplayer, becoming a regular with Saltillo. "I gained weight," said the 180-pounder, "and started to hit with more power."4 He skipped the winter of 1974-75, but then won his first of four home run crowns in the Mexican League in 1975.
This impressive showing prompted the Baltimore Orioles to sign the 20-year-old power hitter. The O's purchased him from Saltillo on August 11, 1975. The scouts involved were Ray Poitevint, one of the trailblazers in finding international talent, and Jim Russo. Andrés followed up by taking the LMP home run title, his first of three.
Mora started off the 1976 season with Baltimore instead of Triple-A Rochester, largely because Reggie Jackson – in his one little-remembered season with the O's – held out during April. The "bullish Mexican" made his debut on April 13, going 1 for 4 against Dock Ellis at Memorial Stadium. In a 2013 interview with the Mexican publication Excélsior, he called it "a marvelous day in my career."5
Four days later, he hit his first big-league homer, a two-run shot as a pinch-hitter off Paul Lindblad in Oakland. Orioles catcher Elrod Hendricks, who played for years in both Mexico and Puerto Rico, helped Andrés with the postgame interview because the rookie spoke little if any English.6
Despite manager Earl Weaver's fondness for platoons, Mora saw just as much action versus righties as lefties. One of those righties was Nolan Ryan, and Mora later guffawed about how he helped the fireballer reach 5,000 strikeouts. In his seventh game in the majors, Mora struck out in his first three at-bats against Ryan, on just nine pitches in total. "He threw you fastballs over 100 miles an hour and curves at 90, there was nothing to be done."7 In the eighth inning that night, Mora did manage to lay down a successful sacrifice bunt against Ryan, whom he never faced again.
Mora started well, but then began a bad slump in June. It was a familiar story; as Weaver and coach Jim Frey noted, it was the rookie's second time around the league. The pitchers were more careful and became more aware of getting Mora out with breaking balls, and then he started pressing. "The adjustment was tough," said Frey.8 With a .215 average as of mid-August, Mora was optioned to Rochester as the Orioles brought back Mike Flanagan. He hit .328 with 6 homers in 18 games there, earning a September recall.
In spring training 1977, Baseball Digest noted that Mora was "moving up at a sensational pace. 'The question isn't if but when this kid will make it,' a scout told us. 'He has power to burn, a great stroke and should hit for average. One of the best prospects I've seen in a long time.'"9
Indeed, the 1977 season (.245-13-44) was the Mexican's most successful in the majors. He began the year with Rochester, and "in the early part of the season the team rose and fell on the bat of Mora, who, if he wasn't hitting, was a liability on the bases and in the field." (Nonetheless, Andrés had actually served as an emergency second baseman for the Red Wings the previous August.)10
Baltimore summoned Mora in early June to replace Larry Harlow but could only offer him the same irregular playing time. Pat Kelly was the primary left fielder, and Lee May was still at first base, making Eddie Murray the main DH. An August article in The Sporting News noted that Andrés would rather be seeing full-time duty in Rochester.11 In mid-August, though, he did at least move into a platoon with Kelly. The first of his two two-homer days in the majors came in Baltimore on August 15, as he took Minnesota's Dave Goltz and Gary Serum deep in a 13-9 loss. More than three decades later, he called it "an unforgettable day."12
In September 1977, Mora married his fiancée – a woman named Dora (the rhyme got attention).13 She was from the Los Mochis area; the couple had two sons and a daughter. After this union dissolved, Mora married a woman from Nuevo Laredo, with whom he had another son. Other details are lacking, however, since Mora guarded his privacy.
Mora again started the year in Rochester in 1978, but the Orioles recalled him in mid-May. He appeared in 76 games with disappointing results (.218-8-14), although he tagged Ken Kravec of the White Sox for two homers on September 1.
In 1979, the Orioles optioned Mora to Rochester in their second-last round of cuts ahead of Opening Day. The Red Wings in turn sent him back to Saltillo.14 There he hit 23 homers, drove in 102 runs, and batted .344.
On December 3, 1979, the Cleveland Indians obtained Mora from the Baltimore organization via the major league draft.15 The Tribe potentially viewed him as their starting left fielder, but instead, "Super Joe" Charboneau emerged as 1980's AL Rookie of the Year. After appearing in just nine games for Cleveland, Andrés was going to be sent down to Tacoma in early May, since the Indians had acquired Miguel Diloné from Chicago.
Instead, "he opted to return to Mexico. 'I think if I stayed in Triple A I might have had another chance at Cleveland, but I was mad. I hit good but they still put me in AAA. I don't really feel too bad [about it], because I did a lot more down here, and it's my home."16 In 2009, Ray Poitevint offered his view: "[Mora] had a world of talent and found that he could hit in the major leagues, but being homesick always kept him from sticking it out. It was never about talent, he could hit anyone."17
Mora then entered his prime as a slugger. He won back-to-back summer home run titles in 1981 and 1982 (albeit with rather modest totals of 23 and 25) and also led the Mexican League in RBIs both years. Partway through the 1982 season, he joined the Tecolotes (Owls) of Nuevo Laredo, where he would spend the bulk of his remaining career as a player. Mora became a prominent figure in author Alan Klein's book Baseball on the Border: A Tale of Two Laredos. In 1985, the Tecos began playing games in both Nuevo Laredo and its Texan sister city, Laredo – becoming the only bi-national pro team ever. For quite a few seasons they were known as Tecolotes de Dos Laredos.
Along with Alejandro Ortiz and Carlos Soto, Mora formed a triumvirate called, without much imagination, Los Tres Mosqueteros (The Three Musketeers).18 He reached a personal best with 41 homers in 1985, and he hit over .300 for eight straight seasons from 1983 to 1990. From 1984 to 1987, in fact, he put up a .366 average – though one must note that in 1986, the league was using a juiced-up brand of ball called the Comando.19
The old-school border fans were tough, though, as author Joe Nick Patoski discovered in 1986. "Take Pedro Chapa, an 86-year-old Texan who has been crossing the border since 1910. . .He nodded to Andrés Mora, who was taking a short lead off first base. 'See him? They call him El Gran Caballero [The Big Man] when he hits. But you know what they call him when he's on base? La Plancha, the Iron. He's too slow."20
Mora played for the Monterrey Industriales in 1989 and 1990. "He walked out over a contract dispute, fought with manager Zacatillo Guerrero, and was even traded away in 1989, sadly and ironically missing the Tecos' only championship during his playing years."21 He did return partway through the 1990 season.
In the early 1990s, a few years after Soto's departure, another power threat emerged for the Tecolotes. Marco Antonio Romero fit right in; as Klein noted, "Mora, Ortiz, and Romero pride themselves on being latter-day versions of the legendary Cincinnati slugger Ted Kluszewski, who had to cut off his shirt sleeves to accommodate his massive arms. This mustachioed burly trio lives for power."22
Authors Jim McKay, Michael Messner, and Don Sabo also portrayed the trio. "Their look was studied 'macho': multiple days' growth of beard, cut-off sleeves on their uniforms, home run swings and trots around the bases designed to show off their power. They routinely pounded their plastic [protective] cups. . .and proclaimed to all within earshot Tenemos huevos! – We have balls."23
Mora played his last of 18 winter seasons in 1991-92. Along with his 148 homers – fourth in LMP history as of 2015 – he had 593 RBIs, which ranked fifth. He also collected 1,015 hits for a .258 average. Mora had three tours of duty with Los Mochis, winning all three of his LMP home run titles in his first six-season stretch. (He tied for the lead in both 1978-79 and 1979-80.) In 1986, he had a 29-game hitting streak with the Cañeros, a league record that lasted until 2005. He also played with Guaymas, Mazatlán, Obregón, Tijuana, and Guasave. He got to play with only one champion, the 1987-88 Tijuana Potros. Therefore he was part of just one Caribbean Series, going 3 for 16 in Santo Domingo in 1988.24
After the 1993 season, Mora's production dropped off markedly as his body showed wear and tear. In latter years, he had moved to designated hitter. Early in the summer of 1994, he told Alan Klein, "You know, I think I may retire after this year. I set a goal for myself of twenty home runs, but I feel like my bat has slowed down, and my legs hurt like hell."25 He added, "It's just that I don't know what to do. Baseball has been my life. I'm lost without it. It's very sad."26
That November, Mora was named the Tecos' new manager, although he still saw spot duty as a player through 1997. He retired after celebrating his 42nd birthday, with final Mexican League totals of 2,259 hits (.311 average) and 1,498 RBIs, to go with his 419 homers.
Managing in Mexico can often be an even hotter seat than it is in the U.S. – owners and front offices look for quick results. Loyalty (or patience) lasted longer than most for Mora, but while he was Mexican League manager of the year in 1995, he didn't lead the Tecos to the playoffs after that. The team abruptly removed Andrés as manager in mid-year 1998,27 and he quickly joined Saltillo as batting coach.28 He returned to manage Dos Laredos for 1999, but then moved on to lead the Monclova Acereros in 2000. He was fired with 15 games left that year, though.29 He served as batting coach and interim manager for the Tecos in 2001, but left the team partway through the year.30
After that Mora also managed Veracruz, starting 2003 there before returning to lead Dos Laredos yet again that June. Near the end of 2004, he replaced Mario Mendoza at Angelopolis,31 after which he stepped down once more to the coaching ranks.32 In addition, Mora coached at various points during the winter, in both the LMP and the Veracruz Winter League, which was revived in 2005.
As of 2009, Andrés was in the city of Minatitlán, Veracruz. He reunited with his old friend, manager Alejandro Ortiz, as the bench coach for the winter ballclub (the Gavilanes). He then joined the coaching staff of the summer franchise (the Petroleros) He became manager yet again in June 2009, finishing the season for the Petroleros.
Mora became a member of the Mexican Baseball Hall of Fame on July 21, 2003. He called it the most emotional day of his life. It apparently was quite a sight to see this man, known for his fearsome appearance in the batter's box, with tears running down his cheeks, calling his wife on stage to read his prepared remarks. They finished with the refrain of the popular Latin American folk song "Gracias a la Vida".
"Today I can die in peace because at last there is recognition of the effort I made in baseball, a sport to which I owe everything, and I can only say, 'Thanks to life, which has given me so much.'"33
While only in middle age, Mora's health suffered irreversible damage. It stemmed from diabetes, which was not controlled well after its onset.34 Among the severe complications was diabetic neuropathy, a risk factor for falls. One such accident in 2007 required surgery on his left hip, and about half a year later, he broke his other leg in another fall. He came to need a wheelchair.
By virtue of his brief service with Cleveland in 1980, Mora was a vested member of the Major League Baseball Players Benefit Plan. In 2013, he noted that the pension would help tide him over in his old age.35 It's not clear, however, to what extent he utilized his benefits, including health coverage.
In October 2014, again as a consequence of diabetes, Mora contracted a lung infection. It developed into pneumonia, causing him to be hospitalized.36 The Saltillo Saraperos announced a charity game to help defray his expenses.37 That game took place at Estadio Francisco I. Madero on November 22, 2014. Mora welcomed more than 30 former professional ballplayers – including Marcelo Juárez and ex-major-leaguers Alfonso Pulido, José Ceceña, and Enrique Romo – who made the trip to show their support.38
In May 2015, the government of the state of Coahuila unanimously approved a modest monthly pension for Mora of 7,000 pesos (then equal to approximately US $450).39 Just weeks later, however – on June 12, 2015, at 10:20 PM – Andrés Mora Ibarra died.40 Ongoing problems with pneumonia and diabetes were the cause.41 He was laid to rest in Saltillo's Panteón de Santiago.42
Less than two years before he died, Andrés Mora said, "Many people said to me that if I had stayed at home those years that I was in the U.S., perhaps I might have reached 500 homers [in the Mexican League]. But I said to them, I didn't lose, I won because I played in the best baseball in the world. I feel content with what I did in my career and satisfied with life. I can't say that I was the best, but yes, I was one of the best."43
Acknowledgments
This biography was originally published in November 2009 and updated in June 2015. Grateful acknowledgment to Gerardo Castro (who died in February 2011) for permission to translate his work and present it here. Thanks also to SABR members Eddie Almada and Alain Usereau, as well as Salo Otero, Chito Rodríguez, and Ray Poitevint.
Sources
Books
Pedro Treto Cisneros, editor, Enciclopedia del Béisbol Mexicano. Revistas Deportivas, S.A. de C.V., 1998.
Omar Canizales Soto and Christian Veliz Valencia, editors, Guía Oficial LMP, 2014-15.
Internet resources
Mexican Baseball Hall of Fame website, www.salondelafama.com.mx
Laredo Morning Times, http://madmax.lmtonline.com
Petroleros de Minatitlán website (www.petrolerosdeminatitlan.com), notably press release of January 19, 2008.
Newspaper articles
Jim Henneman, "Orioles See Slugger Shadow in Sleeper Mora". Sporting News, February 7, 1976: 47.
Jim Henneman, "O's Take a Longer Look at Young Slugger Mora". Sporting News, May 8, 1976: 16.
Notes
Born
May 25, 1955 at Rio Bravo, Coahuila (Mexico)
Died
June 12, 2015 at Saltillo, Coahuila (Mexico)
If you can help us improve this player's biography, contact us.
http://bioproj.sabr.org/bp_ftp/images3/MoraAndres.jpg
600
800
admin
/wp-content/uploads/2020/02/sabr_logo.png
admin
2012-01-04 20:25:09
2012-01-04 20:25:09
Andrés Mora