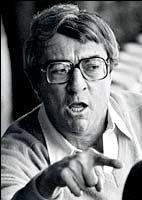 Super Scout: Thirty-five Years of Scouting was the name of Jim Russo's 1992 memoir. The title was simple and apt. Russo worked full-time for the Baltimore Orioles franchise from 1951, when it was still the St. Louis Browns, until 1986. As the club rose to prominence in the '60s, he gained acclaim as one of the prime roster architects and for his incisive advance scouting. "Jim Russo was vitally important to the Orioles' great run of success," said Dave Ritterpusch, who was Baltimore's scouting director in the mid-1970s.1
When he was still an "ivory hunter," Russo (and his colleagues) signed several prominent members of the 1966 and 1970 world champions: Jim Palmer, Dave McNally, Boog Powell, and Dave Johnson. As special assistant to the general manager, from 1966 until the end of his career, he played a central role in many crucial trades, notably the acquisitions of Frank Robinson and Mike Cuellar. Another such deal near the end of 1974 brought Ken Singleton. Russo also came in at the end of the scouting process to check on top prospects. In addition, he served as the club's eyes and ears, compiling exhaustive reports on opponents – especially ahead of the playoffs and World Series. The O's lost in the postseason on several occasions, but it wasn't for lack of preparation.
James Joseph Russo was born in Huntington, Indiana, on April 22, 1922. He was one of five children born to John and Lena Russo; his brothers were named John and Anthony, and his sisters were Mary and Margaret.
In 1986, as Russo watched the World Series between the New York Mets and Boston Red Sox, New York's Newsday wrote, "Jim Russo has had a love affair with baseball virtually all his life."2 Author Christopher Lehmann-Haupt said that Russo's "appetite for the details of the game seemed insatiable."3 Russo was an infielder himself, though he played only at the semipro level in Huntington. His main job was schoolteacher.
During World War II Russo had served in the Air Force in the China-Burma-India theater (he became a serious WWII history buff). In 1949 he moved to Alma, Michigan, where he was a broadcaster for college and high-school football and basketball games. In Huntington, where he had also managed his club, Russo had recommended a couple of prospects to a scout for the Browns. After moving again, to Riverside, California, he worked as a play-by-play announcer in the Sunset League and "resumed his contact with the Browns as a bird dog."4
In Riverside, while serving as sports director for KPRO radio, Russo met Betty Louise Miller, who was the station's traffic director. They were married on January 20, 1951.5 The Russos had two sons, Ronald and Clifford, and three daughters, Jennifer, Nancy, and Susan. Betty died of a heart attack in June 1980. She was only 54.6
Russo's duties with the Browns soon became full-time; the lovable maverick Bill Veeck, who owned the club by then, promoted him. A 1952 article in the Daily Favorite of Bonham, Texas, described Russo, then living in the Dallas suburb of Irving, as he held a three-day tryout camp for the Browns. Of interest, the piece said that Russo had been a scout and field representative on the West Coast for several years, but that "the great Texas area" had become his territory.7
As of February 1954, the Baltimore Sun noted that Russo was still working in Texas for the newly transplanted Orioles.8 Before a couple of years had passed, though, he was covering the Midwest for the O's (Ohio, Indiana, Kentucky, and Tennessee).9 He conducted tryout camps with his fellow Baltimore scout, former Detroit Tigers pitcher Hal Newhouser, later elected to the Hall of Fame.
Scouting was a key ingredient in Baltimore's rise to success. As former club executive Lou Gorman said, "The Orioles scouting staff was arguably the best in the business." The man who assembled that staff was Jim McLaughlin, director of scouting and player development.10 McLaughlin was a tough man with exacting standards. In 1984 Russo said, "The worst sin for a scout is to be wishy-washy. Jim McLaughlin used to call it 'dancing.' A good scout can't dance. He's got to know what he thinks."11
By 1959 (if not before), Russo had risen to scouting supervisor for the Midwest.12 In January 1966, however, Harry Dalton – the newly appointed director of player personnel for the Orioles – completed the realignment of his department. He named Russo as his special assistant.13 The scout had already won the ear of Lee MacPhail, who was then Baltimore's president and general manager. In late 1965 MacPhail was just about to move on to his new position as right-hand man to the new commissioner of baseball, William Eckert. In his 1989 autobiography, My 9 Innings, he recalled how the Frank Robinson trade developed. "I was convinced that what the team needed was one more good hitter with power – preferably a right-handed hitter. Jim Russo, who did most of our scouting at the major-league level, told me that there was a chance the Reds would deal Frank Robinson."14 After the Orioles swept the Los Angeles Dodgers in the 1966 World Series, Sports Illustrated told the story of how Russo's persistence paid off – he had been pursuing a trade for the 1966 Triple Crown winner since 1961. On December 9, 1965, the swap finally went through.15
That article described Russo as "a black-haired 44-year-old who wears horn-rimmed glasses and neatly cut clothes . . . the last St. Louis Brown still employed in the Baltimore office." It also gave him credit (along with fellow scouts Al Kubski and Harry Craft) for the 16-page scouting report that detailed the Dodgers' weaknesses and concluded that they and their star pitcher Sandy Koufax were beatable.16 By other accounts, though, credit was due elsewhere too. Author Tom Adelman wrote, "Frank Robinson had contributed a good many tips. . . . As for [manager] Hank Bauer, he had found Russo's session [which ran 2½ hours] far too long." Adelman added that Minnesota Twins manager Sam Mele's simple advice on how to pitch to the Dodgers – "Fastballs" – influenced Bauer's choice of pitchers, especially Moe Drabowsky.17
By July 1968 Bauer was gone, and the Earl Weaver era had begun. Weaver's relationship with Russo was often contentious, but he still made good use of the reports filed by Jim and another top Orioles scout, Walter Youse. "We used to argue all the time," Russo told the New York Times Magazine in 1984, "and now that he [Weaver]'s gone I kind of miss it. We would talk until 3 in the morning about how to pitch somebody."18
When Baltimore got Mike Cuellar in December 1968, he'd had two respectable years with the Houston Astros but was coming off an 8-11 season. Frank Cashen, then executive vice president of the Orioles, recalled, "When we traded for Cuellar, none of us had ever seen him play. But Jim Russo said – and I'll never forget it – he said, 'This guy is an artist. He paints one part of the plate, and then he paints the other part of the plate.' And we went out and got him."19 In the seven seasons from 1969 to 1975, the Cuban lefty won 139 games and lost just 75 with a 3.08 ERA. Over that period, only Ferguson Jenkins (143), Catfish Hunter (141), and Gaylord Perry (140) won more often.
When Russo made the newspapers in subsequent years, it typically came as the Orioles headed into the postseason and relied on his advance reports. One memorable line came in 1969, when he asked after Game Four of the World Series how much longer the Amazin' Mets could keep playing "with those angels on their shoulders." Another came in 1971, when he said of Pirates superstar Roberto Clemente: "His weakness was so close to his strength that you were always in danger."
In late 1975 Hank Peters replaced Frank Cashen as Orioles GM. This ushered in a new phase of the Russo-Weaver relationship, as author Daniel Okrent described in his book Nine Innings.
"The only impediment to Weaver's team-building existed in his ferociously antagonistic relationship with Jim Russo, Baltimore's chief scout. The most valuable function performed by Hank Peters, Baltimore's dry, rather colorless general manager, was probably his mediation of the running battle between the two men. Peters was able to fuse a plan of action from the seemingly disparate approaches of the mercurial Weaver and the emphatic Russo. In effect, Peters used Russo to get the best out of Weaver's imaginative mind. With Russo out scouting and appraising talent, Weaver was compelled constantly to justify the assembly of his roster. It worked marvelously."20
In 1977, The Sporting News profiled the "Oriole Eye in the Stands." The article said, "He might be an ordinary fan, except he watches the games with more intensity, he never cheers or boos, and he holds a notebook in which he makes frequent entries." It continued by describing how he sized up pitchers' stuff and their approach on the mound, as well as the key question about batters: "How do we get the man out?"21
As the 1979 season dawned, the Baltimore Sun noted on March 16, "Russo will come here another week, and he and Weaver are expected to have their usual disputes. . . . If Russo said blue, Weaver would say it was white and vice versa."22 Also of note that month was a New York Times column from St. Petersburg, spring home of the New York Yankees, who had won the last three AL pennants. Although the Yankees (notably Reggie Jackson) weren't worried about their 5-14 spring record, Russo offered a cautious view.23
As the season progressed, Russo's name was connected with the usual trade talks and scoping out the opposition. On September 10, 1979, the Times published a feature entitled "Jim Russo, Super Scout." Among other things, it said, "Many of Jim Russo's colleagues say he is perhaps the best scout in baseball." The article also talked about Russo's daily discussions with Weaver.24 Two days later, Seymour S. Smith in the Sun described Russo as "chasing around the country in pursuit of the baseball edge, the bits and pieces that might help the Orioles who employ him when they almost certainly appear in the American League playoffs, and possibly the World Series."25
Ahead of the '79 Series, Alan Goldstein of the Sun wrote, "When Jim Russo talks, Earl Weaver listens."26 Russo recommended that southpaw Mike Flanagan start the opening game because the strength of the Pittsburgh Pirates' lineup was their lefty hitting. That decision paid off with Flanagan's complete-game victory. A few days later, Thomas Boswell of the Washington Post wrote, "The Orioles, especially Weaver and scout Jim Russo, think baseball is chess. To the Bucs, the game ain't that tough. It's just country hardball, about as tough as checkers."27
Before Game Six, Goldstein noted, Russo held an emergency strategy meeting with Earl Weaver and defensive coordinator Frank Robinson "to discuss ways of stifling the torrid Pirate hitters."28 Russo warned the Orioles, "They're not the Monongahela All-Stars. They're the Pittsburgh Pirates and you'd better not forget it."29
Russo continued to make good copy for sportswriters during the remainder of his time with Baltimore. After the Orioles beat the Philadelphia Phillies in the 1983 World Series, veteran sportswriter Dick Young wrote a piece called, "Superscout Made O's Job Easy."30 In a related column, Young said, "After watching the Orioles hold Mike Schmidt to one broken-bat single in 20 World Series swings, I feel like nominating superscout Jim Russo for Cooperstown. Baltimore's talented hurlers kept sawing Schmitty off at the fist with fastballs, just as they did Bull Luzinski in the playoffs. The scouting reports were precise, the execution of them superb. The players get acclaim, how about the scouts?"31
There was talk after the '83 season that the O's might lose Russo to another club, but he stayed on. In 1984 he became one of the co-founders of the Scout of the Year Program, along with two other eminent scouts, Hugh Alexander and Tony Pacheco. Their goal: "To bring positive recognition to the profession of scouting and to honor scouts who have devoted time and energy to, and have shown professionalism in, the scouting field."
In November 1986 Hank Peters announced that Russo, at his own request, would be assigned other duties with the club that would allow him to stay closer to his home in St. Louis. Russo was to turn 65 in April 1987, and he had asked to cut back his job responsibilities and travel.32 As it emerged, he retired in January 1987; he was honored at the annual banquet of the Maryland Professional Baseball Association. He said, "I expect to enjoy a few baseball games." He was also giving thought to writing his book, on which he collaborated with Indiana sportswriter Bob Hammel.33
In September 2003 the Orioles presented their own Jim Russo Scout of the Year Award for the first time. Less than five months later, on February 8, 2004, the 81-year-old superscout died. He had been suffering for some time from heart disease and diabetes. Family members found his body at home in Wildwood, Missouri. The very next day, the Baltimore Sun published an article that contained Russo's last public words – on the role of scouting in the Orioles' glory years. "We were good, really good. You don't generate baseball's best record over 30 years by accident."34
Jim Russo was a quotable man, but one line of his in particular still resonates. Back in spring training 1978, he said, "You play 162 games and a lot of intangibles come to the surface."35
Notes