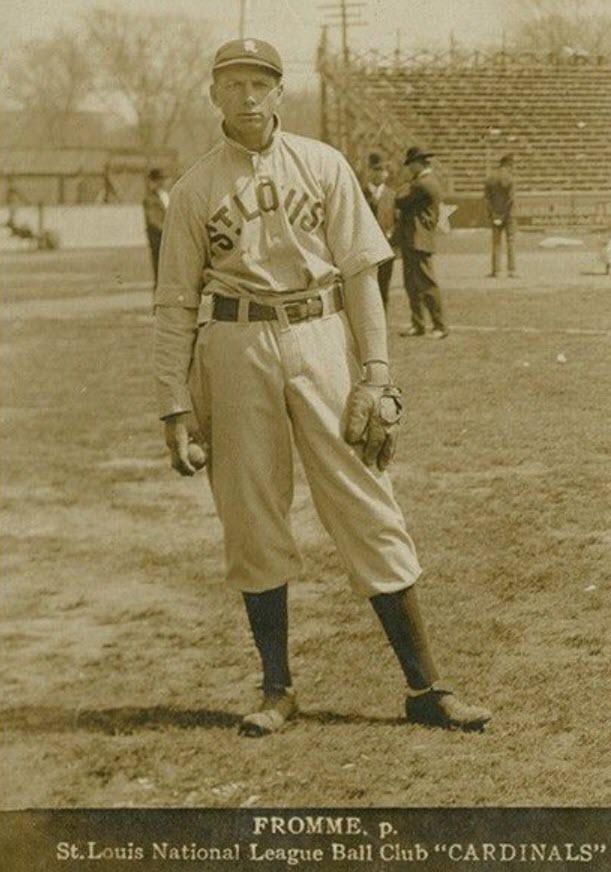 ---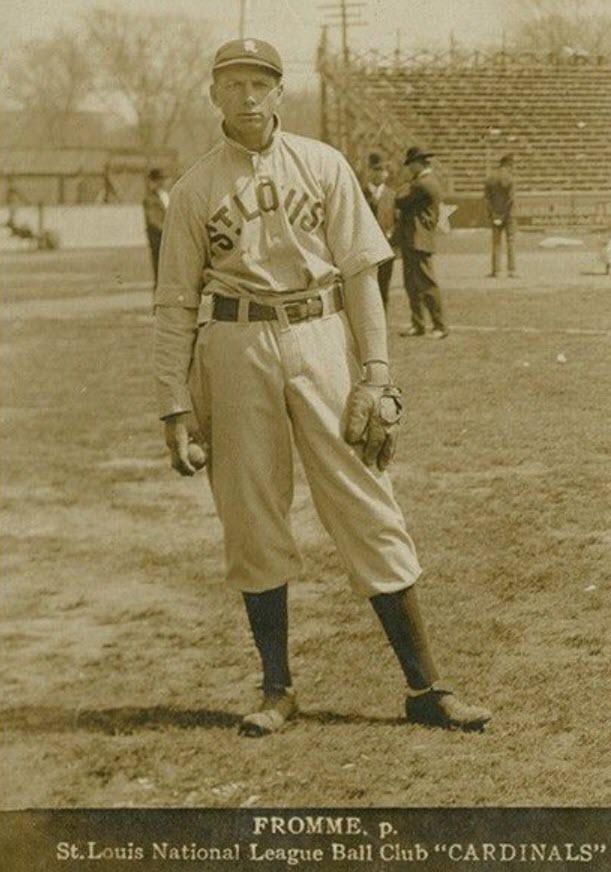 Art Fromme struggled often with illness and injury, but when healthy he was among the best pitchers in the National League. In his finest season, the right-hander achieved a 19-13 record for the 1909 Cincinnati Reds. He never threw a major-league no-hitter, but from 1907-14 he hurled four one-hitters and four two-hitters.
Arthur Henry Fromme was born in Quincy, Illinois, on September 3, 1882 or 1883.1 His parents, Christian and Caroline (Ippensen) Fromme, were married in Hanover, Germany, in 1867 and came to Quincy the following year. They had six children, four living at the time of the 1900 US Census, and Arthur was the youngest of the four. The family resided in the German district on the south side of Quincy. Christian was a tailor, and Arthur, as a young man, worked as a cabinetmaker.
Arthur took an interest in baseball and played on local teams. On July 30, 1905, as a member of the semipro Quincy Reserves, he threw a no-hitter against a team from Hannibal, Missouri.2 He also pitched a shutout that year against the Springfield (Illinois) Senators of the Class B Three-I League, and the Senators signed him to a contract.3 His 6-13 record for the 1906 Senators was unimpressive, but he allowed the fewest hits per game (5.36) of any pitcher in the league.4 The Davenport (Iowa) Daily Times described one of his pitches as a "wicked in-shoot" that "travels like a cannon-ball and curves with a flash."5
On September 11, 1906, the Chicago Cubs played an exhibition game against the Senators in Springfield. At the time, the Cubs were dominating the National League with a 100-32 record and had won 32 of their last 34 games. Yet Fromme, facing a lineup of Cubs regulars, hurled a three-hitter in a 2-1 Springfield victory. His performance was astounding. The Chicago Inter Ocean described him as "a husky youngster," "6 feet tall, and weighing 175 pounds."6
The St. Louis Cardinals snapped up Fromme in the Rule 5 Draft and sent him to pitch against the Cubs in St. Louis on September 14. He was nervous and committed three errors in his major-league debut, but pitched respectably in a 3-0 loss.7 On September 29, in the second game of a doubleheader, he shut out the Giants in New York to earn his first major-league victory.
All that promise evaporated as he posted identical 5-13 records for the cellar-dwelling Cardinals in 1907 and 1908. He battled foot problems in 1907; reportedly, "one of his hoofs swelled up as big as a balloon."8 The following year, he was "ill with yellow jaundice" in May and tore a ligament in his right shoulder in August.9 But when he was well, he demonstrated his ability. He fanned 10 Cincinnati Reds in a 4-2 victory on July 2, 1908, and blanked the Reds three days later in the first game of a doubleheader. "Fromme looks and acts the part of a high-class pitcher," noted Jack Ryder of the Cincinnati Enquirer.10
John E. Wray of the St. Louis Post-Dispatch declared in September that Fromme was "the biggest disappointment" of the 1908 Cardinals,11 and the team traded him to the Reds three months later. Ryder offered his opinion: "Fromme shows enough to make him look like one of the best young twirlers in the business, but he has been singularly unfortunate in getting injured or being ill, and his record with the Cardinals has been disappointing as a result. Should he ever strike the gait his delivery indicates he is capable of, he will rank with the best pitchers in the country."12 In agreement was Cardinals manager John McCloskey, who lost his job after the 1908 season. He told Reds manager Clark Griffith that Fromme was "by far the best pitcher among St. Louis' possessions."13
A throng of 20,000 packed Cincinnati's "Palace of the Fans" ballpark on Opening Day, April 14, 1909. Fromme was given the honor of pitching and delivered a four-hitter, but the Reds fell 3-0 to the Pittsburgh Pirates.14 Ten days later, he tossed a two-hit shutout in Pittsburgh. In the second game of a doubleheader on April 29, he beat the Cubs with a five-hitter and was praised by Griffith: "Everything that goes to make up an A No. 1 twirler Fromme has. Speed galore, curves, change of pace and, what's more and the most essential of all, a brain that is working every second of the time that he is on the mound."15
Fromme varied his delivery; he threw overhand, underhand (submarine style), and side-arm.16 According to Ryder, Fromme possessed "a world of speed," a "mystifying" change of pace, and a "quick-breaking curve." And his "slow twister" caused batters to "swing wildly at the floating sphere." Ryder added, "Matty [Christy Mathewson] has nothing on Fromme."17
In the first game of a doubleheader on July 10, Fromme fired a one-hit shutout of Brooklyn. He developed a sore arm, however, and consulted physician Bonesetter Reese.18 His arm apparently improved, as he threw two more shutouts, on August 25 and September 3. At season end, his 19-13 record was accompanied by a sterling 1.90 ERA, sixth best in the National League.
In 1910 Fromme was again afflicted with ailments, and he appeared in only 11 games. According to Sporting Life, he suffered from "rheumatism in his right arm and shoulder and his left ankle."19 After the season, he underwent a successful operation to address "enlarged veins in his legs."20 He spent the winter in Los Angeles with his sister and took long walks in the mountains to regain his strength.21
The visiting Pirates embarrassed the Reds, 14-0, on Opening Day, April 12, 1911. Fromme started the game and surrendered seven runs in 4 2/3 innings. At Boston on May 11, he gave up 10 runs in a complete game yet escaped with his first victory of the season as the Reds prevailed, 13-10. He improved as the season went on. On May 27, he threw a brilliant one-hit shutout at Pittsburgh; the sole hit was Honus Wagner's second-inning double, which landed "barely fair, just stirring up the chalk on the outside of the [left-field] foul line."22 And in New York on August 19, in the second game of a doubleheader, Fromme outdueled Christy Mathewson in a 7-4 triumph. This was no ordinary victory; Mathewson had won 22 straight games from the Reds before losing this one.23
Fromme got off to a miserable start in 1912. At Pittsburgh on April 27, he was knocked out after surrendering six runs in the first inning, and in New York on June 5, he was taken out after allowing five runs in the initial frame. Through games of June 10, his ERA was 4.48, and sportswriter Ren Mulford Jr. asked, "Why is Art Fromme sent to continuous slaughter? He has proved as ineffective in recent games as a white mouse in a fight with a bulldog."24
But Fromme regained his form and recorded a 2.09 ERA in the remainder of the season. He had three notable duels with Mathewson. Fromme lost the first one, 3-2, in New York on August 3, but he "pitched the kind of ball that could win 99 out of 100 games," said the New York Tribune.25 He allowed three home runs—two by Fred Merkle and one by Beals Becker. Two of them barely made it over short fences at the Polo Grounds; at any other ballpark, they would have been "just plain, ordinary catches."26 Fromme was a weak hitter—he went 9-for-103 (.087) at the plate in 1912—but that day he got two hits off Mathewson.
In the second duel with Mathewson, on August 27, Fromme delivered a "masterful" one-hit shutout in Cincinnati as the Reds beat the Giants, 2-0.27 The third matchup took place on September 19 in New York, in the second game of a doubleheader; it was ended by darkness after nine innings with the score tied, 2-2.28 Fromme, at his best, could compete with Mathewson.
On May 4, 1913, Fromme threw the fourth one-hitter of his career but lost to the Pirates, 1-0. Five days later, he defeated Rube Marquard and the Giants, 3-1, in New York. On May 22, the Giants completed a trade with the Reds to acquire Fromme. Used as a starter and reliever, he compiled an 11-6 record for his new team. He did not play in the 1913 World Series, which the Giants lost in five games to the Philadelphia Athletics; he warmed up in the bullpen but never got into a game. He did pitch for the Giants in their fall tour of America with the White Sox but elected not to travel overseas with the teams in their subsequent world tour.29
Fromme turned down an offer to join the Kansas City Packers of the Federal League30 and returned to the Giants for the 1914 season. He was again used as both a starter and reliever. After four appearances with the team in the spring of 1915, he was demoted to Jersey City. He had relocated with his father from Quincy to Los Angeles in 1912 after his mother died, and he preferred to play on the West Coast. He declined to play for Jersey City, negotiated his release, and became a free agent. On June 1, 1915, he signed with the Venice Tigers of the Pacific Coast League.31 His major-league career was over, but he was not done as a pitcher.
The Venice team became known as the Vernon Tigers in 1915 and played home games in Los Angeles. In a game there on July 22, Fromme pitched a five-hitter to beat the Oakland Oaks, 2-1. His performance was notable in that he held Jack Ness hitless, thereby ending Ness's 49-game hitting streak.32 The Tigers' Joe Wilhoit clouted a solo home run in the sixth inning; he would gain fame four years later with a 69-game hitting streak.
In 1916 Fromme had his best season on the Tigers, with a 23-14 record and a league-leading 1.92 ERA. From June 10 to July 10, he allowed five earned runs in 54⅓ innings—a 0.83 ERA. During this stretch he threw 33 consecutive scoreless innings.33 Connie Mack, manager of the Philadelphia Athletics, tried unsuccessfully to acquire him.34
In November 1916, Fromme married Katherine "Katie" Marguerite Lauterbach, a 25-year-old native of California. Their only child, Robert Joseph Fromme, was born a year later. Robert would serve in the US Army in World War II, Korea, and Vietnam, rising to the rank of Lieutenant Colonel.
Fromme was a 20-game winner twice more for Vernon, in 1917 and again in 1919, and he helped the team win consecutive pennants, 1919-20. The Tigers traded him to Sacramento in May 1921, but he declined to play there and chose instead to retire.
After his baseball career, Fromme resided in Alhambra, California, and worked for 25 years as an inspector for the engineering department of the City of Los Angeles. Following a two-week illness, he died of heart failure and kidney disease on August 24, 1956, at the Queen of Angels Hospital in Los Angeles.35 He was buried at Rose Hills Memorial Park in Whittier, California.
Acknowledgments
This biography was reviewed by Bill Lamb and Joel Barnhart and fact-checked by Kevin Larkin.
Sources
Ancestry.com, Findagrave.com, Baseball-reference.com, and Retrosheet.org (accessed February 2020).
Photo: Art Fromme on a 1908 postcard by H.H. Bregstone.
Notes
1 The 1900 US Census gives Art Fromme's birthdate as September 1882, but he gave his birthdate as September 3, 1883, on World War I and II draft registrations.
2 "Hoferites Win at Hannibal," Quincy (Illinois) Daily Herald, July 31, 1905: 8.
3 "The Base Ball Season Opens," Quincy Daily Herald, March 20, 1906: 2.
4 Sporting Life, January 19, 1907: 15.
5 "Another Victory in the Eleventh," Davenport (Iowa) Daily Times, August 21, 1906: 8.
6 "Giant Killers Get Awful Jolt," Chicago Inter Ocean, September 12, 1906: 4.
7 "Fromme Showed Caliber," Rock Island (Illinois) Argus, September 15, 1906: 7.
8 "Says Fromme Is Real Star," Decatur (Illinois) Review, March 27, 1908: 5.
9 John E. Wray, "First Scores in 3 Contests," St. Louis Post-Dispatch, May 27, 1908: 7; "Fromme Out of Game Rest of Season with a Lame Shoulder," St. Louis Post-Dispatch, August 14, 1908: 10.
10 Jack Ryder, "Home for a Very Long Stay," Cincinnati Enquirer, July 6, 1908: 6.
11 John E. Wray, "Fromme a Disappointment; Illness Causes Downfall," St. Louis Post-Dispatch, September 12, 1908: 6.
12 Jack Ryder, "Traded Schlei to Cardinals," Cincinnati Enquirer, December 13, 1908: 10.
13 "M.H. Sexton Highly Honored," Davenport (Iowa) Democrat and Leader, January 7, 1909: 7.
14 Sporting Life, April 24, 1909: 8.
15 "Griffith Anxious for Reds to Keep Up Their Winning Streak," St. Louis Globe-Democrat, May 1, 1909: 10.
16 "Cardinals Make Show of Brooklyn Nine," St. Louis Globe-Democrat, September 24, 1907: 13.
17 Jack Ryder, "Matty Has Nothing on Fromme," Cincinnati Enquirer, April 25, 1909: 10; Jack Ryder, "Brutal Actions of McIntire," Cincinnati Enquirer, June 4, 1909: 8.
18 Sporting Life, August 7, 1909: 9.
19 Sporting Life, July 2, 1910: 7.
20 Sporting Life, November 12, 1910: 5.
21 Jack Ryder, "Dope on Two Red Twirlers," Cincinnati Enquirer, February 6, 1911: 8.
22 Jack Ryder, "Home Today to Greet Loyal Fans," Cincinnati Enquirer, May 28, 1911: 19.
23 Sporting Life, August 26, 1911: 9.
24 Ren Mulford Jr., "Redbugs Wail," Sporting Life, June 22, 1912: 9.
25 "Trio of Home Runs Makes Giants Victors," New York Tribune, August 4, 1912: 10.
26 Jack Ryder, "Luck Is Not Even with Reds," Cincinnati Enquirer, August 4, 1912: 16.
27 Sporting Life, September 7, 1912: 8.
28 Sporting Life, September 28, 1912: 8.
29 James E. Elfers, The Tour to End All Tours: The Story of Major League Baseball's 1913-1914 World Tour (Lincoln, Nebraska: University of Nebraska Press, 2003), 82.
30 Harry Dix Cole, "New York News," Sporting Life, December 27, 1913: 5.
31 "Art Fromme Is Signed," Los Angeles Times, June 2, 1915: III-2.
32 "Fromme, Vernon Heaver, Puts Stop to Jack Ness's Remarkable Hitting Record in Fiftieth Game," Salt Lake Tribune, July 23, 1915: Sports, 1.
33 "Art Fromme Leads League," Los Angeles Times, July 18, 1916: Sports, 2.
34 "Connie Mack Planning to Bolster Up Athletics for 1917 Flag Race," Windsor (Ontario) Evening Record, August 18, 1916: 11.
35 "Art Fromme Dies; Former Card Pitcher," St. Louis Post-Dispatch, August 26, 1956: 3F; and California death certificate.
Born
September 3, 1883 at Quincy, IL (USA)
Died
August 24, 1956 at Los Angeles, CA (USA)
If you can help us improve this player's biography, contact us.
https://sabr.org/sites/default/files/FrommeArt.jpg
600
800
admin
/wp-content/uploads/2020/02/sabr_logo.png
admin
2012-01-04 20:27:29
2020-06-23 15:19:47
Art Fromme