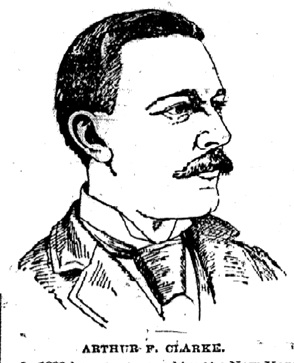 ---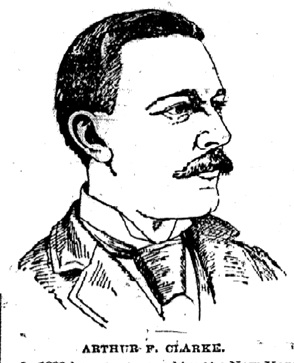 This native of Providence, Rhode Island, attended Brown University in his hometown. He was one of the first men in the majors from the university. Clarke graduated from Williams College in 1889, however, and became the first big-leaguer at all from that school. The utilityman – his main position was catcher – played in 149 games for the New York Giants in 1890 and 1891. He got his chance amid the Players League upheaval of 1890 but then pursued his true calling, the law.
Arthur Franklin Clarke was born on May 6, 1865. A 1902 book called The "Clarke" Families of Rhode Island is devoted to the clan's history in the state, though Artie's branch is not visible. Even so, his genealogy is known. His parents were Bradford A. – listed as superintendent of a woolen mill in the 1880 Census – and Eliza Gould Clarke. As of 1880, Artie had two siblings: Clarence (born c. 1875) and Alice (born c. 1879). The previous census, from 1870, showed a 2-year-old sister named Emma; one may infer that the little girl passed away young. That census also showed several other members of the Gould family in the household.
Clarke went to public schools in Providence; he then won a state scholarship to Brown.[1] A short sketch in the New York Clipper from April 1892 noted that he attended Brown from 1884 through 1886, becoming the baseball team's catcher.[2] The Bruins played in the American College Association, which at that time comprised Amherst, Brown, Dartmouth, Harvard, Princeton, and Yale.[3] Each school faced the others twice.
The Baseball Reference website shows that Clarke played with the Biddeford/Newburyport team in the Eastern New England League in 1885. In July the Biddeford, Maine, club disbanded, and a new franchise called the Clamdiggers, from Newburyport, Massachusetts, entered the league.[4] Pending examination of box scores, we do not at present know whether Clarke played for one, the other, or both of these teams. It would also be interesting to know how he played in this league yet kept his amateur standing.
Clarke transferred to Williams, the small liberal-arts school in northwestern Massachusetts, in 1887. Like Brown, Williams has a fine academic reputation, but in the baseball world the most prominent names are nonplayers George Steinbrenner and Fay Vincent. The last alumni played in the major leagues in 1934, and all told there have been only nine of them (versus 38 Brown Bruins). Six of those men played between 1890 and 1920, most notably Ted Lewis, "The Pitching Professor," who starred with the Boston Beaneaters before the turn of the 20th century. Clarke had more big-league at-bats than any of his fellow Ephmen, most of whom appeared fleetingly.
Clarke was a star at Williams, which won the Intercollegiate Baseball Association championship from 1887 through 1889, with him as catcher and captain the latter two years.[5] As "Father of Baseball" Henry Chadwick wrote in 1888, formation of and membership in the top college leagues of the Northeast fluctuated that decade. Harvard, Yale, and Princeton formed their own league in 1887, leaving Williams, Amherst, Dartmouth, and Brown as rivals.[6]
In 1892 Sporting Life wrote, "So far as base ball goes Clarke is the greatest idol Williams students have ever had. Most of those who knew him when he was in college have graduated, but still it would be a hard matter to find a Williams student who could not tell you all Clarke's base ball history. Those who saw the way he captained a team far inferior to those against him will never forget it. His last season here both Dartmouth and Amherst had teams that were stronger than Williams in every respect, and yet simply because the Williams team had a real captain the other teams were beaten without much difficulty."[7]
In those days major leaguers would coach college ball in the offseason. Pitcher Dan Casey of the Philadelphia Quakers went up to Williams to join Clarke in training the 1888 squad.[8] Big-league teams would also put their "colts" (prospects) up against college opponents in the exhibition season. On April 6, 1888, Clarke got to face his future employer, as Williams visited the Giants at the original Polo Grounds on 110th Street. The Ephs lost, 21-7, though Clarke (playing shortstop) had two triples in five at-bats.[9]
Just two days before, the Williams nine had faced a different set of Giants – the famous African-American club the Cuban Giants. At the East State Street Grounds in Trenton, New Jersey, the Ephs trounced the team that became Colored champions of 1888, 14-5 (Clarke, playing catcher and shortstop, went 0-for-5).[10]
Clarke graduated with a bachelor of arts degree in 1889. He then played in Troy, New York, about 30 miles west of Williamstown. Troy had organized an amateur league the previous winter, and it proved so popular and successful that the teams began to engage pros. Clarke's team, the Citizens' Club, stuck to college players. At least four of his Williams teammates joined him, and the club also hoped to attract a Yalie named Amos Alonzo Stagg – who later became a great football coach but at that time was a pitcher.[11]
Meanwhile, a storm was brewing in the majors as John Montgomery Ward of the Giants formed the Players League. The Giants' Hall of Fame catcher Buck Ewing – an original founder of the Brotherhood, that era's equivalent of a players union – signed a contract to play in the new league on November 12. When an injunction against Ward was denied in January 1890, signaling temporary victory over the reserve clause, other players jumped en masse. The rest of manager Jim Mutrie's starting 1889 lineup defected, except for outfielder Mike Tiernan, and Mutrie lost the better part of his reserves too. The team brought in a raft of college players for review.
Although Buck Ewing's commitment to the Players League wavered, he did not jump back. The Giants had only two other men who caught for them in 1889: Bill Brown and 32-year-old Pat Murphy. The opening was there for Clarke as he was selected for the team's Southern trip that spring, and he made the most of it. Mutrie called him "the 'find' of the year" and Sporting Life gushed, "His work has been perfect. His catching and throwing to bases are superb, while he seems to have a tendency to knock the cover off the ball every time he goes to the bat. He handles the deliveries of all the pitchers with great skill and will make his mark this year without any trouble."[12]
As the season approached, the National League owners huddled over their problem. In late March a rumor came true: they decided to fold the Indianapolis and Washington franchises and disperse their players. Hoosiers owner John T. Brush – who later that year became part-owner of the Giants – signed nine of his men to New York contracts with bonuses. They included future Hall of Famers Amos Rusie and Jesse Burkett. Four other new starters arrived too: shortstop Jack Glasscock, second baseman Charley Bassett, third baseman Jerry Denny, and catcher Dick Buckley.[13]
Clarke still made the big club. He was now one of the "colts" facing college squads. On April 2, playing shortstop against Yale, he "made a good showing, both at bat and in the field," going 3-for-4 with three stolen bases. He also faced his alma mater twice. On April 3, 1890, in Williamstown, Williams gave New York a scare but lost 10-8. Clarke had a hit and a stolen base, but as the catcher, he committed two of the Giants' eight errors that nearly led to defeat. On April 12, in a return match at the Polo Grounds, Artie had a double and scored a run in four at-bats as the Giants won, 12-3.
As the 1890 season developed, Clarke was the primary backup behind the plate (36 games) and in right field, spelling Burkett in 30 games. In fact, he was everywhere on the diamond except for first base and pitcher, playing 16 times at third base, 15 at second base, three in left field, once in center, and once at short. He even served as an umpire on August 2.
That May, W.I. Harris in Sporting Life wrote, "Franklin Clarke, of the New York team, is justifying my opinion that he is the greatest find, outside of the box, of the season."[14] The New York Times also mentioned him several times that season. For example, on July 19, the paper noted, "Rusie and Clarke were the battery in both games. They did great work." Two weeks previously, Rusie and Clarke performed the same ironman feat, which was not unheard of in those days (that was the first of three straight seasons in which Rusie pitched over 500 innings).
Clarke suffered the usual hazards of catching. In an August game at Boston, he "had a finger broken by a foul tip so that the bone protruded through the flesh."[15] He finished the season batting a mild .225, with no home runs and 49 RBIs. He showed good speed, though, with eight triples and 44 stolen bases. The Clipper sketch also noted that one of his strengths was a dead-ball era specialty, sacrifice hitting.
Although Buck Ewing returned to the Giants in 1891 (the Players League having folded), he played in only 14 games. By some accounts, there was resentment toward his activity with the Brotherhood, but the main reason was that "he had hurt his arm making a snap throw on a raw spring day."[16] Dick Buckley remained the No. 1 catcher and Clarke continued to back him up. His utility role diminished greatly, though, as he played in just 48 games, down from 101 the previous year. He appeared in only five games at third and two in the outfield. His hitting tailed off to .190, and he stole only five bases – possibly he was injured.
The New York Times continued to single him out for praise on occasion. On June 9 the paper wrote, "Little Clarke astonished the spectators by his clever work behind the bat." A September 10 story said, "Little Clarke handled Rusie's curves in good style." Artie was in fact on the small side at 5–feet-8 and 155 pounds, though muscular. Also of note that year: On June 25, Clarke married Adele Forbush of Charlestown, Massachusetts.
Buck Ewing returned to full-time duty in 1892. He still caught sporadically that year, as the injury to his once exceptional arm forced him to move to first base. The Giants had signed a new starting catcher, Jack Boyle. That January the team's new manager, Patrick Powers, said, "Jack uses his head more than Buckley, is a better batsman and can play the infield most acceptably. He will more than replace Buckley." The club was also reportedly seeking to obtain another catcher, Jocko Milligan (though they did not get him until the following year).[17]
In February 1892, as the Giants prepared for spring training in Richmond, Virginia, Clarke met with Powers. "He wanted to know whether the club wants him or not, but Powers could give him no definite answer."[18] It is not likely that he went south, for clearly he was not in the team's plans. The next month Sporting Life wrote, "Manager Powers is now working industriously to get an experienced catcher, and will doubtless land one before many days. He has secured in Dan Murphy one of the best young-blood catchers in the country. Arthur Clarke will not be used."[19]
To show how much Clarke's stock had dropped, Powers said, "We are dickering with one of the best catchers in the league, and only want Murphy as an emergency man."[20] Powers' target was the famous Mike "King" Kelly, who had been dallying with the idea of coming to New York. Even though the dissipated King was near the end of the line, he was still asking for $10,000, quite a sum in those days. Kelly went to Boston, though, and the Giants settled for Jocko Fields.
Clarke spent that spring coaching, first at Williams, where "his presence has done wonders in putting life in the players."[21] He also helped at Union College in Schenectady, New York, but then Troy in the Eastern League sought his services as team captain and playing manager. Sporting Life wrote, "Efforts to sign Arthur Clarke, the gentlemanly back stop who played with the New York Giants the past two seasons, are being redoubled. . . . Clarke's record last season was only fair, but, as the Troy management says, records are a delusion and a snare; it is the belief of all that the home team will make an excellent showing under his careful guidance."
The article continued, "The news was received with pleasure by the many friends of the popular catcher, and the daily papers commented favorably on it. Clarke . . . appeared much pleased with the news of his assignment, and said he would work his finger nails off in an endeavor to make Troy a winner." Also, "This will probably be his [Clarke's] last year on the green diamond."[22] This was no doubt a reference to Clarke's pursuit of his law degree, which started at Columbia Law School in 1890.
In the middle of May Troy signed a little catcher named Tommy Cahill, whom the Louisville Colonels did not retain after his one major-league season in 1891. Reportedly Cahill was to come on board as captain and manager – "This probably lets Arthur Clarke out," said Sporting Life.[23] Accounts from later that season, however, show that Clarke held the captaincy – for example, when he was again pressed into service as an umpire on August 19 after a regular ump was taken ill. "Captain Clarke umpired fairly."[24]
The Trojans finished third in the Eastern League with a 62-57 record. Clarke appeared in 86 games, again as a catcher-infielder-outfielder. He batted .254 without a home run (his RBI total is not available) and stole 25 bases. That was in fact his last pro season; Clarke continued his law studies, but at Boston University. He also coached Williams again in the spring of 1893. Troy sent him a contract in March, and despite the previous year's indications, he was expected to sign.[25] That did not happen; Clarke retired, as thought earlier.
Clarke was admitted to the Massachusetts Bar on August 8, 1893. He entered practice in Boston with a distinguished attorney named Josiah H. Benton, Jr. After the addition of another partner in 1903, the firm became known as Benton, Clarke & Beal. Their offices were in the historic Ames Building in downtown Boston, the city's first skyscraper.
In 1894 Artie and Adele had a son named Edwin, who was known by his middle name of Thurston. Three years later a daughter, Frances, was born. E. Thurston Clarke became a well-known investment counselor on Wall Street; his son, Thurston B. Clarke, is a noted historian.
The Clarkes lived in the Boston suburbs of Somerville and later Brookline. In his leisure time, Artie enjoyed golf. He belonged to the Woodland Golf Club in Auburndale, which also had Joseph P. Kennedy as a member. He was secretary of the Boston Art Club and a member of the Abstract Art Club.
As of 1939, Clarke was listed as president of H.L. Nason & Co., a Boston underwriter of public utility securities.[26] That year, however, his reputation suffered amid alleged financial impropriety. Josiah Benton, who had served as president of the Trustees of the Boston Central Library, died in April 1917. Benton had named Clarke executor of his estate, which had bequeathed over $3 million in trust to the library to acquire scholarly books and enlarge the facility. Arthur turned over the funds – but more than $100,000 worth of items in his expense account was disallowed. When he failed to appear to answer a contempt-of-court charge, a warrant was issued for his arrest. Two additional petitions were filed against him in Suffolk (Boston) Probate Court: one concerning his actions as executor of Henry L. Nason's estate, and another concerning his alleged failure to file accountings for a $35,000 trust fund since 1912.[27]
Clarke was unable to make restoration to the library but settled the claim by paying $18,210 in cash. In August 1940 the library told the Boston City Council that it planned no additional action against Clarke because the terms of the settlement provided for further restitution if Clarke came into substantial funds exceeding his living expenses.[28] It seems likely that the Great Depression hit him hard.
Clarke retired from the Bar that year. He died in Brookline on November 14, 1949. He was predeceased by Adele, and his brief obituary in the Boston Globe contained little other information.[29] He was buried in Brookline's Walnut Hills Cemetery.
February 2, 2011
Thanks to Thurston B. Clarke for his input on the Clarke family. Continued thanks to Eric Costello for additional research.
Sources
Unpublished biographical sketch by Rick Harris that was not included in his book Rhode Island Baseball: The Early Years. Charleston, South Carolina: The History Press, 2008.
Who's Who in New England. Chicago: A.N. Marquis & Co., 1916: 245.
Catalogue of Beta Theta Pi. Ann Arbor, Michigan: Junius E. Beal, 1899: 232.
www.ancestry.com
Caillault, Jean-Pierre. The Complete New York Clipper Baseball Biographies. Jefferson, North Carolina: McFarland & Co.: 2009.
Catalogue of Beta Theta Pi. New York: James T. Brown, 1917.
Nemec, David. The Great Encyclopedia of 19th-Century Major-League Baseball. New York: Donald I. Fine Books, 1997.
---
Born
May 6, 1865 at Providence, RI (USA)
Died
November 14, 1949 at Brookline, MA (USA)
If you can help us improve this player's biography, contact us.
http://bioproj.sabr.org/bp_ftp/images5/ClarkeArtie.jpg
600
800
admin
/wp-content/uploads/2020/02/sabr_logo.png
admin
2012-01-04 20:46:05
2012-01-04 20:46:05
Artie Clarke