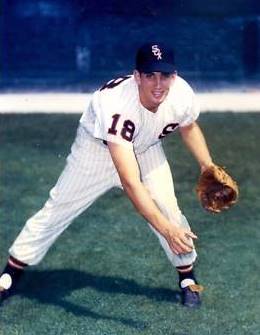 ---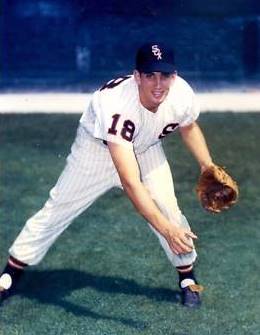 For 40 years, the Chicago White Sox wandered in the wasteland of baseball as the Israelites had once wandered in the Sinai desert. Was it punishment for their sinful dealings in the 1919 World Series? No one can say for sure, but in 1959, absolution was at hand. A member of that 1959 White Sox club was a 6-foot-3 Jewish lad with big shoulders. Barry Latman was neither a Moses nor a major star for the White Sox, but he helped the team atone for those 40 lackluster years and win the American League pennant.
Arnold Barry Latman was born in Los Angeles on May 21, 1936, to a well-to-do couple, Nathan and Elsie (Snitzer) Latman. Nathan was a furniture auctioneer. The Latmans were observant Jews and Barry followed their lead to some extent; he would not pitch on the Jewish High Holidays. Barry had two younger sisters, Ann Lorraine and Carolee.
Latman began playing baseball at the age of six. Also, from the age of seven until he was nine or 10, he appeared on a local weekly television program, singing in a boys choir. When he was 10 years old, his parents made him take a "sabbatical" from baseball for three years so he could study for his bar mitzvah. He started playing again at 13, and, as he put it, "never stopped until I retired from the major leagues." At the age of 15, he tried out for his Fairfax High School baseball team. He made the team as a pitcher; one of his teammates was Larry Sherry, who went on to play for the Los Angeles Dodgers (and star against the White Sox in the 1959 World Series).1
In 1954, at the age of 18, Latman hurled a perfect game for Fairfax High, the first one in a decade in the Los Angeles school system. A senior that year, Latman was named the Los Angeles All-City Player by the Helms Athletic Foundation. His impressive pitching landed him a spot in the All-Star High School Game in New York. He also impressed major-league scouts, and was offered bonuses by several clubs. However, he declined these offers and accepted a baseball scholarship from the University of Southern California.
In 1954, Latman began a five-year correspondence with Ty Cobb, who had seen him pitch on TV. After some time the two met and Cobb watched Latman pitch. He told Barry that he had the stuff to pitch in the major leagues, and sent him a series of encouraging letters.2
Latman grew to become a broad-shouldered man who was nicknamed "Shoulders." While attending the University of Southern California in 1955, Latman signed a contract with the Chicago White Sox. He was sent to Waterloo, Iowa, in the Class-B Three-I League, where he compiled an 18-5 mark with an earned run average of 4.12. He led the league in innings pitched. The next year, 1956, he was promoted to the Memphis Chicks in the Double-A Southern Association, winning 14 and losing 14 with a 3.85 earned run average. In 1957 he moved up to Indianapolis of the Triple-A American Association, Chicago's top farm club, and went 13-13 with an earned-run average of 3.95. In September of that year, the White Sox called Latman up to Chicago.
Barry's major league debut came against the Boston Red Sox on September 10, 1957. He pitched three innings, giving up two hits, striking out two, walking three, and permitting no earned runs. Latman earned his first major-league victory in relief five days later at Griffith Stadium in Washington. He entered the game in relief of Bob Keegan and tossed two scoreless innings. The White Sox scored three runs in the top of the ninth to win the game, 3-1. In his first taste of major-league action, Latman appeared in seven games, winning one and losing two while posting a high earned-run average of 8.25.
After Latman joined the White Sox, pitching coach Ray Berres taught him to throw a slider to complement his fastball, which he threw 60 to 70 percent of the time. Berres also showed Latman how to put pressure on the seams of the ball in order to give the ball more movement.3
Latman began the 1958 season back at Indianapolis and posted a 9-11 record with a 4.62 ERA. Though those numbers weren't very impressive, the White Sox brought him back to Chicago in August, and he pitched well over the final two months of the season. Appearing in 13 games, including three starts, he went 3-0 with an exceptional ERA of 0.76. In his final appearance of the season, on September 26, Latman shut out the Kansas City Athletics on three hits, 1-0, striking out nine and facing only 30 batters.
Latman's late-season performance in 1958 cemented his reputation as one of the White Sox' top pitching prospects, and he began the 1959 season as a member of the starting rotation. But he quickly pitched himself out of that role, going winless in four starts in April and early May while posting a painfully high 9.19 ERA. Sent to the bullpen, his work improved, and he was given another chance to rejoin the rotation in late June. This time he proved ready; from June 25 to the end of the season, Latman was one of the White Sox' most reliable pitchers, going 8-3 with a 3.22 ERA over 21 appearances, including 17 starts. But with the White Sox closing in on their first pennant in 40 years, manager Al Lopez began to rely more on his veteran pitchers, and Latman finished the season back in the bullpen.
Latman's last start of the 1959 season came on September 11, and it was memorable. In the second game of a twi-night doubleheader at Baltimore's Memorial Stadium, the 23-year-old Latman and 20-year-old Oriole starter Jerry Walker both pitched scoreless ball into the 10th inning. Latman was finally lifted when the Birds put two men on in the bottom of the 10th. Reliever Jerry Staley pitched out of the jam, and Staley and Walker maintained the 0-0 tie until the 16th inning, when the Birds finally broke through with a run to complete a doubleheader sweep. (Young Jerry Walker may have paid a price for that 16-inning shutout; after going 11-10 with 2.97 ERA in '59, he won only 25 games during the remainder of his career, and never posted another winning record.)
Though selected to the White Sox' World Series roster, Latman did not appear in Chicago's Series loss in six games to the Los Angeles Dodgers. He must have felt a little frustrated watching from the bullpen, especially since his old high-school teammate Larry Sherry was the star of the Series, winning Games Four and Six for the Dodgers and capturing the World Series MVP award.
Latman's lack of late-season activity with the '59 White Sox proved a harbinger of the club's future plans for him. During the 1959-60 offseason, team president Bill Veeck made a series of trades in which he dealt away young players for veterans, most of them power hitters. Then, on April 18, 1960 – the day before the White Sox were to start the season – the club traded Latman to the Cleveland Indians for left-handed pitcher Herb Score, a former star who had struggled for several seasons after being struck in the eye by a batted ball. White Sox manager Al Lopez had skippered the Indians when Score was starring for the Tribe before the injury, and, according to Veeck, "I've never seen Al want a player as badly as he wanted Score."4
While Score went 6-12 in three seasons with the White Sox, Latman found success in Cleveland. His 1960 season was nothing special – 7-7 with a 4.03 ERA while both starting and relieving – but Barry got off to a tremendous start for the Indians in 1961. Working mostly out of the bullpen, he won his first nine decisions. He tailed off later in the season and wound up with a 13-5 record and a 4.02 earned-run average, along with five saves. Latman's great start to the season earned him a spot on the American League roster for the second of the two All-Star Games that year, but he did not appear in the game.
Along with having his most successful season in 1961, Latman married Lynne Schwab in October of that year. She was the daughter of Leon Schwab, the owner of the famous Schwab drugstore chain in California. The newlyweds spent their honeymoon in Israel. They had two children, Nathan and Richard; the couple divorced in 1980.
In 1962, Latman won 8 and lost 13 for Cleveland with a 4.17 ERA, again working as both a starter and reliever. On July 18 he and teammate Jim Perry made some dubious history when the Minnesota Twins became the first team in the 20th century to hit two grand slams in one inning (one off each pitcher). The sluggers were Bob Allison and Harmon Killebrew. In Latman's final season with the Indians, 1963, he went 7-12 with an ERA of 4.94, again splitting his time between starting and relief roles.
On December 2, 1963, the Indians traded Latman to the Los Angeles Angels for slugging outfielder Leon Wagner. It was reported that when Latman's father-in-law heard about the trade, he said, "It's impossible; is that all they got for Wagner?" Barry defended Mr. Schwab, saying, "The truth is that it was my line. … It's what I said to my father-in-law when I first told him about the trade. But he's getting blamed for it all over town."5 In actuality the Angels did receive more than just Latman in exchange for the popular Daddy Wags. The deal included a player to be named later, and Tribe first baseman Joe Adcock was sent to the Angels on December 6 to complete the deal.
In 1964, his first season with Los Angeles, Latman had his third straight losing season, going 6-10 with a 3.85 earned run average. He suffered a sore arm in 1965 and pitched in only 18 games for the Angels, all in relief, though his ERA was a fine 2.84. In June the Angels sent him to Seattle in the Pacific Coast League, where he compiled a 7-6 record with a 3.09 ERA. Brought back by the Angels in September, he told Los Angeles management that he would like to be traded. On December 15 the club accommodated, sending him to the Houston Astros for cash and minor-league catcher Ed Pacheco.
In 1966, though still suffering from a sore arm, Latman got into 31 games for the Astros and posted the best earned-run average of his career, 2.71. However, he won only two games while losing seven. In 1967, he was 3-6 for Houston and his earned-run average rose to 4.52. The end had come; Latman, only 31 years old, pitched in his last professional ballgame on August 19, 1967, with Houston.
Latman pitched in the big leagues for 11 years. Appearing in 344 games including 134 starts, he went 59-68 with a career ERA of 3.91. Some baseball analysts felt that Latman, who came up to the White Sox with a "can't miss" tag, should have been a better pitcher than his career totals show. Some players felt that Latman was snake-bit; he kept pitching in bad luck. Latman himself said he felt for too long that he could overpower hitters with his fastball, but the strategy did not work. He said he didn't really learn how to pitch until he was 30 years old, by which time he was near the end of his career. Barry added that he was his own worst enemy by popping off too much.
After his baseball career was over, Latman was faced with what to do with his life. Fortunately, he had learned the home furnishings and drapery business during his playing days and became active in that vocation after retiring from baseball. Latman also worked as a project superintendent in custom-home construction.
Latman was remarried in 1989 to Patti Klein in Los Angeles. Between his two marriages Latman has five children and 13 grandchildren. The Latmans lived in Marina Del Rey, a seaside enclave near Los Angeles, then lived on a golf course in northern San Diego County. In 2006 they moved into a condo they purchased in Puerto Vallarta, Mexico.
Although Barry Latman was a journeyman pitcher., he made an impact on people. One evening after his major-league career had ended, Latman was asked to appear at the Beth-El Synagogue in Indianapolis. A young man with no interest in baseball listened to Latman speak. He was taken with the speech Latman delivered and became an avid baseball fan. The fan recently sent a message to an online spot called the Bulletin Board with the hope that Latman would read his message of how he was inspired by Latman's speech.
After a long illness, Latman died at age 82 in Richmond, Texas on April 28, 2019.
An earlier version of this biography originally appeared in SABR's "Go-Go To Glory: The 1959 Chicago White Sox" (ACTA, 2009), edited by Don Zminda.
Sources

In addition to the sources cited in the Notes, the author also consulted baseballlibrary.com, baseball-reference.com, and the archives at the National Hall of Fame.
Kalas, Larry. Strength Down the Middle, The Story of the 1959 Chicago White Sox (Fort Worth: Mereken Land Production Company, 1999).
Koppett, Leonard. A Concise History of Major League Baseball (Philadelphia: Temple University Press, 1998).
Reiss, Steven A., editor. The American League (Westport, Connecticut: Greenwood Press, 2006).
Notes
1 Danny Peary, ed., We Played the Game: 65 Players Remember Baseball's Greatest Era, 1947-1964 (New York: Hyperion, 1994), 314.
2 Peter S. Horvitz, Joachim Horvitz, The Big Book of Jewish Baseball (New York: SPI Books, 2001), 101-102.
3 Bill James and Rob Neyer, The Neyer/James Guide to Pitchers (New York: Fireside Press, 2004), 275.
4 Jerry Holtzman, "Never Saw Al Seek Player So Badly – Veeck," The Sporting News, April 27, 19604.
5 Braven Dyer, "Joining Angels Bigger Thrill Than World Series – Latman," Los Angeles Times, December 24, 1963.
Born
May 21, 1936 at Los Angeles, CA (USA)
Died
April 28, 2019 at Richmond, TX (USA)
If you can help us improve this player's biography, contact us.
http://bioproj.sabr.org/bp_ftp/images5/LatmanBarry.jpg
600
800
admin
/wp-content/uploads/2020/02/sabr_logo.png
admin
2016-01-26 13:23:25
2022-04-04 13:52:26
Barry Latman