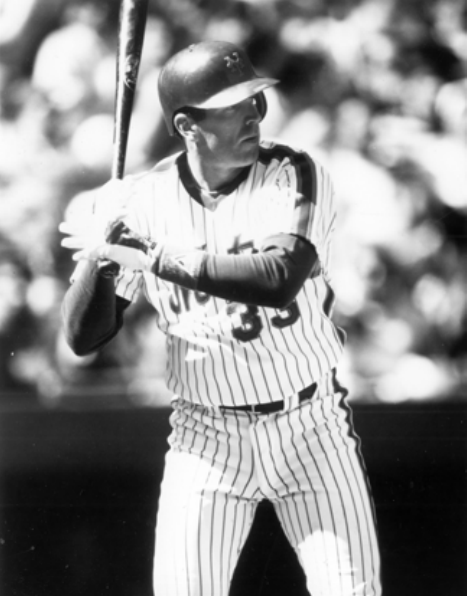 ---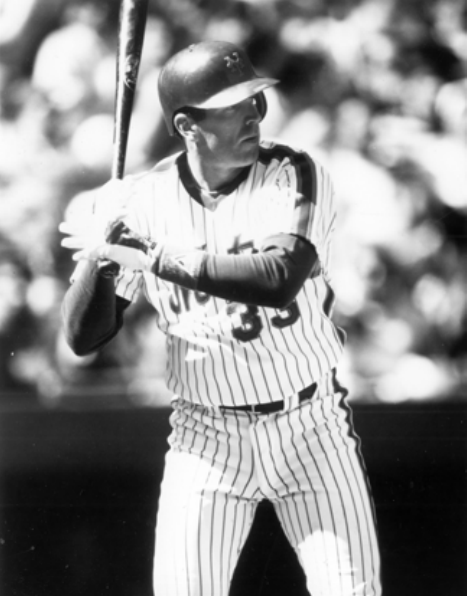 A catcher who always seemed to be trying to win a starting spot, Barry Lyons showed occasional signs of power and a solid presence behind the plate. Described once by reporters as "quiet, conservative and even contemplative in appearance," Lyons often found himself overlooked but still had a major-league career that spanned seven years between 1986 and 1995.
Born on June 3, 1960, in Biloxi, Mississippi, Lyons was the youngest of four brothers. He played baseball and football at Notre Dame High School before transferring in his junior year to Biloxi High School. After sitting out his junior year because of the transfer, he played well enough to earn scholarship offers in football and baseball. Lyons played college ball at Delta State University in Cleveland, Mississippi, staying close to his parents, Kenneth and Margaret, as well as his three brothers. He earned a bachelor's degree in business administration while also playing baseball. Lyons earned All American honors and was named Mississippi College Baseball Player of the Year in 1982.
Lyons was drafted by the Detroit Tigers in the 25th round of the June 1981 amateur draft but did not sign because he was only a junior in college and wanted to not only complete his degree but go out on a high note in his baseball career.
Drafted by the Mets in the 15th round in 1982, Lyons signed and got his professional start with Shelby of the Class-A Sally League. Playing in 45 games, he hit .280 with 4 homers and 46 runs batted in. Lyons remembered what a shock it was to play low-level minor-league ball. The Shelby team played at the local high-school field as there was no minor-league ball park for them.1
In 1983 Lyons split his time between Columbia and Lynchburg at the Class-A level. He hit .297 in 92 games for Columbia, and earned a full season with Lynchburg in 1984 and a promotion to Double-A Jackson in 1985. "I thought that I'd be in the majors in '84. I remember being at a friend's house watching Monday Night Football, and I see on a crawl at the bottom of the screen that the Mets traded for Gary (Carter)," he said. "In my prime years I was stuck as a backup for three-plus seasons."2 At Lynchburg Lyons was the team captain and was named Carolina League MVP. With Jackson he hit .307 with 11 home runs and 108 RBIs. Unfortunately he also struck out 67 times while walking only 25 times. His accomplishments earned him runner-up honors for the Texas League MVP as Jackson won the league championship. Lyons' solid play earned him a move to Triple-A Tidewater in 1986. He spent part of the season with the Mets, and made his major-league debut on April 19, 1986, against the Philadelphia Phillies. In three at-bats he had no hits but knocked in a run with an infield grounder. He had made his childhood dream come true. When Lyons was in the sixth grade he wrote an essay about his summer activities and ended it by stating his career goal was to be a major-league ballplayer.3
During the Mets championship run in 1986 Lyons played in only six games with nine at-bats. This did not include any postseason play. He played 61 games for Tidewater that season as well, and hit .295. For the following two seasons with the Mets, Lyons played in 50 and 53 games respectively, backing up Gary Carter. One of the biggest highlights of his career came during the 1988 season when he caught David Cone's two-hit shutout on June 19. Cone actually had a no-hitter through 7⅔ innings. Lyons got the start while Carter played first base. He had another big game in a 3-1 win on August 2 over the Chicago Cubs that helped keep the Mets four games ahead of the Pirates. Lyons had a two-run triple in the sixth inning after throwing out Shawon Dunston in the previous inning. Lyons showed his understanding of his situation when he remarked, "I've come to accept what transpired this year. I pretty much realize my role here. The chances have been few and far between. But when I do get a chance I'm going to give it my best. Tonight was very special for me."4 His lack of playing time earned Lyons a short stint back at Tidewater to start the 1989 season but injuries brought him back for 79 games, his highest season total in the majors.5
The 1990 season started as a bright one after Lyons got more playing time in 1989. He hit .533 in the spring, hoping as he said, "I thought things out and decided to come to camp and open some eyes that might have been blinking at me."6 He was hoping to get the starting job as Gary Carter's career was winding down. Leg and back issues, however, put Lyons on the disabled list for 15 days in late May. This led to his demotion to the minors and his release before the end of the season. He found a home with the Los Angeles Dodgers, playing three games before the end of the season. He thought he was going to be the backup to Mike Scioscia but the Dodgers signed — guess who? — Gary Carter. As a result, Lyons split the following season between the Dodgers and the California Angels.7 After playing only 11 games in the Majors during the 1991 season and 47 games at Edmonton, Lyons found himself in the minors for the next three seasons. He played in Tucson, Louisville, Indianapolis, and Nashville before getting one last shot at the majors in 1995 with the Chicago White Sox. Lyons played in 27 games, hitting .266 with five home runs before calling it quits at the end of the season. Those five home runs in just 64 at-bats were more than he had hit in any previous major-league season. Lyons played 14 seasons of professional baseball, which included seven in the majors. He was a career .239 hitter with 15 home runs and 89 RBIs. He also played on championship teams at every level of the game, from Class A to the majors.
After retiring as a player, Lyons remained in the game as a minor-league manager with Nashville and the Charleston (West Virginia) Alley Cats. Then he worked for three years in the broadcast booth for the Nashville Sounds before moving back to his hometown of Biloxi in 2002. Lyons operated the Barry Lyons Baseball Academy, providing training, camps, clinics, and private lessons, for over 25 years.
In 2005 Lyons and his family suffered through Hurricane Katrina. Though he lost all his possessions and his baseball academy, his family survived, only to begin to unravel in the aftermath. His parents went into a nursing home and his wife, Marsha, left him over to his drinking and drugs. After going through a Christian rehab program for drugs and alcohol in 2012, Lyons remained in Biloxi with his second wife, Julie, whom he married in 2012, and his daughter, Danielle. He helped bring minor-league baseball to Biloxi with the Double-A Biloxi Shuckers, part of the Milwaukee Brewers system. The team's new ballpark opened in June 2015 and honored Lyons with his own day on July 21, 2015. The city and team wanted to recognize Lyons for his longtime efforts to bring minor-league baseball to his hometown.8 "Finally, the stadium is going to be completed," Lyons proclaimed. "It has been a long and tedious procedure." As of 2016 he also coached the Bristol Blues in the collegiate summer league. "Where this leads, I'm not certain. But I'm back in the game, and guiding players' dreams," Lyons said. He said he had no regrets about what happened or where he was at that point in his life. "Nothing was ever given to me, nor expected," Lyons said. "There are challenges every step of the way; it's the nature of the game."9
Sources
Besides the sources cited in the Notes, the author consulted baseball-reference.com and Lyons' file at the National Baseball Hall of Fame.
Notes
1 youtube.com/watch?v=TAVaSceuS_0&feature=youtu.be.
2 Don Laible, "Former Mets' Catcher Lyons Back in the Game." uticaod.com/article/20150516/BLOGS/305169993, May 15, 2015.
3 Ibid.
4 Steve Marus, "Mets' Lyons Roars on Big Night," Pittsburgh Press, August 3, 1988.
5 Howie Karpin, 162-0: Imagine a Mets Perfect Season (Chicago: Triumph Books, 2011).
6 Joseph Durso, "Lyons Could Be Tiger for Mets," Gainesville (Florida) Sun, March 14, 1989.
7 "The Rise and Fall of Mets' Lyons," Pittsburgh-Post Gazette, September 10, 1990.
8 barrylyonsfoundation.org/; clipsyndicate.com/video/playlist/30835/5879726?title=headline_news; Owen Renick, "Biloxi Baseball Blues," Unpub. Paper in Hall of Fame file.
9 Don Laible.
Born
June 3, 1960 at Biloxi, MS (USA)
If you can help us improve this player's biography, contact us.
http://sabr.org/sites/default/files/Lyons-Barry.png
600
800
admin
/wp-content/uploads/2020/02/sabr_logo.png
admin
2012-01-04 20:39:04
2021-03-22 05:38:16
Barry Lyons