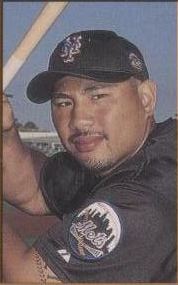 ---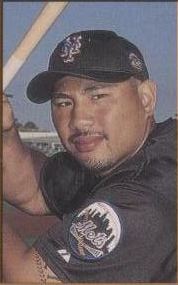 He had underdog appeal and looked like a big Pacific teddy bear. But that alone didn't make Benny Agbayani such a fan favorite in New York City – the Hawaiian backed it up with some strong major-league performance. "You have to understand," said his biggest backer, Mets manager Bobby Valentine, in 1999. "I've never seen Benny play poorly."[1]

More than any other player, Benny Agbayani Jr. represents Hawaii's mélange of peoples and cultures. "Benny is chop suey," his mother quipped in 1999.[2] His surname is Filipino; his paternal grandparents came from the province of Ilocos Norte on the island of Luzon, around the late 1920s or early 1930s. Emigration from the Philippines began in 1906 when the Hawaiian Sugarplanters Association began recruiting pukankeyn (the Ilocano word for cane cutters).[3] The Ilocanos were perhaps the poorest and most disadvantaged of all the immigrants in Hawaii, so the underdog associations stretch back.
From his mother, Faith Kahokuokalani Lau, Benny inherited Samoan, Portuguese, Spanish, and German blood.[4] The late Tony Solaita, who first played baseball when his family moved to Hawaii in 1955, was the only Samoan native to make the majors. There have been several other players of at least partial Filipino or Samoan descent.[5]

Benny Peter Agbayani lived in a small house in the Honolulu suburb of Aiea with as many as ten other relatives.[6] His father, Benny García Agbayani, was a federal worker; after he retired from his government job, he became dance director of the Hawaii Ballroom Dance Association. He and Faith, who worked for the phone company, had another son, Brendyn. Benny also had an older half-brother, Lanny, from his father's previous marriage.
Benny first played baseball at the age of 7, when a Little League coach, Alfredo Batalon, noticed him tossing a ball in the yard of his home. The field was just a block away.[7] One of his big influences as a boy was his aunt, Susan Miller, who had joined the Army. "A drill sergeant," Agbayani told Buster Olney of the New York Times in 2001. "She would play catch with Agbayani and his brother and make them repeatedly run a hill near the Little League field until they were exhausted."[8]

Agbayani attended St. Louis High School in Honolulu. Back in the 1920s, Hank Oana (who played in the majors in 1934, 1943, and 1945) was a three-sport star there. Agbayani was all-state in soccer and football (as a wide receiver) as well as in baseball.[9] He then attended Oregon Tech University, concentrating on football, which he actually liked better growing up. Brother Brendyn also starred in football at St. Louis; he was Hawaii's offensive Player of the Year in football in 1992. But because Oregon Tech did not offer a promising path to the NFL, and because it dropped its baseball program, Benny returned home to play at Hawaii Pacific University, a Division II school in Honolulu.[10]
"He was very raw and he really was a football guy," said David Eldredge, his coach at Hawaii Pacific . "He was strong, he could run and catch, had all the things that would make you a good football player, but he had talent in baseball that could take him a long, long way."[11] Agbayani set several Hawaii Pacific records, including most home runs in a season (10), most stolen bases in a season (37), and career stolen bases (83). As of 2010, Agbayani is the only Sea Warrior ever to make the majors. The university retired his jersey in 2002.
On the advice of scout Jim Woodward, the Mets drafted Agbayani in the 30th round in 1993. (The Angels had selected him in the 25th round in 1992, but he did not sign.) After his first pro season, Benny got an opportunity to develop at home as the Hawaii Winter League began operations. His manager with the Honolulu Sharks was another former major leaguer from the state capital, Lenn Sakata. "Sakata invested his time in Agbayani, for which Agbayani feels exceptionally fortunate and grateful."[12] Benny returned to the Sharks the following winter; in 1995, he led the league in runs batted in (30) with the West Oahu CaneFires. It does not appear, however, that he played in the league after that. It folded after the 1997 season, though it re-emerged for three years from 2006 to 2008.
The very much unheralded player doggedly advanced through the minors over a period of more than six years. He was a replacement player during the spring-training strike in 1995. "I was naive," Agbayani said in 1999. "Some people said it might be a good thing, because my career wasn't going anywhere. I was never a top prospect, one of those players people talk about eventually being in New York. I hope my teammates and other players forget what I did. No one here has really come up to me and blasted me in the face about it."[13] Fortunately, there was no "scab" stigma – probably because Benny was just so likable.
Agbayani spent parts of four seasons (1996-99) at Triple-A Norfolk (Virginia), where he was also highly popular. It was in 1996 that Bobby Valentine, then skipper of the Tides, first noticed the Hawaiian. The following year, managing the Mets, Valentine called Agbayani Norfolk's best player. Using the front-leg kick that Valentine taught him, Benny hit .310 with 11 homers in 1997. He even stole 29 bases – despite his hefty haunches, he was a surprisingly swift baserunner.
The downside of his body type, though, was being prone to hamstring injuries. Agbayani could have made the Mets' Opening Day roster in 1998 except for a strained hammy.[14] The leg disabled him for much of May, but he finally earned his first real call-up to the majors in mid-June 1998. Although he was sent down again after a week, he returned at the beginning of July. On July 8, Norfolk's Harbor Park invited him as a special guest to the Triple-A All-Star Game. As part of the pregame festivities, he married his fiancée, Niela Naalei Guigui, in a Hawaiian-style ceremony at home plate. The groom wore a blue Hawaiian shirt, the bride a matching blue muumuu, and they walked through an archway of bats as all his Tides teammates sported leis.[15]
A week after his wedding, the Mets optioned Agbayani to Norfolk once more – but before the month was out, he was back again. Yet he got into just one more game before the Mets designated him for assignment in August. He passed through waivers unclaimed. Then New York made him available in the Rule 5 draft that winter, but no other club was interested. In the winter of 1998-99, he played in Mexico with the Cañeros of Los Mochis. (The team's name, which translates as Sugar Cane Growers, was a curious echo of his grandparents' pukankeyn background.) He began the 1999 season with the Tides once again.
But when Bobby Bonilla (an overweight, gimpy-kneed malcontent) and Rickey Henderson were injured, the call went to Agbayani, who had gotten off to a hot start. He then stepped up his pace at the major-league level, setting a club record with 10 homers in his first 73 at-bats. The fans responded joyfully to the second Met (after Sid Fernandez) to sport the number 50 in honor of Hawaii Five-O. His mother, listening to the games via the Internet at home, thrilled to the chant of "BEN-NY, BEN-NY!" wafting out from the little speakers. Shea Stadium immediately latched onto a musical selection in Elton John's "Benny and the Jets."
Inevitably Agbayani cooled off, and doubters wisely nodded that the pitchers had figured him out after one trip around the league. Unknown to them, however, Benny had been playing through a cracked bone in his elbow. He only revealed the injury the next spring, noting "It limited me a lot, I went into that drought, but I don't want to make excuses. . . . As a player, I was always taught that if it's not broken, you can play."[16] Yet despite not being able to get to the outside pitches, he still finished the season batting .286 with 14 homers.
In the National League Championship Series against the Atlanta Braves, Agbayani scored the go-ahead run in the 10th inning of Game Six as the Mets tried to claw their way back after dropping three of the first four games. Closer Armando Benítez could not hold the lead, though, so Benny lost the chance to become the fourth Hawaiian on a pennant-winner (after Mike Lum, Sakata, and Fernandez).
During spring training in 2000, Agbayani was on the bubble. His close friend Jay Payton, a prized outfield prospect who had suffered a string of severe injuries, was finally healthy – and he had no options left to be sent back to the minors, whereas Agbayani did. It wasn't fair, but it was business, although a debate simmered between Bobby Valentine and Mets general manager Steve Phillips. Benny didn't sulk or make waves, but he did make his feelings known, asking for a trade and again entertaining the possibility of playing in Japan. Scouts from across the Pacific had been observing him already for a couple of years.
Agbayani got a reprieve, however, when the Mets decided to carry 10 pitchers rather than 11 in the early part of the season. And when New York opened the 2000 season with an unprecedented two-game set at the Tokyo Dome in Japan, Benny ended it with panache. In the top of the 11th inning he golfed a grand slam to straightaway center at "The Big Egg." He was presented with a replica of a shogun's helmet, or kabuto, the traditional prize for the star of the game there. Such things weren't new to him, though – in his locker hung a little helmet made of coconut shell and feathers, a symbolic gift from his Aunt Susie. "The Hawaiian warrior was trusted with protecting the island. It was a position of honor and the warrior always maintained that honor."[17]
Agbayani also gave credit to a fellow Hawaiian-Samoan, ozeki (champion sumo wrestler) Konishiki. When they had dinner together upon Benny's arrival, "he told me to keep the faith and work hard."[18] He did exactly that – although he also had also drawn daikichi, the "great fortune" slip, when he and Niela went to a Shinto shrine for the Japanese custom of omikuji.[19] Benny got another stay of demotion when veteran Darryl Hamilton had to undergo toe surgery, and when Rickey Henderson's jaking finally forced the Mets to cut him loose, that opened up more playing time. Although Benny was an unlikely-looking leadoff hitter, he did so for the Mets 32 times that year. Like Henderson – his favorite player growing up[20] — he had a good eye and walked a lot. Benny's on-base percentage in 2000 was a very healthy .391.
Agbayani's fielding was adventurous at times. A mental mistake he made in a game at Shea Stadium on August 12, 2000, almost cost the Mets a victory. The Mets were leading the San Francisco Giants 1-0 with the bases loaded. Benny forgot that there was just one out and flipped the fly ball he had just caught to a boy in the stands. All three runners were awarded two bases, but fortunately the Mets came back to win, 3-2.

Agbayani showed that his power was more than a fluke hot spell. He hit 15 homers during the regular season in 2000, adding another dramatic blow in Game Three of the National League Division Series against the Giants. In the 13th inning on a chilly October night, 5 hours and 22 minutes after the game had started, Agbayani took lefty Aaron Fultz deep into the "picnic area" bleachers in left-center at Shea, giving the Mets a 3-2 win. The capacity crowd had the now-demolished ballpark physically moving on its foundation. His teammates carried the ebullient Hawaiian off the field.
In the National League Championship Series against the Cardinals, Agbayani hit safely in all five games with three RBIs. Then in the Subway Series against the Yankees, he was 5-for-18 (.278) with three walks. His eighth-inning double in Game Three against Orlando "El Duque" Hernández snapped a 2-2 tie. It was the only game the Mets won – the exact opposite of Benny's prediction – as the Yankees captured their fifth straight World Series. In 2010 Agbayani told Anthony McCarron of the New York Daily News, "The Subway Series, it couldn't get any better than that, just the intensity of the fans, the intensity of the atmosphere, of the games themselves. We had an unbelievable team – great atmosphere in the clubhouse."[21]
That offseason, a slender autobiography (112 pages) called Big-League Survivor was rushed into print. Benny was immensely popular when he went back home to Hawaii that winter, winning various endorsements for local business and TV news shows.
Agbayani continued to get most of the action in left field for the Mets in 2001, but his home-run total fell off to just six. In January 2002 he went to the Colorado Rockies as part of a three-way deal with the Milwaukee Brewers. Things didn't go well for him at Coors Field, though. Troubled again by a bad hamstring, he hit just .205 in 48 games with four homers and 19 RBIs. The Rockies sent Benny down to Triple-A Colorado Springs in July; in August, they waived him. The Boston Red Sox then picked him up, and after a short stint at Triple-A Pawtucket, he drove in three runs in his Red Sox debut. However, the 13 games he played that September were his last in the majors.
That offseason Agbayani played Mexican winter baseball again for Los Mochis. More importantly, at Niela's urging he also finished up his degree at Hawaii Pacific. He did much of his coursework online. Benny said, "You need to tell the kids to always have a backup plan."[22]
Agbayani had hit well for Boston (.297 in 43 at-bats), and the following spring, he was in the mix for a reserve role. The Red Sox released him in mid-March, however, and a couple of days later the Cincinnati Reds signed him to a minor-league deal. Yet before the month was out, he moved on again, as the Kansas City Royals purchased his contract. Agbayani played his last pro season in the US in 2003 for Omaha, Kansas City's Triple-A farm club. He hit 16 homers and drove in 45 in 88 games, hitting .237.
Bobby Valentine then rescued Benny again. Valentine had become manager of the Chiba Lotte Marines of Japan's Pacific League, and Agbayani signed with the club in November 2003. His first season there, 2004, was his best: 35 homers, 100 RBIs, and a .315 average. He remained a major contributor in 2005 as the Marines advanced to the Japan Series for the first time in 31 years, defeating the Hanshin Tigers. Benny was 3-for-4 in the opener with a homer and two RBIs. He said, "Winning the series was such an awesome feeling. To come out on top was great for the city, the fans, the players, and the franchise."[23]
Agbayani then went on to become MVP of the first Konami Cup tournament in 2005. Later known as the Asian Series, the round robin included China, Korea, and Taiwan as well as Japan. He spent four more years playing for Chiba Lotte. His career totals there were 90 homers, 360 RBIs, and a .283 average in 660 games. He was also a big fan favorite in Japan, as a 2006 YouTube clip attests. The Marines fans were on their feet for nearly a minute, chanting, jumping, and waving for Benny (whose jersey carried his first name rather than his surname). In 2007, he told the Honolulu Advertiser, "We went to a store one time with my kids. All of a sudden, they're playing the Chiba Lotte Marines team song (on the store's speakers)."[24]
After the 2009 season, the Marines parted ways with Bobby Valentine and then bought out Benny's option.[25] He retired, rejoining Niela and their three children (daughters Aleia and Ailana, son Bruin) in Hawaii. As he told Anthony McCarron, "I did enough in the game to be satisfied." He became an educational assistant at Mililani High School on Oahu, working in classrooms with teachers and counseling children. He said, "I figured, 'Maybe it would be a good thing for me to give back to the state of Hawaii and the kids here. The kids ask me, 'Why are you doing this? Didn't you make enough money?' I tell them I had the opportunity to have such a great life. Maybe I can guide them in the right direction, explain their options after high school. It might not be professional baseball, but something."[26]
Yet Agbayani still encouraged children's baseball dreams too. To this end, he established his foundation, MYTH: Motivate Yourself to the Highest. As he told his alma mater, Hawaii Pacific, "We hold clinics for the kids in Hawaii, and I try to help them understand that anything is possible if they set their minds to it. I want them to realize how important their education is, and how you need to go into everything you do with no regrets."[27]
Sources

http://filipinosgone2hawaii.tripod.com
www.hawaii-baseball.com
www.hawaiiwinterbaseball.com
www.hpu.edu
---
Born
December 28, 1971 at Honolulu, HI (USA)
If you can help us improve this player's biography, contact us.
http://bioproj.sabr.org/bp_ftp/images4/AgbayaniBenny.JPG
600
800
admin
/wp-content/uploads/2020/02/sabr_logo.png
admin
2012-01-04 20:35:05
2012-01-04 20:35:05
Benny Agbayani