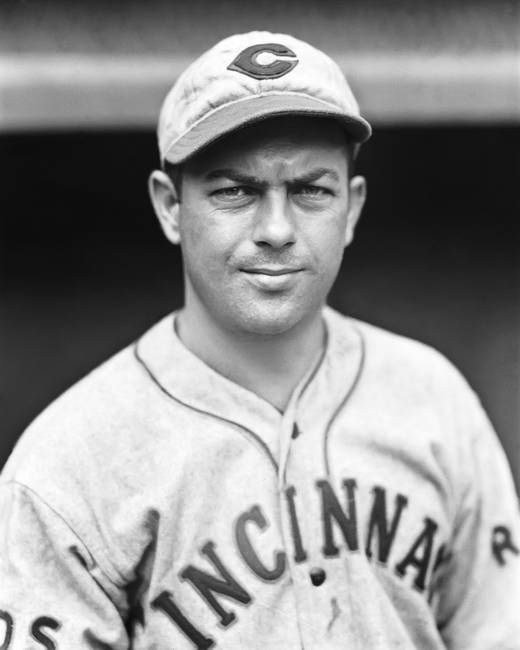 ---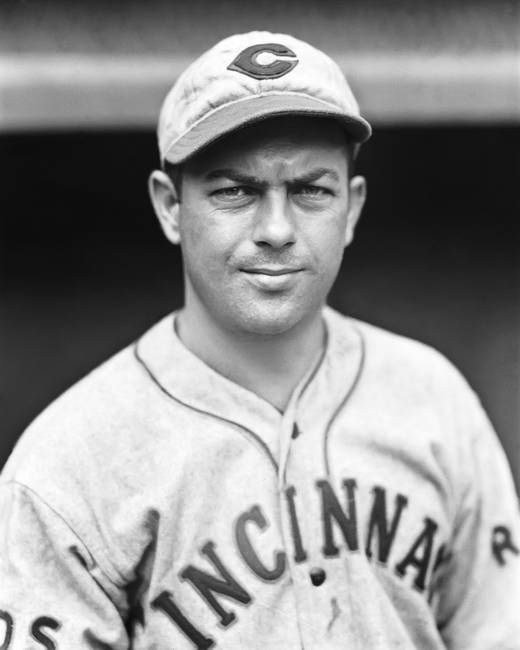 The school system in Jackson, Michigan, discontinued the baseball program about the time Benny Frey reached high school. Undaunted, Benny learned to pitch on the sandlots and from his brothers. He played summer ball for a variety of teams in Michigan, Indiana, and Ohio before being signed by the Toledo Mud Hens of the Double-A American Association in 1923 at the age of 17.
According to Baseball Reference, Benjamin Rudolph Frey was born on April 6, 1906. Some sources have suggested he was born in 1904.1 The 1910 census lists him as age 6 and the 1920 census (conducted in January) says he was 15. On occasion newspaper writers would question his age.2 His parents, Peter and Catherine (Ziefle) Frey, emigrated from Germany in 1884. They settled in Michigan and Peter found work as a machinist, eventually taking a job in an automobile factory. Catherine gave birth to 11 children with Benny being the last son. The 1920 census lists Fry as working as a clerk in an auto-parts shop while no longer attending school.3
Brothers Andy and Bill were pitchers and had the opportunity to play baseball in school. Andy played American Legion baseball before joining Bill in the local adult league. Benny was playing semipro ball by 1921 with a team in Hudson, Michigan. The highlight of his season came on August 4 when he tossed a one-hitter. His notoriety led to an invitation from Alvordton, Ohio, to pitch against the Toledo 400 A.C., a touring Afro-American team.
In 1922 Frey played for a number of teams, most notably the Angola, Indiana, team that included Charlie Gehringer at second base. (Local newspapers listed him as "Garanger" and Benny was "Fry.")4 Angola is 80 miles from Jackson and games were twice weekly. The Jackson schools may not have fielded a team, but the town of Jackson was a baseball hotbed. On the 1922 Angola team, Frey was joined by four other citizens of Jackson, including a pitcher named Standish who, judging from box scores, was the equal of Frey in results. Angola won its league title and closed out the season with an exhibition-game loss to the St. Louis Cardinals.
As a youngster Frey had a good fastball and was usually able to pinpoint his delivery. He also had a curveball that he delivered side-arm, making it a sweeping hook. At 5-feet-10-inches tall and 165 pounds, he was not an imposing figure on the hill. Batters found him to be hittable and as a professional he always surrendered more hits than innings pitched. He was never much of a strikeout pitcher; his major-league high was 43 in 245 innings.
In 1923, Frey again played with several teams in Jackson County, Michigan, and elsewhere. His performance with the Butler, Indiana, squad caught the attention of a Toledo scout. He hurled a four-hitter against the Lincoln Lifers from Fort Wayne and had three hits and a walk at the plate. In announcing his signing, the local paper wrote that he was "19 years old and weighing 158 pounds, has great promise of developing into a major league hurler.5 The age points again to a 1904 birth. Had Frey added some years to his age so he could play a higher level of ball?
The 1923 Mud Hens were a last-place team but featured youngsters Freddie Lindstrom and Pat Malone along with future Hall of Famer Bill Terry. Frey's name disappeared from local papers during the heat of the summer, so the assumption that he spent time learning by watching with Toledo is logical. His name began to appear again in late summer and he pitched most often for the American Oils team in Jackson County.
Jimmy Burke was the manager of the Mud Hens in 1924 and kept Frey on the roster to begin the season. His first professional appearance came on April 19 when he pitched a scoreless eighth inning in a 10-5 loss to Kansas City. He got his first start on May 12 in Kansas City and came away with an 8-2 victory. In early July he was sent to Harrisburg in the New York-Pennsylvania League. He dropped his first start there on July 10 as Wilkes-Barre beat him, 7-4, in the second game of a doubleheader. According to box scores, he made six appearances with Harrisburg and posted a 3-3 record. He was returned to Toledo after a win on August 5. He finished the season with Toledo and fashioned a 1-2 record in 14 games.
Frey returned to Toledo in 1925 and pitched in relief until June 29. His first start came against the Louisville Colonels at Swayne Field in Toledo. The game was scoreless into the third inning when Frey took a line drive off his left arm for a single that loaded the bases. Unnerved, he allowed all three runners to score. The Colonels won, 6-2.6 Frey saw action in 18 games in 1925 and posted a 2-2 record.
He returned to the Mud Hens the next season and made his first appearance in relief against the Minneapolis Millers on May 5. He was hammered for five hits and found himself with Nashville in the Southern Association a few days later. Whichever birthdate you use for Frey, he was the youngest member of the Volunteers. Manager Jimmy Hamilton made immediate use of him in a starter/reliever role. Frey made 30 appearances, pitched 152 innings and posted a 10-9 record for fourth-place Nashville. He started the 1927 season back with the Mud Hens.
Hamilton purchased Frey's rights from Toledo on April 23. The Hens had seen enough. According to a box score, Frey was one of seven pitchers used when Kansas City whipped Toledo 19-10 on April 18. Frey had a tremendous season for Nashville, which again finished fourth. He tied Ernie Alten with 18 wins and a .667 winning percentage. His 191 innings were fourth on the team. Frey's win total came mainly as a reliever. When contract time rolled around, Hamilton offered Frey a raise, which was turned down. Hamilton went to the press and pointed out, "Most of his wins were games that he picked up when someone else had been taken out. … He's a great relief pitcher and a bear for work. But we gave him a raise and he can take it or leave it."7
Frey had refused initially, saying he would hunt and fish in Michigan instead. The Nashville paper poked fun at that, commenting that to fish in Michigan in February required an axe. Frey got the message and was in training camp the next week. He got off to a good start, but in June went through a horrible stretch where the newspaper headlines used terms like "clobbered," "mauled," and "collapsed" to describe his outings. On June 24 his record had dropped to 6-7. Frey ended the season 13-15 for the last-place Vols. He hit .236 and was used as a pinch-hitter on occasion.
Frey was not with the team at the close of the season. On September 4 against Memphis, he walked in the third inning. While diving back to first on a pickoff attempt, he caught his spikes and snapped his leg. He left the team to recuperate at home in Jackson.
The Volunteers roster was overhauled, and Pants Rowland moved in as manager in 1929. Frey had an invitation from the Boston Red Sox for spring training, but they released him back to Nashville on April 5. The team battled all season for the pennant, losing by three games to the Birmingham Barons. Frey was dominant. He led the pitching staff in wins, winning percentage, and innings pitched. His 22 wins were tied for the league lead. He won games with his arm and bat. On April 13 he bested the Barons 4-3 when he had two hits and two RBIs. His most dismal performance came on June 4 when he surrendered five home runs to Atlanta in the seventh and eighth innings of a 12-9 loss. The Cincinnati Reds purchased his contract in August for $14,000 and arranged for him to join them in September.
Frey's major-league debut came on September 18 at Redland Field against the Phillies. He threw a complete game for the 9-5 victory. At the plate he went 2-for-3 and scored twice. He would get two other starts, losing to St. Louis on September 23 and then pitching a gem against the Cubs only to lose 1-0 on September 29. He had a major scare in the Cubs game when a line drive by Hack Wilson struck him in the midsection and laid him out on the pitcher's mound. After a few anxious moments, Frey was up and ready to go. He was pulled for a pinch-hitter in the bottom of the seventh.
Frey became a fixture with Cincinnati from 1930 though 1936 except for a month with St. Louis in 1933. The Reds were strictly second-division during his tenure, averaging 61 wins a season; they finished last four times. Frey was "one of the hardest working members of the pitching staff. He goes about his work in an efficient manner."8 He was quiet and unassuming and mostly kept to himself. His roommate was Ray Kolp and the pair struck up a friendship. When Kolp died in 1967 some of the few mementos he had saved were pictures of himself and Frey.
Frey's 1930 and 1934 seasons were quite similar. They were the two seasons in which he was actually part of the rotation, much more a starter than a reliever. In 1930 he was tied for the most starts on the team, tossed the most innings and had the second-best ERA of pitchers over 100 innings. His 11 wins were second to Red Lucas's 14. In 1934 Frey was second in wins and innings pitched. He sported the best ERA and WHIP on the team and tossed 12 complete games.
Dan Howley was Frey's manager in 1930, 1931, and 1932. What changed his mind about Frey's use is a mystery, but he cut Frey's workload by over 100 innings from 1930. Frey won eight in 1931 and four in 1932 while posting nearly identical numbers in games, ERA, and innings. He spent a month with the Cardinals in 1932 after a trade on April 5 that brought Chick Hafey to Cincinnati. Frey pitched three innings with the Cardinals and lost twice. He was sold back to the Reds on May 9.
Donie Bush took over as manager in 1933. Frey and Kolp formed the core of the bullpen. Frey went 6-4 and Kolp would have led the team with three saves had that statistic existed. Frey was coming off an excellent 1934 season but manager Charlie Dressen opted to use him in the bullpen rather than as a starter in 1935. He got one start in April and shut out Pittsburgh, 6-0. In the game he had a double and a single and stole a base. In May he earned five starts, but the last three resulted in 13 runs surrendered and three losses. From then on, Frey was a reliever and sporadic starter. He was so far down Dressen's list that he pitched only 8⅓ innings in September. In an odd twist, he had the worst ERA (6.85) and best batting average (.344) on the team.
The following season Frey opened in the bullpen. He had an ERA of 2.35 when Dressen finally gave him a start on July 13. Frey defeated the Phillies. He started four games each month for the remainder of the season and did some relief work. He closed out the season at 10-8. In 1937, Frey became the forgotten man in training camp. He never took the field in an exhibition. When asked about this, Dressen replied, "I know what he can do."9 Frey had a reputation as a slow starter or hot-weather pitcher and was having trouble getting into shape.
Frey was an avid fisherman. The team would occasionally get a day off in spring training and Frey would go out fishing. One year he promised to bring enough to feed the entire coaching staff. In 1937 he came back with a 12-pound, 27½-inch bass. He was being driven by Al Hollingsworth to find a taxidermist to mount the prize when they were struck.10 Frey did not claim any serious injuries, but the accident may have added to his physical woe. Hollingsworth injured his right (nonthrowing) arm.
On April 16, Dressen announced that Frey was being optioned to Nashville. Frey contemplated the demotion and decided that he would head back to Michigan. About a week later he announced that he was retiring and asked to be placed on the voluntarily retired list. He told reporters that he intended to join one of his brothers in the plumbing trade. He also harbored the fear that his arm was gone and that he would never play again.
On November 1, Frey rigged his car to pipe exhaust into the interior. He was in the garage at his sister's farm near Jackson, Michigan, where he died from self-inflicted carbon monoxide poisoning. Relatives confirmed that "his arm was never going to be good enough again … and that he spent several months despondent since his release."11 Frey was survived by his mother and 10 siblings. He is buried in Woodland Cemetery in Jackson, Michigan.
Acknowledgments
This biography was reviewed by Len Levin and fact-checked by Alan Cohen.
Sources
Baseball Reference is the source for statistics except for Frey's time in Harrisburg. Those numbers come from box scores published in the Harrisburg Telegraph.
Notes
1 "Toledo Owns Frey," Harrisburg Telegraph," August 13, 1924: 13.
2 "Vander Meer Slated to Face Cardinals," Cincinnati Enquirer, April 7, 1937: 19.
3 Ancestry.com.
4 "Tri-County Pennant Winners," Steuben Republican (Angola, Indiana), October 11, 1922: 1.
5 "Benny Frey Signed by Toledo Club of American Association," Jackson (Michigan) News, June 8, 1923: 7.
6 "Koob Conquors Frey by Superior Pitching for Series Sweep," Louisville Courier-Journal, June 30, 1925: 11.
7 "Hamilton Makes Pitcher, Who Wants More Pay, to Take It or Leave It Offer," The Tennessean (Nashville), February 28, 1928: 8.
8 Lou Smith, "Sport Sparks," Cincinnati Enquirer, April 14, 1937: 16.
9 Rushville (Indiana) Republican, April 13, 1937: 2.
10 Sandusky Register, March 28, 1937: 10.
11 "Benny Frey, Red Pitcher, Suicide," Indianapolis News, November 2, 1937: 15.
Born
April 6, 1906 at Dexter, MI (USA)
Died
November 1, 1937 at Spring Arbor Township, MI (USA)
If you can help us improve this player's biography, contact us.
https://sabr.org/sites/default/files/FreyBenny.jpg
600
800
admin
/wp-content/uploads/2020/02/sabr_logo.png
admin
2018-01-10 21:46:52
2020-04-09 14:40:27
Benny Frey