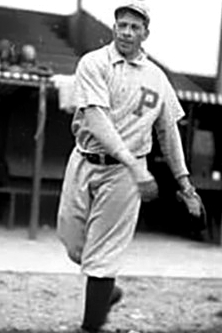 ---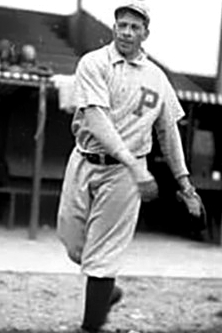 Few major-league careers have begun as auspiciously as Bill Duggleby's. On April 21, 1898, the rookie pitcher made his debut with the Philadelphia Phillies against the visiting New York Giants. At bat in the second inning, with the bases loaded, Duggleby caught a Cy Seymour fastball "right on the pickle, and it sailed out of the lot."1 Not until Jeremy Hermida in 2005 would another player hit a grand slam in his first major-league at-bat.
William James Duggleby was born on March 16, 1874, in Utica, New York. His parents, John and Eliza, emigrated from England in 1850s. Bill was the youngest of their four children. His father worked as a laborer.
His baseball career began on the lots of Utica's Cornhill neighborhood. By 1895, Duggleby pitched for the Oxford, New York, town team. A year later, in Sporting Life, he advertised that he "would like to sign with some minor league club."2 His initiative must have borne some fruit, for the Auburn Maroons of the New York State League signed him for the 1897 season. When not pitching, Duggleby often patrolled center field for Auburn. He finished third among league hitters with a .365 batting average while leading the circuit in wins and earned-run average.3 In December 1898, for $200, Phillies manager George Stallings purchased Duggleby from the Maroons.4
"Duggleby is a strapping big fellow," an onlooker reported.5 Although his specific height and weight are elusive, team photos during his Philadelphia career suggest he was one of the squad's taller players, standing perhaps 6-feet or slightly higher.6 He always appeared solidly-built, but only later in his career did sportswriters disparage his weight. Duggleby pitched as a right-hander, but no record exists of which side he batted from.
Whether it was from the right or the left side of the plate, Duggleby never proved to be anything more than an average hitting pitcher at the major-league level. Yet when his bat did catch hold of one, he could give it a good ride. In his debut, his grand slam came at a most opportune moment. In the first inning, Duggleby surrendered hits to the first three Giants he faced, capped by a Bill Joyce homer, and went into the second inning behind 3-0. An aging Sam Thompson opened that frame with a single, and a wild Seymour walked Monte Cross and Ed Abbaticchio. Catcher Ed McFarland struck out. Duggleby then "surprised himself and the crowd by duplicating Joyce's hit over the right field wall."7 With a lead in hand, he settled down, and cruised to a 13-4 complete-game victory.
Philadelphia's pitching staff was fluid, with Al Orth the closest thing to a returning ace. But Duggleby, with only a season of Class C ball behind him, failed to progress in three additional starts. In the last of these, on May 23 in Pittsburgh, he didn't survive the second inning.8 On June 2, the Phillies farmed him out to Wilkes-Barre of the Class A Eastern League. Two weeks later, Philadelphia's players demanded that the club dismiss the abrasive Stallings, lest they strike.9 Team secretary Bill Shettsline was promptly installed as the team's new manager.
With the Coal Barons, Duggleby went 12-11. Philadelphia recalled him in mid-September. He pitched well in several relief efforts, and earned the start in the season's finale, versus Brooklyn. He was hammered in a 12-8 loss. In an abbreviated rookie season with the Phillies, Duggleby finished with a 3-3 record and a retrospectively calculated ERA+ of 63 over 54 innings.
Duggleby, a correspondent reported that winter, "is inclined to think that he will be used as one of the regular pitchers by manager Shettsline next season."10 But as the Phillies rebounded over the remaining two-thirds of the 1898 season, other newcomers – especially Wiley Piatt and Red Donahue – had solidified the pitching staff. That offseason, Philadelphia added Bill Bernhard and Chick Fraser to its twirling ranks. Consequently, the Phillies again farmed Duggleby out, to another Eastern League outfit, the Montreal Royals. Duggleby went 22-16 with the Royals in 1899.
The Phillies farmed out Duggleby yet again in 1900, first to the Philadelphia Athletics of the nascent Atlantic League. A couple of months into the season, paychecks bounced. Duggleby and his mates left the Athletics, and the Atlantic League soon left its earthly existence. Philadelphia then lent the pitcher to another Eastern League team, the Toronto Canucks. Duggleby went 17-10 with the sub-.500 Canucks in 1900. At the end of the season he married Toronto native Ethel Williams. Son William and daughter Elva arrived in the coming years.
As Duggleby's career stalled in the high minors, the Phillies prospered. Under Shettsline, the team finished above .500 in 1898, then finished third in both 1899 (94-58) and 1900 (75-63). But Nap Lajoie and three pitchers – Fraser, Bernhard, and Piatt – jumped to the Philadelphia Athletics of the upstart American League prior to the 1901 season. Into the resulting void, Duggleby made the staff, and responded with a 20-12 record and an ERA+ of 118. Orth and Donahue also won 20 games. The outfield of Roy Thomas, Elmer Flick, and Ed Delahanty led one of baseball's strongest offenses. Despite their personnel losses, the Phillies rebounded to finish second in 1901, with an 83-57 mark.
That May, a Philadelphia common pleas court refused to grant an injunction sought by Phillies majority owner John Rogers to stop Lajoie from playing with the Athletics. With an open market beckoning, and a legacy of stingy salaries from the penny-pinching Rogers, virtually his entire team succumbed to increased AL raids that summer. In August, Duggleby signed with the Athletics for the coming season, for a reported $2,400.11
From 1898 to 1900, as Duggleby labored on the farm, the Phillies paid him $900 each season. For farming the pitcher out in 1899, Philadelphia reportedly would in return "have the pick of the [Montreal] team at the end of the season. It will likely be Catcher Jacklitz."12 Montreal turned over Fred Jacklitsch to the Phillies after the season. (It is not known what player compensation, if any, Philadelphia received from Toronto in 1900.) Additionally, during both 1899 and 1900, while Duggleby collected $150 a month from Philadelphia; Montreal and Toronto paid Philadelphia $225 a month for his services.13 One report suggested that once Duggleby stuck with the Phillies in 1901, his salary was $1,200.14 Small wonder, then, that Duggleby jumped.
Yet he jumped back. On April 21, 1902, the Pennsylvania Supreme Court reversed the May 1901 ruling from the common pleas court, upheld the National League's reserve clause, and issued an injunction against Lajoie playing for the Athletics. A week later the same common pleas court, guided by the higher court's ruling, made this injunction permanent, and extended it to Bernhard and Fraser.15 Duggleby made his first appearance with Connie Mack's Athletics on April 26, losing at Baltimore. On May 1, he beat the Nationals in Washington. The next day, as the team arrived in Philadelphia for its home opener, Duggleby requested a meeting with Shettsline.16 The manager, whose almost universal respect from ballplayers stood in stark contrast to that of majority owner Rogers, must have been persuasive. In part, one suspects, as he likely relayed to the pitcher that the Phillies would soon seek an injunction against his pitching for the Athletics as they had against his teammates. Two days later, on May 4, Duggleby returned to the Phillies, for the same $2,400 salary the Athletics gave him.17
Fraser jumped back as well, and Thomas remained in the outfield. Beyond these few holdovers, baseball historian Chuck Kimberly notes, "the Phillies replaced their departed stars with other stars – Eastern League stars, Western League stars, California League stars."18 The team limped to a 56-81 seventh-place finish in 1902, with Duggleby posting an 11-17 record and an ERA+ of 86. The next season, Chief Zimmer replaced Shettsline at the helm. The Phillies again landed in seventh place, with a 49-86 mark. Duggleby led the 1903 staff with 264⅓ innings pitched, and achieved a 13-16 record and an ERA+ of 83.
Hugh Duffy took over as the Phillies' manager in 1904. He preferred that his pitchers employ an overhand motion: "I made Duggleby practice it until he got control, and the opposing batsmen could do nothing with his delivery when he pitched overhand; but as soon as he would go back to his old style base hits would follow in rapid succession. I finally convinced 'Dug' of his error, and toward the latter part of the season there was not a pitcher in the League who was doing better work."19 Prior to 1904, it would seem, Duggleby employed a side-arm delivery. Mostly, his curves drew attention. But he also possessed a sneaky fastball, often referred to as "high" in the zone.20 "He used a fast ball with such cleverness that it was almost impossible to bunt," observed Brooklyn manager Ned Hanlon after a 1902 game.21
More than anything else, Duggleby pitched to contact. Of the 49 pitchers who threw at least 1,000 innings between 1901 and 1907, none had a lower ratio of strikeouts per nine innings than his 2.35.22 After he shut out the Reds on August 11, 1906, without walking or striking out any batters, a Philadelphia sportswriter noted: "He made every mother's son of them hit, and the men behind him did the rest."23 Complementing this style, Duggleby fielding his position confidently, watched "bases like a hawk,"24 and commonly picked runners off.
Duggleby shut out Rube Waddell and the Athletics, 1-0, in the opener of the Philadelphia spring series on April 4, 1904. Later in life, he remembered it as his greatest pitching performance.25 Ten days later, he was Duffy's Opening Day starter, beating Boston 6-2. From there, the pitcher and the team suffered. After taking a loss on August 16, Duggleby was 5-13, and the Phillies 27-74. Duffy benched him for several weeks, and Duggleby reportedly asked for his release.26 On September 8, at New York, Duffy gave him another start. A no-decision resulted. But then, starting with a September 12 complete-game victory at Brooklyn, Duggleby reeled off seven straight wins to close the season.27 He finished the campaign with a 12-13 record and an ERA+ of 72. The Phillies played .500 ball down the stretch, but still landed in the cellar with a 52-100 record.
The overhand delivery Duffy insisted upon must have agreed with Duggleby. Or might a spitter, tantalizingly referred to in a 1905 account of his pitching, have helped?28 Or did "Frosty Bill" prefer an autumn chill?
Later accounts of this nickname sometimes place its genesis upon the pitcher's frigid relationships with his teammates. No doubt Duggleby was reserved. A contemporary considered him "about the most quiet player I ever ran up against."29 Yet any mention of him earning his teammates' ill will is elusive. On the other hand, after his finish to the 1904 season, references to "his reputation as a cold weather pitcher" were common.30
Duggleby contributed a respectable season in 1905 as the Phillies returned to the first division with an 83-69 fourth-place finish. Second behind Charlie Pittinger in innings and wins, he went 18-17 with an ERA+ of 118. The team fell backward in 1906, sealing Duffy's fate, with a 71-82 record. Duggleby achieved a 13-19 mark and an ERA+ of 116.
On April 4, 1907, Duggleby again bested Waddell, 1-0, in the spring series opener. New Phillies manager Billy Murray considered Duggleby for his Opening Day starter before choosing Frank Corridon just before the April 11 match with the Giants began.31 Duggleby instead started Philadelphia's second game, four days later at the Polo Grounds. He was ineffective in the 6-5 loss. Murray used Duggleby sparingly over the coming weeks out of the pen. Only on June 9, at Chicago, did he give the veteran pitcher another start. A 4-2 loss to Cubs resulted.
Over the years, Duggleby struggled against the Pirates, yet never lost faith he could beat them. At the beginning of the 1906 season, he pleaded with Duffy: "New season, new suit of clothes, new baby, Hugh. Let me try it."32 Duffy let him try twice against Pittsburgh that year, and the pitcher lost both games.33 Duggleby traditionally fared better against the Cubs and, as Chicago sprinted to a 116-36 pennant in 1906, Duffy gave him seven starting assignments against Frank Chance's juggernaut. Duggleby went 1-6 in these games, but he pitched well in all but one of these efforts.34
When Pittsburgh purchased Duggleby on July 15, 1907, the pitcher's gameness and success versus Chicago factored into Pirates manager Fred Clarke's thinking.35 But halfway through the season, Pittsburgh was in third place, 11½ games behind the first-place Cubs, with whom they only had seven remaining games. Clarke's immediate challenge was to get through a busy stretch peppered with doubleheaders, and by mid-July his staff was only five deep.36
Duggleby made his Pirates debut in New York on July 18, relieving Sam Leever "in fairly good style."37 But his first start for Pittsburgh, versus second-division Boston on July 29, resulted in his being pulled in the seventh as the Pirates lost, 6-3. Clarke used him rarely afterward. When asked by sportswriter Hugh Fullerton how things were going, Duggleby replied: "I've pitched fifty-four games this season – fifty-two of them in the warm up pen."38 In 1907, with Philadelphia and Pittsburgh, Duggleby finished with a 2-4 record, over 69⅓ innings, with an ERA+ of 53.
Pittsburgh released him to Rochester in January 1908. Late in the season, frustrated with another losing effort from the last-place Bronchos, Duggleby "deliberately kicked the ball into left field while two of the opposing players were on bases."39 Fined $25 by the team for his petulant act, Duggleby cared not to pay it, and Rochester shipped him off to Kansas City.40
In February 1909, Duggleby assisted Dan Coogan in training his Cornell baseball squad, then briefly pitched for Kansas City that spring, but was soon let go. He returned to Toronto in June, pitched poorly, and spent the remainder of the season twirling semipro ball in Atlantic City.
Then Duggleby headed south. In 1910 he pitched for Montgomery. After briefly playing in Meridian, Mississippi, to begin the next season, he spent 1911 and 1912 pitching in Albany, Georgia. Later accounts claimed that Ty Cobb, trying to score from third on a squeeze play in an exhibition game, broke Duggleby's ankle as he tried to tag out the Georgia Peach at the plate, thus ending his professional career. But like many tales, no historical evidence backs it up.41
He remained in Albany for several years, umpiring Georgia State League games and captaining local semipro teams. In 1917, Ethel sued him for divorce.42 He returned, alone, to New York.43 After unsuccessfully attempting a comeback with Utica, he operated a store in Cooperstown, but filed for bankruptcy in 1924.44
Bill Duggleby spent his final years in Utica, employed by the Savage Arms manufacturing plant in nearby Ilion, then working for that village's streets department. On August 30, 1944, he died in Redfield, New York. He was buried in the Redfield Cemetery.
Acknowledgments
This biography was reviewed by Len Levin and fact-checked by Thomas Nester.
Sources
In addition to the sources noted in this biography, the author also accessed Duggleby's file from the National Baseball Hall of Fame, the Encyclopedia of Minor League Baseball, and the following sites:
Notes
Born
March 16, 1874 at Utica, NY (USA)
Died
August 30, 1944 at Redfield, NY (USA)
If you can help us improve this player's biography, contact us.
https://sabr.org/sites/default/files/DugglebyBill.jpg
600
800
admin
/wp-content/uploads/2020/02/sabr_logo.png
admin
2017-07-18 13:44:50
2020-04-09 14:43:03
Bill Duggleby