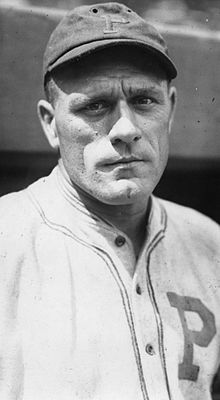 ---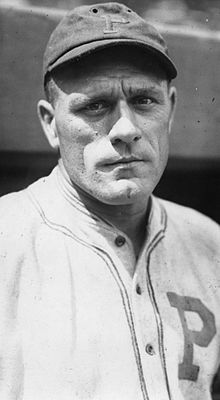 "There is something inspiring to discouraged ball players in the career of William Hinchman, of the Pirates. A man who had had his show and apparently failed, it took years of patient plodding before another opportunity presented itself."1 That's how author J.C. Kofoed introduced his Baseball Magazine article on Hinchman, who had an all-star-worthy year in 1915 after serving a five-year exile in the minors. A baseball lifer, Hinchman remained in the game until 1953.
Born on April 4, 1883, William White Hinchman was the youngest of the five children of Pennsylvania natives Charles and Susan Hinchman. At the time of his birth, the family resided in the West Manayunk neighborhood in northwestern Philadelphia along the banks of the Schuylkill River. The area had been settled by German, Polish, and Irish immigrants, but when asked his nationality Hinchman called himself a "Thorough American."2 The family moved often in and around Philadelphia, as the elder Hinchman pursued jobs in the steel and iron industry. William attended school until the sixth grade.
His older brother was Harry Hinchman, who went on to a lengthy career in baseball. No doubt Harry was a source of early baseball indoctrination and training for brother Bill. In his younger days as he tagged along with Harry, Bill earned the nickname "Little Willie." By the time he reached the majors, Bill was nearly 6-feet tall and weighed 190 pounds. He threw and batted right-handed and gained the new moniker "Big Bill."3
William played both baseball and cricket before joining his brother at Ilion in the New York State League in 1903. After two seasons with the Typewriters, the Hinchman brothers signed with Wilkes-Barre.4 Bill opted to jump the team and joined the Williamsport Millionaires in the outlaw Tri-State League. The league featured teams in Delaware, New York, and Pennsylvania.
Hinchman began the year at third base but moved to center field when veteran Bill Hallman arrived. Williamsport got off to a slow start and found itself in the middle of the standings. Management tinkered with the roster throughout the season and brought in Jimmy Sebring from Cincinnati to play outfield and young Johnny Lush to pitch. In August, the Millionaires posted a 22-6 record to pull into the pennant race. By September 7 they took the lead and never relinquished it. Hinchman earned praise from various scribes; one noted that he "plays outfield, third or first base with equal cleverness."5 Sebring led the team in batting, but Hinchman was the heart of the lineup.
Hinchman's heart was stolen by Mary Theresa Berrigan, who came from a well-known Williamsport family. The couple were wed on February 15, 1906. For the remainder of Hinchman's playing days, the family lived in Williamsport and Bill stayed in rooming houses with teammates during the season. The couple had three sons: William Jr. (1908), Lewis (1911), and Robert (1916).
On the recommendation of former catcher John Grim, Cincinnati purchased Hinchman. He debuted on September 24, 1905, against Brooklyn and smacked a two-run triple in the 8-7 win. He also muffed a fly ball and allowed two runs to score. Manager Joe Kelley announced that the recruits would get ample opportunity to show their talent. Kelley was true to his word. Hinchman played in 17 games that fall, and saw action in exhibitions during and after the season. His best offensive performance came against Boston and Irv "Cy" Young on September 26. He had two hits, scored twice and stole a base. During the offseason, newspapers were full of speculation that Hinchman would be sent to Boston for Jim Delahanty. Kelley eventually added Delahanty in a swap for Al Bridwell.
Hinchman opened the 1906 season with Cincinnati as a utilityman with Delahanty at third. After a month, Bill had 64 plate appearances, nearly the same amount as he had in 1905, but all his averages and percentages were down and his strikeouts were up. In late May, his contract was purchased by Columbus of the American Association. Led by the pitching of Heinie Berger and Hinchman's overall play, the Senators finished first by six games. Hinchman led the team with a .314 batting average and had 27 outfield assists. Berger and Hinchman were sold to Cleveland for $9,500 after the season.
Hinchman joined Elmer Flick and Joe Birmingham in the outfield. In an era when batters tried to "hit 'em where they ain't," the free-swinging trio were an anomaly. They were looking for extra-bases, not just singles. Only five players in the 1907 American League had over 70 strikeouts. The Cleveland outfield featured three of them; Hinchman led the group with 97, six behind the league leader. They did launch 36 triples, putting the team second behind Detroit. The pitching staff turned in above-average numbers, but the team batting average of .241 was sixth in the league and the Naps finished in fourth place. On a brighter note, Hinchman was joined by his brother Harry in July and they played about six weeks together.
The 1908 pennant races were hotly contested and full of controversy. On September 24, four American League teams — Detroit, Chicago, Cleveland and St. Louis — all were within 2½ games of first-place Cleveland. Couple this with the National League race that had just witnessed the Merkle game and it is understandable why Sporting Life suggested that fans had forgotten about the presidential race. Detroit won 10 straight from the 25th until October 3 to take the lead. On October 4, Cleveland played the Browns while the Tigers faced Chicago. The Tigers lost, the Naps were in a tight battle that found Hinchman coming to the plate with runners on second and third with two out in the ninth inning of a tie game. Victory meant a tie with Detroit.
Cleveland writer Henry P. Edwards reported what happened next: "… Hinchman hit a vicious drive over second base. Wallace ran over and made a phenomenal stop. He was way off balance and could not make a throw to first. Instead he made a wild toss that took Jones off the bag." Jones turned and fired to the plate hoping to choke off a run. A rundown ensued until first-base umpire Jack Egan got the attention of all present and announced he had called Hinchman out at first. Wallace's throw had beat the runner, according to Egan.6
Ban Johnson had assigned Egan as a second umpire for the game because of its importance in the pennant race. Egan arrived late. Normally an umpire would not take the field in mid-game, but Egan entered the game anyway. He had a checkered history with the Naps and remarked, "I'll bet I umpired more victories for Cleveland than any other umpire" in 1908.7 Indeed, he had umpired over 60 Cleveland games, but familiarity breeds contempt and he had more than his share of run-ins. In August, he had ejected Dave Altizer, and Josh Clarke was suspended after an argument.
Egan's decision brought an explosive response from the Naps. Lajoie maintained enough control that no one was ejected. St. Louis fans were heard to cry "robber!" and the Browns' Emmet Heidrick said, "I never saw a clearer case of robbery."8 First baseman Tom Jones claimed, "[A]s sure as I am alive Hinchman beat that throw."9 The game continued until the 11th inning, when it was called on account of darkness, ending in a 3-3 tie. The Naps lost the next day, ending their pennant chances.
In March 1912, a syndicated article with no byline entitled "Twenty Greatest Baseball Blunders" made the round of newspapers all over the nation. Along with events like the trade of Christy Mathewson for Amos Rusie, the article listed "Hinchman's boner," claiming he did not hustle to first in 1908 and cost Cleveland the pennant. But who was it who labeled Hinchman a loafer and claimed he did not hustle? From later accounts, it might have been Egan or perhaps Lajoie, but no definitive contemporary account has been located by this author.
The assertion followed Hinchman and in 1915, when he joined Pittsburgh, it resurfaced. In the 1990s a book titled Bill Hinchman's Boner and the 1908 Naps revived the story. Yet few fans know of this supposed "boner" because it was overshadowed by events of September 23, when Merkle made headlines from New York with his failure to touch second base. Cait Murphy's book Crazy '08 she titles two chapters about the Merkle game and allows a paragraph for the Hinchman story.
Hinchman played 137 games in 1908 and batted .231 with six home runs. His 1909 season's statistics were even better with a .258 average, 22 stolen bases and his best slugging percentage yet, .372. Deacon McGuire had relieved Lajoie as manager for the last quarter of the 1909 season. He had 11 outfielders on the roster for 1910 and knew that changes had to be made. He was looking to add more speed to the lineup because the Naps were below average in basestealing and not adept at taking an extra base. Despite being second on the team in steals, Hinchman was in disfavor with McGuire because of his fielding. On February 1, Hinchman and three others were sold to the Columbus Senators.
Hinchman would spend the next five seasons playing for the Senators and perfecting his slugging style at the plate. Most importantly, he learned patience and waited for his pitch. Columbus finished third for three years under the leadership of Bill Friel. Hinchman was named manager in 1913 and led the team to two fourth-place finishes. Hinchman's average rose from .258 in 1910 to .366 in 1914. He was second in the league in slugging in 1910, but then led the regulars each year after as his percentage went from .365 to .569. In 1914 his .366 led all full-time batters in Double-A and Class A ball. He also scored a career-high 139 times.
Fred Clarke, manager of the Pittsburgh Pirates, had seen his team limp to a seventh-place finish in 1914. Max Carey was his leading bat in the outfield with a lowly .243 average. An outfield talent upgrade was a must. The team had youthful Zip Collins on the roster, but needed more offense. The Pirates took a chance on the 32-year old-Hinchman. They had no idea what a bargain he would be. He led the team in doubles, was second to Honus Wagner in triples and homers and led the team with a .307 batting average. Gavvy Cravath launched 24 homers, the most in the Modern Era (post-1892) of baseball and hit .285, but Hinchman was superior to him the field with fewer errors and a slightly higher range factor. Each gained praise as the best NL right fielder for 1915. Buoyed by Hinchman's play and a rejuvenated Wagner, the Pirates climbed to fifth place.
In 1916, Hinchman's power numbers dropped off slightly, but his batting (.315) and on-base percentage (.378) placed him third and second respectively in the league. Max Carey also had a good season, but the rest of the squad struggled and the Pirates finished lower than in 1915. Hinchman returned to the Pirates in 1917 and took over in left field. Now past the prime years for a player, he got off to a very slow start and was still below .200 on the Fourth of July. His season came to a screeching halt on July 6 in Philadelphia.
His wife and the two older boys were in attendance that day. In the ninth inning, the Pirates held a 7-4 lead and had the bases loaded with Wagner on third and Hinchman on second. Jake Pitler squared to bunt and bounced the ball high off the plate. Wagner scored easily as the throw went to first base. Hinchman rounded third and believed he could beat the return throw if he kept going. The result was a "grand spill at the plate (and) … Hinchman was unable to arise."10 He was carried from the field and taken to the Women's Homeopathic Hospital, where the break in his left femur was set.
After a winter's recuperation with the family in Williamsport, Hinchman reported to spring training and worked himself into shape. He was inserted into the lineup in late May and played 26 games from then until the end of June. With a batting average just over .200, he was benched and saw action in only one July game. There were reports that Hinchman would be sent to Columbus or even given his release. The Pirates held kept him on the roster and late in the season he regained his batting eye as a pinch-hitter/first baseman. He closed out the year playing 50 games and hitting .234.
Over the winter Hinchman asked for his unconditional release from the Pirates. They refused and he announced that he was leaving baseball for the business world. He also made plans to play semipro ball. He was rumored as managerial material for Toledo and other minor-league teams, but did not take any jobs, if indeed they were offered. However, after a year out of baseball Hinchman returned to Pittsburgh in 1920. After 18 pinch-hitting appearances, he was released as an active player and put on the Pirates' payroll as a scout and coach.
In the late 1920s the family moved to Columbus, Ohio. William Jr. entered Ohio State University and went on to star in basketball and baseball. He played minor-league ball after graduation with Danville, Illinois, and Jersey City in 1931 and Beckley, West Virginia, in 1932. Brother Lew became a three-sport star with the Buckeyes. He played quarterback, halfback, and end during his football career, forward in basketball, and center field in baseball. He had a taste of professional baseball with Springfield, Illinois, in 1933. Robert spent his collegiate days with the Princeton Tigers and played football. His most famous moment came when he kicked the winning field goal in 1939 to defeat an unbeaten Dartmouth squad, 9-7.
Hinchman Sr. scouted for the Pirates in the summer and managed a bowling alley in the winters. In 1932, he served as president of the Class D Interstate League, which lasted only about a month before disbanding. As a scout, he was instrumental in the signing of Rip Sewell, Cookie Lavagetto, and Billy Cox. Some sources also credit him with the discovery of Arky Vaughan and Lloyd Waner, but that seems unlikely.11
Hinchman was under care in a nursing home on February 20, 1963, when he died. A funeral Mass was held at St. Christopher's Church in Columbus and he was buried in St. Joseph's Cemetery in nearby Lockbourne, Ohio.
Acknowledgments
This biography was reviewed by Len Levin and fact-checked by Kevin Larkin.
Sources
In addition to the sources cited in the Notes, the author consulted Baseball-Reference and the 1994 edition of The Encyclopedia of Minor League Baseball. Thanks to the following SABR members whom I consulted about "Hinchman's Boner": Morris Eckhouse, Rick Huhn, Bill McCurdy, David Nemec, Rob Neyer, and Joe Wancho
Notes
Born
April 4, 1883 at Philadelphia, PA (USA)
Died
February 20, 1963 at Columbus, OH (USA)
If you can help us improve this player's biography, contact us.
https://sabr.org/sites/default/files/HinchmanBill.jpeg
600
800
admin
/wp-content/uploads/2020/02/sabr_logo.png
admin
2017-10-19 14:01:32
2020-04-09 14:40:30
Bill Hinchman