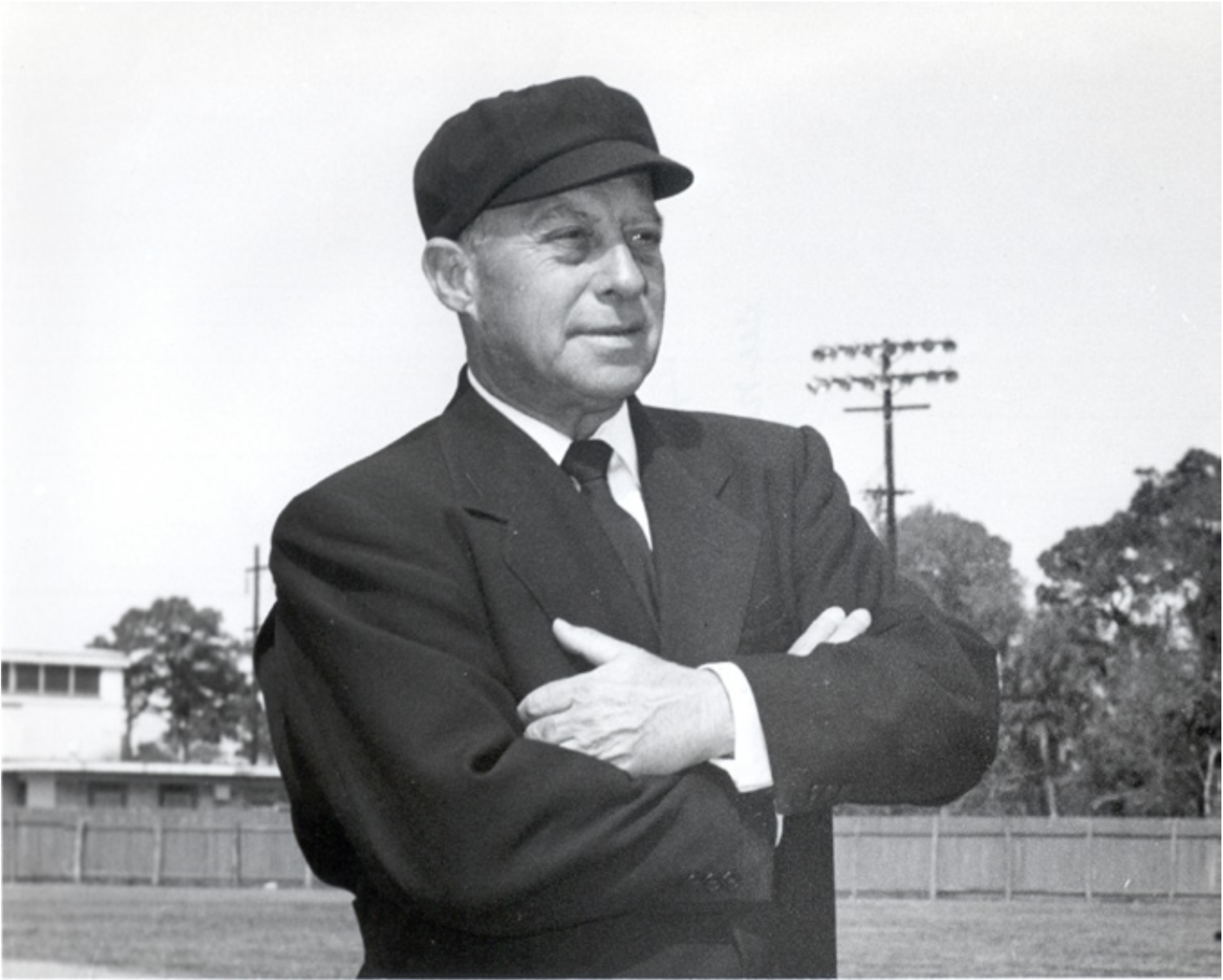 ---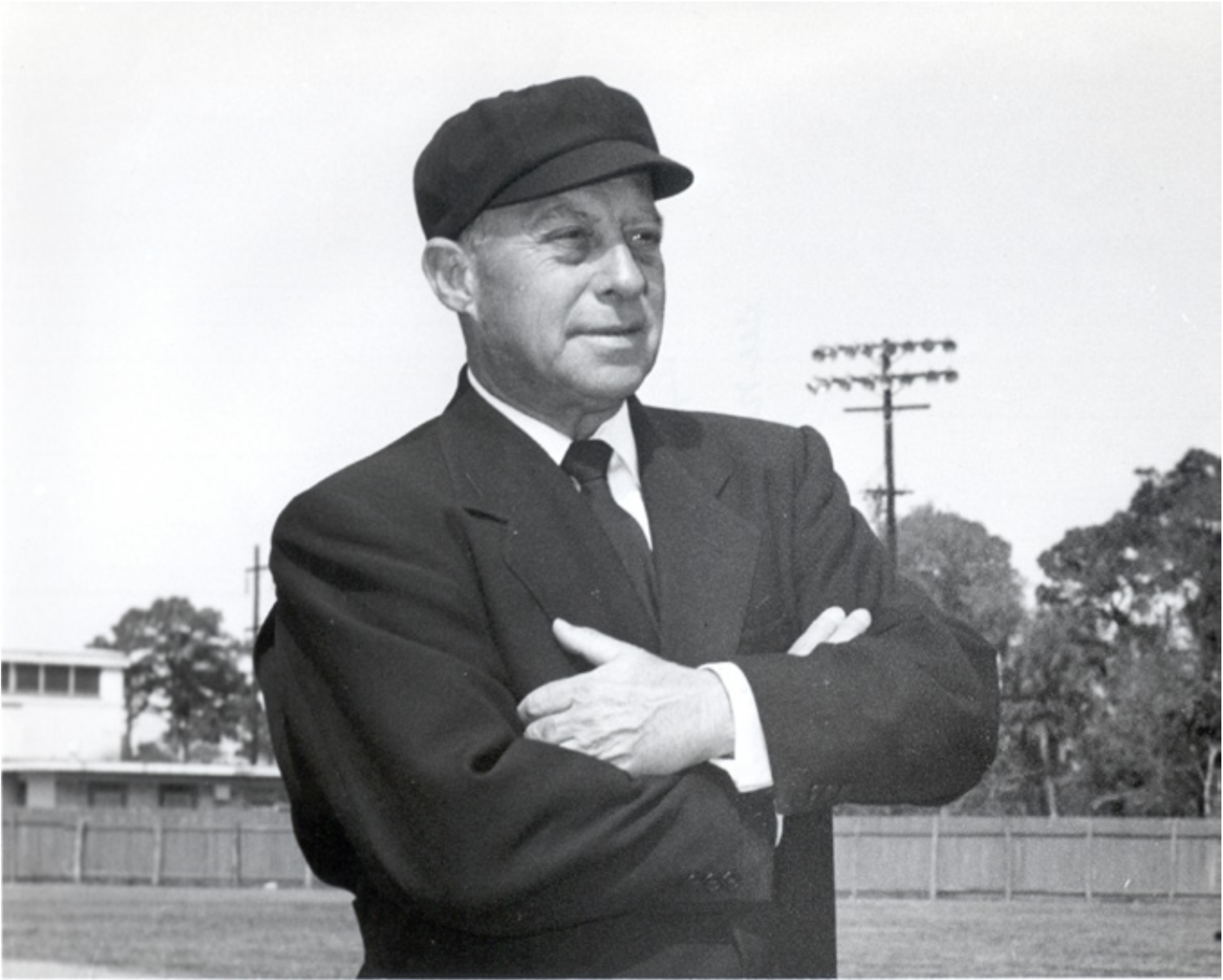 "Superstar" is a superlative usually reserved for players. However, fellow umpire Jim Honochick used it to describe Bill McGowan.1 Universally respected for his work behind the plate and on the bases, William Aloysius "Bill" McGowan umpired in the American League from 1925 to 1954. "He was one of the sharpest guys with balls and strikes I ever saw. I'd say he was probably 99.9 percent right," recalled Ted Williams.2 Longtime New York Yankees manager Joe McCarthy agreed. He told his players not to ride McGowan "because he's the best ball and strike man there is."3 His signature strike motion consisted of a clenched fist held about four inches above his head.4
McGowan himself had no doubts about his ability. When asked by Washington Senators first baseman Mickey Vernon, "How could you call [the runner] safe?" McGowan shot back "because I'm the best umpire in the business, I'm number one."5 After a runner complained that McGowan had called him out at second before the play was over, McGowan replied, "That's right. Any umpire can call a play after it happens. Only the great ones like me can call 'em before they happen."6 This, and similar assertions, led to the nicknames "Chesty," "No. 1," "Wild Willie of Wilmington," and "Hot Shot," often spoken with equal parts praise and scorn.
While it is often said that a good umpire is an invisible umpire, such cannot be said about McGowan. He gave his personality free range on the field. He would call a ball a strike to speed up a game or a strike a ball as a favor to a batter. To the astonishment and consternation of managers and coaches, he advised players during a game on their swing, attitude, or what a pitcher might throw them. He received three suspensions, once in the minors and twice in the majors, for displays of temper. McGowan was a tour de force, durable, calling 2,451 games from 1925 to 1940,7 and, in spite of his suspensions, well thought of in the commissioner's office, earning assignments to eight World Series and four All-Star Games including the first in 1933.
McGowan's contributions to the game went beyond umpiring. Acting as an unofficial scout during his minor-league career, he recommended players, notably Goose Goslin and Bucky Harris, to Washington Senators owner Clark Griffith and others, including Jimmy Dykes, to Philadelphia Athletics owner Connie Mack. Once in the majors, his contract forbade such activities, but, as he told Washington Post sportswriter Shirley Povich, "back in my International League days they didn't care what we did, and I was always placing young ballplayers. I got a kick out of it."8 Known for his hilarious sense of humor, he was in demand on the rubber-chicken circuit. He wrote numerous newspaper and magazine articles. Toward the end of his career he founded a school for umpires that endures today. Baseball's Hall of Fame belatedly welcomed him to its membership in 1992.
McGowan was born on January 18, 1896, and baptized Catholic in Wilmington, Delaware, a month later. His parents, John Aloysius and Catharine McGowan, with his aunt Elizabeth, emigrated from England in 1883. His father operated three beer and whiskey stores in Wilmington before becoming a hotel manager until his death from pneumonia in 1909. Bill never took to beer or spirits. If he invited you for a drink it would be for a milkshake. He took up boxing in high school but lost his first professional bout on a first-round knockout. He told the story often, prompting players including White Sox pitcher Johnny Rigney to call him "canvasback" or "K.O."9
McGowan's brother John, chief clerk in the Wilmington fire department, introduced him to umpiring. At 16 in 1912, Bill reluctantly agreed to sub for his brother at a semipro game in Newark, Delaware. It took the rookie ump four innings "before I contrived to keep my eyes open with the pitch and had no trouble for the rest of the game."10
To McGowan's surprise, the experience agreed with him to the extent that he gave up aspirations to play second base in the majors in favor of umpiring full time. Misrepresenting his age to Tri-State League President George M. Graham, McGowan worked a few games in that league in 1913. The next year he alternated between the Delaware County (Pennsylvania) League and the University of Pennsylvania. On Graham's recommendation, he landed a position in the Virginia League in 1915 but only after convincing the league president that at 135 pounds he was big enough for the job. Ed Barrow, president of the International League and later general manager of the New York Yankees, offered McGowan a job as a substitute umpire in the International League in 1916. McGowan also worked in the New York State League that year. From there he moved to the Blue Ridge League in 1917, sat out umpiring in 1918, and returned in 1919 to the International League, where he stayed until 1922.
McGowan earned his first suspension during a Sunday game in Baltimore in August 1922 by decking Baltimore Orioles second baseman Harry McCurdy, who had objected to being ejected by landing a punch on McGowan's chin. McGowan then landed a right jab to the jaw of a policeman who had stepped between the two. Fined and fired, he got a reprieve several months later from Southern Association President John D. Martin, who had confidence that the arbiter's skill would win out over his temper.11
After McGowan umpired two years in the Southern Association, American League President Ban Johnson offered him a job in the majors, where he made his debut in Philadelphia's Shibe Park on Opening Day, April 14, 1925.12
Starting in 1918, McGowan worked in the room where gunpowder was made at the DuPont Corporation for six years. He met his wife, Magdalein P. "Madge" Ferry, in 1918 after a basketball game that he won in overtime with a jump shot. They married that year at the Church of the Immaculate Conception in Elkton, Maryland. The couple had one son, Bill Jr., born in 1919, and raised two children of Madge's brother Bradford after he was killed at a gas station in Elkton when a man carelessly dropped a lighted match into a can of gasoline.13 Once in the majors, the McGowans made their home in the Washington, D.C., area, living first in the city before buying their first house in Chevy Chase, Maryland, and their second in Silver Spring, Maryland.
An umpire's primary responsibility is twofold – maintaining control of the game and enforcing the rules fairly. McGowan did so with equal parts intimidation, firmness, and humor flavored with an occasional dash of favoritism and flashes of anger.
A player's status made no difference to him. Established stars like Babe Ruth and Ted Williams received the same treatment as did the rawest rookie. As a 29-year-old rookie major-league umpire in 1925 calling New York Yankees games in spring training, he tossed Babe Ruth, who complained mightily. "I know who you are and all about your reputation," McGowan replied, "but when I'm wearing this blue suit, you're just another ballplayer. Get out."14 Ted Williams, in a game at Fenway Park in 1942, decided to strike out in response to boos from spectators. After he took two lazy swings, McGowan told him that after a third such swing "you'll be thrown out of the game, fined, and probably suspended." The Splendid Splinter managed a bloop single.15 Rookies appearing before McGowan for the first time heard themselves called "Bush" or "Busher" accompanied by a lesson about who was in charge. After calling rookie Tommie Umphlett out on strikes, McGowan stepped in front of Umphlett and pumped his fist in the rookie's face so there would be no doubt about was in charge. "Yes sir," Umphlett answered.16
For all his aggressiveness, McGowan was not above admitting mistakes, as he did with infielder Joe Sewell. After bellowing, "Strike three, you're out!" on a ball that crossed the plate at cap level, "No. 1" said in the same sentence, "Oh my God, I missed that." He apologized to Sewell the next day.17 Admitting a mistake never meant changing his call, as he explained to a runner he had wrongly called out at first base. Both agreed it had been the wrong call. "But," McGowan informed him, "after my hand went up, 35,000 people in the stands know you're out."18
If a player heckled McGowan from the bench, he whipped his mask off, stared into the dugout, and, if he could identify the player, gave him the heave-ho. Players who heckled other players also earned his ire. After hearing Yankees rookie pitcher Tommy Byrne direct some choice comments from his dugout seat to Red Sox infielders in a 1943 game, McGowan yelled "Shut up, Bush." Byrne did, but in his next at-bat McGowan called him out on strikes on a pitch well wide of the strike zone, adding, "How do you like that, you left-handed son of a bitch?"19
So sensitive was McGowan to anyone questioning a call that he once ejected a player before any words had been exchanged. Just as Washington Senators catcher Roy Spencer turned toward him to question a called ball on Ben Chapman during a game with the Yankees in 1931, McGowan snapped, "You're outta here." "You can't do that," Spencer protested. "I ain't done nothing yet." "You're outta the game," McGowan explained, "for what you were intending to say."20
Players' protests didn't always result in their removal from the game. McGowan sprinkled his iron-man persona with an occasional dose of tact, humor, leniency, and giving as good as he got. Red Sox pitcher Sid Hudson recalled flipping the bird to McGowan over a ball-four call that walked in a run and that Hudson thought surely had been a strike. In a move that today would be the lead story on ESPN and result in fines and suspensions, McGowan simply returned the gesture and said, "OK Sid, now let's play ball."21 When Cleveland Indians pitcher Jim Bagby Jr. offered him the left-handed compliment during a 1945 game, "Good day for you. You only missed two on the last batter," McGowan responded with, "Miss that junk you throw? Anytime I can't count the stitches on your fastball, I'll give up."22 When Jimmy Dykes protested being picked off second base, yelling, "Out? I made it. I got back," McGowan benignly replied, "Yes you did, James, you made it, but what detained you?"23 Yankees third-base coach Earle Combs always signaled a Yankee runner safe, extending his palms downward, after McGowan had called him out. Rather than toss Combs, McGowan promised him, "You'll be on our staff if you keep improving on those close decisions." A laugh and an apology from Combs usually followed.24 McGowan gave Senators third baseman Buddy Lewis a rare gift on Lewis's first at-bat after returning from World War II by calling two pitches that were clearly strikes ball one and ball two. "What's going on?" demanded White Sox pitcher Earl Caldwell. "Don't you know who this is?" McGowan answered. "This is Buddy Lewis. It's his first day back. Ain't no way I'm calling a strike on him his first at-bat." Caldwell then issued an intentional walk to Lewis.25
McGowan twice overstepped his bounds to earn suspensions from American League President Will Harridge. After exchanges of unprintable names with Senators pitcher Ray Scarborough over the course of several games during the spring of 1948, McGowan took his frustration out on Senators outfielder Ed Stewart. He threw a ball at him while the outfielder argued with umpire Joe Paparella about a close call at second and then showered Stewart with profanity as Stewart ran by him to his position in the outfield. Harridge issued a fine of $500 and a 10-day suspension without pay. The episode did not, however, prevent Harridge from naming McGowan as the umpire-in-chief for the first-ever American League playoff game, a contest between the Indians and the Red Sox at the end of that season. The selection signaled that Harridge considered McGowan the junior circuit's best umpire. McGowan considered the game the highlight of his career. "Never had a guy turn his head on me all day. It was the only time both clubs congratulated me after the game," McGowan told a reporter.26
McGowan's second misstep came in a game between the St. Louis Browns and the Tigers in 1952 in Sportsman's Park. When a called third strike on Detroit outfielder Cliff Mapes brought jeers from the Tigers' dugout, McGowan promptly turned toward the dugout and ejected one of the occupants. When a writer in the press box passed a note to the field asking whom he had ejected, McGowan told the writers "it was none of their _______________ business" and he threatened to write them up. Taunted by writer Ellie Veech who yelled down to the field from the press box, "Hey, McGowan can you write?" McGowan, by now an accomplished writer of magazine and newspaper articles, "made an offensive gesture toward the press box" and yelled back, "If you could write you'd be in New York." He repeated his gesture but with more gusto than the first. This time Harridge levied a $650 fine, the largest to date for an umpire, and an indefinite suspension that wound up lasting only four games.27
Though he could be quick to eject a player who he felt threatened his control of the game, McGowan would, with equal ease, offer advice to players. When Philadelphia Athletics catcher Frankie Hayes told Ted Williams at his first at-bat during the last game of the 1941 season as Williams, with a .398 average, was striving to became the first player to hit .400 since Bill Terry hit .401 in 1930, "We're not giving you a damn thing today," McGowan called time out, walked around Williams, bent down to brush off the plate, and said, without looking up, "To hit .400 a batter has got to be loose. He has got to be loose."28 The advice took. Williams finished the season at .406. McGowan advised Hank Greenberg, Hall of Fame first baseman for the Detroit Tigers, to shorten up on his swing. "You don't have to knock those homers into the 20th row," he told Greenberg, the first row is far enough." Greenberg credited the advice with helping him raise his homer production to 58 and acquire a $70,000 salary the next year.29 "Bushers" as well as established stars benefited. Irv Noren, just recalled from the Pacific Coast League by the Washington Senators in 1950, swung and missed at a borderline high fastball. "That's a Coast League strike, kid," McGowan told him. "In the majors it's a ball." Noren thanked McGowan for the tip.30 McGowan even went as far as to alert rookie Senators outfielder Gil Coan what to expect from opposing pitchers. "He always encouraged the young ballplayers," Coan recalled in a 2004 interview.31
Off the field McGowan had two pursuits that kept him busy during the winter months, writing and speaking. "He'd sit there from sunup to sundown and bang away at that Smith-Corona," Bill Jr. recalled.32 His articles, largely human-interest stories about players, managers, coaches, and, of course, umpires, appeared in The Sporting News, Liberty, and Esquire. For a number of years he wrote a syndicated column, "Three and Tuh," that ran in 30 newspapers. He traveled the Mid-Atlantic States to speak at dinners, banquets, award ceremonies, and, during World War II, at military camps and installations. When home he was often the keynote speaker at the Washington Touchdown Club. During one such appearance in 1944 the club presented him with a plaque for his outstanding work during the 1944 World Series. A reporter for the Washington Post-Times Herald judged his acceptance speech to be "one of the most entertaining after-lunch speeches ever given," adding, "Time and again the capacity crowd interrupted McGowan with prolonged laughter and applause."33 McGowan was no stranger to radio and television, often appearing as a guest of Senators play-by-play announcer Arch McDonald's radio program and as a guest on Washington sportswriter Morrie Siegel's weekly TV program.34
McGowan's lasting legacy to the game came in the form of a school for umpires he started in 1938 working out of his home in Chevy Chase, Maryland. He conducted classes and practice sessions at the nearby University of Maryland. In 1939 he teamed with fellow umpire Emmitt Thomas "Red" Ormsby to establish a school in Jackson, Mississippi, that they moved later to Florida. The school operated for about one month between January and March of each year in various Florida locations. Thanks to the G.I. Bill of Rights, enrollment swelled to 251 in 1947 with 95 percent of the students being veterans. Many graduates of the school found work in the minor leagues and a few, including John Rice, made it to the majors. The school continues today, after several changes in ownership, as the Harry Wendelstedt Umpire School in Ormand Beach, Florida, offering instruction to women as well as men.
McGowan died at his home in Silver Spring on December 9, 1954, of a heart attack brought on from complications in his struggle with diabetes. At his funeral Mass in Silver Spring, conducted by a nephew, Rev. William Buckley, all major-league umpires attended as did American League President Will Harridge, Senators owner Clark Griffith, Senators manager Bucky Harris, former Senators players Joe Judge, Sam Rice, and Ossie Bluege, and active Senators player Jim Busby. Burial was in the family plot in Cathedral Cemetery in Wilmington.
Eight months before McGowan's death, sportswriter Francis Stann spoke for many who knew and worked with him: "McGowan may be the last [of the umpires] who made his name strictly off his umpiring. He has that touch of personality that sets him apart from the others. It never hurt an umpire to flash a little pomp and strut as long as he knew his business, which McGowan did and does."35

This biography is included in "The SABR Book on Umpires and Umpiring" (SABR, 2017), edited by Larry Gerlach and Bill Nowlin.
Notes
1 Honochick called McGowan "the very best umpire that I ever worked with." Larry Gerlach, The Men in Blue: Conversations with Umpires (Lincoln: University of Nebraska Press, 1994), 183. On page 184 Honochick used the word "superstar." For an in-depth discussion of McGowan's life and career, see Bob Luke, Dean of Umpires: A Biography of Bill McGowan, 1896-1954 (Jefferson, North Carolina: McFarland & Co., 2005).
2 baseballhall.org/hof/mcgowan-bill.
3 Bob Luke, "Hall of Famer Bill McGowan Umpired With Vigor and Style," Baseball Digest, February 2002: 72-75.
4 Bill McGowan, Text Book: Bill McGowan's School for Umpires (Cocoa, Florida: privately published, January-February 1947), 5.
5 Mickey Vernon, author interview, February 2003.
6 Shirley Povich, "This Morning," Washington Post, May 30, 1958.
7 baseballhall.org/hof/mcgowan-bill.
8 Shirley Povich, "This Morning," Washington Post, May 13, 1938.
9 Newspaper clipping in McGowan's Hall of Fame file.
10 Don E. Basenfelder, "McGowan, Players' Choice as Leading A.L. Umpire," The Sporting News, January 23, 1936: 5.
11 J.G. Taylor Spink, "Series Tops in Thrills, Low in Kicks – McGowan," The Sporting News, October 14, 1947: 11.
12 Fred Sawyer, "Sox Unable to Hold Big League," Boston Globe, April 15, 1925.
13 Bill McGowan Jr. author interview, November 22, 2003.
14 Shirley Povich, "McGowan Walked Right In, Threw Ruth Out," Washington Post, December 10, 1954.
15 Ed Linn, Hitter: The Life and Turmoil of Ted Williams (New York: Harcourt Brace, 1993), 128.
16 Shirley Povich, Baseball Digest, April, 1954: 35.
17 Donald Honig, The October Heroes (New York: Simon and Schuster, 1979), 252.
18 Povich, "This Morning," Washington Post, May 30, 1958.
19 David Halberstam, Summer of '49 (Scranton, Pennsylvania: William Morrow & Co., 1991), 217.
20 Lawrence Keating, "Baseball's Daffy Day," Coronet, June 1957: 73.
21 Sid Hudson, author telephone interview, February 22, 2003.
22 Doug Gilbert, The Great Delaware Sports Book (Montcharin, Delaware: Manatee Books, 1995), 100.
23 James Carmichael, "Dean of the Men in Blue," The Sporting News, December 22, 1954: 14.
24 Bill McGowan, Text Book, 13.
25 Bill Gilbert, Buddy Lewis, author telephone interviews, December 15, 2002.
26 Unidentified newspaper article in McGowan's Hall of Fame file.
27 Oscar Ruhl, "From the Ruhl Book," The Sporting News, November 5, 1952: 13.
28 Ted Williams as told to John Underwood, My Turn at Bat: The Story of My Life (New York: Simon and Schuster, 1969), 85-86.
29 Shirley Povich, Morning Line, December 10, 1954.
30 Irv Noren, author telephone interview, May 19, 2004.
31 Gil Coan, author interview, March 8, 2004.
32 Bill McGowan Jr., author interview, January 20, 2003.
33 Frank "Buck" O'Neill, "McQuinn, Case Face Operations to Save Careers," Washington Post-Times Herald, October 17, 1944.
34 "Sports on Television," Washington Post, October 24, 1954.
35 Francis Stann, "Connolly's Motionless Call: Old-Time Umps Would Have Been TV Naturals," Baseball Digest, April, 1954: 63.
Born
January 18, 1896 at Wilmington, DE (US)
Died
December , 1954 at Silver Spring, MD (US)
If you can help us improve this player's biography, contact us.
https://sabr.org/sites/default/files/McGowanBill.png
600
800
admin
/wp-content/uploads/2020/02/sabr_logo.png
admin
2012-01-04 20:41:33
2012-01-04 20:41:33
Bill McGowan