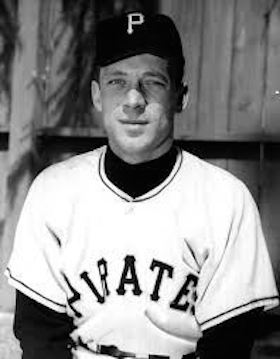 ---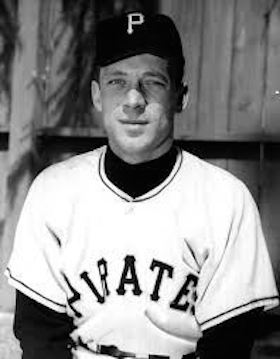 When Bill Pierro was rising through the Pittsburgh Pirates' farm system, Hall of Fame center fielder Lloyd Waner declared, "This kid can throw harder than Bob Feller." Which was music to Pierro's ears as the flame-throwing Cleveland Indian pitcher was his childhood hero. With a sidearm delivery that evoked comparisons to All Star hurler Ewell "The Whip" Blackwell, in 1951 Bucs GM Branch Rickey said "Pierro has greater possibilities than any pitcher I've seen in 20 years."1
But amidst the lavish praise, it must be noted that Pierro did not earn the nickname "Wild Bill" by chance. The right-hander constructed a brilliant minor league résumé including record setting strikeout margins. But his fine achievements were offset by an equally large number of walks, hit batters, and wild pitches—erratic tendencies that were exploited by more patient batters when Pierro sipped his "cup of coffee" in the majors in 1950. The following spring, after he complained that he wasn't getting proper instruction from the Pirate coaches, The Mahatma personally scheduled a session of one-on-one tutoring. The righty promptly lost his biggest backer when Pierro showed up 40 minutes late. Assigned to the club's Class AAA affiliate, Pierro was soon fighting a much more consequential battle, struggling for his life after being stricken with encephalitis. Though he mounted a brave comeback, the inflammatory brain disease affected his coordination. He could not master the simplest motor skills and ended his career.
William Leonard Pierro was born on April 15, 1926 in Brooklyn, New York. At best the date is an approximation because the child had been discovered abandoned behind a Long Island bar when he about six weeks old. . Police rushed him to the humble 16th precinct home of apron salesman and Italian immigrant Saverio "Daniel" Pierro and his wife Mary. The elderly couple was known to authorities for boarding children in coordination with the Catholic charity's Angel Guardian Home. Apparently the birth family was eventually discovered: in the 1930 US Federal Census the then four-year-old appears in the Pierro home under the surname "Stoner." But the Pierros were really the only family he knew. At six the Pierros formally adopted him, and he grew up among two older girls.2
The pencil-thin child grew up playing ball with the neighborhood children but, because he was perceived as too skinny, never had the chance to play for Chelsea Vocational High School (now Chelsea Career & Technical Education High School) in New York. On August 31, 1943, in the middle of World War II, the 17-year-old Pierro cast aside his academic pursuits in New York City's Church Street military recruiting offices where he enlisted in the United States Marine Corps. "I wanted to be a hero," he later explained. Deployed both stateside and overseas in the Pacific, Pierro found plenty of opportunities to play baseball in the military intra-mural leagues. His enlistment overlapped the war and he was released from the service on June 3, 1946.3
Accounts vary about Pierro's journey from returning veteran to professional athlete. By his own account to Cup of Coffee author Rob Trucks, Pierro described a tryout with the visiting Pirates in Brooklyn's Ebbets Field arranged by a friend of Pittsburgh's first baseman Elbie Fletcher.4 (Pierro also described an earlier tryout with the Brooklyn Dodgers when he got turned away because of his thin frame.) Others sources indicate Pierro was a walk-on signee at a Pirates' tryout, possibly facilitated by Fletcher or Al Lopez.
But Pierro's path took a more twisted path. In January 1947, he was one of more than 130 boys and young men from 30 states attending George "Snuffy" Stirnweiss'5 six-week baseball instruction school in Bartow, Florida. The inaugural camp attracted the attention of scouts nationwide and included Stirnweiss' New York Yankee teammate Phil Rizzuto and the Dodgers' then-scout Burt Shotton among the many notable instructors. When the camp ended on February 15, two 21-year-olds, Pierro and Raymond Feraco, became the first graduates to ink a professional contract (both are believed to have been signed by Pittsburgh scout Ralph DiLullo). Pierro was assigned to the Pirates Tallahassee affiliate in the Georgia-Florida League (Class D). Later transferred laterally to the Kansas-Oklahoma-Missouri League, he constructed a middling record of 8-9, 4.30 ERA with 159 walks in 134 innings for the Bartlesville (Oklahoma) Pirates. But on the brighter side the flamethrower averaged 12 strikeouts per game.
In 1948, Pierro was returned to Bartlesville. Under the tutelage of manager Charles Marleau, a former minor league hurler who specialized in control, Pierro succeeded in reducing his walks per nine innings by nearly half (although he still placed among the league leaders) while maintaining the same 12-strikeout-per-game average. On June 9 Pierro struck out 18 and collected the first of eight career one-hitters in a win against the Miami (Oklahoma) Owls. He established a circuit record 300 strikeouts, reaching the plateau after begging Marleau to insert him in relief in the last game of the season to capture his last four whiffs. Pierro produced a career-best 2.15 ERA while placing among the league leaders in wins (17), appearances (31), and innings pitched (230).6
The next spring Pierro was projected to jump two levels to the Albany (New York) Senators in the Eastern League (Class A) until an unflattering training camp caused the organization to reconsider. On the eve of the 1949 season he was sent from Albany to the Waco, Texas, affiliate in the Big State League (Class B). Pierro smashed the league record of 214 strikeouts on August 6 and then went on to add an additional 61 whiffs. For the season he achieved a career-high 18 wins and 255 innings, placing once again among the league leaders. During his two complete game playoff wins against the Texarkana Bears on September 14 and 17, he added another 26 strikeouts.
A combined record of 35-19, 2.58 in 1948-49 earned Pierro a promotion to the Indianapolis Indians in the American Association (Class AAA). On April 23, 1950, Pierro made an impressive debut with an 11-inning 2-1 win over the Toledo Mud Hens. Fifteen days later, he came within four outs of a no-hitter in an 8-0 win over the Kansas City Blues. Manager Al Lopez, blessed with a deep mound corps, moved Pierro to the bullpen where he continued to succeed. On June 18, he picked up a "cheap victory"7 over the Minneapolis Millers striking out the only batter he faced in the ninth inning while his teammates produced a walk-off win in the bottom of the frame. Actually this was one of the few instances when the hard hitting club (a league best .278) provided much support to Pierro. Though owning the league lead in strikeouts and a stingy 4.8 hits per nine innings, victory often eluded the hard luck pitcher. He lost a 2-1 heartbreaker to the St. Paul Saints, for example, despite surrendering just three hits. But it was his last appearance in the American Association. On July 12, he was called to Pittsburgh.
Pirates' manager Billy Meyer did not have the same mound depth his AAA counterpart did: in 1950 the National League's worst staff (4.96 ERA) contributed to the franchise's highest loss total since 1917. Seeking help from all quarters, the Pirates ran through a near league- leading 18 pitchers. It was in the midst of this humbling environment that Pierro made his major league debut on July 17, 1950. Awarded a starting assignment against the Boston Braves in Pittsburgh's Forbes Field, Pierro struck out two of the first three batters he faced. Two consecutive wild pitches yielded two runs in the third, but Pierro was able to carry a five-hit 6-3 lead into the ninth before Boston staged a five-run come-from-behind victory, with reliever Hank Borowy taking the loss. Pierro lost his next two starts in nightmarish fashion: 12 runs and 10 walks over 6⅓ innings including a near-NL shared record of six walks in one inning alongside rookie Vern Law and Junior Walsh on July 22. Shifted to the bullpen, Pierro responded with seven innings of six-hit, two run relief before the wheels fell off completely. In four of his last five appearances, Pierro surrendered 14 runs, nine hits, and eight walks in 5⅔ innings, finishing with a 10.55 ERA in 12 appearances.
Anxious to improve upon these dismal numbers, Pierro enthusiastically reported to the Pirates San Bernardino, California, training camp early the following spring. His enthusiasm plummeted when, on March 14, 1951, the club did not include him in the 50-player squad chosen for an exhibition excursion through Northern California. The team's omission of Pierro had been deliberate, so he might continue working exclusively on adding another pitch to his repertoire, but the 25-year-old took it personally, lashing out at the coaches and management. General manager Branch Rickey responded by arranging the special pitching instruction alongside two Bucs coaches, but when Pierro reported 40 minutes late for this specially prepared session, Rickey told Pierro to find the earliest transport to the Pirates minor league camp in Deland, Florida. "Right now I don't care where that boy pitches this season," he growled. "He is going to have to show me a great deal more desire than that."8
Cooler heads soon prevailed, and the excursion to Florida never occurred. Assigned to Indianapolis in late March, the youngster remained with the parent club as it weaved its way east to start the regular season. On April 9, Pierro made a notably wild exhibition appearance against the Philadelphia Phillies in New Orleans. The next day, as the Pirates slowly weaved their way to Cincinnati for the season opener, Pierro was removed from the club's train in Knoxville, Tennessee, and transported to Presbyterian Hospital in Pittsburgh for what was initially diagnosed as a severe stomach disorder. His condition worsened into a temporary life-threatening paralysis, before doctors downgraded his condition to critical and properly diagnosed his ailment: encephalitis. An inflammatory disease that affects the brain, the ailment is often difficult to assess because it can remain dormant over a long period. Until his death many years later, Pierro felt that his service abroad with the Marines—an instance of food poisoning or a possible mosquito bite in Guam—had been the likely cause.
The young pitcher's status was eventually upgraded to stable. On May 10, his father picked him up from the hospital and drove him home to Brooklyn. Doctors informed Pierro that his playing days were over, but the youngster was determined to prove them wrong. During the summer he pursued a moderate exercise regimen while scouting for the Pirates in Bartlesville, Oklahoma. "I am as good as ever from the waist up," he declared. "[B]ut I can't trot around like I used to. However, I am gradually coming around."9 In December Pierro visited Rickey in New York and boldly predicted a comeback in 1953. But he soon discovered that the debilitating disease can affect the simplest motor skills. As he later related, "I went out and took walks on cold winter nights . . . [and] suddenly realized I couldn't run. I tried to run to keep a little warmer but I couldn't do it."10
In April 1952, the Pirates asked waivers on Pierro ostensibly to allow the righty to negotiate a contract with other teams. In fact, no one was interested in signing the disabled hurler. In September Pierro had the opportunity to visit with his former teammates at Ebbets Field when the Pirates were in in town and, for the first time publicly, he expressed doubts about returning to the team. Pirate players sadly noticed the difficulty he had walking and his poor coordination overall. Shortly afterward Pierro abandoned his dreams of returning to the majors.
A lifelong resident of Brooklyn, Pierro found employment in a variety of occupations after his short career in MLB. He worked an auto mechanic and then drove a taxi for 10 years. He later entered civil service as a furniture finisher with the city's Department of Public Works. When not on the job, Pierro enjoyed wood carving and going to movies. His short-lived marriage that dissolved in the early 1950s with Bartlesville, Oklahoma, native Tamara Ann Jennings produced one daughter (Michelle). A longer union to a woman named Gloria (last name unknown) produced two children: Denise (b.1957) and William J. (1960). A man of deep faith, Pierro believed "what's going to be is going to be. Because the man upstairs, from the day you're born until the day you die, is in control. This is what I firmly believe."11 On April 1, 2006, two weeks before his 80th birthday, Pierro passed away.
Abandoned as an infant behind a Long Island bar, Pierro became "one of the most brilliant mound prospects in the Pittsburgh chain."12 But a man who ostensibly threw faster than Rapid Robert Feller, was crippled early by a debilitating disease. His illness prevented Pierro from ever taming his wild delivery (so wild he never intentionally threw at a batter for fear of killing him). A possibly much brighter career eluded him.
Sources
The author wishes to thank SABR members Bill Mortell and Linda Corets for their research assistance. Further thanks are extended to Tom Schott for review and edit of the narrative.
Ancestry.com
Notes
Born
April 15, 1926 at Brooklyn, NY (USA)
Died
April 1, 2006 at Brooklyn, NY (USA)
If you can help us improve this player's biography, contact us.
http://sabr.org/sites/default/files/PierroBill.jpeg
600
800
admin
/wp-content/uploads/2020/02/sabr_logo.png
admin
2016-06-29 13:41:52
2016-06-29 13:41:52
Bill Pierro