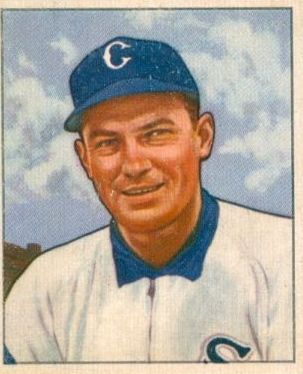 ---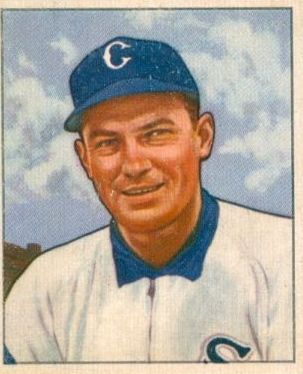 In a time before Super Bowls, when the Final Four was merely an afterthought in the sporting landscape, the World Series was truly the sporting event that the majority of Americans looked forward to each year. The '48 series was no exception, as a nation checked in by radio, newspaper, and even on television (a new fad) to see the Cleveland Indians and underdog Boston Braves do battle. More folks than ever were also seeing the games live; after Game Four set a new attendance mark with 81,897 fans squeezing their way into Cleveland Stadium, another record crowd of 86,288 showed up the next day to see if Bob Feller and the Indians could close out their first Series win since 1920. The contest would feature three future Hall of Famers on the mound in Feller and Satchel Paige for the Indians and Warren Spahn for the Braves, and would also provide a journeyman catcher with his finest moment.
With the Indians leading 5-4, Braves receiver Bill Salkeld stepped up to face Feller in the top of the sixth inning. A confident swing of the bat later, Salkeld had tied the game with a solo home run, setting the stage for a big Braves onslaught the next inning that resulted in an 11-5 victory. Though the Indians went on to win the Series in six games, that at-bat proved the pinnacle in a career of ups and downs for the 5-foot-10, 190-pounder who was born in Pocatello, Idaho, and raised in Sacramento.
In 1934, the future was so promising that scouts from the New York Yankees had traveled across the country to evaluate the 17-year-old son of Mr. and Mrs. John Salkeld of V Street in Sacramento. So impressed were the Yankees in young Bill Salkeld as a future major-league catcher that the club was willing to offer a $500 signing bonus and allow him to finish high school just to get him signed. So unimpressed was Mrs. Salkeld with the thought of her boy being uprooted to New York at such a tender age that she refused to let her son sign with the Yankees.
Her stance was made easier when Earl McNeely, a 1924 World Series star and the owner of the hometown Sacramento Senators, stepped up to the plate and offered Bill a contract to stay and catch locally for the Pacific Coast League team. McNeely, a former Sacramento player himself, was seeking a new hometown hero to help him salvage a club that the banks had foreclosed upon from the previous owner, Lewis Moreing. Salkeld's unique contract contained an arrangement under which he could attend high-school classes in the morning, then head across town to work out with the professional team in the afternoon.
On March 8, 1934, Bill Salkeld's 17th birthday, the contract was sealed. Bill being a minor, it had to be signed by his father, a Sacramento railroad employee. It was John's railroad jobs, in fact, that had taken the family from Idaho to Oregon, Nevada, and finally California. Bill Salkeld was one of very few major leaguers to be born in Idaho. Local press photographers gathered and snapped photos of the Salkelds and Earl McNeely all smiling as they sat behind Bill's birthday cake. The contract was signed, the pictures taken, and only a few bites of cake eaten before Bill headed off to Moreing Field to begin his catching duties.
Athletics had been a huge part of Salkeld's youth. The brother of a local boxing hero, Tex Salkeld, Bill was known in his high school as a terrific basketball star, a football player, and a swimmer. Though sports took up most of his time, he also enjoyed mystery novels and motion pictures. Later in his career, Bill would spend several offseasons as a set builder in the movie industry.
But Salkeld's loyalties were, first and foremost, to baseball, and his idol as a teen was the great Athletics catcher Mickey Cochrane. His proficiency and versatility in that sport were further demonstrated by his simultaneous participation on both his high-school and local American Legion teams. Though he served his school squad as its star catcher, his Legion team used him as a shortstop. After he signed with the Senators, however, the professional club's management requested that Salkeld concentrate solely on catching.
With dreams of making the big leagues filling his head, Salkeld began his pro career just after graduation by catching 89 games for Sacramento in 1934 and batting .255. His sophomore season saw him increase his workload to 111 games and improve his average to .261. That year he was introduced to Max West, a rookie with Sacramento who later patrolled the outfield for the Boston Bees.
Baseball legend Branch Rickey purchased the Sacramento club in 1935, and the personnel on the team changed drastically. This resulted in Bill wearing the uniform of the San Francisco Seals in 1936, a year that totally changed young Salkeld's career and his life.
On July 10, 1936, San Francisco was hosting Portland at Seals Stadium. Salkeld's first season with San Francisco had, so far, been very tough for several reasons. He was saddled with a .211 batting average after three months, and in June he lost his mother. Nevertheless, the 18-year-old was manager Frank "Lefty" O'Doul's choice for catcher again on this night. During the game, Portland slugger Moose Clabaugh was caught in a rundown between third and home. Salkeld held the ball and began chasing the runner back to third. Clabaugh slipped, Salkeld reached out to tag him, but the catcher felt his shin-guard slip and he stumbled into Clabaugh — tagging him out but impaling his right knee on the spikes of the Portland baserunner in the process.
Spike injuries were not that uncommon in baseball, and Salkeld was given immediate medical attention. Unfortunately, the wounded knee did not respond as physicians thought it should. There was no more baseball for Bill in 1936; suffering from a disorder that left his immune system compromised, he was prescribed a blood transfusion to try to preserve the flexibility and use of his injured leg.
Local papers snapped photos, and positive publicity was generated as all of the Seals players and management lined up at Mary's Help Hospital to donate blood and save Salkeld's career. Obviously nervous about liability and poor public relations, Seals management told the media that everyone from the owner to the batboy would be rolling up their sleeves to support their wounded catcher.
Nothing seemed to work. Three solid months of hospitalization spent strapped in a brace that held his leg at a 90-degree angle did nothing to restore the mobility of Salkeld's limb. Doctors assigned by the team's insurance company could not reduce the stiffness in the right knee, bad news for a man who made his living crouching between an umpire and a batter. At one point there was even consideration of amputation.
The 1937 season came and went with Salkeld on the sidelines, and the next year Bill went to work in the furniture business to support himself and his new wife, Lorraine. There seemed no hope for his ever playing baseball again, and eventually doctors told him the same. The newspapers pronounced his career "finis" and reported that a severance check had been given to the former catcher for $5,000.
Frustrated by the seeming certainty that his playing days were over, Salkeld lashed out, stating that he had received far less than that amount. He spoke of lawsuits against the Seals or the insurance company, while still keeping a small hope alive that he might one day play again.
In 1939, Tucson in the Arizona-Texas League offered Bill a managerial role. The Tucson Cowboys were a farm team of the Seals, who in turn routinely sent players to and from the majors. Salkeld would forever be grateful to Charley Graham of the San Francisco club for putting him back in baseball. Working out with his players, Bill found the desert climate good for his stiff knee. Taking the liberty to occasionally insert himself in the lineup as a first baseman, he eventually found his way back behind the plate as well, developing a whole new way of crouching by keeping his right leg extended outward.
At the end of the 1939 season, three years after his last game with the Seals, the San Francisco team had seen enough of Salkeld (then hitting .303) to take a chance on their former backstop and call him up near the end of the season. All told, Bill hit over .300 and played in 120 games that season, good enough for him to be signed as a free agent by the PCL rival San Diego Padres. There he'd catch for the next five seasons as the United States first watched and then entered World War II.
In 1944, the Padres were a last-place team in the PCL and Salkeld's average was an unimpressive .241. But the war had left the majors in need of talent, and the Pittsburgh Pirates were ready to give the now 27-year-old a chance to catch in the big leagues. The Pirates acquired him in September for a next-season delivery of cash and a player to be named later, but he'd have to wait a while longer to suit up for Pittsburgh.
Finally given the chance that seemed a foregone conclusion to a younger Salkeld, he entered his first major-league season in the spring of 1945 with a final roadblock in the form of 36-year-old future Hall of Fame catcher Al Lopez. It was Lopez, a former standout with the Braves and Dodgers, who stood in the way of Salkeld getting a starting job. Salkeld was available because he'd been declared 4-F by the Army, exempt from military service due to an "ailing right knee."
But when an injury limited Lopez's availability, Salkeld took full advantage of his opportunity. He hit .311 while tying outfielder Johnny Barrett for the team lead in home runs with 15 despite finishing the year with just 267 at-bats. The Pirates finished a solid fourth in the NL at 82-72, and the rookie receiver even tallied several votes for league MVP.
In an August 4, 1945, home game at Forbes Field, Salkeld had the finest offensive performance of his career in a loss to the Cardinals. Driving in all five of the Pirates' runs, he also joined an exclusive club as just the seventh catcher to hit for the cycle. Symbolic of his up-and-down time in baseball, Salkeld's big moment came with a couple of dubious statistics attached. He still holds the record for fewest lifetime triples by a player who has hit for the cycle, as the three-bagger he needed that day represented one-half of his career total. In addition, Salkeld managed to catch the entire game without being credited with a single putout or assist.
The 1946 season was a disappointing follow-up to his stellar rookie campaign. Although Salkeld hit a respectable .294, his power numbers were way down and his opportunities were limited with Lopez back from injury and fellow catcher Bill Baker returning from the war and joining Pittsburgh's behind-the-plate platoon. Things got much worse in '47, as a frustrated Salkeld struggled through a further diminishing role with the Pirates and finished with just 61 at-bats and a .213 batting average. After 15 homers and 52 RBI his rookie year, he had now totaled just three and 27 in the next two years combined. Salkeld had to be wondering if a change of venue might do him some good, and that offseason he got it. On November 18, 1947, Bill was traded to the Braves along with Al Lyons and Jim Russell in a swap that introduced the Pirates to Danny Murtaugh, who would eventually manage Pittsburgh to victory in the World Series. But in 1948 it was Salkeld who made it to the October classic, along the way catching for Johnny Sain and earning praise as Spahn's preferred receiver. During the '48 regular season Bill hit .242 in 78 contests backing up All-Star Phil Masi. Bill also caught in five games of the World Series, scoring two runs and getting two hits. One, of course, was the thrill-of-a-lifetime homer he belted off of Bob Feller in Game Five.
Unfortunately, time was running out for Salkeld. He played one more season with the Braves, hitting .255 in 66 games during the club's disappointing fourth-place 1949 campaign. Now splitting the catching duties with Masi and 19-year-old rookie Del Crandall, he finished his five-year National League career with a respectable .273 batting average in 355 games. His next major-league appearance was in the American League; with just a week to play in 1949, anxious to get his rebuilding campaign under way, Braves GM John Quinn sold Salkeld on waivers to the Chicago White Sox on September 26. The next spring, on April 21, 1950, Bill started for Chicago and went 0-for-3 at the plate. The White Sox were well stocked with catchers, however, and were five players over the 25-man limit, so GM Frank Lane sold Salkeld to Seattle of the PCL. Bill played the 1950 season for the Seattle Rainiers and the next year with the Portland Beavers. Batting just .192 in 1951, he retired at the age of 34, though there was a swan song in 1953 when he signed a one-year contract as player-manager of the Stockton Ports in the Class C California League. He slugged 13 homers, but hit only .227.
By this time, Bill and Lorraine had three children — Sally, Sandra, and Billy. The family lived in Sun Valley, California, where the former catcher took a job with U.S. Steel. In his spare time he enjoyed golfing, hunting, and keeping baseball scrapbooks. His only active involvement with the game, however, was as Billy's Little League coach.
William Franklin Salkeld died on April 22, 1967, after visiting doctors too late with inoperable cancer, and the 50-year-old was buried at Forest Lawn-Hollywood Hills Cemetery in Los Angeles. Much later, family members recalled some of the baseball memories that he most cherished. He was very honored to be Warren Spahn's favorite catcher in his two seasons with the Braves. He had fond memories of playing exhibition games for a team that traveled to prisons to play the inmates. Then, of course, there was the World Series home run off Feller.
And even with Bill gone, his modest legacy within the game continued. Four years after his death, Salkeld's son, Billy, and daughter-in-law, Elaine, gave birth to Roger Salkeld, who was a first-round pick by the Seattle Mariners in 1989 and made his debut as a pitcher with the team in 1993.
Note
This biography originally appeared in the book Spahn, Sain, and Teddy Ballgame: Boston's (almost) Perfect Baseball Summer of 1948, edited by Bill Nowlin and published by Rounder Books in 2008.
Sources:
Baseball Almanac, Retrosheet, Baseball-Reference.com and the 2006 ESPN Baseball Encyclopedia.
Salkeld family interviews by Michael Kinsley.
Photo Credit
The Topps Company
Born
March 8, 1917 at Pocatello, ID (USA)
Died
April 22, 1967 at Los Angeles, CA (USA)
If you can help us improve this player's biography, contact us.
http://bioproj.sabr.org/bp_ftp/images3/SalkeldBill.jpg
600
800
admin
/wp-content/uploads/2020/02/sabr_logo.png
admin
2012-01-04 20:25:27
2012-01-04 20:25:27
Bill Salkeld