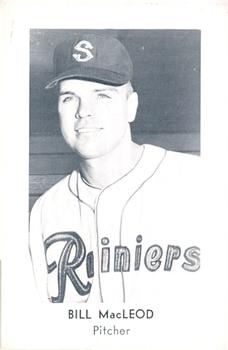 ---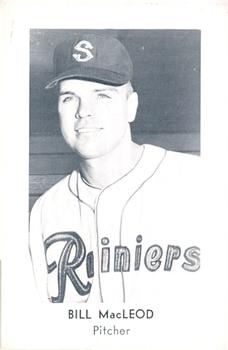 Billy MacLeod was a left-handed pitcher for the Boston Red Sox. He faced 10 batters in two games in September 1962, walking one, striking out two, and allowing four base hits. He only gave up one run, an earned run, but it was in the bottom of the 12th inning and resulted in him bearing the loss.
MacLeod had a good minor-league career, with a 62-39 record from 1961 through 1967 and two rather spectacular seasons in 1961 and 1965.
William Daniel MacLeod was both on Boston's North Shore, in Gloucester, Massachusetts, on May 13, 1942. In a 2017 interview, he said, "My mother [Velma] was a baker in the Gloucester High School cafeteria. She was a baker for 30-something years. My father [Norman] worked for Gorton's of Gloucester. A fish processing plant. If you go to a grocery store and see clam chowder or fish cakes or whatever like that, they processed fish from the Gloucester fishing boats. Now since the fleet has been cut down, they get their fish from Canada or wherever and process it there."1
He pitched for Gloucester High, helping the team do well in Essex County League play. His one-hitter on May 17, 1960, brought Gloucester to 8-0 on the season.2 He threw another one-hitter on June 1. The year before, he'd thrown a no-hitter through nine, losing the game in the 10th. He was 16-2 in his final two seasons at Gloucester High.3 He lettered in baseball, basketball, and cross country. Both the baseball and basketball teams at the high school were undefeated in MacLeod's senior year. All told, he was credited with two no-hitters, while in the Cape Ann Junior League he threw six of them — including an astonishing five no-hitters in a row.4 He was 15 or 16 years old at the time. That's still pretty astonishing, he was told — five games in a row, guys go up to get a hit, and not one of them got one. "Nope. But I didn't win all the games, either."5 OK, there might have been some walks. "Passed balls. Wild pitches."6 And, of course, any pitcher has to rely on the defense not to commit too many errors.
Billy's mother made sure his head never got too big — even years later. He told a story: "In 1990 or 1991, they started a high school hall of fame, and so I got a phone call from my coach, who was the athletic director — Gerry O'Neill — to tell me that I was one of the first 12 inductees. When I hung up, my mother says, 'Who was that?' I told her, 'Gerry O'Neill.' She said, 'What did he want?' I told her, 'They're starting a hall of fame in Gloucester and I'm one of the 12 inductees.' She said, 'What, for throwing a ball around? I fed 1,500 kids over 30 years and I didn't get in the hall of fame.'7 She put me in my place."
The Boston Red Sox signed him in 1961, something of a team effort. MacLeod credited Farm Director Johnny Murphy, and scouts Joe Dugan and Larry Woodall.8 It was said later that he had received as much as $18,000 for signing.9 Part of the money went to buy a 1960 Plymouth Valiant –even though he didn't yet have his driver's license. He said the money was "probably more" than his two parents had ever made in five years put together.10
His first assignment was to the Carolina League's Winston-Salem Red Sox, a Class-B affiliate. He had a solid start for manager Eddie Popowski and was named to the All-Star team at midseason as was Wilbur Wood, another pitcher from the Boston area. Wood, raised in Belmont, was called up to the Red Sox in 1961. MacLeod's year-end stats put him at 15-8 with a 2.31 ERA. In 26 starts, he threw 15 complete games. He was named "Rookie of the Year" in the Carolina League.11
New farm director Neil Mahoney called him "the darnedest looking pitcher I ever saw." Mahoney explained, "He's a side-arming left hander. And he has a big, sweeping curve ball that seems to hypnotize the batters." MacLeod himself said, "I never thought I threw differently from anyone else."12 MacLeod's performance with Winston-Salem earned him an invitation to spring training in Scottsdale with the 1962 Red Sox.
During the offseasons, he found work. "My uncle owned a glue factory in Peabody, so for a couple of years I worked for him. Making glue. It was liquid but I more or less worked on the powder that made the glue. They had this big vat and I'd go upstairs and dump in all the ingredients and turn the mix around. When it was done mixing, I'd go downstairs and I'd fill up these 50-pound bags. Put it on a scale, and put a little in or take a little out, then stitch them up and put them on a pallet. It wasn't a nice job, but it was a job."13
It was reasonably clear from the start that he'd been farmed out for another year of seasoning, reported the New York Times, but was already considered a "can't miss" for 1963.14 His best pitch was a sidearm curve, at times pitched almost underhand. He was a left-handed submariner.15 Tom Yawkey had invested a great deal of money in signing prospects, and manager Mike Higgins had 23 pitchers in camp to evaluate.16
MacLeod survived the first cut but on March 28 was assigned to the Seattle Rainiers for 1962, in the Triple-A Pacific Coast League. He didn't perform as well at the higher level of play, but still posted a winning record: 8-6, with a 4.64 ERA. He was one of five pitchers brought to Boston in September. MacLeod stood 6-feet-2 and was listed at 190 pounds. He was 20 years old.
In some ways, the major-league portion of MacLeod's career paralleled that of right-hander Merlin Nippert. Nippert debuted on September 12; MacLeod's debut was on September 13. Both of them pitched in their last game on September 22. For MacLeod, his first and last games were the only two in which he pitched. Neither of them returned to the majors again.
On September 13, the Sox were playing at Tiger Stadium. They had swept a doubleheader, 8-6 and 6-2, the day before. Their record was 70-77 and they were in eighth place in the 10-team American League, 17 games out of first. They stood a reasonably comfortable 5 ½ games ahead of ninth-place Kansas City but within striking distance of sixth or seventh place, and the fifth-place Tigers were 73-73, only 3 ½ games above them in the standings. There were 18 games left to play.
Paid admission for the afternoon game on the 13th was 2,734. Jim Bunning (16-8) was starting for the Tigers and another Greater Boston-born pitcher, Pete Smith, was given the start for the Red Sox. It was his major-league debut. He got through the first inning 1-2-3, but Rocky Colavito led off the bottom of the second and homered. Smith retired the next three. In the third inning, he gave up two singles and a run-scoring sacrifice fly, followed by a walk and a three-run homer hit by Al Kaline. In the bottom of the fourth, with two outs and two on base, Smith gave up another three-run homer, to Chico Fernandez. It was 8-0 Tigers, and Higgins brought in Billy MacLeod to secure the final out of the fourth.
MacLeod got Bill Bruton to ground out, short to first, to end the inning. With two Sox on and nobody out in the top of the fifth, MacLeod was lifted for pinch-hitter Pumpsie Green, who grounded into a force play at second.
It was Pete Smith's only appearance of 1962, 3 2/3 innings, a 14-6 loss, and a 19.64 ERA to ponder over the winter months. For MacLeod, he'd been asked to get one batter, and did so.
MacLeod was next called upon nine days later, on September 22 at D.C. Stadium in Washington. The Red Sox were 72-84, still in eighth place but only one game behind the Cleveland Indians. The Senators had clinched last place, 32 ½ games behind the first-place Yankees and an even dozen games behind ninth-place KC.
Wilbur Wood had started for Boston and the Red Sox led, 2-0, through 7 ½, but Wood tired and the Senators scored three times in the bottom of the eighth. Carroll Hardy tripled in Chuck Schilling to tie the game in the top of the ninth, and it was still tied when MacLeod was asked to take over in the bottom of the 11th. He got the first two batters, but then a single and a walk built up a threat. He struck out the fifth batter of the frame and sent the game into the 12th. The Red Sox went down 1-2-3. MacLeod got the first batter to ground out, but then gave up back-to-back singles. Washington first baseman Bud Zipfel then doubled off the center-field fence, winning the game for the Senators. MacLeod admitted later, "I guess I got a little too cocky. The guy was a left-handed batter and I wasn't thinking about him, I was more concerned about the guy in the on deck circle. Anyway, I hung a curve, and Zipfel hit it to right center and that was the game."17
MacLeod's second appearance left him with a 5.40 ERA and a record of 0-1. It was his last game in the big leagues. Never having batted, nor fielded a ball, he holds career marks of .000 in both departments.
That fall, MacLeod went south to work under Red Sox tutelage in the Florida Instructional League.
Reminiscing years later, he said, "It was a very exciting time. When you're playing in the majors you think you're as good as those guys; you feel you belong. I had played Triple-A ball with and against a lot of major leaguers and thought I could make the next step. I knew I wasn't a Warren Spahn or a Sandy Koufax but I thought I had the ability to stick as the eighth, ninth, or tenth guy on a staff."18
But they hadn't always been easy times. "Back then, they really had no trainers, no medical staff. If you got hurt, they got somebody to take your place. [Manager Johnny] Pesky tried to make you better, and not to make excuses. I really loved Johnny even though he screamed and swore at me. I knew he was trying to make me better even though he was an infielder and didn't know shit about pitching. None of those … [Dick] Williams didn't know a thing about pitching. It was tough back then when you didn't have a pitching coach per se [in the minors]. All you really had was your teammates.
"Like when I was brought up to the Red Sox in 1962, I had a bad elbow, but I could get left-handed batters out because I threw from the side. If there was a left-hander coming up, he'd warm me up in the bullpen, and then I'd start a couple of days later. It just about killed my elbow. I went to John and said, 'My elbow is killing me.' He says, 'Well, why don't you go to the doctor?' I said, 'I know what it is. It's muscular. Or ligaments or something. I feel like I shouldn't throw a ball for a week or so.' The doctor saw me and he said, 'You have strained muscles in your elbow. You shouldn't pick up a ball from about 10 days to two weeks.' I went back and I told Pesky, and he said, 'What the fuck does he know?'
"So I pitched for Seattle with a bad elbow. There were times when I couldn't reach home plate. I had to come out of the game. Then they called me up to Boston. They asked me how I was and I said, 'Fine.' Somebody asked me, 'Why didn't you tell them about your elbow?' I said, 'Hey, they didn't give a shit in the minor leagues. And we're all trying to get to the big leagues.' So I pitched, and I got into two games. I didn't tell anybody. I just couldn't throw that well. I got my chance to throw in the big leagues, and I'm hurt.
"Ever since, I haven't been able to straighten out my left arm. Still, to this day. At least it didn't hurt, but I had to learn to throw with a crooked arm."19
In 1963, his Seattle skipper — Johnny Pesky — was named manager of the Boston team. Pesky and his pitching coach, Harry Dorish, felt from the start that MacLeod needed another year in the minors and that's where he was assigned. Ted Williams had commented on MacLeod's unusual style: "This kid throws underhand, and it's completely unorthodox. I've known only a few pitchers who threw that way, and they never seemed to last. This kid is unusual, and he may do it." Dorish thought more of his chances. "Any time I hear batters moaning about a pitcher, I want to get a good look at him. And I have heard plenty of moaning about MacLeod."20
On March 22, he was assigned to Seattle. He started the season there, but on May 20 he was on his way to the Double-A Eastern League Reading (Pennsylvania) Red Sox, to make room for Hal Kolstad, optioned by Boston to Seattle. The 1963 season saw him pretty much tread water, 1-3 (4.50) for Seattle and 3-4 (5.05) for Reading.
On October 1, his contract was sold outright to Seattle.
During spring training 1964, Ted Williams scrutinized the roster and asked the press out loud, "What happened to that MacLeod?" John Gillooly of the Record American wrote, "He got off to a bad start last year and so needs more time. But The Kid remembered him … and that's something."21
MacLeod only pitched a few innings for Seattle in '64, but he rebounded in Reading with a 12-6 (3.11) season and pitched three scoreless innings in the Eastern League All-Star Game. Manager Eddie Popowski saw the team finish second in the league, by two games. MacLeod had won his final four decisions of the 1964 campaign.
In June 1964, MacLeod married for the first time, to Theo Patricia Williams, daughter of Ted Williams, the Boston College football player who had played in the NFL in 1942 and 1944.
Even though not a hard thrower, there must have been some element of intimidation — he led the Carolina League in hit batsmen (30) in 1961, the PCL in 1962 (with 23), and the Eastern League (13) in 1963. "I wasn't really that wild," he said. "I just used to hit people too much….I led professional baseball in hit batsmen for three years. But after the first season, that's all I led in."22
After his 1964 season, MacLeod was at least back on the Red Sox radar. In 1965, the team's Eastern League franchise moved to Massachusetts and became the Pittsfield Red Sox, still playing under Popowski. MacLeod had a season that almost came out of nowhere. "In 1965, Eddie Popowski didn't start me the first month or so because he said they wanted to look at a couple of other guys like Pete Magrini and Dave Gray. I wasn't doing a great job in relief [an 8.69 ERA in four appearances, though he had not suffered any losses]. Pete Smith was sent to Boston to have his shoulder checked. I asked Popowski, 'How's Pete Smith? Any word on him?' He goes, 'Pete Smith? Why are you worried about Pete Smith? Why don't you worry about yourself? What's the matter?' I said, 'Hey, you're supposed to be the great manager. I pitched for you before. Tell me what I'm doing wrong.' He didn't like that at all. We weren't on speaking terms that whole year.
"He gives me the ball to start and goes, 'I don't want to put any pressure on you, but if you don't pitch well, we're going to release you.' I'm having trouble in the first inning and he's got somebody warming up in the bullpen. I won that game. He never said a word to me but four days later he puts a ball in my locker. We never really spoke."23
MacLeod had a superb year. He was still young, only 23. He started winning, and kept winning, and never stopped winning. He even snuck into a game as a pinch-hitter on September 3, and drove in the winning run in a 2-1 win over Elmira. Two days later, he shut out Springfield on four hits, running his record to 18-0. His ERA for the year was 2.93. He had struck out 158 batters in 191 innings, walking 65. Pittsfield won the pennant by one game over Elmira.
With his four wins at the close of the prior year, MacLeod had won 22 consecutive games. "In '65, I had a fastball, curveball, slider, and changeup and I could almost throw them for strikes anytime I wanted to."24
He was promoted on paper to Triple-A Toronto, but — for some reason — left unprotected in that year's draft. The Red Sox guessed correctly. MacLeod was not drafted. He wasn't even invited to spring training at first. But the Red Sox didn't even seem interested in him. On the last day of February, manager Billy Herman said, "He's not included in our plans."25
MacLeod did get an opportunity with Toronto and won his first game of 1966 to extend his winning streak to 23 straight. But in the victory over Toledo, he hurt his shoulder. His streak ended on April 30 with a 7-2 loss to the Richmond Braves.26
He had adopted a more orthodox delivery. He still relied on deception. The pitch he never truly developed was a dominant fastball.27 Gillooly wrote, "Methinks they [Red Sox] are convinced he doesn't throw hard enough for the majors where they prefer a speed king even though he can't get the ball over the plate."28
He had every reason to think the Red Sox would give him another shot. They were pitching poor at the time, and Pittsfield isn't that far from Boston. People knew what he had accomplished. "I know I wasn't the hardest throwing guy in the world, but there was this misconception that only hard-throwing lefthanders could be successful at Fenway. Guys like Bruce Hurst, Bill Lee, and John Tudor eventually turned that thinking around."29
Needless to say, self-confidence is important and psychology plays an important part in baseball generally, perhaps even more so with pitching. By mid-July, MacLeod was 2-9 (4.68) with Toronto in 1966. He quit baseball.
He and his wife had started a family. In 1966 they had twin daughters and in 1976, a son. Theo studied for her degree, and for a while they lived in Lakeland, Florida.
Come 1967, he decided to give it one more try. He began the 1967 season back with Pittsfield and was 3-2 (2.63) after 24 appearances, all in relief. In the second half of July, his contract was assigned to Indianapolis of the Pacific Coast League. The Red Sox had traded Don McMahon to the White Sox for Jerry Adair and Rob Snow, but Snow came up with a sore arm and was returned to the Red Sox. MacLeod was sent to Indianapolis to square things up.30
With Indianapolis, MacLeod worked in 11 games and was 0-1 (5.68). Arm and shoulder problems cropped up. That was his final time in pro ball, though he reported to spring training in 1968. "I had a bad shoulder and wasn't going to go. My wife [Theo] said, 'Why don't you go and let them throw you out. Then you would have no regrets.' So I did that."31
She went into teaching, and they moved back to Massachusetts when MacLeod's father got sick. She took a job in Western Mass and then in Beverly. That was his last year of playing.
The marriage didn't last. They divorced in 1980. "Then in 1985, I married the greatest woman that I could ever meet. In 1986 we had a son and then in 1989 we had twin daughters. So I had twin daughters and a son with each marriage. My present wife's name is Nancy."32
MacLeod worked at a wide variety of jobs after his time in baseball. "I started tending bar. And I was going to college, nights. When I wasn't to college, I'd coach baseball in the afternoons for two years, for nothing, at Beverly High School. Then I got a paid assistant's job for three years, and then I became the head coach for three years.
"I was looking to become a teacher. I took some education courses because I had been a business administration major. I really enjoyed coaching. I took education courses and tried to be hired as a teacher in Beverly, and then they told me I had to do my student teaching. I said, 'Gee, you put me in charge of your baseball program for three years, and I've been dealing with kids for you for eight years. That doesn't count towards student teaching?'
"I was about 33 when I graduated from college [Salem State] and I wasn't going to work for nothing. It was a stupid decision, not getting my certificate, but I was young and wasn't thinking about the future. So I resigned in '76. That was my last year coaching. I gave that up and worked in the restaurant business in Marblehead for a few years. I was a bartender and I was the assistant manager of the restaurant. The manager was a schoolteacher, so while the school year was on, I was more or less the manager.
"I coached for one year at Salem State, 1980.
"I left and worked in construction for a couple of years until I hurt my back. I was out of work for three years. I ruptured a disc and it went into the spinal cord so they couldn't operate. I have…my back still really bothers me to this day.
"Then I worked for North Shore Community College in the athletic department for a couple of years, working for the athletic director. Administrative paperwork."33
And then he wound up working for the Red Sox again. He called them up, to see if they had any suggestions of employment. "We've got a job in the ticket office if you want it," he was told. "It doesn't pay much, but it is work."
"I did that for two years. Commuting from Marblehead, and it wasn't too much fun. The guy called me in his office and said, "I didn't really want to hire you because you were an ex-player but I'm really proud of the work you're doing. You're in here all the time and you're working, not crewing around or anything." I was in the ticket department, sitting in a cubicle answering telephones."34
He didn't see many ballgames. "I just think of it as a job," he said at the time. "But it is absolutely incredible how much people love to go to the games these days. Everything's changed so much since I played because of TV and the big money. All of that had brought so much more attention to the sport. But you know what? I work and haven't been at a game in two or three years, mainly because I take public transportation and it's a long commute home."35
His next job was essentially as a home health aide. "My wife's brother-in-law, his in-laws were sickly, and they were looking for somebody to look after them. Make their meals, make sure they got to their doctor's appointments, help them out. Things like that. I did that for a year and a half before both of them died. He was in a nursing home in Amesbury, and she was at home in Reading, so every day I'd drive her up to see him. I started like in September when the ticket office more or less closed, and then in June, she died. He came home from the nursing home and then he got sick right around Christmas time. He didn't want to be on a respirator. He said, 'This is no way to live.' He wanted to pull the plug. I looked at him and said, 'Wait. If you pull that plug, that means I'm out of a job.' He laughed like anything! But they pulled the plug, and I lost my job.
"I worked with the yacht club and then I worked for almost 15 years for a bank in town, as a teller. Until I got sick about seven years ago. I got bronchitis and I thought I was having a heart attack. They took x-rays and told me it wasn't a heart attack. They gave me this antibiotic, and I screwed up my kidneys. In 2011, Thanksgiving, was my last day of work. I was too sick. I've been out of work since 2011."36
There were a couple of health scares, one of them major. In 2012, not long before the Red Sox welcomed over 200 former ballplayers back to Fenway Park for the 100th anniversary of the ballpark, he'd spent a month in hospital and was discharged just a few days before the ceremonies. A visiting nurse checked on him and told him his blood pressure was too high and he needed to go back into hospital. "I said, 'Well, I'll go back on Saturday, but I'm not going today or tomorrow.' She says, 'You could die.' I said, 'So be it. I'll die doing something I like. I want to see a lot of my former teammates.' She called my doctor, and the doctor told her, 'Just give him another pill.' The doctor knew this meant a lot to me."37
Over the next few years, he enjoyed being an occasional guest at the ballpark's Autograph Alley, signing photos before games. "I always thought, 'Who would want my autograph, when I only played a month in the big leagues? Who would remember me?' But when you're sitting there, and you've got a picture of yourself in a Red Sox uniform when you were 19, 20 years old, the kids wouldn't know if it was Ted Williams or not. They're just thrilled to have someone sign something for them. I would talk to the kids a little bit. They would be a little awed. I always asked them if they played ball, what position, and so forth like that.
"There would always be a line. Every time I've done it, the adults would come up to me and saw me talking to the kids and they would say they really appreciated what I did because you're talking to the kids. I like talking to people. I like people with a sense of humor. I really enjoy talking to kids. I enjoyed my job at the bank as a teller because I talked to people. I brought in some pictures and when kids came in to the bank some people would bring them up to me and introduce me as a former Red Sox player. I'd sign a picture for them."38
Last revised: December 18, 2017
Acknowledgments
This biography was reviewed by Norman Macht and fact-checked by Alan Cohen.
Sources
In addition to the sources noted in this biography, the author also accessed MacLeod's player file from the National Baseball Hall of Fame, the Encyclopedia of Minor League Baseball, Retrosheet.org, and Baseball-Reference.com.
Notes
Born
May 13, 1942 at Gloucester, MA (USA)
If you can help us improve this player's biography, contact us.
https://sabr.org/sites/default/files/MacLeodBilly.jpg
600
800
admin
/wp-content/uploads/2020/02/sabr_logo.png
admin
2017-12-18 12:59:14
2020-04-09 14:40:28
Billy MacLeod