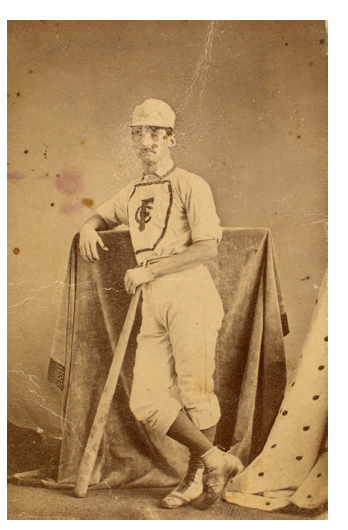 ---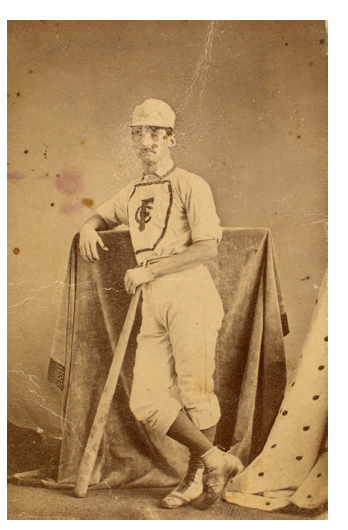 A celebrated base ball character" was A. G. Spalding's succinct description of Bob Addy, who was his teammate on three separate clubs.1 Others who knew Addy well referred to him as a philosopher or as a wag or as the "Honorable Bob." The reasons behind that last tag remain unknown, but it certainly sounds like the sort of inside joke that always swirled around Addy. Fred Cone recalled that his teammate "could say the funniest things while on the field without cracking a smile.  Many a game he won for us by keeping up our spirits when the opposing team had a big bunch of runs to the good."2 Another contemporary described him as "big hearted, bow legged, profane Bob Addy."3
For better or worse, everyone had a favorite memory and an opinion of Bob Addy, even when their views seemed contradictory. Cap Anson famously described him as an "odd sort of genius" because, to the horror of the single-minded Anson, Addy "quit the game because he thought he could do better at something else."4 Yet others found his passion for baseball unsurpassed. "Bob Addy is the modern wonder," declared one sportswriter. "If base ball ever dies out, we believe Bob will want to die. His whole soul is wrapped up in the sport. To see him run in from the extreme field, and hear him beg for a high in-field ball, like a child begging for a bun, is amusing."5 Cone agreed that Addy's "temperament was such that he could never miss seeing a game."6
On one point there was no dispute: that he was unforgettable. "Everybody remembers Bob Addy," declared a Hartford Courant reporter in 1886 – twelve years after Addy had spent a mere six months playing ball in that city.7 More than three decades after Addy had played his last major league game, the nickname of rookie Shoeless Joe Jackson prompted a sportswriter to recall that "the famous second baseman, Bob Addy, did that very often, as he was much troubled with sore feet."8
But it was not just his eccentricities and his wit that made Bob Addy so memorable. For one thing, he was one of the best players of his era in spite of being very late to take up baseball. In addition, he played the game with a spirit of reckless abandon that led teammate George Bird to call him "about the toughest fellow I ever saw. He would go after anything, any way, and his hands were broken and battered out of shape."9 Finally, Bob Addy was the first Canadian major leaguer and, unlike many early Canadian-born players, he had actually grown up there.
When and where Bob Addy was born has long been a disputed issue, with most sources indicating that he was born in Rochester, New York, in 1845. Addy seems to have given this information out in his later years, but there is overwhelming evidence that he was actually born in Canada. He was living in Port Hope, Ontario, when the 1861 Canadian census was taken – his birthplace was listed as Upper Canada (Ontario), and his age was given as 19. Nine years later, he was living in Rockford with many of his baseball teammates and was reported to have been born in Canada around 1842. It was not until the 1880 census that he was first listed as being born in New York.
While the census data points to a Canadian birthplace, it is other evidence that clinches the matter. A. G. Spalding, who knew Addy from their days on the Forest City Club of Rockford, described Addy as "originally a Canadian cricketer."10 Canada was also given as Addy's birthplace in an 1874 book written by George Wright.11 Finally, when the Forest City Club stopped in Hamilton, Ontario, during an 1870 tour, the locals learned of his Canadian birth and Addy became "the object of special pride on the part of the Canucks, they claimed him from the start as one of them." This made Addy the subject of kidding from his teammates and he finally declared: "I don't care nothing for them, I tell you I don't care nothing about 'em.'"12
Exactly when he was born remains unclear. Late in life he began claiming an 1845 year of birth, but the evidence suggests otherwise. His tombstone has 1838, which would be very intriguing if true, but the source of this information is not known. The 1860 and 1870 censuses suggest that he was born around 1842, and that seems most plausible.
Bob Addy reportedly "belonged to several cricket clubs in the Dominion," but any details are lost to history.13 Nor is much known about his early years except that he was born shortly after his parents emigrated from Ireland and that his father, whose name appears to have been James, had died by 1857.
It becomes easier to follow Addy's trail in 1861, when he appears in Port Hope on the Canadian census, already working in his lifelong profession as a tinsmith. Listed with him are his mother Ellen (age 44, born Ireland), his younger brother James (17, born Upper Canada, a saddler), and his older brother George (25, born Ireland, a clerk). George's presence in Port Hope is a bit odd, since he had been listed in Ogle County, Illinois, on the 1860 U.S. census and got married in that county in February of 1861. So perhaps he was still in the process of relocating to the United States.
By 1866 George Addy was a well-established Ogle County produce dealer with two young children, and Bob had followed him there. Both brothers also started playing on the Clipper Base Ball Club of the nearby town of Rochelle. While the club itself had limited success, Bob Addy made the sort of indelible impression that he so often did. A. G. Spalding would later recall paying a fateful visit to Rochelle in June of 1866 with the Forest City Club of Rockford, during which "Robert Addy startled the players of the Forest Citys by a diving slide for second base. None of us had ever witnessed the play before, though it may have been in vogue. Certainly we were quite nonplussed."14
On the basis of Spalding's comments, Addy has often been credited with inventing the slide. It would be nice to report that this was true, but baseball innovations are rarely that clear-cut. Slides seem to have gradually evolved from accidental slips while trying to make a sudden stop at a base into deliberate evasive maneuvers. While a slide in 1866 would still have been a novelty, there is no way to definitively pinpoint the first intentional slide.15
What we can be sure of is that Addy's play made a vivid impression the visiting players. "He showed wonderful ability as a ball player in this game," recollected Spalding, "by practically playing the whole game, captain of the team, pitcher, catcher, and, in fact, took every position where the player had developed weakness by making an error."16 Both his standout play and his tendency to try to cover the entire field would become recurring themes of the career of the "celebrated base ball character."
Addy was soon offered a place on the Forest City Club and a job at a Rockford hardware store, both of which he accepted. It was a coup for the Forest Citys and the start of the club's highly successful policy of recruiting players from the surrounding countryside.
The Forest City Club was still experimenting with lineups, and Addy played all four infield positions during the remainder of the 1866 season. He began a two-year stint as a club director in 1867, and it was during these years that the Forest Citys began using a regular lineup in which Addy played second base and batted leadoff. The new stability paid off on July 25, 1867, when the Forest Citys traveled to Chicago to face the Nationals of Washington, a seemingly invincible club that was making a historic tour of the South and Midwest. Spalding recalled that "we were all frightened nearly to death, with possibly the exception of Bob Addy, who kept up his nerve and courage by 'joshing' the National players as they came to bat with witticisms."17 Addy also launched his reputation as a clutch performer by scoring four runs and turning a key double play as the Forest Citys pulled off a stunning 29-23 upset that put the club on the national map.18
The Forest Citys made a gradual transition from amateurism to professionalism over the next three years, a process that entailed the replacement of several starters. Only three players remained fixtures in the club's lineup: Spalding, Addy, and a young protégé of Addy's named Roscoe Barnes. Spalding and Barnes went on to become superstars in the first major league, the National Association (1871-1875). Addy is much less remembered today, in large part because his National Association statistics are not on a par with Spalding's and Barnes's gaudy numbers. But those who saw him play, especially during his years in Rockford, believed that he too was a star of the first magnitude.
George Wright wrote that Addy was "a thorough ball-player, and a most earnest worker; a splendid base runner, a good batter, and a lively fielder. He is a valuable member of any organization from the fact of his steady play having [a] tendency to infuse confidence into the minds of his fellow-players."19 Anson recalled Addy as "a good, hard, hustling ballplayer, a good base runner and a hard hitter."20 As late as 1876, he was still considered "one of the hardest working players and best run-getters in the country."21
Such judgments do not mean much when they are not supported by the statistical record, and a superficial look at Addy's National Association and National League statistics suggests that he was a run-of-the mill major leaguer. But such a conclusion can only be drawn by overlooking the key fact that by the time those leagues were formed, Bob Addy was already on the downside of his career – exactly how far past his prime he was again depends on the knotty issue of his correct age. While we have less extensive statistics from the 1869 and 1870 seasons, when Addy was in his prime, the available records show that he deserved to be regarded as one of the game's best players.
In 1869 Addy averaged well over five hits per game, a figure that ranked him first among all the players on the more than 400 clubs that were members of the National Association of Base Ball Players.22 While the absence of at-bats make the comparison from club to club an imperfect one, he also easily topped a club that included Ross Barnes and many other future major leaguers in both hits per game and total bases.23 Barnes was only 19 that year, but the following year, it was again Addy who led the star-studded Forest City Club in batting, collecting 204 hits in 56 games.24
These two glorious seasons almost never happened. As the start of the 1869 season approached, Addy was talking seriously about heading west to "seek his fortune."25 But in the end he decided to stay in Rockford for another summer, and he enjoyed a season that has to be ranked as the best of his career, since his five-plus hits per game were compiled while making the switch to the game's most demanding defensive position.
Forest City catcher George King had chosen to retire after the 1868 season, so Addy moved behind the plate. Catchers wore no equipment except a rubber mouthpiece, making the position extraordinarily dangerous, and they also needed great dexterity to prevent passed balls. Working with a hard-throwing pitcher like Spalding was especially onerous, but Addy made a seamless transition to the new position. Even more impressively, when he saw Doug Allison of the "Red Stockings" of Cincinnati standing close to the plate to catch, he immediately made the same decision.26
The 1869 season is remembered as the undefeated season of the "Red Stockings" of Cincinnati, but it was also a memorable campaign for the Forest Citys. The Rockford club, although still ostensibly amateur, lost only four games all season – all of them to the openly professional Red Stockings. In one of those contests, the Forest Citys came within two outs of pulling off an upset that would have changed baseball history.      
The match was played in Cincinnati on July 24, and "Addy was the hero of the game in every way. Not only was he catching directly behind the bat, something he had done only at critical moments until two weeks before, but he allowed only two passed balls to [Cincinnati fill-in catcher Asa] Brainard's five, scored four runs in five times at bat, one a home run, and continued the game after having been knocked flat by a foul in the sixth inning."27 Addy's insistence on remaining in the game after the gruesome injury led a Cincinnati paper to praise his "commendable pluck."28
More than half a century after the fact, Addy's brother-in-law Victor Wheeler still remembered the game vividly. "Bob was absolutely unafraid," he recalled. "He would step into the fastest ball and it didn't seem that anything could get away from those twisted fingers of his, strong as steel cables. Down in Cincinnati that day they carried him to the players' tent on the grounds, with part of his teeth knocked loose, and sent for a doctor. Addy wouldn't stay. He came back on the field and took up his place behind the batter. Then the game had to stop while Cincinnati stood up and cheered him for ten minutes."29
Led by Addy's heroics, the Forest Citys were clinging to a 14-12 lead as the game went to the bottom of the ninth inning. But after the first batter was retired, the Red Stockings mounted a three-run rally to preserve their undefeated season.
Bob Addy left Rockford at the conclusion of the 1869 season and announced that he would not be returning. But "the week before the election Bob was back again, swearing to locate permanently, and establishing himself in a tinning and jobbing shop opposite the court house."30  He returned to second base in 1870 as the Forest Citys completed the transition to open professionalism. The club compiled a 42-13-1 record during a prolonged schedule that included Addy's previously mentioned return to Canada and that climaxed with an October 15 victory over the Red Stockings. On one of the club's few off-days, on August 13, Addy found time to get married in Rockford.
The winter following the 1870 season saw the birth of the National Association and the departure of three club stalwarts, as Spalding, Barnes, and Cone all chose to sign with Boston. The Forest Citys nonetheless decided to enter the new league, and Addy thus became the club's longest-tenured member (with the exception of Al Barker, who played sparingly). A much younger lineup resulted, with Addy the grizzled veteran among a group of newcomers who included the nineteen-year-old Cap Anson.
Scott Hastings is now listed in record books as the manager of the 1871 Forest Citys, but there seems to be no basis for this designation. Most baseball clubs of the 1870s did not have anyone whose role resembles that of today's manager, so listings of this sort are just an exercise in futility. Hiram Waldo, a Rockford bookseller, was the man who signed players and made player personnel decisions, while Addy was named the club's captain and made in-game decisions.31
Addy got off to a sizzling start, pounding Asa Brainard, the former Red Stockings pitcher, for four hits in the club's second National Association game and then collecting five hits two games later to lead the Forest Citys to a thrilling extra-inning come-from-behind victory over the Kekiongas of Fort Wayne. But then he cooled off, and so did his teammates. The season was not a success, but neither was it anywhere near as bad as the 4-21 record that appears in the record books – the club actually won eight of its 25 games but had to forfeit four wins when Hastings was ruled to have been ineligible.32
The Great Chicago Fire put a temporary halt to professional baseball in the region then known as the West and a permanent end to the brilliant career of the Forest City Club of Rockford. For a while, it appeared it would also mark the end of Bob Addy's career, as the newlywed elected to remain in Rockford and pursue business.
He returned to the diamond in 1873 with the White Stockings of Philadelphia (one of two National Association entries from that city that year). His new club won seventeen of its first nineteen games to grab a commanding lead in the pennant race. But in early June, Addy requested and received his release. Despite his short stay in Philadelphia, he had made such a vivid impression that he was "he was presented with a magnificent gold watch by the directors of the club, and was tendered a dinner."33
Business concerns were said to have been the reason for his return to Rockford, but a more personal matter may have been the determining factor. Bob and Ida Addy's only son was a boy named George. Following in the family tradition, George would later give contradictory information about his date of birth, but it appears most likely that he was born on August 1, 1873.
Shortly after that date, following a two-month absence, Bob Addy signed to join Spalding and Barnes with Boston. The Red Stockings were nine games behind his old team at the time of the signing, but he provided a much-needed spark. He batted .355 in 31 games, and Boston won twenty-six of those games to cruise to the pennant. Tim Murnane later credited Addy with having "pulled the Bostons through for the championship by his fine work at right field and timely hitting and baserunning in 1873."34
The hard-won pennant was jeopardized by claims that Addy was ineligible because of having played for a club in Rockford after leaving Philadelphia. But former Forest City Club officer A. N. Nicholds attested that Rockford had no club of any kind, and that Addy had merely taken part in a contest involving "little boys." The controversy simmered down, and Boston was awarded the pennant.35
Addy spent the 1874 season in Hartford, his last year as a regular infielder. At season's end, it was announced that he planned to organize a new professional club in Springfield, Massachusetts. But he was slow to sign players, prompting speculation that he would only enlist the services of a pitcher and catcher and would cover the rest of the field by himself.36  Eventually plans for the Springfield Club were abandoned, and Addy instead returned to the White Stockings of Philadelphia where, according to one rather far-fetched retrospective article, he pretty much ended up fulfilling the prediction that he would have to cover the entire field.
The roster of the White Stockings was strewn with talented players who had suspect reputations. According to this article, "in one game eight of the players were fixed to lose. The one true man was Bob Addy … It was thought by those who were engineering the 'skin' that it would not be necessary to buy Addy, and besides he had the reputation of being a square player." Throughout the contest, Addy did "great work in the field and was striving to win, covering a wonderful amount of ground," even while his teammates were conspiring to lose. Finally, at a pivotal moment Addy made a long run and saved the game by catching a ball that a teammate intended to let drop.     When the teammate realized what had happened, "his disgust was supreme, and in a tone of contempt and scorn he remarked: 'Look here, Bob Addy, do you want to play the whole game?'"37
The story is at the very least exaggerated, and may be pure fabrication. Yet it is fascinating how well it captures two of the characteristics that were at the heart of Bob Addy's reputation as a "celebrated base ball character": his tendency to venture into the territory of teammates and his scrupulous honesty in an era when rumors of game-fixing were rampant. As Anson would say, "He was honest as the day is long."38
After the 1875 season the National League was formed as a successor to the National Association. The main motive for this coup was that it legitimized Chicago's William Hulbert's signing of Boston's four best players, the so-called "Big Four" of Spalding, Barnes, Jim "Deacon" White, and Cal McVey. From Rockford's perspective, the development was most ironic: five years earlier, the National Association had been launched when Boston had signed Spalding and Barnes, and the two young men who had grown up in Rockford had led Boston to four straight pennants. So their return to Illinois seemed a case of turn-about being fair play.
The demise of the National Association left the fate of many players, including Addy, up in the air. It was at first reported that he would remain in Philadelphia with a club that would combine some of the most talented and unsavory players from a city swarming with men who embodied both traits. The New York Times reported with dark irony that the managers of the new club had "engaged such able and honorable players as Dick Higham, John Nelson, George Zettlein, Billy Craver, Treacy, Meyerle, Bob Addy, and Shafer. Mr. Bob Addy will officiate in the capacity of Captain. The one great advantage in having a nine of this kind is that they always play to win – perhaps. As an evidence of the high standing of this club, it is only necessary to state that at a recent election all the officers were required to subscribe an oath to the effect that they would not countenance the selling of a single game. Some people are curious to know why the imposing of such an oath was necessary."39
But as the Chicago Tribune was quick to point out, the Times had done an "injustice to Addy in classing him with such a gang."40  Like many of his teammates, Addy was owed money at the end of the 1875 season and was anxious to leave Philadelphia.41 Meanwhile, Spalding had been named captain of the new club in Chicago and Anson had been added to the club's contingent of Forest City alumni. Spalding soon offered Addy a spot on the team and the two men who had already been teammates in Rockford and Boston were reunited for the third time.
Upon his arrival in the Windy City, Addy made his usual indelible impression and displaying the now-familiar traits. An account of the team's home opener reported, "every man was where he belonged, from impassive White around to the agile Addy, and from the sure-handed Iowa infant [Anson] down through the grades of height to Capt. Bob Shorty, who teetered all over the infield as he thought there was occasion."42
His wit also remained conspicuous. When a July exhibition game to raise funds for an orphanage was rained out, the Tribune observed that "the orphans were unlucky – in fact, to use the words of that venerable philosopher, Robert Addy, it was to have been expected that they would be unlucky, for if they hadn't been unlucky they wouldn't have been orphans at all."43
Exactly how venerable Addy was by this time can only be estimated, but he was most likely nearing forty and now exclusively played the outfield. Nevertheless, he was as energetic as ever, and several game accounts describe slides like the one that had startled Spalding a decade earlier. According to one of these reports, "Addy opened the second inning and took his base on called balls. He at once stole second in his usual underground manner, and to the great detriment of his good clothes."44
Chicago won 36 of its first 43 games to take a commanding lead in the race for the National League's inaugural pennant. But Addy got off to a slow start at the plate and found himself sharing time in right field with Oscar Bielaski and Fred Andrus. His benching apparently was not Spalding's decision; a Cincinnati Enquirer sportswriter maintained after the season that "a higher authority than Spalding laid Addy off the nine and put Bielaski in his place – Bielaski, whose batting shows him eighty per cent weaker than Addy, and five per cent weaker as a fielder."45  
But the pennant race suddenly tightened up in August when the White Stockings were swept at St. Louis. Addy was reinstalled in right field and again showed his knack for clutch performances. He pounded out four hits in a crucial game against St. Louis and continued to swing a hot bat as Chicago maintained its lead.46
In September, with the pennant within sight, Boston came to town for a game that featured numerous players from the old Red Stockings-Forest City rivalry. Addy, Spalding, and Barnes all took the field for the home side, while the visitors included Andy Leonard and both Wright brothers. For good measure the umpire was Fred Cone, the third player who had left the Forest Citys after the 1870 season to play for Boston.
Boston jumped to a six-run lead, but Chicago roared back and finally pushed across two decisive runs in the ninth inning for a 12-10 win. According to a game account, "Addy and White carried off the honors very easily, both in fielding, batting, and run-getting. The former made five wonderful catches, those off [Jim] O'Rourke, [Jack] Manning, and [Harry] Schafer being as fine bits of play as ever were seen in any game. Addy's base-running also drew out great applause." The dramatic win allowed Chicago, in the words of the Tribune's reporter, to reach "a step in the championship race which is next door to the absolute securing of the pennant."47
The labyrinthine phraseology was necessary because of some disputed games, but there was now little doubt about the league's first pennant-winner. Four days later, the last shred of doubt was eliminated when Chicago defeated Hartford. Once again, Addy was the hero in the clincher, making "a couple of extraordinary catches" in the ninth inning of the 7-6 nail-biter, one of which seemed "fairly impossible until taken."48
Bob Addy had now played an important role for championship teams in both the National Association and National League, but his mid-season benching still rankled, and he was not interested in returning to Chicago.49 He instead signed with Cincinnati, prompting a reporter to offer this satirical warning to the fans of that city: "whatever happens on your ball-field the Hon. Bob will have part and lot in it; if a man is to be run out between third and home, Bob will show up and take a hand in it like as if he had been standing there all the while."50
Upon his arrival in Cincinnati, Addy made the same kind of impression that he had made throughout his career. Before played his first league game with his new team, it was reported that "The Hon. Bob Addy seems to be a sort of demi-god in Cincinnati; if he stubs his toe the fact is recorded with due solemnity; if he tumbles down while fielding the ball, it is immediately telegraphed throughout the entire country, headed, 'Sad disaster;' and if he makes a base hit, the local reporters spoil their entire reserve of lead-pencils, in making a half-column note of it."51 Alas, it was Cincinnati's season that proved a sad disaster. After a 3-11 start, Addy took over as captain, only to see the team disband a few days later. Following a two-week hiatus, the team was reassembled, but the club finished with a dismal 15-42 record in a season that ended Addy's major league career. In an odd twist, he also played a role in the end of Spalding's pitching career – on June 5, Addy smashed a line drive that hit his old batterymate in the chest and literally knocked Spalding out of the box in what proved to be the final start of his illustrious major-league career.52
In November, Cincinnati announced that it was releasing Addy on the ground of drunkenness.53  But whether this was the real reason remains open to doubt. A Chicago sportswriter quipped that the charge, "sounds oddy," and pointed out that "Bob, though never a reliable player, has always been considered an honest man."54 More to the point, Addy had a two-year contract, and the allegation enabled parsimonious Cincinnati owner "Si" Keck to avoid paying him for its second year.55
"Philosopher Bob" returned to Chicago that winter and opened a skating rink on the corner of Madison and Ada streets. To drum up business, he even organized a game of baseball on ice.56  Addy's new enterprise prompted one reporter to quip that "Bob stands up better on ice than he does on land."57
But Addy soon gave up the skating rink business and finally did what he had so often talked of doing by heading out west, where he remained for the rest of his life. He brought along his young son George but not his wife Ida. She was still alive according to Bob's listing the 1880 census, but otherwise she remains a mysterious figure. Her marriage record gives her name as Ida Belle Seeley, while her son's marriage record says that it was Ida Enose, but she cannot be identified under either name. Nor is anything known about what became of her after Bob moved west.
Even after permanently settling in the West, Addy's doings continued to be chronicled in the eastern press. In 1879 he was reported to be playing baseball in Salt Lake City for a team known as the Gentile Club.58  Seven years later, a claim that he had become a Mormon with twelve wives was widely reprinted.59 Other unfounded reports had him in Oregon and California.
The reality seems to have been more prosaic. By the time of the 1880 census, he was living in Evanston, Wyoming, and he was still there at the end of the decade. Around 1891, he moved to Pocatello, Idaho, where he opened a hardware store and, on the first day of 1892, was remarried to a much younger woman named Louise Emma Clark. The marriage produced one child, a daughter named Ellen Louise, who was born on December 1, 1897.
As we have seen, Bob Addy continued to be remembered with great fondness in baseball circles long after his retirement. His feelings toward the game are more difficult to ascertain, but it certainly appears that he retained his passion for baseball. As late as 1890 he was still playing for the town team in Evanston.60 His last known involvement with baseball came in 1899 when he took part in a "fat versus lean" game in Pocatello. Appropriately, the man who had been known for roaming the field at will started the contest with the "fat" side but ended it with the "leans."61 One can imagine one of his fellow players exclaiming, "Look here, Bob Addy, do you want to play the whole game?"
Bob Addy died in Pocatello on April 9, 1910, after a severe attack of apoplexy.62  His widow passed away in 1929, and their daughter died in 1974. At least one grandson is still alive as of 2009. His son from his first marriage moved to Spokane, Washington, and then to Oregon, where he is believed to have died in 1957. His brother George was last heard from in 1900, when he was living in Philadelphia and made news by making a desperate trip to England. The purpose of the voyage was to prevent his youngest daughter Arlan, a soprano who was singing with the D'Oyly Carte Opera, from marrying Dr. Henryk Arctowski, the Polish explorer who had recently returned from heading the celebrated Antarctic Expedition. But after meeting Arctowski, George Addy dropped his opposition and gave his blessing to the wedding.63
This biography is included in "Boston's First Nine: The 1871-75 Boston Red Stockings" (SABR, 2016), edited by Bob LeMoine and Bill Nowlin.
Sources
Coverage of the Forest City Club is usually based upon A. G. Spalding's fascinating but unreliable America's National Game: Historic Facts Concerning the Beginning, Evolution, Development, and Popularity of Base Ball, with Personal Reminiscences of Its Vicissitudes, Its Victories, and Its Votaries (1910) (reprint, Lincoln: University of Nebraska Press, 1992). I have instead relied primarily on two sources: an extraordinary 44-part history of the club that was written by Horace E. Buker and published serially in the Rockford Republic in 1922 and a five-part series by John Molyneaux that appeared in Nuggets of History, a publication of the Rockford Historical Society ("The Sinnissippi Base Ball Club," 43: 1 (March 2005); "The Forest City Base Ball Club: The Amateur Years," 45: 1 (March 2007); "No Longer Amateurs: The Forest City Base Ball Club in 1868," 46: 2 (June 2008); "'We Can Beat the Spots Off the Best Club That Ever Lived': The Forest City Base Ball Club in 1869," 46: 3 (September 2008); "The Eastern Tour – The 1870 Season of the Forest City Baseball Club," 47: 3 (September 2009)). Other sources that were of help included coverage of the 1896 Harry Wright Day celebrations in the Rockford Register-Gazette on April 13 and 14, 1896; the reminiscences of Fred Cone ("Baseball Thirty Years Ago," Lima News, July 15, 1899) and Charles Page (E. C. Bruffey, "Bruffey Tells of Charles T. Page, Atlanta Constitution, August 10, 1919: A4; Atlanta Constitution, March 14, 1909); "Spalding's Start," Sporting Life, June 20, 1908, 16; Harriet Spalding, Reminiscences of Harriet I. Spalding (East Orange, New Jersey: PUBLISHER, 1910); Peter Levine, A. G. Spalding and the Rise of Baseball (New York: Oxford University Press, 1909); a history of baseball in Rockford written by James McKee that appeared in Sporting Life on April 9, 1884: 4; Harvey T. Woodruff, "Forest Citys a Noted Team," Chicago Tribune, March 31, 1912: C2; Adrian C. Anson, A Ball Player's Career (1900: reprint, Amereon), and William J. Ryczek's When Johnny Came Sliding Home: The Post-Civil War Baseball Boom, 1865-1870 (Jefferson, North Carolina: McFarland, 1998). Joe Overfield's profile of Addy in Nineteenth Century Stars, eds. Robert L. Tiemann and Mark Rucker, (Kansas City: Society for American Baseball Research, 1989) was also very valuable. Coverage of Addy's time in the National Association and National League is mostly based on contemporaneous newspaper accounts and on William J. Ryczek's Blackguards and Red Stockings: A History of Baseball's National Association, 1871-1875 (Jefferson, North Carolina: McFarland, 1992). Specific sources are cited in the notes.    
Notes
Born
February , 1842 at Port Hope, ON (CAN)
Died
April 9, 1910 at Pocatello, ID (USA)
If you can help us improve this player's biography, contact us.
https://sabr.org/sites/default/files/Addy_Bob.png
600
800
admin
/wp-content/uploads/2020/02/sabr_logo.png
admin
2012-01-04 20:45:03
2023-02-28 19:41:31
Bob Addy