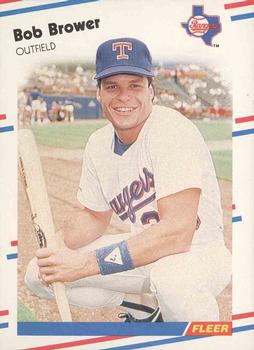 ---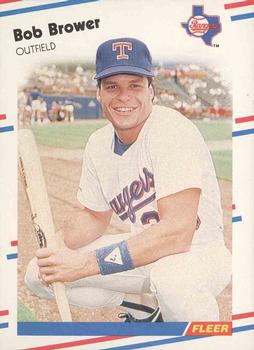 Bob Brower, currently a vice president with the Boras Corporation, has signed, advised, and represented many players, some of whom made the major leagues. He has personally been involved with Mark Teixeira, Max Scherzer, Matt Holliday, Andruw Jones, and many others. While the role of an agent representing major league players is somewhat public, it should be emphasized that many of the clients of the Boras Corporation do not reach the major leagues, but the agency and its representatives must address their day-to-day tribulations as they struggle to become big leaguers. Bob's success with all clients can be attributed to the issues he encountered in his own journey to the major leagues. This journey was not an easy one, and once he had achieved the ultimate goal, his career was cut short by injuries possibly caused by misdiagnoses.
Robert Richard Brower was born in Jamaica, New York on January 10, 1960, to William and Lorraine Brower. Bob spent his early days in New York where he played Little League baseball. His dad went to St. John's University where he participated in the basketball program. After St. John's, William worked for IBM and then Sterling Institute as a management consultant, which resulted in family moves to Illinois and New Jersey during the next few years. When Bob was thirteen, the family, which included two brothers and three sisters, moved to Vienna, Virginia where he entered James Madison High School in 1974.
While in Virginia, Bob played baseball in both the Babe Ruth and Clark Griffith Leagues. It was at James Madison where his athletic prowess blossomed. As a result of a back injury, he did not play any organized sports in his freshman year. By his junior year, he was playing baseball, basketball, and participating in track and field.
Bob, who batted and threw right-handed, was an outfielder who used his speed to corral fly balls. He also displayed the ability to hit the ball a long way. His baseball coach, Don Roth, was once quoted, "What stuck in my mind was his power to right-center field as a hitter. He could take pitches a long way in that direction."1 Billy Davis, former Clemson football player, remembered watching Brower hit a towering, 420-feet, home run and commented, "He was a stud."2
While successful in baseball, Bob's favorite sport was basketball. Former James Madison basketball coach Clint Hannah said this about Bob and basketball, "He had a great feel for the game of basketball. He was a great leaper."3 He was aided by being a successful high jumper on the track team. In addition to high jumping, he competed in the 100-meter, 200-meter, triple-jump, long jump and the 400- and 800-meter relays. During the spring months, he was often seen leaving track and field practice and suiting up for a baseball game.
Interestingly, Bob did not play football in his first three years at James Madison but given his speed, he was coaxed into playing football by his track coach, Tom Riley. Riley was also the running backs' coach for the football team. Riley pointed out that by playing football, he could become the first James Madison athlete to letter in four sports.
Football proved to be a huge success for Bob as he compiled 1,200 yards and 20 touchdowns and was named League Player of the Year in his first year of organized football. In the second game of his senior year, he displayed his blazing speed with an 80-yard touchdown run.4
Bob did letter in the four sports and became the first James Madison athlete to do so. The plaque on Madison's Wall of Fame proclaims Brower to be, "One of the greatest athletes at JM."5
Bob's success in football led to numerous scholarships from universities and colleges up and down the East Coast. Interestingly, he found out later that New York Yankees scout Syd Thrift felt that if he pursued a baseball career, he would have been a major leaguer in three years.6
From the offers he received, Bob chose Duke, where he majored in history, minored in psychology, and played football and baseball. His top performance as a running back in football was against arch-rival North Carolina in 1978 when he gained 124 yards on 22 carries. In his junior year, he suffered cracked ribs in midseason and did not play again that year. During the offseason, Steve Spurrier, the offense coach, told Bob he wanted to switch him from running back to receiver to enhance his chances of making the NFL. Playing in the NFL did not appeal to Bob. He decided to walk away from football and focus on baseball stating, "I was a jack-of-all-trades and master of none."7 Baseball offered the greatest challenge for this natural athlete and to be successful, it necessitated a full-time commitment.
In Bob's junior year playing baseball, he hit .370, led the nation in triples and was an All-Atlantic Coast Conference selection. Duke finished the season with 29 wins and 10 losses as he led the team in runs, triples, RBIs, stolen bases and home runs.8 This season probably reinforced his feeling that his future was in baseball, not football.
Unfortunately, Bob was not selected in the 1982 Major League Baseball draft which was probably due to his inability to repeat his junior year performance during his senior year. However, his baseball coach at Duke, Tom D'Armi, contacted another Duke alumni, Wayne Krivsky in the Texas Rangers organization, about Bob's potential. As a result, Bob was signed by Texas on July 1, 1982.9 He was assigned to the Rangers farm team in Florida's Gulf Coast League, a rookie league. He had a batting average of .287 in his first season of professional ball.
1n 1983 Bob started the season with Burlington, Iowa in the Class A Midwest League where he hit .312 and had an on-base percentage of .445. In 175 plate appearances, he was able to get to first base 34 times via a base on balls. This certainly contributed to his very high OBP. On June 7, against Beloit, he had a six-hit game, the only six-hit game in professional baseball that year.10 On the previous night, he struck out five times.11
Given his success at Burlington, Bob was moved by the Rangers to Tulsa, their Class AA team in the Texas League, on June 13. At Tulsa he struggled a bit, batting only .234. He returned to Tulsa to begin the 1984 season and saw his fortunes rise within the Texas farm system as he hit .285 and stole 54 bases. After 96 games with Tulsa, Bob was promoted to Oklahoma City, the Texas Class AAA farm team in the American Association to finish the season. During the 1984 off-season Bob played with the Cañeros de Los Mochis in the Mexican League.
He returned to Oklahoma City for both the 1985 and 1986 seasons. One highlight from the 1985 season occurred on May 27 when Bob hit for the cycle.12 He also hit 18 triples during that season. In 1986 he led the American Association in runs and walks. He also stole 53 bases and was selected to the league's All-Star team.13 He also displayed fielding prowess as he led the American Association with 366 putouts.
On September 1, 1986, he was called up by Texas from Oklahoma City and was in the dugout as Texas played Boston at Fenway Park. He did not play either that night or the next one. In the final game of the series, Texas was trailing 3-2 as the ninth inning began. Larry Parrish led off with a single to left field off Red Sox reliever Bob Stanley. Bobby Valentine, the Texas manager, then pinch-ran for Parrish with Brower who now stood at 5'11" and weighed 185 pounds. With Bob at first base, Ruben Sierra singled to move him to second base. After Pete Incaviglia struck out, Geno Petralli hit a ground ball to the pitcher.14 Stanley got Sierra at second base but the throw to first to complete the double play got away from Bill Buckner, allowing Bob to scamper home with the tying run.15 Unfortunately for Texas, the Red Sox scored in the bottom of the ninth, winning the game 4-3. For Bob, scoring that tying run in his major league debut is a memory he will always cherish.16
On September 13, Bob got his first major league hit, a double against Minnesota's Bill Latham.17 That was his only hit that September in nine plate appearances as the season drew to a close. During the offseason, he decided to play winter ball for Azacueros del Este in the Dominican Republic. The winter ball experience proved to be quite a success as Bob was chosen as the league's most valuable player.18
Bob's first full season in the major leagues was 1987. He played in 127 games and had a batting average of .261. He also had 14 home runs and 15 stolen bases. A highlight of that first season was an inside-the-park grand slam on June 21 in Oakland.19 He also hit a two-run home run in that game, giving him a total of six RBIs on the day. He also had another two-home run game on July 26 against Cleveland.20 Unfortunately Bob hurt his right shoulder making a hard slide into second base in an early July game. The shoulder injury was initially diagnosed as tendinitis by the Rangers' physicians. Bob continued playing that year becoming the regular center fielder for the final two months of the season.
During the 1987-88 offseason, Bob was still bothered by the right shoulder and decided that a further review was needed. The diagnosis this time was a torn labrum which necessitated surgery. While he reported on time for 1988 spring training, he suffered a pulled right calf muscle on March 28, necessitating a trip to the disabled list making him unavailable at the start of the season. He played well upon his return from the disabled list. Between June 21 and July 3, he had four multiple-hit games in eight games, batting .370 during that period. In the final game of that stretch, Bob hit his only home run of the season, a grand slam off on Don Aase in Memorial Stadium in Baltimore. He had six RBIs in that game.21 Having only one home run that season can be attributed to his right shoulder issues. As a result of probably favoring that shoulder, Bob began having issues with his right elbow.
Bob's performance the rest of the year did not measure up to the hot streak as he ended the season with a .224 batting average, the single home run and ten stolen bases. On December 5, 1988, he became a New York Yankee as Texas traded him for shortstop Bobby Meacham. During the 1988-89 offseason, he planned to play winter ball in the Dominican Republic. However, before any games were played, Bob felt his right elbow pop while throwing a ball during a warm-up exercise. He decided to forgo this winter ball experience and return to Texas to have his elbow problems diagnosed. While the property of the Yankees, Bob elected to see the Texas Rangers' physicians and they diagnosed his elbow issues as tendinitis.22
The Yankees had high hopes for Bob. According to the Yankees Official 1989 Yearbook, "A forgotten man with the Texas Rangers a year ago, Bob Brower finds himself competing for a starting job in 1989. The departure of Claudell Washington opens a spot in the lineup, one which Brower hopes to fill. He comes to the Yankees hungry for opportunity. Brower starts this season at age 29, with just over two years of big-league experience. His time is now, and Brower is so determined he spent his winter break improving his game in the Dominican Republic. Not known for his power, Brower is more of a versatile outfielder. He can hit for average, steal a base and drive in a few runs. Brower has the credentials to help the club in a lot of ways even if he isn't a starter, which is why he is hoping to become a valuable addition to the Yankees."23 In addition, Syd Thrift, now the Yankees general manager, told Bob he would be the starting center fielder in 1989.24 It should be pointed out, despite the yearbook note, he did not play in the Dominican Republic due to the aforementioned elbow injury.
Bob started the 1989 season on the disabled list with a sore groin and the recurring arm issues.25 When he came off the disabled list, he played well but good fortune didn't last and his performance suffered. With the acquisition of Jesse Barfield and the call-up of Deion Sanders, the Yankees decided to send him to Columbus, the Yankees farm team in the International League.26 At Columbus he batted .253 in 26 games but was suffering more pain in the elbow. After seeing a specialist, Bob had Tommy John surgery, ending his 1989 season. He did return for the 1990 season and played 66 games for Columbus, hitting .230 and 34 stolen bases. However, his elbow woes continued and, once again, he had to have elbow surgery, cutting his 1990 season short.
In 1991, he was invited to spring training by the Kansas City Royals but elbow issues prevented him from playing. As 1992 began Bob was out of professional baseball and working out with the George Mason University baseball team. He accompanied the team on a spring Florida visit hoping to land another professional baseball contract. Bob was successful as he was offered a contract to play in the Baltimore Orioles system. However, on the last day of spring training, Texas offered him a better deal as the center fielder in Oklahoma City. He batted only .210 that season. As the season was winding to a close, Bob learned his father was suffering from incurable brain cancer. He decided to be with his Dad and left Oklahoma City as the playoffs were about to begin. Bob's father died that offseason, but two days before his death, Bob married the former Shelley Winters.27 Bob and Shelley met five years before in a laundromat in Arlington, Texas while he was with the Rangers. Shelley was a flight attendant with American Airlines living in the same apartment complex as Bob.
Bob didn't return to professional baseball in 1993 but was an intern in Duke's athletic department while living in North Carolina. While working at Duke, Scott Boras, who had represented Bob during his playing days, offered him a position with his corporation. Bob accepted to become the third employee. He now has the title of Vice President and is responsible for managing the amateur draft division of the organization. He currently oversees the other draft representatives and helps them navigate through the decision-making processes associated with the draft and their potential clients.
When asked in an interview in 2012 concerning his responsibilities as an agent, Bob responded, "I wear many hats. I will oversee all of the issues of anybody that I'm personally responsible for bringing into the company throughout their whole career. I have lived what they are going through, so I can provide insight and information to them as they go through their walk in professional baseball."28 Bob also pointed out that he is also responsible for identifying and judging talent. He stated, "We have the ability and resources to go out and see the talent, the ability to identify that talent and to predict what that talent will produce years down the road. You need guys that have played the game to be able to do those kinds of things."29
In 2003, Bob and his family moved from Durham, North Carolina to Hutchinson, Kansas, Shelley's hometown. Bob and Shelley opened The Home Plate Club in February 2013. The Club was an indoor baseball facility, open year-round, with the mission of improving the baseball skills of the local youth. In June 2016 the Club was closed and later sold. When asked about the closing, Bob responded, "It was just [that] my kids have graduated, I was getting busier and my wife didn't have time to administer it."30
Bob and his wife have now been married for 27 years. They have two boys, Dakota and Brooks. Both boys played football and baseball in high school. Dakota works in sales in Kansas City while Brooks is with the Kansas Lottery.
Bob was recently recognized for twenty-five years of service with the Boras Corporation. At the occasion , Matt McClendon, a lawyer with the Boras Corporation, was also recognized for his ten years of service. When Matt was 17 years old and a promising high school pitcher, Bob visited him in 1996 with the intention of recruiting him for Boras. Matt immediately told him that everyone from his high school, including Johnny Damon, signs [with an MLB club]. Bob shared his experiences with Matt and at the end of the meeting, Matt was no longer sure about signing. He was drafted by the Cincinnati Reds but went to the University of Florida instead. In 1999 he was drafted by the Atlanta Braves and played six seasons in the minor leagues.31 After retiring due to an injury in 2004, Matt finished his college education and then went to law school. After finishing law school, he was hired by the Boras Corporation.
After the occasion where both Bob and Matt were honored, Matt sent an email to Bob. In that email, he stated, "Everything I have is because of this game. But, for me, I can really trace this back another step. I am forever indebted to Bob Brower. Bob came into my life when I was 17 and opened my eyes to greater possibilities than I ever thought possible with the information he shared with me. Through Bob's advice and guidance, I am where I am today and I have what I have today. For that I am forever grateful and indebted to him and the company."32
While having a short major league career mainly due to injuries, Bob Brower has shown that one can achieve even greater success after a playing career is over. Using his education at Duke and his experience as a player, he has become a very successful player agent and a vice president with the Scott Boras Corporation. He has also been a successful mentor, as Matt McClendon has attested. Life doesn't have to end when one retires from professional baseball.
Last revised: January 14, 2020
Acknowledgments
This biography was reviewed by Chris Rainey and Joel Barnhart and fact-checked by Kevin Larkin.
Notes
1 BJ Koubaroulis, "Top 100: Bob Brower, Madison Everything 1978," Connection Newspapers, http://www.connectionnewspapers.com/news/2012/aug/07/top-100-bob-brower-madison-everything-1978/
2 Kourbaroulis, 2012.
3 Kourbaroulis, 2012.
4 Kourbaroulis, 2012.
5 Kourbaroulis, 2012.
6 Bob Brower, telephone interview, July 16, 2019.
7 Koubaroulis, 2012.
8 Kourbaroulis, 2012.
9 New York Yankees Information Guide, 1989.
10 New York Yankees Information Guide, 1989.
11 Bob Brower, telephone interview, July 16, 2019.
12 New York Yankees Information Guide, 1989.
13 New York Yankees Information Guide, 1989.
14 https://www.baseball-reference.com/boxes/?date=1986-09-03
15 Bob Brower, telephone interview, July 16, 2019.
16 Bob Brower, telephone interview, July 16, 2019.
17 Bob Brower, telephone interview, July 16, 2019.
18 https://www.baseball-reference.com/bullpen/Dominican_League
19 New York Yankees Information Guide, 1989.
20 New York Yankees Information Guide, 1989.
21 New York Yankees Information Guide, 1989.
22 Bob Brower, telephone interview, July 16, 2019.
23 New York Yankees Official 1989 Yearbook.
24 Bob Brower, telephone interview, July 16, 2019.
25 "Happy Birthday, Bob Brower," Pinstripe Birthdays, January 10, 2014, https://mlblogspinstripebirthdays.wordpress.com/2014/01/10/january-10-happy-birthday-bob-brower/
26 Pinstripe Birthdays, 2014.
27 Bob Brower, telephone interview, July 16, 2019.
28 Parick Ebert, Interview with Bob Brower of the Scott Boras Corporation, https://www.perfectgame.org/Articles/View.aspx?article=1055, Perfect Game, May 10, 2005.
29 Ebert, 2005.
30 Brad Hallier, "Home Plate Club closes after more than four years", The Hutchinson News, June 28, 2016.
31 https://www.baseball-reference.com/bullpen/Matt_McClendon
32 Matt McClendon, Email to Bob Brower, November 2, 2019.
Born
January 10, 1960 at Jamaica, NY (USA)
If you can help us improve this player's biography, contact us.
https://sabr.org/sites/default/files/BrowerBob-1988.jpg
600
800
admin
/wp-content/uploads/2020/02/sabr_logo.png
admin
2020-01-14 12:29:40
2020-04-09 14:37:27
Bob Brower