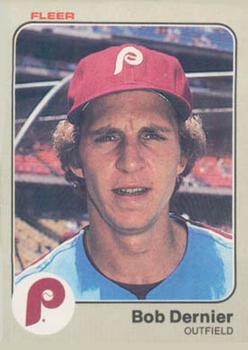 ---
"The best defensive centerfielder I have seen here in a long time. I think one of the highest compliments you can pay him is that he's as good as Garry Maddox." — Richie Ashburn1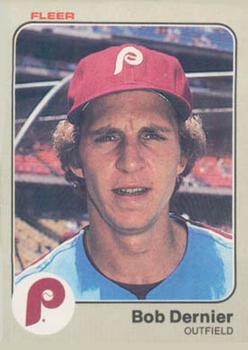 On the evening of July 20, 1969, families across the globe gathered in front of their television sets to watch the historic Apollo 11 moon landing. Bob Dernier and his family were watching, too — but they were at their local youth ballpark in Kansas City, huddled around a portable TV.2 But then again, the Derniers were always at the ballpark. Bob's parents both played ball, as well as his younger sister and brother. His father, Bill Dernier (who worked for a local sporting-goods company), played in both overhand and underhand leagues. His mother, Jean Dernier (an office manager for Western Union), played second base in a women's league.3
Robert Eugene Dernier was born on January 5, 1957, in Kansas City, Missouri, and got his start in organized baseball playing in the 3&2 League, a competitive youth baseball league in the Kansas City area.4 As a child, he rooted for the Kansas City Athletics and cheered mightily for Bert Campaneris.5 Bob was devastated when Charlie Finley moved the club to Oakland after the 1967 season, but his discontent abated when Royals began play in 1969.6 His new favorite players quickly became Lou Piniella and Cookie Rojas.7
Dernier played shortstop for Raytown South High School and hit .473 as a senior in 1975.8 He was honored with an all-state selection and his team, the Raytown South Cardinals, battled for the 1975 2A state championship in Springfield, Missouri.9 In the semifinal game, against Clayton on May 23, Dernier drove in a run with a double in a game the Cardinals won 8-2. Dernier drove in three runs in the championship game the next day with a single, groundout, and sacrifice fly.10 But Fox High School of Arnold, Missouri, took advantage of eight Cardinals errors, besting Raytown South 8-5 for the Missouri state crown.11
Perhaps surprisingly, a basketball coach, Bud Lathrop, was Bob's most important influence in high school, instilling in him the work ethic required to become a successful major leaguer — all while Dernier toiled as a third-string guard.12 Lathrop's philosophy was that no team was going to outwork Raytown South.13 Some of Coach Lathrop's techniques were unusual, such as running drills with music blaring so as to prevent the boys from becoming distracted by crowd noise.14 Bob found this drill to be exceedingly helpful when he found himself playing baseball in front of 60,000 people at Philadelphia's Veterans Stadium and beyond.15
After high-school graduation, Dernier joined his Babe Ruth League team and was a member of the Sugar Creek, Missouri, team that won the 1975 Missouri state championship.16 In the first of the final two games to decide the championship, Dernier led off with a single, stole second, and scored the first run as Sugar Creek cruised to a 14-0 victory –a no-hitter tossed by Jeff Cornell (who would later have a cup of coffee with the Padres). The Sugar Creek team next won the regional tournament in Sikeston, Missouri, and advanced to the national tournament in Seattle, where the team aimed to defend its 1974 Babe Ruth League national championship. (That 1974 squad featured Dernier's future Cubs teammate Rick Sutcliffe.)
In Seattle, Sugar Creek eliminated the team from Irving Lake, Illinois, on the strength of another no-hit performance by Cornell, with Dernier scoring one of his club's three runs.17 The Sugar Creek squad eventually finished third in the tournament.
After high school, Dernier was recruited to play baseball by the University of Tulsa, but was told he likely would not have played there until he was a junior, so the Tulsa coach made arrangements for Bob to attend Connors State College in Warner, Oklahoma, where he intended to study journalism and play baseball.18 After one semester there, Dernier decided to return to the Kansas City area, where he continued his classes at Longview Community College in Lees Summit, Missouri, and joined the school's baseball team.19
During the summer of 1976, Dernier played in the Casey Stengel League, a summer collegiate league, for the Standard State Bank team and was elected an All-Star.20 He got his first taste of the big-league ballpark experience on June 27 when his team faced the team from the Ban Johnson League, a rival summer collegiate circuit, in the All-Star game at Kauffman Stadium. His team came up just short, losing 4-3.21
Dernier was selected by the Cincinnati Reds in the 12th round of the January 1977 amateur draft.22 The Reds scout was brutally honest, however, telling Dernier that Cincinnati was just interested in following him throughout his spring college season and was not yet ready to make an offer.23 As an infielder-outfielder for Longview in 1977, Dernier hit .424 with 5 home runs and 18 stolen bases.24 Despite his stellar spring season, he was not able to reach an agreement with the Reds and did not sign.25 Instead, after weighing an offer from Wichita State, he committed to play baseball for the University of Kansas.26
Before Dernier could start his career at Kansas, however, the Philadelphia Phillies came knocking and, on August 5, 1977, he signed a professional contract with Phillies scout Bob Kelso for a $1,200 signing bonus (approximately $5,000 in 2019).27 Ultimately, his heart just told him to "go for it" in choosing the Phillies over the Reds and not returning to school in the fall.28 In retrospect, he said, he felt the Phillies were a better fit anyway because the "Reds were too clean-cut, while everyone on the Phillies had a mullet."29
Dernier began his professional baseball career in 1978 as a shortstop with the Spartanburg Phillies of the Class A Western Carolinas League, where he sputtered in 22 games, hitting .140 but drawing enough walks to sport a .310 on-base percentage. After his rough start, Dernier was sent to the Rookie League Helena Phillies. There, he was moved over to third base and was often paired with shortstop Ryne Sandberg on the left side of the infield. In 53 games, Dernier hit .301/.424/.419, with 4 home runs and a team-leading 29 stolen bases, helping the team lead the Pioneer League in double plays.30
In 1979 Dernier was assigned to the Class A Peninsula Pilots (Carolina League), where he played in the infield for about two weeks before being moved to center field.31 He flourished, hitting .291/.393/.363 and leading all minor leagues with 77 steals. For his efforts, he was named the Carolina League MVP.32
Promoted to the Double-A Reading Phillies (Eastern League) for the 1980 season, Dernier put together his best professional season to date, hitting .299/.400/.424, with a career-best 10 home runs. He led the league with 71 stolen bases. When the Reading season ended, Dernier was called up to the Phillies, becoming the first Helena alumnus to make the major leagues.33
Dernier made his major-league debut on September 7, 1980, as a pinch-runner for Pete Rose and promptly recorded his first stolen base. On September 14 he singled to right field in his first major-league at-bat and scored his first career run after stealing second and being knocked in on a triple by Luis Aguayo. He made his first major-league start, as the center fielder, in the Phillies' last regular-season game, on October 5 in Montreal. He picked up a pair of singles in five at-bats, with a stolen base and a run. Overall, Dernier's first taste of big-league baseball was an overwhelming success, with four hits in seven at-bats and three steals, in limited action. After he started his career with four hits in his first four at-bats, Larry Bowa had cautioned Dernier, "I know you're hitting 1.000 now, but there's nowhere to go but straight [expletive] down, kid."34 There was no room for Dernier on the Phillies playoff roster and he was relegated to watching the Phillies win their first World Series title from the sidelines. He was not awarded a World Series ring but was voted a $250 share of the bonus money.35
Dernier played winter ball in Venezuela during the 1980-1981 season for the Águilas del Zulia (Eagles), where he found the competition equivalent to a step between Triple A and the big leagues — especially with the league attracting retired major leaguers like Cesar Tovar.36 The conditions there were that of "jungle warfare," replete with middle-of-the-night bus rides and armed escorts.37 Regardless, he enjoyed his time in Venezuela and very much appreciated being paid over and above his minor-league salary to participate — preferable to other forms of offseason work.38 He played winter ball again in 1981-1982, and in each of his two seasons there the Eagles lost game seven of the league championship to the Caracas Lions, coming up just a game short of advancing to the Caribbean World Series.39
In 1981 Dernier started the season at Triple A with the Oklahoma City 89ers and put together another stellar season, hitting .302/.389/.412, with 5 home runs and a league-leading 72 stolen bases, still (as of 2019) a franchise record. He earned another September call-up and socked three hits in four at-bats and stole a pair of bases in 10 games.
Dernier made the Opening Day roster with Philadelphia in 1982 and by mid-April he was starting in the outfield, splitting his time between center and right. He crushed his first major-league home run on May 15, off Dan Schatzeder, and did not wait very long to hit his second — taking Atlee Hammaker deep in his very next at-bat the following day. Dernier played well through the summer but by August he was admittedly feeling fatigued. His playing time dipped and his batting average began to fade, finishing his first full big-league season at .249/.315/.319, with 4 home runs and 21 RBIs. Dernier's 42 stolen bases were a Phillies rookie record that was broken when Juan Samuel swiped 72 bases in 1984.40
His most amazing athletic feat of 1982 might not have happened on the baseball field, however. While golfing on June 23 with his father, Manny Trillo, and agent Ritchie Bry in St. Louis, Dernier scored his first ever hole-in-one.41 When he arrived at the ballpark the next day, Dernier was summoned to manager Pat Corrales' office. Corrales — who had a strict rule against golfing on game days — learned of Dernier's ace in the morning paper and was livid, fining him $200.42 His teammates had some fun with it, though — when Dernier went out for batting practice, pitchers Sparky Lyle and Tug McGraw had a golf flag out in the outfield, offering Dernier a comical target.43 After having a laugh about it, Corrales waived the fine.44
In 1983 Dernier was the Opening Day center fielder for the Phillies as they began their season at Shea Stadium against the New York Mets. He started the next game as well, but was thereafter relegated to a bench role, appearing only as a late-inning defensive replacement. These first two games were significant for Dernier, however, as he tried his hand at switch-hitting.45 Batting left-handed in the April 5 opener, Dernier grounded out to pitcher Tom Seaver and struck out. He walked against Craig Swan on April 7, but after grounding into a fielder's choice in the fifth inning, decided that he was going to bat right-handed from then on.46 Interestingly, Dernier's brief switch-hitting experiment was forever immortalized on his 1984 Topps baseball card photo, taken during spring training.47
After appearing in 18 of the Phillies' first 19 games in 1983, Dernier had only one hit in 12 at-bats. He was sent down to the Phillies' Double-A club in Reading, where he appeared in 14 games before being recalled to the major leagues for good on May 21.48 By June 23, Dernier was a starting outfielder, mainly in center, and was looking forward to helping the Phillies get back to the World Series. These plans were derailed, however, when the Phillies acquired outfielder Sixto Lezcano from the Padres on August 31. Dernier had only eight plate appearances after September 1, despite appearing in 22 games during that stretch, mainly as a late-inning defensive replacement. Despite his diminished role, Dernier remained positive: "It's tough to do, especially if you're used to playing every day. But you suck up some pride because it helps you be successful."49
The Phillies reached the 1983 World Series and Dernier appeared in one contest, as a pinch-runner in Game Four. He came around to score, but the Phillies fell short, 5-4, and eventually lost to the Orioles in five games. Although Dernier had appeared in 122 of the Phillies games in 1983 and led the team with 35 stolen bases, he was denied a plate appearance in the both the NLCS and World Series.
Spring training in 1984 was frustrating for Dernier, whose prospects for a starting role were uncertain in a crowded Phillies outfield. Near the end of spring training, the Phillies attempted to pass Dernier through waivers in order to send him back to the minor leagues; the Chicago Cubs blocked the move by submitting a claim for him, which required the Phillies to keep Dernier on the roster or trade him.50 At this point, he found himself questioning whether he was good enough to play major-league baseball, finding the issues he had trying to crack the starting lineup in Philadelphia a real "kick in the ass."51
On March 26, 1984, Denier's prayers were answered when the Phillies sent outfielder Gary Matthews, reliever Porfi Altamirano, and Dernier to Chicago in exchange for reliever Bill Campbell and rookie catcher Mike Diaz. The Cubs' general manager, Dallas Green, told Dernier, "If you can lead off and catch everything you get to in the outfield, you will be the Cubs' starting center fielder."52 His mother sure approved of the deal, telling Bob he looked better in a Cubs uniform, anyway, because the team colors complemented his blue eyes.53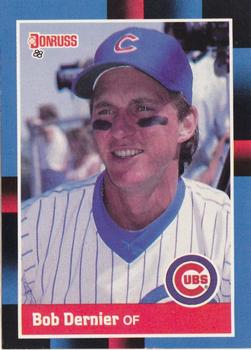 Now atop the order, Gary Matthews gave some succinct advice to Dernier: "Just get your little ass on base."54 Dernier and Ryne Sandberg sparked the offense, inspiring Harry Caray to dub the pair the Daily Double. The 1984 Cubs went to the postseason for the first time since 1945. Dernier's sparkling defense in center field earned him the 1984 Gold Glove — the first Cubs outfielder to earn the honor — and 17th in MVP votes. He ended the season .278/.356/.362, with 3 home runs and 45 steals, the latter a club record for center fielders. In the 1984 NLCS, Dernier led off Game One with a home run and scored three runs in a 13-0 victory over the Padres. Even though the Cubs ultimately came up short, losing the series three games to two to San Diego, Dernier warmly recalled 1984 as the "best summer of my life."55
Before the 1985 season, Dernier signed a three-year, $1.6 million-plus deal with the Cubs. He injured his foot in a game on June 8 and had to have surgery, the first time he had to deal with a serious injury in his career.56 He returned to action on July 10 and despite missing over a month of the season, he still stole 31 bases. In 1986 Dernier led the NL with double plays turned as an outfielder (2) and stolen base percentage (93.10) as he swiped 27 bases and was caught only twice. He injured his right rotator cuff on June 14 while trying to make a throw across his body after tracking down a ball hit by Willie McGee at Wrigley Field, landing him on the disabled list for the second time in two years. He was out of action for six weeks.
In 1987 Dernier hit .317/.379/.497 and socked eight home runs — all career highs — in 93 games. He credited new Cubs hitting coach Billy Williams for helping him with his swing.57 Dernier was not in the plans for the 1988 Cubs, however and he was granted free agency on November 8, 1987. When asked why the Cubs did not re-sign Dernier, manager Don Zimmer said, "He had a very good year, but he was making a lot of money ($708,333) and wanted that type of money again and we weren't willing to pay it."58
Dernier returned to the Phillies for 1988 season and, playing mostly part-time due to nagging hamstring issues, was still able hit .289/.330/.337 and steal 13 bases. He played his last major-league season in 1989 while enduring a right hamstring pull and tear.59 He hit his last major-league home run on May 15, 1989, and it was one to remember.60 With the Giants leading the Phillies 2-0, Dernier came to bat against closer Craig Lefferts with two men on and two outs in the bottom of the 12th inning at Veterans Stadium. On a 1-and-1 pitch, Dernier drilled the ball down the third-base line. It caromed away from Kevin Mitchell in the left-field corner. Dickie Thon and Steve Lake scored and Dernier was waved home, completing the walk-off, inside-the-park home run with an emphatic headfirst slide. Dernier played his final major-league game on October 1. Getting the start in center field and leading off, he popped up and grounded into a double play before being replaced in the field by Dwayne Murphy, a fitting end to a disappointing season for the 1989 Phillies — but an unfortunate swan song for a man who "just flat out loved to play."61
After the 1989 season — as the speedy outfielder was hampered by bilateral hamstring injuries — Dernier was unsure whether his body would allow him to play in 1990. Given an opportunity to take one last shot as a nonroster invitee with the Mets, he started his normal routine throwing and jogging in January, but when he tried to do burst runs, he just knew it was time to hang up the spikes.62
After retiring from baseball, Dernier "spent 18 months on the golf course."63 An eight- or nine- handicapper, as of 2019 he still played golf upward of 80 times a year, often with Kansas City Royals legend Willie Wilson. After his renowned 1982 hole-in-one, he made three more.
Dernier also remained active in baseball. In 1997 he joined the Texas Rangers coaching staff under Johnny Oates and worked with the Rangers through 1998.64 In 2000 he tried his hand at broadcasting with Chip Caray when Steve Stone left the booth for medical reasons.65
After coming so tantalizingly close to a World Series berth with the 1984 Cubs, Dernier had a gnawing sense of "unfinished business" and sought the opportunity to help the Cubs again in a coaching capacity.66 In 2004 he began working with Cubs minor leaguers at spring training and in 2006 took over as the Cubs' minor-league outfielder and base-running coordinator.67 When Lou Piniella stepped down as the Cubs manager on August 22, 2010, a coaching shuffle led Dernier to be inserted as the first-base coach under manager Mike Quade, a position he held until Quade was fired after the 2011 season.68
As of 2019 Dernier was a Cubs ambassador and participated every year in the Randy Hundley Fantasy Camp in Arizona and the annual Cubs Convention.69 He has been enshrined in the Missouri Sports Hall of Fame, Raytown High School Hall of Fame, and Reading Phillies Hall of Fame. After the Cubs won the championship in 2016, Dernier was honored with a World Series ring in appreciation for his service as a ballplayer and maintaining a positive relationship with the organization.
"A lot of players will look back at their career with regrets and wishes to have done things differently, but I just feel blessed to have played in the big leagues, and the 10-year-old boy in me still smiles at the effort I gave and the dream that came true." — Bob Dernier70
Last revised: August 12, 2019

Acknowledgments
This biography was reviewed by Bill Nowlin and Len Levin and fact-checked by David Kritzler.
Sources
In addition to the sources cited in the Notes, the author also consulted baseball-reference.com and Retrosheet.org.
Notes
1 Newspaper clipping of unknown origin in the National Baseball Hall of Fame Library player file for Bob Dernier.
2 Bob Dernier, telephone interview with author, November 20, 2018.
3 Ibid.
4 Ibid.
5 Ibid.
6 Ibid.
7 Ibid.
8 Anvil Welch, "Regional Baseball Opens, Houston Faces Real End," Springfield (Missouri) Leader and Press, May 16, 1975.
9 "2 St. Louisans on All-State Baseball Team," St. Louis Post-Dispatch, May 27, 1975.
10 "Fox Nine Prevails," Anvil Welch, Springfield Leader and Press, May 25, 1975.
11 "Fox of Arnold wins 2A Title," Neosho (Missouri) News, May 25, 1975.
12 Bob Dernier, telephone interview with author, November 20, 2018.
13 Ibid.
14 Ibid.
15 Ibid.
16 "Sugar Creek Wins Tourney," Sedalia (Missouri) Democrat, July 29, 1975.
17 "No-hitter Thrown by Missourian," Daily Journal (Flat River, Missouri), August 21, 1975.
18 Bob Dernier, telephone interview with author, November 20, 2018.
19 Ibid.
20 "B.J., Stengel All-Star Game Set for Sunday," Kansas City Times, June 26, 1976.
21 "B.J. Stars Win," Kansas City Times, June 28, 1976.
22 Bob Dernier, telephone interview with author, November 20, 2018.
23 Ibid.
24 "Kansas Secures Good Juco Hitters," Springfield News-Leader, May 13, 1977.
25 Bob Dernier, telephone interview with author, November 20, 2018.
26 Ibid.
27 Ibid.
28 Ibid.
29 Ibid.
30 "Bob Dernier: First Helena Phillie to Make Majors," Independent-Record (Helena, Montana), August 27, 1980.
31 Bob Dernier, telephone interview with author, November 20, 2018.
32 Charlie Dean, "Dernier Endured Well for Phils," Newport News (Virginia) Daily Press, October 9, 1983.
33 "Bob Dernier: First Helena Phillie to Make Majors."
34 Bob Dernier, telephone interview with author, November 20, 2018.
35 Ibid.
36 Ibid.
37 Ibid.
38 Ibid.
39 Ibid.
40 "Dernier's Switch-Hitting Experiment Draws Early Good Grades," Kansas City Star, April 27, 1983.
41 "Notes," Philadelphia Inquirer, June 25, 1982: 51.
42 Bob Dernier, telephone interview with author, November 20, 2018.
43 Ibid.
44 Ibid.
45 Ibid.
46 Ibid.
47 1984 Topps, Bob Dernier, #358.
48 "Phils Recall Dernier, Altamirano Demoted," Fort Lauderdale (Florida) News, May 22, 1983.
49 Charlie Dean.
50 "Dernier, Unhappy with Prospect of Reserve Role, Asks to be Traded," Philadelphia Inquirer, March 23, 1984.
51 Bob Dernier, telephone interview with author, November 20, 2018.
52 Ibid.
53 Ibid.
54 Ibid.
55 Ibid.
56 Ibid.
57 Ibid.
58 "Dernier Signs Phillie Pact," New York Post, December 8, 1987.
59 Bob Dernier, telephone interview with author, April 3, 2019.
60 youtube.com/watch?v=SQ27lmwKreE, last accessed April 3, 2019.
61 Bob Dernier, telephone interview with author, November 20, 2018.
62 Ibid.
63 Ibid.
64 Ibid.
65 Phil Rosenthal, "70 Short Stories for Steve Stone's 70th Birthday," Chicago Tribune, July 14, 2017.
66 Bob Dernier, telephone interview with author, November 20, 2018.
67 Ibid.
68 "Chicago Cubs Names [sic] Bob Dernier First Base Coach," Chicago Sun-Times, August 23, 2010.
69 Bob Dernier, telephone interview with author, November 20, 2018.
70 Clipping of unknown origin in Bob Dernier Hall of Fame player file, December 21, 1999. phillies.com/phanzone_where.cgi?article=Bob_Dernier_.html
Born
January 5, 1957 at Kansas City, MO (USA)
If you can help us improve this player's biography, contact us.
https://sabr.org/sites/default/files/DernierBob.jpg
600
800
admin
/wp-content/uploads/2020/02/sabr_logo.png
admin
2019-08-12 16:42:22
2020-04-09 14:37:32
Bob Dernier