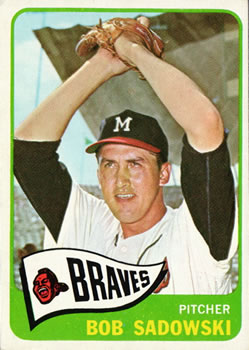 ---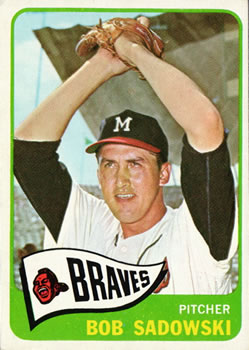 On a comfortable 72-degree evening on July 17, 1965, at Milwaukee's County Stadium, Bob Sadowski held an equally comfortable 4-1 lead going into the top of the eighth. He also was throwing a no-hitter against his hometown Pittsburgh Pirates with a lineup featuring three future Hall of Famers including the great Roberto Clemente. Another of those Hall of Famers, Bill Mazeroski, led off the inning with a lineout to second. Only five outs to go. Pirates manager Harry Walker decided to pinch hit Ozzie Virgil for light-hitting Gene Alley. Virgil promptly singled to center and then the floodgates opened as the Pirates scored four runs in the inning and ruined Sadowski's chance at immortality. Only a two-run, ninth-inning rally saved the Braves from losing the game. Sadowski wasn't the winning pitcher. In a way, the loss of the no-hitter was emblematic of Sadowski's career: there was plenty of promise, but things didn't work out exactly the way he hoped they would.
Robert Sadowski was born on February 19, 1938, in Pittsburgh to Walter and Helen Sadowski. His father was a steel mill laborer who later became an air hammer repairman at Crucible Steel; his mother was a homemaker. Both of Sadowski's parents were born in Poland. Bob was the youngest of seven boys and five girls.1 Of his six brothers, three played professionally: Ted pitched for the Senators and Twins from 1960 to 1962, Ed caught for the Red Sox, Angels, and Braves from 1960 to 1966, and John played one year in the Giants farm system. Another brother, Leo, was a member of the 47th Infantry Regiment – 9th Infantry Division during World War II. The 47th were the first Allied troops to set foot in Belgium on the way towards Germany.2 Unfortunately, Leo perished on November 21, 1944, exactly eight months after joining the army. He was posthumously awarded the Purple Heart and is buried in Henri-Chapelle, Belgium. Jim Sadowski, Bob's nephew, pitched for the hometown Pirates in 1974. Note that there was another Bob Sadowski (in this case Robert J.), an infielder who also played in the majors during the early 1960s. Robert J. is not related to the subject of this biography.
During Bob's formative years, the family resided at 3628 Mintwood Street in the Lawrenceville section of Pittsburgh. This was a seminal location for the ball-playing Sadowskis as St. John's field in Sullivan Park was across the street and no more than 30 yards from the back entrance of their house. Many of the Sadowski boys played for Jack Brick on the St. John's Lyceum sandlot baseball team in the Greater Pittsburgh League.3 Another major leaguer, Ed Rakow, also played for St. John's during this time.4 As a youth, Sadowski attended Kids' Day games at the Pirates' Forbes Field, which was only two and a half miles from his house.5 On Kids' Days, the youth of Pittsburgh were allowed into the ballpark for free. Sadowski would not forget this when he made the big leagues and first visited Forbes Field as a Milwaukee Brave.
When Sadowski was 14 years old his father, Walter, passed away from a cerebral hemorrhage.6 As he grew older, Sadowski's mother was a constant attendee at his games, sitting between the backstop and first base watching her sons play ball at St. John's field.7 At 6-foot-2, Sadowski also played basketball throughout the city.8
As an 18-year-old, Sadowski tried out for the Pirates. "After the workout, I was told by one of the men in charge that I'd be signed. Well I waited and waited — for at least two hours and then went home. I would have signed for nothing — that's how badly I wanted to get in the Pittsburgh organization. I was a Pirates fan since I was this big."9 Instead of signing with the Pirates, Ollie Vanek signed Bob for $3,500 to the St. Louis Cardinals.10 Vanek, then a scout, had been a minor-league manager and had discovered and signed Stan Musial in Donora, Pennsylvania, in 1937.11
In March 1958, the right-handed Sadowski reported to the Cardinals' Florida instructional camp in St. Petersburg and Walter Shannon, the Cards farm director, lamented that "little talent is found in camps now and it's not uncommon to have 100 boys report to camp and have all of them wash out." Sadowski was fortunate that of the 36 players in camp in 1958, only he and Jack Krol were signed.12
The Winnipeg Goldeyes of the Class-A Northern League were Sadowski's first professional team. After pitching eight games in 1958, he took the hill for the eventual champions for the better part of 1959. It was a very successful season. From May 17 to May 20, the Goldeyes' staff tied a league record by twirling three consecutive shutouts and Sadowski contributed the middle shutout with an eight-hit effort against Eau Claire.13 He made the all-star team and finished 15-5, 2.73, before he moved up to the Class-AA Texas League's Tulsa Oilers near the tail end of the 1959 season.
In 1960 Sadowski logged 173 innings first at Double-A Memphis and then at Triple-A Rochester with a combined 9-11 record, 4.01 ERA, and 156 strikeouts. Sadowski headed to Triple-A and to San Juan in 1961 as the International League tried to expand to Puerto Rico. But on May 19, the franchise moved to Charleston, West Virginia, as things didn't quite work out but the team kept the Marlins nickname. Sadowski had pedestrian numbers on the year with a 3.97 ERA, 6-4 record, and a 1.47 WHIP in 93 innings.
The Cardinals Triple-A team set up shop in Atlanta for the 1962 season and Sadowski again toiled the mound for manager Joe Schultz of later Ball Four fame. Again, Sadowski's numbers were less than spectacular with a 10-12 mark, a 4.28 ERA, and a 1.319 WHIP over 166 innings and 27 starts. The Crackers captured the International League playoff title but lost Sadowski during the playoffs with a bone chip in his right elbow.14 It also proved to be a great year for Sadowski off the field as he met and wed the pretty Toni Sullivan, an Atlanta school teacher, in October.15 He was also placed on the Cardinals 40-man roster at the end of the 1962 season.16
Cardinals GM Bing Devine painted the 1963 spring training outlook early on, "Right now, (Harry) Fanok and Sadowski have to be rated as longshots for making the majors next season."17 But now 25 and married, a more mature Sadowski worked with the Cardinals' roving pitching instructor, Clyde King. "Clyde helped me develop my curve and taught me a new grip for my fastball that makes it move more. Just generally, he has taught me how to pitch with my head as well as my arm."18 But Devine's pre-spring training prophecy proved true and on April 2, Sadowski was outrighted to the minor-league camp.19 Sadowski's outright was significant; the reacquisition rules then in place meant he couldn't pitch for the Cardinals until after the draft where every other team could get a crack at him.20 Sadowski was on a mission: to prove the Cardinals wrong for outrighting him and to prove his hometown Pirates wrong for standing him up as an 18-year-old.21
Sadowski, toiling again for Atlanta, started the 1963 season with a glittering 8-1 record and a 2.05 ERA. With his personal predicament and his fantastic start, scouts of nearly a dozen major-league teams began attending Bob's outings with regularity and he became one of the minors' most sought after players.22 Finally, at 1:30 AM CST of the June 15 trading deadline, Sadowski was dealt with Gene Oliver to the Braves for veteran hurler Lew Burdette.23 Because of the trade's late hour and because both GMs had roused their players awake to alert them of the deal before the newspapers did, the Cardinals proposed in early 1964 to change the trading deadline time to noon on June 16 (the measure was vetoed by the commissioner at the end of the season).24 At the time of the trade, Sadowski had lowered his ERA to 1.80, with a 9-2 record, and a blistering 0.98 WHIP over 95 innings. He was clearly ready.
As if a part of a Hollywood script, Sadowski made his major-league debut and first major-league start on June 19, 1963, against his hometown Pirates at County Stadium in Milwaukee. Unfortunately, Sadowski couldn't repeat his Triple-A success on this night as the Pirates scored three runs on seven hits off him in only four innings and went on to win, 6-2. Sadowski's first two strikeouts of his major-league career were future Hall of Famers Roberto Clemente and Willie Stargell. Sadowski pitched well over his next three starts including two complete games but was the hard-luck loser in all three contests and stood at 0-4 with a 3.46 ERA.
On July 21, against the eventual World Series champion Dodgers in County Stadium, Sadowski recorded his first major-league victory as he scattered nine hits and two runs over 7⅔ innings as the Braves won easily, 7-2. On August 6, Sadowski returned to Forbes Field for the first time as a big leaguer. When he strode out onto the field and looked up to the right-field bleachers, he began to cry just thinking that he had finally made it.25 That same day he made his relief debut against the Pirates and went two-thirds of an inning while allowing one hit. Two days later, still in Forbes Field, Sadowski started against the Pirates and went all the way. Unfortunately, he lost 1-0 on a walk-off double to right field by Donn Clendenon that scored Bill Mazeroski.
Over his next three starts, he faced the Dodgers twice and drew their dynamic duo of Don Drysdale and Sandy Koufax. Sadowski bested Drysdale with a seven-inning, one-run performance for a 5-3 victory and, while the Braves lost 2-1 on August 25, he pitched Koufax to a draw as neither of them factored in the decision. He again went seven innings and allowed one run.
On September 5, Sadowski again faced the Pirates and with a "lightninglike slider and sinker ball," he set a season-high Braves total with 12 strikeouts in an 8-0 whitewashing. Pitching coach Whit Wyatt commented that someone in the Cardinals organization goofed by not taking Sadowski north with them at the beginning of the season, and it might cost them the pennant.26 Late in the game, Sadowski was nervous trying to finish off the victory. "It was my first shutout in the majors and I was really going after it. But during the game, it was a great feeling to know I had a nice little cushion working."27 At the time of the trade, Sadowski admitted "I was under a lot of pressure, not only did I want to help justify the trade, but it also was my first major league shot — and I wanted to make good."28 Sadowski posted a stellar 2.62 ERA over 18 starts and 116⅔ innings for the 1963 season. Unfortunately, due to some bad breaks and little run support, he finished with a 5-7 record but with a 2.2 WAR. Sadowski was named the Braves' Rookie of the Year and it seemed he was well on his way to a sparkling career.29
At the onset of 1964, John McHale, Braves GM, felt that they could finish in the top four in the National League if two of the young pitchers could win 15 games apiece and said, "Denny Lemaster and Bob Sadowski have the best chance to do this."30 Sadowski reported to camp 11 pounds heavier than the 193 pounds he carried the year before. His spring focus was on improving his hitting and shedding the extra pounds. "There were six or seven games last year when it made a difference if I had been a better hitter or even a better bunter. I might have won as many as twelve games instead of five. I just couldn't move the runners along."31
Sadowski started the second game of the season and although he had a few early complete-game victories, he also had two starts where he failed to get through the third inning. On May 20, he was moved into the bullpen and pitched primarily from the pen with a few spot starts for the remainder of the year. The Braves finished a respectable 88-74, but that was only good enough for fifth place in the National League. The pitching staff was the main culprit as the hurlers finished with a staff ERA of 4.12. Sadowski ended his sophomore season with a 9-10 record, a 4.10 ERA while making 18 starts in 51 appearances over 166⅔ innings. His hitting did improve from a paltry .057 average in 1963 to .154 average in 1964. Over the winter of 1964, manager Bobby Bragan became convinced that Sadowski should be a starter and planned to put him back in the rotation in 1965.32
The 1965 camp brought an early and lighter version of Bob Sadowski. He was the fourth Brave to report on February 20 and he was 15 pounds lighter than he was in 1964. Sadowski said, "I was so fat last year that I couldn't get loose" and surmised that the weight loss would return him to 1963 form.33 His older brother and catcher, Ed also was in camp that year on the Atlanta (International League) roster.34 Sadowski spent camp in the starting rotation and performed well enough to be the fourth starter at the onset of the season. He started the home opener, designated as "Stand Up for Milwaukee Day" as the Braves began their last season before moving to Atlanta. Sadowski did not disappoint as he fired a complete-game four-hitter against the Cubs with an Ernie Banks home run as his only pitching blemish on a blustery 52-degree day. Attendance for the opener was 33,874 while the next eight home games drew only 20,149 in total. 35
Sadowski injured his knee sometime during or after his May 23 start against the Pirates and didn't pitch again until June 6.36 During this time, he also spent time in a Los Angeles hospital with acute tonsillitis.37 By June 8, Sadowski was 4-2 with a 3.82 ERA when a recurrence of tonsillitis sidelined him again.38 For the remainder of the year, Sadowski was used primarily in relief with some spot starts including the 7⅓ no-hit innings against the Pirates detailed in the opening paragraph. His 1965 season ended in disappointment with a 5-9 record over 123 innings pitched and a 4.32 ERA. Though they were in the race through mid-September, the Braves again finished fifth with an 86-76 record and had the league's worst attendance with only 555,584 patrons.
Shortly after his marriage in 1962, Sadowski purchased a home in an Atlanta suburb and lived there in the offseason. This was a boon as he was one of five Braves along with manager Bobby Bragan to promote the Braves in the fall/winter of 1965 and boost ticket sales in the area for their upcoming inaugural 1966 season in Atlanta.39 As fate would have it, Sadowski wouldn't get to play for his wife's hometown team because he was traded on December 15 to the Red Sox along with Dan Osinski for Lee Thomas, Arnold Earley, and a player to be named later (Jay Ritchie). Sadowski said, "I knew they were going to trade one of us pitchers, so it wasn't any great surprise that it was me." But as The Sporting News pointed out, Sadowski was back at work for the Braves selling tickets the very next day. 40
Early in Red Sox camp, Sadowski's sinker impressed the hitters. It appeared he would win a job in the starting rotation and one BoSox regular bet that Sadowski would lead the team in wins.41 However, Sadowski's arm was sore for most of his time with the Red Sox and he was sent home after a July 4 appearance, never to pitch again in the majors. He did make two relief appearances for the Toronto Maple Leafs and had a 10.80 ERA over five innings. His numbers in the majors that year were only slightly better with a 1-1 record and a 5.40 ERA over 33⅓ innings.
With a sore arm, Sadowski was left off the Red Sox 40-man roster and on April 21, 1967, he was signed by the Atlanta Braves and assigned to the Texas League's Austin Braves. He pitched 12 innings with a lone victory, a 1.417 WHIP, and a 3.00 ERA before hanging them up for good. Sadowski's career major-league numbers were 20-27 and a 3.87 ERA over 115 games. An on-field legacy for Sadowski was the pickoff move he taught Phil Niekro, who was considered to have one of the best right-handed pickoff moves in the National League.42 In 1993 Sadowski was inducted into the Western Chapter of the Pennsylvania Sports Hall of Fame.43
One of Bob's children, Troy, played nine years as a tight end in the National Football League for six different teams including his hometown Falcons, the Chiefs, coached by Pittsburgh native Marty Schottenheimer, and his dad's hometown Steelers.44 Toni passed away of breast cancer in 198645 and Bob eventually remarried to Gale Parris. As of November 2017 they resided in a suburb of Atlanta.
As mentioned at the outset, there was another Bob Sadowski in the majors at the same time as the subject of this biography. The "other" Bob Sadowski commented to baseball historian Bill Nowlin in Red Sox Threads, "I played on the Angels with Ed. Bob and I came out of the Cardinals organization, but then he quickly went to Milwaukee. We often got our mail mixed up, Bob and I. In fact, we got our bubble gum cards mixed up. They'd send me his and he'd get mine. I don't know if he got any of my checks, though!"46
Last revised: April 19, 2018
Sources
In addition to the sources mentioned in the Notes, the author also made use of Retrosheet,org, Ancestry.com, and Baseball-Reference.com.
Acknowledgments
This biography was reviewed by Phil Williams and fact-checked by Alan Cohen.
Notes
1 Walter Sadowski Obituary, Pittsburgh Press, July 28, 1952: 16.
2 http://9thinfantrydivision.net
3 Andy Dugo, "Four Lawrenceville Stars Playing Major League Ball," Pittsburgh Post-Gazette, May 7, 1961.
4 Ibid.
5 Phone conversation with Bob Sadowski, January 12, 2015.
6 Ancestry.com — Walter Sadowski death certificate.
7 Interview with Joseph Zeis Sr., July 4, 2016.
8 Phone conversation with Bob Sadowski, January 12, 2015.
9 Lou Chapman, "Cards 'Goofed On' Bob," Milwaukee Sentinel, September 6, 1963.
10 Furman Bisher, "Sadowski of Crax Plotting Revenge on Cards, Buccos," The Sporting News, May 25, 1963
11 Jan Finkel, "Stan Musial," http://sabr.org/bioproj/person/2142e2e5
12 Red Byrd, "Pickings Slim at Trial Camp Due to Scouting – Shannon," The Sporting News, March 19, 1958: 23.
13 "All-Star Hurler Shines," The Sporting News, July 1, 1959: 37.
14 "Vineyard Wins Eight in Row," The Sporting News. September 29, 1962: 30.
15 Ibid.
16 "Pinpointing Kids Called Up for First Chance," The Sporting News, November 17, 1962: 23.
17 Neal Russo, "Cards Racing Their Motors Over Control Artists Taylor," The Sporting News, December 29, 1962: 8.
18 "Sadowski of Crax Plotting Revenge on Cards, Buccos," The Sporting News, May 25, 1963: 30.
19 J. Roy Stockton, Big Question Marks Cloud Redbirds' Role in N.L. Race," The Sporting News, April 13, 1963: 39.
20 "Sadowski of Crax Plotting Revenge on Cards, Buccos" and Bob Wolf, "Only 3 Original Braves Left as Lou Bids Adieu," The Sporting News, June 29, 1963: 19.
21 "Sadowski of Crax Plotting Revenge on Cards, Buccos."
22 "Major Clubs Eye Sadowski Eight-Game Atlanta Winner," The Sporting News, June 15, 1963: 47.
23 "'Romantic' American League Votes Against Change in Midnight Deals," The Sporting News, December 21, 1963: 10.
24 Ibid.
25 Phone conversation with Bob Sadowski, January 15, 2015.
26 Lou Chapman, "Cards 'Goofed' on Bob," Milwaukee Sentinel, September 6, 1963.
27 Ibid.
28 Ibid.
29 "Aaron Named Braves' MVP; Sadowski Picked Top Rookie," The Sporting News, December 14, 1963: 18.
30 "'Braves Can Win if Eddie Has Big Season' — McHale," The Sporting News, April 25, 1964: 4.
31 "Sadowski Pares Poundage — Perfects Swatting Technique," The Sporting News, March 28, 1964: 33.
32 Bob Wolf, "Braves Asking St. Nick to Fill Bull-Pen Niche, Size Up Niekro," The Sporting News, December 5, 1964: 35.
33 Bob Wolf, "Sadowski and O'Dell Give Swift Kick to Braves' Pitching Blues," The Sporting News, May 1, 1965: 12.
34 Bob Wolf, "Modest Tony Shuns 20-Win Forecast — Goal: Braves' Flag," The Sporting News, March 13, 1965: 22.
35 Compiled by Clifford Kachline, "Eckert, Astrodome, Braves in '65 Spotlight," Official Baseball Guide (1966 Edition), 163.
36 Bob Wolf, "Torre's Torrid Bat Taps Out Bid for All-Star Recognition," The Sporting News, May 22, 1965: 7.
37 Bob Wolf, "Henry's Unhappy Despite His Healthy Batting Mark," The Sporting News, June 12, 1965: 21.
38 Bob Wolf, "Braves Discover They Dug Up Real Jewel in Digger," The Sporting News, July 3, 1965: 9.
39 Furman Bisher, "Braves Release First Atlanta Roster," The Sporting News, November 20, 1965: 23.
40 Furman Bisher, "Thomas Will Free Braves' Torre for Duties as Backstop," The Sporting News, January 1, 1966: 10.
41 Larry Claflin, "Red Sox Close 'Country Club' Lay Down Own Edict to Hustle," The Sporting News, March 19, 1966: 31.
42 Wayne Minshew, "Phil Niekro's Bat as Good as His Arm," The Sporting News, May 10, 1969: 18.
43 John Grupp, "Sadowski Remembered as Teacher, Competitor," North Hills News Record (Pittsburgh), July 21, 1993.
44 NFL.com http://www.nfl.com/player/troysadowski/2502801/profile
45 Eric K. Thomsen, "Fourth and Inches," One Magazine, February-March, 2016.
46 Bill Nowlin, Red Sox Threads (Burlington, Massachusetts: Rounder Books, 2008), 167.
Born
February 19, 1938 at Pittsburgh, PA (USA)
If you can help us improve this player's biography, contact us.
https://sabr.org/sites/default/files/SadowskiBob.jpg
600
800
admin
/wp-content/uploads/2020/02/sabr_logo.png
admin
2018-04-19 17:11:21
2020-04-09 14:40:20
Bob Sadowski