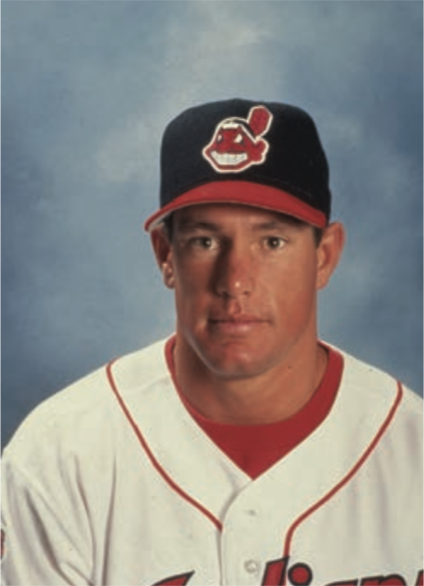 ---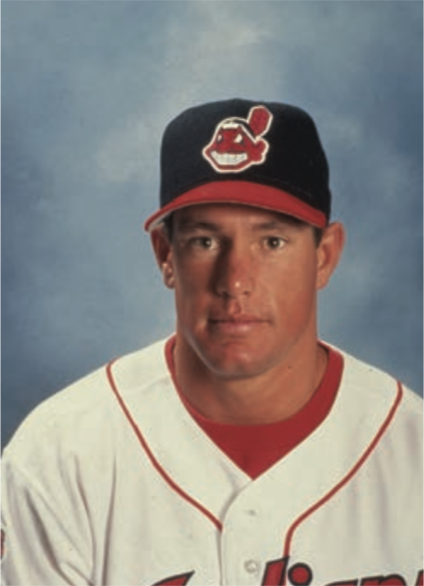 Were it not for the misfortune of attempting to break into the most talented major-league outfield of the 1990s, Brian Giles, as his post-Cleveland career confirms, might have earned a place in Heritage Park at Progressive Field as a member of the Indians Hall of Fame. In Giles' four seasons with the Tribe, 1995-1998, playing alongside stars Albert Belle, Manny Ramirez, Kenny Lofton, and David Justice limited the young slugger's plate appearances. Despite flashing admirable offensive stats and fine defensive range when inserted into the lineup, Giles was traded to the Pittsburgh Pirates after the 1998 season in exchange for reliever Ricardo Rincon in one of the worst deals in Cleveland baseball memory. Over the next 11 seasons, Giles made it impossible for Indians fans to forget the lopsided deal. For the Pirates and later the Padres, Giles proved to be one of the game's most consistent, though underappreciated, sluggers, until a chronic knee injury ended his 15-year career in 2009.
A native of El Cajon, California, in San Diego County and a 1989 graduate of Granite Hills High School, Giles was inducted into his alma mater's athletic hall of fame in 2008 for his exploits on the diamond, gridiron, and wrestling mat. He "slugged two homers in a game … and scored four touchdowns in a game" among many other feats.1 Granite Hills boasted one of the best high-school football backfields in the country. Running alongside Giles was Touchdown Tommy Vardell, a future star running back at Stanford, a first-round draft pick of the Cleveland Browns, and an eight-year fullback in the NFL. Giles' former baseball coach, Gordy Thompson, remembered him as "a disciplined athlete with a good sense of humor" and a "work ethic that is second to none."2 In 1989 Giles was voted the best San Diego County Male Athlete of the Year.
Bill and Monica Giles, Brian's parents, raised four children – Brian, Marcus (seven-year big-leaguer mostly with Atlanta), Kami, and Brandi. His parents "were also crazy for baseball. Bill coached both boys in the Singing Hills Little League, and it was not unusual for the entire Giles clan to convene at a nearby ballfield for a little family BP. Dad would pitch, Brian and Marcus would hit, and Mom and the girls would play the field."3 As is the case with most young ballplayers, Brian had a hero – Padres star and future Hall of Famer Dave Winfield. For Marcus, his hero was his big brother, Brian. Drafted by the Indians in the 17th round of the 1989 amateur free-agent draft, Giles batted .310 at Burlington (Rookie League) in 1989, .289 at Watertown (low Class A), and .310 at Kinston (advanced Class A) in his first three years of professional ball but displayed little power, hitting only five home runs in the low minors. Promoted to Double-A Canton-Akron in the middle of 1992, the young (21) outfielder saw his career blossom. In his first full season with the Indians' Eastern League affiliate, Giles' .327/.409/.452 (BA/OBP/SLG) and his 18 steals in 30 attempts began to turn front-office heads in downtown Cleveland. As prominent was a trait that separated Giles from most other players throughout his career – plate discipline. In that season he walked 57 times while striking out only 43 times in 496 plate appearances.
Giles' physique began to swell along with his statistics. As dedicated in the weight room as he was on the field, Giles transformed his 5-foot-11, 195-pound frame into chiseled granite, and the added muscle and strength produced better power numbers as he moved up to Triple A. In Charlotte (1994) and Buffalo (1995) Giles belted 16 and 15 homers, and his slash line improved. Called up to the Indians on September 16, 1995, for an end-of-the season look-see, Giles did not disappoint, going for 5-for-9 and smashing the first of his 287 major-league home runs.
Giles' 1996 stats at Buffalo (.314/.395./.594 with 20 home runs in 83 games) made it clear to the Tribe brass that he required no additional minor-league seasoning. Called up in July, he was in the big leagues for good. In 51 games for the Indians, he hit .355 with a .612 slugging average and five home runs. Over the next two years, 1997 and 1998, Giles shared left field with David Justice and played some in center and right and at DH.
From 1996 to 1998 Giles played in three American League Division Series, two American League Championship Series, and one World Series with the powerful Indians. In the gut-wrenching seven-game 1997 Series loss to the Florida Marlins, Giles had eight plate appearances in five games and was 2-for-4 with a double.
Desperate for pitching help, the Indians traded the 27-year-old Giles for Pirates reliever Rincon on November 18, 1998, in a deal that would catapult the burgeoning slugger into National League stardom while leaving a multitude of head-scratching Tribe fans bewildered. Rincon proved to be an ordinary bullpen lefty in four years with Cleveland, posting a 3.73 ERA and crumbling in two ALDS opportunities, giving up five earned runs in 2⅔ innings.
In 1999 Giles instantly became the face of the lowly Pirates franchise by blasting 39 some runs and batting in 115 runs. His full tenure as a Pirate was equally productive. Indeed, David Golebiewski of Fangraphs makes "an argument that Giles was one of the top 10 most valuable properties in the game during his time in Pittsburgh [1999-2003]" through a sabermetric statistic, WPA/LI, that represents the sum of win expectancy per-play divided by leverage index. Golebiewski ranked Giles third in the majors in 1999 within this measurement.4 To translate, only two players in all of baseball that year contributed more often to a win than Giles.
Another skill as a hitter that Golebiewski validated sabermetrically was Giles' plate discipline, pointing out his capacity to avoid striking out, to make contact, and to walk. As Golebiewski wrote, "If you want a player who knows the strike zone better than the man in blue behind him, then Brian Giles is your guy."5
For four straight seasons (1999-2002) Giles batted .300-plus with at least 35 home runs for Pittsburgh. But on August 26, 2003, before the nonwaiver trading deadline, Giles, who was enjoying another excellent year at the plate, was sent to his hometown but last-place San Diego Padres for left-handed pitcher Oliver Perez and outfielder Jason Bay.
In seven seasons with the Padres (2003-2009), Giles slammed 83 home runs despite playing at Petco Park, a very unfriendly hitters' ballpark. On April 8, 2004, in the first game at Petco Park, he got the ballpark's first hit. In 2007 he was teammates with younger brother Marcus Giles, who had a seven-year major-league career as a second baseman primarily with the Atlanta Braves.
Giles played in only 61 games in 2009 because of arthritis in his right knee. It became increasingly painful as the season wore on. He did not appear in a game after June 18. A free agent after the season, he made a comeback attempt the next year with the Los Angeles Dodgers but it lasted only briefly as the knee issues returned in a spring-training game. "Cutting in that game, I was starting to feel [knee pain]. It was getting to me, and it takes the fun out of [the game]. It's time and I'm content with it," he said at the time. "Physically, I'm not able to do what I like to do. I really have no regrets. I played the game hard, respected the game."6
A Padre teammate, outfielder Scott Hairston, described Giles as "one of the best I played with. He just grinded it out, each and every at-bat. … Personally, I took it as a privilege to play with a guy like that for a few years. He brought a lot of laughs to the clubhouse. He had a great career." Another teammate, closer Heath Bell, remembered Giles as "a fun guy, upbeat, even when he was hurt."7
Giles' focused, hardscrabble, and fearless style of play directly contrasted with his clubhouse decorum. Former Padres GM Kevin Towers said, "I'd be in (former manager Bruce) Bochy's office having a serious meeting and Brian would come in fully naked, showing his batting stance. He's normal except for the tanning booths, shaving his body and walking around with no clothes."8
Giles was selected for the All-Star Game twice (2000, 2001) and named Player of the Week five times. He led NL left fielders in assists (13) in 2002. Several factors have hurt Giles' legacy and fair-minded consideration as a future Hall-of-Famer.
According to Ben Jedlovec, if Giles "had been given a lineup spot rather than wallowing in Triple-A for three seasons, his career totals would have been more noteworthy. Spending six years in Petco Park probably cost him a few dozen home runs as well."9 Playing on small-market/mostly bottom-feeding teams (Pirates and Padres) didn't work in his favor either. In addition, Giles performed during an era of record-shattering (steroid-triggered) home-run achievements, diminishing the importance of the more than respectable number he clouted. Jedlovec only 12 players have hit more home runs with a better walk-to-strikeout ratio than Giles, including Barry Bonds and Albert Pujols. "The other 10 are Hall of Famers named Williams, Musial, DiMaggio, Gehrig, Ott, Morgan, Berra, Mize, Ruth, and Hornsby. While few would group Giles with 10 inner-circle Hall of Famers, it's clear that his combination of power and patience is in elite company."10
A couple of events brought national attention, albeit controversial, to Giles. The first was a domestic-violence suit brought by a former girlfriend in 2008.11 The second, and more damaging to Giles' on-the-field reputation, concerned former Pirates catcher Jason Kendall who, in a 2009 personal divorce court filing, "disclosed that Brian Giles is someone that he has known since 1997 and when asked if Giles uses Adderall [a banned MLB substance], Kendall said, 'I believe so.'"12 Giles never admitted using a banned substance and has never been tested positive.
The Indians of 1995 will be affectionately regarded for returning the American League pennant to Cleveland for the first time in 41 years. Not to be overlooked on this powerful squad, however, should be a 24-year-old rookie, whose career achievements matched many of those posted by the more familiar names of Belle, Ramirez, Lofton, and Justice. And as the 50th anniversary of the San Diego Padres nears (2019) and Brian Giles' remarkable tenure with the Friars is re-examined, the San Diego high school legend will spark even greater regard.
This biography was published in "1995 Cleveland Indians: The Sleeping Giant Awakes" (SABR, 2019), edited by Joseph Wancho.
1] Leonel Sanchez, "Granite Hills Honors Alumnus Giles," San Diego Union-Tribune, January 24, 2008. Retrieved on November 2, 2017.
2 Ibid.
3 "Marcus Giles," jockbio.com, 2008. Retrieved November 4, 2017.
4 David Golebiewski, "Brian Giles Owns the Strike Zone," fangraphs.com, November 18, 2008. Retrieved on November 3, 2017.
5 Ibid.
6 Tom Singer and Corey Brock, "No Regrets: Giles Calls It a Career," MLB.com, March 11, 2010. Retrieved on October 24, 2017.
7 Ibid.
8 Bob Nightengale, "Welcome to the Quirky, Zany World of Brothers Giles," USA Today, March 17, 2007. Retrieved on October 29, 2017.
9 Ben Jedlovec, "Brian Giles, Hall of Fame Class of 2016?" The Hardball Times, July 22, 2014. Retrieved on November 3, 2017.
10 Jedlovec.
11 "Legal Battle Between Ex-Padres Player Brian Giles, Former Fiancé Cheri Oliver Headed Back to Court," 10news.com, June 9, 2013. Retrieved on November 6, 2017.
12 Vlad, "Jason Kendall Implicates Brian Giles, Bobby Crosby in Possible Adderall Use," bucsdugout.com, March 11, 2010. Retrieved on November 3, 2017
Born
January 20, 1971 at El Cajon, CA (USA)
If you can help us improve this player's biography, contact us.
https://sabr.org/sites/default/files/GilesBrian.jpeg
600
800
admin
/wp-content/uploads/2020/02/sabr_logo.png
admin
2012-01-04 20:34:45
2012-01-04 20:34:45
Brian Giles