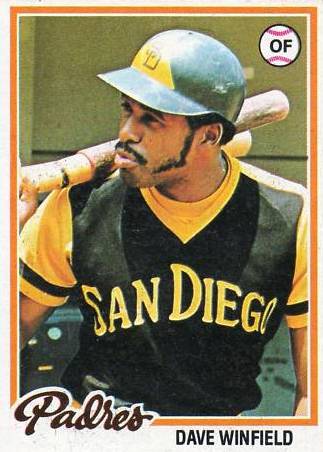 Imposing, confident, complex, charismatic, and controversial, Dave Winfield ranks as one of the greatest multi-sport athletes to emerge from the state of Minnesota. Drafted by major-league teams in three different sports, Winfield chose baseball and compiled a first-ballot Hall of Fame career.
At 6 feet, 6 inches tall and weighing 220 pounds, the powerfully built right-hander wielded a menacing black bat. His long, sweeping swing started with a distinctive hitch. Then, with sudden ferocity, he uncoiled and laced line drives to all parts of the park, sometimes clearing fences and walls, more often slamming into them. He ran the bases aggressively and with purpose. He was a good basestealer and a great baserunner. He played defense with equal enthusiasm. Athletic and graceful, he gobbled up ground with long strides, sported a steady glove, and boasted one of the most lethal throwing arms in the history of the game. And though he was blessed with tremendous physical ability, it was Winfield's preparation and determination, along with his ability to make adjustments at the plate and in the field, that made him a player greater than his tremendous physical talent.
Winfield grew up in St. Paul and excelled in baseball and basketball at Central High School and then at the University of Minnesota. "Winnie" averaged 10.3 points and 6.7 rebounds in 40 Minnesota Gophers basketball games and posted a 19-4 pitching record for the baseball squad. He jumped straight from college to the major leagues and compiled 3,110 hits, 465 home runs, and a .283 batting average in 22 seasons with the San Diego Padres, New York Yankees, California Angels, Toronto Blue Jays, Minnesota Twins, and Cleveland Indians. He played in 2,973 games, had 11,003 official at-bats, collected 1,093 extra-base hits, stole 223 bases, made 5,012 putouts, had 168 assists, and appeared in 12 All-Star Games and two World Series. He was just the fifth player in the history of baseball to compile 3,000 hits and 450 home runs.
But there is so much more to the man than the numbers.
There is Winfield's charity. He was the first active athlete to establish a charitable foundation. For more than three decades, the David M. Winfield Foundation has provided health care, holiday meals, game tickets, educational scholarships, and hope to underprivileged families. Under Winfield's leadership, the foundation developed Turn It Around, an international community-action campaign to prevent substance abuse. For his charitable work, Winfield has earned the YMCA's Brian Piccolo Award for Humanitarian Service, baseball's first-ever Branch Rickey Community Service Award, the American League's Joe Cronin Award, the Josh Gibson Leadership Award, and Major League Baseball's Roberto Clemente Award. He was also awarded an honorary doctorate of laws by Syracuse University.
There is Winfield's business acumen. In addition to serving as president of the Winfield Foundation for years, the big slugger from St. Paul—who once played for Padres owner and McDonald's founder Ray Kroc— possesses a string of Burger Kings, art galleries, a lighting design and contracting company, and a diverse and powerful stock portfolio. He has served on the board of directors for President Bill Clinton's National Service Program, the Morehouse School of Medicine, and the Century Council, and on the advisory boards for the Peace Corps and Major League Baseball's Baseball Players Trust.
There is Winfield's literacy and culture. He is a prolific reader of fiction and nonfiction; he collaborated on his best-selling 1988 autobiography, outlined his plan of action to revitalize baseball in 2007 in Dropping the Ball, wrote Turn It Around: There's No Place Here for Drugs, and authored The Complete Baseball Player. A music lover, he serves as host and narrator for the Baseball Music Project, a series of concerts that feature songs about the national pastime.
There is Winfield's race-relations leadership. As an African American youngster in St. Paul, and later as a major-league baseball player, Winfield encountered racism and battled it with dignity and determination. Granted a public forum by virtue of his occupation, Winfield has spoken and written about race relations, a powerful voice in the community. He developed the idea of honoring former Negro Leagues stars at Major League Baseball's 2008 draft.
There is also Winfield's ego. "Much of America's current self-esteem crisis could be overcome just with Winfield's excess," Sports Illustrated observed in 1992. "Nobody knows better than Winfield that he is handsome, buffed, richly appointed with all the options, well read, well spoken, and well paid."
And then there is Winfield's pride. After eight successful seasons in San Diego, Winfield signed a contract with New York Yankees owner George Steinbrenner that made him the highest-paid player in baseball. But Steinbrenner quickly developed buyer's remorse, the two squabbled, The Boss publicly declared that Winfield wasn't worth the money, disparaged him, and tried to trade him. "Steinbrenner, who did so much to make Winfield's life miserable in the eight-plus years he played for the Yankees, never appreciated the type of player he had," the New York Times observed. "All he did was look at Winfield's hitting statistics. When they lacked lusty numbers, he criticized Winfield. Unlike players and managers from other teams, Steinbrenner never understood the contributions Winfield made with his outfield defense and his baserunning." 
Eventually Steinbrenner even went so far as to pay a known gambler to discredit his star slugger. "Winfield would become the target of owner Steinbrenner's downright vicious crusade to force him out," the New York Times observed while Winfield was with the Blue Jays in 1992. "No doubt he is having the last laugh, but there are times when Winfield sounds like someone who succeeded in spite of his father, and sometimes feels the hurt an abused child must feel all his life." Stung by Steinbrenner's criticism that he was great in the regular season and awful in his first postseason, Winfield cast off the "Mr. May" label with a better 1992 World Series performance, capping it with a two-run double in the 11th inning of the final game of the World Series and placing his decade of discontent with the Yankees behind him.   After Winfield revived his career in California, won a World Series in Toronto, collected his 3,000th career hit in Minnesota, and closed out his playing days in Cleveland, he and The Boss made a form of peace.
In recent years, Winfield also made peace in his complicated personal life. Devoted to the mother who raised him, he reconnected with his father after her death in 1988. That same year he married and, in addition to a child from a previous relationship, had two more children. As a vice president and senior advisor for the Padres, he traveled the world as an ambassador for baseball, delivered motivational speeches, continued his charitable work, and spent time with his family in San Diego.
David Mark Winfield was born in St. Paul on October 3, 1951, the day that Bobby Thomson hit the "Shot Heard 'Round the World," the pennant-winning home run for the New York Giants. David was the second son of Frank Charles Winfield, a World War II veteran and a Pullman porter on the Great Northern Railroad's flagship train, the Empire Builder, and Arline Vivian (Allison) Winfield, a St. Paul native. Frank, who lived in Duluth before he entered military service, met Arline through her brother. The couple divorced by the time David turned 3, and Frank eventually moved to Seattle, remarried, and became a skycap for Western Airlines. Though they saw one another on occasion, David and his father were estranged for much of their lives.  
Arline, who never remarried, raised David and his older brother, Stephen, in their home in a row house on Carroll Avenue, west of the state capitol and just south of the swath that Interstate 94 now cuts through St. Paul. Arline earned a modest living at her job in the St. Paul School District's audio-visual department and raised her sons with the assistance of her mother, Jessie Hunt Allison, who lived a block away, and an extended family of aunts, uncles, and cousins. Arline stressed the value of education to her sons, showed them educational films she borrowed from the school district, and taught them a new word every night. The family lived in a primarily African American neighborhood and worshipped at the African Methodist Episcopal St. James Church on Central Avenue, a couple of blocks north of their home.
"More than anything Ma and I did, I learned from the example she set, learned the value of education, family, work, and a positive attitude," Winfield told writer Tom Parker for his 1988 autobiography, Winfield: A Player's Life. Winfield dedicated the book to his mother, who died later that year of breast cancer.
As youngsters, Dave and Steve played baseball and hockey in St. Paul and followed the Minnesota Twins when they moved to the Upper Midwest from Washington in 1961.  A man named Bill Peterson coached the pair at the Oxford Playgrounds, and the Winfield boys later led his Attucks-Brooks Post 606 baseball team to two American Legion state championships.
The brothers also excelled at Central High School, at the corner of Marshall and Lexington in St. Paul. Steve lettered in baseball three times, captained the team his senior season, 1968, and reportedly was a "prolific base stealer, never being thrown out during his high school career." He was named to the school's Athletic Hall of Fame in September 2007. Younger brother Dave earned All-St. Paul and All-Minnesota honors in both baseball and basketball for the Minutemen and was named to Central's Athletic Hall of Fame in 1995.
At the end of his senior year, Dave stood 6-feet-6 when on June 5, 1969, the Baltimore Orioles selected him in the 40th round of baseball's amateur draft. He passed up that opportunity and accepted a baseball scholarship from the University of Minnesota, where older brother Steve was already enrolled.
The scholarship covered only tuition, and as a freshman Winfield commuted by bus each day to attend class, play forward for the freshman basketball team, and pitch for the freshman baseball squad. He went 4-0 for the Gopher frosh in the spring of 1970, then 8-0 in the Metropolitan Collegiate League, before he and a friend were caught snatching a pair of snowblowers from a local business. Winfield pleaded guilty to a charge of felony theft and was sentenced to three years in the St. Cloud Penitentiary, a sentence that was suspended and, years later, based on his public service and good works, expunged.
Winfield made a repentant return to campus and embraced his second chance. He and Steve led a team dubbed the Soulful Strutters to the campus intramural basketball championship and were invited to scrimmage regularly against the Gophers junior varsity. After he posted an 8-3 record and a Big Ten-best 1.48 earned-run average (ERA) for Dick Siebert's Minnesota varsity baseball team, Winfield pitched and played the outfield for the Fairbanks Goldpanners of the Alaska Summer League, coached by college baseball legend Jim Dietz.
Back on campus for his third year in the fall of 1971, Winfield worked out with the junior varsity basketball team, where he caught the eye of Gophers assistant coach Jimmy Williams. Williams invited him to try out for new head coach Bill Musselman, and Winfield earned a spot on a veteran squad that included Jim Brewer, Ron Behagen, Clyde Turner, Keith Young, Bob Murphy, Bob Nix, and Corky Taylor. The veterans were slow to accept Winfield, but he won them over with his hard work, hustle, and powerful elbows. "He was the best rebounder I ever saw," said Musselman, who would go on to coach in the American Basketball Association and the National Basketball Association.
"Making the team, I give up my half baseball scholarship for a full basketball scholarship," Winfield's autobiography stated. "Anyway, for the first time I can go to classes, go to practices, live away from home, and not have to worry whether I'll be able to afford my meals, my books, or transportation."
If life was more settled off the court, it was frantic on the hardwood, where Musselman coached his players to be aggressive and physical, a style Winfield embraced. "From Musselman I learned to get on that man, to get inside his jersey, his shorts, his jock. I learned first and foremost to be there. To get up in his face when he tried to dribble, and to stay there when he tried to shoot."
On January 25, 1972, Musselman's Musclemen (one of the squad's sobriquets), became too aggressive. Trailing late in a Big Ten showdown with Ohio State before a frenzied crowd at Williams Arena, Corky Taylor was charged with a hard foul on Ohio State center Luke Witte, which knocked Witte to the floor. The Gophers had been unhappy with the way Witte was throwing elbows during the game. When Taylor helped Witte up off the floor, he kneed Witte in the groin. Minnesota's Behagen, who had fouled out earlier, came off the bench and stomped on Witte's head and neck. Quickly, the floor was a sea of players, fans, coaches, and officials. Winfield, who had been sitting on the sidelines, entered the fray, running across the floor to throw punches "like I was spring-loaded." Winfield later told Sports Illustrated, "Hey, I'm not denying I was involved. There was a fight with my team. I was swinging." Though he was later blistered by media members, he escaped the punishment assessed Behagen and Taylor, season-ending suspensions.   Instead, he stepped into Behagen's spot in the starting lineup. As one of the Gophers' Iron Five, Winfield led Minnesota to its first conference championship in 35 years and an appearance in the National Collegiate Athletic Association Tournament.   
The baseball season went less well. In an early-season game against Michigan, Winfield damaged tendons around his right elbow and missed the remainder of the season. Despite the injury, Fairbanks coach Dietz asked him back for the Alaska summer season; Winfield hit .315 with 15 home runs for the Goldpanners as an outfielder and struck out 36 batters as a relief pitcher. He was named the team's Most Valuable Player (MVP) after he led Fairbanks to the league title.
Winfield returned to campus and guided Minnesota's basketball team to a second-place Big Ten finish and a berth in the National Invitation Tournament in New York. When the Gophers were knocked out, he joined the baseball team in Texas, where he lost his season debut on the mound. After that, Winfield was magnificent. He won 13 straight, posted a 2.74 ERA, and hit .385 with 33 runs batted in (RBIs) to earn first-team All-America honors. Named team captain, Winfield led Minnesota to the Big Ten title and to the College World Series in Omaha. In the opener, he shut out Oklahoma 1-0 with 14 strikeouts. The Gophers lost to Arizona State in the double-elimination tournament. After beating Georgia Southern, the Gophers met the University of Southern California. Through eight innings, Winfield limited a Trojans team that included Roy Smalley and Fred Lynn to just one hit and struck out 15. Leading 7-0, but after nearly 140 pitches, Winfield ran out of gas and surrendered a pair of runs in the ninth. With one out, he left the mound and moved to left field. USC rallied and won, 8-7. Despite a third-place finish for the Gophers, Winfield was named the College World Series MVP.
After the season, Winfield was drafted by four teams in four different leagues in three different sports. The San Diego Padres made him the fourth pick of the amateur draft on June 5. The Atlanta Hawks picked him in the fifth round of the National Basketball Association draft, the Utah Stars drafted him in the fourth round of the American Basketball Association draft, and—even though he never played high-school or college football—the Minnesota Vikings selected Winfield in the 17th round of the National Football League draft. Winfield and Colorado's Dave Logan are the only players ever drafted by professional baseball, football, and basketball teams.
Winfield signed with San Diego for $15,000 and jumped straight to the major leagues at the age of 21. He commenced his assault on big-league pitchers with a single in four at-bats against the Houston Astros on June 19, 1973, then collected hits in each of his next five games. Used most often in left field and against left-handers by manager Don Zimmer, the St. Paul slugger collected 39 hits, with four doubles, a triple, and three home runs, batted .277, and drove in 12 runs in his 56-game rookie campaign. He also began to buy blocks of tickets to Padres games for families who otherwise couldn't afford to attend. 
Over the next three seasons, the youngster continued to provide tickets to poor families and power and speed to the Padres lineup. From 1974 through 1976, he slugged 64 doubles, 10 triples, and 48 homers. He also stole 58 bases, with a career-high 26 in 1976. John McNamara, who replaced Zimmer as manager at the start of the 1974 season, used Winfield in all three outfield positions but eventually started using the youngster mainly in right.  For his efforts, Winfield, who created a scholarship fund for minority student athletes from St. Paul that still exists, saw his pay rise to $50,000.
Winfield was unhappy with what the Padres offered in 1977 and elected to play out his option at a 10 percent pay cut. The contract squabble pitted him against Padres general manager Buzzie Bavasi, and, when it looked as though Winfield might be dealt, signs appeared in the ballpark that urged, "Keep Dave, Trade Buzzie." In early July, with the two sides $100,000 apart, Winfield's friend and representative, Al Frohman, came up with an ingenious solution. Under Frohman's plan, The David M. Winfield Foundation for Underprivileged Youth, a tax-exempt organization, was established. The team paid the foundation the $100,000 difference between what Winfield wanted and what the Padres were willing to pay, the foundation handed it right back to the club in exchange for 100,000 game tickets at a dollar apiece, and the foundation distributed the tickets to underprivileged families. Everybody won. Winfield got the four-year, $1.4 million contract he wanted, the Padres sold an extra 100,000 tickets, thousands of kids got to sit in the Dave Winfield Pavilion at San Diego's Jack Murphy Stadium, and Frohman picked up a sizeable commission. 
Winfield signed the contract in early July, in the midst of his 1977 breakout season. Just 25 at the beginning of the season, he batted .275 with 25 home runs and 92 RBIs, clubbed 29 doubles and seven triples, and was named to the National League All-Star team. Winfield made the first of his 12 consecutive appearances in the midsummer classic, smacking a double and a single in the National League's 7-5 victory. The Dave Winfield Foundation drew support from a number of corporations, formed a relationship with the Scripps Foundation to provide free medical checkups to needy families, delivered an anti-drug message, and provided holiday dinners and scholarships to those who otherwise couldn't get them.
In 1978, he was named the first team captain in Padres history, was the National League Player of the Month for June, hit .300 for the first time (.308), slugged 24 homers, 30 doubles, and five triples, drove in 97 runs, scored 88, and stole 21 bases. When San Diego hosted the All-Star Game, the Winfield Foundation bought its usual allotment of pavilion tickets. On local radio, the slugger from St. Paul, scheduled to play in his second All-Star Game, urged "all the kids of San Diego" to attend. When they responded by showing up in droves, Major League Baseball opened practice sessions for the first time, starting a tradition that continues. It was a highlight in a special season for San Diego. Under new manager Roger Craig, with a roster that included Winfield, Rollie Fingers, Gaylord Perry, and rookie shortstop Ozzie Smith, the Padres posted a winning record for the first time, though they finished fourth in the National League's West Division. 
A year later, San Diego slid back to 25 games under .500, though Winfield enjoyed what may have been his finest season. The 27-year old batted .308 again with 34 home runs, 27 doubles, 10 triples, and 15 stolen bases. Winfield drove in a career-best and league-high 118 runs, scored 97, won his first Gold Glove, and finished third in the league's MVP voting behind Keith Hernandez and Willie Stargell. He drew a career-high 85 walks and led the league in intentional passes with 24. "I became a lot more patient," Winfield said. "I learned the strike zone a lot better and I realized that sometimes it's better to take a walk than to make an out on a bad pitch."
Winfield grew less patient with the Padres, and there were suggestions that he was not a team player. "If the Padres go places, I will be a main reason," he said. "But it they falter, I'll still shine." In 1980, with his contract set to expire at the end of the season and no extension in sight, Winfield played in all 162 games for Jerry Coleman, his sixth manager in eight years, and won another Gold Glove but slipped to 20 home runs, 87 RBIs, 23 steals, and a .276 batting average. When the season ended, so did his tenure as a Padre. Not everyone was sad to see him go. "Dave Winfield thinks he is holier than thou," Ozzie Smith said later. "He always acted as if it were his God-given right to tell other people how to do things."
On December 15, 1980, New York Yankees owner George Steinbrenner signed Winfield to a 10-year, $23.3 million contract. Winfield became baseball's highest paid player.
It seemed like a match made in heaven; but it began a decade of pure hell between the two men. From the start there were problems. Steinbrenner, who took great pride in his negotiation skills, didn't understand or didn't fully read the cost-of-living escalator clause that Frohman, Winfield's agent and a man Sports Illustrated described as "a rumpled and retired New York caterer, a two-pack-a-day, fast-talking, 5 ft., 4 in., 220-pound chunk of walking cholesterol—with no experience as a sports agent," had negotiated for Winfield. That clause made the contract worth $7 million more than the $16 million that Steinbrenner thought it was worth, and, when alerted by a media member, the Boss was livid. It was made worse when Frohman, who collected a 15 percent, $3.5 million commission on the deal, reportedly told the New York Daily News, "If he ever touches a hair of my boy's head . . . I'll blow the lid. I've got stuff on George that if it ever came out, he would be in big trouble. It's very easy to be friends with George if you have blackmail on him."
After heated exchanges, Winfield and Steinbrenner reached a compromise—an addendum to the contract that adjusted the cost-of-living increase, reportedly for $3 million to $4 million less over the life of the contract. Winfield also reached an agreement with the Padres, mediated by Commissioner Bowie Kuhn, that called for the Dave Winfield Foundation to meet a contractual obligation to continue to buy tickets for underprivileged children to attend Padres home games. Winfield had already arranged for $4 million of his salary to be donated to the foundation, which partnered with Merck Pharmaceuticals to create a bilingual substance abuse prevention program called Turn it Around.
In his first season in pinstripes, Winfield hit .294 with 13 homers and 68 RBIs in 105 games in the strike-interrupted 1981 season. He batted .350 with two doubles and a triple to lead the first-half champion Yankees over the second-half champion Milwaukee Brewers in the American League East Division playoffs. The Bronx Bombers went on to beat Oakland in the American League Championship Series, but lost to the Los Angeles Dodgers in the World Series, four games to two, a loss that stuck firmly in Steinbrenner's craw.
The Yankees never returned to the postseason with Winfield in the lineup, though he was one of the top players in baseball over the next seven years. He was selected to play in the All-Star Game each year, won five Gold Gloves, and drove in 744 runs. In 1982, he clubbed 37 home runs and drove in 106 runs, batted .280, and slugged a career-best .560 for musical-chairs managers Bob Lemon, Dick Howser, and Clyde King. A year later, Winfield batted .283 with 32 homers and 116 RBIs for Billy Martin, but the most notable day of his season came on August 4, 1983. Warming up in the outfield before the bottom of the fifth inning, Winfield accidentally hit and killed a seagull with a throw at Toronto's Exhibition Stadium. When he tipped his cap in a mock salute to the bird, the hometown crowd reacted by hurling obscenities and objects at him. When the game ended, Winfield was escorted to the Ontario Provincial Police station, booked on charges of cruelty to animals, and forced to post a $500 bond before he was released. Martin joked that "It's the first time he's hit the cutoff man." After the charges were dropped the next day, Winfield remarked to the media, "I am truly sorry that a fowl of Canada is no longer with us." Blue Jays fans booed Winfield every time he appeared in Toronto until he joined the Jays in 1992.
In 1984, Winfield and Yankees teammate Don Mattingly waged a dramatic and wrenching race for the league batting title. Winfield homered 19 times, drove in 100 runs, and batted .340, but Mattingly collected four hits—and a standing ovation each time he batted—against Detroit on the season's final day to finish at .343. The two walked off the field together with clasped hands after the finale, but Winfield was clearly hurt that many of his teammates—and the Yankee ownership—had openly pulled for Mattingly, who was white, over Winfield, a black man. "Most of their teammates were clearly pulling for Mattingly, raising questions about the possibility of race as a factor," the New York Times commented. "I've experienced racism in my life," Winfield told sportscaster and writer Art Rust Jr. "It was all around me when I was on the Yankees and competing with Don Mattingly for the batting title. Here we both were, two guys on the same team, fighting one another for the same thing against a background of manipulative media and the perceptions of hundreds of thousands of fans that were created by that media. There was a vast difference in the amount of encouragement each of us got from the press and the public." Winfield cleaned out his locker and left without speaking to the media after the final game, and some suggested he was resentful of Mattingly. "There was nothing between Donnie and I [sic]," Winfield later said. "We lived different lives. He was a young player who had a lot of support. I just know what I experienced the entire year. It was much different than my teammate did at the same time."
Already strained by Steinbrenner's buyer's remorse and his attempt to deal his big slugger to Texas in 1984, the relationship between Steinbrenner and Winfield worsened in 1985, though New York's best all-around player drove in 114 runs, batted .275, scored 105 times, and clubbed 26 home runs for managers Yogi Berra and Martin. Late in the season, with the Yankees out of the postseason for a fourth straight year, the "Boss" said bitterly, "I got rid of Mr. October [Reggie JacksonIt was irreverent, it was off-color, it was improper, it doesn't fit. I always rejected it. It doesn't apply. It was an inappropriate remark at the time. I didn't appreciate it then." ] and got Mr. May [Winfield]." Winfield told the New York Times, "
Nor did he appreciate Steinbrenner's attempts—public or private—to ruin his reputation, even as he smacked 76 homers and drove in 308 runs between 1986 and 1988 for Lou Piniella and again under Martin. In 1986, Steinbrenner ordered Piniella to platoon Winfield; when he refused, the owner was livid. In 1987, the Boss began to withhold payments he owed to his star slugger to be donated to the Winfield Foundation, despite three court orders to make the payments. Winfield and his new agent, Jeffrey Klein, endured lengthy, heated meetings with Steinbrenner's acerbic attorney, Roy Cohn, often on game days. When Winfield sued, the Boss countersued to have Winfield removed from leadership from the foundation, suggesting that Winfield was running the foundation for personal gain and that his star slugger couldn't be trusted. A report in Newsday suggested that the foundation spent $6 for every $1 it gave away; the numbers were provided by Steinbrenner's lawyers.  "There is no way to fathom what was being done to me," Winfield says. "It was immoral, improper, and reprehensible. It was a battle for everything, your performance, your credibility. Do you know what it's like to have people fooling with your career?"
Steinbrenner continued to try to trade him and stepped up the efforts just before Winfield's autobiography was published in 1988. But with 10 seasons in the majors and five for the same team, Winfield could not be traded without his consent. At times, Winfield was able to joke about the situation. "These days baseball is different. You come to spring training, you get your legs ready, your arms loose, your agents ready, your lawyer lined up." After setting an American League record with 29 RBIs in April 1988, he quipped, "Now it's on to May, and you know about me and May." Whatever levity he might have felt faded away in the fall of 1988. His mother, Arline, died of breast cancer in October, and he suffered a herniated disk and endured offseason back surgery. He was forced to miss the entire 1989 season, which ended his string of 12 straight All-Star Game appearances. And when it looked as though things between him and Steinbrenner could not get worse, they did.
In 1981, Frohman had introduced Winfield to Howard "Howie" Spira, a gambler with alleged Mafia connections, and arranged for Winfield to make a $15,000 payment owed to Frohman to Spira instead. Five years later, Spira approached Winfield and asked for money in exchange for information that "would ruin Steinbrenner." After Winfield refused, Spira visited Steinbrenner, who was desperate for any information that would make his highly paid player look bad, and made a secret, illicit deal with the mercenary gambler. Eventually, Spira publicly accused Winfield of betting on baseball, and, in the shadow of the Pete Rose investigation, the commissioner's office launched another investigation. When it uncovered no evidence that Winfield had bet on baseball but revealed that Steinbrenner had paid Spira $40,000 for his dubious information, on June 30, 1990, Commissioner Fay Vincent ordered Steinbrenner to resign as the club's general partner and banned him from day-to-day operation of the team for life, a sanction that was lifted 2½ years later. Spira was later found guilty of trying to extort an additional $70,000 from Steinbrenner and was sentenced to 30 months in prison for his role in the sordid affair.
In the shadow of the inquiry, Winfield began the 1990 season in pinstripes. He batted just .213 over 20 games with a pair of home runs and six RBIs before the Yankees traded him to the California Angels on May 11, 1990, for pitcher Mike Witt. Winfield argued that his contract didn't allow him to be traded without his consent but accepted the deal on May 16.  Winfield played well for the Angels. He batted .275 with 19 home runs and 72 runs batted in 112 games to earn The Sporting News American League Comeback Player of the Year honors. A year later, Winfield smacked 28 home runs and 27 doubles and drove in 86 runs for the Angels. He homered three times on April 13, 1991, at Minnesota and on June 24, he went 5-for-5 and hit for the cycle for the first time in his career. At the end of the year, he again became a free agent.
On December 19, 1991, Winfield embarked on the most successful year of his career when he signed a one-year contract with Toronto. For the 1992 American League East champs, Winfield batted .290, hit 33 doubles and 26 homers, scored 92 runs, and drove in 108 runs. His numbers as a designated hitter and right fielder were impressive, but it was his hard work and hustle that made him a fan favorite and earned him absolution for the seagull incident. Winfield, the Blue Jays' cleanup hitter, implored fans to be more supportive of the team, and the phrase "Winfield Wants Noise" quickly appeared on T-shirts, signs, and the SkyDome scoreboard. "He is asked about his longevity," Sports Illustrated commented, "and he says, 'For the last few years people have seen me and acted surprised that I'm still playing. Still playing? I'm kicking butt.'"
Winfield smacked a pair of homers and a double in Toronto's four-games-to-two victory over Oakland in the American League Championship Series, then drove in three runs against Atlanta in the World Series. Two came home when he smashed a double down the third base line in the 11th inning of Game Six to give Toronto a 4-2 lead. When the game and the Series ended on Otis Nixon's unsuccessful bunt in the bottom half of the inning, Winfield went from "Mr. May" to "Mr. Jay." 
"I've been thinking about this," Winfield told Sports Illustrated. "If my career had ended [before Toronto], I wouldn't have been really happy with what baseball dealt me. I would have had no fulfillment, no sense of equity, no fairness. I feel a whole lot better now about the way things have turned out."
With a World Series win under his belt, Winfield set out to accomplish another calling, playing for his hometown team. On December 17, 1992, the St. Paul native signed as a free agent with the Minnesota Twins and became a teammate of Kirby Puckett. In 143 games, most of them as Minnesota's designated hitter, he batted .271 with 21 home runs and 76 RBIs. On September 16, 1993, he collected his 3,000 hit, a ninth-inning single off Oakland reliever Dennis Eckersley that plated Puckett.
In 1994, at the age of 42, he hit 10 more home runs before the season was prematurely halted by a players' strike. During the strike, Minnesota dealt him to Cleveland. After the season, Winfield received the Roberto Clemente Award, which annually recognizes the player who best exemplifies sportsmanship, community involvement, and contribution to his team."
On April 5, 1995, as baseball resumed, Winfield signed a new contract with Cleveland. At 43, the oldest player in the majors appeared in 46 games, hit the 464th and 465th home runs of his career, and batted .191 for the Indians, who won their first pennant in 41 years. Winfield did not appear in the postseason. After the Indians lost in the World Series, the St. Paul slugger retired.
In 1999, The Sporting News ranked Winfield 94th on its list of Baseball's Greatest Players, and he was nominated for Major League Baseball's All-Century Team. Early in 2001, Winfield and Puckett were elected to Baseball's Hall of Fame in their first year of eligibility. Steinbrenner issued a statement that said he was delighted by Winfield's election and that he was "probably one of the greatest athletes I have ever known." The New York Times reported that "Steinbrenner also acknowledged the problems the two men encountered, though he didn't say he instigated them, and said that "'today we are good friends.'" Winfield didn't go that far, but said more than once that Steinbrenner had "apologized for what he's said and what he's done."
On August 5, 2001, Winfield and Puckett were inducted into the Hall of Fame. Puckett recalled the time during his rookie year, when Winfield had invited him to dinner, and imparted lessons about baseball and life. "From that point on, Dave Winfield was a friend of mine," Puckett said. "He's a great friend of mine. Any time I can spend in his company is special, not just when we're going into the Hall of Fame."
Two weeks later, August 18, 2001, the St. Paul slugger was honored with Dave Winfield Day at Yankee Stadium. "Here's a day we thought we might not see, but it's here and it's beautiful," Winfield said. The Yankees unveiled his old number 31, painted along the first- and third-base stands, and he was presented with keys for a sports car by his old teammate, Don Mattingly. Although Steinbrenner didn't attend, he did call Winfield. "I'm not the one that's been behind trying to make a Dave Winfield Day at Yankee Stadium," Winfield told the New York Times. "It's been his doing. Things are certainly good now."
Over the years, Winfield has also set some of the relationships in his complicated personal life in order. In February 1988, with Arline, his mother, sitting in the front row, Winfield married Tanya Turner in New Orleans. Just before Arline died later that year, Winfield spent time with his daughter, Lauren Shanel Winfield, whom he fathered with Sandra Renfro, a Houston flight attendant. Renfro, who never lived with Winfield, filed a common-law marriage suit against the ballplayer in 1985, after he had supported her for several years. And when Arline died, Winfield's father, Frank, attended the funeral and the two began to communicate more frequently.
Dave and Tanya settled in Bel Air, California, with their teenage twins, Arielle and David II. Since his retirement, he has been a studio analyst for Fox television baseball broadcasts, hosted a Los Angeles morning drive time radio show, On the Ball, and served as a spokesman for the United Negro College Fund, the Drug Enforcement Administration, the Minnesota Board of Education, and the Discovery Channel. He also appeared in the film The Last Home Run, hosted the syndicate television show Greatest Sports Legends, and appeared on Married with Children, the Drew Carey Show and Arli$$.
Winfield continued to field accolades. In 2004, ESPN named him the third best all-around athlete in the history of sports. He was in the inaugural class of the College Baseball Hall of Fame, inducted on July 4, 2007, and was named to the California Athletic Hall of Fame in 2008. He was also honored by Derek Jeter's Turn2 Foundation. Jeter was one of a number of players who credited Winfield's philanthropic efforts for the inspiration for their own charitable organizations. A highly respected motivational speaker with a smooth, silky voice, Winfield made a practice of addressing clubs, schools, and business about sports, education, health, fitness, teamwork, substance abuse prevention, and youth issues. 
He followed his children's athletic careers, and remembered his own. "I miss going first to third in somebody's face," he told the New York Times just before he was inducted into the Baseball Hall of Fame. "I miss throwing someone out from the outfield. Going from first to third, scoring from first on a double, for a big guy, those are things I really enjoyed. You can hit a ground ball right at an outfielder and if you're busting your backside from home plate, you have a chance for a double. Those are things I enjoyed. Playing defense is something you have to work on and something you have to love. When I first started, I wasn't a good defensive outfielder. I focused on it, enjoyed it, worked on things like charging the baseball. Little things that you do consistently become big things.  Defense was a big part of my game."
Note
A version of this biography appeared in the book Minnesotans in Baseball, edited by Stew Thornley (Nodin, 2009).
Sources
Books
James, Bill.  The Bill James Baseball Abstract. New York: Ballantine Books, 1975.
Rust Jr., Art. Get That Nigger Off the Field: The Oral History of the Negro Leagues. Los Angeles: Shadow Lawn Press, 1992.
Schoor, Gene. Dave Winfield: The 23 Million Dollar Man. Briarcliff Manor, New York: Stein and Day Publishers, 1982.
Winfield, Dave, with Tom Parker. Winfield: A Player's Life. New York: W.W. Norton and Company, 1988.
Winfield, David, with Michael Levin. Dropping the Ball: Baseball's Troubles and How We Can and Must Solve Them. New York: Scribner, 1987.
Periodicals
Newsweek
New York Times
New York Daily News
Sports Illustrated
The Sporting News
Web Sites
http://web.baseballhalloffame.org
http://www.baseball-almanac.com
http://www.baseball-reference.com
http://www.davewinfieldhof.com
http://www.thebaseballpage.com
Photo Credit
The Topps Company