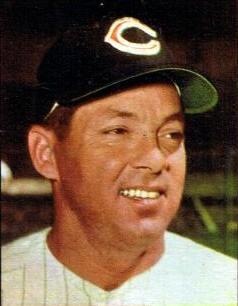 ---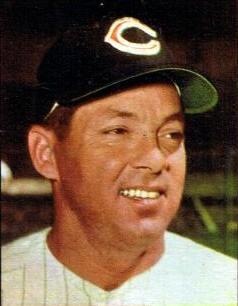 Noted for his versatility, John Melvin "Bubba" Phillips started games at third base and all three outfield positions for the 1959 American League champion White Sox. That year, he played 117 games and had 379 at-bats with five home runs, 40 RBIs, and a .264 average while batting anywhere from the second to the eighth slot in manager Al Lopez's lineup. Phillips provided some key hits during the season, including a 3-for-10 performance in the World Series. The '59 campaign was one of the most satisfying of Bubba's 10-year major-league career, which included stints with the Tigers and Indians along with the four years he spent with the White Sox.
Phillips was born in West Point, Mississippi, on February 24, 1928 (during his playing career his birth year was listed as 1930); his nickname was a childhood one bestowed by his brother. Bubba prided himself on his Southern heritage; Cleveland writer Hal Lebovitz observed in 1961 that Phillips referred to himself as "The Rebel" and liked to tease his Northern teammates, saying, "You Yankees don't know how to live. Come on down to my place. I'll show you how to enjoy life. We'll hunt and fish and take it easy."1
At Macon High School, where he was a standout in football, Phillips became the top prep scorer in the country with 235 points in only nine games, according to an article in the Hattiesburg American. 2 Phillips later downplayed that remarkable average of 26 points per game, telling Chicago scribe Bill Gleason, "We played small schools in our own class, and I had a lot of chances to carry the ball because I was the tailback. I kicked the extra points, too."3
Awarded a football scholarship to Southern Mississippi University (then known as Mississippi Southern College), Phillips ultimately excelled at both baseball and football. Though relatively inexperienced in baseball — back home in Macon, he had mostly played softball — Phillips led the Mississippi Southern baseball team in hits with 36 in 19484 and began drawing the interest of major-league scouts.
At the time, however, Phillips was still known primarily for his football prowess. Playing both cornerback and running back in his four-year college career, Phillips served as a team captain in his senior year of 1950 and was selected a second team Little All-American. He led the team with eight interceptions in 1949, and his Southern Mississippi record of 25 career interceptions from 1947 to 1950 still stands today. As a running back, Phillips rushed for 2,527 yards and 22 touchdowns in the 32 games he played for the Golden Eagles.5 He loved the sport so much, he even once dreamed of becoming a football coach, according his 1958 Topps baseball card. And Hal Lebovitz commented during his major-league career that Phillips "keeps his recruiting eye open for his alma mater."6
"He was one of the greatest running backs I ever saw," Reed Green, former Southern Mississippi athletic director and football coach, told the Hattiesburg American. "He was so quick. He had ample speed, but he wasn't the fastest person. You just couldn't hit him." Green also said that it was he who introduced Phillips to the national pastime.7
Though Phillips was courted extensively by the San Francisco 49ers of the All America Football Conference — according to Bill Gleason, he actually signed a contract with the Niners but then never reported — baseball was the sport Bubba chose to play professionally. Due to the looser eligibility rules of the time, he began his pro baseball while still in college. Signing a contract with the Detroit Tigers organization in 1948, Phillips got into 11 games for the Stroudsburg (Pennsylvania) Poconos in the North Atlantic League, hitting .302. The following year, Phillips moved up to Thomasville, a Tigers farm club in the Class-D Georgia-Florida League, appearing in 138 games and hitting .329. He led the league with 29 outfield assists.
As he moved steadily through the Tigers' minor-league system, Phillips developed a reputation as the Detroit farm system's most promising player. A 1952 article by the Associated Press speculated that Phillips would certainly be a major leaguer the following year. The Tigers manager at the time, Red Rolfe, was so impressed by Phillips' abilities in spring training in '52 that he was tempted to keep the young outfield prospect up with the big-league club that season. However, Rolfe eventually decided that Phillips would be better served by playing one more season in the minors rather than wasting his talents as a bench player in the majors.
As it turned out, it would be three more years before Phillips made his Tigers debut. After a solid season (.291 with 14 homers) with the Tigers' International League farm team at Buffalo in 1952, Phillips was drafted and spent the next two years in the Army. He married the former Martha Green on December 1 of that year, and would remain with Martha until his death in 1993.
Phillips returned to Detroit for the 1955 season, and finally made his first major-league appearance on Opening Day against the Athletics, going 0-for-3 as the Tigers' starting left fielder in the first American League game ever played in Kansas City. During what would become his rookie season, Phillips was used primarily as a bench player, appearing in 95 games and accumulating 184 at-bats. His overall numbers didn't exactly impress — three home runs, 23 RBIs and a .234 batting average. His .304 slugging percentage showed less than promising power, especially for an outfielder. Among the 69 games he played in the field were four games at third base, although his two errors in those appearances showed he needed more time to hone his infield skills.
The 1955 Tigers finished fifth in the American League. In the offseason, Phillips was traded to the Chicago White Sox for veteran right-handed pitcher Virgil Trucks. Though Trucks would turn 39 in 1956, he was a 13-game winner for the Sox in '55, so it was apparent that the South Siders regarded Phillips pretty highly.
However, Phillips was again mainly relegated to the bench in his first full season with Chicago. He appeared in 67 games and had only 99 at-bats, although his average improved to .273. As an outfielder, Phillips just didn't hit well enough to play regularly, but his competent fielding skills and an ability to play all three outfield positions made him valuable as a defensive replacement. He made 24 starts in total, most of them in right field; he also started one game was at third base.
The 1957 season turned out to be something of a milestone for Phillips, as he was moved to third base to platoon with Fred Hatfield. Although he provided more offense at the hot corner (Hatfield only managed a .202 average in 1957), Phillips still needed to improve his skills as an infielder, committing 14 errors that season. Manager Al Lopez felt Phillips' fielding at third was quite adequate, given his initial unfamiliarity with the position. "He can do the job in the field," Lopez told the United Press in an April article. "He's proved that. He's got a good arm and can throw the ball across there fast."8
Phillips finished the year with 393 at-bats, hitting seven home runs and knocking in 42 runs. He also demonstrated that he could be a competent hitter as a full-time position player with his .270 average. He finished the season on a high note, batting .312 (49 for 157) in August and September.
Asked during the '57 season if Bubba was exceeding Chicago's expectations, Sox coach Don Gutteridge, a former major-league infielder who had helped Phillips make the transition from the outfield, told Bill Gleason, "He has done very well, but he didn't surprise me. I had confidence in him all along." Along with his improved play, the Sox admired the hard-nosed football mentality that Phillips brought to the game. "His football training made him a better competitor," Gutteridge commented. "He's the kind of kid who accepts coaching, and he's a kid who loves to play. Back in June he played every day with a very bad ankle that was bruised by a foul."9 Sox vice president John Rigney added, "Remember that he's a fellow who played football as his major sport and picked up baseball as it came along. On certain plays that a kid who had played baseball all his life would make instinctively, Phillips doesn't know what to do. But he's learning all the time and he has a lot of guts. He gives us the strongest arm we've had at third base since Bob Kennedy's younger days."10
But after that breakthrough in '57, the 1958 season was not quite as favorable to Phillips. After getting off to a slow start at bat, Phillips was rounding into his 1957 hitting form when he broke his right foot tripping over first base at Fenway Park on June 8. The injury kept him out of the lineup for six weeks and cut down on his overall playing time, resulting in only 260 at-bats and 72 starts. Phillips also had a challenger at third base in veteran Billy Goodman, who took over at third while Phillips was out and batted .299 in 116 games.
In 1959, Phillips split time with Goodman, starting 86 games at third while also getting 17 starts in the outfield. He had a fine season, highlighted by some big hits for the pennant-winning Sox. On May 10 against Cleveland, in the first game of a doubleheader at home, Phillips tied the score with a home run in the bottom of the eighth inning. With the score tied 4-4 in the bottom of the 11th, Phillips singled to center and brought the winning run home with his third RBI of the game. Phillips also batted in the game-winning run against the Senators on consecutive days (August 21 and 22). The White Sox went on to win the American League flag by five games over the Indians and faced the Los Angeles Dodgers in the World Series.
Splitting time with Goodman, Phillips started Games Two, Five, and Six of the Series and had one hit in all three starts. However, he neither scored nor drove in any runs as Chicago fell to the Dodgers in six games.
Despite the fact that the White Sox had just won their first pennant in 40 years, team president Bill Veeck felt that the club needed an infusion of power in order to repeat, and also wanted to bring longtime Sox favorite Minnie Minoso back to the South Side. On December 6 Phillips was traded to Cleveland along with Norm Cash and Johnny Romano for Minoso, Dick Brown, Don Ferrarese, and Jake Striker. Three days later, the Sox found their replacement at the hot corner by acquiring Gene Freese from the Philadelphia Phillies for outfield prospect Johnny Callison.
During his time in Cleveland, Phillips enjoyed his most productive years as a professional ballplayer, although the success was not immediate. In 1960, Phillips had a difficult year with the Indians, hitting only .207 in 304 at-bats. It was the lowest batting average in his 10-year career, and resulted in Phillips losing starts at third to Ken Aspromonte, whom Cleveland acquired on May 15 of that year. On that very day, Phillips saw his batting average sink to .175.
Yet Phillips rebounded significantly in 1961, putting together his best major-league season. He led all American League third basemen with 18 home runs and collected 72 RBIs in 546 at-bats. His slugging percentage was .408 — the only year he would ever surpass the .400 mark. The season was highlighted by the only two grand slams of Phillips' career. The first came on April 24 against Milt Pappas of the Baltimore Orioles, propelling the Indians to a 5-1 victory. On August 3 he got some sweet revenge against the White Sox, clearing the bases against Frank Baumann in the bottom of the first in a game the Sox eventually came back to win, 8-6. Phillips also won praise for his defensive work. Sizing up a crop of American League third sackers who included glove wizards Brooks Robinson and Clete Boyer, Mel McGaha, a Tribe coach in 1961 who was promoted to manager the next year, asserted that "Bubba Phillips is as good as any third baseman, if not better."11
For a time in '61, Phillips even served as the Tribe's cleanup hitter. "Nothing bothers the boy," Indians manager Jimmy Dykes said of him. "Just watch him between games of a doubleheader. He lays back on the bench, eating an ice-cream stick. He can relax."12
Though his success in 1961 won him a lot of praise, Phillips remained the same unassuming player he had always been. "You can write anything about me you want. Just don't ask me for quotes," he told Hal Lebovitz. "I don't like to pop off. If I tell you what's going through my mind and you print it, I might go zero-for-four the next day and I'd sound like a pop-off." Despite his quiet demeanor, Phillips had a reputation as a bit of a practical joker. Lebovitz described how Phillips hid a rookie reporter's typewriter, then enjoyed watching the scribe searching desperately for his machine.13
In 1962, Phillips had another good year, though he could not match the power surge of the previous season, hitting only 10 home runs while knocking in 54 runs. His average also slipped from .264 in 1961 to .258. However, he continued to earn praise for his glove work at third base. Despite the two solid years as the Indians' third baseman, Cleveland decided to go in another direction by trading Phillips to his original major-league team, the Detroit Tigers, on November 27, 1962, in exchange for pitchers Ron Nischwitz and Gordon Seyfried. Cleveland was making room on the roster for rookie third baseman Max Alvis.
To add insult to injury, Phillips was publicly humiliated in the Cleveland press when the Indians' former vice president, Nate Dolin, told a newspaper that Bubba "doesn't have the ability you want from your third baseman. Phillips is just good enough to lose with."14 However, the Tigers seemed happy to acquire Phillips. Detroit general manager Jim Campbell, who was being criticized for adding too many older players, responded by saving, "Take Bubba Phillips at 32. He's in better shape than a lot of players at 27 or 28."15 Of course, Phillips was actually 34, not 32, but veteran baseball executive Paul Richards praised the deal, saying he'd like to have Phillips.
In 1963, his first season back in Detroit, Phillips shared time at third base with rookie Don Wert. Bubba replicated his offensive production from his pre-Cleveland days, hitting five home runs with 45 RBIs in 128 games. His .310 slugging percentage was the lowest since 1960, although he did achieve a career-best six stolen bases and led the league with 10 sacrifice flies.
Writer Charlie Haeffner, who was a teenager growing up in the Detroit suburb of Bloomfield Hills, often spent time with Phillips during that summer of 1963, learning the finer points of baseball from the veteran major leaguer. "He was a grown boy," Haeffner wrote about Phillips, who befriended Charlie after Haeffner's parents met Bubba and his wife during a trip to Mississippi. "He loved to play with me and my friends in our lake, especially when we played ball-tag with a tennis ball. Man, you didn't want to be hit by that thing when Bubba threw it. It was like a rifle-shot."16
With Wert taking over at third in 1964, Phillips was relegated to the bench again, stepping up to the plate only 99 times in 46 games. "I must say that while I and my friends really disliked Don Wert for taking over the Tigers' starting third-base job," said, Charlie Haeffner. ". . . Bubba was accepting of it. He said Wert was a nice young fellow, and wished him well."17 Phillips' last major-league game was on September 18, 1964, when he came in as a pinch-runner against the Indians during the bottom of the ninth with two out. The next batter flied out as the Tigers lost 3-1. This last appearance came 12 days after his final at-bat — a pinch-hit strikeout against Washington.
After retiring from the game, Phillips worked in real estate, leasing apartment buildings, and selling property throughout southern Mississippi. He also worked as a tennis instructor, teaching classes at his alma mater as well as for the city of Hattiesburg. In his spare time, Phillips took up golf.
Phillips even had a brief stint in the movies, playing Coach Hardy for a 1981 biopic on Satchel Paige. The film was entitled, Don't Look Back and starred Louis Gossett Jr. as the legendary pitcher.
In the fall of 1992, Phillips had open-heart surgery. The following summer, he collapsed while loading his pickup truck at home, and subsequently died of a heart attack, on June 22, 1993. He was 65 years old and a man warmly regarded by those who knew men. Wrote Cleveland sportswriter Franklin Gibbons back in 1962, "I have always been an admirer of Bubba Phillips, who was one of the men they had in mind when they invented that red-blooded sports phrase, 'He came to play.'"
An earlier version of this biography originally appeared in SABR's "Go-Go To Glory: The 1959 Chicago White Sox" (ACTA, 2009), edited by Don Zminda.
Notes
1 Hal Lebovitz, "Blasting Bubba: A Hubba-Hubba Guy With Mace," The Sporting News, July 19, 1961.
2 Bubba Phillips file, National Baseball Hall of Fame library
3 William (Red) Gleason, "The Hubba Bubba Boy and the Sudden Sox," Baseball Digest, August 1957.
4 University of Southern Mississippi Alumni website: http://www.southernmissalumni.com/s/995/index.aspx?sid=995&gid=1&pgid=623&cid=1232&ecid=1232&ciid=1210&crid=0
5 "Ex-White Sox Bubba Phillips Dies," Chicago Tribune, June 23, 1993.
6 Lebovitz.
7 Phillips Baseball Hall of Fame file.
8 "Phillips Now Clicking for Chisox at Bat," United Press article, April 27, 1957.
9 Gleason.
10 Ibid.
11 Bob Dolgan, "McGaha Rates Injun Infield Best in A.L. — With Gloves," The Sporting News, April 25, 1962.
12 Lebovitz,
13 Lebovitz.
14 "Dolin Would Deal Phillips at Once If He Were Boss," The Sporting News, December 1, 1961.
15 Watson Spoelstra, "Plenty of Mileage in Aging Bengals, Campbell Claims," The Sporting News, December 15, 1962.
16 E-mail from Charlie Haeffner to Don Zminda, May 27, 2008.
17 Haeffner.
Born
February 24, 1928 at West Point, MS (USA)
Died
June 22, 1993 at Hattiesburg, MS (USA)
If you can help us improve this player's biography, contact us.
http://bioproj.sabr.org/bp_ftp/images5/PhillipsBubba.jpg
600
800
admin
/wp-content/uploads/2020/02/sabr_logo.png
admin
2016-01-30 10:05:52
2016-01-30 10:05:52
Bubba Phillips