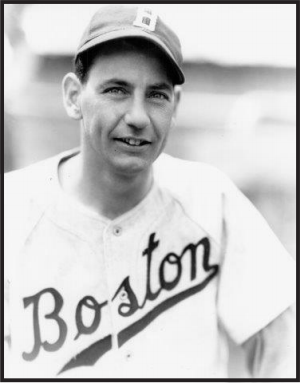 ---
"A Tiller of the Soil"1 – Buck Etchison describing himself when joining his first professional team, March 21, 1939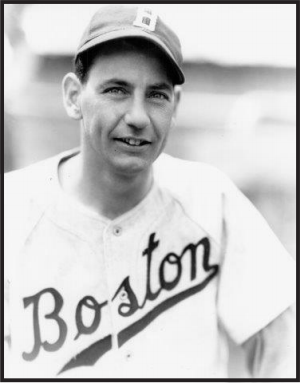 They were called "replacement players," that group of men who played during the Second World War while others were in the military. Often career minor leaguers, they got the call to the big leagues, and most were sent packing once the major leaguers returned from the service.
Standing at 6-feet-1, the 190-pound Buck Etchison was a first baseman who made his major-league debut on September 22, 1943, after an apprenticeship that lasted five years, and took him through six cities.
After a productive 1943 season with the Hartford (Connecticut) Senators of the Class A Eastern League, Etchison joined the Boston Braves. His first major-league at-bat came on September 22, 1943, at Pittsburgh's Forbes Field in front of 1,404 onlookers. It was the top of the eighth inning, and the Braves, behind 3-2, had two runners on with none out. Etchison was called upon by manager Casey Stengel to pinch-hit for Connie Ryan. He took the first two pitches for balls. On the next pitch, he connected. His two-run, opposite-field double off Hank Gornicki went down the left-field line towards the foul pole. The Braves went ahead, 4-3. Etchison scored on a single by pitcher Nate Andrews as the Braves won, 5-3.2 In a doubleheader against the Cubs on October 3, the last day of the season, Etchison doubled in each game and went 3-for-6 as the teams split the twin bill. In his 10 games with the Braves, he batted .316 and was looking forward to 1944.
Clarence Hampton "Buck" Etchison was born on January 27, 1915, in Baltimore, and was raised in nearby Howard County. His parents were Clarence and Florence Johnston Etchison. His sister Daisy Irene came along three years later. It was the second marriage for Florence; she had two children from her prior marriage. Clarence Sr. was an engineer for the B&O Railroad and in 1921, when the future ballplayer was 6 years old, he died when his train struck a car that had become dislodged from oncoming train and was stranded in his path.3
Clarence's mother married James Hobbs in 1924, and the couple had two children, Jane and June. In 1932 Clarence graduated from West Friendship High School, and he spent several years working the family farm and playing on semipro teams in western Maryland.
Etchison's first stop in Organized Baseball was at Marshall (Texas) in the Class C East Texas League in 1939. The stay was brief. He made the Marshall Tigers in spring training and played in Marshall's first two games, going 0-for-6. He was released prior to the game on April 25, by which time the team was 0-6, and changes were deemed necessary.
He then tried out for and was signed by Welsh (West Virginia) in the Class D Mountain State League in 1939. He batted .292 and clubbed two homers in a game four times. Back at Welch the next season, he hit.363, with 31 doubles, 12 triples, and 24 homers. In a doubleheader against Bluefield, he hit three homers, a single, and a double. His slugging percentage was a gaudy .644, second-best in the league. In his league's all-star game against an all-star team from the Virginia League, he went 4-for-5.4
In 1941 Etchison began the season with the Reading Brooks, the Dodgers affiliate in the Class B Interstate League but after 12 games was sent to Grand Rapids of the Class C Michigan State League. There he put together another good season, batting .325 with 17 homers and a league-leading 35 doubles.
Once the United States entered World War II, Etchison spent his offseasons working at the Bethlehem Steel shipyard at Sparrows Point, Maryland, outside Baltimore.
Still in the Dodgers' organization, Etchison started the 1942 season with the Dayton Ducks of the Class C Middle Atlantic League, where he batted .246 in 57 games. After a July 5 doubleheader he left the team and returned home to Maryland. He said he was suffering from dental problems.5 Other sources said he and his manager, Ducky Holmes, had an altercation, with the manager accusing the player of loafing and inviting him to quit, which Etchison did.6 Less than two weeks later, he signed with Elmira in the Class A Eastern League.7 The season had little in the way of highlights, but on July 18, in his third game with Elmira, he went 4-for-5 with a double and a home run, as Elmira defeated Hartford 9-1.8
The Eastern League was loaded with talent that year and the class of the league was Wilkes-Barre pitcher Allie Reynolds. On September 1 against Elmira, Reynolds, with 18 wins, including 11 shutouts, took a no-hitter into the 11th inning of a scoreless game. With two outs in the top of the 11th, and a runner on second, Etchison singled to break up the no-hitter and drive in the winning run.9 In 61 games with Elmira, he batted .239.
In March 1943 Etchison was traded to the Hartford Senators, the Eastern League affiliate of the Boston Braves. He went 11-for-23 in his team's first seven games, "one of the hottest batting streaks the Eastern League has ever seen," according to the Hartford Courant.10 On May 6 Etchison went 3-for-6 at Springfield and drove in the winning run as Hartford won 6-5 in 11 innings. The next day he was 3-for-3 with a double in a 6-3 win. In a doubleheader sweep of Springfield at Hartford on May 9, Etchison's first home run of the season sent the opener into overtime, and his 12th-inning triple set up the win in the nightcap.
Etchison's bat remained hot, and on May 22 his average was over .400. On May 31, he doubled and tripled in a 10-0 win over Springfield, leading Bill Lee of the Courant to exclaim, "Buck hit a couple at the (Bulkeley) Stadium Monday that were something to see. It's been a long time since Hartford has had a hitter who can tee off on a ball the way Etchison does. And the ball he whacks against the fences is a lot deader than the one in use up to last year."11
During the season, a "dimout" law was put in place that required games to end at 9:30 P.M. regardless of the circumstance, as cities along the Eastern seaboard went dark for fear of German spies close to shore. On June 17, with the Senators playing Elmira Pioneers in Hartford, the law was invoked for the first time in the Eastern League. Etchison hit his second homer of the season in the game and Hartford had come from behind to tie the game 9-9 in the bottom of the eighth. The game was stopped in the top of the ninth after Elmira had scored three runs. The score reverted to the result through eight innings, and the game was declared a tie. Over the course of the season, Hartford had to replay four "dimout" games that wound up tied. Two other games were suspended.
On June 21 Etchison hit a triple and three doubles in five at-bats, leading Hartford to a 17-4 romp over Albany. The following day, he went 3-for-3 against the Lawmakers.
Etchison finished the season batting .294 with 26 doubles, 15 triples, 8 home runs, 91 RBIs, and 16 stolen bases. He led the league in runs scored.12 After the season, he was chosen for the league's all-star team.
After third-place Hartford lost in the playoff semifinals, Etchison was called up to the Braves. He started four of the 10 games he played in. He made the squad in spring training in 1944 and spent the entire season with the Braves, taking over at first base for Kerby Farrell. His first of eight homers came on June 18 against the Frank Seward of the Giants in a 9-2 loss. On July 31 he was the only one of Bob Coleman's Braves to solve Fritz Ostermueller, getting the Braves' only two hits in a 9-2 loss to the Pirates. There were few bright spots in the season for the Braves, but one of the team's better performances came on August 30 against the New York Giants at the Polo Grounds. Braves knuckleballer Jim Tobin, retired the first 16 Giants batters and the score stood at 1-1 as the Braves came to bat in the seventh inning. A two-run-homer by Etchison gave the Braves a 3-1 lead and they went on to win 4-2 in a game that took only 87 minutes to complete as 953 fans looked on.13 But the Braves were in sixth place by this point, 43 games out of first.
On September 3, in a game against the Phillies in Philadelphia, Etchison crashed into the stands chasing a foul ball.14 He injured both knees and suffered a bruised shoulder and a back injury15 that kept him on the sidelines until September 14. He missed 14 of the Braves' last 24 games of the season. The back problems limited his mobility and range at first base and helped end his major-league career. He played his last major-league game in the first game of a doubleheader on the final day of the season, October 1, driving in a run with a fly ball as the Braves dropped a 4-3 decision to the Cubs at Braves Field. For the season, Etchison batted .214 with 33 RBIs, playing in 109 games for the sixth-place (65-89) Braves.
After the season the Braves sent Etchison to Milwaukee of the American Association. In May 1945 he was sent to Nashville of the Class -A1 Southern Association. In 104 games with the Cubs affiliate in Nashville, he slugged 15 homers, including one stretch against Atlanta when he slammed six homers in four games to set a league record. The streak included two three-run homers in the same inning.16 In addition to the homer mark for a four-game stretch, he set a league record with 15 RBIs during the five-game series. Etchison's attack on the Southern Association record book was dealt a blow when he fractured a finger on June 17 and was sidelined for two weeks.17 For the season, he batted .258 with 73 RBIs.18 His 15 homers tied him for second-best in the league.
The following season Etchison was assigned to Macon in the Class A South Atlantic League, but did not play for Macon or anyone else until June 9, when he joined York in the Class B Interstate League. After being released by York on August 1, he moved on to Sunbury in the same league. After joining Sunbury, he exacted a bit of revenge on his former team. On August 29 he homered in the sixth inning and stole home in the eighth as Sunbury defeated York, 2-1.19 For the season, he batted .318 with 18 home runs, but by this point it was evident that he would not be returning to the majors.
At the age of 32 in 1947, Etchison was player-manager of the Mahanoy City (Pennsylvania) Bluebirds of the Class D North Atlantic League. That year he set a league record with 163 RBIs20 to go along with 25 homers and a .354 batting average. The following season, he batted .363 for Mahanoy City. In his two years managing at Mahanoy City, his teams went 67-65 and 79-54, finishing fourth each season.
Etchison was quite a character and made an impression on his players including a young outfielder from Detroit named Bobby (not to be confused with Billy) Hoeft. Hoeft was in his first year of professional ball in 1948, and Etchison was his first manager. Hoeft remembered an incident with "this skinny farmer from Endicott, Maryland, who used to spit his Red Man chewing tobacco all over the umpires, who hated the man! Well, anyway on a hot July Sunday game at home, I managed to get picked off second, in a close game. As I crawled off of the field there stood Buck waiting for me on the top step. I was ready for the undertaker! My first words were, 'I thought…' Those two words were all I got out as he bellowed the following sentence at me, 'Don't ever think again "Huffy" (his nickname for me) or you'll ruin my baseball team.'!! Words I'll take to my grave."21
Hoeft's memoir, written in 2002, gives the essence of Buck. Etchison "perpetually had his Mr. Redman plugged into his jaw and shame on you if you got too close to him in a heated exchange. Big Bad Buck was loved/adored by this tough-minded mining town [Mahanoy]."22 Buck had a way of speaking with his players after a poorly played game. He didn't hold back. He would wait until the players were on the team bus and tell the players to close the windows tightly. And then, as Hoeft noted, "That bus rocked and rolled and steamed until Buck Etchison was satisfied that we would never lose another ball game."23
In 1949 Etchison moved on to Griffin, Georgia, in the Georgia-Alabama League, and was with them for 44 games. He was released on July 17 after the team went into a tailspin, losing 12 games in a row. He signed on with Federalsburg in the Eastern Shore League. As his daughter Nancy remembered, in Federalsburg, every time it rained the field would flood.24 The next four seasons Etchison worked in the Philadelphia A's organization. In 1950 the player-manager was at Youngstown, Ohio, in the Class C Mid-Atlantic League, batting .318. The following season he was still in Class C, this time with Rome (New York) in the Canadian-American League. His batting average slipped to .275 and his Colonels finished at a disappointing 46-71.
The first game of a doubleheader on July 1 provided a couple of interesting highlights in an otherwise forgettable campaign. Rome won, 3-0, and Etchison went 3-for-3, the first perfect day at the plate of the season for any member of his squad. A local store, Home Dairy, had a promotion that awarded him free meals for the rest of the season for his accomplishment. He came to the plate only three times because he was ejected in the fifth inning for questioning the decisions of the home-plate umpire.25
In 1952 Etchison moved up one step in the A's system, to Harrisburg of the Class B Interstate League. It was an interesting and unusual season. What happened on June 21 set the season apart. The team was faring poorly at the gate and would eventually be taken over by the league. The season's attendance would be only 30,052 for 70 home games.
To spur interest and gain some publicity (although team officials denied it was a publicity stunt), the team signed Eleanor Engle, a stenographer at IBM who had played some softball, to play shortstop. Etchison and the baseball establishment did not take kindly to the signing.
Engle warmed up with the team and briefly sat on the bench before the game. Once the game started, she was exiled to the press box. The stunt attracted 435 onlookers. Engel did not accompany the team on the road trip that commenced the next day. In newspapers across the country, Etchison was quoted as saying, "I won't have a girl playing for me. This is a no-woman's land and, believe me, I mean it!" In the aftermath of this, National Association Commissioner George Trautman banned female participation in the minor leagues.
On the road, Etchison got back to one of his favorite pastimes – hitting baseballs over fences. In a doubleheader on June 29, he slammed two homers, including the game-winner, in the opener and one in the nightcap as Harrisburg split with Wilmington. On August 8, citing financial reasons, Harrisburg's president and treasurer resigned and Etchison was released and replaced by Woody Wheaton. At the end of the season, the Harrisburg team, and the entire league, folded. Minor-league baseball did not return to the Pennsylvania state capital until 1987.
Etchison moved on to Fayetteville in the Class B Carolina League in 1953. He was the first of three managers of a team that finished 44-95. At the time of his release, on May 20, the team was in eighth place, 9½ games out of first. In his time with the club, Etchison played in 23 games, batting .305. He hung up his spikes after the 1953 season, having posted a .304 batting average with 172 homers in 14 minor-league seasons.
In 1977 Etchison was nominated for the Hall of Fame of the Oldtimers Baseball Association of Maryland.
Etchison had a large family. He met Nancy Lord when they lived near each other in Ellicott City, and they married in in 1934. They had nine children between 1935 and 1953, and had 12 grandchildren, and two great-grandchildren.
Etchison returned to farming, operating the family farm in Ellicott City after his playing days. He sold the farm in 1963 and moved to a home near Cambridge, Maryland. He died of a heart attack at the age of 64 on January 24, 1980. Nancy died on June 21, 2001.
Sources
"Colonels Sign Buck Etchison as Manager," Rome (New York) Daily Sentinel, February 28, 1951, 12.
Dawson, James P., "Braves Overcome Giants 4-2, On Tobin's Hurling and Two Homers: Etchison and Weitelman Tally Three Runs on Four-Baggers to help 'Soft' Ball Star," New York Times, August 31, 1944, 12.
Hoeft, Bobby, When Baseball was Fun: A Baseball Memoir (Xlibris, 2002).
Levy, Sam, "Slugger Buck Etchison, Brewers' New First Baseman, Known as Minor Star," Milwaukee Journal, October 22, 1944, 15.
Owens, Tom, "Bobby Hoeft Joins Tigers Family," in his blog, "Baseball by the Letters," December 28, 2011.
Preston, J.G., "On Eleanor Engle, Who was Not Allowed to Play Shortstop for the Harrisburg Senators," in his blog, "The J.G. Preston Experience," November 21, 2009.
Clarence H. Etchison obituary. Baltimore Sun, January 27, 1980, A14.
Newspapers
Boston Globe
Boston Herald
York (Pennsylvania) Gazette and Daily
Hartford Courant
Milwaukee Journal
Hagerstown (Maryland) Morning Herald
New York Times
The Sporting News
Baseball-Reference.com
FultonHistory.com
GenealogyBank.com
Google News Archive
NewspaperArchive.com
Newspapers.com
Interview with Nancy Etchison Newcomer, eldest daughter of Buck Etchison, April 29, 2014.
Notes
1 Spencer Jones, "Over the Sports Desk," Marshall (Texas) News Messenger, March 21, 1939: 8.
2 Fred Barry, "Braves Nip Bucs in 8th, 5-3, Etchison, Hartford Rookie, Hits Game-Winning Double," Boston Daily Globe, September 23, 1943, 10.
3 Cumberland (Maryland) Evening Times, October 31, 1921.
4 Sam Levy, Milwaukee Journal, October 20, 1944.
5 Rome (New York) Daily Sentinel, February 28, 1951, 12.
6 Charleston (West Virginia) Daily Mail, July 7, 1942, 12.
7 Rome Daily Sentinel, February 28, 1951, 12.
8 Hartford Courant, July 19, 1942, Part 4, 1.
9 Rome Daily Sentinel, February 28, 1951, 12; Hartford Courant, September 2, 1942, 14.
10 Ronald Melcher, "Cardoni's Relief Pitching, Etchison's Hitting Give Senators Two Overtime Wins," Hartford Courant, May 10, 1943, 9.
11 Bill Lee, "With Malice Toward None," Hartford Courant June 2, 1943, 13.
12 Chip Royal, Burlington (North Carolina) Daily Times-News, April 27, 1944, 12.
13 James P. Dawson, New York Times, August 31, 1944, 12.
14 Boston Herald, September 4, 1944, 35.
15 Boston Globe, September 6, 1944, 10.
16 The Advocate (New Orleans), May 24, 1945, 13.
17 Anniston (Alabama) Star, June 19, 1945, 6.
18 Kingsport (Tennessee) News, February 8, 1946, 6.
19 York (Pennsylvania) Gazette and Daily, August 30, 1946, 36.
20 Kingston (New York) Daily Freeman, November 12, 1947, 15.
21 Tom Owens, "Bobby Hoeft Joins Tigers Family," "Baseball by the Letters," on Blogspot, December 28, 2011.
22 Bobby Hoeft. When Baseball was Fun: A Baseball Memoir (Xlibris, 2002), 90.
23 Hoeft, 91.
24 Interview with Nancy Etchison Newcomer, April 29, 2014.
25 Utica (New York) Daily Press, July 2, 1951, 19.
Full Name
Clarence Hampton Etchison
Born
January 27, 1915 at Baltimore, MD (USA)
Died
January 24, 1980 at Cambridge, MD (USA)
If you can help us improve this player's biography, contact us.
http://sabr.org/sites/default/files/Screen%20Shot%202016-08-07%20at%204.39.00%20PM.png
600
800
admin
/wp-content/uploads/2020/02/sabr_logo.png
admin
2012-01-04 20:40:51
2021-07-07 19:20:35
Buck Etchison