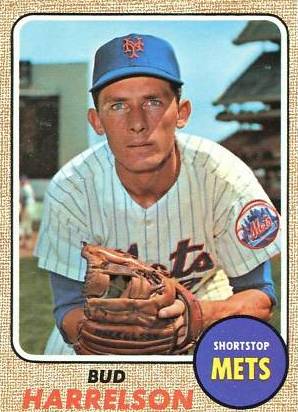 ---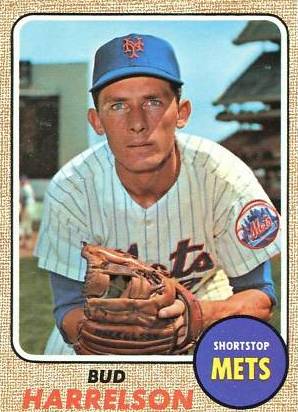 For a player who endured nicknames such as Twiggy, Mini-Hawk, and Mighty Mouse for his light weight and short stature, Bud Harrelson is perhaps best known to the casual baseball fan getting into a fight. There's no doubt that Pete Rose got the better of him in their brawl at second base during Game Three of the 1973 National League Championship Series, but Harrelson's Mets got in the last punch: They won the pennant. And this came just four years after Bud had helped the Mets pull off the ultimate David vs. Goliath upset of the vaunted Baltimore Orioles in the 1969 World Series.
Bud was not known as much of a hitter—as his 16-year career average of .236 with only seven home runs attests—but his defense at shortstop was outstanding. His lifetime fielding percentage was .969 and he won a National League Gold Glove award in 1971. In addition to appearing in two All-Star Games, Harrelson set a since-broken major-league mark with 54 consecutive errorless games at shortstop in 1970. After his playing career ended, he was a coach, a scout, a special instructor, a broadcaster, and a manager in both the minor leagues and major leagues, all in the Mets organization. Said friend and teammate Tom Seaver, "We simply don't win two pennants without him."1
Derrel McKinley Harrelson was born on June 6, 1944 (the same day as the D-Day Invasion), in Niles, California, on the Oakland side of San Francisco Bay. After the second grade, his family moved to nearby Hayward. It was a working-class family. Bud's father, Glenn, was an auto mechanic and a foreman for a used-car agency. The Harrelsons were an athletic household; Glenn was a former football player who dropped out of high school to support his family. Bud's older brother, Dwayne was a running back in football and a shortstop and catcher in baseball. His mother, Rena, ran track in high school and supported her children's pursuit of athletics.
Dwayne unintentionally gave his kid brother the nickname Bud. Dwayne couldn't pronounce Derrel, so he called him Brother, which morphed into Bud. Dwayne was offered a professional contract by the Washington Senators after his senior year of high school, but he chose to go to college instead. An ankle injury dashed any hopes of a career in baseball.
Bud was a natural athlete. Despite his small size and weight, he made his high school football, basketball, and baseball teams. He weighed only 97 pounds when he played football. "I was all helmet and pads," he said, "but I played both ways—halfback and safety."2 Through sheer toughness, he led his league in receptions and made all-star honors. In basketball, he was a great outside shooter, averaging 11 points per game, and an outstanding defender. He captained Sunset High in all three sports and was voted East Bay Athlete of the Year. His first love, of course, was baseball.
Bud played for his high school team in the spring, American Legion ball in the summer, and weekend semipro games in the fall. He had a great arm and played all positions in Little League. In Babe Ruth League he played mostly third base; he didn't move to shortstop until his sophomore year. He cited Coach Don Curley at Sunset High as the biggest mentor in his entire career. "With his help, I really worked at it," Harrelson said. "He taught me a lot and hit grounders to me for hours on end so I could practice. I worked and worked and worked, but I enjoyed it. I learned fast. Shortstop was always for me."3
After high school graduation, no scouts would offer him much because of his size. He was turned down flat by his hometown team, the San Francisco Giants. Bud decided to go to college and improve his chances and mature as a ballplayer. Ironically, he won a basketball scholarship to San Francisco State, but played only baseball. He batted .430 in 30 games to help lead his team to a Far Western Conference Championship. "We played a top-notch schedule against schools such as Stanford, and soon the pro scouts were putting the rush on me," Harrelson remembered nearly 50 years later. "I decided it was time to take advantage of that, and give pro baseball a shot."4
Bud spoke to several scouts, notably from the Yankees, the Cubs, and the Cardinals. The Yankees offered him the most, but he didn't think he would get much playing time. The Mets, coming off their 40-120 inaugural season, offered a much better opportunity for advancement. Scout Roy Partee signed Harrelson on June 7, 1963, the day after the shortstop turned 19, for a little more than $10,000.
Harrelson's professional career began with the Salinas Mets of the Class-A California League. Playing not far from where he grew up, Harrelson was familiar with the area, but not with professional pitching. A right-handed hitter, Bud had no power and was taught how to just make contact and not be a free swinger. His season ended after only 136 at-bats when he was hit by a pitch that broke his left arm. He batted .221 with one homer, two triples, and knocked in nine. He made 18 errors in just 36 games.
That winter, Harrelson began a five-year hitch in the National Guard. In February 1964, he was invited to an early spring training session at St. Petersburg, Florida. He did his best to make the big-league team that spring, with eating as big a part of it as hitting or fielding. Throughout his career he would lose weight off his meager frame as the season progressed. Even a dozen bananas a day didn't do much. In the end, he spent another summer in Salinas, where he showed he could stand up to the rigors of a full season. His fielding also improved; he made 34 errors in 596 chances to lead the league with a .943 fielding percentage. He batted .231 with three homers and 48 RBIs in 135 games.
In 1965, Harrelson moved up to Triple A with the Buffalo Bisons of the International League. He played in 131 games and batted .251 with 15 doubles, two home runs, and 36 RBIs. His fielding was erratic, as it would be early in his career. He led the league in errors with 31 and had a .950 fielding percentage. He was a September call-up for the Mets and made his major-league debut on September 2, 1965. He was inserted as a pinch runner in the eighth inning of a game against the Houston Astros at Shea Stadium, and played shortstop in the ninth.
Harrelson's first plate appearance came on September 5 in St. Louis. Taking over for Roy McMillan in the second game of a doubleheader, He grounded back to pitcher Ray Washburn. Harrelson's first hit was a single off Cubs pitcher Bob Hendley in the first inning of a game at Wrigley Field on September 19. He appeared in 19 games in all and had a meager 4-for-37 account (.108) in his first taste of the big leagues.
After the season, on December 17, Bud married his first wife, Yvonne. He started the 1966 season playing for the Jacksonville Suns, the franchise's new International League farm team. There he met future teammate Tom Seaver. The two Northern Californians—Seaver from Fresno and Harrelson from Hayward—became instant friends. They roomed together on the road with the Mets from 1968 until Seaver's departure from the club in 1977.
At Jacksonville, Harrelson taught himself to become a switch-hitter. One day he tried batting left-handed in the batting cage, and impressed manager Solly Hemus and the director of player development, Bob Scheffing. They suggested that he try it during an exhibition game. Harrelson played a game later that day and bunted left-handed against White Sox knuckleballer Hoyt Wilhelm.
Appearing in 117 games for Jacksonville, Harrelson hit .221 with five triples and 26 RBIs. He made 28 errors in 601 chances for a .953 fielding percentage. Called up to the Mets on August 12, 1966, he played in 33 games, hit .222, stole seven bases including home against the Giants, and made just one error in 144 chances (.993 fielding percentage).
Harrelson became the Mets starting shortstop in 1967, already the 18th in the team's brief history. That happened after his predecessor and mentor Roy McMillan felt a pop in his shoulder during spring training. McMillan's playing career was over. The Mets had acquired Sandy Alomar during that spring to help with the infield, but he contributed little offensively or defensively (Alomar went 0 for 22 as a Met). That left Harrelson, who did not start the season well. He committed 21 errors in his first month, but made only 11 the rest of the season. (In a career that lasted another decade in New York, his 144 starts at shortstop were more than every year except 1970.) McMillan helped Bud work on his fielding, while coach Yogi Berra taught him how to make better contact and use a heavier bat. Skipper Wes Westrum was pleased with the results, even Harrelson's .254 batting average (only his 1973 average of .258 would surpass it in his Mets tenure). Harrelson's speed was also a tremendous asset, as he was successful in his first seven major-league steal attempts, though he was eventually caught 13 times in 25 tries).
Bud hit first major-league home run on August 17, 1967. It was an inside-the-park job in the eighth inning while batting right-handed at Pittsburgh's Forbes Field. "It came off Juan Pizarro," Harrelson wrote in his 2012 memoir, Turning Two, noting that instead of "the great Roberto Clemente" playing right, it was his understudy, ex-Met Al Luplow, manning right. "I hit a line drive down the right field line," Harrelson recounted. "Luplow tried to make a shoestring catch but missed it and lost his balance. His momentum carried across the foul line into the Pirates' bullpen. He bounced off the wall and so did the ball, which ricocheted toward center field […] I could always run, so it was easy for me to circle the bases with my first major league home run."5
Harrelson's offense fell precipitously in 1968, but that wasn't uncommon in the Year of the Pitcher. The Mets now had Gil Hodges running the team—Westrum had resigned in the next-to last week of New York's 101-loss 1967 season—and Harrelson spent much of '68 fulfilling his military obligation, dealing with knee problems, and fighting to keep his batting average out of the low .200s. He finished with a .219 average and then had cartilage removed from his knee, which he had first injured with Jacksonville in 1966 during a takeout slide. With an expansion draft coming and each team required to make players available, Harrelson wasn't worried about being taken by either Montreal or San Diego. He joked that the Mets' owner, thoroughbred enthusiast Joan Payson, would not allow him to be left unprotected. He figured she could count on him to ride one of her horses if he could not play.
Harrelson arrived in St. Petersburg in 1969 having spent the winter lifting weights and quitting smoking. He came in weighing 165 pounds and ceded the lightest-Met prize to 157-pound Amos Otis. Gil Hodges favored platoons for his club at the corners in the outfield and infield, plus second base. Catcher, center field, and shortstop were too important to Hodges to tinker with, even though Jerry Grote was no great shakes with the bat and Tommie Agee in center had a lower 1968 batting average than Harrelson (.217).
Harrelson was sorely missed when he had to serve his military obligation starting in July. Al Weis filled in at shortstop and—true to form for the Mets that year—hit both of his home runs for the season in a huge series at Wrigley Field. Harrelson started just one game in a five-week span because of his obligation, and his batting average, which had surpassed .290 at the beginning of June, got over .250 only a couple of times the rest of the season; he finished at .248. His .341 on-base percentage was crucial since he usually batted second against right-handers and slid down to eighth against southpaws. But on a team with the pitching the '69 Mets had, his glove was more important than what he generated with his bat. Harrelson committed just 19 errors in 119 games at shortstop; his best remembered play of that season was grabbing Joe Torre's grounder and starting the double play that clinched the first Eastern Division title in National League history and set off a riot at Shea Stadium on September 24. Harrelson's game-winning single the night before against Bob Gibson had set the party in motion by assuring the Mets of at least a tie for the division title.
Harrelson was practically flawless in the field in the miraculous postseason. His only error in 44 chances came with one out and no one on in the seventh inning of New York's 11-6 win over the Braves in Game Two of the National League Championship Series. Though he was only 2 for 11 in the NLCS, he drove in three runs and both his hits went for extra bases—giving Harrelson, who would have a lifetime .288 slugging percentage, a stunning .455 slugging mark in the Mets' three-game sweep. He batted .176 in the World Series against the Orioles, but he had three singles and three walks to give him a .300 on-base percentage.
Harrelson played 157 games for the Mets in 1970 and appeared in his first All-Star Game. He went 2-for-3 and scored twice in the game that ended with Pete Rose barreling over Ray Fosse to win the game in the 12th inning. Bud started the All-Star Game the next year at Tiger Stadium as part of a National League lineup that included Hank Aaron, Willie Mays, Willie McCovey, Willie Stargell, and Johnny Bench—Roberto Clemente didn't even start! The game is best remembered for Reggie Jackson's home run off a light tower. Bud remembered his memoir that he knew his role: "Before the game I went out, shagged, took ground balls at shortstop, but I didn't take batting practice. With all those sluggers launching bombs, I figured nobody came to see me lay down three bunts and punch a couple of opposite-field loopers."6
Harrelson at least had an out-of-the-park home run under his belt by that time. It came on April 17, 1970, off Phillies lefty Grant Jackson. In his book, Harrelson explained, "On the home runs I hit out of the park right-handed, I'd run around the bases as if I were being chased or as if I were trying to leg out a triple. I'd sprint all the way into the dugout, where my teammates would be lying on the floor in mock shock."7
The 1970 season was arguably Harrelson's best. To go along with his fence-clearing blast, he knocked in 42 runs and drew 95 walks, by far the most in either category in his career. He also had career highs in games (157), at-bats (564), runs (72), and doubles (18); he flexed as much power as he would ever conjure, with eight triples and eight sacrifice flies. He stole 23 bases in 27 tries after stealing just once successfully in '69. He had a good follow-up season in 1971, winning his only Gold Glove, batting .252, and collecting a career-best 138 hits and 28 steals, but after that season Harrelson's frail frame was seemingly banged up more often than not. He missed 300 games with injuries to his hands, sternum, back, and knee over the next four seasons.
In 1973, the Mets almost pulled off another miracle. They spent most of the year in last place in the National League East and ended the season near the bottom of the league in virtually all offensive categories: 11th in batting (.246), home runs (85), runs (608), and stolen bases (27). Yet they won the pennant.
The Mets were devastated by injuries as they staggered through much of the first five months of the '73 season. Harrelson himself went on the DL twice. He was out of commission with a fractured wrist from June 5 to July 8, and with a fractured sternum in August. When he returned August 18, the Mets were in last place, 13 games under .500, and were still in the cellar on August 30. But propelled by their pitching, the Mets went 19-8 in September to win the division at just three games over .500 (82-79). Harrelson started every game during the stretch run and batted .280 while scoring 12 times and drawing 13 walks in September.
The Mets clinched the NL East on October 1. It was the 161st game of the '73 campaign, played the day after the season ended because the Mets and Cubs had waited out two days of rain at Wrigley Field. The Cincinnati Reds, the West Division winners, were the odds-on favorites to win the best-of-five NLCS. The five games were slated to be played on successive days with the first two games in Cincinnati. The Mets managed a split at Riverfront Stadium, with Tom Seaver losing a 2-1 game and Jon Matlack following with a two-hit shutout.
Back at Shea, the Mets trounced Cincinnati, 9-2, backed by a complete-game, nine-strikeout performance by Jerry Koosman and two home runs by outfielder Rusty Staub. In the fifth inning, already leading by seven runs, the Mets turned a far-from-routine 3-6-3 double play.
When reporters had asked him following the second game about the way the Reds had hit versus Matlack, Harrelson recalled in Turning Two that he innocently replied, "They all look like me hitting."8
During pregame warmups for Game Three, Reds second baseman Joe Morgan grabbed Bud by his uniform shirt and said, "If you ever say something like that about me again, I'll punch you out!" Morgan told Harrelson, "Pete (Rose) is going to use this to get the club fired up. If he has a chance, he is going to come and get you at second."9
The game was so far gone that Reds relief pitcher Roger Nelson batted for himself and fanned to start the fifth against Koosman. Batting second was Rose, who singled to center. The next hitter was Morgan, who hit a ground ball to John Milner at first base. Milner scooped up the ball and threw to Harrelson at second, who fired back to Milner to complete the double play. In the process, Rose had slid hard into second, hitting Bud with his elbow. The 160-pound shortstop then said to the man 40 pounds heavier, "That was a cheap (bleeping) shot." Rose said, "What did you say?" and Harrelson repeated the words, after which Rose grabbed Bud and pinned him to the ground.10 The first to come out to join the fracas was Mets third baseman Wayne Garrett. Next came the Reds coaches and then seconds later both benches cleared and the bullpens charged in.
Immediately after the dust had seemed to settle, there was another brief altercation between a Red and a Met. Mets reliever Buzz Capra was struck by Reds reliever Pedro Borbon. After that fight was broken up, players from both sides put on their caps. Borbon put on what another teammate told him was a Mets cap. Borbon, who earned the nickname Dracula after another incident in 1974, took off the cap and bit a hole in it with his teeth.
Harrelson was left with a bruise over his eye, which he said came from having his sunglasses broken. Neither Rose nor Harrelson was ejected … and that was a mistake. The game was nearly called after the Reds took the field in the bottom of the inning. Rose had taken left field when an array of objects were thrown his way, including a whiskey bottle. Manager Sparky Anderson took his team off the field as the game was delayed for 20 minutes. National League president Chub Feeney, who after conferring with the six umpires, the commissioner, and both teams, decided to send out players from the Mets dugout to restore order. It was only after Willie Mays, Seaver, Staub, Cleon Jones, and Yogi Berra came out to the field to try to calm the fans that play was resumed.
"Being a little guy, I always wore a Superman T-shirt under my jersey," Harrelson said. "When the reporters came over after the game, I taped (an X) over the Superman logo and said, 'It looks like Pete had a load of kryptonite today.'"11
With Game Three finally in the books, the Mets had an unlikely lead in the series. But not for long. Rose came back to homer in the 12th inning of Game Four and even the series. Game Five was a lot like Game Three, except the riot took place after the game. The Mets had a comfortable lead and after Tug McGraw squelched a Reds rally in the ninth, the Shea field was instantly filled with people and the players had to run for their lives.
The Mets nearly knocked off another Goliath in the Oakland A's. Harrelson batted .250 against the A's in the World Series, but his most memorable moment came while running the bases. With Game Two tied in the 10th inning, Harrelson tried to score from third on a short fly by Felix Millan. Joe Rudi's throw to the plate was gloved by catcher Ray Fosse, who "tagged" out Bud…according to umpire Augie Donatelli. Willie Mays, in the on-deck circle, got down on his hands and knees and questioned how Donatelli could make the call. Manager Yogi Berra and Harrelson were more demonstrative in their arguments. The call stood but Harrelson did come around to score the go-ahead run in the 12th inning when he led off with a double and Mays singled him home. The Mets scored three more times and won the game, thanks to two errors that inning by Mike Andrews.
The Mets dropped the World Series after heading to Oakland leading three games to two. It was a sour ending to a great run, but it had been so unexpected that it was hard to say it was heartbreaking. Yet the 13 years that would follow without a pennant would be heartbreaking indeed.
Though Harrelson was injured for much of the four seasons that followed, there was still a core group of the 10 Mets who'd appeared in the 1969 and 1973 World Series. Tug McGraw, Ken Boswell, and Duffy Dyer had been traded after the 1974 season, Cleon Jones was released after an ugly episode in 1975, and Garrett had been dealt during the 1976 season. These Mets had been together through Gil Hodges, Yogi Berra, interim skipper Roy McMillan, Joe Frazier, and now Joe Torre, who'd been elevated from the roster to become manager.
The night before the trade deadline of June 15, 1977, with the Mets in Atlanta, Harrelson, Jerry Grote, Jerry Koosman, and Tom Seaver all went out together for old time's sake. Reality began setting in following their last supper. "As we arrived at the stadium for the game [the next] night, we started hearing the rumors that Seaver was going to be traded," Harrelson wrote in his memoir. "Every inning, I'd come back to the dugout and I'd ask Tom, 'Have you heard anything?'"12 Sure enough, a deal went down right before the deadline. The Franchise was dealt to the Cincinnati Reds for pitcher Pat Zachry, infielder Doug Flynn, outfielder Steve Henderson, and outfielder Dan Norman. The Miracle was a distant memory.
"You know you grow close to a guy after playing with him for 10 years," Harrelson told a reporter after the trade. "You're with him 172 days a year—having hundreds of dinners together, exchanging hundreds of bad jokes. We were perfect roommates. Tom did all the reading and I did all the talking."13
Harrelson finished out the year on the Seaver-less Mets. He played against his old friend when Seaver returned to Shea on August 21. Seaver struck out Harrelson the first two times the old roommates faced each other. Harrelson singled his third time up and scored the only run against Seaver that day on a sacrifice fly by Ed Kranepool, who was also a holdover from '69 and '73. Koosman had the tough assignment of starting against Seaver and—of course—taking the loss.
Infielder Tim Foli, a one-time Mets prospect sent to Montreal in the Rusty Staub deal in 1972, was purchased from San Francisco in the 1977 offseason. The Mets felt Harrelson was done and they handed the job to Foli, and in the words of Daily News beat man Jack Lang, "Harrelson just sat and twiddled his thumbs in spring training. The Mets weren't going to use him, and Bud was unhappy with a bench role."14
So at the end of spring training, the Mets sent Harrelson to the Phillies for cash and Fred Andrews, an infielder whose .174 average had been even lower than Harrelson's anemic .178 in 1977. Andrews didn't even make the lowly Mets club and spent a year playing at Triple-A Tidewater. Harrelson, reunited with old friend Tug McGraw, played second base for the first time in his career. He played all three games of Philadelphia's first trip to Shea Stadium. It was far from the packed homecoming Seaver received and though Harrelson had a hit and scored a run, the Mets came away with the win when they roughed up McGraw and won in the ninth. Harrelson had only one more hit the rest of the weekend, including an 0-fer against Koosman. Harrelson wound up hitting .125 at Shea and .214 overall as a Phillie in 1978. He did not appear in the postseason as the Phillies lost to the Los Angeles Dodgers.
In 1979, Harrelson was joined in Philadelphia by Pete Rose. The former combatants now played on the same side of the infield, though Rose was in the lineup far more frequently than Harrelson. They had patched up the ill feelings about their fabled fight years before. Strangely enough, one of Harrelson's seven major-league home runs came during his first trip to Cincinnati in 1974, the first time Reds fans had the opportunity to boo Harrelson in retaliation for how Mets fans had treated Rose. Despite their legendary battle, Harrelson wrote in his memoir, Rose stuck up for Harrelson in 1979 when Phillies manager Danny Ozark had dared to pencil the light-hitting shortstop ninth in his batting order. "He checked the starting lineup and said, 'That's ridiculous,'" Harrelson recalled.15
Harrelson wound up hitting .282 for the Phillies with a .395 on-base percentage. Those were the highest numbers of his career, though the 71 at-bats were his fewest since he debuted in 1965. He became a free agent after the season and had one more reunion, with ex-Mets Matlack and Staub in Texas. Harrelson returned to shortstop and started 77 games there for the Rangers. He hit his final career home run on June 18, giving him seven for his career—all of them coming batting right-handed, his natural side. In his final game, on October 5, 1980, Harrelson started at shortstop and spent the last five innings at second. He committed an error in the ninth inning, but handled the last ball hit to him cleanly. Seattle's Mike Parrott retired him on a grounder back to the mound to give him a .272 average for the year and a .236 career mark. He played in 1,533 games, 1,322 as a Met. That is still second in franchise history to Ed Kranepool; Harrelson also remains second in at-bats (4,390). He retired as one of just three Mets to have reached the four-digit mark in hits (1,029), and while he dropped a few places on the list, it seems ironic to see the diminutive shortstop's name a few hits ahead of Mike Piazza and Darryl Strawberry on the team rolls. Bud's 45 triples, 115 steals, and 573 walks were all tops in Mets history when he retired. He has since been surpassed in those categories, but Harrelson and Rusty Staub will always share the distinction of being the first Mets players inducted into the club's Hall of Fame, in 1986.
On November 2, 1981, Harrelson was named first base coach for the Mets under manager George Bamberger for the 1982 season. In 1983, he broadcast games for the SportsChannel cable network with Tim McCarver and Ralph Kiner. He became a manager of the first time in 1984, when he skippered the Class-A Little Falls Mets to a 44-31 record and a New York-Pennsylvania League championship. His other minor-league assignment came the following year, 1985, with the Columbia Mets of the Class-A South Atlantic League. He managed for 35 games, going 22-13, before being promoted to New York to take over for Bobby Valentine as third-base coach after Valentine left to manage the Texas Rangers.
Under manager Davey Johnson, the Mets were suddenly a formidable club again. Johnson, whose flyout to Cleon Jones as a member of the Orioles had clinched the 1969 world championship at Shea, managed the team to its second world championship. The 1986 team was the most dominant in Mets history. While the Mets had rallied past the Cubs to take the NL East in 1969, the 1986 Mets had the division wrapped up all summer. They won 108 games, winning the division by 21½ games, beat the Houston Astros in a thrilling six-game NLCS, and defeated the Boston Red Sox in a World Series that will forever be known for Bill Buckner's error at first base in the 10th inning of Game Six. Harrelson, coaching at third, had one of the happiest responsibilities in franchise history, waving Ray Knight home with the winning run and running with him across home plate and into the waiting arms of the entire team. "Knight came racing to third base and I not only waved him home, I accompanied him on his journey," Harrelson wrote in Turning Two. "I had to slow down because I had Ray beat and I couldn't touch home plate or get there before he did."16
Harrelson was the only Met to be in uniform for both the 1969 and 1986 world championships, but his old roommate was in uniform in the other dugout: Tom Seaver, who had been traded to the Red Sox during the season but was injured and unable to pitch (he would never pitch again in the majors, though he have an aborted comeback with the Mets in '87). When it seemed the Red Sox were going to win the Series in the bottom of the 10th, Seaver had caught Harrelson's eye, held his thumb to his ear, and his pinky to his mouth to indicate "I'll call you." When the Mets won Game Seven, Harrelson made the same gesture to his old friend in the Red Sox dugout.
Harrelson remained a coach for the Mets throughout Davey Johnson's tenure. He even had a very brief comeback as a player, appearing for the St. Lucie Legends of the short-lived Senior Professional Baseball Association. Harrelson played just one game and went into the books with a .333 average.
One of his dreams was to manage the Mets and on May 29, 1990, he got that chance when Johnson was fired. Under Harrelson, the Mets won 10 of 17 games before reeling off 11 straight victories to put them three percentage points ahead of the eventual division champion Pirates. The Mets slumped in September, but the club stayed in contention until the last week despite a slew of injuries and new players inserted into a ragtag lineup
But in 1991, with Darryl Strawberry gone to the Dodgers, the remnants of the contending clubs of the 1980s and the replacement parts the Mets had gotten when they'd sent those players away made for a poor mix. Harrelson's managing instincts were sometimes questioned by the media and players. Bench coach Doc Edwards was accused by players of running the team. During a game, Edwards called a pitchout for David Cone to throw while he was facing the Reds pitcher Kip Gross. The June 4, 1991, TV broadcast from Cincinnati captured a finger-pointing exchange between Cone and Harrelson over the call. One player commented, "Buddy has spent the whole season managing like he was everyone's pal, and that doesn't work."17
Although the Mets put together a 10-game winning streak to start July of 1991, when the streak was over, the team's season soon followed. The Mets were 2½ games behind the Pirates with a 49-34 record, but New York dropped 50 of its last 78 games. The Mets finished in fifth place, 20½ games out of first place; it was the team's worst finish since 1983, the year before Davey Johnson arrived.
Bud was replaced by as manager by coach Mike Cubbage in the final week of the '91 season. After his firing, Bud said, "If the public wanted a manager with vast experience, I wasn't it. … If they wanted somebody who would grow with the organization, I think that was me."18
At the time of his dismissal, he held the second-best winning percentage among Mets managers (.529), behind Davey Johnson (.588) and even ahead of mentor Gil Hodges (.523).
In the late 1990s, Bud was instrumental in bringing minor-league baseball to Long Island. The Long Island Ducks began play in 2000 as part of the independent Atlantic League, with Harrelson as co-owner, first-base coach, and senior vice president for baseball operations. "I'm often asked about my best accomplishment in baseball," Harrelson reflected at Hofstra University in Hempstead, N.Y., in 2012, "and I answer, 'The Long Island Ducks.' I say it is the best thing I've ever done because the fans know me, and I know them."19 He managed the Central Islip-based team during their inaugural season and led the Ducks to a tie for first place, at 82-58. In 2004, under manager Don McCormack, the Ducks won the Atlantic League championship.
Harrelson was one of the 43 former Mets on hand for the final game at Shea Stadium in 2008. When they cued up to touch home plate for the last time, Harrelson jumped on it to a big ovation.
Harrelson has been both married and divorced twice. Kim Battaglia became his second wife in 1975, and the two are still very close. He is the father of five: Kimberly, Tim, Alexandra, Kassandra, and Troy Joseph. He moved permanently to Long Island on Opening Day 1969, and never left. "I'm not from New York," Harrelson often said, "but I always say I grew up in New York."20
Bud and his family were hit with a devastating diagnosis in the summer of 2016. Bud was having memory lapses and difficulty finishing sentences. Three years earlier a physician had told him that he was just experiencing stress and depression, "In October 2015 (however), Harrelson was driving to his condo in Venice, Florida, where he visited after every baseball season. It was annual trek – he knew the roads by heart…except this time.' I had no idea where I was, (he) said. "Scared the hell out of me."21
After numerous neurological tests and scans, they confirmed the diagnosis: Alzheimer's disease. Bud and Kim (who in 2019 is Bud's primary caretaker) cried upon hearing the news. Bud later said, "I never thought I'd get something like that…It's usually for somebody big in baseball."22
A couple of years after the diagnosis, Kim and Bud went public with the news. Bud has made appearances at Alzheimer's conferences and events to help raise awareness. A year after his diagnosis, in a trip organized by fellow '69 Met Art Shamsky (Also now a long-time New York resident), three former teammates (Jerry Koozman, Ron Swoboda, and Shamsky) travelled with Harrelson to visit Tom Seaver at his California vineyard in Calistoga. Harrelson's longtime roommate and close friend Seaver has also been diagnosed with a degenerative cognitive disease, with a form of dementia (Seaver and his wife Nancy in fact announced in March 2019 that he has retired from public life entirely). Everyone there had a great time spending a day at the vineyard and having lunch. Everyone was reminiscing, with thoughts overflowing about their careers, the '69 season, and Gil Hodges and Yogi Berra, among others. "Nobody wanted to leave."23 Sadly, with Seaver unable to leave California and Harrelson's continual decline, this will be the last time that they will all be together again.
Harrelson had his number 3 jersey retired (the same number he wore as a New York Met) by the Long Island Ducks at a ceremony on August 3, 2018, at Bethpage Ballpark in Central Islip. Although he still attends Ducks games, he no longer pitches live batting practice.
At 74, Bud has tried to remain positive about his diagnosis, receiving encouragement from his fans and support from friends and family. "I'm not afraid, he says. I see a lot of good people who have this, just like me. It's OK; we're not alone."24
Last revised: September 12, 2019
An earlier version of this biography appeared in SABR's "The Miracle Has Landed: The Amazin' Story of how the 1969 Mets Shocked The World" (Maple Street Press, 2009), edited by Matthew Silverman and Ken Samelson.
Sources
"That Championship Season: 1973." Mets official Yearbook, 1983.
Associated Press. "Just a Melody Lingers for Harrelson." June 18, 1977. Clipping in Harrelson's player file, National Baseball Hall of Fame, Cooperstown, New York.
Blatt, Howard. Amazin' Met Memories: Four Decades of Unforgettable Moments (Atlanta: Albion Press, 2002).
Borgi, Augie. "Bud Impressed Braves, but Winning's the Thing," New York Daily News. May 13, 1976.
Centerfield Maz blog, June 5, 2008, http://centerfieldmaz.blogspot.com/2008/06/bud-harrelson-met-of-day-born…). 
Daley, Arthur. "The Big Switch," New York Times, March 24, 1968.
Doyle, Al. "The Game I'll Never Forget: Former Mets shortstop recalls 1969 World Series When New York Upset the Baltimore Orioles," Baseball Digest, August 2005.
Elliot, Rich. "Harrelson a Good Luck Charm for Mets," Connecticut Post, September 29, 2006. http://www.connpost.com/richelliott/ci_4415977
Gergen, Joe. "Managers Have Star-Studded Resumes," Newsday.com, July 11, 2002, http:www.newsday.com/sports/columnists/ny-gerg112780900jul11.column
Herrmann, Mark. "Buddy: The Mets Long-Haul shortstop," Newsday.com.
Lang, Jack, and Peter Simon. The New York Mets: Twenty-Five Years of Baseball Magic (New York: Henry Holt, 1986).
Libby, Bill. Bud Harrelson: Super Shortstop (New York: G.P. Putnam's Sons, 1975).
Ryczek, William. The Amazin' Mets 1962-1969 (Jefferson, North Carolina: McFarland & Company, Inc. 2008).
Sexton, Joe. "Two Out: Harrelson Joins Cashen," New York Times, September 30, 1991.
Young, Dick. New York Daily News, February 5, 1970. 
Notes
1 Tom Seaver, "Bud Harrelson Has a Fan: It's Seaver," unattributed newspaper clipping found in Bud Harrelson player file, National Baseball Hall of Fame, Cooperstown, New York.
2 Untitled article from a 1970 Baseball Digest, in Harrelson player file.
3 Undated column by Dick Young, "Young Ideas," in Harrelson player file.
4 Bud Harrelson, with Phil Pepe, Turning Two: My Journey to the Top of the World and Back with the New York Mets (New York: Thomas Dunne Books, 2012), 14.
5 Harrelson, 40-41.
6 Harrelson, 103.
7 Harrelson, 41.
8 Harrelson, 140.
9 http://www.foxsports.com/mlb/story/bud-harrelson-recalls-arguably-most-infamous-mlb-brawl-ever-with-pete-rose-100913.
10 "Bud Harrelson Remembers NLCS Brawl with Pete Rose," http://www.foxsports.com/mlb/story/pete-rose-bud-harrelson-40th-anniversary-of-bench-clearing-brawl-in-nlcs-100813, October 8, 2013.
11 Centerfield Maz blog, June 5, 2008, http://centerfieldmaz.blogspot.com/2008/06/bud-harrelson-met-of-day-born-june-6th.html)  
12 Harrelson, 170.
13 "Just a Melody Lingers for Harrelson," June 18, 1977, unattributed newspaper clipping in Harrelson's Hall of Fame player file.
14 Jack Lang, "Harrelson Wants Trade," New York Daily News, March 4, 1978.
15 Harrelson, 180-181.
16 Harrelson, 213.
17 Bob Klapisch, "Is the System Really Buddy's?" New York Daily News, May 30, 1991.
18 Associated Press, "Harrelson's Objective is to Manage Again," Courier News (Bridgewater, New Jersey), October 2, 1991.
19 "Harrelson continues to nurture the Long Island Ducks at Hofstra seminar," BaseballHappenings.net, July 26, 2012. https://www.baseballhappenings.net/2012/07/harrelson-continues-to-nuture-long.html
20 Harrelson expressed these sentiments during the "Miracle Mets" panel at the New York Mets' 50th Anniversary Conference, presented at Hofstra University, April 27, 2012.
21 Bob Klapisch, "Mets Legend Bud Harrelson Is in the Fight of His Life: Alzheimer's," New York Post, February 9, 2018.
22 Mark Herrmann, "Ducks Fans Honor Bud Harrelson with Night to Remember," Newsday, August 3, 2018.
23 Art Shamsky, After The Miracle: The Lasting Brotherhood Of The '69 Mets (New York: Simon & Schuster, 2019), 298.
24 Bob Klapisch, "Mets Legend Bud Harrelson Is in the Fight of His Life: Alzheimer's."
Full Name
Derrel McKinley Harrelson
Born
June 6, 1944 at Niles, CA (USA)
If you can help us improve this player's biography, contact us.
https://sabr.org/sites/default/files/HarrelsonBud2.jpg
600
800
admin
/wp-content/uploads/2020/02/sabr_logo.png
admin
2012-01-04 20:42:04
2021-03-07 17:31:26
Bud Harrelson