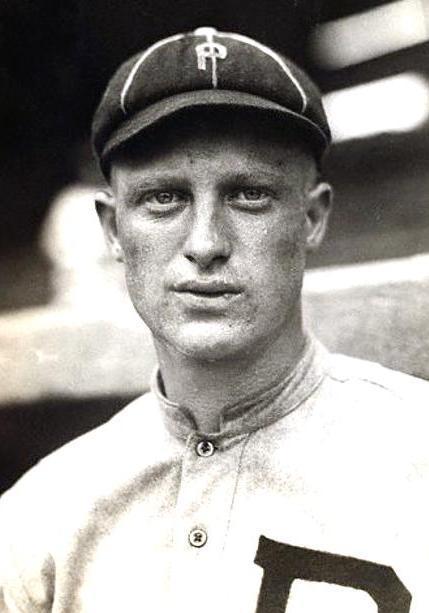 ---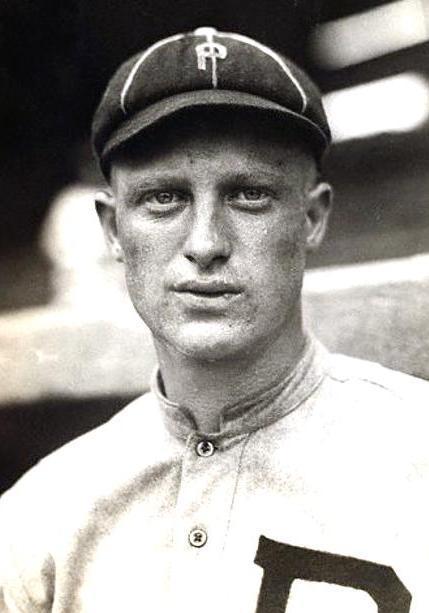 The only native Pennsylvanian on the first Phillies pennant-winning team, outfielder Bud Weiser stepped into major-league play directly from Class D baseball. The "Ty Cobb of the North Carolina League" served in an apprentice's role in 1915, and had a cup of coffee in 1916.1 Weiser then returned to the minors and independent ball, where his career and personal life intersected with intriguing results.
Harry Budson Weiser was born on January 8, 1891, in Shamokin, Pennsylvania. His parents, George and Anna, were native Pennsylvanians. Three of their children survived infancy: Helen, Bertha, and Harry. Anna died in 1896. George worked in a clothing store.
Shamokin lies on the western edge of Pennsylvania's anthracite coal mining region. After completing seven years of public school, Harry went to work, and the 1910 census finds him in the mines. But like his slightly-older Shamokin neighbors, Harry and Stanley Coveleski, baseball offered an alternative to a mining life. In 1908 the first mentions of Weiser's play, at short with the borough's Methodist Church teams, appear.2 Still in Shamokin, he soon advanced to the Bunker Hill nine, then the Maysville Park squad.3
Lave Cross managed the Atlantic League's Shamokin franchise in 1909 before taking over the Carolina Association's Charlotte team. Two years later, Cross plucked Weiser from the Shamokin lots.4 In his professional debut, the youngster appeared in 75 games with the Hornets in 1911. In 27 games at shortstop, his .863 fielding percentage was at the bottom of league regulars at the position. In 40 games in the outfield, his .984 fielding percentage was among the league leaders.5 Weiser patrolled the outfield for the rest of his career.
In August 1912, with the transfer to occur at the season's conclusion, Charlotte sold him to the Southern Association's Atlanta Crackers. The Texas League's Dallas Giants contested the deal, claiming Weiser under a prior agreement with Charlotte whereby they would have their choice from the Hornets' roster. The National Commission validated the Giants' claim.6 Dallas papers pointed out that the Carolina Association had also produced Joe Jackson and "sporting writers of that league say that Weiser is a better looking youngster than Jackson was when the latter left that company."7 Inflated fanfare? Likely. Yet Weiser's .318 average with Charlotte in 1912 was the second-highest in the circuit.
Weiser struggled with the leap from Class D to B. He was hitting only .189 in 18 games when the Giants dealt him back to Charlotte. There Weiser slumped, hitting .250 over the remainder of the campaign.
He rebounded in 1914, leading the league regulars with a .333 average. "Weiser takes a wicked cut at the ball," an onlooker later noted, and he slammed 18 homers, while pacing the circuit with a .560 slugging percentage.8 He stole 29 bases. Splitting time in left and center, his assists and putouts ranked near the top of the leaderboards.9 A Charlotte scribe called Weiser "the best all-around player in the league."10 He batted and threw right-handed and carried 165 pounds over his 5-foot-10 frame.11
Sports pages increasingly referred to him as "Bud" Weiser. Only a few years earlier, the United States had displaced Germany as the world's greatest beer producer. Powered by advances in refrigeration, bottle-making, railroad distribution, and advertising, the German-American lagers of Budweiser, Pabst, and Schlitz led the way.12 In a later era, one imagines Bud Weiser as a natural tie-in for a national marketing campaign. But in his time, a contemporary considered him "of the quiet sort that plugs straight ahead," and family members recall him as a low-key, well-mannered, and somewhat shy man.13
The Atlanta Crackers, Philadelphia Phillies, and St. Louis Browns all scouted Weiser that summer. Based on reports from their scout William "Cap" Neal, Philadelphia offered $750 and allowed Charlotte, then fighting Winston-Salem for the league pennant, to keep their star outfielder until the end of the Carolina campaign.14 The Phillies' offer won out. Charlotte finished in a virtual tie for first. Yet, when the Hornets' season ended in mid-September, the Phillies apparently allowed Weiser to return home to Shamokin.
Hit hard by Federal League defections, the Phillies finished 74-80 in 1914. On October 20, the club promoted coach Pat Moran to succeed Red Dooin as manager. "The Phillies are not burdened with a surplus of playing talent," sportswriter William Weart observed.15 Weiser was their only minor-league acquisition. Baseball peace, and a wider talent pool from returning Federal League players, proved elusive. Moran consequently executed a series of trades that offseason to revamp the squad.
Moran told Weiser to report to Philadelphia in time for a spring training departure. On February 17, 1915, the rookie boarded a Florida-bound train with a contingent of Phillies (and Athletics). Moran ran a highly-disciplined training, with constant drilling, and an emphasis on strategy and teamwork. Weiser exhibited a "marked eagerness to learn," a Philadelphia scribe reported, "and has become quite popular with the veterans."16 Weart, observing the newcomer's hard hitting with the Yanigans squad, labeled him "a grand young prospect."17 Weiser wrote a Charlotte friend: "Very pleasant and agreeable crowd of boys. Am greatly encouraged. Doing all in my power to hold job."18
Yet, due to new 21-man roster limitations, it seemed unlikely he would make the cut. "Weiser has been showing Moran considerable skill, but needs experience," noted Thomas Richter, pointing out that the Phillies had four seasoned outfielders in Possum Whitted, Gavvy Cravath, Beals Becker, and Dode Paskert.19 In early April, Moran announced his intent to farm Weiser out but days later retained him on the final roster.20
Perhaps a tight roster gave Moran's disciplined club a comparative advantage. Yet this didn't translate into many opportunities for a promising youngster like Weiser. Not until April 29, as a ninth-inning pinch-runner, did he see game action. He was stranded as Philadelphia lost, 7-4, to Brooklyn. The next day, Moran placed Weiser in the same situation, with unfortunate results.
The Phillies trailed the Robins, 2-0, in the bottom of the ninth. With one out, Oscar Dugey coaxed a walk from Jack Coombs. Fred Luderus lined a single to right, Dugey taking third. Moran sent Weiser in to run for Luderus. Bill Killefer singled to center, scoring Dugey, with Weiser stopping at second. Pinch-hitter Paskert went down on an infield pop-up.21 Weiser recounted the game-ending play that followed:
I was playing off of second base a respectable distance when the Brooklyn pitcher turned like a flash and threw to second. I had the bag safe on a hook slide, but this [George] Cutshaw already had his leg in front of the sack and I hooked that. I was out—a victim of the knowledge on the part of the second baseman that I wouldn't stick my spikes into that leg, just because I was a new man. He would never have tried that on the veterans. He knew better. After interviewing Manager Moran a few moments later, I made up my mind that legs in the way wasn't going to interfere in the future with my getting back to that bag.22
As Weiser continued to make isolated appearances, Philadelphia regulars began to go down. First baseman Luderus injured his elbow in batting practice on May 5. Moran placed Whitted at first. On May 14, pinch-hitting against Pittsburgh, Weiser collected his first major-league hit, singling off Al Mamaux in the seventh inning. "He just kept throwing them around my neck until I connected," he recalled.23 In the eighth inning of the same affair, Whitted broke two bones in his left ankle running the bases.24 The next day, Moran moved Paskert to first, and placed Weiser in center field, between Cravath in right and Becker in left. This arrangement lasted for five games, until Luderus returned on May 25. Paskert, meanwhile, slumped badly and Moran soon benched him, providing Weiser with another ten starts through June 9.
Over these 15 starts, Weiser usually batted seventh, and went 5-for-50. Later, reflecting on major-league pitching, he noted that, "there is practically none of the 'grooving'" he had preyed upon in the minors. Instead, "the National League pitchers endeavor to keep their offerings low" and "they outguess you—Lord, how they outguess you."25 Yet, despite his struggles, Philadelphia went 8-7 in these games, and retained a narrow lead in a tight pennant race.
As Luderus and Whitted returned to health, and Paskert returned to form, Weiser's playing time dried up. Until starting in left in a meaningless October 1 game at Boston, he made only nine more appearances: four times as a pinch-runner, four times as a pinch-hitter, and once as a defensive replacement. Weiser proved a capable pinch-hitter in 1915: in 11 plate appearances he drew three walks and went 3-for-8 at the plate. His season line: a .141 average, .236 on-base percentage, and a .172 slugging percentage in 77 plate appearances. In the outfield he committed three errors, and finished with an .897 fielding percentage. The Phillies won their first pennant. Weiser was World Series eligible, but saw no action, as the Red Sox defeated the Phillies in five games.
Philadelphia purchased two veteran outfielders, Claude Cooper and Wilbur Good, in February 1916. Weeks later, the team optioned Weiser to New London of the Class B Eastern League. He hit .323 (second-best in the league) and helped the Planters to the pennant. The Phillies recalled him after the Eastern League season ended. That October, after Brooklyn eliminated Philadelphia from the pennant race, Weiser earned a couple starts. In this limited action, he went 3-for-10.
In January 1917, the Phillies dealt Weiser and Ben Tincup to Little Rock in exchange for Ernie Walker. In mid-season, hitting .251 against Class A Southern Association pitching, Weiser abruptly left. Per one account, he "got lonesome for his girl and desert[ed]."26 Informing Little Rock officials that "he would report to any club near his home town if a deal could be made," they dealt him to Wilkes-Barre of the Class B New York State League.27
That summer, in addition to his play with the Barons, Weiser travelled downstate on Saturdays to play semipro ball for Upland of the Delaware County League. Wilkes-Barre's rivals objected, claiming that, by allowing Weiser to pick up money on the side, the Barons were circumventing the circuit's $1,800 salary limit.28 Meanwhile, maintaining Walker had reported to Philadelphia out of condition, the Phillies appealed to the National Commission to void their deal with Little Rock. The decision, announced on September 10, favored Philadelphia.29 Wilkes-Barre's season had just successfully concluded. With Weiser leading the circuit with a .375 average, he again helped his team to a pennant. But the Phillies, not the Barons, now possessed the title to him (and Tincup). Over the next few weeks, he continued to play with Upland. It is unclear whether the Phillies asked him to report.
In January 1918, Weiser claimed Upland offered him $100 per game for the upcoming season. The Phillies offered him the same salary he had received from Wilkes-Barre in 1917. Weiser balked. In March, the team revised its offer, and he signed. Days later, Steelton of the independent Bethlehem Steel League offered him a higher salary still. Weiser jumped.30
In St. Louis, after a surprising third-place finish in 1917, the Cardinals started the 1918 season poorly. Their starting outfielders, all holdouts that spring, slumped. The team's new president, Branch Rickey, worked with his scouts to flush out serviceable alternatives.31 On May 13, the Cardinals acquired Weiser.32
"Certainly Bud Weiser in St. Louis should be a frothing success," quipped Philadelphia sportswriter James Isaminger.33 But Weiser expressed no interest in joining the Cardinals. Rickey called him a slacker, but another source told a St. Louis sportswriter: "It is true enough that Weiser does not want to leave Steelton. But it is not because he is crazy about his job in the mills, nor because he fears to face the fortunes of war. No, no, 'tis because 'Bud' is in love."34
As the Cardinals tried to land him that May, Weiser enlisted in the navy. He left the Steelton club that summer, played some semipro ball, and was told to report for duty. After several months of service at the Puget Sound Naval Shipyard, and a bout with the flu spreading across the country, Weiser returned to Pennsylvania.
After being declared ineligible in mid-1918 for his errant ways, Weiser applied for reinstatement in April 1919.35 It was granted and he landed in Reading. He hit .302 for the Coal Barons, who finished last in the Class AA International League. Weiser started the 1920 season with Reading and hit .327 in 12 games, before again being induced by Steelton to jump.36 His desertion, as the Reading team boarded a train for a two-week road trip, incensed league officials. The magnates secured a temporary injunction against Weiser playing for Steelton but their hopes for permanent relief were dashed when a judge declared the Reading contract illegal, as it required the outfielder to play Sunday games, then illegal in Pennsylvania.37
He spent the next two seasons playing independent ball with industrial teams in central Pennsylvania: Windber in 1921 and Harrisburg in 1922. Weiser again applied for, and again was granted, reinstatement in 1923. Reading, which retained his rights, farmed him to Binghamton of the Class B New York-Pennsylvania League.38 Weiser finished the campaign with a .339 mark. The club appointed him to manage the Triplets in 1924. But after finishing 67-55 in 1923, Binghamton drifted to a 62-65 record under Weiser in 1924. At the plate, he hit .287.
Weiser's career came to a strange halt in 1925. Binghamton released him that March. He promptly signed with their league rivals in Wilkes-Barre. But when the Barons embarked for a series in Shamokin that June, where a league franchise had re-located before the season began, he refused to go. A month later, he again would not play in Shamokin. Wilkes-Barre released him, and he signed on with yet another team in the circuit in Harrisburg. Immediately before the Senators set off for Shamokin in late August, Weiser "requested that he be suspended until he could get in shape."39
Ostensibly, Wilkes-Barre papers reported, Weiser refused to play in Shamokin as he claimed the club owed him $500. Yet no specific evidence to back up this claim appeared. A Binghamton sportswriter, noting "it doesn't seem like Weiser to lay down," recounted that he had told him the previous season that "he never had played in his home town and he never wanted to." Weiser offered the scribe no reason for this.40 But, when combined with his declining skills, these actions effectively brought his baseball career to a close.
On November 7, 1927, Weiser married Helene Dreher. Her father, who died a month before the wedding, was a prominent doctor in Shamokin and, according to family lore, the Drehers had concerns about Helene marrying a ball player.41 Did Weiser consider playing in Shamokin, which a 1922 report also found him refusing to do, an indiscretion best avoided?42 Was Helene (who like Bud, was in her 30s when they wed) the love behind his earlier reluctance to play far away from Shamokin?
Weiser could not resist a comeback attempt in 1928, and briefly played for Winston-Salem before returning to Pennsylvania to play for Scottdale, then Jeannette, in the Middle Atlantic League. Then he hung up his spikes for good, and remained in Shamokin with Helene. The couple did not have any children. Weiser worked as a tax collector, then in a hardware store until 1957.
On July 24, 1950, he attended his first major-league game in 20 years, watching the Phillies lose a close affair to Pittsburgh. Speaking of the Whiz Kids, who months later clinched the franchise's first pennant since his 1915 team, Weiser said, "There's no luck connected with the Phillies victories. They scrap every second of the game."43
He was a direct descendant of Conrad Weiser, arguably colonial Pennsylvania's greatest diplomat after Benjamin Franklin. He enjoyed compiling family genealogy and sitting on his front porch, enthralling neighborhood children with stories from his baseball career.44 Harry "Bud" Weiser died on July 31, 1961, in Shamokin from heart disease. Survived by Helene, he was buried in the city's Odd Fellows Cemetery.
Acknowledgments
The author is grateful to Joan Weller Colquitt, Ron Weller, and Nancy Wittman for generously sharing memories (and photographs) of their grand-uncle Harry Weiser.
This biography was reviewed by Norman Macht and fact-checked by Kevin Larkin.
Sources
In addition to the sources noted in this biography, the author also accessed Weiser's file from the National Baseball Hall of Fame, the Encyclopedia of Minor League Baseball, and the following sites:
Notes
1 William G. Weart, "Sam Crane Man To Fill Barry's Shoes," The Sporting News, February 3, 1916: 1.
2 "Methodists Defeat Reformed," Philadelphia Inquirer, June 17, 1908; "Lincoln Team Defeated," Philadelphia Inquirer, July 12, 1908.
3 "Silver Team Lands," Philadelphia Inquirer, August 9, 1909; "Bunker Hill Lands," Philadelphia Inquirer, June 28, 1910; "Professionals Score Victory," Philadelphia Inquirer, October 10, 1910; Edgar Marlok, "My Shamokin," Shamokin News-Dispatch, June 18, 1955.
4 "Weiser Goes to Join Cross," Mount Carmel Item, January 19, 1911.
5 John W. Todd, "Carolina Association," Sporting Life, October 21, 1911: 13.
6 "The Texas League," Sporting Life, March 29, 1913: 14.
7 "Giants Sign Clever Outfielder," Dallas Morning News, January 26, 1913.
8 "Starrs Win Opener Game Playing in Flashy Battle – Pitching Good, Hits Timely," Arkansas Democrat, April 13, 1917.
9 For complete league statistics, see "Weiser Led the League in Hitting; 'Slats' Led the Pitchers," Charlotte News, September 27, 1914.
10 "Cross Fire," Charlotte News, July 22, 1914.
11 He may have been shorter. In his Hall of Fame file, Weiser lists his height as 5-foot-10. His wife lists it as 5-foot-8. With his WWII draft registration, he indicated 5-foot-8. For a team photo of Weiser standing, see "The Phillies Who Yesterday Won the Race for the National League Pennant," Philadelphia Inquirer, September 30, 1915.
12 For the rise of German-American breweries, see Dane Huckelbridge, The United States of Beer: A Freewheeling History of the All-American Drink (New York: William Morrow, 2016), 121-186.
13 "Four New Travelers Who Are Expected to Aid in Keeping Little Rock Up in the Race This Season," Arkansas Gazette, April 8, 1917. Background on Weiser's personality: Joan Weller Colquitt, phone interview with the author, May 23, 2018.
14 "Stings," Charlotte Observer, August 22, 1914; "Weiser Sold to the Phillies," Charlotte News, August 21, 1914; "Hornets Still Set Pace in Carolina League," Charlotte News, August 23, 1914; Eddie Brietz, "Fanning and Panning, Charlotte News, February 17, 1922.
15 William G. Weart, "Phillies Complete Training Plans," The Sporting News, November 12, 1914: 1.
16 "Weiser Will Stick in Fast Company," Charlotte Observer, April 1, 1915.
17 William G. Weart, "Mack Has Yet to Find a Man to Fill Frank Baker's Shoes," The Sporting News, April 1, 1915: 1.
18 "Weiser Is Hopeful Of," Charlotte News, March 8, 1915.
19 Thomas C. Richter, "Philadelphia Points," Sporting Life, April 3, 1915: 3.
20 Thomas C. Richter, "Philadelphia Points," Sporting Life, April 10, 1915: 6. For the final roster, see "Mattison and Jacobs Farmed Out by Moran," Philadelphia Evening Public Ledger, April 12, 1915.
21 "Coombs Comes Back and Squelches Phils," Philadelphia Record, May 1, 1915.
22 "Weiser Chats on the Inner Works," Charlotte Observer, March 2, 1916.
23 "Weiser Chats."
24 For details of Philadelphia injuries, see William G. Weart, "Phillies Hold Own despite Handicaps," The Sporting News, April 1, 1915: 1.
25 Ibid.
26 "Bud Weiser Always Sure to Make a Hit," The Sporting News, November 29, 1917: 8.
27 "Tom Phillips is Given His Release," Daily Arkansas Gazette, June 7, 1917.
28 "Blacklist Two Barons," Binghamton Press, August 9, 1917.
29 "Bud Weiser Snatched from Wilkes-Barre Club Owners," Wilkes-Barre Times-Leader, September 10, 1917.
30 "Bud Weiser Gets Contract," Philadelphia Inquirer, January 17, 1918; "'Bud' Weiser Will Sign with None but St. Louis," Harrisburg Telegraph, February 4, 1918; "Bud Weiser Signs Contract with Phils," Harrisburg Evening News, March 5, 1918; "Weiser Jumps Phils," Philadelphia Inquirer, March 14, 1918.
31 For an overview of the onset of the 1918 Cardinals season, see Lee Lowenfish, Branch Rickey: Baseball's Ferocious Gentleman (Lincoln: University of Nebraska Press, 2007), 94-100.
32 Clarence F. Lloyd, "Another Shuffle of Cards Is Due After Purchase of Weiser," St. Louis Star and Times, May 14, 1918.
33 James C. Isaminger, "Connie Mack Is Not Such an Easy Mark As Some Thought," The Sporting News, March 7, 1918: 1.
34 "Inside Stuff," Arkansas Gazette, May 25, 1918.
35 "Baseball Briefs," Reading Times, April 25, 1919. See also the transaction cards in his Hall of Fame file.
36 "New International League Batting Averages for 1920," Baltimore Sun, December 6, 1920.
37 "'Bud' Jumps Int Club on Eve of Departure for Toronto," Reading Times, May 5, 1920; "International May Bar Former Baron," Wilkes-Barre Times Leader, May 20, 1920; "The Morning Hatchet," Pittsburgh Post, June 4, 1920.
38 "Diamond Dust," Hornell Evening Tribune, May 28, 1923. See also the transaction cards in his Hall of Fame file.
39 "Baron Machine Runs Smoothly," Wilkes-Barre Record, June 5, 1925; "Barons Keep Up Classy Work on Shamokin Field," Wilkes-Barre Leader, July 21, 1925; "Rain Halts MVP League," Wilkes-Barre Record, July 22, 1925; "Weiser Asks Suspension," Harrisburg Telegraph, August 24, 1925; "Bill Bailey Again Winner," Harrisburg Courier, August 30, 1925.
40 "'Al' Lamb, "Observed from Side Lines and Bleachers" Binghamton Press and Sun-Bulletin, July 23, 1925.
41 Joan Weller Colquitt, phone interview with the author, May 23, 2018.
42 "Sport," Mount Carmel Item, July 31, 1922.
43 "Weiser, Member of '15 Phil Champs, Praises Whiz Kids," The Sporting News, October 4, 1950: 52.
44 Joan Weller Colquitt, phone interview with the author, May 23, 2018. For details of his post-baseball life, also see "Former Baseball Player Dies in Hospital," Shamokin News-Dispatch, August 1, 1961.
Born
January 8, 1891 at Shamokin, PA (USA)
Died
July 31, 1961 at Shamokin, PA (USA)
If you can help us improve this player's biography, contact us.
https://sabr.org/sites/default/files/Bud_Weiser.jpg
600
800
admin
/wp-content/uploads/2020/02/sabr_logo.png
admin
2018-06-27 13:33:55
2020-04-09 14:38:44
Bud Weiser